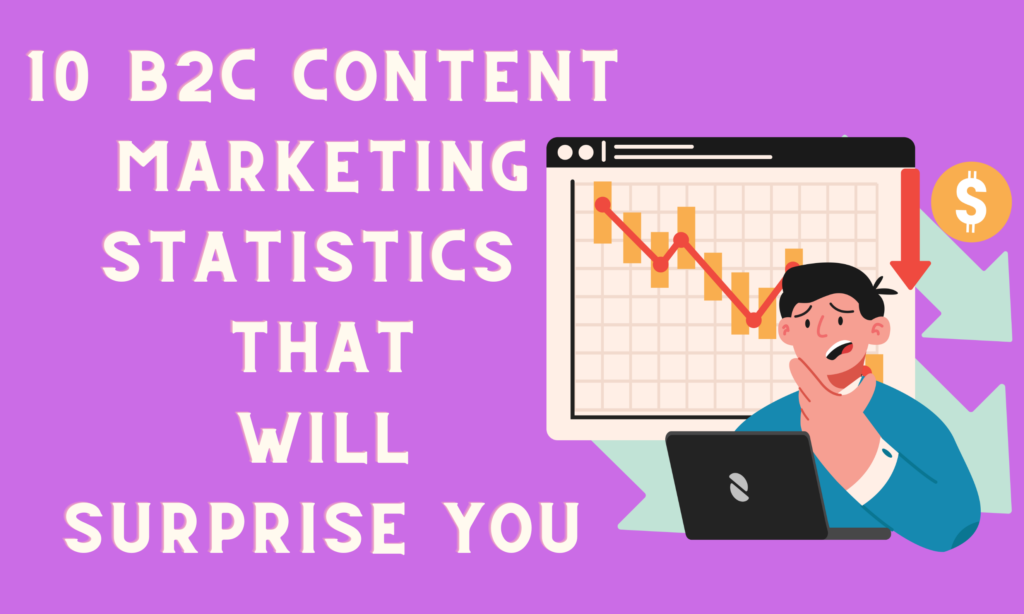 Are you interested to hear some exciting and surprising news about B2C marketing statistics? Do you know the largest B2C company nowadays is Amazon- It uses content marketing for its e-commerce store to gain profit. Behind this ever-increasing revenue and profit, there lies the strong and unbreakable content marketing strategy.
B2C or the business to customer marketing can be understood as the bundle of ideas we use to reach the customers and their targets.
People easily get confused between B2C and B2b marketing. But they are not the same. B2C marketing deals with marketing strategies involving individual customers. At the same time, B2B marketing aims at finding and researching authentic information with proper research and consideration. B2C marketers don't indulge themselves in the tones of study; instead, they take decisions emotionally with no logic.
Let's take a look at the ten most surprising strategies marketers can use for a B2C business model:
💡 Generate personalized emails, blog articles, product descriptions, and ads in seconds using the power of A.I
Educate your audience via content marketing
A B2C company uses content marketing for its blog posts, creative guides, and other content, which can develop a change within the target audience. It will help you build a strong relationship with your potential customers ultimately. Content marketing is an excellent source to create, collect and enhance the number of leads and conversations with them.
This strategy helps you create online traffic about your content. Increase your content's visibility and ranking too. 82% of the B2C content marketers have seen a positive response from the target audience.
Social media is the best medium to share, reshare and remember a resource for a long time. Social media marketing generally involves that kind of strategy which can become popular among a vast population. When your content is shared among social media sites, it increases your website's SEO ranking, traffic and visibility among the target audience. It is estimated that almost 83% of marketers use social media to boost the visibility of their websites.
It organically increases visibility and rankings via SEO to build a strong reputation.
In an inbound B2c marketing strategy, the most critical work is to build organic traffic. Most customers these days search their queries via primary keywords, so using those keywords is also necessary. SEO helps the targeted audience visit the websites with their interests in products and services.
Running paid ads also helps gain visibility.
Paid ads are also helpful in generating leads and increasing website traffic. One of the most famous examples of paid ads is PPC( pay per click).
It is a paid marketing channel which pays the brand every time someone clicks the links of pay per click. PPC gives high ROI.
Email marketing for personalized management
Email has always been an essential part of marketing strategies. It helps you keep a long-lasting relationship with the customer. Email marketing has been a personalized communication source for ages. It nurtures website visitors and converts them into long-term leads. Email marketing helps you target customers and prospects by influencing the customers' decisions only.
On average, with a minimum PPC, the ROI generated is around $42 for every dollar spent.
Building trust with the membership programs
The membership programs are the most loyal form of getting trustworthy and honest customers to last longer with your products. The membership programs help you to find an open community of members for your business.
Such efforts are necessary to manage the trust with the new leads and maintain the relationship with the old customers. As a customer takes one step ahead and becomes a member of your membership program, they benefit from awards, discounts, early availability of the product, and many more.
Leverage the power of feedback- positive or negative.
It will always help you to know the feedbacks your potential customers give about your products. Any B2C business will use the feedback for the benefit of their product only. It helps you understand your faults and your strength too. Feedbacks permanently settle the flaws and build a genuine trustable connection between the customer and the company.
Negative feedback can help you improve your product, and positive feedback will inspire enthusiasm. The product feedbacks help you boost your ranking and visibility and drive website traffic.
Social proof has always been a precious aspect of B2C marketing. A person's first step when they want to buy a product online is to review it. Promoting your product, writing the askes reviews about the product and keeping things relatively simple are the ways a product can gain more leads.
Prioritizing and retargeting to retain customers
If you invest something in a well-defined and big project, it will successfully retain more leads in the future, which is undoubtedly a great deal. The customer's ratings and reviews will surely keep you on top of the list. Retargeting is all about going hand in hand with social media networks. For example, if a person is reviewing your application and suddenly sees an ad, he might or might not visit it. But there are chances that if the ad is appealing enough, the person will think twice before skipping it. 
Sometimes the brand image and the short message on the video are enough to be remembered. Proper integration and detailing of the video are necessary for keeping an increment in the leads. 
Speeding up the connections through conversational marketing 
A real-time conversation through the support of the care center where you can get answers to all your queries. It can be a chat box opened with a 24*7 service or a Q&A channel where all possible questions and answers will be pre-written for reference. Conversational marketing is a way to decrease the time spent searching for the exemplary service of the customer and helps increase the leads of the B2C marketers. 
It is estimated that about 50% of the customers will repeat or buy more products from the same company where live chats and chat boxes are present for help.
Summing up 
As B2c marketers, it is essential to overview and implement that thing. B2C or the business to customer marketing can be understood as the bundle of ideas we use to reach the customers and their targets. Here in this article, you got to know the ten surprising B2C marketing statistics that will help you to keep your vision clear about more new such things.