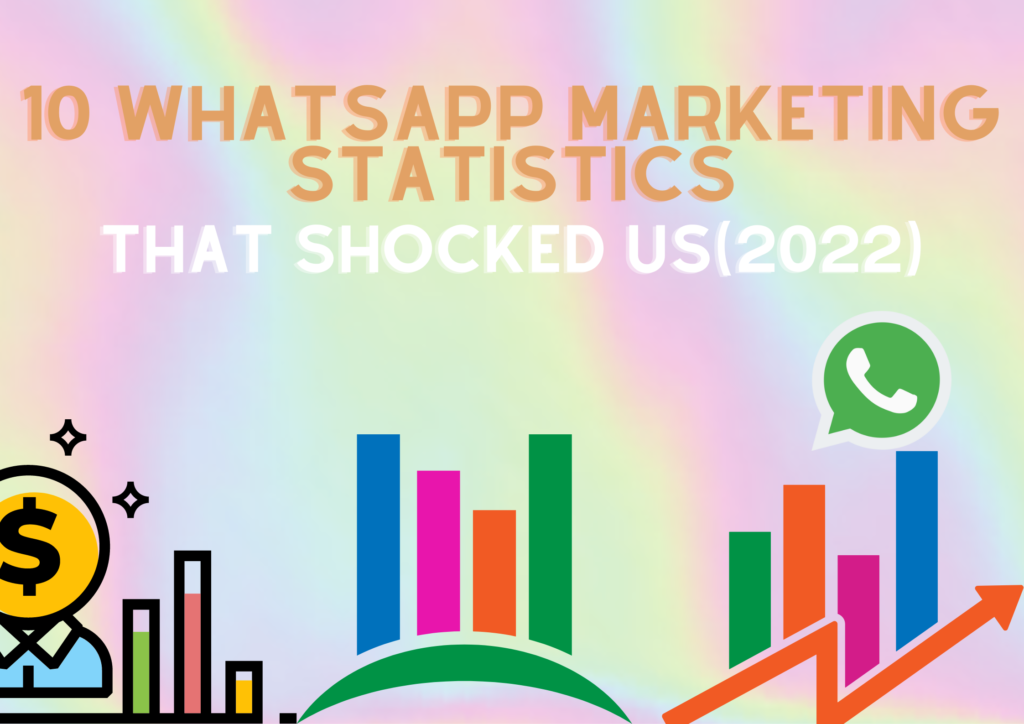 In today's digitalised life, no one can be found not using WhatsApp. Even your grandfather would also have his WhatsApp groups on his phone. There are high chances of you giving a sneak peek to WhatsApp every two hours, once daily. Such is the kind of dominance we have in our life. That's why we find maximum business opportunities related to WhatsApp too.
This article will discuss most of the WhatsApp marketing statistics that have shocked us in this recent year. But before this, let us discuss what WhatsApp is in detail.
What is WhatsApp?
Before getting to know more about the recent shocking statistics of WhatsApp, let's dive in to know what WhatsApp is and its uses.
What is a simple yet popular mobile application discovered around 2009 by Brian Action and Jan Koum? The sole purpose behind finding WhatsApp was to modify the version of sending messages from a traditional method to a modern one. In 2014, WhatsApp was owned by Facebook for $19 billion, and it has now become one of the most popular and widely used apps.
💡 Generate personalized emails, blog articles, product descriptions, and ads in seconds using the power of A.I
Number of WhatsApp users
The first thing to know when you search for Whatsapp details is the number of active users. There are around 2 billion active WhatsApp users around the globe. 1.5 billion people in 2018 and 1 billion people in 2016- and the number is still increasing. It has slowly risen to a maximum active users community and will soon become the king of social media, Facebook. It was a recent data in which it was mentioned that Facebook has current active users of around 2.45 billion.
The more the number of active Whatsapp users, the more will be advertisements and outreach. But currently, the parent app, Facebook, has denied giving any ad or outreach facilities on WhatsApp.
Whatsapp's popularity as a mobile messenger app
This app has been used actively by 2 billion users every month, which is very close to its parent app, Facebook. Despite the most efficient users here, it has also been blocked in many highly techno- countries like China.
The popularity of WhatsApp has also given a harsh and strong reply to the china apps like We Chat and Q Q mobile, which have more than 600 billion users, respectively. Snapchat and telegram are also close competitors in features in terms of messaging.
Whatsapp app downloads
This point is proof of the app's popularity. In 2021, the information listed around 13 million downloads of WhatsApp. It has been noticed that the rate of downloads is increasing significantly. Whatsapp has been marked the fourth most installed non-gaming app around the globe after Instagram, Snapchat and telegram. IOS users have found WhatsApp the most convenient app for android users.
The rate of downloads differs in different countries, and it is not even a harmonious increment among the same regions.
Whatsapp statistics on availability
Whatsapp has been available in around 180 countries till now. It has also gained much public attention due to more than sixty languages available.
There may be only a dozen of countries present in this whole world where WhatsApp is not a leading app. In the Netherlands, at 85 per cent, 83 per cent in Spain and Italy are using WhatsApp. Despite this app's huge popularity and easy access, it has been partially or completely banned in some countries, including China. Some countries have banned WhatsApp due to the Voice Over Internet Protocol (VOIP). This VOIP makes text messaging possible but disables voice or video calls.
Whatsapp usage by country
India is currently the most active WhatsApp country, with 340 million users. The south Asian countries make it ahead of brazil, which is home to 99 million WhatsApp users. But as estimated US never have as many active users as people thought it would. The US have only 26 million WhatsApp active users. Most mobile users prefer Facebook or Snapchat to connect, with around 106 million active users.
But despite this not-so-encouraging rate, experts expect a heavy increase of 85 million by 2023.
Messages are sent via WhatsApp daily
In 2011 WhatsApp set a milestone of one billion messages sent in a single day. In late 2016, it increased to a skyrocketed rate of 60 billion messages in a single day. By 2022 it has already crossed the 100 billion messages limit.
It has been counted as 4.2 billion messages per hour, 69million messages per minute, and 1.1 million messages per second. The features have also earned new popularity among users- the call feature, video calls, and audio messages.
Whatsapp usage in the united states
Whatsapp is not as famous as Facebook, but its usage is not also at that slow rate. The statistics have revealed the fact that US WhatsApp users use WhatsApp at least once a day. Sixty per cent of them are active users, and others only use it once daily or weekly.
Eight out of ten users have stated that the primary use of WhatsApp is to stay connected with our friends and family near and dear once. One of the advantages of this app is this fact. Only 12-15 per cent of the crowd use WhatsApp to strengthen their networks professionally. Whatsapp is thus used for many personal purposes.
Whatsapp users age
The app is most popular among the younger crowd. Out of every five adult WhatsApp users, one is a youngster. To break it down into simple figures, the highly active WhatsApp users in the US are the 18-24 age group; 44 per cent of this age group are active WhatsApp users. Its usage decrease with increasing age.
In comparison to all these statistics, only 7 per cent of WhatsApp users are about 65 years of age.
Whatsapp business statistics
In one year, WhatsApp launched the B2B initiative it has clocked more than 5 million business users. It has supported the local, small and medium-sized business enterprises by providing them with a medium to interact with their customers. Features like chat filters, labels, and quick replies have enabled us to do business without any hustle.
Whatsapp status usage
When WhatsApp status was introduced in 2017, it came up to be similar to the Snapchat messaging feature. Whatever the reason behind introducing this Whatsapp status feature, this became the most useful feature in business usage. 
Summing up 
These ten shocking WhatsApp statistics are always useful for deciding how to introduce a new mobile app to the world and what features the common people like. 
In this article, you learned about the WhatsApp user's statistics, the WhatsApp user's age demographics and the other shocking ten statistics in detail.