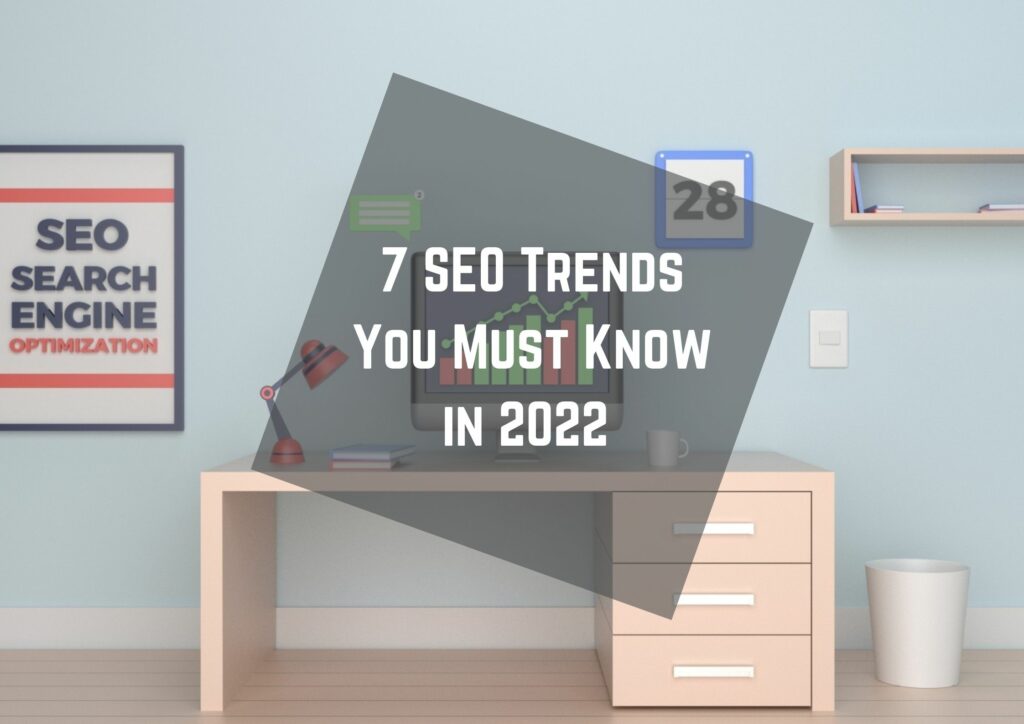 In today's world, SEO is like a never-ending battle. Especially when it comes to search engines and their changing algorithms, webmasters have to be in constant touch with the evolving trends. The current situation of SEO is extremely volatile. Failing to adapt and evolve can have serious impacts on the rankings of your website. This gives rise to a large number of questions like "Why should I keep track of different trends?" Or "What are the current trends in SEO?".  Well, guess what? You have landed on a page where you will get answers to all your queries. 
Before I get into the long-awaited jibber-jabber about SEO trends, you must know why it is so crucial to keep an eye on each of them. Let's dig into that!
Firstly, it helps in fulfilling the main goal of your SEO campaigns which is to increase the quality and quantity of your website traffic. Without keeping up with the changing trends, you are likely to lose valuable traffic.
Secondly, it hinders your rankings. Adapting to changing algorithms can improve your rankings and increase your visibility. 
💡 Generate personalized emails, blog articles, product descriptions, and ads in seconds using the power of A.I
Lastly, if you are not mindful of the current trends in SEO, then you're undoubtedly putting your brand image at stake. Using outdated tactics will be detrimental to your website's growth and make your SEO campaigns ineffective. 
Well, that was all about the importance of keeping track of the latest trends in SEO. But, do you know the currently prevailing trends? If not, don't worry. I have enlisted below some of the most prevalent SEO trends of the present day: 
(I) KEYWORD CLUSTERING
Keywords are the pedestal on which your entire SEO campaign rests. Therefore, it is time to adopt Keyword Clustering into your keyword research strategies. 
Keyword clustering is all about using multiple keywords instead of a single one. Nowadays, Google's NLP technology ranks our web pages based on multiple keywords, which is why many web admins are taking to this method of improving their site visibility. 
To effectively apply Keyword clustering, you must do thorough research into keywords having similar search motives and create a list of them or 'clusters'. Then, you can use those keywords in your content.
This way, you can ensure that your website ranks for multiple keywords, thereby boosting your overall traffic. 
(II) USE AI FOR CONTENT MANAGEMENT
AI has dominated every aspect of our lives. So, why shouldn't we use AI to shape the content of our website? The growing popularity of AI is proof enough of its time-efficient and hassle-free nature. 
AI has endless applications when it comes to SEO. You can generate titles, blog articles, meta descriptions, outlines, etc. There's a lot of room for AI in your SEO campaigns. 
Of course, manually generated content is of the finest quality. However, not everyone knows content creation inside out. So, to sum up, you must go for an AI-powered software that caters to all your needs. For example, Writecream has a plethora of AI-powered tools that offer a wide variety of services at a reasonable price.
(III) MOBILE-FRIENDLINESS
Mobile-Friendly websites have become an evergreen trend in recent years. So, don't forget to pay heed to your mini-screen audiences. Search engines are on the constant watch out for the mobile-friendliness of websites. 
Statistics reveal that around 95% of internet users browse websites through their phones. Those days of focusing only on the desktop version of your website are long gone. Now, it is mandatory to make your website interface as mobile-friendly as possible. You must ensure that your website content is well-optimised to provide value as well as aesthetic satisfaction to your audience. 
(IV) INCULCATE VIDEO CONTENT
Videos are yet another effective way to make your content appear more versatile and impressionable. Including video content can be a great strategy to present or demonstrate products as well as spread informative messages. 
Well-established firms have taken to video content owing to their long-lasting effect. Long-form content might not be ideal for some customers, and that's where videos come in handy. Videos are comparatively engaging when combined with descriptions filled with rich content. So, including videos can be really effective in increasing your reach to your customers. 
(V) SEO BASICS
No matter if it's 2022 or 2030. The basics of SEO will always be relevant and an important determinant of the success of your website. This mainly includes: 
High-quality backlinks 

Having optimised meta-titles, meta-descriptions, images and other components of your site.

Brief but meaningful content.
(VI) UPDATED CONTENT
YES, you read it right! Your existing content needs to be refreshed or updated continually. The same kind of content, which was bringing a lot of traffic two years back, might not do the same this year. So, keep refreshing it by adding new details or keywords. This way, there is a possibility of attracting a whole new chunk of visitors. 
Another thing to keep in mind is to include topics that are evergreen. For example, there are still millions of users searching for ways to improve their LinkedIn connections even though it is not something latest in the market. However, this depends on your niche whether you can create evergreen content or not, but there is no harm in trying, is it? 
(VII) USER EXPERIENCE
The last and most important factor is user experience. You must be wondering why does this term come up everywhere? Well, the answer is simple. User experience defines the success of your website, which means it can make or break your game. A bad user experience pushes your visitors away, while a good user experience not only retains your existing users but also attracts new ones.
So, what is the secret behind a great user experience? Well, for starters, consider your website speed. Aren't you annoyed when you have to wait for more than a second while browsing? Slow websites are no doubt infuriating. So, to get ahead in the game, take into account your website's speed. Also, don't forget that search engines consider it an important ranking factor. So, if you have been overlooking it, then it is time you take action before it is too late. 
Besides speed, a great user experience means a website free of errors and a great navigation structure. The best thing to do is to keep it simple. Put yourself in your visitor's shoes and browse your site for anything unpleasant that might turn them off. That's the best way to locate loopholes and fix them to enhance your website's user experience.
Conclusion
So these are some extremely important trends to watch out for in 2022. Now that you know the key to success, it's crucial to apply these trends effectively so that they reap the best results for your website. I am pretty sure that these will prove extremely fruitful in helping your website flourish in the SERPs. 
Do share your thoughts in the comment section below!