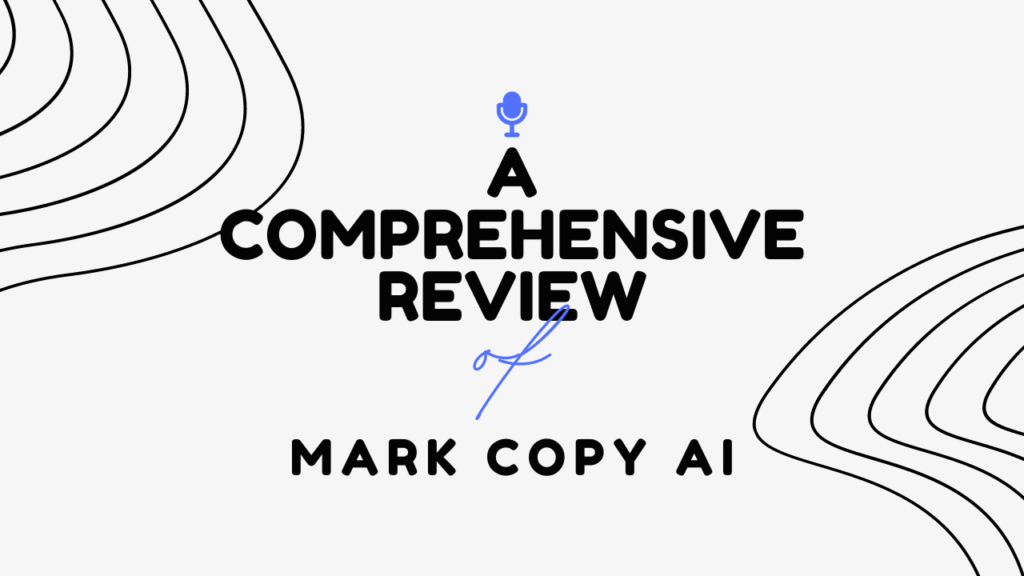 Mark Copy AI is a tool that many SaaS businesses use to make their lead generation activities as easy as a cakewalk. Several features and inbuilt characteristics make it a great assistant for upcoming businesses.

Cold outreach techniques most popularly do lead generation. It is no doubt that the secret to bagging leads through cold outreach techniques is to construct them in a personalized and targeted manner that makes the prospects feel valued and respected. To do this, you need a writing assistant that is most efficient and understands your needs. For this, Mark Copy AI is the best. Before we review Mark Copy AI, let's understand what the tool is and everything it offers.


An introduction to Mark Copy AI:


Mark Copy AI, in a nutshell, is a copywriting assistant that helps you write copy three times faster, which is SEO friendly and helps scale the business at a large scale. It is rated highly for its customer-friendly interface, pricing, benefits, design (that is said to be updated weekly at the moment), and the mission of the company itself.


Features of Mark Copy AI


1. Writing assistant: The Writing assistant tool that Mark provides an easy interface where you can edit and correct the text of your Copy in an easy-to-use way that does not involve multiple steps.

2. SEO: When a business models its content to market itself, the most important element is to be SEO friendly and keep its search engine optimized. Mark Copy AI optimizes your content to be most SEO friendly and rank primarily on most engines.

3. Templates: Mark Copy AI provides templates for the following to make your writing process easier:

Some other use cases:
LinkedIn Post
Facebook Ads
Follow-up e-mail
Business/product name
Thank you email
Social Media post ideas
Unique Value Proposition Ideas
Product Title
Blog Post Title Idea
Product Description
Headline
Catchphrases
4. Team collaboration: Team collaboration is a great feature that Mark Copy provides. It's never been easier to organize your work and keep your team informed, plus boost productivity. You can create folders and organize your documents at once with your colleagues.

5. Tones: Whether you're appealing to a knowledgeable audience or want your content to be professional, informal, informative, or creative: Tones can help you. Tones help set the tonality of your content so that you can give your readers a bespoke experience.

6. Plagiarism check: Uploading content means staying unique from everyone else who uploads content daily. The plagiarism check tool helps scan documents to check how authentic your content is and how it stands out from others.




💡 Generate personalized emails, blog articles, product descriptions, and ads in seconds using the power of A.I
Pricing of Mark Copy AI

The pricing plans of Mark Copy AI annually are as follows. Each plan provides a set of features.





1. The Starter Plan:

Unlimited Users

250 generations

20+ templates

Advanced Seo features

100 plagiarism checks

100 SEO keyword searches



2. The Pro Plan

Unlimited Users

250 generations

20+ templates

Advanced Seo features

100 plagiarism checks

100 SEO keyword searches

The Growth Plan

Unlimited Users

500 generations

20+ templates

Advanced Seo features

500 plagiarism checks

500 SEO keyword searches


Where you're winning with Mark Copy AI?


1. Constant Upkeep: One review says that Mark Copy AI constantly keeps up with its design and software in terms of how dynamic it is. This means that constant upkeep is maintained. This increases the quality of the tool itself and the quality of your content.

2. Easy to navigate interface: The user experience on the dashboard of Mark Copy AI is very clean and easy to use. This means that navigation around the software is easy, and customers are bound to be drawn toward using a platform that they can understand.

3. Variety of tools: Mark Copy AI provides various tools on one website, integration of these onto their other tools is also very easy. Their team collaboration tool is especially very useful in boosting productivity for businesses.

4. Tutorials: On their onboarding screen, if you scroll down or look on the top navigation bar, there is an option to "Request A Demo" or "Watch A Demo." This puts into perspective how to use the tools and how the tool helps in different segments.


Where you might be losing with Mark Copy AI


1. Expensive: The plans may be a bit tad expensive. While it is important to keep in mind that various tools are being provided, it is not affordable as their counterparts in the market.

2. Customer service: There is no direct access to customer help or assistance with issues. This might pose a problem for those who need immediate assistance or have issues.

3. No FAQs: It is important to understand that AI or Copy AI, in general, is a technical process meaning potential customers may have many frequently asked questions and other queries concerning the platform itself and also the way it works. Mark Copy AI not having this provision may be a loss.


Mark Copy AI has a 4.0/5 star rating and 19 reviews on Trustpilot, a peer review site. One reads as follows:

I like the way Mark Copy works. I can come up with a brief article plan. Add a few headlines and paragraph options, and Mark Copy will file in the gaps. What is great is that it gives me several variations which I can read through and choose the most appropriate. Other the others make good tester option for social posts too."


Mark Copy AI is a great tool to help reach your productivity and authentic, SEO-optimizing writing goals. The great belt of tools will almost do everything that a business demands, from the inception of an idea to writing about it and marketing it. There Mark Copy AI is a great choice if it means putting your trust in an artificial intelligence assistant to help reach your business's various goals.




Writecream: The Perfect Alternative

Writecream specializes in content writing, almost similar to Longshot AI, helping you as an aid and tool to easily write what your mind wishes to. You can change your copy and writing game drastically with Writecream.

Writecream uses the magic of advanced machine learning to write copy for you. These could be for Google ads, landing pages, email outreaches, content to post on blogs, LinkedIn personalizations, etc. they boast a variety of functions in their belt that range from caption creation to long-form content.

Writecream also provides 10+ tools in their impressive portfolio to help build your content game. Its pricing plans are cheaper than Mark Copy AI and Writecream has a strong customer support system.

Right, when you onboard onto the page there is a customer dialog box that will guide you through all the majority of tools and know-how you need before you start using Writecream. They also have an FAQs tab solving Mark Copy AI's majority problem of not having these two options, making a more holistic experience. This is where Writecream wins over Mark Copy AI and makes it a smarter choice.

On conducting a comprehensive review of Mark Copy AI and understanding where Writecream wins over it, it seems to be a better and smarter choice to make to help you win in your content game, especially in today's day where artificial intelligence seems to be the very fabric of staying on top of your SEO and marketing strategy.


Let us know your thoughts in the comment section below!
Writecream provides 30+ tools for generating tons of content within seconds! Use Writecream to generate product descriptions, personalized emails, blog articles and much more and that too for free! Our free plan provides 20 credits every month which helps you generate 10,000 words per month!
Isn't it amazing?
To get started, register here for our FOREVER FREE plan NOW!