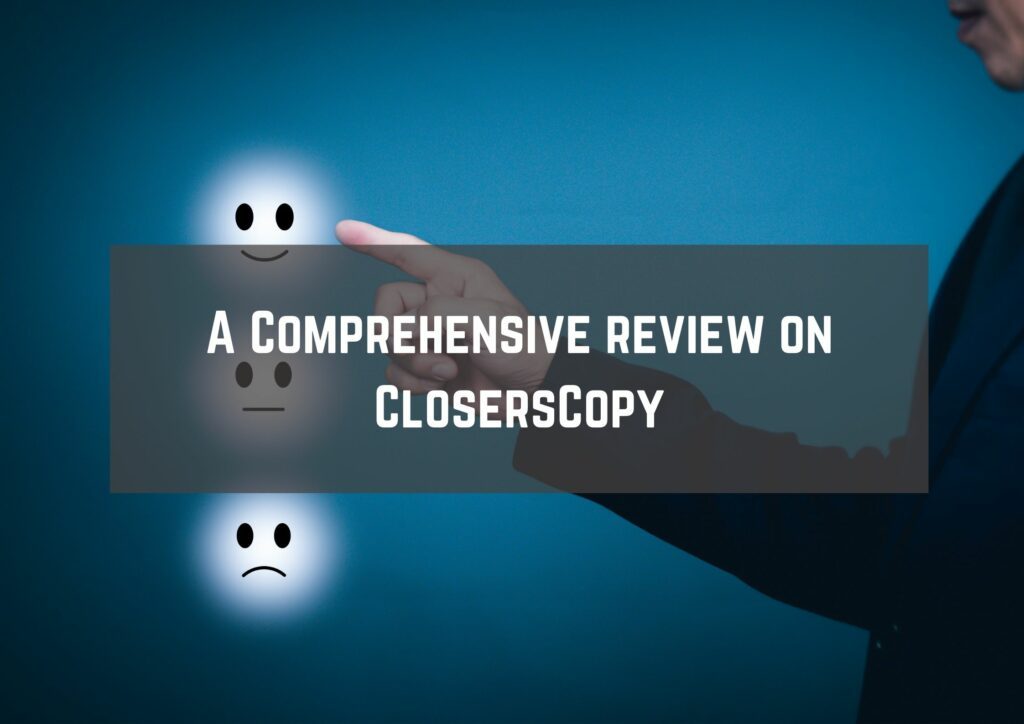 Are you looking for an artificial intelligence based writing tool to make the task of writing easier? It's of no doubt that when there are plenty of writing tools available in the market users get confused to choose which tool would be the best fit for them. In this article, we will discuss why ClosersCopy might be the best deal for you! We will go through the features that ClosersCopy has to offer and then leave the final decision to you whether to buy the software or not. 
What is ClosersCopy?
ClosersCopy is a powerful artificial intelligence tool which can be used to write compelling content. This tool helps you to overcome your writer's block and helps in creating good-quality content. You can even write long form content with this AI or use any framework of your choice to write. ClosersCopy uses SalesAI to create content for sales pages, email outreach campaigns and sales campaigns, writing blog articles, and you can also use StoryAI to write compelling stories. This writing tool is extremely beneficial for boosting your sales. 
This software has the updated content writing and copywriting templates and it allows users to edit and create content of their own choice. This software is easy to use and the interface is suited for the use of both experts and beginners. Not only does ClosersCopy help in creating new copy for you but it also helps you by giving ideas as to what to add to your content. ClosersCopy is one of the best tools out there in the market that will help you save your money and energy. Businessmen, entrepreneurs and freelance writers can make the best use of ClosersCopy. To divert more traffic to your business, you need to create perfect content and ClosersCopy helps you with it. Whenever you are facing a writer's block instead of letting that issue affect you, you can leverage this writing tool to provide satisfactory content.
Features of ClosersCopy
ClosersCopy hosts a wide range of features that will aid in your copywriting process. Here are the most noticeable and best features of ClosersCopy:
💡 Generate personalized emails, blog articles, product descriptions, and ads in seconds using the power of A.I
AI Editor –

Closerscopy provides users with artificial intelligence based editor which will help edit the copies that you create. The benefit of this feature is that it will make the content look like it was created by an expert. This feature will also check the content's tone, grammar and spelling. It will help you in creating the perfect content and eliminates all unnecessary words, gives you better alternatives for synonyms, and will also help in generating content for your page. By crafting extremely polished content, ClosersCopy attracts more readers to your page.
The Template Library –

We already mentioned above that this software has a whole library of a variety of templates that is regularly updated. With the help of these templates, you can create different templates for each style of content you create. The presence of a variety of templates gives you the benefit and accessibility to choose which template will work best for you and also is best suited for your content.
Drag and Drop Builders –

The 'Drag and Drop Builders' is a feature that will ask the users some questions and after you are done with answering the questions, the AI will come up with suitable and appropriate keywords that will suit your content's genre. This feature will speeden your copywriting process. What you have to do is to mix and match the words which will be most appropriate for your content. 
Examples of Copies –

In case if you are going through a writer's block, you can use the copy examples provided in the software for a quick brainstorming session. ClosersCopy provides you with up to 18,000 well-written copies, reading which will definitely give you some ideas. 
It Analyses Sentences –

The features of ClosersCopy will give you the opportunity to scan your copy and it will inform and suggest changes that can be made in your copy. It checks the tone of your copy and if it is appropriate for the content you have written. Sometimes the usage of certain words and phrases in your content can make your copy look like spam. And this is where ClosersCopy comes to your help, it will help you eliminate all the unnecessary words. Also having complex sentences will make it hard for the readers to follow up with your content, and it might disrupt the reading flow of the readers. ClosersCopy helps you tone down your sentences so as to make it easy for your readers to understand the content.
Megathron –

The 'Megathron' is a new feature of ClosersCopy and this feature sets the software apart from all the other AI content generating tools. The Megathron feature allows users to write lengthy content and it also provides you the outline! When you click on activate the Megathron feature in the toolbar, it will automatically help you in generating outlines and keywords for your copies. What this feature does is that it will look up on data from all the different search engines and it will bring the right kind of elements to your topic. You can also use this feature to draft headings and subheadings. The Megathron feature is available in 24 languages and this will help you in creating more refined content for better search engine ranking.
Limitations 
One major limitation of this writing tool is that it lacks the grammar and plagiarism checking tool. Some users have pointed out that it has a lot of bugs in terms of unreliable content generation. They also have said that it is quite basic in its functionality. The ClosersCopy's UI could make use of some simplifications and make some improvements.
Pricing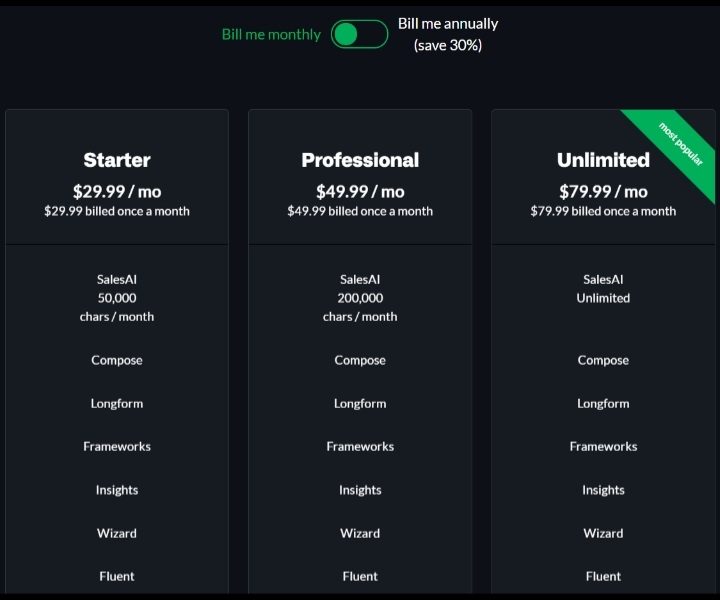 Now that we have seen a lot about ClosersCopy, let us take a look at the pricing plans. ClosersCopy comes with three different packages that is:
Starter Plan –

This plan costs $29.99 per month and if you are opting for the yearly plan it costs $251.92 per year. This plan allows users to access all the basic copywriting features. But it does not allow you to go beyond 50,000 characters per month. 

Professional Plan –

This plan is at $49.99 per month and for the yearly plan it costs $419.92 per year. This plan too, like the starter plan, offers the same standard features but the only difference is the character limit. You can generate 400000 characters per month. 

Unlimited Plan –

This plan costs $79.99 per month and if you are planning to buy the yearly plan, then it is at $671.92 per year. Apart from the features the starter and the professional plan has to offer, this feature lets you unlock teams and lets users generate unlimited characters per month. 
Writecream As An Alternative 
Writecream is one famous writing tool that is commonly used for creating content. Not only does Writecream increase your productivity but it also saves time to a great extent. This is an innovative artificial intelligence tool that uses the advanced GPT-3 technology to write copies for you. Writecream helps you to write copies for Google Ads, Facebook posts, blog posts, landing pages, product descriptions and YouTube descriptions and even more. The Writecream AI helps you in creating personalized content which helps in attracting more readers to your page. Writecream's interface is really easy to use and it also provides multilingual support. 
Writecream's long form content and social media tools help users create content within minutes. It helps them overcome their writer's block and is very much favoured by users. One person can start writing from scratch with the help of Writecream. This tool even comes up with headlines, introduction and conclusion. So the users don't have to worry about writing even if they have a complete blank slate. The features the software has to offer makes it one of the best writing AI preferred by people on the market for content writing. 
Conclusion
ClosersCopy is an excellent software that can be used for several writing purposes. This tool will definitely help in saving your time and energy, and will make you more time to focus on other tasks. It is undoubtedly an easy and user-friendly AI content generating tool. However like every other tool, this software has a fair share of positives and negatives. But if you are looking for a writing software that is affordable and helps you put the best content, then ClosersCopy is the best tool for you!
Writecream provides 30+ tools for generating tons of content within seconds! Use Writecream to generate product descriptions, personalized emails, blog articles and much more and that too for free! Our free plan provides 20 credits every month which helps you generate 10,000 words per month!
Isn't it amazing?
To get started, register here for our FOREVER FREE plan NOW!