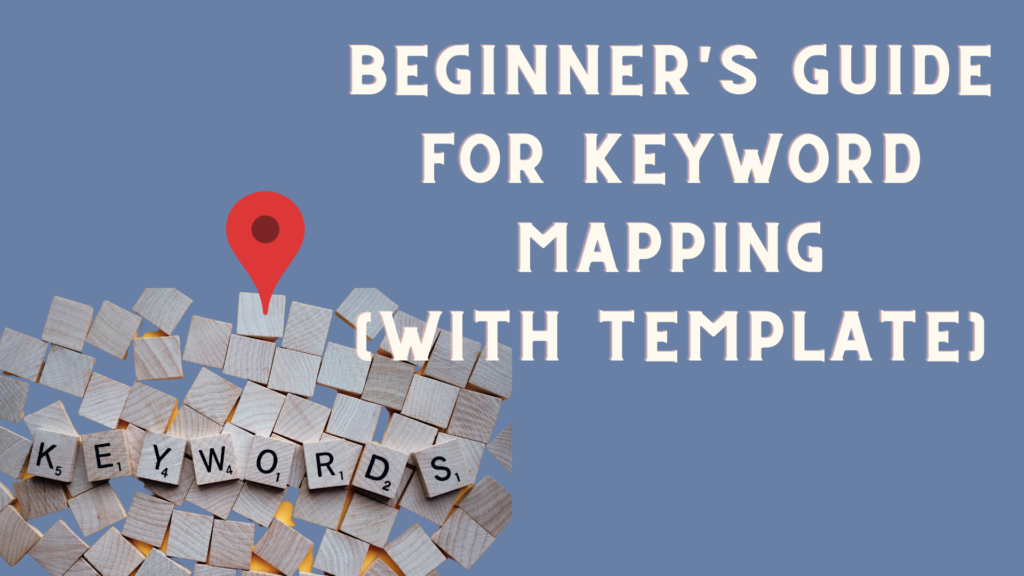 Doing some household chores in your home and finding yourself in a hurry for your important work the next minute is very common. I have experienced it a lot. You forgot to evaluate your strategy—set objectives from your work. Going without a strategy, not having good knowledge about it, and diving into it is the new normal.
In this article, you will learn the steps to work with a strategy which is a long time benefit for you. You will also learn to teach the benefits of keyword mapping in your SEO strategy.
What is keyword mapping?
Optimizing pages of your website for good SEO ranking is an easy task if only it is based on one keyword replacement. But in reality, it is more than just replacing and rephrasing a few words. You must be clear about your topic and the pitching points. Keyword mapping helps you find those primary words and search over which pages they relate to.
How does keyword mapping work?
It simply assigns you the respective pages where you can find your related keywords. Thinking about the topic before keeping SEO scores in mind is also important. Keyword mapping helps you in keeping this point in mind. If you take an existing website and start rewriting it better and consider your customer's thoughts, you may notice many loopholes inside it. Start writing them thoroughly, and you will notice that you have created a better version of the previous article.
💡 Generate personalized emails, blog articles, product descriptions, and ads in seconds using the power of A.I
All of these points will be lear to you once you start keyword mapping for your website.
Benefits of keyword mapping
You can check how effectively your SEO efforts are working.

Notice things not going properly in an easy way.

You can come up with new and better ideas.

Keyword mapping can stop all assumed work on your website.

Informed internal linking.
Why is keyword mapping important for your SEO strategy?
keeping the primary keywords on the same page
Search engines these days have become proactive in giving users a better experience. So if a user searches for the relevant keywords, google shows the best possible outcomes at the top. Keyword mapping these days makes the work ten times easier than a decade ago.
Avoiding repetitive contents
If you have a growing website, there are chances of having a dozen blog posts daily. In such a case having more than one blog on the same topic is common.
Quality is always better than quantity. Having hundreds of articles per day and leads with the same number you can get in a small number of articles is a waste of time. Readers search for a well-structured and sequentially written article than reading three consecutive articles which fail to hit the target.
Having similar keywords written on different pages of the same article is like competing against yourself without competitors coming to the field. It is called keyword cannibalization.
They are finding pages that are unclear about what topic they discuss?
You will get a lot of pages during your research which is written in a distorted manner. Once you are done with your keyword mapping, you can find suitable content to rephrase and re-edit to make it a structured one. SEO tools like surferSEO or any other similar tool will tell you where you miss out, where you have to add or subtract subtopics, keywords etc.
What role does keyword research play in keyword mapping?
 Before starting your keyword mapping, you need thorough research about those keywords. This helps you in understanding many facts like:
what type of content are the users looking for?

The intent behind searching for a topic.

Demand for the topic on the internet.

How many times has a particular keyword been used?
Create a visual content map
Visual content in every long form of content is necessary. They explain more than just a plain document can ever do. This makes your website look systematic and in well-structured way. You learn to make your website look interactive, easy and a lot easier to understand by the users. 
Start with a spreadsheet or any proper documentation.
The sole purpose of any spreadsheet or text document is to make your work easy. The google docs or excel sheets work best in this work. The documents have not to be fancy; it just has to be a job done type. 

Rows: can be used for identifying pages, blog posts etc.
Columns: page title, type, internal links and external links too.
Keyword grouping- an important step in keyword mapping
For example, you have done your whole keyword research and found 100 primary keywords for keeping your SEO score high. But it sounds too uncommon to put 100 keywords on a page. If you want authenticity and simplicity in one content, you must cut down many similar-sounding words. 
You will see many of the words can be clustered together instead of eliminated. They are generally called "long-tail keywords".
Map them to the URL page
Keep a draft of your primary keywords. It is important to make a draft because sometimes the URL would be somewhere else or associated with other keywords.
Internal linking of the URLs helps the user get deep into the topic and enhance the search engines. The home page must be linked to your product page and other blog posts. Customers can go directly to your product pages for further details. 
Assign target keywords
Now, as you have your bunch of primary keywords, it's time to assign them to the respective topical pages. Let's assume a business website. It provides some services to people like:
email content marketing.

Social media content.

SEO marketing.
now this kind of business will need pages like:
An introduction page.

Lead generating page.

Blog posts to increase traffic to the website and also include informatory posts.
You can now refer to our keyword mapping template to get a visual briefing of whatever we tried o make you understand in the above steps. sample keyword mapping template.
Summing up
In this article, we tried to explain every fact about keyword mapping, why it is important and how to create an ideal keyword mapping template. 
Remember some bullet points about keyword mapping,
grouping the required keywords and assigning them to a particular page per topical relevance.

Planning before you write.

Identifying the internal links.
Keyword mapping will help you keep your SEO score on track. What other tools do you use for finding your primary keywords? Mention in the comment.