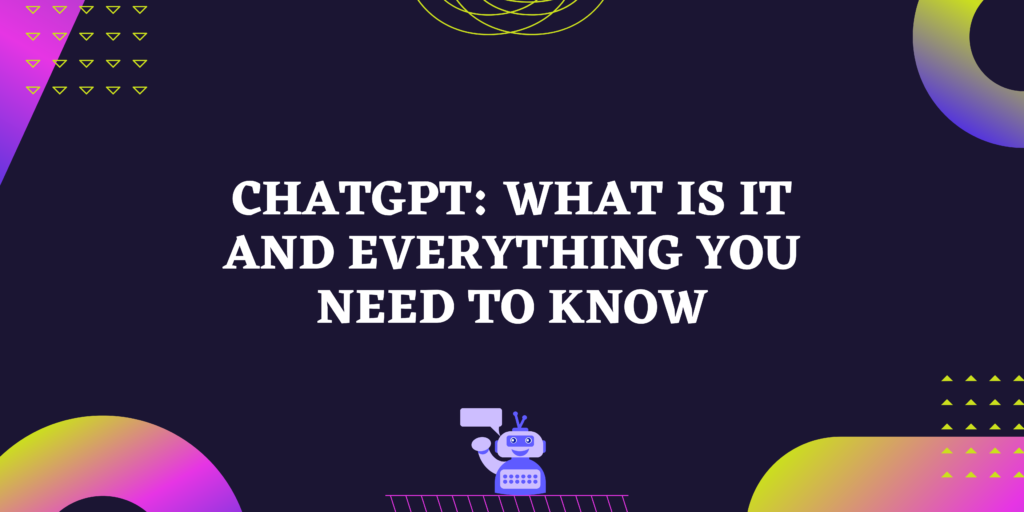 People worldwide have been concerned about artificial intelligence (AI) and its ultimate takeover of society for many years. Who thought it would begin with the fields of literature and art?
Thanks to ChatGPT, a chatbot created using OenAI's GPT-3 technology, OpenAI is back in everyone's social media feeds after months of dominating the internet with its ChatGPT.
GPT-3 is the most well-known language-processing  model on the internet, even though its name isn't very memorable and might just as quickly refer to a random computer part or an odd legal term.
What is ChatGPT?
ChatGPT is a chatbot that can chat with you as if it were a natural person. It has been created to comprehend your inquiries on various subjects and offer thorough answers. Though the replies aren't always precise, the bot does a respectable job of simulating a human conversation.
💡 Generate personalized emails, blog articles, product descriptions, and ads in seconds using the power of A.I
Reinforcement Learning from Human Feedback, according to OpenAI, is a machine learning method used to train the ChatGPT model. This may simulate conversation, respond to follow-up inquiries, acknowledge mistakes, challenge faulty assumptions, and reject unsuitable requests.
Users may ask it to produce essays, song lyrics, novels, marketing pitches, screenplays, complaint letters, and even poetry in response to text prompts.
Human AI trainers created discussions between a user and an AI assistant for the model in the early phases of development.
Who made ChatGPT?
ChatGPT is the product of OpenAI, a San Francisco-based AI research firm. OpenAI, founded in 2015, claims itself as a cutting-edge business committed to investigating AI technology and numerous related subdomains for the benefit of humanity.
Elon Musk and Sam Altman, among others, co-founded OpenAI. Altman is the company's CEO and an American entrepreneur, investor, programmer, and blogger. Musk resigned from the board in 2018, although he still contributes financially.
What can ChatGPT do for you?
Automated customer support
Chatbots are already being used by businesses to supplement their customer care infrastructure. ChatGPT, on the other hand, is more complex than the usual chatbot. As a result, it may assist organizations in providing better customer care experiences.
Brainstorm creative ideas 
Need inspiration for a new acoustic ballad? Request the ChatGPT to contribute some interesting chord progressions. Do you need a plot twist for a short story or a film script? Ask ChatGPT whether you can construct from one of its numerous ideas. However, be cautious about stealing ideas directly from the AI bot: it does not test for plagiarism.
Whether an experienced programmer or a novice, you may ask ChatGPT to assist you in writing code to address a specific problem. You only need to choose the programming language you wish to create the code in, such as Python, C++, or any other language. However, the AI program has limits in this situation. Users must still go through the code line by line and debug it. So it's arguable whether the chatbot saves time or effort.
ChatGPT is also useful for learning about various topics from many disciplines. You name it: science, history, languages, arithmetic, engineering. Do you want to know how to mend a water leak? Request step-by-step directions from the AI chatbot. Are you interested in what occurs when two black holes collide? ChatGPT is only a question away. You can also request that the bot assist you with schoolwork or assignments.
Even if you don't want ChatGPT to assist you in writing your code, you might still ask it to debug it and even find flaws. The bot will also explain how to patch such flaws. However, as previously said, we would be wary about trusting ChatGBT to create and debug its code.
Price of ChatGPT
ChatGPT is free to all registered users as of December 2022. The only requirement is to be a legal adult (18 or older). OpenAI has not stated whether or not the chatbot will continue to be free in the future. After the product's final release, the firm will almost certainly switch to a paid or subscription model. ChatGPT concepts and material can also be used for personal, and business uses. There are no royalties, commissions, or other costs charged by OpenAI.
Regarding digital information management, AI writing tools like ChatGPT and ChatGPT alternatives come in handy. They can save you both time and effort.
So, if you're looking for ChatGPT alternatives, then WriteCream provides a more advanced and efficient tool that is ChatGenie.
ChatGenie
ChatGenie is a smart Al assistant that can write anything and is up to speed on the newest news and information. 
ChatGenie is the latest tool of WriteCream which provides more advanced and efficient content and answers all your questions within seconds. WriteCream is a text, voice, and picture-generating platform driven by AI.
If you give any task to write something, it can do it for you. And it can also write the song's lyrics as per your requirements.
ChatGenie is a beneficial tool for programmers who do coding work as it can also write HTML codes though you need to look at the code to check the quality. In short, you can use ChatGenie for anything that involves text.
Key Points
ChatGenie is accessible on all devices, whether desktop computers, laptops, tablets, or smartphones.

You can get content in 75+ languages of your choice that is available at the WriteCream.

ChatGenie is constantly updated with the most recent news and information.
What can ChatGenie do for you?
Chatgenie is an AI-powered chatbot that provides speedy responses to whatever questions you have right away. By using the latest in artificial intelligence technology, Chatgenie is able to provide answers quickly and accurately. With its user-friendly design, you can easily access information from anywhere at any time. The chatgpt engine enables customers to find the answers they need in a fraction of the time it would take them with traditional methods. Chatgenie also allows businesses to automate customer service processes so that they can focus on their core business operations. Additionally, Chatgenie makes it easier for customers to find answers without having to wait for a customer service representative or even search through FAQs. This saves time and money for everyone involved, leading to improved customer satisfaction and loyalty.
ChatGenie is a user-friendly and easily accessible tool. You just have to register at the WriteCream, and then in the ChatGenie tool, you have just to write the keyword or the question you want to ask.
ChatGenie can also complete your tasks related to anything. If you have the assignment to write a story about psychological egoism, then ChatGenie can do it for you. Or if you have a task like the top 5 platforms for earning money, it can do this for you.
ChatGenie can also save your relationship. If you had a fight with your partner and now want to apologize, then it  can write an apology song that you can send to your partner and save your relationship.
ChatGenie is also specialized in JavaScript. You heard it right; ChatGenie can do coding work for you. Just ask it to write a code about anything then it can do it for you. It can generate social media captions, also by generating captions for an Instagram post of your dog's picture or a newly opened cafe.
There is another tool launched by Writecream that can help you a lot, which is a one-click Article Writer. This Tool gives you the following benefits:
It can generate an article on the topic you wanted, consisting of around 2000 words. And if you want to expand the article, then you can use their long-form article tool, which writes articles in long length.

WriteCream support 75+ languages, which means you can generate your article in 75+ languages. 
Conclusion
ChatGPT is an OpenAl-developed chatbot based on the GPT (Generative Pre-training Transformer) language generation model. It is intended to converse with users in natural language and generate coherent responses that resemble human-written text. 
While it is a powerful tool for automating conversations, it is still far from replacing human creativity and interpersonal skills. GPT technology is best used to supplement rather than replace tasks. Users may ask it to produce essays, song lyrics, novels, marketing pitches, screenplays, complaint letters, and even poetry in response to text prompts.
But if you're looking for a ChatGPT alternative, then WriteCream's latest tool ChatGenie is what you are looking for. It provides you with all the features like writing a song, writing code, jokes, articles, and essays, and even answers your questions with the latest facts and updated news.