Are you wondering what SEO is? 
SEO stands for search engine optimization, and it helps improve the position of your web pages in the search results. SEO is an important tool used to boost traffic to your website. If you ask a marketer, they would tell you that their working strategy involves the following steps:
Researching SEO related keywords

Analyzing what posts are competing with their posts

Identifying the areas which have content gaps

Filling in the details that would make their content complete
If you have been working in the content writing field for a while, you will know how difficult and time-consuming this process is. Here, we have an answer to all your worries. This review about Frase SEO will clear all your queries, thereby making your work relatively easier. 
What is Frase SEO?
Frase is an AI-powered tool that will assist you in content creation and optimization. Frase content creator has an SEO tool that will help you identify your target audience. Based on the audience's preferences, this tool will automatically create content briefs and offer you ideas to further optimize your content. Frase brings out perfectly generated content optimized for your page within just 6 seconds. Frase also offers an option called Frase Answers, an AI chatbot that will go through your entire website and create a brilliant knowledge base. This also answers your audience's questions 24/7, giving you ample time to focus on managing other businesses.
💡 Generate personalized emails, blog articles, product descriptions, and ads in seconds using the power of A.I


How Does Frase Work?
Are you planning to buy any one of Frase's paid plans? If you want to explore Frase's options, you can sign up for a free trial. After you have signed up, you will land on Frase's feed. Under the 'Frase Content' section, click on the 'Get Started' option. Then click on the 'Content' option, which is seen on the left side of the page. Now a pop-up will open up, showing several options. Choose 'Question Ideas' and enter the keyword in the search option from those options. And Frase works its magic and saves the time you would have otherwise spent on content research.
You will be given two options – one, and you can click the 'Excel' option, which is seen on the top right corner, and then import the data. Or you could select the questions that have the potential for the highest traffic and save it in a new document. Here are some helpful tips for you. If you are already running a page with regular traffic, you can click 'Google Traffic' and then try integrating your Frase account with the Google Search Console. With this step, Frase will analyze the website data and the common queries your web visitors frequently ask.
You can also optimize the content with the help of Frase. The current fight is not about who creates more content but who generates the highest quality content and has the most organic search traffic. With Frase, you can do this very easily. Choose the 'Content Optimization' option in the document type, enter the keyword for which you want to rank, and enter the URL of the article you wish to optimize.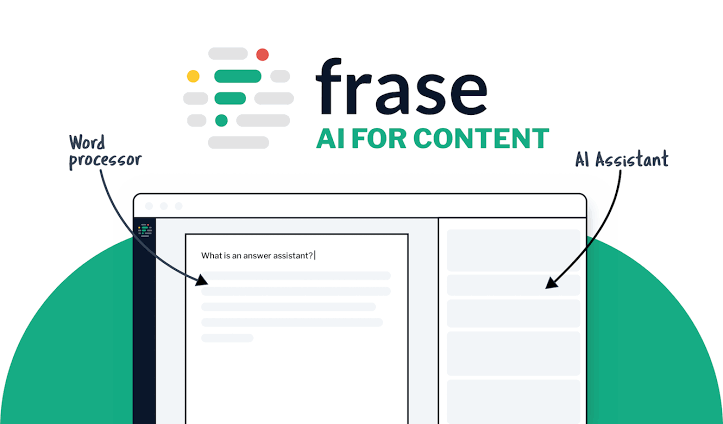 Frase will analyze and show the top 20 search results for the target keyword you mentioned. You will get a content score, and you can improve this score by adding the topics in the top-ranked articles for the keyword you specified. The topics that your competitors commented on in their posts and the topics you didn't mention will be marked grey, making it easy to explore the topic further. One interesting thing about this is that Frase will show you related topics for the keyword and mention why it showed the topics. After optimizing, go to the 'Topics' option to see if your content score has progressed.
Frase makes it easy for you to create SEO briefs. This tool will go through the top search results for the keyword you searched, and it will bring to light the list of topics you need to cover in your content. Below provided is what Frase will offer you in brief:
Provides you processed sources
Source length
Links per source
The sources which Frase analyze
And this is not all; this tool will also give you relevant topics that you can mention in your article, the highlights, and the important statistics mentioned in the article. Also, in the end, you will get a summary of the top ten search results. With Frase, you can curate the content to be shared with your audience. You can apply as many filters as you want and get even more targeted articles.

Features of Frase
1. Generate Optimized Content – You can get past your writer's block using Frase's "Write For Me" button. You will be given customized outlines, introductions for your posts, product descriptions, etc. The write for me feature will help you autocomplete your sentences and write new paragraphs. It will further improve the quality of your writing with a self detected passage rewriting tool.



2. Audience Target Question Research – Finding the questions that your audience has targeted is quite a tedious process. You go to Quora, search the keyword, and will look up the top most asked questions. Then you will put them together in a document. Similarly, you will repeat the process on Reddit too. Note that you are doing this process in Google, called the 'Ocean of Information.' You don't have to worry about this process when you have Frase. Frase goes to all the places where your audience asks questions and gets you the questions, thereby saving your time. Enter the keyword you want, and Frase will show up with a list of questions extracted from People Also Ask, Reddit, Quora, and Search Autocomplete. This information will be available along with keyword data and sources.
3. AI-generated content – 17.3% of the content creators won't use content brief. They mainly don't know how to create a content brief. But this won't be a problem when you have Frase. Based on your search results, Frase will help you create a content brief within a few seconds. You will also receive detailed results like keyword count, headings, and similar subheadings.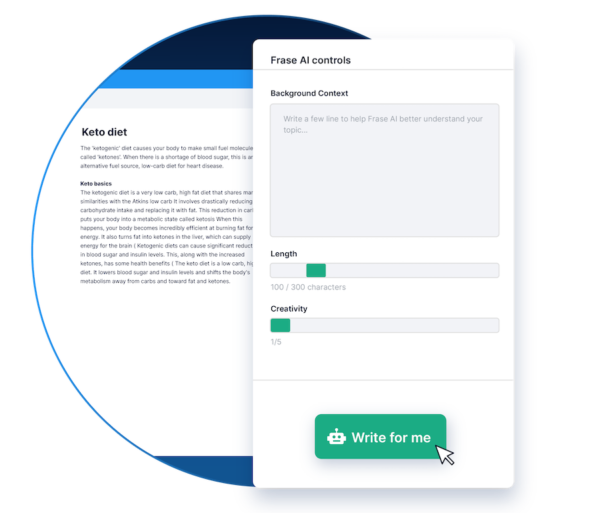 4. Answer Engine – If you plan to distribute your content to your users efficiently but don't know how to do this, you will love Frase's search engine. Every time a user asks a question, the answer assistant of Frase will deliver the answers, and it is available 24/7. If you want to direct more traffic to your blog or website, then you can use the custom CTO option of Frase. This will help you deliver the answer to the user and follow up with a relevant blog post. 
One additional feature is that this SEO will help you identify areas that are working and areas that aren't working well. Following and keeping track of these details will aid you in improving your posts. 
Pricing
Frase provides a free trial and three plans for its users – basic, growth, and answer engine.
The basic plan is $39 per month, and it allows one user and lets you create 30 documents per month.
The growth plan costs $99.99 per month and allows three users, and you can create unlimited documents.
The answer engine costs $199.99 per month, and this plan allows three users to operate. You can create unlimited documents, and this also comes with the feature of 500 answers per month per search engine.
Drawbacks
Frase doesn't offer the keyword data in any of its plans. If you want to access that data, you will have to buy Frase's add-on, which costs an additional $34.99 per month. Frase's interface is not very user-friendly. Knowing the nook and corner of this tool takes time, but you don't have to worry much because the Frase team is extremely helpful. The search engine doesn't discard spam. Also, Frase doesn't provide any suggestions for internal links. Since Frase is a new product, not many tutorials are available on YouTube or Google. 
Why Writecream Is A Better Alternative To Frase?
Up until now, we have seen everything about Frase. If you are not satisfied with the options and features provided by Frase, we suggest you use Writecream. Often, there is no option for saving the generated text in the AI copywriting tools. But Writecream saves the generated text, so you don't have to worry about losing your text. This is just one of the amazing features of Writecream. Let's see the other features too. Writecream provides its users the option to write in many languages. This AI supports nearly 75+ languages, and this will help you reach audiences from any part of the world. Writecream's interface is pretty easy to use. You don't have to be tech-savvy to get to know and use this platform. It is extremely user-friendly.
While some people won't find writing difficult, they would find the creation process a little tiring in most cases. But this won't be a hurdle anymore when you have Writecream. You will get many ideas about creating your blog article and editing social media captions using Writecream. Writecream is the perfect option for anyone who needs to write exceptionally good articles without hiring a writer. One of the finest features that Writecream offers is the Long-form editor. This feature helps users create content in a flash, even if you have no idea how to start. It also has a grammar checker, tone checker, sentence formatting, and sentence rephraser. All the content generated using this AI will be personalized to target the specific audience you want to send the article or send the campaign.
Writecream also comes with an inbuilt plagiarism checker, which assists you in creating unique content. Other wonderful features like Blog Heading expander, Blog Intro, Blog Conclusion, and Outline are all beneficial as it simplifies your writing process to a great extent. This Writecream AI is a one-stop place for all your writing needs. You can create content for cold emails, LinkedIn outreach, other business campaigns, writing digital ad copies, articles for blogs, and copywriting. To add a cherry on the top, Writecream operates on the GPT-3/ AI, which gives it an extra edge. Writecream offers a free trial option and two pricing plans – the standard and extended plan. 
The standard plan costs $49 per month, and the extended plan costs $69 per month. In both these plans, you will be given the same features, but the user gets 250 credits in the extended plan, while in the standard plan, the user gets 100 credits. The free plan has few features, and the user only gets ten credits. The standard plan is best suited for startups, while the extended plan is advantageous for agencies and enterprises. Writecream also offers the best customer support, and they are available 24/7 to answer your queries. 
Conclusion
We discussed the features of both Frase and Writecream. Like everything in this world, both Frase and Writecream have their limitations. When you compare the features they have to offer; we prefer Writecream over Frase. If you own a small business and start a writing business, it is good to choose Frase. But if you want to take your business to the next level, it is prudent to choose Writecream. And at the end of the day, it is your call to decide which AI you need to use for your writing needs. You can use the free trial plans offered by both Writecream and Frase and decide to buy the tool that meets your demands.