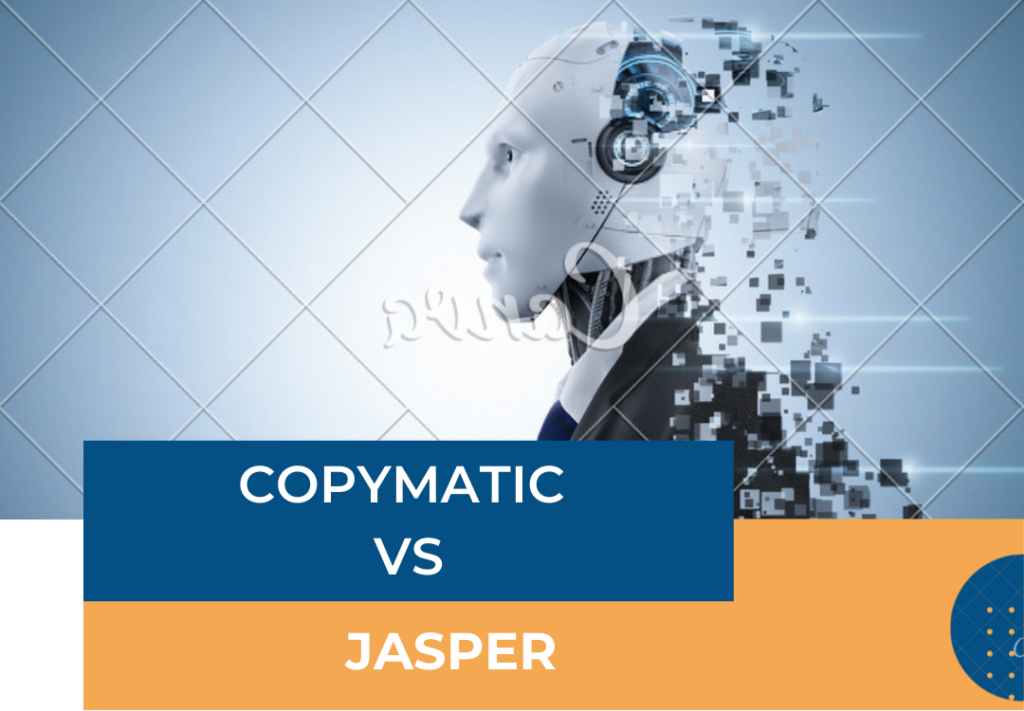 There are so many Content Creating AI tools these days that offer acceptable content that helps people spread awareness about their products to boost their sales and help create a big name for themselves.
These tools not only help them with content creation but also come with creativity by offering unique templates!
Technology has progressed so much in this era that there is barely any work left for us humans to work upon. All we have to do is just command the software or the tool on what we are working on, and it's done in minutes.
So let us put our time to some good use by knowing the tools like Copymatic and Jasper that can be used to make our work easier.
💡 Generate personalized emails, blog articles, product descriptions, and ads in seconds using the power of A.I
What are the advantages of using an AI tool? 
There is so much that needs to be worked upon while creating content. To create quality content, one needs to put in a lot of time and effort and as the famous saying goes, 'with quality content comes brainstorming.'
These AI tools do all the work for you, be it idea brainstorming or help with articles or blogs, and they serve on a silver platter to you in minutes.
They might even help with the cost-cutting, as you won't have to hire content writers and pay them per article.
Copymatic:
Copymatic is this era's newly developed AI copywriting tool that assists you in creating highly engaging marketing content for your business. It offers to produce sales leads, videos, emails, and adverts in seconds.
Features of Copymatic-
Operated on the cloud- You won't have to save your work manually and download the files; it is operated on a cloud. It means that all you have to do is log in to your account and start working regardless of where you are.

Automatically saving files- It saves the files automatically, which means that even if your internet connection is interrupted, you can continue working from where you left off.

24/7 and 365 days customer support- If, for instance, you are facing a technical issue within the app while working, you just have to contact the support team by sending a message.

Creates clean-up sells- It has the ability to create high-quality content and then pitch it to the customers in a compelling way.
Jasper:
Jasper AI is indeed a content creation platform that generates material instantly. This AI tool generates material for you using machine learning and artificial intelligence, saving you time composing.
Features of Jasper-
Enhance interaction on social media: To grow a network, you must publish on social media on a constant basis.

It's not simple to think of new social media postings day after day. This is precisely where Jasper enters since, in addition to assisting you in generating new innovative ideas, as well as aids you in composing postings on social media. Jasper provides a wide variety of templates for increasing your social media involvement.

Creates authentic material: It would take hours and hours to create plagiarism-free content; therefore, Jasper makes it easy for you by producing 100% unique content. All you need to do is tell it what to essay upon.

Script creation: You can write scripts for your advertising videos or material.
Review Comparison
Copymatic:
Copymatic has an excellent rating of 4.8 on the review site Trustpilot. It has been discovered that 87% of the 734 total reviews have rated it 5 stars.

The capacity of this tool to generate original material is the key reason for it in receiving such a good rating.
It received a 4.7 out of 5 on the review site g2.com.
The reason for such a high ranking is that it offers great content for social media, whether through blogs, videos, or emails.
Jasper:
There are around 1440 reviews on a site called Capterra, which provides authentic reviews, and the number of individuals who have given it a rating of 5 is enormous. People report that Jasper makes their job 10 times faster, saving them time and money.

It has a rating of 4.8 on the website g2.com. Out of 865 reviews, around 774 have rated it 5 stars, while approximately 70 have given it a 4-star rating.

People like it because of the large number of templates it provides.
It has been rated 4.8 on Trustpilot and has an estimated 4000 reviews, with 90% positively rating it.
According to the reviews on these 3 leading reviewing websites, namely, Capterra, Trustpilot, and G2, both tools have their perks; they are both functional and differ somewhat in terms of features and benefits. If you are looking for 100% original content, then you can go for Jasper, as it claims to provide you with authentic content, and if you want to create good upsells, then copymatic is best suited for you. 
Language Supported
Copymatic:
There are 25 languages that Copymatic supports. However, it cannot create content in languages other than the one used as input. The languages supported are English, Spanish, French, German, Hindi, Portuguese, Italian, Dutch, Romanian, Czech, Slovak, Slovenian, Hungarian, Polish, Finnish, Danish, Swedish, Norwegian, Turkish, Russian, Japanese, Chinese, Thai, Korean, Indonesian.
Jasper:
Jasper also supports 25 output languages, namely Bulgarian, Chinese, Czech, Danish, Dutch, English, English (British), Estonian, Finnish, French, German, Greek, Hungarian, Indonesian, Italian, Japanese, Latvian, Lithuanian, Polish, Portuguese, Portuguese (Brazilian), Romanian, Russian, Slovak, Slovenian, Spanish, Swedish, Turkish, Ukrainian.
Both programs handle 25 languages, whereas Jasper allows an additional 24 input languages.
User Interface and Tutorials
Copymatic:
There are 3 simple steps that one has to follow to operate the tool-

Jasper:
There are a few steps involved here also: 
You'll see this when you log in to your Jasper account.

All of your templates and documents that you are working on or want to work on will be shown on the left side.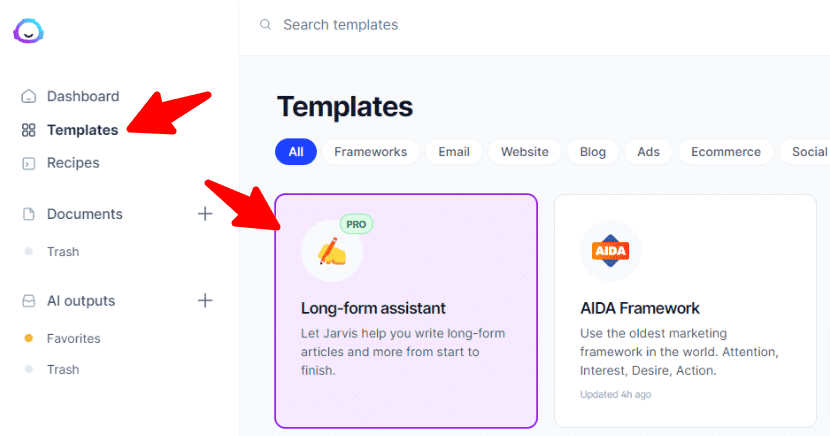 While selecting templates category, you will be presented with templates built primarily for various purposes, such as blogs, emails, and social networking.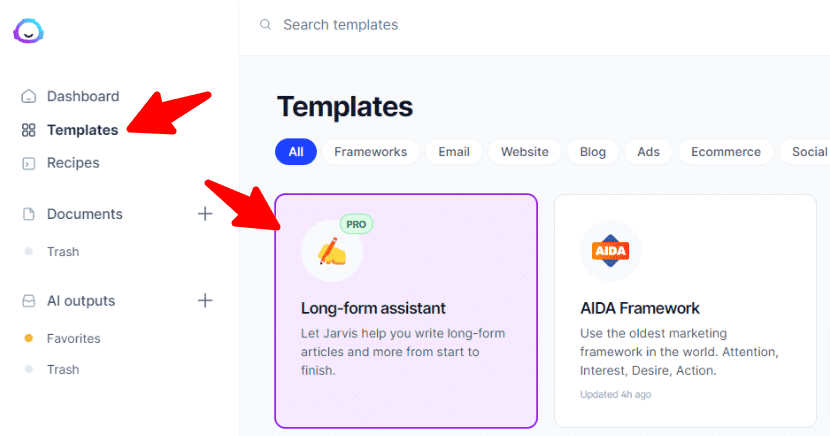 Now all you have to do is select the niche you want to work on and get started with it immediately.
PRICE
Copymatic:
So Copymatic's pricing is based upon the number of words one requires per month.
Pro pack: Prices start at $6 for 15000 words. For example, if someone needs 200,000 words per month, that bundle costs $32. If you want 400,000 words per month, the cost is around $66 each month.

Enterprise pack: There is another bespoke package in which you can pick the features you want, and the price will be determined based on your selection.
 Jasper:
 Jasper's pricing is also based on the number of words you require per month. 
 Starter pack: As you can see in the above image, for 35000 words per month, it costs around $49 per month, including most of the features.
 Boss mode: The boss mode is explicitly designed for people who own an enterprise or are bloggers and costs $99 per month for 100,000 words, and so forth.
It encompasses all of the tool's features.
 It guarantees your money back if you request a refund within 5 days of purchasing.
When evaluating the two tools, Copymatic is more cost-effective because it is less expensive than Jasper. Copymatic is more affordable than Jasper for people just starting in business.
Output Quality Comparison
Copymatic:
This was the output generated when it was asked to create content about Switzerland. As you can see, the description given is very detailed
.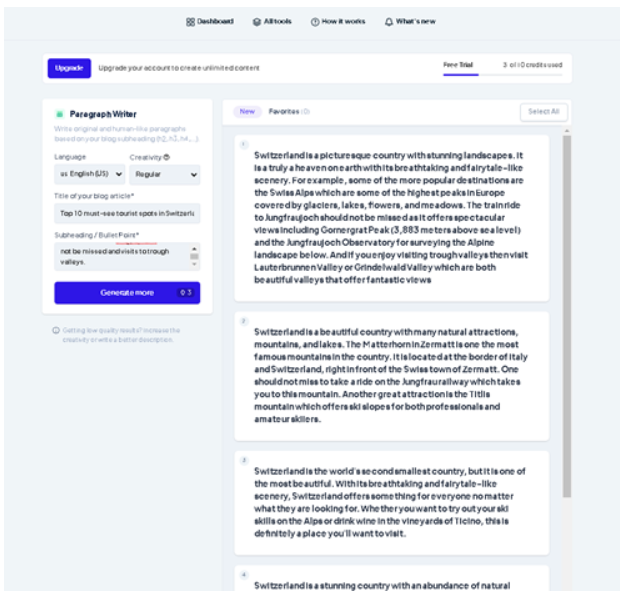 Jasper:
The three different outputs generated by Jasper are as follows-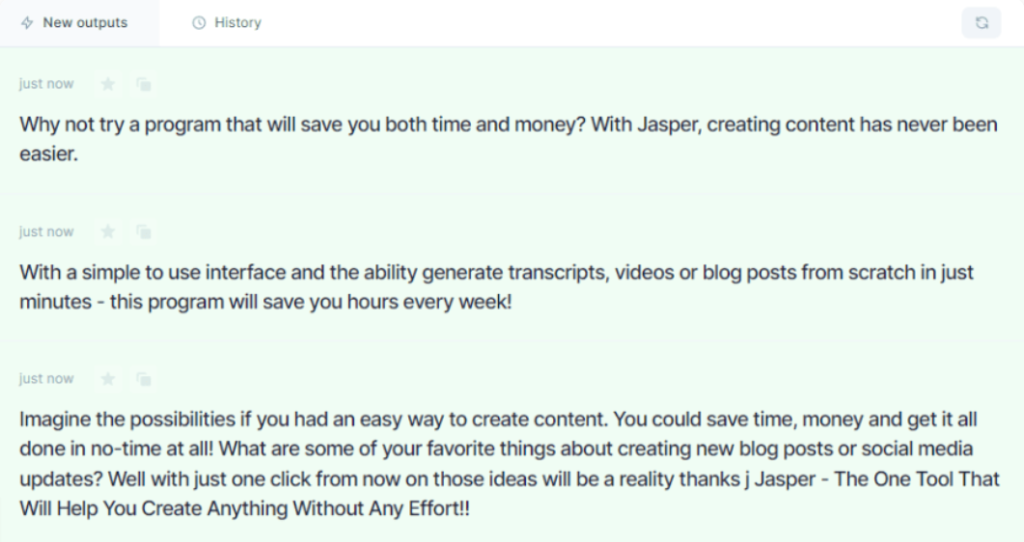 If users are unsatisfied with any of them, they can click the Generate AI content button to create more results until they're pleased with the duplicate.
Future Outlook
Copymatic

:
Although AI technology has constraints, the future looks promising and lucrative. Furthermore, there is no wonder that the benefits far overshadow the drawbacks.
According to Crunchbase, Copymatic AI ranks 110,566 among websites globally, with 526,384 monthly viewers, and that number is expected to proliferate in the coming years.
Jasper:
Jasper is growing quickly, at a breakneck pace, and is now in contention to become the fastest AI company to reach $100 million.
According to the website Cision, Jasper assists users in creating unique content. It is compatible with all browsers and can even be accessed through platforms such as Google Docs and Microsoft Word. This acquisition moves Jasper's vision of providing cognitive AI assistance to producers anytime they work forward.
Where Copymatic Wins
When it comes to pricing, Copymatic has an advantage because many people cannot afford expensive tools. That's where it comes in to facilitate small business owners.
Where Jasper Wins
Jasper currently owns 60 templates for almost any piece of product you can think of. AIDA and PAS templates are available for developing marketing copy – these are appropriate for advertising agencies looking to win potential clients.
Jasper also supports translating from one language to another. the Command feature can yield thousands of words in less than a minute.
Conclusion
Both tools are adequate and should suffice your needs, but Jasper has significantly more features than Copymatic.
Jasper has technical features such as SEO integration, Jasper Art, keyboard shortcuts, web chrome extension, and input and output languages; therefore the fee of Jasper is slightly higher.
So it's up to you to decide which one to go with.
Assuming that you, the reader, are already accustomed to all of the resources available on the internet, I'd like to bring up Writecream as another such resource.
Another content-creating tool that leverages cutting-edge technology to serve its clientele is Writecream. There are many capabilities that none of these solutions offer, such as a free cold email generator that may be quite helpful to the company's HR staff because they must adhere to a lot of emails.
This tool can do a number of things, including giving you the scripts for your promotional YouTube videos or adverts. It also lets you generate both long and short-form material, in contrast to certain other programs that can only produce one of these.
Doesn't it seem exciting? Now that you are acquainted with Writecream. You may choose the free trial and give it a go.