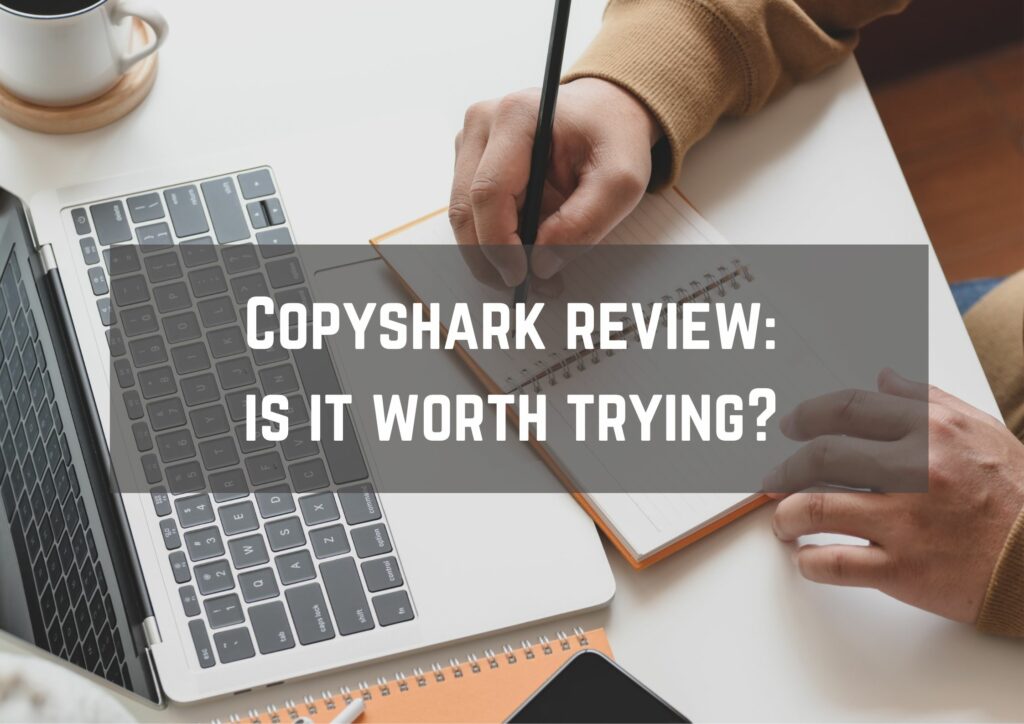 Have you ever got stressed due to overload of content work? That's where AI writing software comes into play. By giving a few keywords, AI writing tools can generate a blog article on a given topic. Essentially, AI can automate the entire content generation process and distribute it in an instant.
If you need help coming up with content ideas, AI writing tools can help. Their story generators can provide inspiration for your next novel or movie, as well as generate tailored content for businesses who require a variety of copy. AI writers are not only capable of generating words, but also of generating sentiments.
In this post, we will talk about one of the best AI writing tools in the market at the moment – CopyShark. Let's get started!
What is Copyshark?
Copy Shark is a cutting-edge segment of copywriting software driven by GPT-3 that can create Facebook and Google ad copy. It's like if you had your own team of writers working day and night to develop limitless ad copy for you. Instead of creating separate landing pages for your deals, you can create hundreds in minutes with its 1-click interface. 
💡 Generate personalized emails, blog articles, product descriptions, and ads in seconds using the power of A.I
It is one of the most powerful and user-friendly copywriting programs on the market. With just a few clicks, Copy Shark offers you the ability of 10x smarter copy. It's the ideal creative writing tool, far superior to anything else on the market.
CopyShark Features 
Here are the key features of this AI writing tool:
Product Description Generator

Facebook, Google Ads and Headlines

Blog Introductions

Personalized Cold Emails

Social Media Replies – Quora, Pinterest

Product Descriptions For eCommerce

Sales Copy & Video Scripts
Who Should Use CopyShark?
CopyShark AI is an exceptionally strong and intriguing technology with numerous applications. Almost everybody who starts or owns a business can benefit from CopyShark AI, but there are some who will find this AI-powered technology especially valuable.
Marketers 
If you are a marketer or the owner of an eCommerce firm in today's fast-paced and increasingly competitive digital arena, you know better than anybody that you must always be looking for an advantage.
Furthermore, Al allows you to 10x not only your efficiency but also the quality of your text. Even if you are a really experienced and competent copywriter and marketer, Al is likely to outperform you. Text Shark uses proven scripts to produce ad copy and product reviews based on what is most likely to increase engagement and sales right now.
Writers 
If you're a content writer,  a blogger, a journalist, a freelancer, or a creative writer, CopyShark Al could be the tool you've been looking for.
With CopyShark Al in your arsenal, you'll never have to deal with writer's block again. While the Al cannot (yet) create complete finished pieces for you, it can generate memorable headlines, powerful introductions, and intriguing paragraphs that, when edited and enhanced with your own personal touch and attention to detail, allow you to write far more in less time. Furthermore, if you make a living as a writer, Copy Shark would become your best buddy.
Entrepreneurs 
Founders, entrepreneurs, and startups of all kinds require a lot of powerful copy to get their ideas off the ground and into the public.
You need plenty of words  to express what your idea or product is all about, and Copy Shark Al offers you that edge, even though you don't have a huge budget or a team to perform the writing for you.
On their webpage, CopyShark boldly states that they are an Al writing application for founders, and that it will assist you produce 10x smarter copy.
Content creators

 
If you are a content creator, you are all too aware of the need to consistently create new and intriguing content. Struggling to catch up and stay relevant can be really difficult.
CopyShark relieves you of much of this effort by generating all of the post ideas, YouTube video scripting, and written copy you require for every social media site at the stroke of a button.
Why Should You Use CopyShark?
The following are some benefits of using this AI writing tool:
Simple, yet effective

Driven by GPT-3 AI from Open AI.

Copy Shark's AI-powered platform enables content production as simple as 1-2-3.

You have access to 50+ tools for creating ad text, website copy, product descriptions, sales copy, and much more.

Over 20 languages are supported.

Copy Shark can help you turn your copywriting work into results, meet your KPIs, and effortlessly grow your business.
Copyshark Pricing
Copyshark offers two major plans: monthly and annual.
Premium Monthly: The monthly subscription is $39 per month. The features include 20k AI Generation Credits, Access to All Functions, and the ability to save those AI Generations. For this price, you get Standard Customer Support.
Annual: The annual plan is $299.99. It gives you infinite AI Generations, access to all functions, and the ability to save these AI Generations. With the Annual package, you get "premium" customer service.
Best CopyShark Alternatives
Check out the top competitors of CopyShark below:
#1. Writecream 
Writecream is a top notch AI-powered marketing solution that employs GPT-3 and produces content that is free of plagiarism. It also automates the creation of content for Google ads, landing pages, product descriptions, blogs, social media, and other platforms. Writecream can be used to generate personalised, compelling introductions for outgoing marketing messages.
Writecream is a newcomer who is doing incredibly well. It has increased in popularity in a relatively short amount of time due to its distinctive traits, accessibility, and affordability.
Writecream allows you to create a blog from scratch in only a few minutes. It also includes the option to turn this blog post into a podcast that may be used as a voiceover for a YouTube video. This distinguishes it from its competitors. 
#2. Jasper
Jasper AI is a dominant player in AI writing solutions, with over 50,000 users worldwide. Jasper is an excellent tool for bloggers, entrepreneurs, and anyone else who needs to generate content automatically.
Jasper can help you with your grammar, vocabulary, and style of writing. Anything from blogs to essays to video scripts and storylines can be created. 
It has a strong function called Boss Mode that allows you to create long-form content in a matter of minutes.
#3. Rytr 
Rytr.me is an excellent alternative if you need low-cost AI-based writing assistance to help you write high-quality content. Rytr generates content with OpenAI/GPT-3 technology. More than 900,000 copywriters, bloggers, and marketers use Rytr software worldwide.
#4. CopyAI
Copy.AI is a well-known AI-powered copywriting tool that enables you to create better content faster. It evaluates your content and provides suggestions on spots where you can enhance, making it the ideal tool for swiftly generating better copy. CopyAI is used by over 500,000 content marketers globally to create content automatically.
#5. Anyword
Anyword AI is an exceptional copywriting tool that analyses text and understands its intent using artificial intelligence models.
It enables you to create unique and relevant content for your target market. It's a wonderful tool for authors of all skill levels.
Insert a link, abstract, or product description to start writing. Then, select the format for which you want Anyword to create a copy, as well as your desired writing tone. You may also use the blog post template to automatically generate material for your website or blog.
Conclusion
CopyShark offers a wide range of tools, including more than 50 in one package. The tools can be used to create anything from a product details for Amazon to a YouTube script for your video. It has a simple UI and a tidy site. 
However, if you are looking for a better alternative with more features and content accuracy, you can go for our No. 1 pick Writecream. WriteCream has already become a favourite in the internet world in quite a short period of time. It detects the user and serves up content that is relevant to their business and niche. It has the ability to significantly increase your productivity by producing a large amount of content in a matter of seconds.
Try out Writecream's free plan now to see how versatile it is.
Writecream provides 30+ tools for generating tons of content within seconds! Use Writecream to generate product descriptions, personalized emails, blog articles and much more and that too for free! Our free plan provides 20 credits every month which helps you generate 10,000 words per month!
Isn't it amazing?
To get started,  register here for our FOREVER FREE plan NOW!