If you are among those struggling to find leads for your business with absolutely no clue where to begin, let me introduce you to a tool that will help you pool resources from a database of more than 800 million contacts. It searches over 150 million companies, 250, 000 news sites, a billion social profiles, and more, to provide you with the resources needed to scale your business. Seamless AI, as the name suggests is an AI-powered tool that lets you search for leads that are relevant as well as help you organize them.
Seamless AI is a relative newcomer to the B2B market, but it has been able to successfully attract a number of businesses owing to its reasonable price. Along with the pricing, another aspect of the tool that has worked wonders for the brand is the various options it provides when it comes to searching, sorting, and saving contacts. Saearching profiles whether it be companies or individuals couldn't get more advanced as Seamless AI comes with the options to filter your search according to the industry, size of the company, location, and title of the person. Of course, similar to other tools in the market, revealing a contact requires credits which are initially provided for free. The stand-out feature here would be the research option which allows you to gather additional information about your prospects.
Naturally, once you are done with your research and prospecting, you would prefer to save the contacts that you believe are a good fit for your requirements. Seamless AI does a good job of making this part of your prospecting as simple as possible with the option to sort your contacts into different lists and also export them outside the tool. Exporting contacts can be done in two different approaches – you can export raw data, which is done in an excel type document with all the details that you might want to use in the future. The other option is to export clean data which is essentially the information you are most likely going to use i.e. contact details and links.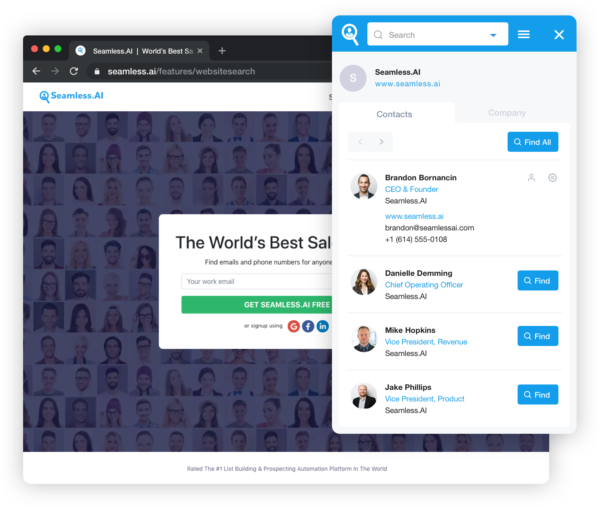 Features:
Find Contact Social: Seamless AI is an excellent tool when it comes down to finding leads on social media. You don't need to have a Premium LinkedIn account to make use of this feature as it can be utilized in the free version of LinkedIn as well.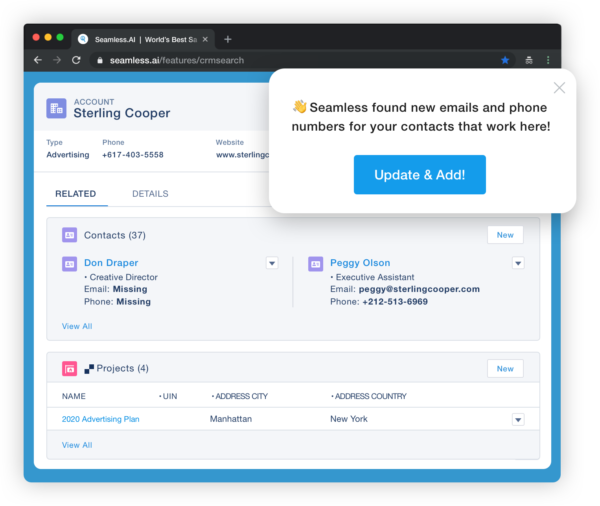 Lists: As mentioned earlier, Seamless AI lets you organize your contacts by adding them to a created list. There is absolutely no limit to the number of lists that you can create and it even comes with the option to filter your lists. Categorizing your contacts is an indispensable part of keeping your lead prospecting organized and structured. Another cool feature is that the created lists are also downloadable and can be exported to other tools.
Finding companies: If you are looking to land companies as clients instead of individuals, Seamless AI helps you achieve this by letting you find the right people within the business to contact. Searching companies according to the number of employees, estimated revenue, location, and keywords is also a great feature that adds to the value of this tool.
Lead Enrichment: This feature utilizes Artificial intelligence to research more into specific contacts and adds new relevant information that it collects from the internet to its database. This is a step ahead of other tools as most B2B Software rely solely on updating pre-existing data which doesn't really add much value since effective prospecting requires more than just contact details.
Chrome Browser Extension: Seamless AI offers this unique feature that allows it to be run as an extension. This is beneficial especially when it comes to finding leads on LinkedIn as it can gather information much more effectively. Not having to run separate windows is probably a big advantage as many other tools do not provide this feature.
Tracking goals: The tool lets you set your sales targets and with the help of details about your commission targets it calculates the worth of every sale. With a few simple calculations, it helps you determine the number of leads you need to contact in a period of time to meet your sales goals.
Lead Analysis: The stand-out feature of Seamless AI is its ability to select leads based on the company's and the user's profile. Through various factors like lead scoring and market interactions, and analyzing patterns, the AI selects relevant data and presents it to the user. This spares the user from long hours of finding leads manually and makes the most of its sophisticated AI model.
If you take a deeper look into the above features, it is quite evident that Seamless AI is loaded with features that are sometimes not available in other tools even if they cost more. This alone could be a reason why Seamless AI might be the right tool for you. If you are new to the world of sales, this tool will essentially play the role of guiding and assisting you through the confusing maze of prospecting leads.
💡 Generate personalized emails, blog articles, product descriptions, and ads in seconds using the power of A.I
Pricing
Seamless AI has three different plans according to the user's requirements. Although it does come with a free trial, it offers limited features and unless you upgrade your plan, you won't be able to make the most of its amazing features.
Basic plan: Starting at $147 / Mo, you get 250 credits per month along with a host of other features that include CRM Integrations, Technographics, and Direct Dials among others. For this plan, customer support via email and knowledge base is also available but it is limited to a single user, unlike the pro and enterprise plans.
Pro plan: At a discounted price of $99, the pro plan gives 1000 credits per day/user and it can be accessed by 5 users at a time. It comes with a Salesflix Sales Library and Advanced Org Management along with chat support to resolve your queries. This segment is the most popular among current users and features like autopilot and saved searches are to be added soon as per the company website.
Enterprise: This plan is for users who want a custom plan as per their requirements. The usual features available in the pro plan are included in this plan as well and a dedicated account manager is also available for support.
The basic features that are included in all the plans include a search engine for researching contacts available in the database. Collecting phone numbers, and email IDs and integrating them into other CRMs is also a common feature.
Conclusion
Overall, Seamless AI is a great option if you want a new and more sophisticated approach to generating leads online. The host of features that it comes with makes life simpler for a prospector and I believe it is a great option if you wish to move to another tool or more so if you are new to the world of sales prospecting. It costs nothing to take a free trial and if you do find it worth your investment, you can always go for the basic or the pro plan. I would suggest if you are new to sales, Seamless AI is the perfect tool to kickstart you career.