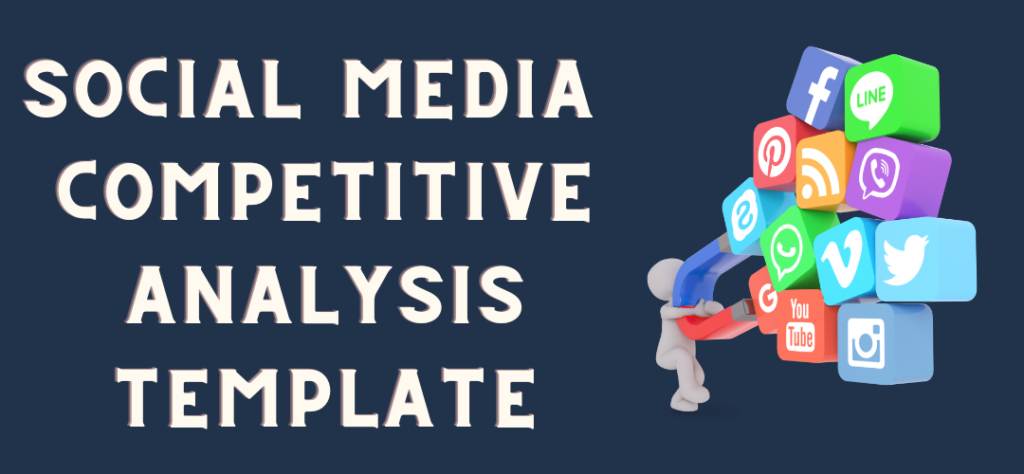 The best tool you will ever find on the internet is the art of rectifying yourself and modifying your faults in the strategies. It helps you keep one step ahead of your competitors.
How to stay ahead of everyone on social media? Start using Social Media Competitive Analysis. It will help you to keep yourself updated like others in the industry. This article will teach you to analyze and modify your work on social media. Here we have listed all the best social media and Competitive Analysis tools and provided you with a sample free template included for your help.
What is Social Media Competitive Analysis?
A Social Media competitor analysis is the process that helps you analyze your strengths and weaknesses. It helps you compare those strengths and weaknesses to that yours. It is a process of benchmarking your work against the experts in that industry. This helps you to check those opportunities in the working stage and those on which better work can be done.
To perform a social media competitive analysis, you will need to keep in mind some of the various ways,
💡 Generate personalized emails, blog articles, product descriptions, and ads in seconds using the power of A.I
Identify your competitors on social media.
Know the kind of social media they are actively using.
You can know how your competitors are using the media.
Understand their social strategy.
Benchmark your work against your competitors' work.
Identify the threats to the work you are doing.
Find gaps in your work and the best work you can do by modifying it.
Not all of the benefits on how to conduct a social media competitive study on social media are related to learning about your rivals.
Benchmarks for performance in your own company.
Suggestions about when to publish on social media.
An awareness of the potential customers' problems.
Content ideas that are fresh (and better) might appeal to your readers.
Suggestions for differentiating your brand
Social networking maintains contact with friends, family, coworkers, and consumers through web-based social media marketing platforms. A huge possibility for marketers looking to engage customers is social networking. Social networking is connecting with friends, family, or peers using online social media platforms. Social networking is using technology to establish and maintain interpersonal and professional connections.
What is a swot analysis?
You can evaluate your social media marketing plan using a social media SWOT analysis based on four quadrants:
Strengths: On social media, what are you doing well?
Weaknesses: What things may prevent you from using social media to your full potential?
Opportunities: How might social media benefit you?
Threats: Which outside elements, such as rivals or economic issues, can impede your success on social media?
Social media metrics are crucial since they demonstrate that you can gauge a campaign's effectiveness, the effectiveness of your social media strategy, and ultimately if you will have an impact on your entire business. In addition to giving you a chance to demonstrate to executives the impact of your work, having these indicators can help your social team experience significant changes, such as budget increases and improved access to resources.
Knowing your competitors closely is never the only reason to use social media. It gives you insights into your own business and your audience. Here are some of the important insights which you can get after actively using social media:
Performance graph: Followers, engagement rates, potential client visitors to your account, and share of voice are some of the best things you can avail yourself of over the internet.
Timings of your audience when they are most active on the internet.
You can understand the potential client's main points.
Find new ideas and ways to represent your work in front of your audience.
You can build good communication skills.
Ideas to modify your work and also work on your skill.
This competitive analysis is helpful for your growth in the industry. You can do these things on your own or hire someone whose sole job is searching for your competitors. Sometimes companies prefer a quarterly or a monthly report rather than a daily report.
How to do a Social Media Analysis?
Before you start learning this process, download this free Social Media Competitive Analysis template made by us with the utmost information to keep track of your efforts.
Determine who are your competitors
You would have certain primary keywords fixed by your company as required to keep track of your SEO ranking on google. For example, if you are writing about a recipe, the ingredients, the time it will take, and the benefits of eating the dish are some of the main keywords. However, your competitors won't be the same if you are a grocery provider. Therefore, you must understand who your competition is and then act accordingly.
Tools like Google AdWords are free to use. They provide you with a variety of features to analyse your website. Here you will get a lot of suggestions regarding your recent searches, average monthly search and estimated level of competition.
Check who has a high ranking on google.
You can choose 10-15 primary keywords useful for your business and plug them into google which wil help you understand your top competitors and what strategy they opt for. Please go through the details your competitors have on their websites. Please pay special attention to the keywords used and where they have been used.
Check who are the competitors who appear on the top
The brands ranking your work may not be the same as those ranking other competitors. Since this is asocial media, you must observe who are your competitors in social search also. For example, go to Instagram and type a keyword in the search box. Now see the accounts coming on the top.
Find similar brands your audience follow
Some features on Facebook and Twitter, like Facebook audience insights and Twitter analytics, can give you good insights into your audience. If any of these similar searches are similar to your product, chances are that you can get ideas about improving your works.
Choose up to five competitors
Now, as you have listed some similar niche companies, it's time to keep the closest matching competitors.
Social media competitive analysis tools
These are some of the most common social media competitor analytics tools:
BuzzSumo
You can use Buzzsumo to discover the most popular articles among your rivals. You can use this to generate ideas for both possibilities.
Hootsuite Streams
With the help of the potent tool Hootsuite Streams, you can monitor keywords, rivals, and hashtags on various social media platforms from a single, simple dashboard.
Brandwatch
Brandwatch provides some effective methods for competitive analysis.
Synapview
With the help of the software Synapview, you can keep an eye on your rivals and popular hashtags on blogs and Reddit.
Mentionlytics
A wonderful social media competitive analysis tool is Mentionlytics, which monitors social media.
Talkwalker
The main function of Talkwalker is as a social listening tool with a vast library of competitive and non-competitive information.
Ask yourself a few questions about Social Media Competitive Analysis
Now you have gathered some of the similar companies of your competitors, its time to make notes about some of the key points like:
What are the actively used social media by your competitors?
What Number of followers do they have, and how fast is it growing?
Composition of the followers(youngsters/old ones, adults).
What are the engaging topics, and what is their engagement rate?
What are the hashtags used very often?
The number of hashtags they use.
Do a thorough analysis of Social Media Competitive Analysis.
Your strengths: List your strengths where you have done better than your competitor.
Your Weakness: Enlist the points where you are lagging behind your competitor.
Opportunities knocking on your door: The points where improvement is necessary can also be the point of opportunity.
Threats: growth is always seen in both good and bad intentions. Maybe your competitive company was seeing your growth try to do something unusual. It's better to keep an eye on the growth of your follower too.
It would help if you visited your Social Media Competitive Analysis regularly to modify it to the need of the potential clients. Make this your habit. Start doing this if you are preparing your analysis report quarterly or monthly.
Some of the best Social Media Competitive analyses
Here are some of the best tools to help you improve your Social Media Competitive Analysis.
BuzzSumo
Hootsuite Streams
Brandwatch
Synapview
Talkwalker
Summing up
You can make your own Social Media Competitive Analysis spreadsheet and use it according to you. You have a dozen social platforms emerging today. We can increase the follower count in the social media platforms like Instagram, LinkedIn, and twitter provided you should have strong social profiles and social channels. You have a free trial session here. You can use it to improve your strategy. Download our sample template and use it for your work. We have tried our best to give a simple yet informative spreadsheet that will contain most of the facts—social media competitive analysis template.