When it comes to cold emailing law firms, you might find yourself holding your breath in anticipation.
A cold email refers to an unsolicited e-mail that is sent to a receiver without any prior contact. Cold emailing is when you contact a business prospect via email, with no attachments or referral. It is a subset of email marketing and differs from transactional and warm emailing.
Cold emailing is an effective way to reach out to leads to the law firm's potential future clients. It's a method that many firms are turning to due to the success stories coming from their leads. In this day and age, sending out cold emails to law firms is not too difficult, whether you are sending it to the C-suite attorney or at their receptionist. But what is cold emailing especially when it is meant for law firms and how do you leverage its power successfully?
This blog will break down the process of cold emailing and how to make it successful.
💡 Generate personalized emails, blog articles, product descriptions, and ads in seconds using the power of A.I
What are Cold Emails?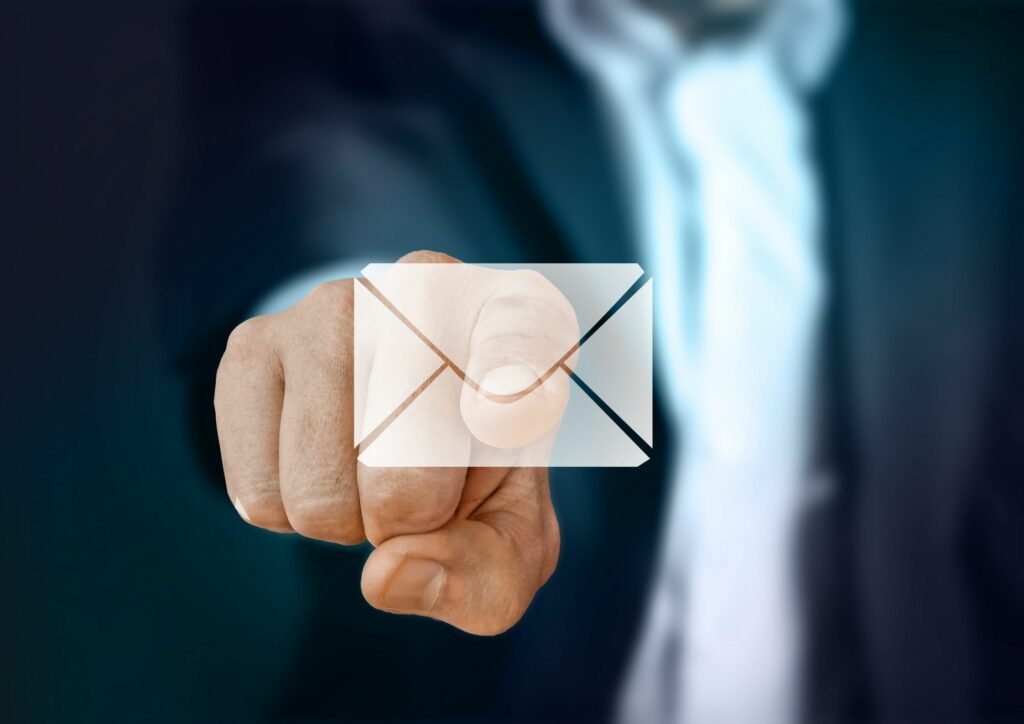 Cold emails are introductory emails that you send to someone you do not know to establish a connection for business or networking opportunities. It can be used for a variety of situations, such as:
Emailing your dream company
Using your network to be introduced to someone
Expanding your network
To set up an informational interview
To email someone you don't know or have a connection to
To say thank you after an interview
To follow up after an unanswered cold email
To let a recruiter know that you applied for the job
Mass Emailing and its Benefits 
People use the strategy of mass email for several reasons.  Some want to pursue associate jobs with a Big Law firm and some may be students who just want to maximize their chances of getting a Big law job or who want to pursue a legal market not represented at OCI.
Mass emailing takes some extra work apart from the regular law school workload since getting results is a numbers game. This includes finding the recruiters' contact information and creating a massive excel sheet to streamline the process.
Many firms continue to review CVs and conduct interviews on a rolling basis after OCIs before fulfilling all their SA positions. The earlier your resume gets into the inbox of the recruiters, the better chance you may have of receiving interview invites. Therefore, mass emailing is a good option to effectively reach a large number of people without much hassle.
Cold Email Templates for Getting a Job or Internship at a Law Firm
Hello Jacob,
I'm a fellow Rotman Law alum ('12) and am moving back to the New Jersey this winter to be closer to family. I'm hoping you can spare little time to answer a few questions about your work and your experience at Legal Services of New Jersey?
I have been working in litigation for the past three years and now I'm thinking of making a shift in my career to a public interest legal position. I recently read about how it's genuinely working towards helping low income families with their litigation cases. I'm eager to join the team and wanted to discuss the same with you. 
I would really appreciate if we could have a word on call next week.
Hoping for a positive response.
Thank you so much! 
John
Template for Internships
Dear [Name of the Recruiter, or something specific like designation]
I am a ___ year student at ___ Law School. I'm looking forward to join a law internship and therefore I am writing to you to enquire about openings for law students at [Firm] in [City] this coming month.
Please find my CV, cover letter, and transcript attached below.
Please let me know the further procedure in order to pursue a position with [Firm]. 
Thank you for your time and consideration!
So this is how you can approach a recruiter for an internship!
Template for Jobs
Dear [Hiring Partner]
I am a [recent graduate of X]. I will be moving to [Firm City] following [school, clerkship, etc.] and I am reaching out to firms in this area to secure a decent job for myself. I have read great things about [Firm], and also got to know that your firm is hiring an associate with my background.
I would very much like to be considered as a candidate.
Therefore, I have attached a cover letter, transcript and my CV for further details.
If there is any other requirement, kindly let me know. 
Thank you in advance for your consideration! 
Kind Regards,
[You]
Keep the email short and crisp, but do write a cover letter for each firm.
Also make sure that you make your application a single PDF instead of multiple attachments
Getting Internship through an Alumni Connection 
Dear George,
My name is Ryan and I am going to complete my graduation from Law School in the next month. After my graduation, I would prefer to pursue a career in international law in (target city). I will be in (city name) during the summer break and would love to meet you. It will be great if you share some insights about your legal career. 
Thank you for sparing some time for this mail. I look forward for a positive response! 
Name
Applying for a Job Immediately After Graduation
Hello [name],
I hope you are well. My name is Alena. I am currently working as an Editor-in-Chief of [secondary journal].
I am writing to you to express my interest in working for [firm] as an associate after my graduation completes in the next month.
I am interested in securities litigation, antitrust law, consumer protection, and appellate advocacy (according to the specific firm and recipient) and hope to learn from your expertise.
My practical experience includes areas like courts and litigation. I have a decent experience in cases about trial and appellate issues and the proper ways to research and prepare initial drafts of decisions. I have also worked closely with the clerks and learned the skills – both legal and practical – that successful clerks possess. (Sharing your past experience).
Apart from this, I have also worked as an intern for many firms. My role included drafting interrogatories, document demands, answers, and memoranda.
I am confident that my experience makes me a strong addition to [firm]. My academic interests are in the finance field like crypotcurrency, securities market and regulation.
I would be highly obliged if I get the opportunity to interview with you and discuss the ways in which I can prove to be an asset for [firm]. 
Please find my CV, writing sample, and SEC comment letter attached to this mail. 
Thank you for your time! Hoping for a positive response! 
How to Mass Email?
There are some points that are to be remembered before you start sending mass emails. These are:
1. Prioritize your Geographic Boundaries:
Always search for cities where you have your network. Prioritize cities according to number of connections. For example:
Home City/State
City/State where you attended college/graduate school/law school
City/State where the community for your practice area is particularly strong
City/State where your family members currently live or will move to
City/State where your significant other currently lives or will move to
City/State where you wish to settle down
Any other locations you genuinely wish to work and live in
2. Search and Test Different Mass Mail Programs:
A lot of mass emailing programs are there in the market and these should be tried in order to gain the advantage of mass emailing.
3. Drafting the Email Body: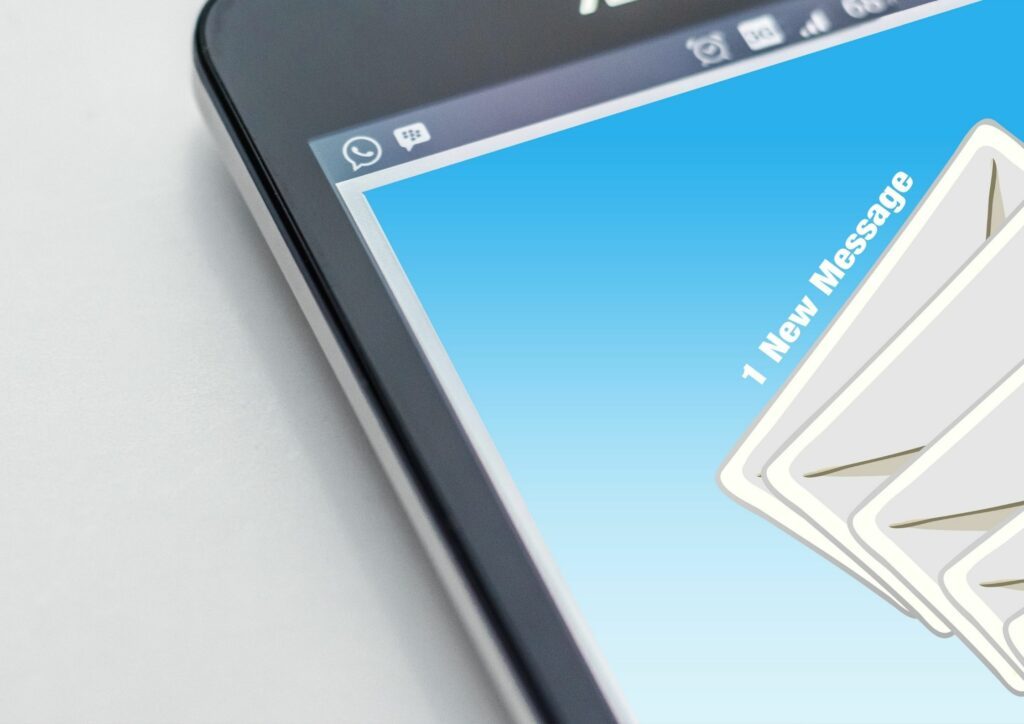 An email should be direct, crisp and concise, and generic in nature. One should be clear with one's objectives and try to gain the recruiter's attention with their writing skills. The recruiters should be able to understand your value as an asset for the firm.
4. Collect Recruiters' Contact Information:
To send an email, some of the information is required beforehand like:
Recruiter's email address
Recruiter's name
Full name of the firm
Office location
To find this specific information, you can look through the firms' websites. Generally many firms do not list their recruiter's contact information online and therefore it's better to look for contacts in the NALP directory or the person's LinkedIn profile.
5. Compiling and Proofreading:
After your have collected the contact information, create an excel sheet and plug in all the information therein.
After compiling results, proofread to make sure that everything is perfect. Also make sure you attach your CV, transcripts and a writing sample if you are pursuing a litigation practice.
So these were some important points to be taken care of before sending mass emails.
Now how do you create such emails?
Don't worry! I have the perfect answer to this question and that's Writecream!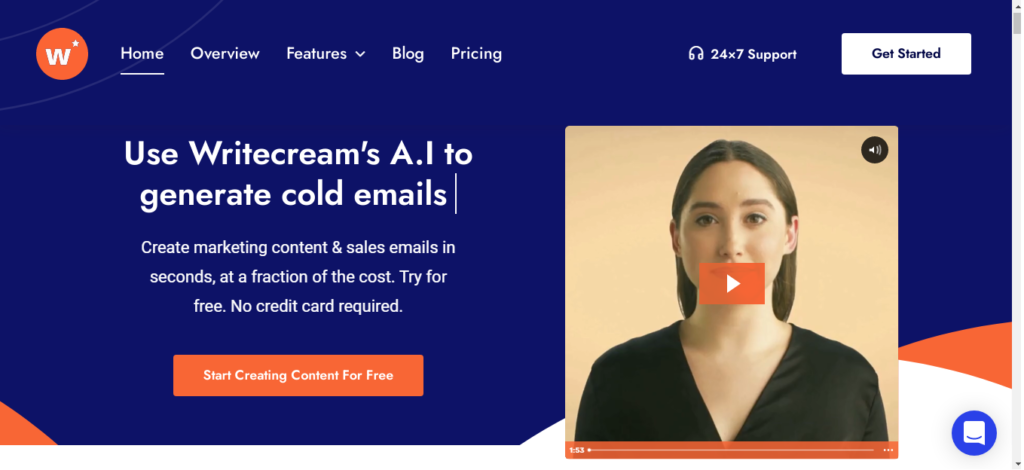 Writecream is an AI powered platform that helps in generating tons of content for cold emails, LinkedIn Outreach, blog posts, digital ad copies and much more!
The topmost feature of Writecream is Email Personalization which helps in creating personalized introductions for cold emails. These introductions are short, crisp and plagiarism free and are a sure lead-getter for the firm!
Now I would underline a simple 2-step process on how to use this feature by Writecream to create personalized introductions for cold outreach!
Step 1.
Sign up for a free account at Writecream and your main dashboard appears. Select the "Email Personalization" case and get started!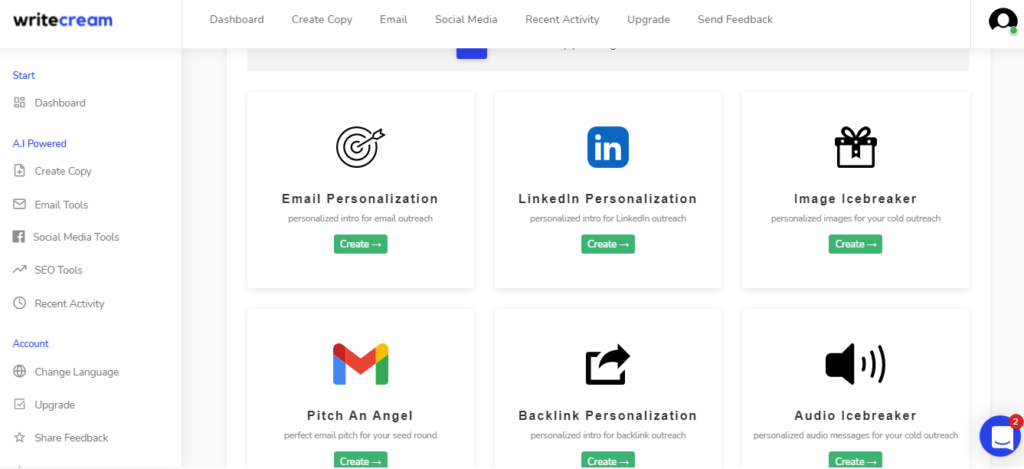 Step 2.
Enter the Website URL in the URL bar and click on the generate button.
It also asks you to specify the Website link category. Select "URL" to proceed.
The results will be displayed and you can select the output of your choice. Writecream also gives a feature to regenerate output in case you're not satisfied with the previous results.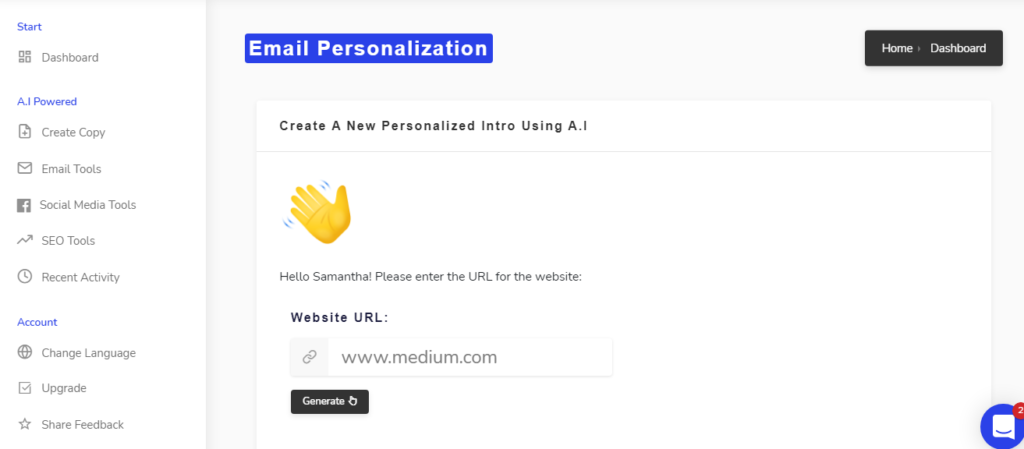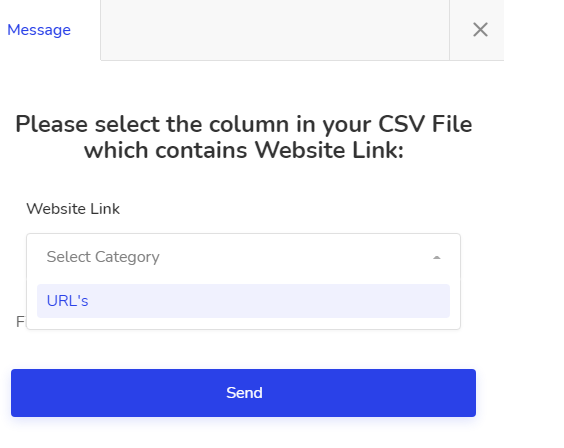 Here, I took the example of Medium.com and the image below shows the results generated.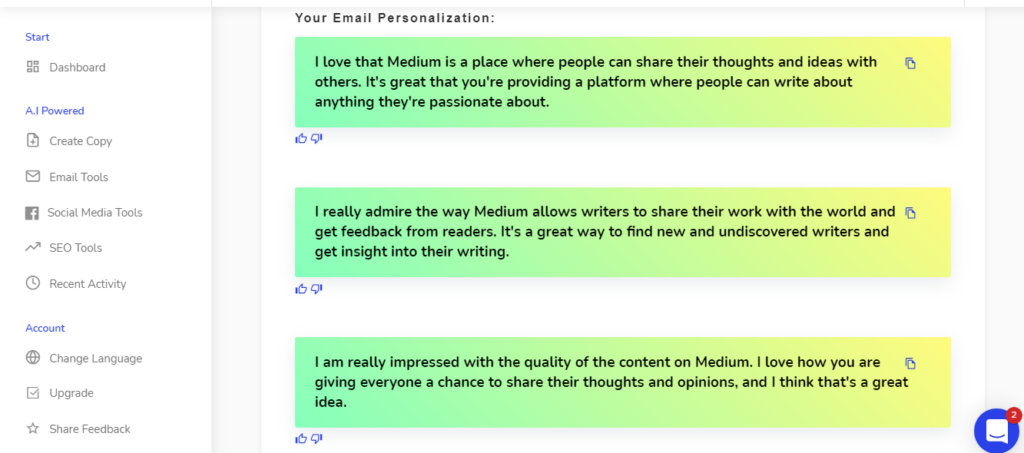 But when it comes to emails, we need to send a bulk of emails to different prospects!
You must be thinking that it's a cumbersome method to enter the URL and generate output every time you need to send an email!
Don't worry! You have to perform this step only once even if you want to send bulk emails.
Generating Icebreakers for Multiple Prospects Simultaneously:
You need to follow the same process as above. But in order to add more URLs you need to create a separate Google Sheet.
Open Google sheets and in the first column, write all the URLs for which you want to generate emails.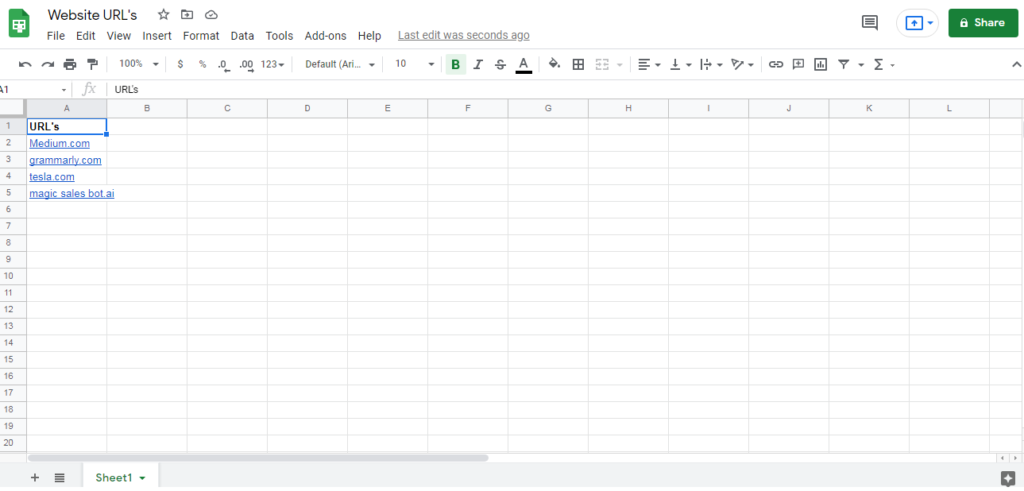 After this, go to the file menu and select the option "Download> Comma-separated values" (csv) in order to convert the sheet into a csv file.

Now on your Writecream email personalization case, scroll down a bit and you'll see an option to "Upload Email List".
Now upload the csv file and click on "proceed".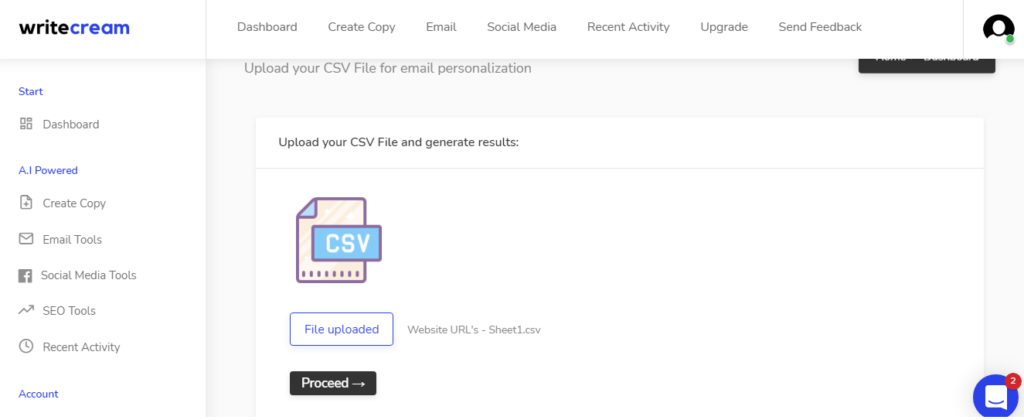 he results will be displayed below. Download the link and again a Google sheet will be opened along with the personalized introductions for each URL.

And this is how you can generate introductions for a multitude of prospects without performing the process multiple times.
So this was the whole process and I am sure you must be excited to give it a try. I'm sure your workload will decrease manifold.
There is a misconception that cold emailing is done with spam emails, but there are many ways to make cold emails more personal. Plus, the personal touch will make the prospect more likely to take the next step with you. This amazing feature of Writecream helps you to get more personal to match the personality of your company.
So this was about writing and sending cold emails. But what about the next step?
Getting an internship or job at a law firm is not just limited to writing an impressive cold email. There is one other step which decides whether you'll are able to secure a seat at the desired firm.
This step is the interview stage.
Honing Interview Skills:
Cracking the interview stage will confirm your seat at your desired organization. But there are some important points that should be kept in mind in order to clear this stage.
1. Researching Law Firms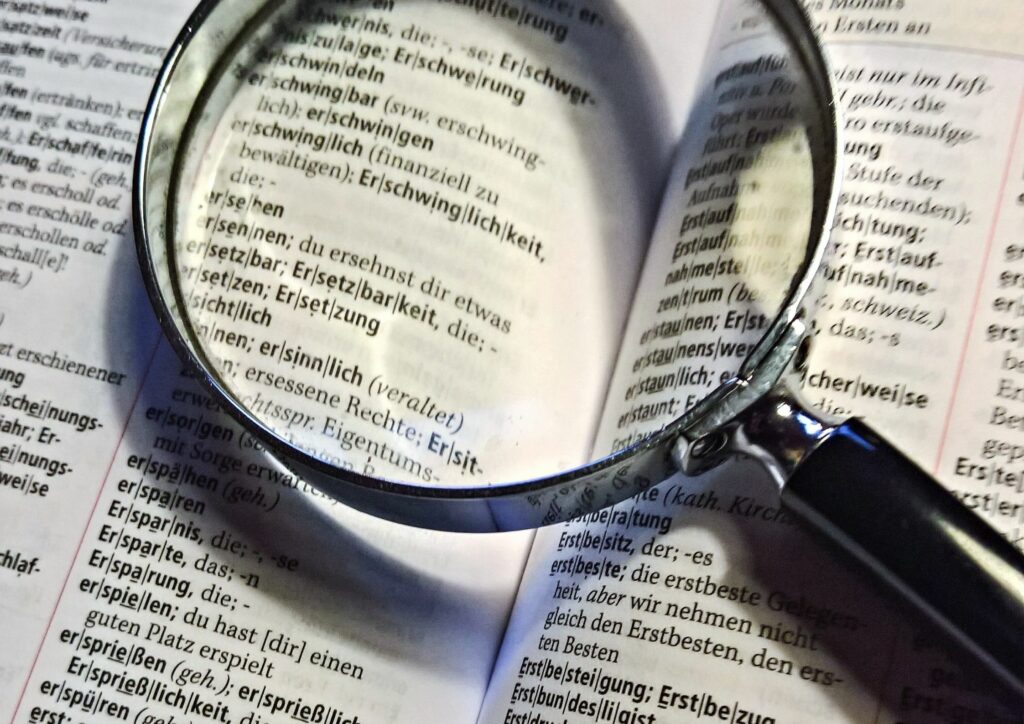 There are several questions in our minds while joining a new place.
For example:
What kind of firm you may be potentially joining and do they actually practice the area of law you want to pursue?
Is that practice renowned?
Is the firm prestigious enough for your standards (if you care)?
How do they train their associates?
Do junior associates get to rotate practice groups?
In order to get the answers to such questions, it's crucial to research about the firm before your interview. You can research on law firms through various sources like:
These sources have all the information that you need in order to get yourself acquainted with the organization.
2. Prepare the Obvious Questions:
Some questions are quite predictable. These are generic questions which an interviewer would definitely ask to grab all the necessary and simple information about the candidate.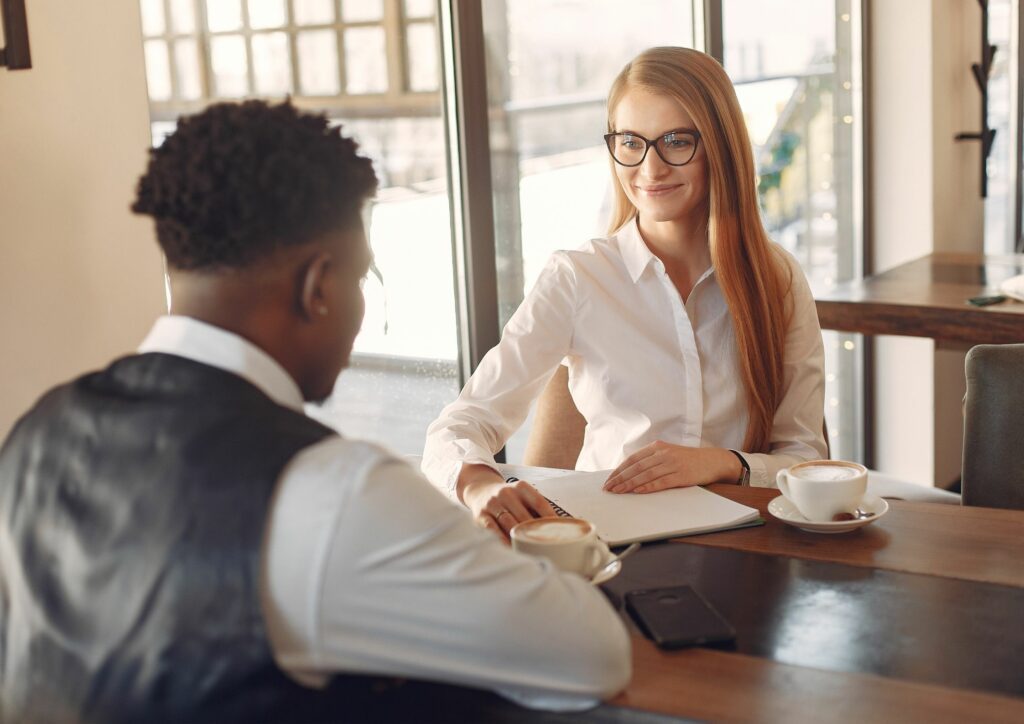 Some of the examples of such questions are:
This is the most obvious question and you should be always prepared for this. The answer should be a quick 1-2 minute summary (but no more than 2 minutes!) of what you did before law school, how that path led you to law school, and why you want to be a lawyer at your interviewer's firm.
Share your past personal, educational, and work-related experiences and then discuss how each experience logically led to the next.
Share your reasons for your decision to go to law school and your interest in the field.
Acquaint them with your current set of skills and past work experiences.
Share your strengths with your interviewer as may be looking for a specific quality.
A person is not interested unless and until he's not clear with your why. Explain your interviewer about your interest in the specific field and how did you decide to go further with that specific firm.
There can be multiple reasons like you have relevant work experience that would help you in this field or the firm is renowned for their work in this particular field.
Make sure your interviewer clearly understands your intention.
What was your favourite class in law school?
There can be some very generic questions like this and you must be aware of the answer because it shows about your level of awareness.
Think about why you liked a particular class. Was it because of the professor's way of engagement or primarily your interest.
 Where do you see yourself in 5 years (or 10-15)?
This is an easy question as well as a difficult one. A recruiter is impressed when the candidate has a vision and expects a sensible answer. This is a definite question and should be prepared by all interviewees.
This answer can be given in 2 parts. One is the 5 years outlook where you can share your near future plans and the "kind of work you want yourself to be indulged in".
Other is 10-15 years outlook where you share your long term goals and aspirations,your future standing.
The biggest challenge that you overcame:
In order to answer this question effectively, you can refer to a prior internship or job where you were thrown multiple challenges and you stood tree-like to face all of them.
Firstly, describe the context or the situation you were in, sharing all the important professional or social conditions.
Explain about the challenge your team faced and your working conditions like lack of motivation, etc.
Describe in detail about the task that you had to complete despite all challenges.
After describing the situation, explain your action plan wherein you give each and every minute detail of how you handled the situation and people.
A lot of things depend on this particular question because your interviewer would want to know your decision making abilities and pressure handing capacity.
Tell me about a time where you exhibited your leadership skills:
It's not necessary to relate your leadership experience with a job or internship. You can also share your experiences and learnings and Takeaways from your projects, hobbies, or volunteering work.
"Teach me something about the law that I don't know". 
Another tough-sounding yet easy question where your interviewer tests you the most.  Here the interviewer is not deliberately pushing you into a swamp but just wants to see you articulating something you learned in the class and to check the clarity of your concepts.
In order to answer this, you must know what field of law do they practice? If your interviewer is a transactional lawyer, don't talk about legal concepts from your contracts course because that's what they do.
Think back to another course where your professor discussed the application of the law to a recent case. Think before you speak so that you are able to frame a sensible answer and you don't find yourself uttering random things.
So these were some top tips to ace your interview! I hope you enjoyed reading this piece and I'm looking forward to know your experience with using the Email Personalization feature of Writecream!
Do share your thoughts in the comment section below!
Writecream provides 30+ tools for generating tons of content within seconds! Use Writecream to generate product descriptions, personalized emails, blog articles, and more! Our free plan provides 20 credits, which helps you generate 10,000 words per month!
Isn't it amazing?
To get started, register here for our FOREVER FREE plan NOW!