What are the benefits of using a content strategy tool?
There has been a significant rise in digital marketing in the last couple of years. It can be tedious to do your market research, content curation and analysis with the right tools virtually, especially if you are starting. AI-powered marketing tools can help you with these tasks. 
They can help analyze competitors more effectively with their algorithms and quick workflow. They have tools that help in content curation. They can help you develop ideas and research what ideas are selling and where you can create a presence. They can even streamline content and make it more personalized. 
These tools cut down on the cost of hiring professionals. You can find all their services in one place. Two such tools are MarketMuse and Frase.
💡 Generate personalized emails, blog articles, product descriptions, and ads in seconds using the power of A.I
MarketMuse
MarketMuse is an artificial intelligence-powered cloud-computing tool that helps you drive content, and conduct SEO audits more effectively. It gives you content planning solutions in a way that builds your online presence, and you stay on top of your SERPs. It analyses articles related to your niche online and looks for gaps where you could fit in with your content.
Some of its main features are:
It has AI-driven content data

It assists you in content research, content writing and content optimization

It conducts a competitive content analysis

It gives you content briefs

It helps in link building

It has user-intent tools and content ROI tools
Frase
Frase is an artificial intelligence-driven content writing assistant. It helps you research, create and optimize SEO-friendly content. It identifies and categorizes content related to your niche and finds you opportunities to write content so that you build your online presence. It also has an AI writing tool built in.
Some of its key features are:
It manages content, documents and audit 

It analyses content

It provides keyword research tools and keyword rank tracking

It allows you to integrate third-parties

It helps in user management and workflow management

It also makes website and trend analysis
Review Comparison
MarketMuse
G2, a review website from Chicago, rates MarketMuse with 4.6 out of 5 stars based on over 190 reviews. Most reviews consider this tool essential for building an online presence. The users are satisfied with its service.
Another review website, Software Advice, rates MarketMuse with 4.5 out of 5 stars based on 24 reviews. Most reviews are positive, and the tool's users are satisfied.
A website called TrustRadius has rated MarketMuse based on 22 reviews and ratings with 9 out of 10 stars. 
Frase
The website G2 rated Frase 4.8 out of 5 stars based on 252 reviews. Many reviews are positive, and the users are delighted with the tool.
Another review website called GetApp rated Frase 4.8 out of 5 stars based on 324 reviews. 
TrustPilot has given Frase a 4.1-star rating. A large majority of the reviews are pleased with the tool.
Language supported
MarketMuse
MarketMuse supports two languages as of now, which are English and Spanish. 
Frase
Frase supports a total of 8 languages as of now for all its services.
Languages: Danish, German, English, French, Italian, Dutch, Portuguese, Spanish. 
User interface and tutorials
MarketMuse
The user interface of MarketMuse takes a bit to learn, but once you understand it, it can be straightforward. 
There are various resources on MarketMuse's website to teach you the software. They have blogs, crash courses as well as guides and case studies. There is a knowledge base, and they regularly conduct webinars related to MarketMuse. They even have a "MarketMuse Academy" which covers all aspects of MarketMuse, from using applications to making content briefs. 
Frase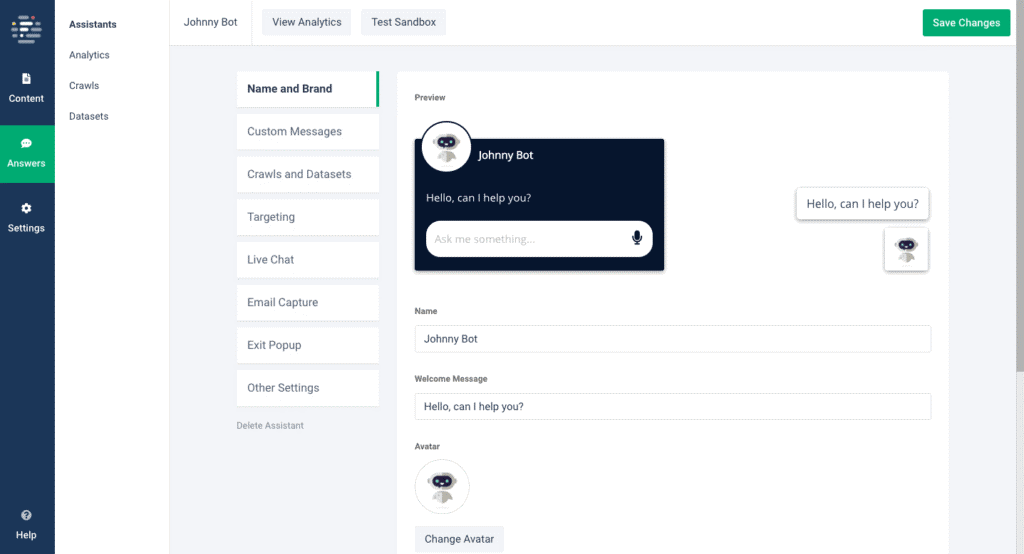 Frase's user interface is relatively simple to use. They provide you with various resources to help you understand the interface. They provide live product walk-throughs as well as a blog. They have a blog page as well. Their Help Centre is very effective as well.
Price
MarketMuse
MarketMuse has three pricing plans.
Free: The Free plan does not expire if you subscribe to it. It allows only one user per account. You can make 25 queries per month and 10 projects. It can be used to optimize, research, compete and connect using this plan.
Standard: The Standard plan comes at $7,200 a year. It allows one user per account; you can add more users by paying an additional $99 monthly. You can make 100 queries a month. The number of projects you can make with this plan is unlimited. 
Premium: This plan starts at $12,000 a year. It provides on-demand content audits for one or more of your demands. You can analyze domains for any number of pages within fields. This plan allows you to track managed topics. It also gives you team access for collaboration. You also have unlimited self-serve content briefs.
Frase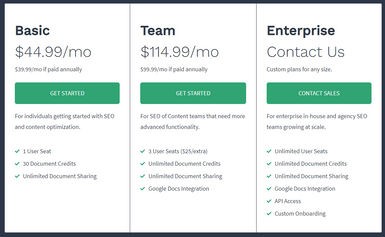 There are three pricing plans available for Frase users.
Basic: This plan starts at $44.99 a month. It allows only one user per account. It gives 30 document credits total and unlimited document sharing.
Team: This plan starts at $114.99 a month. It allows 3 users per account. It gives you unlimited document credits and unlimited document sharing. It also lets you integrate Google Docs.
Enterprise: This plan is perfect for businesses. It gives you unlimited users per account. You have access to unlimited document credits and document sharing. It allows Google Docs integration as well as API access. There is also a feature available for custom onboarding.
Where MarketMuse wins
MarketMuse comes in handy for starters. It is also cost-effective and budget-friendly. It provides users with a lot of features. It analyses hundreds and thousands of articles related to your niche before declaring results. This tool allows content teams to do much more, much faster.
Where Frase wins
Frase offers features that help with workflow. Its built-in features help you out with content curation much faster. This tool is perfect for businesses with large teams. Its user interface is straightforward, and you can quickly get the hang of it.
Conclusion
A tool that has all the features in it is a good choice for your AI-powered content strategy. A test run or a free trial helps you choose the best tool. Consider the costs and the pricing plans when picking a tool; would it be wise to buy a costly tool with features you wouldn't even use? At last, choose a tool that you are comfortable working with. It could be regarding workflow, user interface or tech support provided.
WriteCream is one such writing tool that has all that you need and more. It offers many tools and templates in about 45+ supported languages. It works effectively for all your writing needs and delivers high-quality outputs. You can always start with a free trial right away and see what suits you best!