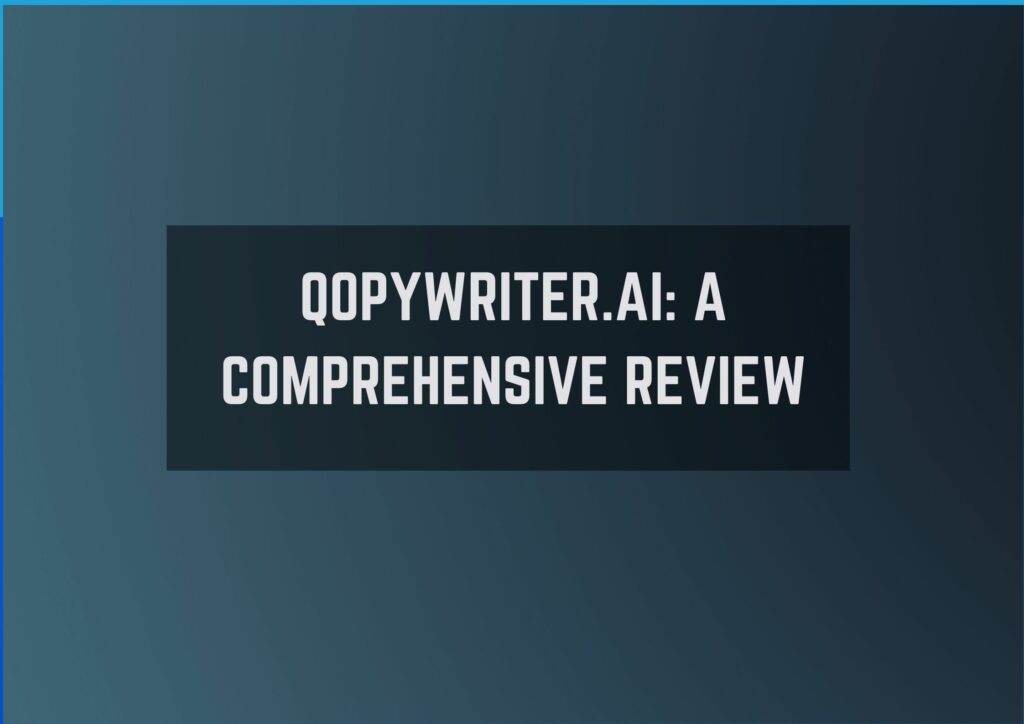 Hey!! I detect anxiety and stress in you. What's the matter!? Concerned about producing high-quality content pieces for your website or business? Our technology has advanced dramatically, and we now live in the twenty-first century. Don't be concerned at all. I am confident that by the conclusion of this post, you will be comfortable and on your way out.
Introducing Qopywriter.ai writer which may be your new best buddy! This AI writer is an excellent tool for anyone who suffers with time management or has limited resources. It may help you save time and money while creating high-quality writing. The world's first AI-powered copywriter is Qopywriter.ai. There is no need to engage a new writer every time you want a new article; simply utilise Qopywriter.ai and it will perform the work for you. Qopywriter.ai combines the most recent advances in natural language processing and machine learning technology to provide you an entirely new approach of generating content for your business. Qopywriter.ai is rated 975,584 in the world among websites, with 34,333 monthly visits.
PRICING STATUS:
Qopywriter.ai price begins at $19.0 per month. Qopywriter.ai offers three distinct plans: * Starter, which costs $19.00 per month.
💡 Generate personalized emails, blog articles, product descriptions, and ads in seconds using the power of A.I
* $49.00 per month for business.
* Annual cost of $420.00. Qopywriter.ai also provides a free, limited-featured plan.
Additionally, Qopywriter provides a 30-day free trial. It gives you 20 articles to write over the course of 30 days, but don't write them all at once; instead, write one every other day to take use of this Qopywriter.ai service.
HOW IT WORKS?
Describe. To produce it, provide the title of your article and 1-2 sentences.
Generate. To generate original articles, our AI article generator employs cutting-edge language models.
Editing and exporting Edit and double-check the article creation results. Export in a variety of formats.
Important SEO keywords might be included in the first two lines of the article description box to increase generation accuracy. You only need to supply the title of your article and a few phrases to get fully SEO optimised and plagiarism-free content. Qopywriter's AI article generator creates unique material by utilising cutting-edge language models. AI copywriting tools allow you to produce original material with a single click. In seconds, you may create high-quality essays and academic papers. You may modify and double-check the results of the article generation process before exporting it in a number of formats. You may quickly automate your content marketing tasks using AI copywriting software.
In the background, there is no scraping or whirling. To develop human-like content, we utilise cutting-edge language models based on deep learning algorithms. We can create original blog posts, SEO articles, essays, college research papers, news, product descriptions, press releases, and more. Customers' order receipt email messages contain a hidden link to the customer's account administration area, where you may manage your active subscriptions.
WHO IS QOPYWRITER.AI MEANT FOR?
Are you a copywriter? Using AI Copyrighting technologies, you may obtain unique content with a single click.
Are you a student? Get high-quality college papers and essays in seconds.
Managers of SEO? SEO article writing services can provide genuine human-quality material that will please search engines.
Journalist? Impress your audience and write the first draught of your novel effortlessly.
Are you a blogger? Their personalised AI blog post generator generates high-quality content for any niche.
Marketing Expert? AI copywriting software can help you automate your content marketing activities.
QOPYWRITER DOESN'T ONLY GENERATE CONTENT
These are only a quarter of the articles provided by Qopywriter. There are dozens of articles where I realised that they do more than simply provide information; they also encourage and instruct you. Qopywriter is one of the few AI technologies that provides incentive through information.
By "instructing," I mean if you want to learn how to write blogs or how to get started, this may be the greatest platform for you since even if you're not using it, you can learn a lot by reading their blogs.
PERFECT ALTERNATIVE
While taking about AI software you should also take into account the Writecream. Personalizing a message for your prospects that includes their interests from their profile has been a game changer in their lead generation process, and an A.I. tool powered by writecream.com makes this effortless. The user interface is straightforward and simple to use. The majority of the text created by Writecream seemed like it was written by a regular human. It used to take me 15-30 minutes to write, but now it just takes me 15 seconds) This saves me numerous hours by developing bespoke content for each of my audiences.
CONCLUSION
There are several benefits to writing if you love it. I am aware that there are many people who write every day. However, it has become so simple for everyone to write and publicise their narrative with these AI tools. People argue that writing is merely a portion of the work because there are so many rewards and advantages.
So I hope you are no longer perplexed about what you should write and how you will make time for it. These tools have proven quite simple to use for many individuals, and they will be for you as well. I strongly advise you to use these tools and make the most of the present technology.
Writecream provides 30+ tools for generating tons of content within seconds! Use Writecream to generate product descriptions, personalized emails, blog articles and much more and that too for free! Our free plan provides 20 credits every month which helps you generate 10,000 words per month!
Isn't it amazing?
To get started, register here for our FOREVER FREE plan NOW!