Benefits of using an Artificial Intelligence copywriting tool?
AI writing tools are gaining immense popularity in the writing circle. Yes, they have technical limitations, and no, they will not replace human copywriters, but they have many positives.
They help you save time and eliminate writer's block. They are perfect for inspiration for writing something new and compelling. They can also cut down on the costs needed to hire professional copywriters. This is perfect for new businesses with small budgets. They can turn anyone into a writer in just a few clicks. Within 15 minutes, you can have content with up to 1000 words!
There are many such services on the market today. Rytr and CopyAI are two such tools that we compared.
Rytr
Rytr is a service that generates content for you using artificial intelligence. The job can be done within 15 minutes per your specifications, and the tool lets you edit the content as you like. In just a few clicks, Rytr can generate a 1000-word copy. It is also convenient and accessible as a browser extension, making it very easy to use.
💡 Generate personalized emails, blog articles, product descriptions, and ads in seconds using the power of A.I
Some of its key features are:
It comes with 40+ templates and use cases, 30+ supported languages and 20+ tones of voice to cater to all your writing needs. This makes generating content as specific and practical as you need.

Features such as "reword" and "shorten" help long, monotonous sentences

The in-built plagiarism checker is convenient and helps save time. 

You can collaborate with your teammates or colleagues by creating a team account. 

The service generates Search Engine Optimized content using its built-in SEO analyzer.

Adding to its accessibility, Rytr is also mobile-friendly, allowing you to work from anywhere.
CopyAI
CopyAI is a writing tool powered by artificial intelligence. It uses the GPT-3 language model. It claims to save you time by eliminating writer's block and writing sales copies in minutes. Although it might not be able to create long-form content like blogs or articles, it can effectively create headlines, slogans or captions.
Some of its key features are:
This tool can create different types of content with pre-existing templates such as social media captions, ad copy, emails, or letters. Each template has different formats so that you can write per your specifications.

CopyAI can write in different tones; for example, you could use a professional tone for a business copy or an entertaining tone for a blog. You need to tell which tone to use, and CopyAI does that.

You can share your content with your teammates to colleagues. This makes working in collaboration easy.

It has a very easy-to-use text editor, similar to Google Docs. After the tool generates the content, you can edit it as per your liking.

There are 90+ tools and templates for you to choose from. 

The tool generates content which is Search Engine Optimized. The emails it writes are also click-worthy.

It comes as a browser extension, making creating content quickly on Google Docs easy.
Review Comparison
Rytr
G2, a review website from Chicago, gave Rytr 4.7 out of 5 stars and recognized it as "one of the leading brands in the AI writing space." These ratings were based on 600+ reviews, most of which were positive and called it a "unique and affordable tool to help you write better". Users are satisfied with this tool.
The website AuthorityHacker rated Rytr with 4.5 out of 5 stars. It was called a budget-friendly AI writer and is claimed to be the best for this price range. 
CopyAI
G2 reviewed CopyAI and gave it a 4.8 out of 5 stars. Most of the reviews are joyous and satisfied with the service. Users claim it is a "mind-blowing" tool and worth using, owing to its easy-to-use interface, content quality and community.
Another review website called uSERP claims it is "an excellent AI writing tool". It is time-saving and can generate content of decent quality.
AuthorityHacker, a review website, gave CopyAI 4 stars out of 5 for its design and high-quality output.
Language supported
Rytr
Rytr generates content in over 30 languages. You can also type and work using these languages on Rytr. These languages apply to all its products and services. 
The languages supported are: Arabic, Bulgarian, Chinese, Czech, Danish, Dutch, English, Farsi, Filipino, Finnish, French, German, Greek, Hebrew, Hindi, Hungarian, Indonesian, Italian, Japanese, Korean, Lithuanian, Malay, Norwegian, Polish, Portuguese, Romanian, Russian, Slovak, Slovenian, Spanish, Swedish, Thai, Turkish, Ukrainian, Vietnamese. 
CopyAI
CopyAI is capable of generating content in 25+ languages. You can also type in any of these languages and work on it.
The languages supported are: English, French, Spanish, Portuguese, German, Italian, Dutch, Russian, Polish, Danish, Chinese, Bulgarian, Czech, Greek, Estonian, Finnish, Hungarian, Japanese, Lithuanian, Latvian, Romanian, Slovak, Slovenian, Swedish.
User interface and tutorials
Rytr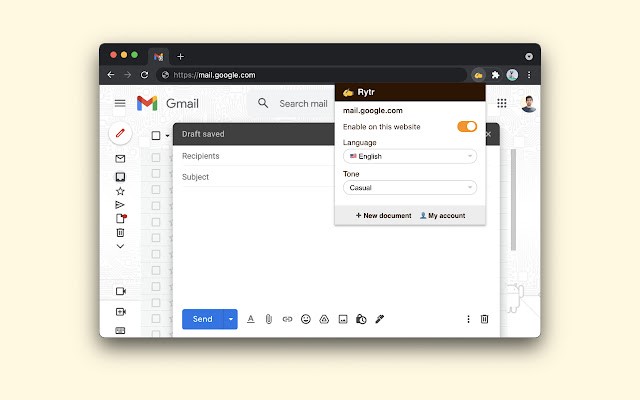 Rytr's user interface is relatively simple to use and perfect for beginners. As a browser extension, it is quick to use and accessible. You can generate content for emails or Google Docs with a simple click.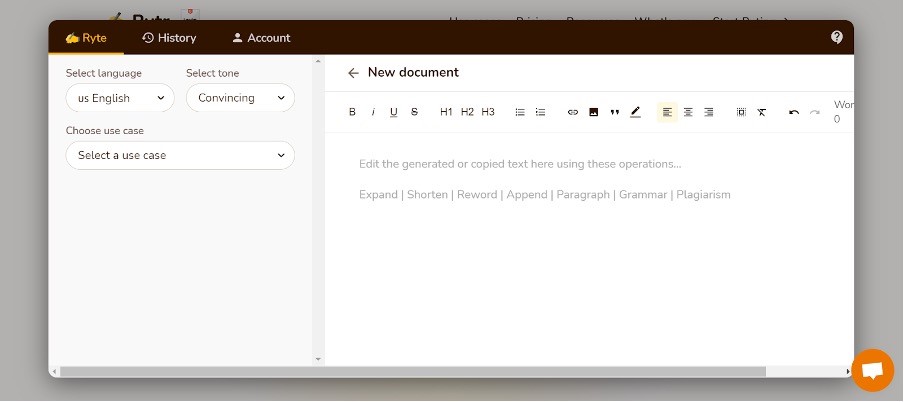 There are many resources on their website to help you use this tool. Moreover, there are YouTube videos giving demos on how to use this tool. The website FAQ and email support services are very useful in helping you understand Rytr. 
CopyAI
The user interface of CopyAI is straightforward to use. The tool's website gives you step-by-step guides on generating content using CopyAI.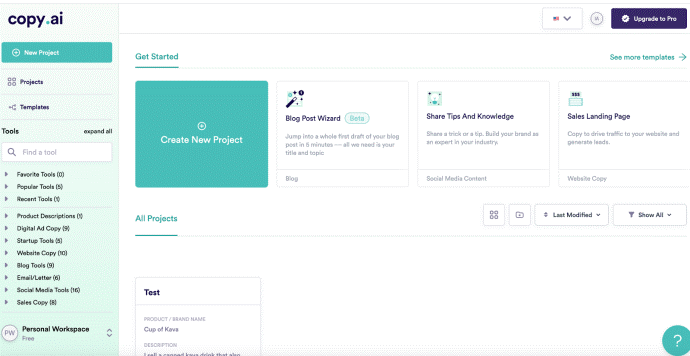 The company itself has various tutorials on YouTube demonstrating how to use the tool. There are also end number of resources on their page to help you learn the service. They also have a weekly demo option. Moreover, their email support is beneficial to all sorts of memberships. 
Price
Rytr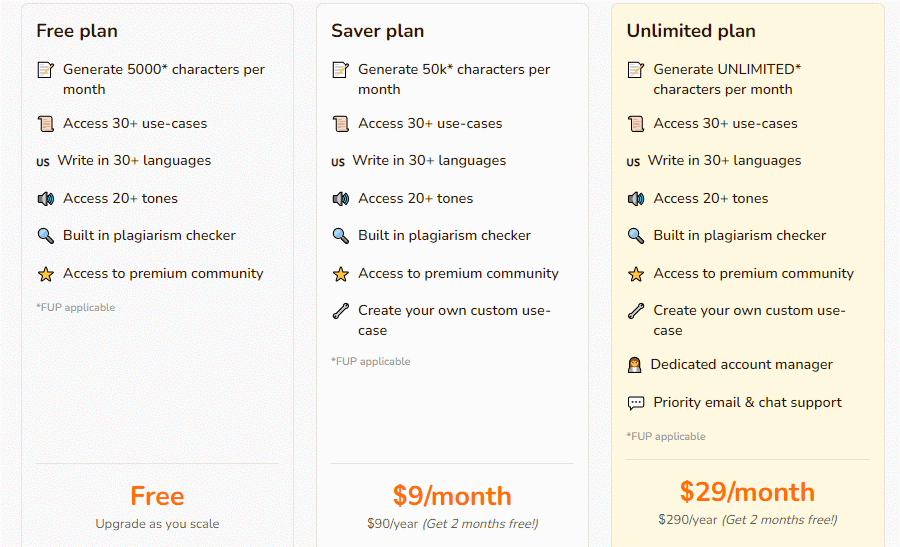 Free plan: This plan is free of cost. It has a limit of 10k characters per month. Users can use all 40+ templates, 30+ languages and 20+ tones. The built-in plagiarism checker is effective. You can generate up to 5 images per month. Free plan users also have access to the premium community.
Saver Plan: This plan charges users $9 per month. It has a limit of 100k characters per month it comes with all the features included in the Free Plan. It allows you to generate up to 20 images per month and create custom use cases. 
Unlimited Plan: Users pay $29 monthly for this plan and can generate unlimited characters. You get all the Saver Plan features, a dedicated account manager, and priority email and chat support. This plan also lets you generate up to 100 images per month.
CopyAI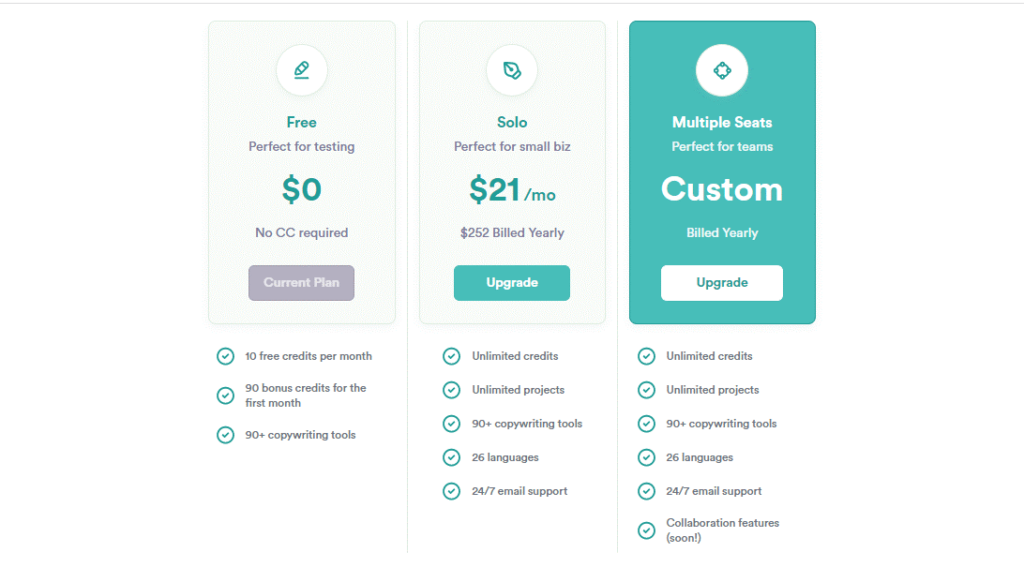 Free Trial: This is free of cost trial period of 7 days. It allows you 10 free monthly credits and 90 bonus credits for the first month. Users have access to 90+ writing tools in this plan.
Solo: This plan charges users $21 a month. You have access to unlimited credits and projects. You can also write in all languages and use all 90+ writing tools. This plan gives you email support around the clock.
Multiple Seats: This plan is billed yearly and is perfect for teams or companies. You have all the Solo plan's features and collaboration features. You can work with your team or colleagues on a single project through this plan.
Where Rytr wins
Rytr is perfect for newbies or small businesses due to its cost-effectiveness and ease of use. It also lets you use the tool for free without a period, which is an excellent feature if you want to avoid committing to any service for a while. Rytr also supports more languages than CopyAI. It is very accessible as it is mobile-friendly. Rytr lets you collaborate with others on your projects as well.
Where CopyAI wins
CopyAI is more effective and specific in meeting requirements with its 90+ templates and tools. Its user interface is straightforward, and resources and tutorials are plenty. Its text editor is very straightforward, and one can quickly get used to this interface.
Which one should you go for?
Both Rytr and CopyAI are well-working and effective copywriting tools. They both are easy to use and accessible, and they both generate good-quality content. 
Select a tool that would meet all your requirements thoroughly. You can start with free trials to judge how well suits your requirements and upgrade accordingly. Although reviews are helpful, they can only inform you to a certain extent. Try these services and then settle on one.
Conclusion
AI copywriting is gaining more popularity by the day. They certainly won't replace human copywriters due to their technical limitations, but they can help you with daily mundane writing tasks. There are many more tools for you to use apart from Rytr and CopyAI.
WriteCream is one such writing tool that has all that you need and more. It offers many tools and templates in about 45+ supported languages. It works effectively for all your writing needs and delivers high-quality outputs. You can always start with a free trial and see what suits you best!