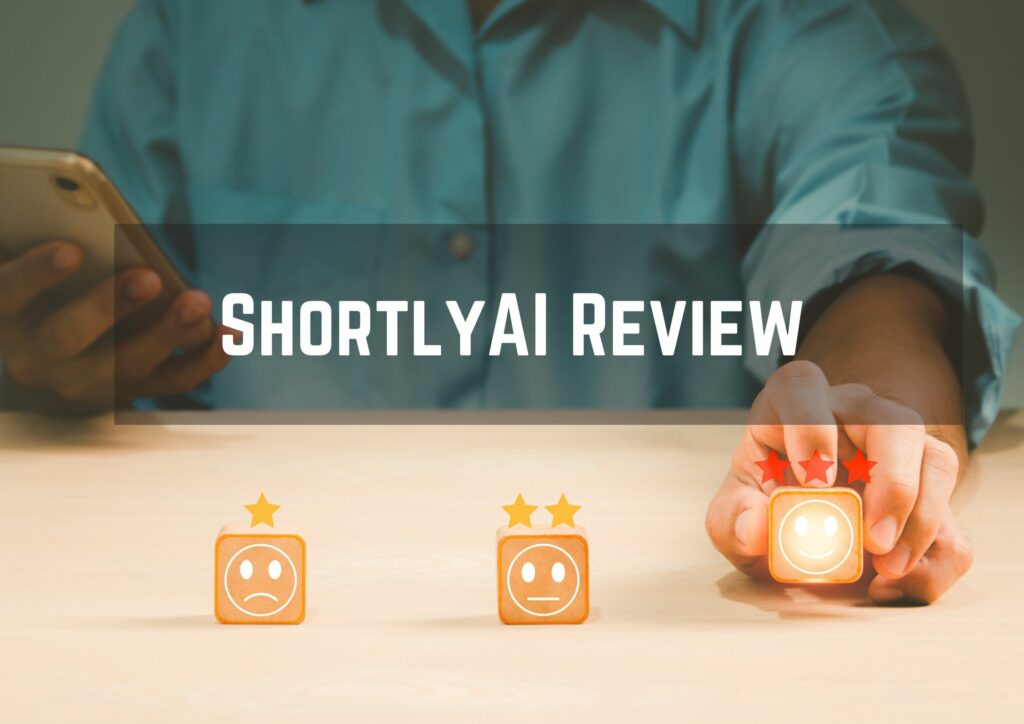 you can't hire a crew of writers, managing a blog or website might be difficult. There are many wonderful SEO tools out there that give you limitless content ideas but somebody needs to put those thoughts into paper. ShortlyAI is one such tool that uses AI to do this for you, but is it accurate and reliable? Let's find that out in this post.
What is ShortlyAI?
ShortlyAI is a GP-3-based AI software that assists you in writing any form of content, such as blog posts, novels, essays, YouTube scripts, and anything else you can think of. It can write anything for you, and all you have to do is enhance the article with images, links, headers, and so on.
You don't have to be concerned about the quality of the content because it is completely unique and free of plagiarism. The content ShortlyAI develops is superior to that of any other AI software, which is why it is one of the finest AI tools.
So, before buying this software, you may utilise the ShortlyAI free trial without providing any credit card information. During the free trial, you will have five attempts to use this AI software.
💡 Generate personalized emails, blog articles, product descriptions, and ads in seconds using the power of A.I
How Does ShortlyAI Work?
There are several compelling reasons why machine learning and artificial intelligence are transforming the content marketing sector. AI content will have a huge influence on your marketing strategy.
Your objective may be to increase efficiency, determine your audience's search intent, collect data, or profit from improved automation.
While artificial intelligence for content production may appear to be fresh, it is not. AI is used in apps like the Hemingway App, Grammarly, and Google Translate. The move to AI-powered writing, on the other hand, is still in its early phases.
GPT-3 from OpenAI is a deep learning-based programming model that generates human-like writing. The only AI technology that has cleared the Turing test is GPT-3.
ShortlyAI Features 
Here are some of the fantastic features provided by the ShortlyAI writing tool:
Generates articles, stories, blog posts, etc.

Creates social media posts.

Creates100% original content.

Powerful commands available 

Unlimited words credit.

Can write emails with subject lines.

Human-like writing quality.

Creates scripts for videos.

And many more.
Who Can Use ShortlyAI?
In short, ShortlyAI is designed for anyone whose business, employment, or other sources of income depends on delivering great content fast and on time.
ShortlyAI can help you write a novel or a blog article for your website. It will help you turn your thoughts into paragraphs. ShortlyAI can help you get started when you require a creative brainstorming partner or when you want to develop and expand an idea.
Just keep in mind that any AI writing assistance, including ShortlyAI, is not the writer; you are. It may assist you to come up with fresh ideas, but it will not write everything for you; you will need to do the majority of the job.
ShortlyAI may be a good match for:
Bloggers 

Long-form content writers

Anybody who wishes to save time

YouTubers

People dealing with writer's block

Entrepreneurs
ShortlyAI can be used in the following sectors:
Owners of Agencies

Copywriters

Authors

Local Entrepreneurs

Creators of Content

SEO Professionals

Marketers
ShortlyAI Price
Monthly plan: $39.99
Yearly plan: $24.99/month
ShortlyAI Pros and Cons
Pros
Easy to use

Affordable pricing

Unlimited words credit

You can write any type of content with it

Powerful commands

Very simple user interface

100% Plagiarism free content.
Cons
Sometimes the content shows inaccuracy but it is very rare.
Best ShortlyAI Alternatives
#1. Writecream 
Writecream is an AI writing tool that uses artificial intelligence to help you generate cold emails, podcasts, voiceovers, icebreakers, sales pitches, and blog posts. It allows you to quickly create marketing content, sales emails, and internet content. You may use Writecream to build personalised icebreakers that will help you enhance your sales. You may create a unique introduction for each of your applicants based on their employment, education, and expertise and include it at the start of your email or text message. 
Simply enter the link to your prospect's site. Following that, Writercream's AI will scan it and create a convincing icebreaker to tempt them to respond and increase sales. Enter the link of a blog, and the platform will assess the content and the author's point of view before creating a unique message to attract their attention. You may also generate long-form content, such as blog entries and video scripts, in minutes.
#2. Rytr
Rytr is a content writing tool that employs artificial intelligence to create content for you. Rytr's models are implemented on historical data to generate original and captivating articles with the appropriate tone and style, as well as grammatically accurate content.
Rytr's AI writing assistant will complete your essay in less than an hour, with no human participation required. Rytr can already create text for a wide range of themes and niches, including sports articles, reviews, business articles, blog entries, technology articles, and so on.
#3. Jasper
Jasper has two price options: starter mode and boss mode. The key difference, in my perspective, is that boss mode enables you to utilise the long-form document editor. The beginner mode, on the other hand, provides writing frameworks for certain use cases. Make blogs, books, scripts, articles, and other stuff. Select a topic and form, fill in the data, and Jasper will create the content for you. It isn't always fantastic stuff, but it gets me over writer's block. Jasper.AI is a useful tool now that "content creation" is the status of natural language production in content marketing.
#4. Surfer
If you can only get one software, Surfer is the one I'd suggest. It assists you in creating SEO-optimized content, crawling the web for content ideas, and swiftly beginning to rank in search engines.
One of my favourite features of Surfer is the document editor, which allows you to effortlessly copy and paste right into your site's content management system (CMS) without having to convert it. Since their text editor already includes all of the HTML tags, you just need to format it once.
Surfer has evolved into a well-rounded choice now that it has published its own AI authoring tool, Surfy.
#5. Scalenut
Scalenut is a content production tool that automates the writing process. Its AI writing system combines SEO and NLP approaches to assist you in creating interesting content and improving your page rankings. Scalenut's SEO Assistant allows you to create search engine-friendly content. It's similar to Jasper with the SEO Surfer integration, but without the need to purchase two different products. You input your term, and it returns a document editor centered on that keyword. I like how it includes a panel on the left that shows your competitors.
Conclusion
There is no disputing that ShortlyAI's technology is really amazing. I tried and failed to discover an example of plagiarism. It appears that all of the stuff it generates is absolutely unique. 
Unfortunately, there was nothing more of use with this AI for somebody who wants to generate content on a webpage that people will read and enjoy. The AI is just incapable of understanding what you are saying and wanders off-topic.
Looking for a better alternative? You can go for Writecream which is listed #1 on our list. It is a free tool that allows you to quickly write content for your site. Writecream is also the greatest content marketing solution. You can create material in your native language. It is a content creation tool that can assist you in increasing social media engagement and search engine results.
Writecream provides 30+ tools for generating tons of content within seconds! Use Writecream to generate product descriptions, personalized emails, blog articles and much more and that too for free! Our free plan provides 20 credits every month which helps you generate 10,000 words per month!
Isn't it amazing?
To get started, register here for our FOREVER FREE plan NOW!