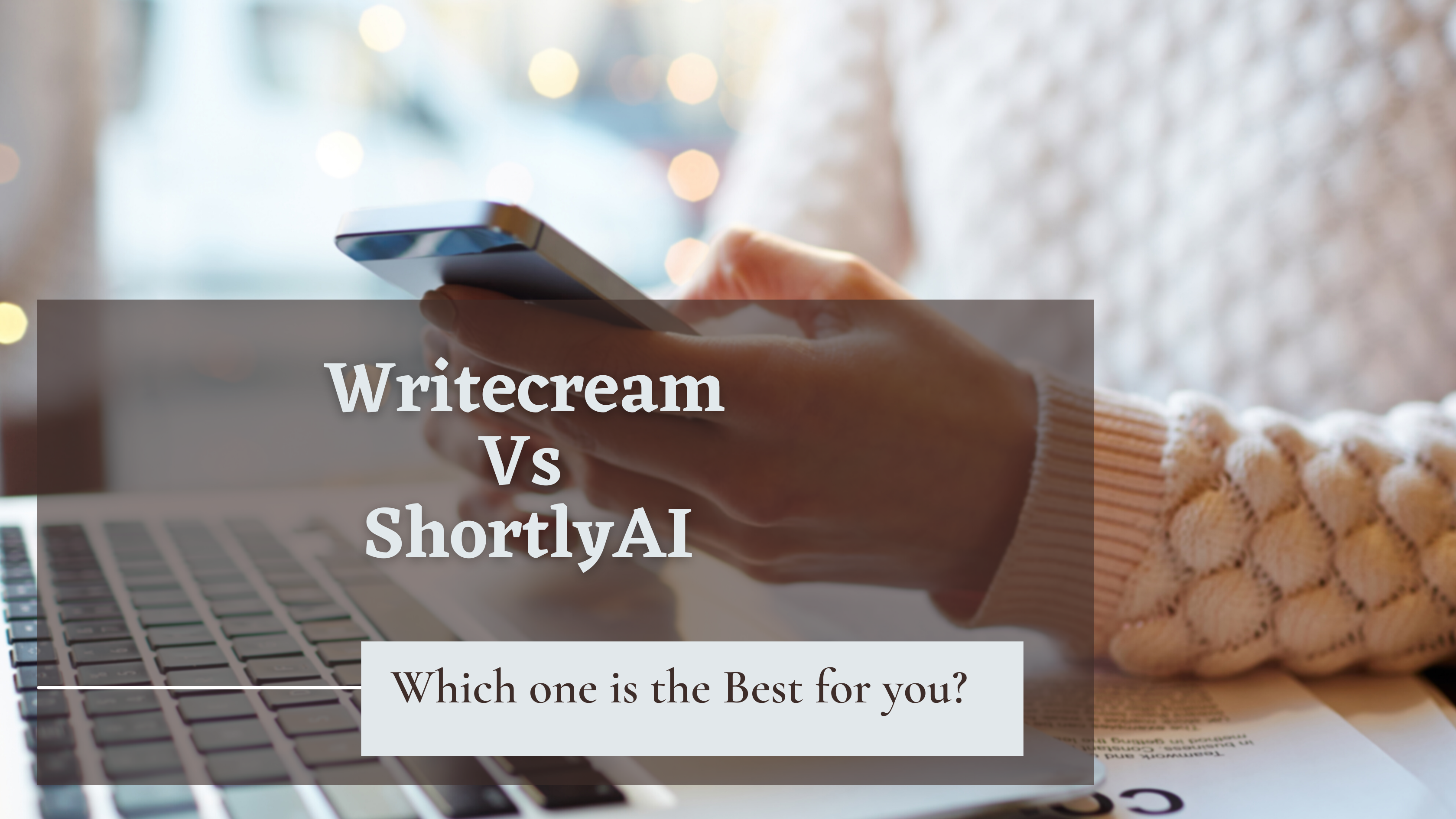 We all know that AI is a booming industry because of its ability to improve complex decision-making in the future. It forms the basis of all computer learning and it outstretches the human ability to make it more efficient and effective. The one major benefit of using AI in today's times is that its cost is on the lower side which most businesses and companies can afford and provide to their employees to boost the ability and thus, the desired output can be far better than it was expected. 
In this article, we will talk about AI-powered text and content generation that is being widely used in the Digital Marketing field, especially Content marketing, blogging, etc. we all know and understand that content writing is a difficult task and sometimes the writer's block can be frustrating. There are a lot of websites available that are there to provide you with the desired content for your marketing campaign or your website blogs. They use AI-powered tools supported by Machine learning and Data Analytics. You just have to enter a few instructions that will help that tool to generate the kind of output you want. 
Whether you want to stimulate your creativity or you want to generate a whole blog article- the AI-powered tools understand you and help you get through the difficult phase when you do not have any inspiration while writing, also known as writer's block. 
We will be talking about two of such AI-powered text generator tools in this blog and by the end of this article, you will be very clear about which one is the best for you. So, let's get started!
💡 Generate personalized emails, blog articles, product descriptions, and ads in seconds using the power of A.I
Writecream
Writecream is a very versatile, avant-garde AI-powered tool that helps you to generate automated content for various content creation and Digital Marketing campaigns. It helps you to generate content for social media, blog posts, product descriptions, value propositions, etc. You can also rely on Writecream for all your personalization needs such as email marketing, LinkedIn personalization, generating ice-breakers, and much more. 
 The Writecream's AI has the following features available:
Generate long-form content like articles and video scripts in minutes. Writing a 1000+ word article takes less than 30 minutes!
Generate ad copies for Facebook and Google at the click of a button by just entering your company name and what it does.
From ideas for social media posts to writing their content, do everything using the power of Writecream's Social Media Engine, powered by A.I
Cold Emails, LinkedIn InMails, Backlinks- 
Generate personalized introductions for cold outreach campaigns, including
cold emails, LinkedIn InMails & connection requests, and backlinks
Image and Audio Ice-breakers-
Up your personalization game with image and human-sounding icebreakers designed specifically for your prospect
YouTube Voice-over and Podcast-
Turn any blog article into a human-sounding podcast or voice-over for a
YouTube video. 40+ voices available with multi-lingual support
The outputs are free of plagiarism. Writecream's A.I generate a unique piece of content for every output.
ShortlyAI
ShortlyAI is an AI writing tool through which you can write your articles and stories. You have to enter the title of the article and brief the tool about what you want to write about before it provides you with the desired output. 
ShortlyAI provides a user with the following features:
Writing an Article/Blog

Writing a Story
Some extra features offered by Writecream
While ShortlyAI only provides the facility to generate a blog or story text on its website, Writecream provides a bunch of other features that ShortlyAI lacks. You can easily generate a blog using Writecream's long-form editor from scratch, even if you have no idea about what to write. Writecream guides you through your journey from ideation to the full article. From blog idea to blog conclusion, Writecream helps you with everything. ShortlyAI lacks this feature as it asks you to enter the blog title beforehand. 
There are many other basic features that are used in content creation that Writecream has. SEO tools, Ad copy generators, personalization tools, image, and audio ice-breakers are some of the many features that Writecream has and ShortlyAI does not. 
It is safe to say that Writecream has everything that ShortlyAI does, but ShortlyAI lacks various features that Writecream has.
Output quality comparison of each tool
As ShortlyAI only have the feature to generate blog/article posts, we did a test run to know the difference between the two outputs that are obtained using ShortlyAI and Writecream. We generated a sample article using the long-form editor and Article generator of Writecream and ShortlyAI on the topic 'Bill Gates'.
We found that Writecream's outputs were very informative and specific, it was exactly what a user would want to read in their blog. As for ShortlyAI, the starting was a little vague and did not provide what we wanted to see in the blog. 
We will show you the outputs we obtained and you judge the rest!
Here's what we generated on ShortlyAI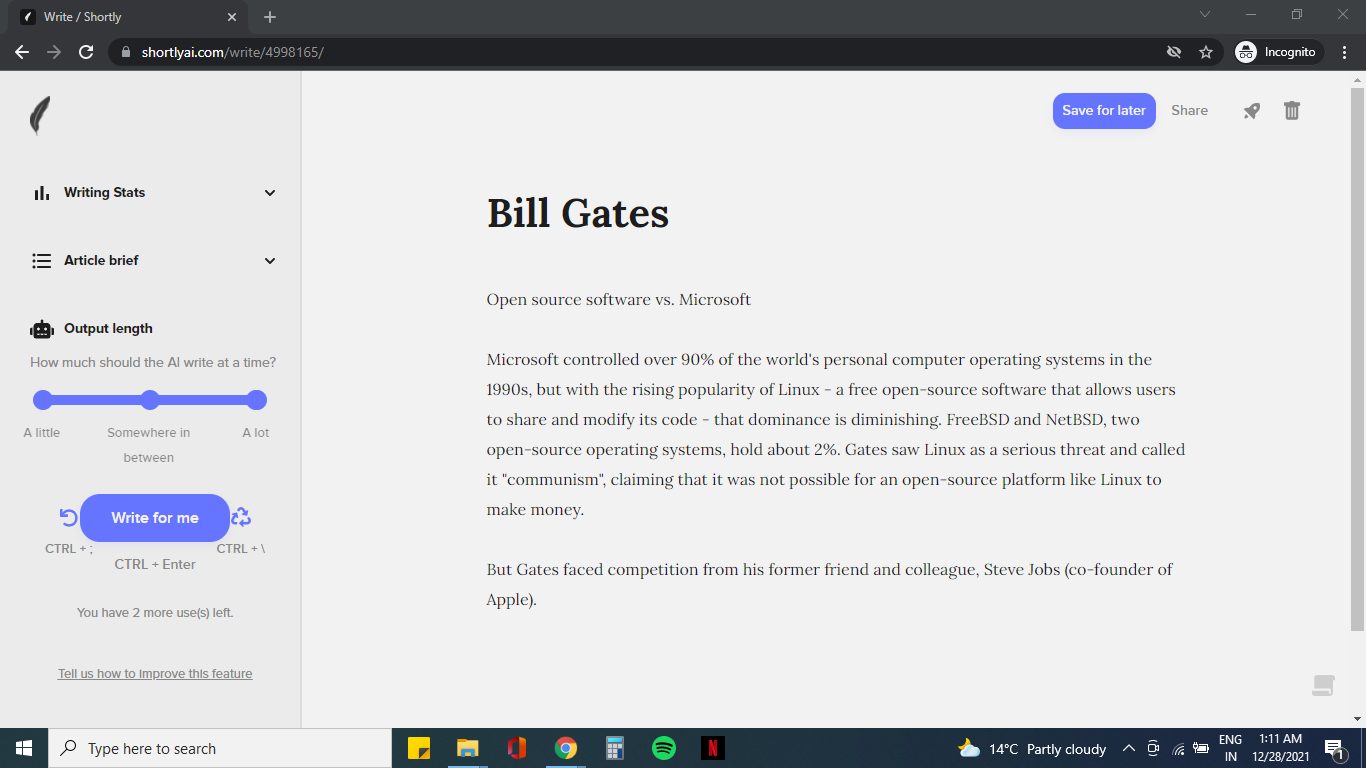 Open source software vs. Microsoft

Microsoft controlled over 90% of the world's personal computer operating systems in the 1990s, but with the rising popularity of Linux – a free open-source software that allows users to share and modify its code – that dominance is diminishing. FreeBSD and NetBSD, two open-source operating systems, hold about 2%. Gates saw Linux as a serious threat and called it "communism", claiming that it was not possible for an open-source platform like Linux to make money.

But Gates faced competition from his former friend and colleague, Steve Jobs (co-founder of Apple).
Here's what we generated on Writecream: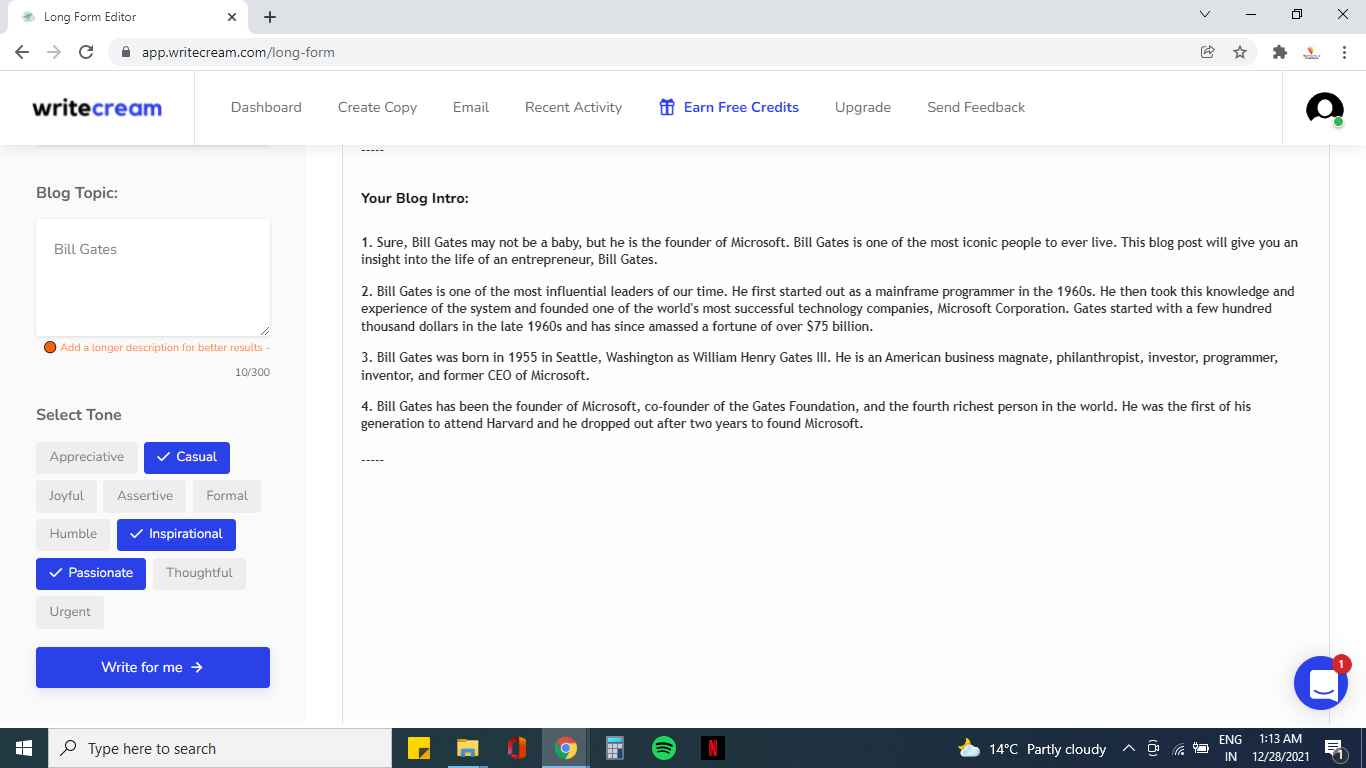 Output 1: Sure, Bill Gates may not be a baby, but he is the founder of Microsoft. Bill Gates is one of the most iconic people to ever live. This blog post will give you an insight into the life of an entrepreneur, Bill Gates.

Output 2: Bill Gates is one of the most influential leaders of our time. He first started out as a mainframe programmer in the 1960s. He then took this knowledge and experience of the system and founded one of the world's most successful technology companies, Microsoft Corporation. Gates started with a few hundred thousand dollars in the late 1960s and has since amassed a fortune of over $75 billion.

Output 3: Bill Gates was born in 1955 in Seattle, Washington as William Henry Gates III. He is an American business magnate, philanthropist, investor, programmer, inventor, and former CEO of Microsoft.

Output 4: Bill Gates has been the founder of Microsoft, co-founder of the Gates Foundation, and the fourth richest person in the world. He was the first of his generation to attend Harvard and he dropped out after two years to found Microsoft.
As you can see, the output generated on ShortlyAI was somewhere unrelated to what we wanted to write. Whereas, on Writecream the outputs were well-structured and apt for the first paragraph of the blog. Writecream also provides the option to enter the tone of the article so that it can be guided in the right direction.
Review Comparison
Writecream
Many review websites such as G2.com, Trustpilot, Capterra have given Writecream an average rating of 4.8, which, to think of is a very good rating in itself. Every website has rated Writecream on the basis of over 50+ reviews. Trustpilot, a Danish review website has over 115+ positive reviews for Writecream. 
Almost all the appraisals are in favor of Writecream. The users particularly like the Cold Outreach and other personalization tools. They say that it helps them to stand out from the crowd. 
The quality and the time-saving quality of the tool have been highly praised by the users. The only thing that we can consider as the downside according to the reviews is the credit system but the users are satisfied with the main function. Some users also criticize the font color or style, but that is more of a personal choice, it does not affect the main function of the tool. The personalization tools and cold outreach text generator pass with flying colors according to the reviews. 
ShortlyAI
We found no reviews for ShortlyAI on the most popular websites that help the user to choose a service based on reviews such as Capterra, G2, Trustpilot.
However, we did find a blog post that reviewed ShortlyAI and they described it to be a good tool for non-plagiarized content. The blog said that it is of little use when it comes to writing for blog posts as it fails to understand the user and goes off-topic. 
Read more at- https://yomotherboard.com/shortlyai-review/
What language does each tool support?
Writecream supports over 75+ languages in all of their tools. Some languages supported by Writecream are- Afrikaans, Amharic, Arabic, Assamese, Azerbaijani, Bashkir, Belarusian, Bengali, Bosnian, Bulgarian, Catalan, Cebuano, Czech, Chuvash, Welsh, Danish, German, Greek, English, Esperanto, Estonian, Basque, Persian, Finnish, French, Scottish Gaelic, Irish, Galician, Gujarati, Haitian, Hebrew, Hindi, Croatian, Iloko, Indonesian, Javanese, Japanese, Kannada, Central Khmer, Korean, Malayalam, Macedonian, Portuguese, Urdu, Vietnamese, Samoan, Xhosa. 
However, ShortlyAI does not understand any other language except for English.
Website Interface of Both the tools, Tutorials, Customer Support and more…
ShortlyAI
The ShortlyAI platform is easy to understand and has a user-friendly interface given that it has only two features to provide to the stakeholders. It has a modern and basic approach that is aesthetically pleasing and gives off a good first impression to the user. Once you're logged in, it can be a little tricky to operate but you will understand it after a few tries. 
After logging in, it shows you a brief tutorial on how to use the AI blog and story generator and how the commands can be used. But it contains very little or no information and might confuse users in some cases. If you want proper guidance on how to use their website and features, there is a 'Help and Guides' option that you get after clicking on the top right settings icon. There you will find everything about how to use their website and other features from scratch. 
We did not find any immediate Customer Support options available on their website. You can contact them through Email and Twitter but that's about it. Their contact details are there at the bottom of the website under the Contact Us section.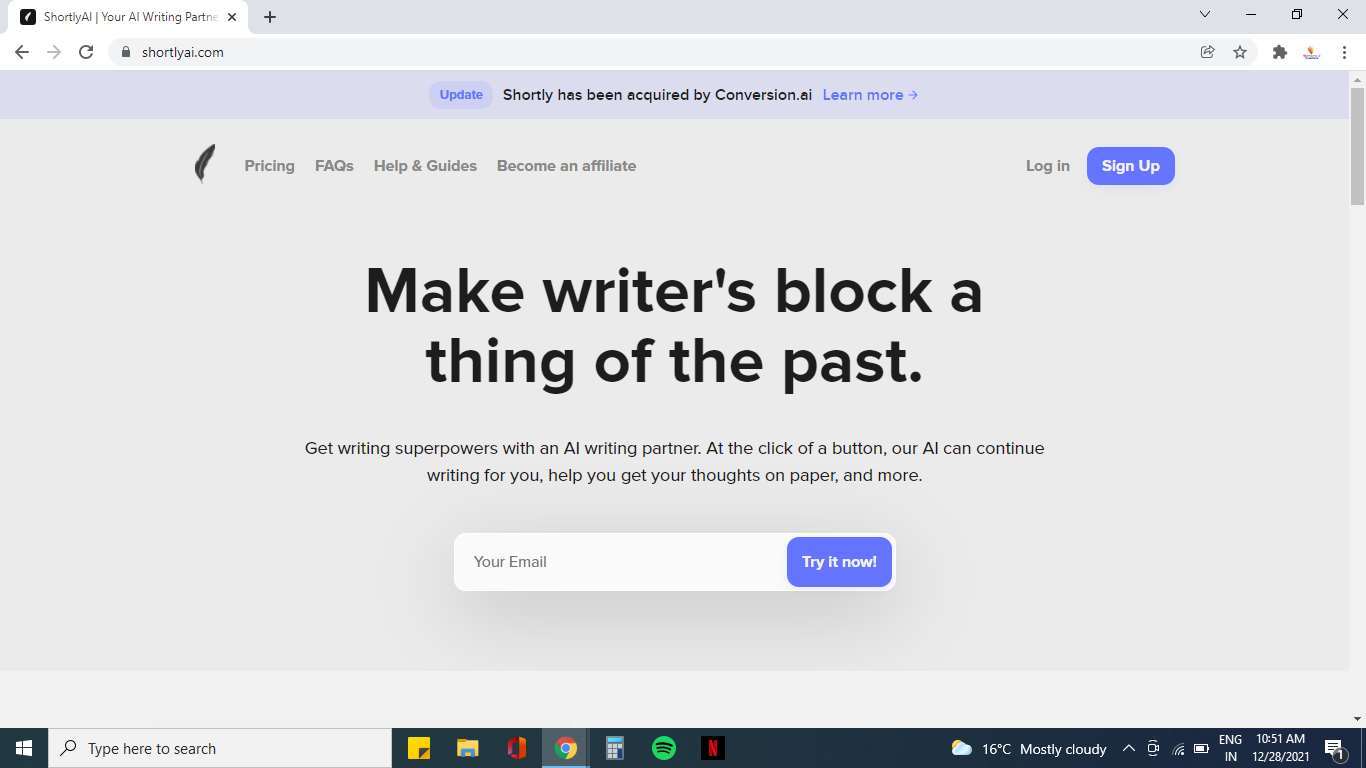 Writecream
Writecream has a very smooth user interface. It is not misleading and very straightforward. Any new user would find it easy to use even if it's their first try. Every feature works smoothly with no lag and provides the best output in a matter of seconds. 
There is a section at the bottom of the page named Tutorials. Once you click on that, it'll directly take you to the YouTube channel of Writecream where you can find the tutorials for every feature on the website. A blog section is also there where you can read about various things and the features that are available on the website. You can also find articles on how to use some basic features available under the blog section on their website.
The Customer Support provided by Writecream is available 24×7 and it is very impressive. You can use ChatBot on their website and report any grievances or any problems you are facing. Writecream customer support usually takes a few minutes to get back to you with a solution.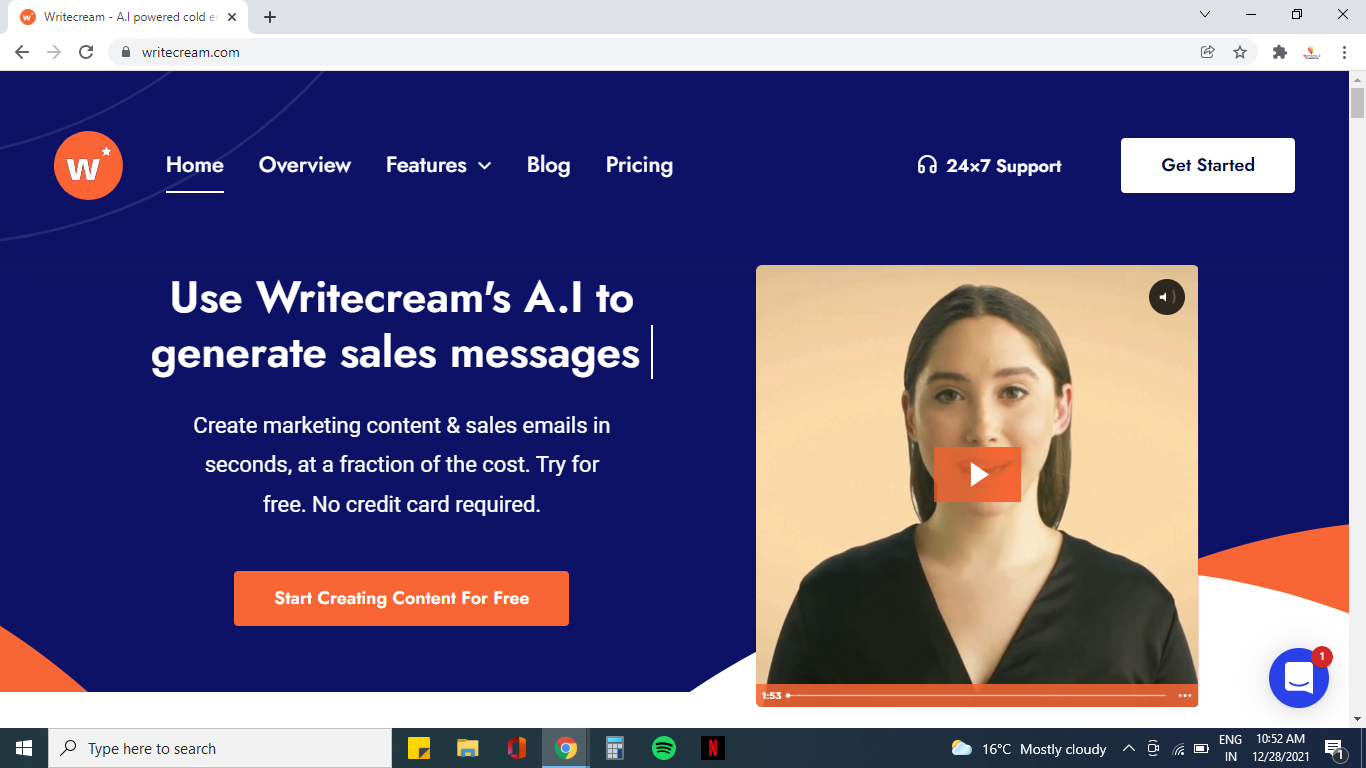 The Future: Public Roadmap
While we are unclear about what the future for ShortlyAI looks like, Writecream has an awesome-looking future image and some amazing new features lined up. These features are currently in the works and they will soon hit the ground, making Writecream the new big name in the AI-generated Content Marketing world.
Price Comparison- Which Site offers the Best Value For Money?
Writecream
Writecream offers a variety of plans and you can choose which one among them suits you the best. The pricing ranges from $49 to $99. A free plan is also included so that you can try out all the features.
Free plan- The free plan on Writecream gives you access to all the features available on the website, access to the newest features, access to the AI copywriter's community, and much more. This plan comes with 20 credits that included 8,000 words worth of content. That's very impressive for a plan that is free of cost!

Premium Plan- The premium plan enables the user to use all the features, be it new or old on the website. It costs $49 per month and comes with 200 credits, i.e, 80,000 words worth of content. By choosing this plan, you can step up and have the number of ice-breakers, podcasts, long-form articles increased as compared to the free plan.

Professional plan- This plan comes with 500 credits and 200,000 words worth of content. The number of podcasts, voice-overs, and blog posts are increased to 50. You gain access to all the features on the website. It costs $69 per month.

Ultra plan- The Ultra Plan comes with 1,000 credits that include 400,000 words and 100 podcasts, ice-breakers, long-form content, voice-overs, blog posts. The number of credits in this plan is unbelievable and it is the plan that is recommended for businesses. This plan costs $99 per month.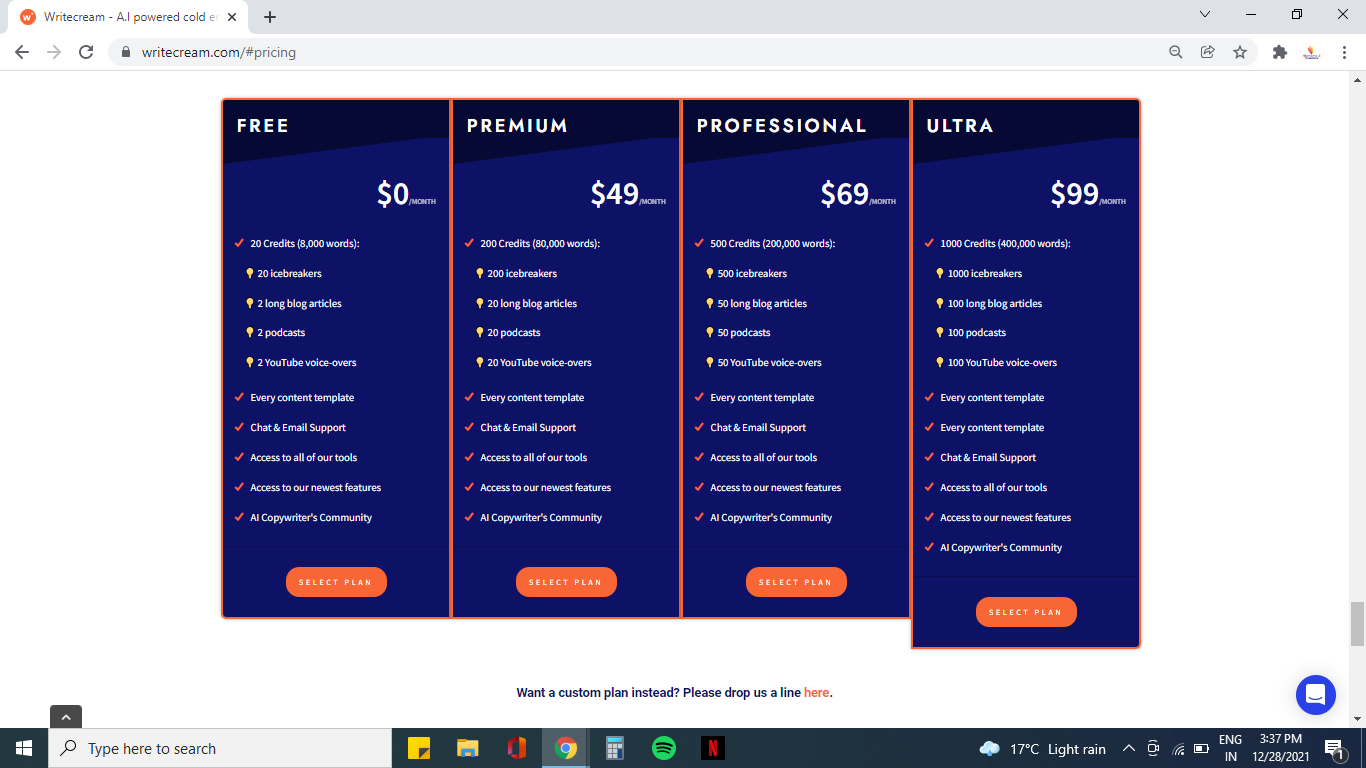 ShortlyAI
ShortlyAI does not have any free plans that users can use to decide whether they want to buy their services, but they allow the users to have four tries on their AI Blog and story generator tool before it asks for the payment.
ShortlyAI have two plans- Annual and Monthly. You get to access the AI writing tool with both plans. The monthly plan costs you $79 a month. If you purchase the annual plan, the monthly expense will be $65 with the initial 2 months on a free trial.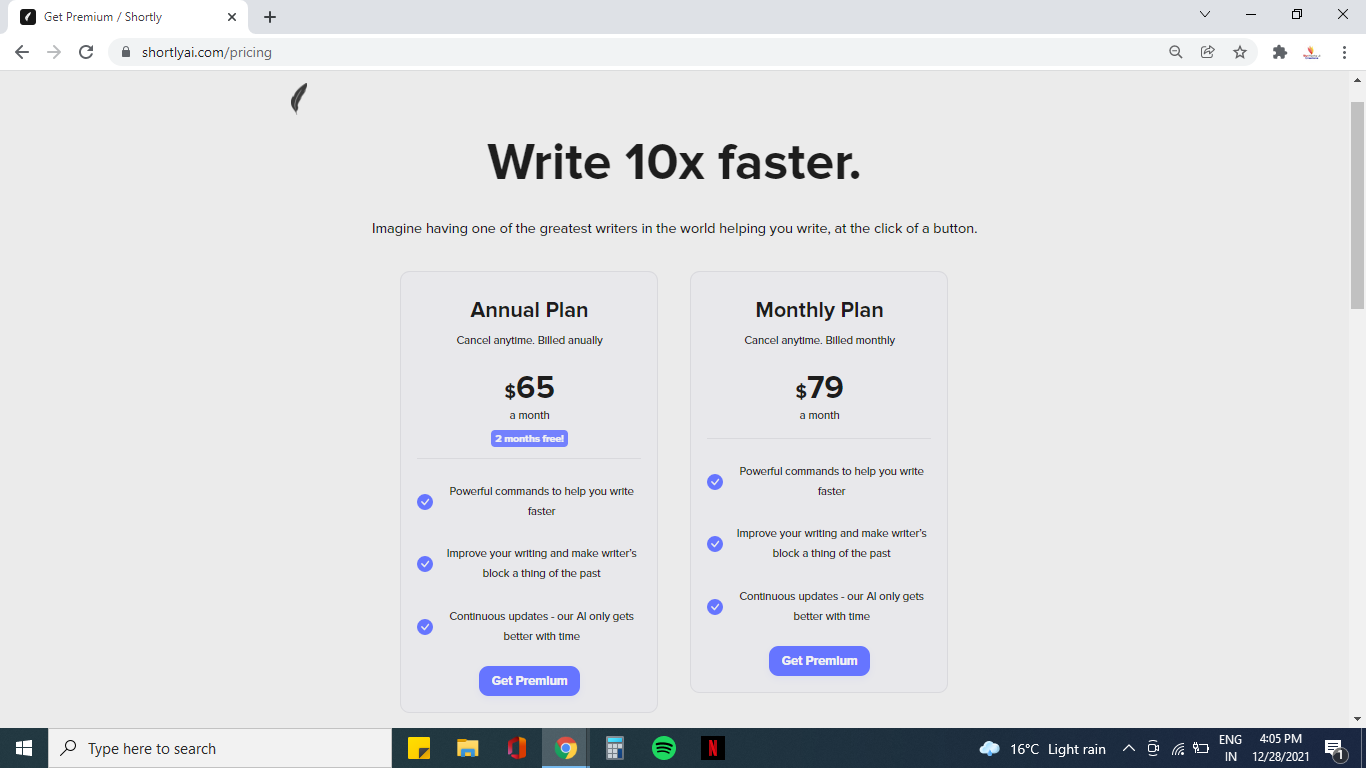 Where does ShortlyAI win?
ShortlyAI features the tool through which you can write stories and fiction which is a unique feature that lets ShortlyAI take the spotlight for once. 
Where does Writecream Win?
Writecream has a bunch of features that ShortlyAI lacks. It tops in the domains of personalization and generation of ice-breakers, podcasts, voiceovers, SEO, Creating Ad copies for various inbound marketing campaigns, etc. Even the Long-Form editor that Writecream offers to generate blog articles produce better output as compared to the one featured by ShortlyAI as we have seen earlier. 
Writecream also offers a free plan that attracts independent users such as students. People who do not run businesses and need AI tools to generate articles or any voiceovers or podcasts for their school work can use the website as an open-source platform for their needs. ShortlyAI does not offer a free plan. 
Which one you should go for?
As we have seen in the detailed review above, both tools offer something interesting and have their own advantages and disadvantages. It is one's personal choice as to which suits their brand and niche the best and choose one.
However, as per the review and what we learned, Writecream definitely has the upper hand when it comes to competing with ShortlyAI. It is offering a bunch of extra features and tools that are not offered by ShortlyAI. It understands the user and creates content that is suitable to their brand and their niche. Each piece of content created by Writecream is personalized and apt for marketing campaigns. The content generated through the AI servers of Writecream makes your brand stand out from the crowd and that too, flawlessly!
While ShortlyAI is also good at what it offers, sometimes it fails to understand the needs of the user. We will say that it has a long way to go before its analytics improves and generates content at par with the Content Marketing world. 
Conclusion
Sure, choosing the best is hard. But, we hope that we helped you evaluate the two AI content generator tools in this article and helped you decide which one to go for. Writecream is definitely the upcoming sensation in the professional world and it has the potential to help several businesses and save their time spent thinking about what content to create next. Writecream can be your go-to buddy when it comes to anything- Content, Blogs, Social Media posts, YouTube voiceovers, Podcasts, Ice-breakers, LinkedIn and Cold Email personalization, etc. All this comes at a very cost-effective price and we are sure you will love Writecream for every penny you spent on it.
Use the Free Plan today to be the judge yourself!