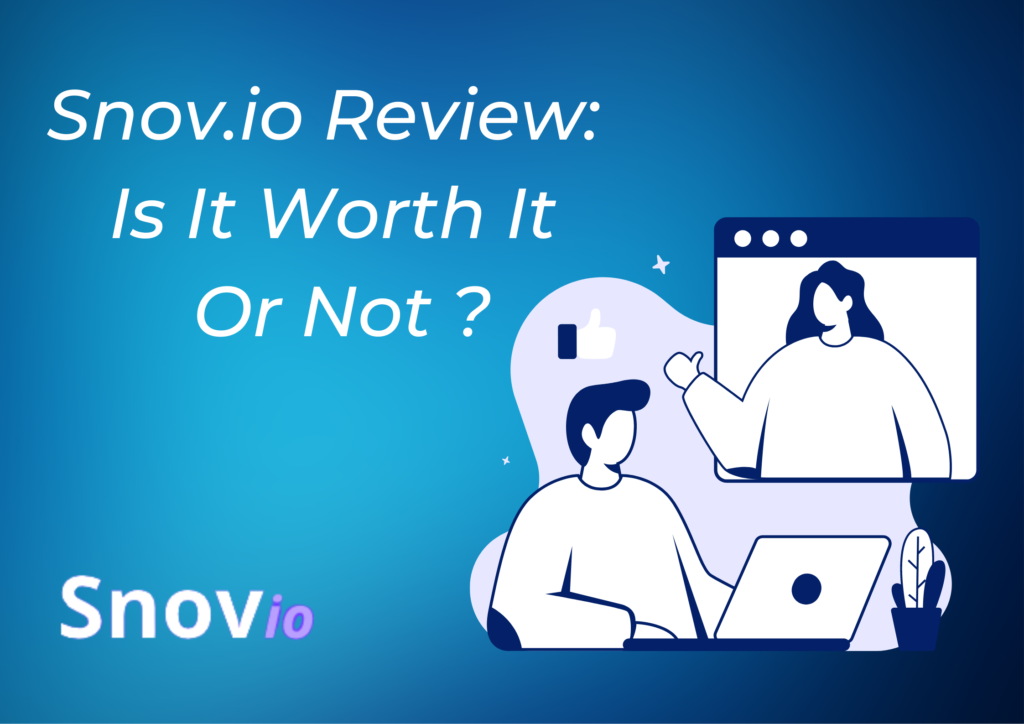 Email marketing is the oldest but the most secure form of marketing strategy. This requires a satisfying email locator too. Snovio.io can be called a one-person army doing all the work needed to get a perfect email strategy. It is an excellent email automation software. This article will discuss all possible points of snovio.io in 2022 and determine if it is worthy of use.
Who Can Use Snov.io?
Snovio is an email automation software running as a google chrome extension. It helps you verify the emails, check the faults and give a clear slate so that it can be forwarded to the prospects. Email outreach software lets you easily get in touch with a potential consumer. You may also easily increase your outreach efforts and develop deep connections with recipients using email outreach software like snovio.
The Email Tracker is a free email tracking snov.io extension for Gmail that will display the emails your receivers have opened in your Gmail, along with the number of openings and link clicks.
Advantages of Snov.io
Email marketing review shows multiple works like email verifier, tracking of emails, and LinkedIn email search. Then it also works as a Linker connecting two or more businesses with expected benefits.
💡 Generate personalized emails, blog articles, product descriptions, and ads in seconds using the power of A.I
Ease of use.
Make your email campaigns specific to your company's needs.
Utilize tailored, individualized offers to turn leads into paying clients.
Ensure that your automated email strategies are not squandering your time and money by failing to engage clients and leading to customer attrition.
You have the option to manually or automatically send emails from Snov.io!
Make your email templates your own by including links to other websites, social media profiles, etc.
The most sophisticated and adaptable email marketing tool available is Snov.io.
Snov.io credits
Making a Sales Pitch
Snov.io helps you expand your business while keeping less responsibility on you- suitable for making a sales pitch via email to generating sales via automating product emails.
Finding recruiters 
Snov.io has its linker instrument to track the planned applicant's planned applicants.
Great solutions with Proven Results
For example, Snovio's shrewd list of capabilities allows you to choose how to convey your lead generation messages depending on the lead (seller/brand). When you need to send them out (end of the week versus non-weekend days).
Easily Manage Emails
Snov.io offers features that can clean many messages in practically no time. Regardless of your huge email address list, we will sort it, filter it and approve it quickly.
What is an email marketing campaign?
A series of marketing initiatives that contacts numerous people at once is known as an email campaign. Email marketing campaigns are made to deliver useful content and timely offers to subscribers at the most effective times. You may establish strong, dependable relationships with your clients by using email campaigns.
What are the benefits of email campaigns?
Aid in nurturing leads
Email campaigns aid in maintaining client interest.
You may gather information about subscribers using emails.
Emails aid conversion and boost your business.
How drip email campaigns use triggers in snov.io
You might like our Trigger function if you want to give your email campaigns more flexibility and personalization. To send different emails to your recipients based on their involvement, you may use triggers to set conditions in your email sequence.
Your sequence should include a trigger.
Set trigger parameters.
Snov.io allows you to:
Add Personalization Element in Emails
Individuals love personalization and regularly click on the connection in customized messages. You can customize the email's subject with the lead's first and last name.
Create Email Automation for Enough Gap 
Several hours can be saved daily via the Snovio email automation tool by automating your:
lead generation
email creation
email sending processes
Snovio Review(2022): How Does Snov.io Help to Automate Email Outreach Effectively?
We are doing a Snovio email tracker review in 11 steps to detail each bit of how you will benefit from your business.
Snov.io's Domain Search device assists you with observing all the email addresses from a particular space. You can utilize the mass space domain search choice if you have numerous domains.
If you know the specific city, industry, and nation, Snov.io will assist you with observing the organization's profile. With Snovio's help, you can contact the perfect individual in the right office at the proper organization.
Transfer a rundown of connections to individuals' expert social profiles and get a rundown of email addresses via the Snovio email finder.
With the Technology Checker highlight, you can look at what CMS, advertising, web structures, programming, examination, and eCommerce apparatuses are utilized by your planned customers (Ex: Shopify, Google Analytics, WordPress, and so forth).
As an Email automation software, with this element in Snovio, you can transfer your rundown of inappropriate messages to confirm them. By keeping your email list clean, Snovio can assist you with diminishing your bounce rate and further developing safer email deliverability.
Gather all associated messages when you launch an Email Finder extension on organization sites, query output pages, or expert social profiles.
Track down likely leads on different stages, like LinkedIn, Google, and so on, entering the working title, abilities, and areas to get a rundown of email addresses.
Snovio is a powerful CRM that helps you not just connect with various leads but also helps you integrate different popular apps into the system. For instance, from Facebook and LinkedIn to Hubspot and Google Sheets, you can incorporate more than 50 popular apps/websites into your system via Snovio. This will help you send emails as per the behavior of the target person/business or customer chain.
Via CRM or customer relationship management, Snov.io helps oversee and keep up with client connections, effectively sorting out deals, tracking advertising endeavors, and that's only the tip of the iceberg.
How does it do so?
Well, it tracks and records the following towards Prospect Management:
The date you made the possibility
The email status later the confirmation
Campaigns that the prospect followed
The additional labels or tags
The sent messages
1. Snov.io tool Empowers Your LinkedIn Towards Building Great Work Connects
By joining your LinkedIn prospecting endeavors with Snov.io's devices, you may, realistically, rocket your lead generation efforts. Snovio's LI Prospect Finder permits you to extricate email from LinkedIn in no moment. This monster offers enormous freedoms for systems administration with individuals, building significant associations with organizations everywhere, and tracking down likely clients for your answers along these lines.
How to use Snovio On LinkedIn
Download the Linkedin Sales Navigator extension
Activate the same
Make a list of persons/prospects or both
Add the list to the menu, search for emails, and save.
2. Bulk Option
Transfer your space or email rundown to the stage and let the instrument wrap up with an enormous area search and email confirmation. Snovio upholds different formats (XLS, XLSX, CSV, and TXT
Pricing Plans of Snov.io
The free plan allows all the basic features that snov.io offers. Pricing plans provide us with unlimited email, unlimited featuresetc. There are five pricing plans. :
For new startups and solopreneurs
Small sales and marketing teams
companies who want to expand their outreach
established sales systems
for agencies and enterprises
Pros of Snov.io
Great to find people's emails
Perfect for cold outreach
Best platform for marketers
Best linked in data scraper
Economical
Cons of Snov.io
Does not provide all email addresses for bulk domain search
It Does not allow you to send emails to non-verified email addresses.
How to develop and use templates in Snov.io
Snov.io Templates offers a selection of email and campaign templates for various reasons, as well as the possibility to build and save your own templates, which will help you save time, maintain consistency, and enhance productivity.
Snovio is the best email automation tool you will get to see. On the snov.io website, there are two ways to make and save email templates:
Method 1: Write the subject line and email copy you wish to keep and use in subsequent drip campaigns on the campaign builder page. Click the Save as a template button in the email window's bottom.
Method 2: Go to the Templates area of the Snov.io Drip Campaigns tab to build an email template.
The requirement for a Snovio substitute
The amount of people you can connect with in a B2B scenario directly relates to the prospecting effort you put forth!
The greatest place to start prospecting is still LinkedIn. On LinkedIn, connection requests are readily accepted, but the process is still lengthy and dated.
Snovio alternatives: AeroLeads
You are given 10 credits to use in the AeroLeads trial version to look for prospects.
The free accounts can be used as much as you'd like, but they do have restrictions on usage and outcomes, and they don't support features like data export to other platforms like Mailchimp, HubSpot, and Salesforce.
Snovio Reviews
1. Capterra:

The image below shows the amazing rating given to snov.io. The overall rating is 4.5/5.
2. G2

Snov.io has got 201 reviews on G2. The image below shows the elaborate statistics.
3. Trustpilot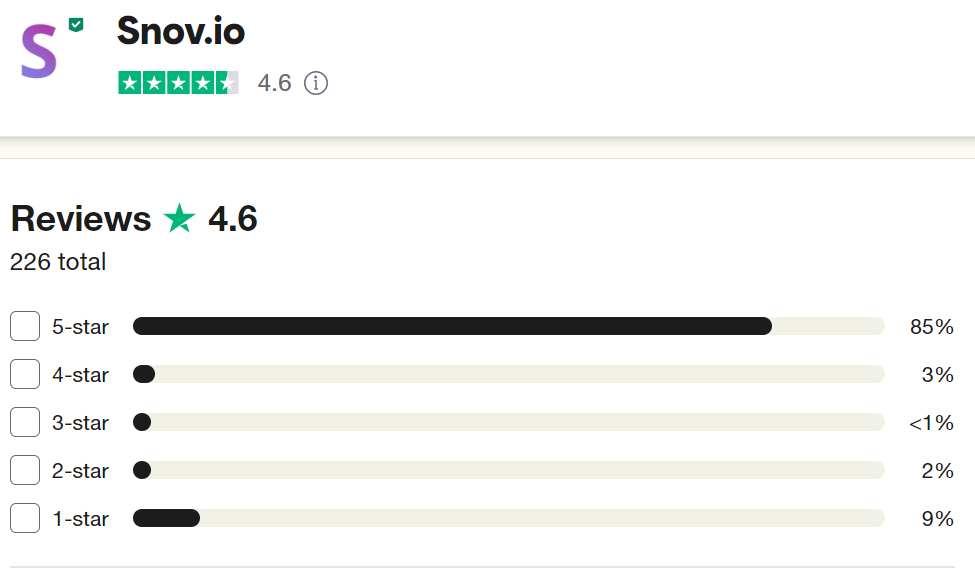 It has been reviewed by 226 people and has an overall rating of 4.6.
Summing up with the final snov.io review being worthy of use or not
Snovio, the email finder, helps you in many ways. Snov.io automates the email with a very simplified manner. Anyone new to email marketing can find snovio as the first go to email automation tool. For automating a email you need a proper email address to run. Snovio helps you find list of email addresses in a fraction of second. The email tracker pros, cons, tool handling steps, and benefits of this tool will help you to outgrow your company to a new height. Snov.io is the best email-automating software for choosing a versatile outreach tool. Snovio can be called a one-person army doing all the work needed to get a perfect email strategy.