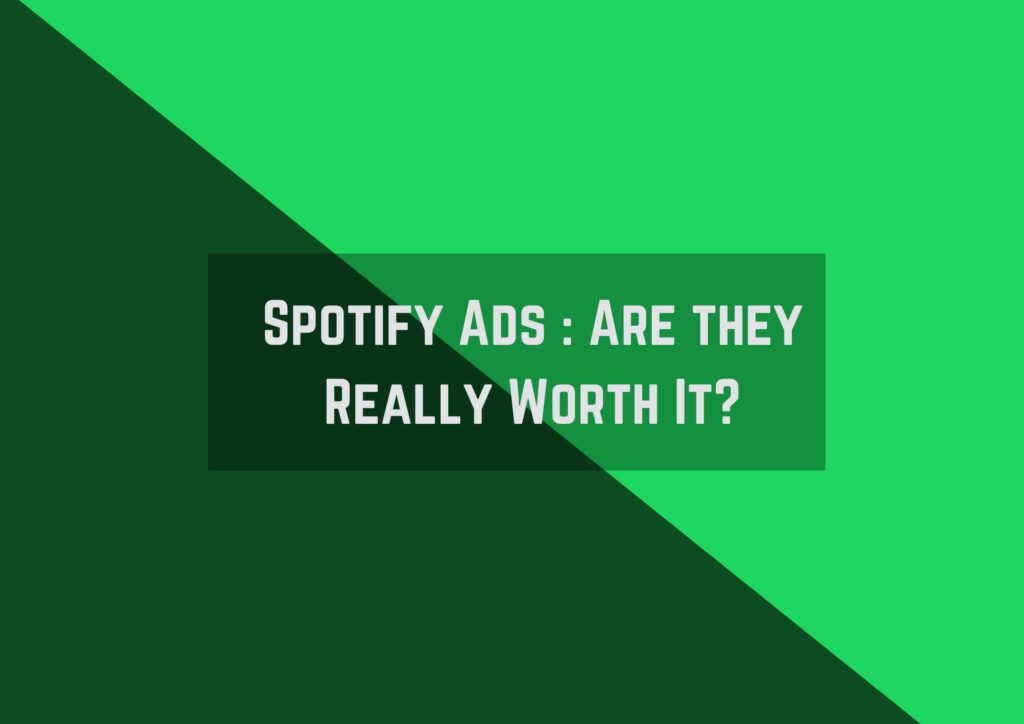 People frequently cite music as the soundtrack of life, and with that in mind, Spotify is a pioneering company in the use of consumer listening data to interact personally with music fans. With over 406 million monthly active users, including 180 million paying subscribers by the year 2021, Spotify's marketing techniques are built on user-based content and targeted advertising. Spotify makes use of its expanding base of freemium subscribers. Every firm uses internet advertising, which is how consumers learn about free music streaming.
When it comes to music streaming, Spotify is one of the leading rivals. Since Spotify Ad Studio is still in beta, the firm has been significantly redesigning its audio commercials as they continue to promote for their forthcoming IPO.
The audience for Spotify is large, active, and quite varied. There are approximately 286 million monthly active users across all age groups and demographics, of which over 141 million are free, ad-listening users. Users must listen to the advertisement in order to get the desired content, unlike adverts in newsfeeds or search engines that may be skipped through. Although it may not sound ideal, having a captive audience who is paying listening is undoubtedly useful.
Spotify Ads
In the app's free version, brief audio advertisements play every few songs while users are listening to music. For every hour of watched content, 1-4 minutes of advertisements are reportedly played. This occurs frequently enough for advertisers to reach their target market, yet infrequently enough for users to remain interested and for your advertisement to stand out. You may reach your audience as they are listening to music with these totally audio advertisements without having to bother about formatting. Ads might be as long as 30 seconds, but they can also be shorter. As long as you're within that 30-second threshold, there's no need to hit a precise timestamp.
They rely on spoken scripts created by your company, and to increase the impact and mood of the advertisement, you can include background music.
Advertisers may design, set up, and manage advertising on Spotify's self-serving ad platform without the assistance of a dedicated account manager. In a moment, we'll take a closer look at how this operates. The app's core features are free, and users can access millions of music in a huge variety of genres, creating playlists based on their favourite songs and singers. Additionally, if users decide to continue with the app's free version (which a significant majority do), they will receive a tonne of free music, podcasts, and even videos in return for occasionally hearing advertisements.
💡 Generate personalized emails, blog articles, product descriptions, and ads in seconds using the power of A.I
But wait—isn't that what Spotify is all about—repeat users? Yes, Spotify subscribers do not see advertisements. So what happens to all those members who are active? That sounds like a problematic scenario to me, especially since Spotify wants to pitch brands more frequently.
Although these advertisements might be more quantitative than conventional radio advertising techniques, corporations have questioned their value. In addition, it's unclear how many streams you'd be able to access without a subscription in comparison to those who are platform subscribers and, of course, keen music fans.
If you want to raise brand awareness, Spotify advertising are fantastic. Spotify is a well-liked music streaming service since there is 3X more good than negative chatter about it on social media.
Why You Should Think About Spotify Advertisements?
Brands need to go where their customers are and figure out how to interact with them successfully. Although the audience demographics of premium and free users varies, according to internal Spotify data, the difference in household income is just roughly $5,000.
Spotify gives businesses a brand-new platform to express their identity. Customers can listen to an audio advertisement while going about their daily life, unlike other social media sites that by their very nature require user attention. Not every brand or business can benefit from using Spotify, but for lifestyle brands, being able to soundtrack a customer's life is about as close to a personal connection as you can get.
Advertising on Spotify are 25% more effective than typical ads. The average person listens to their favourite music on the audio streaming platform for between 99 and 140 minutes every day.
Of the top music streaming services, Spotify has the biggest market share, at about 34%. Tencent Apps, Apple Music, and Amazon Music are the other major platforms, with respective market shares of 21%, 15%, and 12%.
Several ad styles are available on Spotify to engage listeners rather than disrupt them. Since Spotify operates on a freemium business model, all users get free access to the service, which is funded by advertisements. The majority of Spotify's listeners choose the free, ad-supported version, although users can upgrade to a premium account for an ad-free listening experience.
All of Spotify's customer information is available. As a result, they provide the advertising in a no-swipe, no-scroll environment at precisely the appropriate time, when the audience is most responsive. This implies that you have the capability of reaching prospects at the appropriate time.
Spotify is aware of the user's mood because they listen to tracks after changing their settings. Accordingly, only pertinent audio adverts are played depending on the situation or environment. According to Spotify, 75% of viewers recall advertisements that capture their "moment."
Spotify Ad Studio's ad-supported service contributes to the accessibility of music all over the world. Businesses now have a fantastic opportunity to reach the audiences that matter most and listen where they are.
Conclusion
With such a large user base, Spotify Ads is undoubtedly a platform that company owners should take into account in 2020. The app has become an integral part of many people's life. Spotify opens the door to real-time context-based advertising, enabling businesses to reach their target audience at critical moments and in a variety of settings when they matter most.
One of the biggest errors that marketers commit is comparing Spotify advertising to other ad formats and platforms that they are familiar with (like Facebook Ads, Instagram Ads, Google Ads, etc.) Don't give $120,000 to a "A-listed" creative ad agency if you just have a few thousand dollars to spend on media placement if you want to achieve significant results. This advice applies to all paid advertising platforms.
Although we have seen perfectly acceptable outcomes for less ad spend, Spotify advertisements are only worthwhile if the advertiser is looking for demographic categories that are carefully targeted, knows what they want their campaign to accomplish, and has a budget of at least $500 to $1,000 each day.
Writecream provides 30+ tools for generating tons of content within seconds! Use Writecream to generate product descriptions, personalized emails, blog articles and much more and that too for free! Our free plan provides 20 credits every month which helps you generate 10,000 words per month!
Isn't it amazing?
To get started, register here for our FOREVER FREE plan NOW!