Statistics say a billion individuals use email daily to send and receive files, messages, and information. The number of email users is projected to increase to 4.3 billion by 2023. Since more people use email every year, it makes sense for businesses to use it to engage with current customers and keep them informed about their brand and reach out to potential customers. You are sending a cold email if you send it to someone unfamiliar with the company, item, or service you are promoting.
"According to industry reports, the average open rate for cold emails is around 15–25%, which is not very high. In such a case, it becomes very important to have a well-crafted email that stands out and grabs the attention of the recipient. As someone who specializes in outreach services, allow me to share my experience with cold emails." stated Marc Hardgrove, CEO of TheHoth
What is a Cold Email Generator?
"Cold emailing has been an integral part of our marketing and business development strategy. We practice it strategically to reach out to potential partners, influencers, and industry professionals who align with our brand and target audience. By crafting personalized and compelling emails, we have been able to unlock various opportunities for our business." stated  Eric Jones, CEO, of Couture Candy, a 15-year-old Special Occasion Fashion e-Commerce Business.
How to Choose the Best Email Generator?
Functions:

Search for an email generator that gives the capabilities you need in terms of both features and functionality. Consider whether you require file attachment capability, multiple email account support, complex formatting options, or interaction with other tools or services.

Lieu Dang, an avid traveller and Marketing Project Manager at Ling App believes AI Tools for cold emailing have saved them a lot of time since the results are outstanding and they've successfully collaborated for partnerships and affiliate programs.
Choosing template:

consider the generator's wide selection and high-quality email templates when doing so. To ensure you have options that fit your unique requirements, look for many themes ideal for various purposes.

Pricing:

Compare the pricing structures of several email generators and pick one within your means. Before committing to a subscription plan, consider whether they provide a free trial or free tier to evaluate the service.

Customer Support:

Check the email generator's customer support availability and calibre. To solve problems or get assistance when necessary, look for tools like email support, live chat, or a knowledge base.

Easy to Use:

Consider the ease of use when designing an interface and process. The email generator should be simple and not require high technological expertise.

"The AI tools I have used have been able to generate emails tailored to the individual recipient, which has been invaluable in creating meaningful connections. These tools are also incredibly easy to use, and I have been very satisfied with the results."

cites  Julia Mathers, a marketing executive at

Pasha Funding

.
Benefits of Cold Email Generators
New Opportunities: Cold emailing can help create new opportunities because it allows you to reach out to potential clients or customers who may not have heard of your products or services before. Dmitrii Kustov, from Regex SEO said, "ChatGPT generated personalized cold emails provided their organisation with great opportunities to get featured in various media channels and increased their brand visibility" However, they believe the output still needs human assistance and is not a standalone tool.
Efficiency: You can efficiently reach a larger audience by sending many cold emails at once or in batches using cold email generators. This can be extremely useful for sales and marketing professionals who need to engage with potential clients or create leads.
Personalization:

A lot of cold email generators have capabilities like mail merge, which lets you automatically add recipient-specific data to each email. Personalization increases the likelihood that recipients will respond and interact.

Networking:

David Reid, Sales Director at

VEM Tooling

, one of the fastest-growing mould manufacturers in the world quoted

"Cold emails have helped me to expand my professional network. It has allowed me to reach out to relevant individuals in my field and industry. It has led to valuable connections, partnerships, and mentorships."

Target Marketing:

"First line personalization is a super common cold email tactic. You personalize the first line to the person you're emailing, but the rest of the email (the body and the call-to-action) is templated."

said

Adam Purvis

, an Account Manager in SaaS Sales.
Best Cold Email Generators
Mailshake:

This offers many strong features and is the market leader for a reason. All sizes of revenue teams can be accommodated, however, you must get a quote for the price.

Saleshandy:

Personalised cold email campaigns at scale with high email deliverability are one of the features offered by Saleshandy, an all-in-one cold email sales automation software that is reasonably priced. Derrick Hathaway, Sales Director at

VEM Medical quoted

 

"We have been using SalesHandy as our cold email generator AI tool."

 

Salesloft:

Another well-liked alternative is Salesloft, which provides a variety of features and pricing options for revenue teams of different sizes.

WriteCream:

WriteCream is the best tool for creating free cold emails. It effortlessly creates persuasive and personalised emails using editable templates, a tone checker, and phrase suggestions. increases outreach effectiveness.

Woodpecker:

The email automation programme Woodpecker has a number of capabilities, such as email tracking, scheduling, and more.

Reply.io:

Email automation, analytics, and other tools are available on the sales engagement platform Reply.io.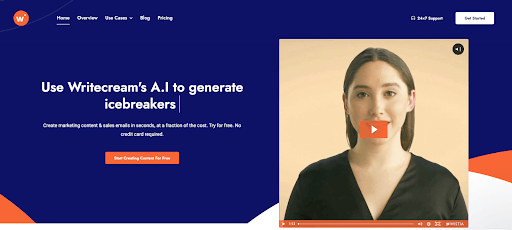 WriteCream
Writecream is an AI-powered all-in-one platform that can generate text, audio, and images. Additionally, Writecream offers ChatGenie, which is a ChatGPT 2.0 that can help users generate content ideas and improve their writing skills.
💡 Generate personalized emails, blog articles, product descriptions, and ads in seconds using the power of A.I
Features
Customised Icebreakers

: Icebreakers can be created by users of Writecream. These icebreakers can be used for a variety of communication needs, including networking, introductions, and kicking off conversations.

Sales Pitches:

The platform assists users in creating convincing sales pitches by offering insights and recommendations for effective language and content organisation.

Voice-overs:

Using Writecream, users can write voice-over scripts for narrations, instructional videos, or the creation of audio material.

Podcasts:

Writecream assists users in creating relevant and interesting content for their podcast episodes by helping them construct their podcast scripts.

Cold Emails:

The platform aids users in crafting effective free cold emails, providing suggestions for subject lines, content structure, and language that can improve the chances of generating responses.
Pricing
Free Forever:

This package costs nothing and comes with 20 credits (around 40,000 characters). It offers access to features like 20 icebreakers, two lengthy articles of five thousand words each, 4 concise pieces of one thousand words each,4 podcasts, and 4 voice-overs from YouTube. 

Unlimited (Limited Offer):

For $29 a month, you may purchase an unlimited number of credits, enabling you to create an infinite number of words. You can also create indefinite number of long blog posts, small blog posts, podcasts, and YouTube voice-overs.

Standard:

The Standard plan is $49 per month and includes 200 credits (around 400,000 characters). 200 icebreakers, 20 lengthy pieces (5,000 words each), 40 concise articles (1,000 words each), 40 podcasts, and 40 voice-overs for YouTube are all included. 

Extended:

The Extended plan, which costs $69 per month, comes with 750 credits (about 1,500,000 characters). There are 750 icebreakers, 75 lengthy pieces (5,000 words each), 150 concise pieces (1,000 words each), 150 podcasts, and 150 voice-overs for YouTube.
Ready to level up your writing game? Sign up for free with WriteCream and embark on a journey of enhanced creativity and productivity.