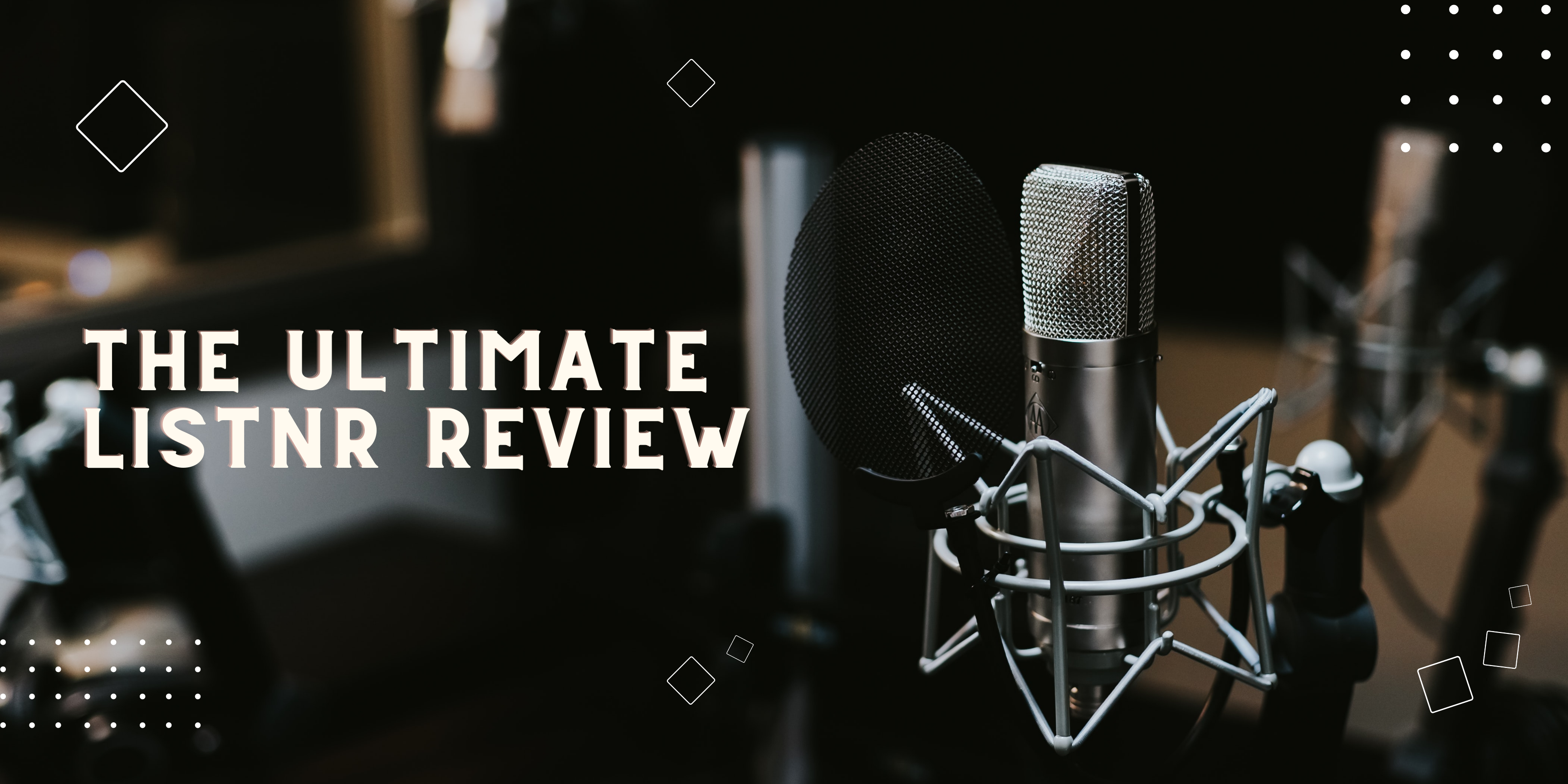 Listnr provides audio content personalized to each listener's routines and preferences, along radio, podcasts, music, and news. With Listnr, you can effortlessly create, maintain, and broadcast your podcast so that listeners can hear what you have to say on any subject. You may produce several shows for various podcasts using Listnr and manage them all in one location.
You can also use Listnr to turn your blog entries or any other text into podcasts or voiceovers with human-sounding voices. Both commercial podcasters and independent contractors who wish to earn money from their work through advertising should use it. Users can use Al to translate text into speech.
With commercial broadcasting rights on services like Apple and Google Podcasts, Spotify, and other apps, Listnr also enables you to distribute and convert your audio content anywhere. You can easily develop interesting podcasts out of your articles and post them to your website. Without any recording, Listnr allows users to create podcasts in more than 17 different languages. It uses Al to convert blog posts into a variety of languages and dialects.
What is Listnr?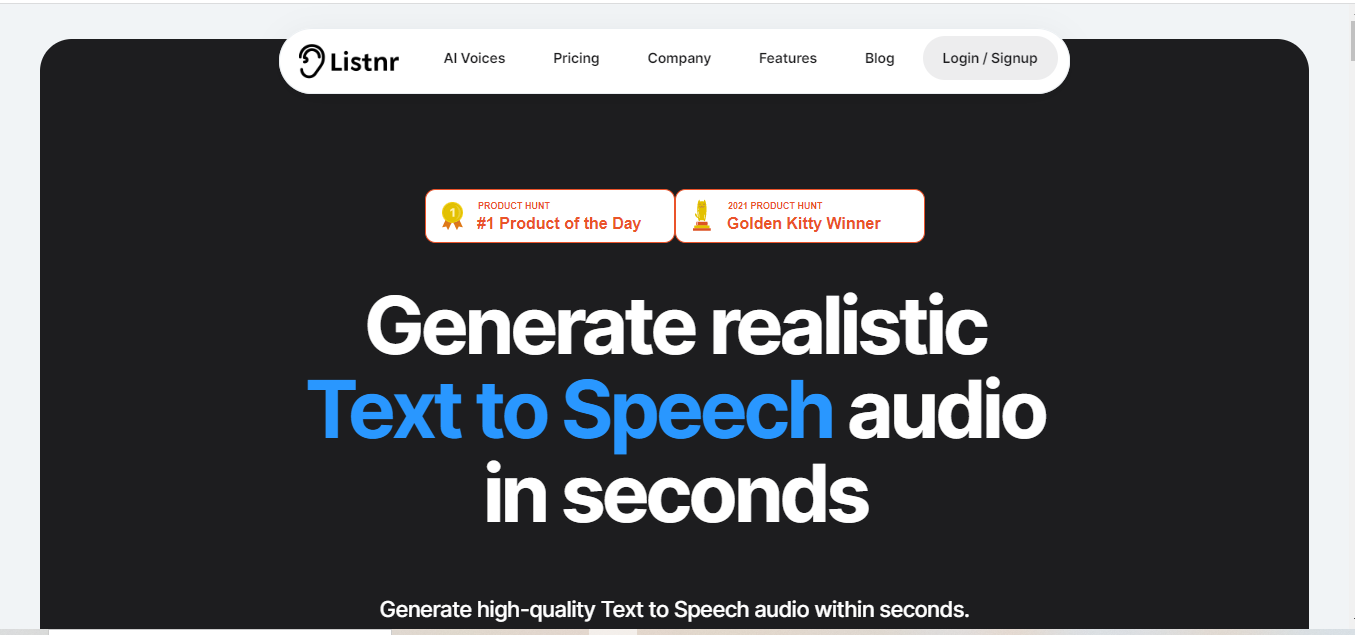 Listnr is a clever and adaptable solution for creating tidy and useful video and audio content. It is made to make it easier for anyone with no prior knowledge to launch their podcast.
💡 Generate personalized emails, blog articles, product descriptions, and ads in seconds using the power of A.I
Real-time podcast management is made easier with Listnr. It is used to transform any text into a clear audio speech. Additionally, a strong toolkit driven by artificial intelligence is incorporated within to assist users with voiceovers. Listnr is helpful for everyone, regardless of whether they want to make YouTube videos, blog entries, or audiobooks from E-books.
Additionally, Listnr supports a wide range of voices, from Italian to English. Additionally, it hosts and disseminates audio everywhere covered by commercial broadcasting rights. It simplifies the creation, editing, and hosting of podcasts. Its human-sounding voices are authentic, offered in more than 22 languages, and numerous.
Features
Let's look at all the features this app provides:
Sharing on Social Media
Listnr gives you the option to post your voice-over on any social media site, such as Twitter, Facebook, Instagram, and many others, when you convert text to audio.
As you probably already know, one of the best ways to keep current in the industry is through social media marketing. It is also the easiest to obtain. Start by sharing your podcasts on your social media accounts if you want to rule the digital marketing sector with them.
Podcasting Services
This gives you the opportunity to publish your podcast on all the major hosting platforms, such as Spotify, Google Podcasts, Transistor, and many others, providing you a ton of options to reach your target audience.
Voices Selection
There are hundreds of human-sounding voices in 22 different languages available on Listnr. You can choose the voices that best suit your choice and brand based on their names, speech patterns, accents, and voice-over styles.
Depending on your objectives, you can freely choose the voice-over using these choices. A more formal voice might be chosen if you wish to make an educational video. On the other hand, if you need it for a podcast, you can choose one that is more informal. Listnr offers all the resources at your disposal, depending on what you need.
RSS Feed
If you wish to make a podcast, Listnr includes an automatic RSS feed you may use. Your account will be updated each time you post new content thanks to this function. Listnr will handle the necessary sign-in procedures so you won't have to.
Podcasters are Listnr's target market, as was previously stated. Therefore, in addition to having an automatic RSS feed, you may host your podcast on this platform. You can broadcast your podcast on additional platforms in addition to Listnr's, like Spotify, Translator, and Google Podcasts.
Embed on a blog or website
With Listnr, you can embed a link to your podcast or video on your website or blog.
Streamlined one-click conversions
Using Google WaveNet TTs, Listnr enables you to turn your blog into a podcast. You can choose content from various websites or just create your own content on the dashboard, download your audio file, and share it wherever you like.
Pricing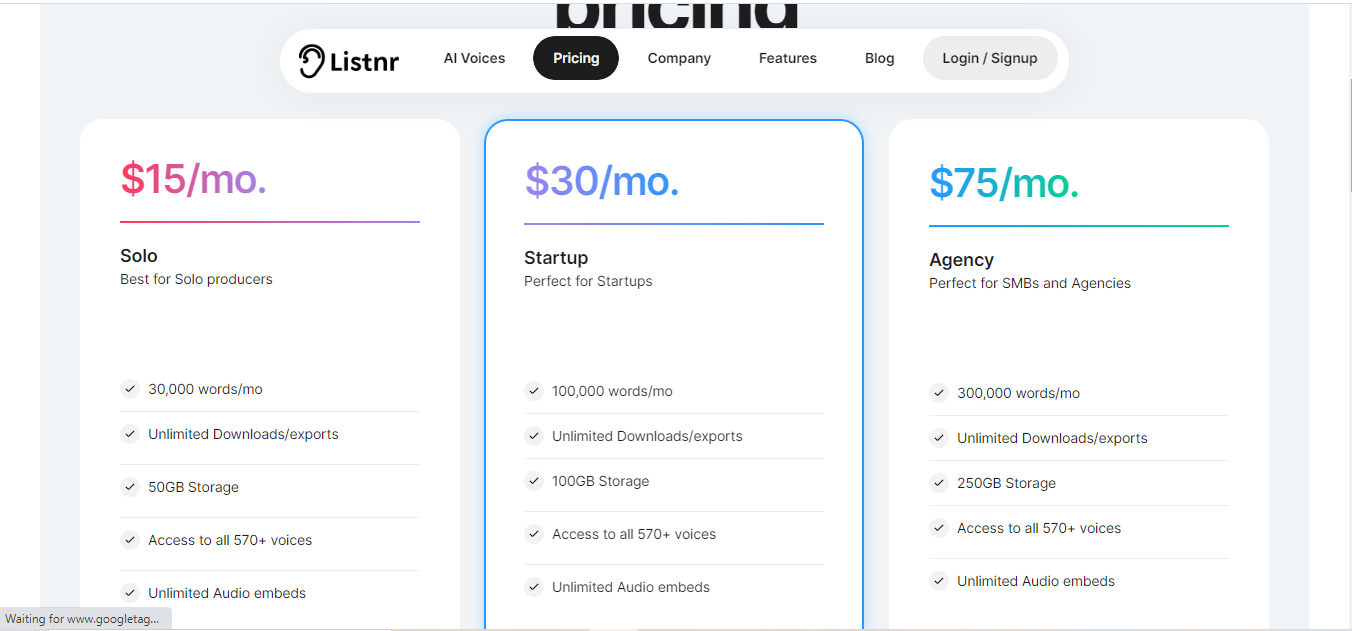 Listnr offers 3 plans that you can choose from according to your needs. The solo plan is good if you are a novice and seeking to start, while the other two subscriptions offer many more benefits, such as additional projects, more words each month, and other features,
Solo: The Solo plan is intended for usage by a single person, a lone proprietor, or a small business. It only costs $15/month. You can publish up to 30,000 words each month, have access to three podcast shows, receive free Listnr hosting, unrestricted conversions, and one-click publishing to Spotify and iTunes in exchange for that along with 50GB storage,
Start Up: This package, designed for tiny to medium businesses, includes everything in the Solo plan as well as extras like white labeling, commercial redistribution rights, five podcast episodes, and a monthly word limit of up to 100,000. The cost is $30 monthly along with 100GB of storage.
Agency – The Agency pack is recommended for bigger companies and teams working on collaborative productions. You can get everything mentioned above for $75/month, along with analytics tools, additional customizations, and unlimited words, embeddings, and summaries.
Pros:
Listnr provides a variety of accents and voices that you can choose from in order to tailor the results to your needs.
The audio is of good quality and is devoid of distortion of any type.
It enables those who cannot read to access stuff.
It has the ability to turn practically any text or article into speech.
It automates the entire recording process using Al technologyy
Cons:
Some conversions fail
The speech that results may sound robotic, it is practically impossible to capture human emotion in recordings.
The higher packages are quite expensive. A new podcaster may find purchasing the software rather pricey.
Listnr Alternative: WriteCream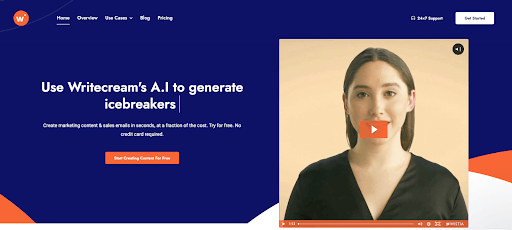 Listnr is undoubtedly one of the most highly regarded text-to-speech apps available right now, especially given its price range. Its target audience is podcast producers, but that doesn't mean you can't make the most of it. In addition to its enormous market, there are other tools you may use, most notably the automatic RSS feed. However, as elaborated above,  Listnr is not without any cons.
On the other hand, with WriteCream you can overcome all these cons that Listnr has. You can write a script for your blog post, podcast, or YouTube video using Writecream. It may be used to automatically transform your content into a voice-over for a podcast or YouTube video using an AI-generated script. You can also use Writecream to make a voice-over for a podcast or YouTube video if you're having trouble coming up with ideas.
These are some features among a variety of other tools that WriteCream offers:
Podcasts
Voice Notes
YouTube Video Script
YouTube Video Voice-Over
YouTube Video Ideation
Where WriteCream Wins?
WriteCream supports 75, offering versatility.
WriteCream has a variety of other exclusive features like image-icebreakers, ad copy generators, etc along with a podcast feature making it the on-stop shop for all your marketing needs.
WriteCream's overall cost is less expensive than Listnr's. Additionally, WriteCream's extra features offer it an advantage over all of its rivals.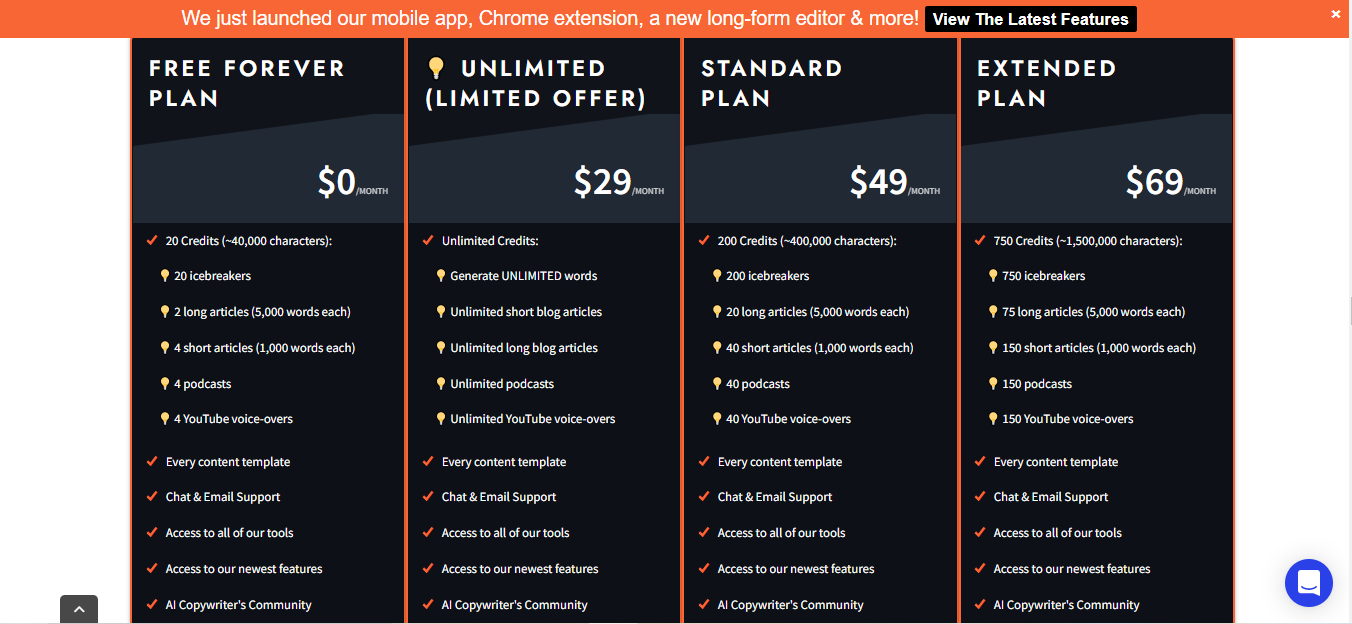 The free plan comes with all features, 20 credits, and 40,000 characters.
Standard Plan: 200 credits for $49/month with a 400,000 character cap.
Extended Plan: 750 credits with a 1,500,000 character cap for $69/month. 200 to 750 podcasts, blog posts, and picture icebreakers were produced. It offers live chat and email support in addition to unlimited access to all of Writecream's tools.
Custom Plan: With this plan, users can detail their needs, and Writecream will develop a custom price plan for them. The cost of this plan is determined by the user's requirements.
Exclusive WriteCream Features
Podcast Tool: Users can convert their blog posts into YouTube videos, podcasts, or voiceovers with Writecream's Human Voice tool.
Copywriting Formulas: The method includes copywriting formulas as well. The Before-After-Bridge and the Pain-Agitate-Solution are two scientific formulas used in its copywriting tools.
Video Tutorials: Each function in Writecream has a video instruction. Without having to spend a lot of time navigating, users can become familiar with the functionality.
Image-Based Icebreaker: Writecream offers a special tool in the form of image icebreakers. These personalized pictures were developed by AI for cold outreach. The interest in this technology among businesspeople and marketers is growing. Customers generally employ it to create premium photos with top-notch content.
Personalized features: Personalized features offered by Writecream include emails, image icebreakers, product reviewers, and more.
Conclusion
Both WriteCream and Listnr are outstanding AI Tools that can get your podcasting requirements, and each has a unique set of benefits and drawbacks. However, Writecream is the most dependable in terms of output quality when compared to its competitors.
When WriteCream can solve all of these issues, why settle for less?
Writecream provides 30+ tools for generating tons of content within seconds! Use Writecream to generate product descriptions, personalized emails, blog articles and much more and that too for free! Our free plan provides 20 credits every month which helps you generate 10,000 words per month!
Isn't it amazing?
To get started, register here for our FOREVER FREE plan NOW!