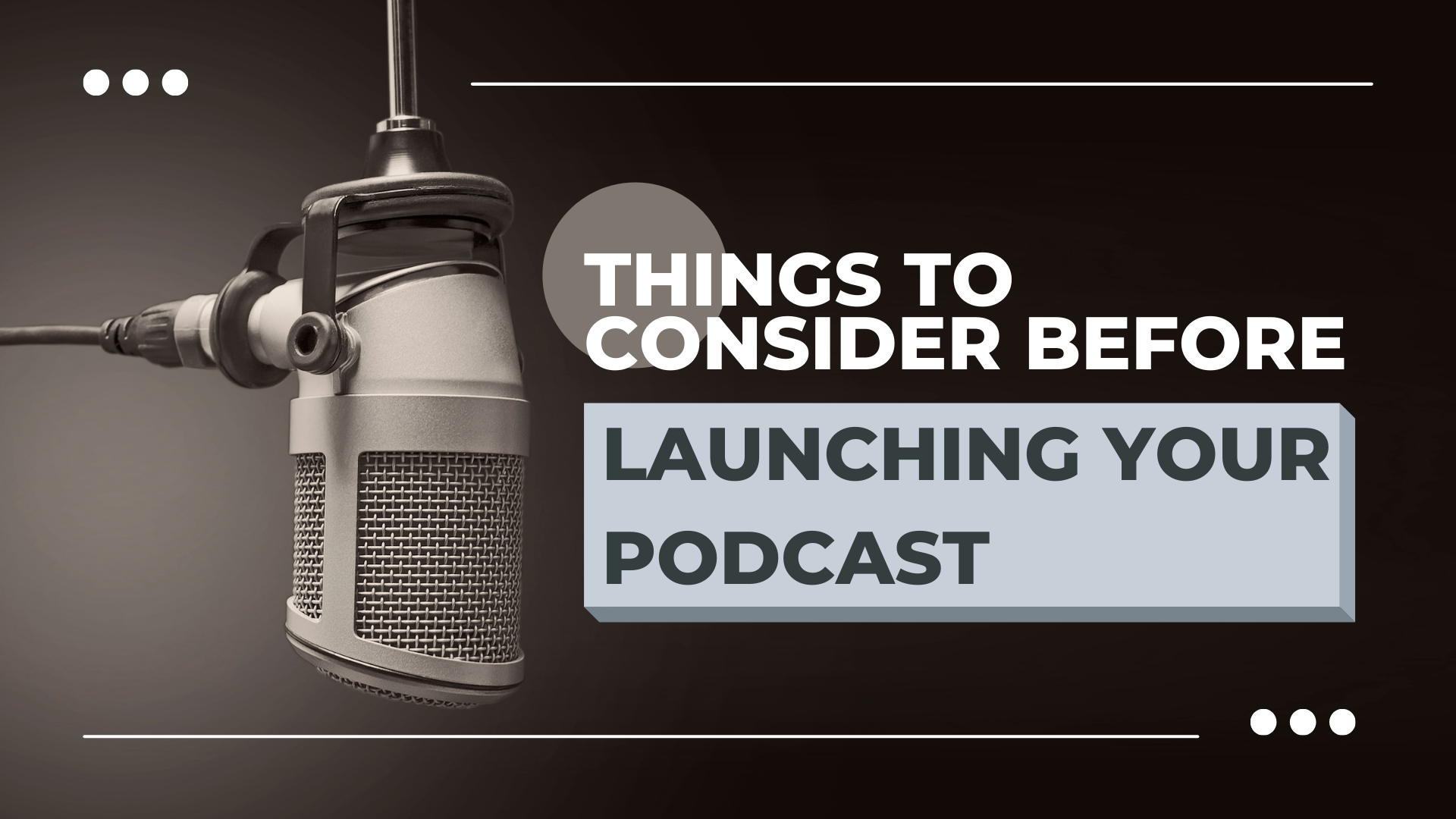 We are now living in a fast-paced world and are to a certain extent caught up in our lives. But this doesn't deter our interest and curiosity to pursue and know new content. And podcasts are now growing in popularity among people, not only because it helps them catch up with content on the go but also in an interesting way. These podcasts are now becoming an important and essential tool that can be used in increasing brand awareness, creating a positive brand image, helping you connect with your audience and thereby bringing more clients too. Plus it is a real fun process creating your podcast. Many would have told you that launching your podcast is time consuming, not simple and overwhelming. Here's my take on it, the answer is no!

So before starting your podcast, have this in your mind that you don't have to be an experienced content creator. All that takes to start your podcast is the interest and dedication you have. If that's present, you are really good to go. To establish yourself in the industry, podcasts can be a really great way as it establishes a link with you and your audience.



How To Give The Suitable And Perfect Name For Your Podcast?

Choosing a perfect podcast name is in a way linked with your podcast's success. So you need to be mindful to select a name which is impactful and it should provide you satisfaction in the long run. Before you decide to start your podcast, go through brainstorming sessions by using search engines, podcast name generators, checking the name's availability, and trying to keep the name relevant to your content. Here are some things to consider before choosing the name for your podcast:


Try to be creative –
Try to keep a name that is funny and humorous. You can employ puns to make your name interesting. But be sure not to overuse puns as people will find it difficult to understand the name.

Keep your podcast's name descriptive –
Just by hearing your podcast's name, people should be able to know what your podcast show is.
💡 Generate personalized emails, blog articles, product descriptions, and ads in seconds using the power of A.I

Try using your name –
If you have a big audience before you have started your podcast, then consider using your own name for the podcast.


Searchability –
Choose a name that would be simple for people to notice. Do not use complicated words, as they would not come up in the search engines very easily.


Pre-Podcast Planning

Getting to know your target audience before launching your podcast will help you create better quality content that will cater the needs of your audience. Also knowing this beforehand, will help you to run your interviews smoothly and make your questions and episodes more engaging. Work on finding your niche, so that the podcast's content will resonate with your audience. The problem that occurs when you are trying to speak to everyone at once is that no one will be able to empathize and connect with what you offer.


Example:
Let's suggest if you were a stay at home mom who has two daughters, would you listen to a General Parenting Podcast or a Stay At Home Parents Podcast?

Try to narrow down and get as many details as possible about your audience. First write the description of your ideal listener, then write down what age they come under, and what work do they do? Note down at what time of the day your audience is listening to your podcast? Are they listening to it on the go or do they listen to it at home? Also write why your audience is interested in your podcast?



Preparing Outline For Podcast

Here's how you can create an appealing podcast that will catch the interest of your audience. Open a document or a notepad and write down everything you could think about for your podcast. Make a draft of what you want your podcast to sound like every minute.


Structure

If you are planning to create your episode, then write the structure of it beforehand. What sound should you use for the intro music? Do you need music for your outro? Do you

plan to announce your podcast's tagline at the beginning of each and every episode? Are you planning to summarize your episode? Do you have an ad roll planned in the middle?


Content

What are the interests of your listeners? While you are drafting the outline for your podcast, remember to add these details too. If you are planning to do an interview format, then think of the questions that you want to ask your guests? Do you want to ask the same repetitive questions to all the guests or are drafting different questions for the other episodes? How do you intend to carry your podcast – by solo or with guests? What content do you want your listeners to hear?


Length & Release

Many listeners lose interest in your podcast if you are making it lengthy. Instead of doing a lengthy podcast, think about the time your listeners spend on an average to listen to your podcast. If you think your podcast requires the listeners to be focussed, then note at what time of the day does your audience listen to the podcast. Put yourself in the shoes of the listeners and imagine how many days they would listen to your podcast. This will help you understand when to release the episodes – weekly, biweekly or monthly.

FACT: Tuesday mornings have the highest listenership!




Step By Step Guide To Make A Podcast



Choosing A Hosting Platform

After you have edited your podcast and now it is ready for your audience to listen, you will need to choose a reliable host. The purpose of the hosting platform is to ensure that your podcast is published and it is available in the directories. So for example, when you take blogging, WordPress receives the file, presents it and makes it attractive so that the audience can spot it. Likewise, you can use Libsyn and SoundCloud as your hosting platform. If you are looking for other platforms then you can go for Podbean, Buzzsprout,

or Blubrry. All these platforms are free but you have to make a small investment every month for the analytics and bandwidth.


Submit Your Podcast To Podcast Directories

Now that you have configured your podcast's RSS feed and the hosting account is set up, it is important to submit the episodes to the major podcast directories. This step is crucial because if you don't send your episodes to the directories, your audience won't be able to find you. We recommend you to register with the following apps:
Apple Podcasts
Google Podcasts
Podbean
Spotify
Stitcher
TuneIn
All these sites will ask for your podcast's RSS feed, which will be produced for you by your hosting platform. If you are planning to release your podcast on Thursday, then you have to submit your podcast RSS feed throughout every directory that you wish for on Monday morning. Only then your podcast will get approved as it will give them ample time to review and send in their approval.


Publish Three Episodes

Podcasting is about maintaining consistency. And the question is how many episodes do you need to start with? There is no right answer to this. But we suggest you launch three episodes initially. The intention behind this is to provide your audience a foresight of how your content will be and what they can expect from your podcast. Ensure that you have a stability between balancing the content you are releasing and what your audience wants. Make sure you don't confuse your audience with too many episodes. For example, if you release 10 episodes on the very first day, probably half of the episodes won't even be played. Rather you can save those episodes to publish them later.


Before you release your podcast, launching the teaser would sound too much, but this step cannot be skipped. To get maximum response, ask your network to pitch for your episodes in their social media handles or to give good reviews about your episodes. This could be the proof the public demands so that they could give your show an opportunity to listen. Another strategy is to conduct a pre-launch competition where your audience and participants are inspired to share on social media about your content in return for the opportunity to win prizes. This strategy will also help you in generating the email list!


Preparing A Launch Strategy

While planning to launch your podcast, it is necessary to have a strategy for promoting your podcast. Just uploading it to your host won't be enough, you will also need a multi-channel plan to create the hype that would push people to listen to your show. Also you need to tailor the advertisements that would suit each platform. So for instance, bright images work well on Instagram, and if you have a newsletter it is better to go with a text-based advancement.


Maintain The Flow

Similar to the blog posts, there is no exact number that you need to publish in your podcast. Some people might prefer weekly, biweekly or sometimes even monthly. The best thing you can do is publish quality content regularly. Having a consistent schedule is important as it will inform your listeners when to tune in to your podcast.


Repurpose, Repurpose and Repurpose

It is simple to end an episode, announce another episode, then ignore and move on to the next thing, however it is not the best thing to do. Pick pieces of audio content for using it on social media. Make them as tiny videos, add an appealing image or add a GIF that would attract your audience. You can use your episodes for your upcoming blog posts or even quotes. Reusing the content in many different ways will help you gather more listeners to your podcast.


Some Must Include In Your Podcast

The majority of people who listen to podcasts tune in to the podcasts while they are cleaning, exercising, cleaning or commuting. Some people like to listen to podcasts because it helps them keep up with their daily tasks like cleaning and doing cardio. Also they think it would be a learning experience for them.

Audio is a great medium, if you are a listener who likes to listen to podcasts on the go. But if you appreciate text content, then you can use shownotes. Shownotes are the text focussed summary which is included at the end of every episode of your show. These shownotes exist on iTunes under the information section of every episode. And above all of it, you can redistribute this to your podcast's website to engage with listeners by communicating with them in two mediums. If you don't have a website yet, we suggest you use WordPress over Squarespace. WordPress is easy to customize and is better for SEO.

These shownotes range from a few point sentences to long form blog posts. Like we said already, there is no single format that works for all podcasters, and now you need to revisit the top of your page. Find who was your ideal listener? What was the goal for your podcast? The shownotes are a text-based and physical way to reach your audience and bring them to your call-to-action. We have found successful shownotes and they include the following:

Images

Overall summary of the topic you discussed in your episode
Timestamps to the main points
Shareable links to the resources you talked in the episode
Transcript! It is an amazing way to share about your content on social media or in your blog. This is also a way to engage with different audiences and it makes your podcast more accessible too.
Call to action – What was the goal for this episode? Do you want to bring more audience to your mailing list? Or do you want your listeners to sign up for the course? It is often easy for you to offer something in return for receiving an email.


Marketing Your Podcast

You have now completed all the above steps, and you might want to earn some money from your podcast. And here's how you can do it. You need to understand that for every download of your podcast, it means that one person is interested in your podcast. If you want to add to the numbers, then you can follow the extra marketing techniques to have a good reach with your audience. Following a good marketing strategy will help your podcast in many ways like:
Increasing sales
Affordable production
Helps you get better equipment for your upcoming shows
SEO ranking
Brand awareness
Increase in user engagement
Effective customer experience
Uniqueness


All these marketing strategies will help you grow your audience and get more reach with them. You can use podcast marketing services like fame, field, true native media, frequency media, Seattle podcast. co, and pod fly. These will save you from the tension and the effective marketing strategy will produce you a good result.



Final Words

We have discussed the ultimate podcast checklist and the fifteen things you must do before launching your podcast. Starting your podcast isn't just about talking and uploading the files. There's more to it like editing, marketing, and other things which go behind the scenes. You have to be prepared for all of these before planning to launch your podcast. Just ensure you have everything ready and you are good to go!