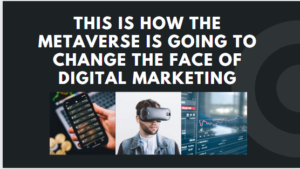 The Metaverse is an intersection of the internet and an "experience." It combines elements of Virtual Reality (VR) and Augmented Reality (AR) to create a personalized and almost tangible experience for users and the kind of content they create and engage with. Technology and its dynamic nature are shifting almost every day and very dramatically. The Metaverse is one such shift that businesses and services can capitalize on very easily.
The immersive nature of the Metaverse is going to shift Digital Marketing largely. Using this new technology to market themselves will leverage new opportunities and segments to win for businesses.
Understanding the Metaverse
The Metaverse is designed so that it cultures a society of decentralized communities. Industry experts of a certain niche, people interested in a specific topic, and other associated acts will have a singular virtual environment where they can perform multiple activities.
They will be able to get information, make money, purchase commodities, sell commodities, spend money, experience realities, etc.
💡 Generate personalized emails, blog articles, product descriptions, and ads in seconds using the power of A.I
Even if the people in these virtual environments leave, they will not cease to exist. The Metaverse's longevity when it comes to its life is unlimited, and persistence is not a limiting factor to this.
It uses real-time B2B SAAS software, making the environment very easy to use. This real-time software makes it easy to reach target audiences and segments.
The Metaverse allows you to bring content from other platforms onto one digitally curated environment, but it also allows you to generate your own. You can also broadcast messages across multiple digital environments, and digitally proves to be a great advantage.
Marketing in the Metaverse
One of the biggest advantages of the Metaverse is that it is a digital playground. A multiverse for marketing even. Digital Marketing will gain a whole new meaning if Metaverse's concepts are stitched into it.
The bridge between experiences:
Metaverse stitches in real-life marketing experiences with digital marketing experiences. This works extremely well for the target audience, which is Gen Zers. These individuals already understand virtual reality platforms and interactive digital spaces that work as houses of augmented reality (For example, Roblox). To build a bridge between digital and real-life marketing experiences, it is important to create a brand experience that reflects what your brand does in real life.For example, you could simulate an experience digitally to market your service, where the simulation more or less reflects your deliverable in real life.
Virtual branding: Many brands are switching to virtual billboards. While this is a great idea, it is important to make them interactive, not passive creatives. Advertising can also mean celebrity endorsements or internships. Many brands are creating virtual spaces or events for their brand and advertising themselves and their branding through the same.
Collectibles: There is no doubt that non-fungible tokens, largely known as NFTs, are roaring in the market today, and businesses are using this to their advantage. For example, Gucci has capitalized a part of Roblox to showcase their non-fungible tokens to purchase and showcase. This way, businesses can use the traction they receive from other running and rewarding businesses to boost their own. Even O2, the world-renowned band, had a concert on Fortnite and collaborated with existing creators. This is how the Metaverse or digital sector is used to instrument these.
This is how the Metaverse and its digital environment style change the digital marketing front and make it a niche.
However, everything does have its cons. Here are some problems that could come up with the Metaverse and digital marketing.
Digital Challenges:
There's no doubt that there need to be huge requirements in the digital wing to harness the real energy of the Metaverse. This means huge investments from the market segment intangible items like PCs and Virtual Reality devices. Not everyone may have access to these. This may be a challenge if you choose to mass market your business or service.
Security Challenges:
Data privacy and security are a huge priority, and new technology and ventures always mean bringing in better security and data security. Especially with the Metaverse, there may be elevated risks because of the amount of personalized data they might collect, given how structured the environment is. Thus, if brands maintain the best relationships with their audience, they should follow ethical and proper data and security foundation principles.
Brand Image Challenges:
With the amount of content coming into an environment like the Metaverse's, there's a chance that your content shows up against a piece of media that your business may not at all associate with. When this happens, it means your brand's public image is at stake.
Brands need to recognize and promote their values and, at the same time, protect their images. Make sure you take deliberate steps to share a virtual space with the values you stand for. This way, your engagement will also be good. The people in your space will interact and respect the sort of content you put out and stand for.
This is how the Metaverse will shape the different niches of how the digital marketing sector will work with the sort of advancements it is making in today's world. To make the most out of this digital space, it is important to understand its advantages and combat its challenges.
It's a collaborative space that leverages the best technology, and it is an environment of like-minded individuals. These are the pillars of digital marketing, and thus it is a boon to its existence.
Writecream provides 30+ tools for generating tons of content within seconds! Use Writecream to generate product descriptions, personalized emails, blog articles, and more! Our free plan provides 20 credits, which helps you generate 10,000 words per month!
Isn't it amazing?
To get started, register here for our FOREVER FREE plan NOW!