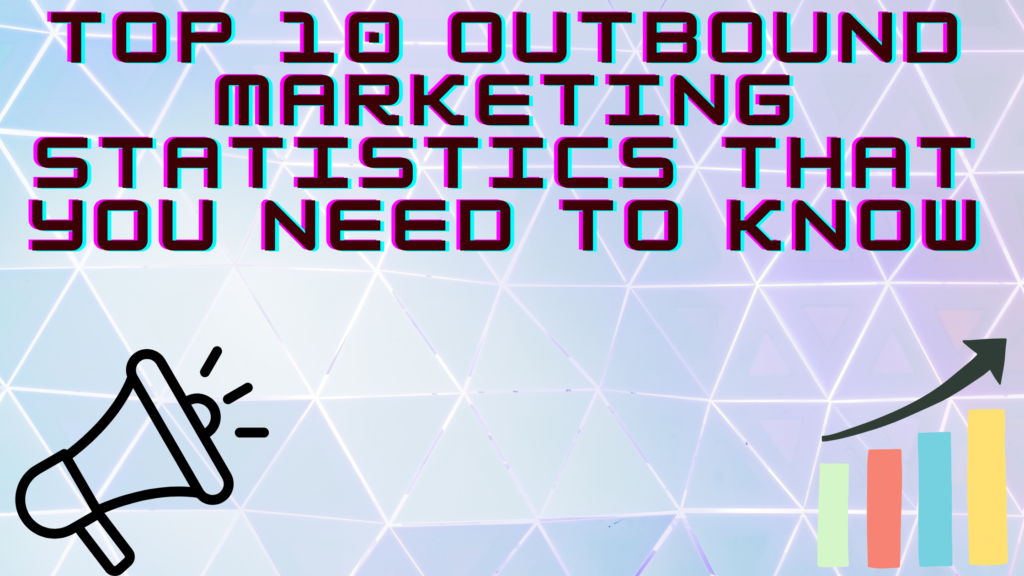 Outbound marketing is disruptive. Focuses on driving marketing efforts instead of waiting for leads to come. That includes putting your business in front of an audience without permission and having potential clients/customers read your marketing messages. The basic idea of ​​outbound tactics is for advertisers to use mass media tools to get their message or product out to the public. With a few exceptions, most of these outbound marketing techniques are untargeted. This means exposing your marketing message to a large, general audience.
What are the benefits of Outbound Marketing
Outbound marketing campaigns may prove easier to optimize than inbound campaigns. There are many ways to benefit from organized and automated outbound lead generation campaigns. Some are:
Send messages to selected people and control how you interact with It serves as a direct form of market research as you face your target audience and get their reactions firsthand.
It's a lucrative way to brand your company or product. Offline advertising such as TV, banner campaigns and social media sponsorships make your name and brand known to people and increase brand awareness.
Many companies have used "poor outbound call statistics" to justify shutting down outbound calls entirely in order to focus on inbound methods. not so soon We must remember that there is never a one-size-fits-all solution.
In some situations, inbound methods are better than outbound methods, and vice versa. Outgoing calls also he has three types, each suitable for a different group of people. With that in mind, it's not fair to assume that outbound calls are inherently inferior just because the stats article says so. It depends on how you get those
Given below are some of the important statistics
Lead generation statistics
75% of executives are willing to book or attend an event just for cold call or 62% of marketers say their company's outbound marketing efforts are effective. 32% of marketers find outbound marketing effective in generating more leads. Inbound marketing Companies rate outbound marketing as important, with an average score of 7.3 out of 10. 70% of sales reps still interact with prospects and hold meetings over the phone.
Call statistics
41.2% of salespeople believe the phone is the most effective tool for work.  57% of C-level prospects prefer to be contacted by phone.  The average salesperson makes 52 phone calls a day.  Over 30% of leads are not followed up after the initial rejection.  44% of sales reps give up after a follow-up call.  80% of deals closed after the 5th follow-up.  By increasing retention, sales reps can improve conversion rates by up to 70%.
💡 Generate personalized emails, blog articles, product descriptions, and ads in seconds using the power of A.I
Cold call statistics
A cold call is the most common way to make an outgoing call. Most of the information you can find online condemns its use, but Cold Call is not so callous. Companies that don't make telemarketing calls grow 42% less than those that do. 69% of prospects accept cold calls from companies. 49% of buyers prefer a cold call as their first point of contact. 82% of buyers accept meetings with proactive sales reps. 60% of IT decision-makers want a cold call.
Cold call conversation statistics
The best talk-listen ratio for a successful cold call is 46%:54%. Successful cold calls take an average of 5:50 compared to 3:14 for unsuccessful calls. The average monologue duration for successful cold calls is 37 seconds and only 25 seconds for unsuccessful calls. He has a 70% higher cold call success rate on Wednesdays. The best time to cold call a prospective customer is between 4 pm and 5 pm. The second-best time period is between 11 am and 12 pm, with a 71% difference in calls.
Warm call statistics
A warm call is usually more acceptable to a prospect because businesses communicate with prospects before they call. They do this through social selling and referrals. Social selling refers to using social media to find and connect with potential customers, while referrals are simply promoting your business to others.
Social skills statistics
Developing a personal relationship with a prospect is 4.2x more likely to book. 78% of sales reps use social selling to outperform their peers.  31% of B2B sales professionals say social selling helps them deepen customer relationships.
A salesperson who uses social selling is 51% more likely to meet or exceed his quota. Social sellers generate more new customers (65%) and have higher customer conversion rates (46%) compared to non-social sellers. 63.4% of salespeople engaging in social selling reported increased sales for their company, compared to 41.2% of salespeople not engaging in social selling.
Referral statistics
A seller who actively seeks and takes advantage of referrals earns 4-5 times more than those who do not. 92% of shoppers trust recommendations from people they know. 73% of executives prefer to work with a sales rep recommended by someone they know. 84% of B2B decision makers start the buying process with a recommendation. 91% of customers say they make recommendations, but only 11% of sellers ask for recommendations. Don't waste your precious opportunity, just listen!
Hot call statistics
A hot call is a call to a potential customer who is very interested in your product and would like to get in touch with your company directly. These prospects usually don't need much persuasion before making a purchase. However, there are a few things you should keep in mind to increase your chances of converting leads into eligible leads.
Statistics on time of calling
The best time to call a prospect is the first 50 minutes after the prospect shows interest in your product. This is especially useful for monitoring website visitors. 62% of prospects would like to be contacted by a sales representative when they are actively looking for a solution to their problem.  54% of prospects want to hear from a sales representative once they have made a purchasing decision and selected a company.
Decision affecting statistics
Factors that influence a buyer's final purchase decision: Focus on the value they can provide: 96% Educate prospects on new ideas and perspectives: 92% Provide valuable insight into a prospect's industry or market: 92% Collaborate with prospects