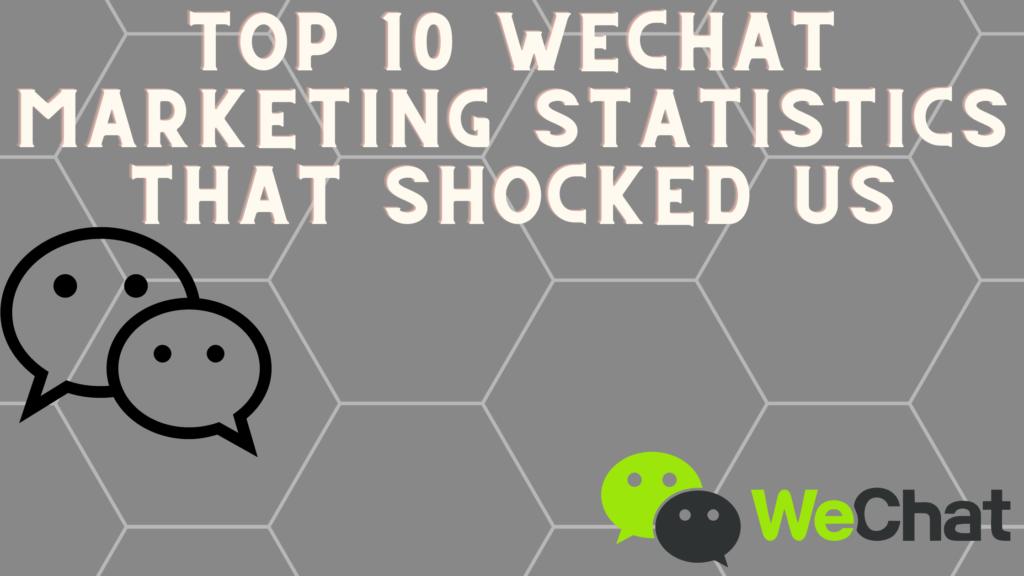 WeChat is the tech giant you've probably never heard of. WeChat ranks 6th in the most popular social network list and the 3rd most popular messaging app, but if you live outside of China, you've probably never used it. But wechat is the most popular app in China. To shed light on these lesser-known giants of the mobile app industry, we've compiled a list of the latest WeChat stats, facts, and trends. Let us see how much people in china use wechat.
Wechat marketing statistics and Popularity trends
According to founder Allen Zhang, the app already crossed the billion mark in August 2018. This is the first Chinese app to reach this fantastic milestone; he is one of only six worldwide. Most of these users are from China, which is especially impressive considering China's population is just over 1.4 billion. WeChat dominates China's social media landscape. This is by far the social app with the highest market penetration. According to wechat 2019 survey, 73.7% of respondents usually use it. Off late, the number of WeChat users has increased.
For instance, only 43.3% of respondents in the same survey said they use QQ, the second-ranked social media app in China. Sina Weibo is a distant third, with only 17% of respondents saying they use it frequently. WeChat may be the dominant social media app in China, but it struggles to break into international markets. They are not yet in the world's top five most popular social media networks, but they are not far off. Facebook tops this list with over 2.8 billion monthly active users (more than twice as many as WeChat's).
WeChat also ranks behind YouTube (~2.3 billion MAU), WhatsApp (~2 billion MAU), Instagram (~1.4 billion MAU), and Facebook Messenger (1.3 billion MAU). Given that WeChat has about 60 million monthly active users, only trailing Facebook Messenger, it could surpass that in the next few years, especially if it continues to grow at the rapid pace it has seen recently.
💡 Generate personalized emails, blog articles, product descriptions, and ads in seconds using the power of A.I
Mobile usage statistics
This refers to 2017 data, so something may have changed since then. However, with WeChat continuing to dominate China's social landscape, it's hard to imagine a significant decline. Overall, Tencent (WeChat's parent company) accounts for 55% of all mobile time in
China. This market monopoly is both impressive and alarming. Chinese leaders seem to agree, making antitrust enforcement a priority these days. Regulators recently imposed antitrust fines on tech giants such as Tencent and Alibaba.
3. Message statistics
WeChat is a social media messaging app, and that's what makes it incredibly popular. Every day, around 45 billion messages are sent through the platform. For comparison: about 100 billion messages are sent via WhatsApp every day.
4. Call statistics
Another way to use WeChat is to make a phone call. Similar to other popular social media messaging apps such as Messenger and Whatsapp, WeChat allows users to make free WiFi calls to other users. This makes it an affordable alternative to regular cell phone calls and a popular way for people to stay in touch. Approximately 410 million voice and video calls are made daily through the app.
5. Account and gender statistics
WeChat official account is a WeChat response to the Facebook page. These are WeChat "business" account options that allow brands to collect and interact with followers and reach new customers. To date, there are over 20 million of these official wechat accounts. Unlike other social networking apps, this app is popular with older Chinese users.
WeChat usage trends show that WeChat has become an integral part of the Chinese lifestyle. But did you also know that WeChat has several mini-programs and that women are the primary audience? Not only that, but the wechat mini program has also helped brand giants such as Gucci and Michael Course.
6. Feature statistics
This is the number of people who used the toggle privacy feature to set their wechat Moments visibility to three days or less, according to a speech by WeChat founder Allen Zhang. In China's mobile-first economy, social media acts as a social marketplace. 46% of internet users in the country purchase products and services through WeChat and other social platforms, which is expected to exceed 50% by 2024.
7. Wechat usage statistics
One of the great things about WeChat that sets it apart from other messaging apps is the Mini Apps feature. It works like an app store where users can install lightweight apps that run inside WeChat. Third parties and brands can create and list their own WeChat apps to reach more customers. This statistic shows the popularity of mini-apps. With over a million apps turned on, many people use WeChat mini programs temporarily. For example, if necessary, you may get caught in the rain and have to hail a taxi. The platform's app database is almost half the size of Apple's App Store.
8. Wechat statistics on its features
Like many of WeChat's additional features, mini-apps have grown in popularity, increasing both usage and sales. Many mini-apps available on WeChat can be used for purchases. In 2019, the number of e-commerce transactions of this type made through the WeChat mini-app increased 27-fold. Yes, it is. This is a 2700% increase over the previous year. WeChat Pay is as popular as any messaging-enabled service, with many daily active users. WeChat does not disclose the exact number of users but reports that "hundreds of millions" of people use the payment app every day.
9. Wechat pay statistics
Since 2018, WeChat's popularity has skyrocketed. By 2019, the market leader, which had about 520 million users 2019, overtook Alipay to become the most popular payment app in China.
10. Wechat revenue volume statistics
WeChat Pay is not a fad but accounts for very high transaction volumes daily. Over 1 billion transactions are made every day in all available countries. This means you are linking your debit or credit card to your WeChat user account for hassle-free instant payments. This feature allows users to pay both in-store and in-app purchases. WeChat Pay was launched in 2013 but took time to become famous. However, in 2018, app usage increased significantly to around 700%. WeChat users in china have increased, and is now available in 49 markets outside of China.