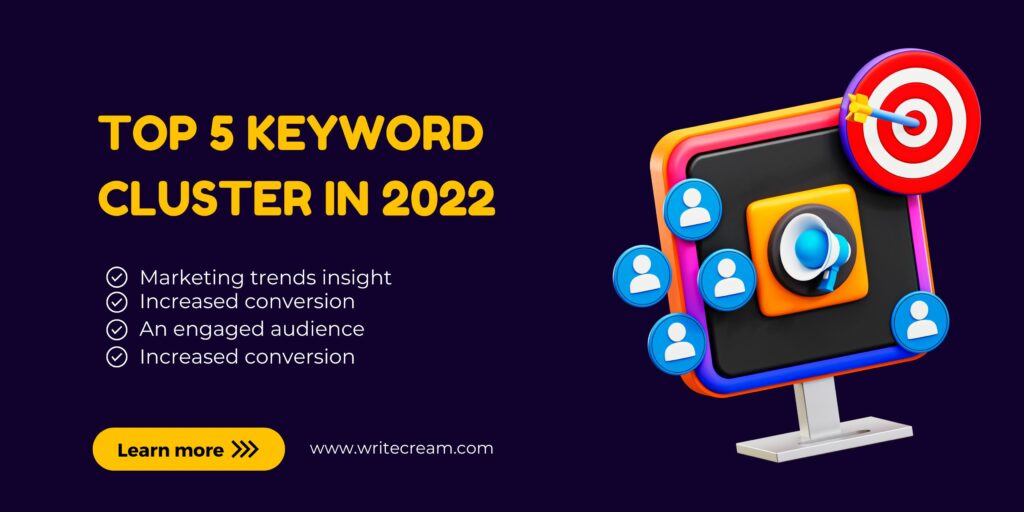 You've successfully completed your keyword research and gathered thousands of useful keywords for your website. Maybe your study into keywords that your site already ranks helped you create that list. Or perhaps you looked up the keywords of your competitors using well-known keyword tools like SEMrush and Ahrefs. It's time to analyze those keywords and create a content strategy at this point.
This is where keyword grouping, also known as keyword clustering, helps. Instead of depending solely on single keyword optimization, the strategy involves grouping semantically related terms together to enable you to structure your website into consistent content silos or keyword clusters. Such a strategy can assist your website in gaining authority and increasing Google traffic. It can also assist you in discovering the search intent of your audience.
However, it might be difficult and time-consuming to manually arrange keywords when you're working with thousands of them. Thankfully, there are a few methods you may employ to make that procedure simple.
We won't delve into the specifics of how keyword groupings are created, but it mainly relies on AI-based approaches like Natural Language Processing or SERP-based methods like soft clustering and hard clustering (NLP).
💡 Generate personalized emails, blog articles, product descriptions, and ads in seconds using the power of A.I
The following are some advantages of using keyword clustering in your content creation:
You can save hours of writing time by targeting all keywords with the same search intent in one blog article, which does so concurrently.
It is unlikely that your website will experience keyword cannibalization problems because it is simple to determine whether you need to write another blog post to target particular keywords.
By showing technical proficiency to search engines, you can learn what subjects you need to write about to establish yourself as a topical authority and get higher rankings.
It will take considerably less time and be more accurate.
In addition to these advantages, keyword clustering indirectly aids in website organization. Since you can connect one group to several others, you will have a ton of opportunities for internal linking, which will make it easier for search engine bots to explore your website.
Here is a list of the top 5 tools for grouping SEO keywords, so that you dont have to buy them all one by one to test.
5 Keyword Cluster Tools
1. Zenbrief Keyword Clustering Tool
Along with its content optimization tools, Zenbrief offers a free clustering tool. It uses an NLP approach to group together keywords that are related. It uses vector quantization and Google's BERT technology inside.
Like the majority of keyword grouping tools, you can either paste your keyword list into the text input area or upload it as a text file. Up to 30,000 keywords can be entered at once, but the text file size is limited to 1MB, which is more than adequate for a list this big.
The tool allows for any cluster size. You can set the minimum and maximum cluster sizes using advanced settings. It's quite helpful to be able to download the full grouping or each cluster independently. Each cluster is separated into its own column by ZenBrief's clustering tool, which again makes the spreadsheet simple to read.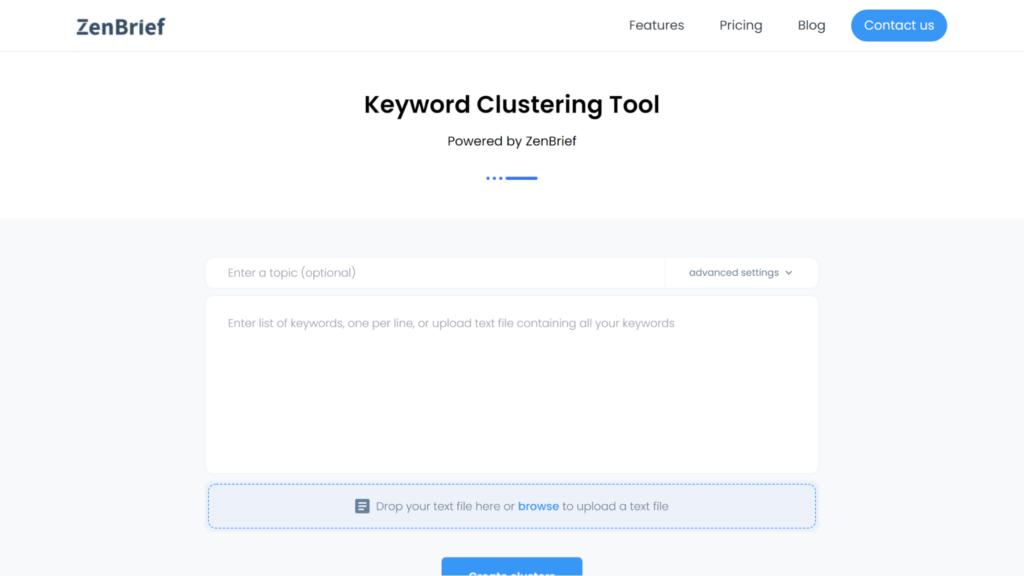 2. Keyword Insights
Keyword Insights will allow you to develop keyword clusters, which required you to first select your area and language. Then, you can select Cluster, Title AI, Context, or Rank as the insights you want to populate. You can pick any combination of these insights, from one to all of them.
Cluster gives keyword clusters
For each cluster, Title AI provides four title suggestions.
Context detects search intent
Rank shows you the ranking URL for a keyword
Your results are sent on a Spreadsheet. More columns for things like intent, ranking page, and title recommendations would appear on scrolling to the right. There is a lot of information here to filter through and arrange for your content needs, despite the layout being a little disorganized.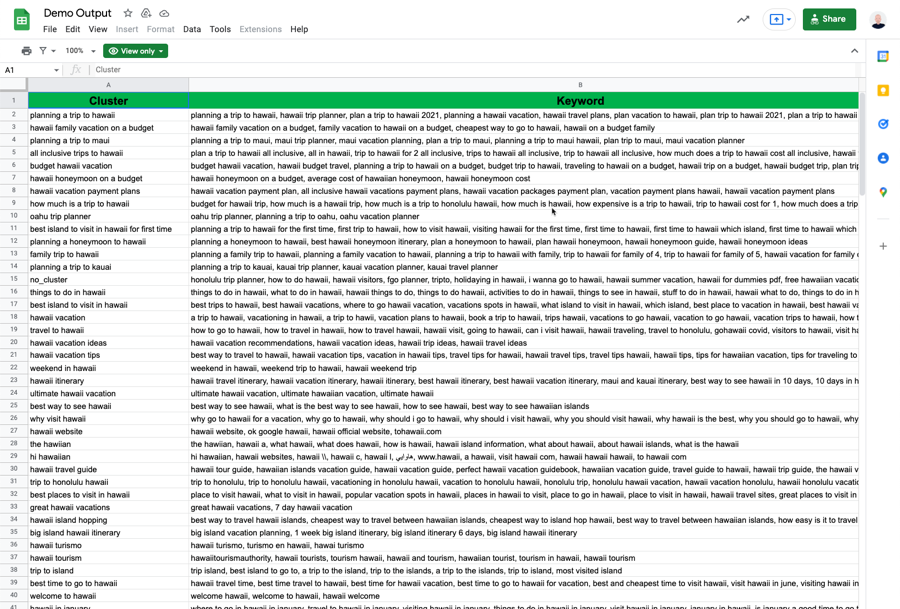 3. Keyword Clarity
A free keyword cluster tool called Keyword Clarity organizes terms visually to make it simpler to spot keyword clusters. The use of natural language processing is not mentioned (NLP). The tool probably uses a lemma-based method to group keywords.
The most notable features are tree visualization and keyword manipulations.  Nodes in trees can branch out to become specific keywords. To construct more accurate semantic categories, keywords can be quickly moved about and rearranged.
The tool makes it easier to use by offering the option to sign in with Google and import Google Search Console data. However, there is no feature to upload text or CSV files; you can only paste in keywords.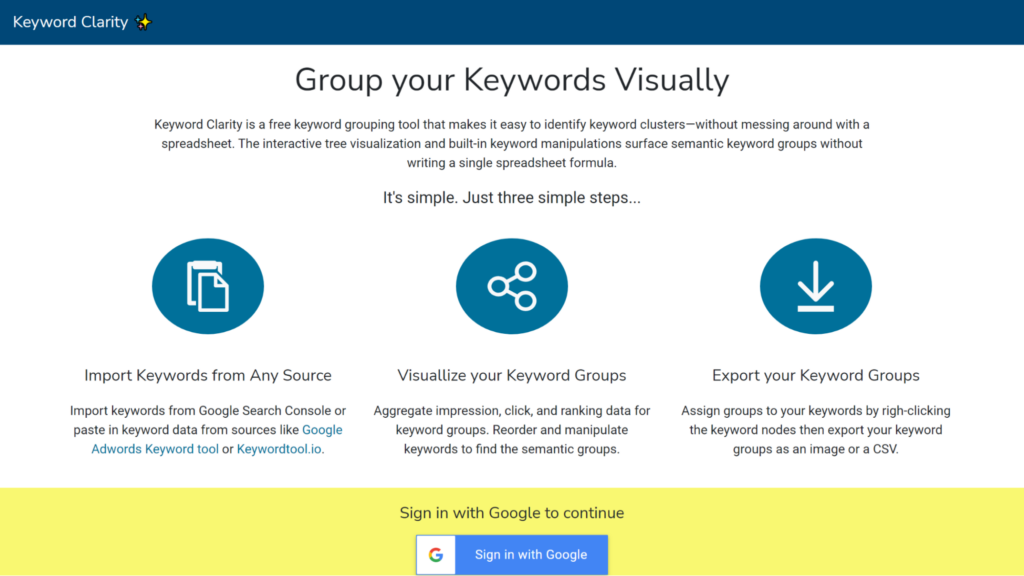 4. Umbrellum Keyword Clustering
The Umbrellum Keyword Clustering tool was created by SEO expert Wouter van der Meij as a component of his SEO toolset.
Its goal is to simplify his life a little bit and fill in any gaps left by other tools. To create keyword clusters, it applies the Levenshtein distance method. You'll discover that using it is extremely simple. Simply copy and paste your terms into the available input form.
Although it's still unclear how many terms it can accommodate, 1000 keywords were handled without any problems. Each keyword cluster may be exported separately in the Excel, CSV, and PDF file types. Additionally, Wouter included straight Copy and Print buttons that facilitate work a little bit.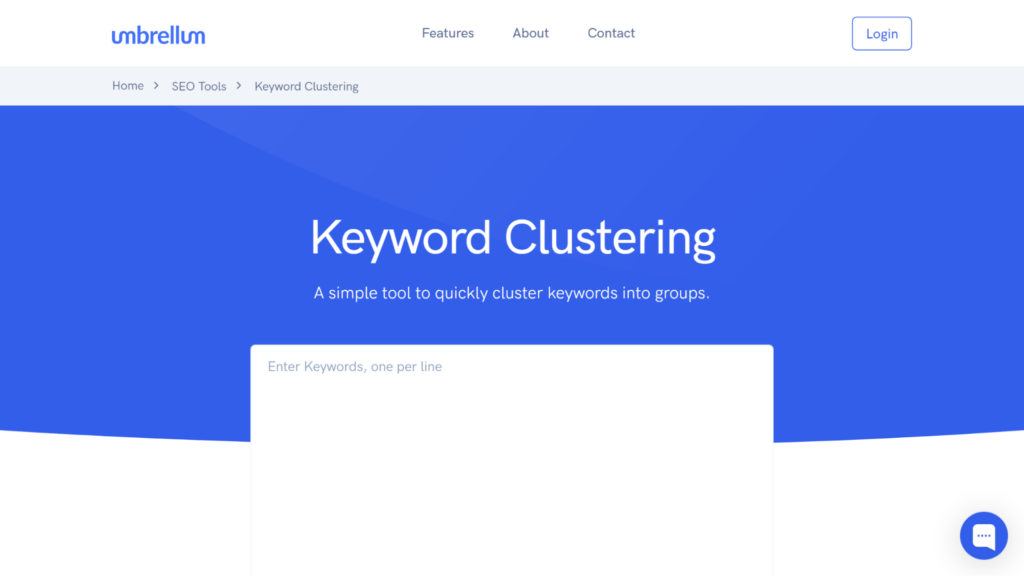 5. Surfer
Creating a list of related keywords is a necessary step for many other keyword clustering tools, but Surfer's Content Planner allows you to skip it. The Content Planner will do that for you while also organizing those keywords into clusters, saving you the time of having to bring a ready-to-go list into Surfer.
After adding your focus keyword and selecting your area, you can sit back and watch the Content Planner work. Following keyword analysis, you'll receive a keyword cluster. According to Surfer, "each keyword cluster has a search intent that it's linked to" and "each box contains a list of keywords to be targeted with one piece of content." You will have to do far less work as a result, and it allows you to begin producing content immediately.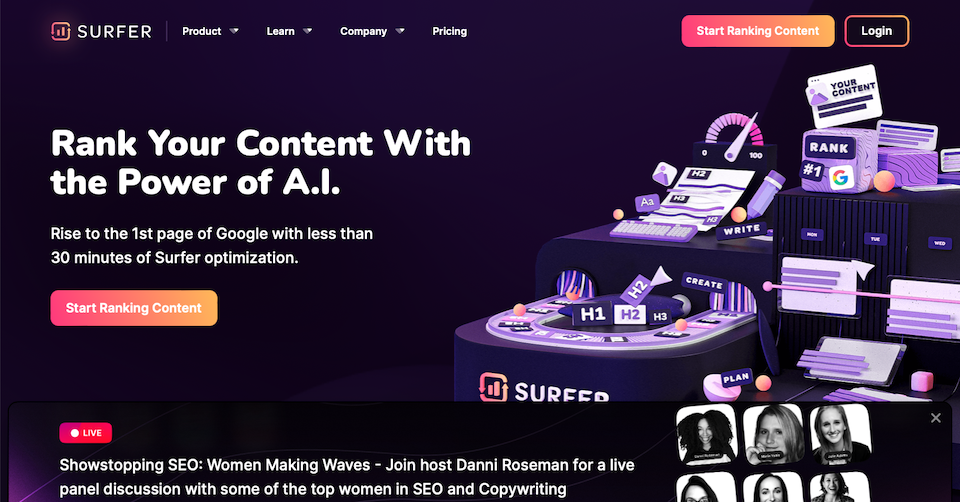 Conclusion
All things considered, targeting keyword clusters rather than a single keyword continues to be the most relevant method of producing sites that are highly relevant for the search keywords. If you combine it with a search volume analysis, it's also an effective content planning strategy. Now, not every keyword group is created equal. Some people will send more people to your website than others. You might determine which keyword groups to concentrate your attention on by using a keyword tool to estimate the search volume for each keyword group.
You can arrange your content, make it feel more relevant to your audience, and raise your search engine score by grouping your keywords. And while you could manually sort through a list of hundreds or thousands of related keywords, using a program to do it for you is a far smarter alternative. The tool may even be able to handle additional SEO jobs. A site-wide SEO audit includes keyword grouping, so if you haven't done one recently, we suggest it. You will be happy you did.