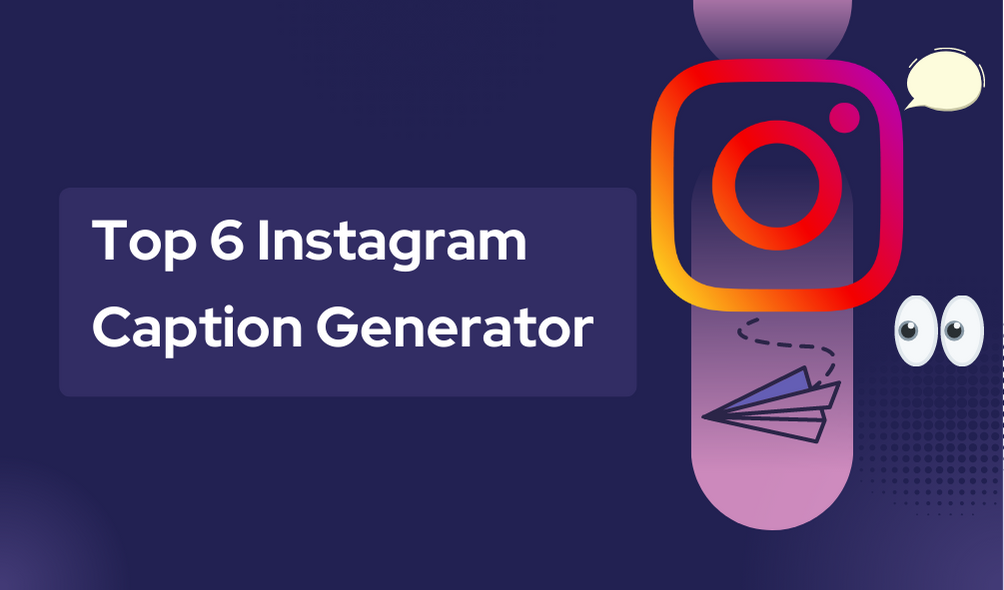 "We are living in a world where attention is everything. Those people who can make themselves versatile are given the highest value."
– Pete Cashmore, the founder of mashable.com
Instagram is the most active social media channel, with more than 2 billion monthly users. This platform hosts a variety of businesses and invests its money, time, and energy to make them more attractive and interactive. But do you find it difficult to write catchy captions for your Instagram posts? Do your captions develop enough interaction with the audience?
A lot of problems budding influencers are facing today. Although the visually appealing posts are doing their best to create a social impact on the audience, putting a catchy cation works as a cherry on top. That's why we choose Instagram caption generators to ease our workload.
💡 Generate personalized emails, blog articles, product descriptions, and ads in seconds using the power of A.I
A good Instagram caption is the one that makes the audience understand the Instagram photo/video. It is the way to express your message to your followers. Instagram captions can include emojis, spaces, quotes, hashtags, and tags.
You may see celebrities posting their photos without captions sometimes. This is because they have gained huge popularity, and they don't need the help of captions to reach out to people. The visual appearance is enough.
But in the case of budding influencers, newly emerged faces need the help of Instagram captions, hashtags, and tags. Here we will see some of the tips and tricks that will help you to choose the right caption for your post.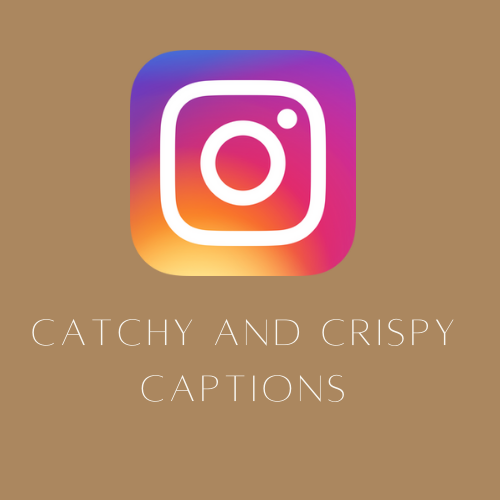 Your post should convey a message, If you are a sales/business person looking to advertise your products via media, only posting a poster about your product may make it confusing and build a crowd around it. In such circumstances, captions play a great role. You can post the poster and write all the necessary information in the caption.
Short and crisp lines instead of lengthy and boring captions, Long paragraphs are always boring. Instead of this, you can divide them into short paragraphs. Keep your caption short. The main information is at the front line itself. You can insert a thought-provoking question or a short contest at the beginning of the line.
Variety in your intentions, It gets boring if every time you write a caption for your Instagram post you put a "how-to" guide lengthy paragraph. You should never be the one who is just asking for followers and doing nothing for them in return. Your Instagram captions must have a variety.
You can inspire people by posting quotes or soothing mages with a short caption.
An emotional connection one created stays for endless days. You can share a problem,         a personal anecdote may be to build a connection with your followers.
You can take the highlighted pain, and problems over the world and then share the required solution made by you.
Share your wisdom with your followers. It may be your newly learned skills or some quick tips.
Algorithms of Instagram you must understand, if your captions are worthy of the audience's attention and more and more people are seeing your posts it is more likely to be featured on top by Instagram. The more trendy and eye-catchy your captions will be the more it is likely to gain the attention of both Instagram and the audience.
Usage of emojis, using emojis in the middle of sentences can help you create visual representations of what you want to express. For example, a green tick or a check box means everything has been done and the to-do list has been checked thoroughly.
Hashtags and tags, these features in Instagram are built to increase the outreach of the posts. Tagging profiles or Instagram IDs of products related to your business will help you to connect with more people.
Many writers, comedians, and poets have expressed their skills via Instagram captions. But let's admit it, not everyone is a writer or a poet who can build their caption alone. Pitching it in sentences is difficult even if you know what to write. A brand Instagram account can only stay alive when actively posted every 2-3 days. This is where Instagram caption generators can help you save your day.
Less input requirement: All you need is to provide some keywords, images, and a few sentences to understand your needs.
Multiple ideas can be generated: You can get multiple options matching your post's needs.
Emoji suggestions on their own: no need to waste your time searching for the right emoji to be used. Multiple options for emojis are available here.
You can now be versatile with the tone: informative, informal, funny, affirmative. We got you covered.
Hence here we have tried to explain here some of the best Instagram caption generators to get readymade enticing captions for your post.
1. Writecream
It is an AI-powered tool created by professionals where you can get infinite templates for a variety of captions. Generating catchy Instagram captions in seconds can be made easy with Writecream. All you have to do is follow a simple three-step process. Add a good description of your product. After that, you can click on "generate". Sounds damn easy right!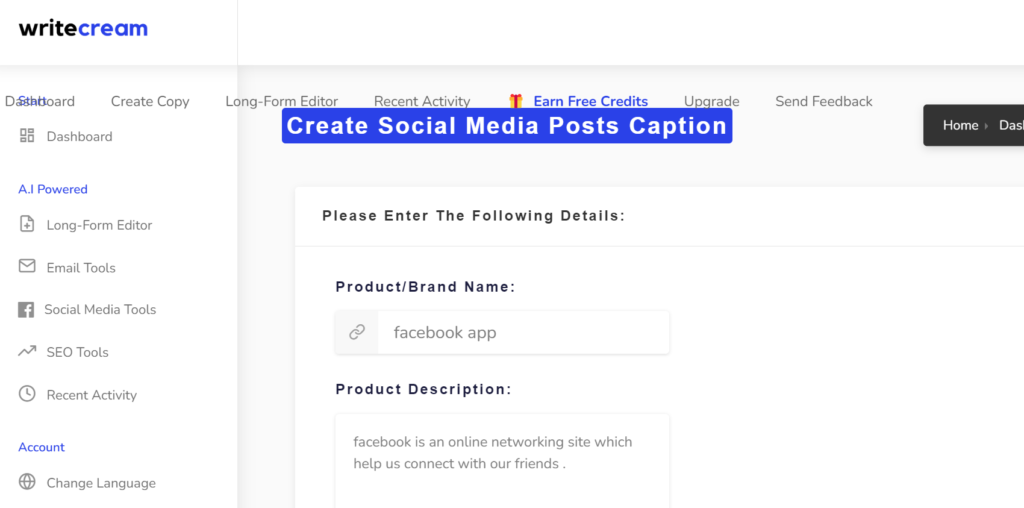 You can find multiple options for your caption. Pick what you like the most. You can find more than 75 languages inWritecream. As the amazing features instruct the artificial intelligence you are always one step away from seeking catchy captions for your Instagram post.
Pricing,
The Writcream has limited free access to a creative Instagram caption generator than a minimal paid plan of $29 per month.
2. CaptionPlus
A powerful AI tool that only needs minimal input. It can take an image from you and generate all the likable captions in no time. Grid maker, creative fonts, and space adder are some of the amazing features of this Instagram caption generator.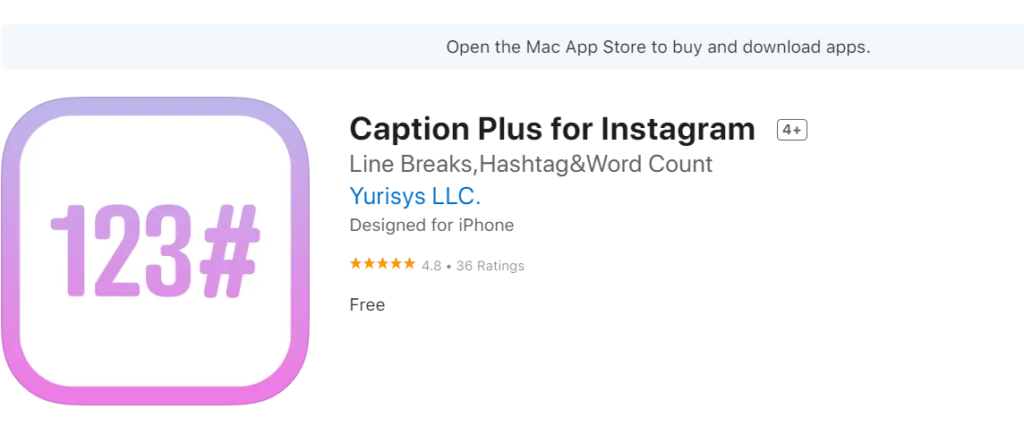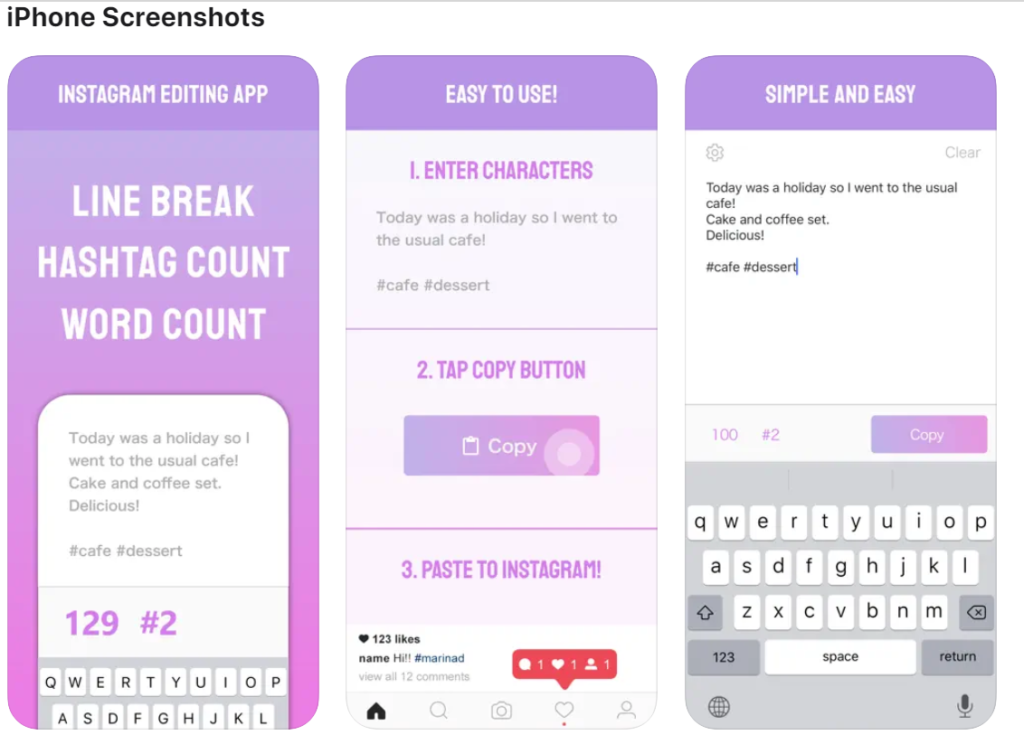 It gives you more than 15,000 caption suggestions depending on the genre of the post. It suggests the best matching hashtags for you which increases your post outreach. But sometimes the captions suggested are more from some famous poets, spiritual or motivational.
Pricing
You can avail of the free plan, a monthly plan of $1.49, and an annual one for $12.99.
3. Preview
It is an all-rounder content planner and Instagram caption generator. The unique feature of Preview allows you to use more than 3000 in-built captions, prompts, and CTAs, which can be modified later. Preview doesn't provide realistic and creative captions, but it provides you multiple options to make it on your own.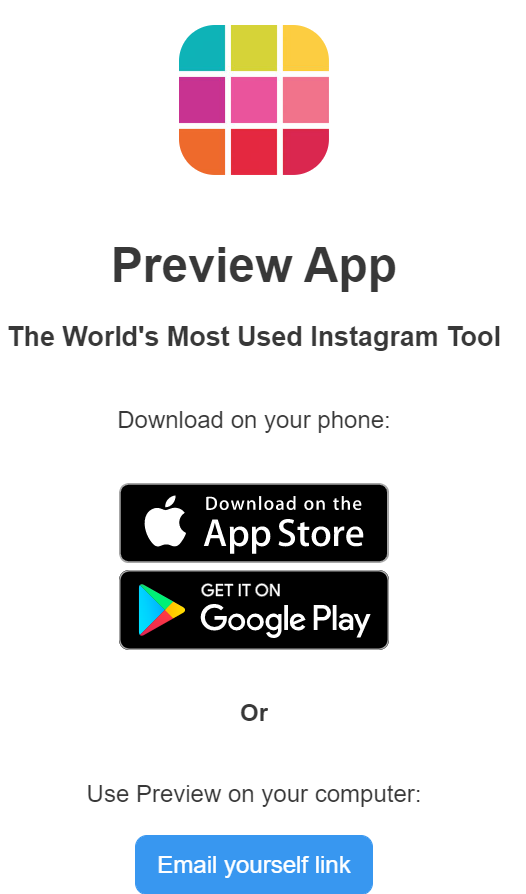 Free access to unlimited captions. You can also make reels and Instagram stories. It automatically selects the best hashtags and tags for your post. This app is available in both android and iOS stores.
Pricing
You can go for pro plans at $7.99 and premium plans for $14.99 per month.
4. TagWag
A powerful AI tool that generates relevant captions and hashtags according to your post image. TagWag also helps you to search captions manually by browsing according to the required genres. But manually selecting the captions often leads to irrelevant and unspecific captions. The Instagram captions available here don't seem realistic and natural. It is available in android and iOS stores.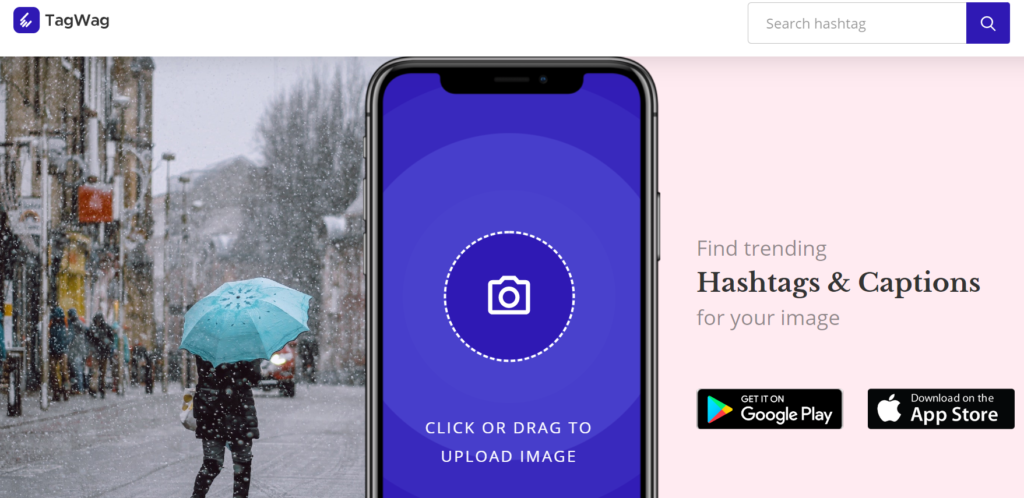 Pricing,
Free to use.
5. Jasper
An AI Instagram caption generator that has over 52 writing templates. By the use of Jasper, you can change the tone of captions as per your need. Just like Writecream it provides captions in more than 25 languages and generates captions in less than a minute. Jasper has an amazing feature of Pinterest pin title and description, headlines for Facebook ads, and also descriptions for Instagram captions.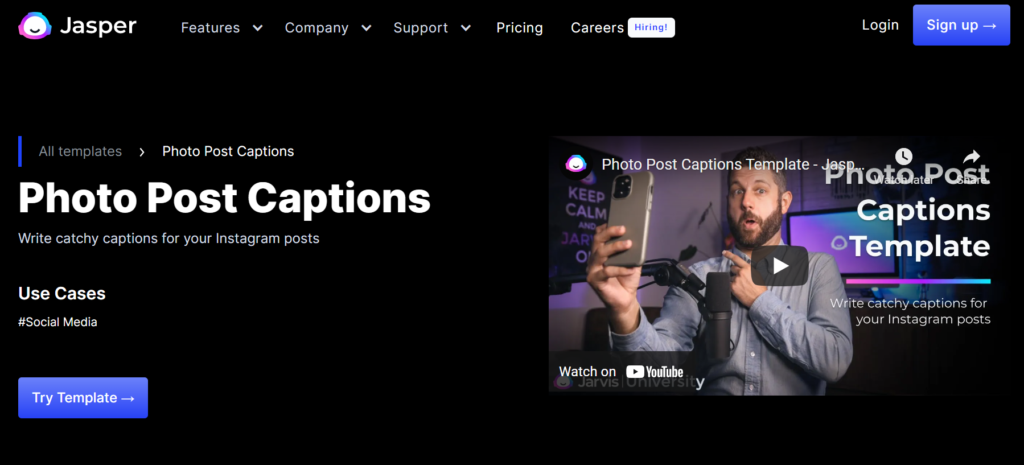 Pricing
The starter plan costs $29 per month and the boss mode plan costs you $59 per month.
It is an upcoming best-rated Instagram caption generator. It simply asks you for the image you want to generate a caption.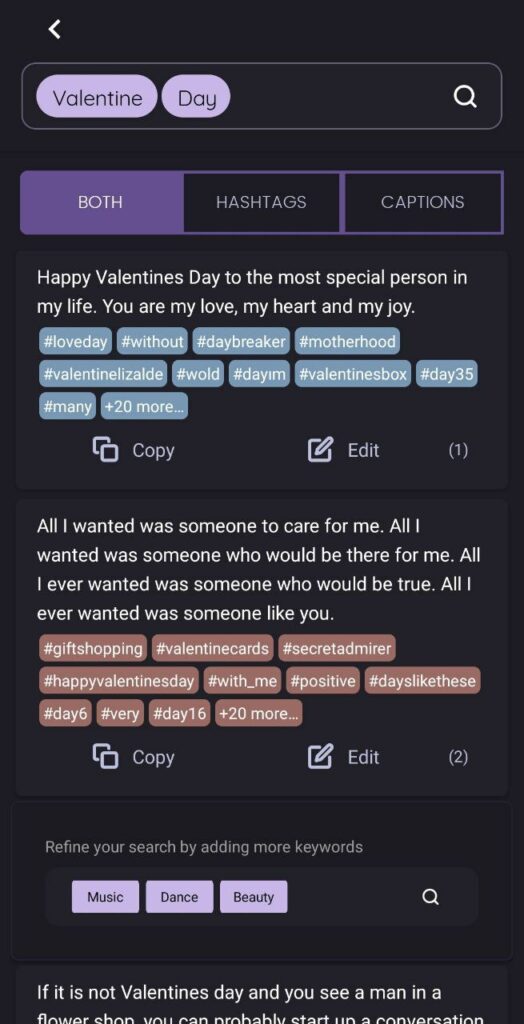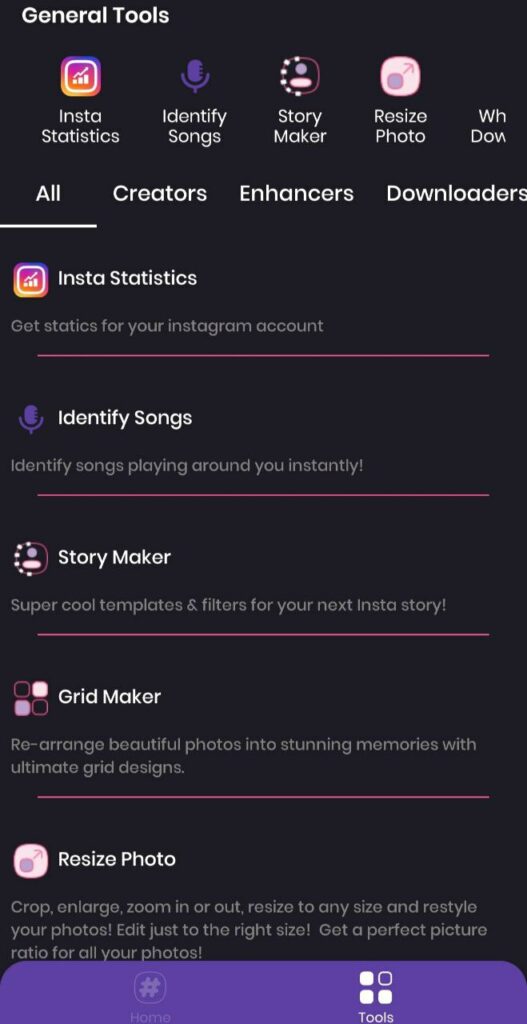 You can browse popular captions related to your requirement. The best thing about this app is that it provides relevant and realistic keywords matching your genre. It provides a dozen of hashtags according to your posts. But the hashtag still needs some updating. Overall this AI-based caption generator is worthy of use.
Pricing,
You can avail of the usage of InCopy absolutely free.
To go with a sassy or savage caption is your decision. "Wow" and "hilarious" like comments add charm to your captions. Writecream and can surely make it "wow." Whether it is a beautiful sunset image you want to post or any local business, you have started that needs public attention caption generator will search for every kind of perfect caption for you within seconds.
We all know that a visual representation is accepted more quickly than words written on the whiteboard. But the fact here is never underrated if an appealing image attracts billion people, a crispy and catchy caption can attract trillions!
There are several Instagram caption generators to choose from. You always want the best with less effort. That's why Writecream has been our top recommendation for getting your Instagram captions ready in less than a minute.
More than 75 languages are available with catchy captions, hashtags, and tags that you will not find everywhere. Writecream can be your "go-to" app for getting Instagram captions for your business. So what are you waiting for? Sign up for writecream now.
You may also like: Best AI story generator