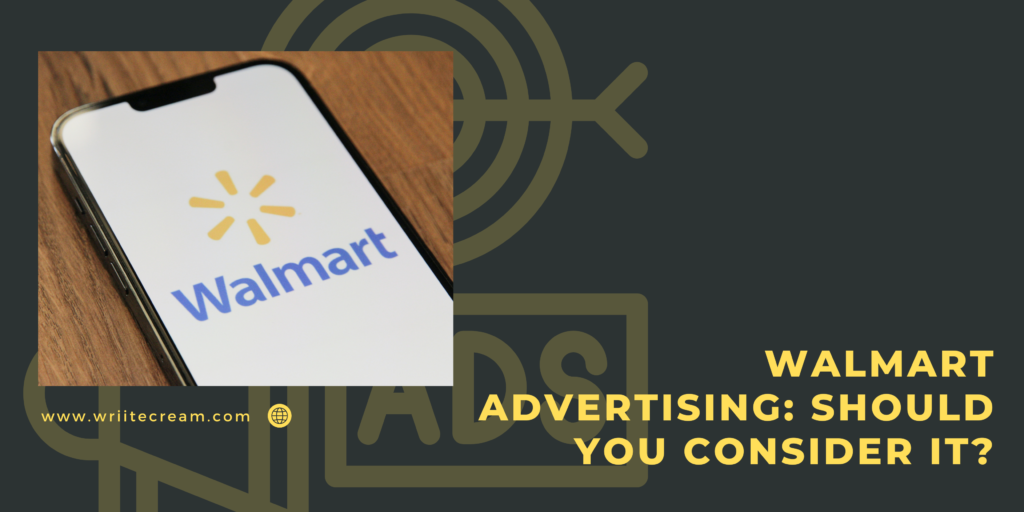 Walmart maintains its treasured position as the biggest retailer in the world despite Amazon's indisputable claim to be the leader online. Given that it has approximately 11,500 stores operating around the world, Walmart greatly benefits from this presence.
Similar to Amazon, Walmart Marketplace gives qualified merchants a variety of advertising choices. Ads that display as visitors browse pertinent categories and search results are something you can make. Additionally, businesses have the freedom to advertise their brand or product.
A smart Walmart advertising plan is essential to giving your products the highest chance of successfully matching customers' searches. One of the most crucial things you can do to bring your products in front of new clients is to advertise on Walmart. If done properly, advertising your products on Walmart might increase your RoAS.
What Sellers Must Understand About Walmart Advertising
It can be difficult to know where to begin and where to concentrate your attention and advertising budget. Inquiries from sellers include:
💡 Generate personalized emails, blog articles, product descriptions, and ads in seconds using the power of A.I
How much room is there on Walmart.com for independent sellers?
What possibilities are there for advertising?
How does the advertising function?
What role does advertising play in the platform's overarching business plan?
How can a company know if its advertising approach is working?
How can a company keep up with Walmart's technological advancements?
Why Should you consider Walmart Advertising?
Although Walmart.com offers a number of advantages over Amazon that make it a good investment for companies trying to grow and diversify, Walmart.com is still the clear leader in online shopping. Any company paying close attention to e-commerce trends is probably seeing the Walmart marketplace as a chance for diversification and growth. Here are the reasons why:
Promotes organic presence:  Your organic presence can be aided by paid advertising on Walmart.com, which will also improve discoverability and visibility. Your organic presence can be aided by paid advertising on Walmart.com, which will also improve discoverability and visibility improve the performance of new sellers. Digital advertising can be used by new businesses and items to improve their initial sales results.
Help SKUs:  Through efficient, targeted advertising, low-performing SKUs on Walmart.com can receive a much-needed boost in visibility.
Profit from seasonal increases: Seasonal goods, such as confectionery and decorations for the holidays, swimwear, patio furniture, and more, will be able to capitalize on seasonality surges and adapt more quickly to changes.
Brand Loyalty: The biggest retailer in the US is actually Walmart, despite the incredible reach of Amazon. That's due to its significant physical presence, but its online marketplace is also expanding quickly, as seen by the fact that, according to eMarketer, Walmart.com has eclipsed eBay as the second-largest e-commerce site.
Untapped Markets: Online retail sales are on the rise. Millennials make up more than one-third of Walmart's online shoppers (people between the ages of 23 and 28). This group of people tends to reside in urban areas and spends more than $600 billion annually, with more than half of their purchases made online. Since nearly half of Walmart's online customers are married or in relationships and nearly that many have kids, they are more likely to use the internet for regular shopping. The majority of Walmart's internet customers are homeowners with middle-class to high incomes.
Easy for third-party sellers: Walmart has made it relatively simple for other sellers to begin operating on the online market. As opposed to sites like Amazon, Etsy, and eBay, to mention a few, Walmart doesn't charge monthly or initial startup costs. On each transaction they make on Walmart.com, sellers are assessed a category-specific commission, with amounts that vary according on the category (between 6-20 percent ). A portion of the total sales from each item is used to determine what is known as a Referral Fee. The business distributes your product listings from Walmart.com to its affiliate websites, including Shoes.com, Moosejaw.com, and others.
The Benefits of Channel Expansion for Your Business: Whatever else 2020 showed us, it was that adaptability is necessary for e-commerce success. The numerous obstacles encountered that year required sellers to be nimble and quick to react. The year 2020 demonstrated how effective e-commerce companies diversify their operations and strategy to satisfy demand from all angles. A excellent method to do it is by expanding to Walmart.com.
Types of Walmart.com Ads
To increase your visibility, Walmart.com offers an excellent selection of worthwhile sponsored product and onsite and offsite display ad choices.
1. Walmart Sponsored Products – Search In-Grid Results
These CPC advertisements direct users to relevant Walmart product detail pages by appearing on the first three pages of search results. By establishing budgets and bids, the advertiser manages their spending and only gets paid when a user clicks on their advertising. Both manual and automatic ad campaigns are compatible with these Walmart.com advertisements.
For this ad type, the minimum campaign expenditure is either $100 for the entire campaign or $50 each day. Remember that this is the minimum amount that will be entered into the platform, not the amount you will actually spend.
2. Walmart Sponsored Products – Carousels
Walmart.com features carousel advertisements in a number of places, including the homepage and product-level pages, with varying availability for manual campaigns and automatic campaigns. For automatic campaigns, all carousel kinds are available; however, for manual campaigns, only the search carousel is an option.
No matter what your objectives are for your Walmart advertising campaign, including maintaining your current visibility, trying to attract new customers, promoting new or seasonal items, and more, carousels can be crucial to its success.
The following are a few of Walmart's well-known Carousel ad placements:
Search results
Category pages
Browse pages
Curated shelf pages
Product detail pages (PDPs)
Featured Items (homepage)
Advertisements may also appear within personalized shopper carousels in addition to the positions mentioned above. These carousels may contain goods that customers also looked at, thought about, or eventually bought.
3. Walmart Buy Box Banner
Only automatic campaigns may get this coveted, fiercely contested placement (not manual). Products that are an appropriate substitute for the product customers are viewing or products that are complementary to the product customers are viewing can be found in the Buy Box on the product detail page (PDP).
4. Walmart Search Brand Amplifier
For certain phrases, a branded collection of products known as SBA (Search Brand Amplifier) rises to the top of the search result list.
This ad format offers a special chance to increase brand identification and awareness of the diversity of products in your product array. Above the displayed search results, Brand Amplifier placements display your logo, customised headlines, and up to 3 different SKUs. The minimum bid for this spot is currently set at $1.00, and shoppers are routed to a manual shelf, search, or browse page from SBAs.
5. Offsite Display Advertising
Additionally, brands are given the chance to connect with potential customers outside of Walmart's digital properties. Along with the numerous advantages that onsite display ads provide, offsite display ads aid in attracting customers from across the wider web, including social media.
How is advertising on Walmart.com different?
Comparing advertising on Walmart.com to that on Amazon or Google is not appropriate. Walmart respects brands and manages algorithms in different ways.
The following are the differences:
The effectiveness of the advertising is a factor in the organic listings on Walmart.com. If you have advertising for the same product that earn hits and views, you can "push" it to higher organic ranks.
Most brands on Walmart.com aren't given their own exclusive page like they are on other e-commerce platforms. If you're on a product detail page and you click a brand, the site will do a Google search for that term and send you to the results page–as opposed to Amazon, which sends you to the brand page.
Walmart.com's search feature is less robust than that of other online marketplaces, and it is harder to find organically if you don't have promotional tools like the 2-day shipping badge.
Conclusion
One of the best methods to engage potential customers during their digital journey is through Walmart Media Group. Walmart, one of the largest omnichannel retailers in the world, has developed seamless shopping experiences that let customers browse whenever and wherever they want while getting the exact items they need at the time that suits them.
With WMC acting as the confluence of commerce and content, companies of all sizes may influence more than 140 million consumers each month at all stages of the purchasing process.
Sellers can use Walmart to link to various marketing strategies and make real-time offline and online purchases. Because of this one-of-a-kind capacity to bridge the physical-digital divide, Walmart's partners have an unequaled insight into actual marketing ROI.
Writecream provides 30+ tools for generating tons of content within seconds! Use Writecream to generate product descriptions, personalized emails, blog articles and much more and that too for free! Our free plan provides 20 credits every month which helps you generate 10,000 words per month!
Isn't it amazing?
To get started, register here for our FOREVER FREE plan NOW!