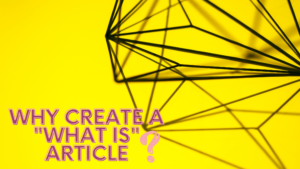 Before we move to understand a "What is" content brief, we need to understand what a content brief is, in the first place.
A Content brief is a document designed to guide authors on creating content. The finished brief depends on the type of content created. Blog posts, white papers, webinar scripts, product pages, etc. However, regardless of type, the core concept behind the content briefs is the same. There is no one-size-fits-all content briefing. That's what you want your writer to understand before they write. Outlines are essential, but you can add customizations as well. Align the notes of the audience you want to write to the writer and set the tone of the project. The SEO content is significant in these briefs.
Now, why is it important to use a content brief to create content?
The author is not an SEO expert. Experienced writers have some knowledge of SEO, but they need to explain how to optimize their articles briefly. Everyone has a way of creating a content brief, and there are different steps to creating a good brief. Create content briefs for all possible articles, and the primary keyword needs to be used frequently. Hence, the content creation process is structured. A detailed content brief and quality content will help you get your SEO rankings high. Given below is an outline of what the content brief should include.
Even if the template is in place, the content description will vary from project to project based on details such as:
💡 Generate personalized emails, blog articles, product descriptions, and ads in seconds using the power of A.I
Content types (blog posts, articles, white papers,)
Target for which content is created (internal or client – ​​and target group)
Purpose of content (information provision, motivation for reader behavior, news sharing,)
Why are content briefs important for content harmony?
Creating effective content briefs is a talent in itself. However, providing too much information can overwhelm the author. They may also feel that they lack creativity. An effective content outline mentions the targets and guides the author to produce enjoyable content.
Collecting all questions and concerns about a particular keyword or type of keyphrase and subtopic that needs to be discussed should be recorded in the This helps search engines identify the core concept of the article, but it also helps writers create the right structure and keyword focus to raise their rank. An SEO content brief is for the same purpose too.
Of course, the intent of the search is of utmost importance. However, understanding keyword searches and identifying who may be searching for that term can help you write for the best conversions.
Good statistics, facts, and related articles can shape an article while creating an insightful and credible article. Strategic thinking during the content briefing phase helps ensure that the finished work does not have significant information gaps.
Clear goals, few revisions, rewrites, and short approval times ensure you meet deadlines. In addition, by providing writers with tools and focusing on creating concise and insightful content, you can considerably reduce the time taken to complete your project and meet client deadlines.
Before continuing, it's important to note that two people, the company, or the editorial team do not take the same approach when creating content Focus on what is best for you and your writer. The content teams need to create comprehensive templates that provide content harmony. A content brief example is given at the end of this article. You can create the perfect content brief with the help of this. If you want to create high-quality content, then content optimization is very important.
Having understood the importance of a content brief, let us try understanding the concept of the "What is" article.
What makes an SEO content brief effective?
This type of article typically explains a particular activity, a job, etc. It will give an in-depth analysis of that activity, its pros and cons, statistics, etc. This type of article is generally written to educate people to know more about such an activity and encourage them to pursue it, if it lines with their interests. Best content is the one that aligns with the interests of your reader and comes up first in the search results.
For example, there could be an article titled "What is digital marketing?" and this article will contain details about what digital marketing is, why is it important, how to market effectively, and the relevant tools and references. This will let the reader get an idea about digital marketing, clear his existing queries and encourage him to take it up.
This is why "what is" articles are important. However, this article like every other article, needs a content brief, so that the writer comes to terms with what needs to be put in the article. We shall now see how to design a "what is" content brief.
How to write a content brief for a "What is" article? – with a content brief example
These are the following that must be included in a content brief;
A catchy title that explains the article/working title
It's called a working title because you give your authors time to change the title into something more engaging. It also lets them adjust the number of items based on how much information they can find. Typically, it needs to be in the following format with the keyword; "what is social media marketing?"
Recognize the target audience
Much has been said about the importance of creating a content avatar. To explain further, your writers need to know who they are writing for so they can write content that meets their marketing goals. They must be able to meet their target audience's expectations for useful and effective content. Providing this information in your content summary is crucial for content to have a strong marketing foundation. These articles need to be directed at those who have an interest in doing the described activity but do not have enough knowledge about it
Example: The target audience is school or college students in business who are interested in knowing and pursuing new activities to hone their competencies.
Overview
Include a few sentences about what you expect – the overall concept. In 2-3 sentences, what is the main story content?
Example: This article should cover the key elements that an effective content brief should have. What information should a business owner or content marketer provide writers for high-quality, marketing-appropriate content? Give an example to make it clear
Outline your objectives
What result are you trying to achieve with this article? Do you want to provide value to the reader or direct him? Are you trying to generate more leads by providing content in articles or blog posts? Do you want to encourage your readers to buy something after reading the article? Provide a clear goal so your writer knows the end goal of the content. Ensure that your content creator adds enough internal and external links.
Example: This post intends to provide value to our readers and strengthen our company's positioning as a leader in content marketing. There will also be an opt-in offer at the bottom of a form download to get more leads or this post is aimed at educating the readers about what is app store optimization and its benefits.
The tonality of the piece
Depending on the topic, you can ask the writer to use a specific tone. You also need to determine if you want them to use the first, second, or third person to write the section.
Example: The article should be conversational and casual.
Don't be afraid to use humour. Write in the second person.
Decide the content length
Your content will be of varying lengths. For evergreen content that you want to rank high on search engine results pages, the ideal length should be between 1,000 and 2,000 words. However, for trending or trending news topics, it can be lower.
Your content summary should specify the range of words you need so your writers know if they are writing long or short content. It also affects the amount of research your writer has to do as well as the estimated time it takes to write the content. Generally, a "what is" piece must be detailed in nature.
Example:
1000 – 1500 words
Do not miss the CTA
This is closely linked to point 4 of the summary, which is your goal. Every piece of content must have a call to action. Without it, content is simply wasted because it doesn't inspire your readers to do something that aligns with your business or marketing goals. Each piece of content must have the main CTA and a secondary CTA. The main CTA should align with your main objective. Secondary CTAs should be related to content engagement (i.e. sharing content on social media or leaving comments)
Example: In an article about digital marketing, the author could link related material to enhancing skills in that prospect and call upon the reader to further read into it, or inform about an upcoming workshop and encourage them to join.
The best content briefs tend to produce content that adheres to these elements. Having an SEO-focused content brief will help your content better.
Refer to this link for a "what is" article template