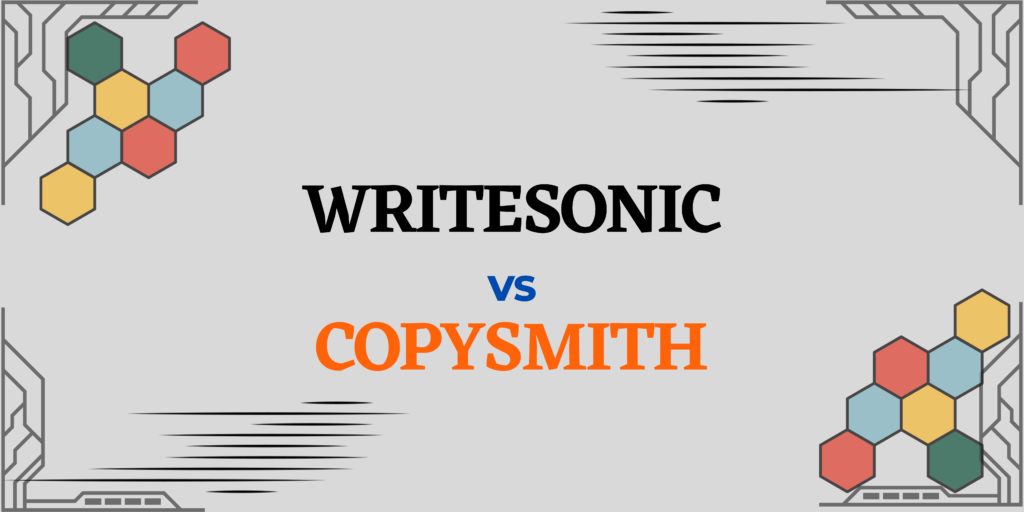 AI copywriting is a cutting-edge technology that enables artificial systems to generate content. It generates content using natural language processing (NLP).
This is accomplished by replicating human intellect to process data, learn from experience, make judgments, and draw conclusions.
A general starting point for contrasting Writesonic with CopySmith AI is that Writesonic is well-known for producing long-form material, whereas Copysmith excels at creating product descriptions.
However, both AI content creation tools have evolved, and if there is anything I can tell you, both systems have significantly improved and grown in power.
💡 Generate personalized emails, blog articles, product descriptions, and ads in seconds using the power of A.I
This article has all the information you need to know to help you make an informed decision to examine the level of each software's work and how the UI appears.
WRITESONIC & COPYSMITH :
WRITESONIC

 
Introduction
Writesonic, an AI writing tool, helps users create content such as blog posts and articles. In less than 15 seconds, it can produce copy on any specified subject.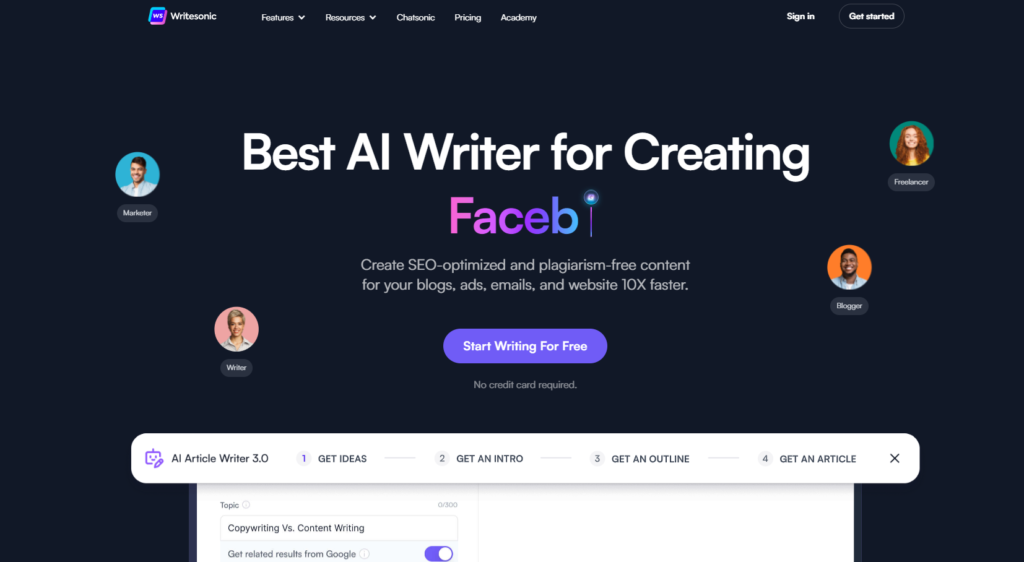 It produces proper, SEO-driven material using both AI and human brilliance. AI tries to provide interesting material that seems natural.
Additionally, it makes it simpler to obtain the content you require in less time and for a lower cost than hiring authors.
How Does It Work?
Depending on the kind of content you wish to create, the Writesonic experience will differ slightly, but the fundamental structure will remain the same. You'll provide the software with a topic, a list of keywords, and the desired language. It will then present you with up to five possibilities. On the GPT-2 API from OpenAI, Writesonic is based. It can use the internet to make logical inferences and produce pertinent content given a topic or a few lines of text.
In essence, the program searches the top-ranking websites for a specific topic and uses that information to produce unique material that adheres to the same patterns. Additionally, Writesonic can assist you in developing previously written material.
Features of Writesonic
Long-form content creation
Writesonic used to solely produce long-form material, such as articles and blog entries. Despite being well-known for this, most users still weren't pleased with it.
After that, they released Article Writer 3.0, and their content improved and became more believable. For instance, Writesonic recently produced the following text for me in the screenshot below: This has the benefit that you don't need to spend hours writing an article again because the program can create a first draught in a matter of minutes.
Additionally, it optimizes each post it produces for higher Google search rankings.
They didn't, however, stop there. Writesonic became more adaptable thanks to the addition of some new templates. Now let's go through those.
The ability to export your content in either Microsoft Word or PDF is another helpful feature of Writesonic.
If you are someone who uses your content for online purposes, this would mean a lot to you. Consider the PDF version, for instance. This will enable you to share your material with friends or coworkers who are not required to alter it.
Integration with WordPress
You may post your material with only one click to WordPress, thanks to Writesonic's interaction with the platform.
This eliminates the need to copy and paste information into your CMS before preparing it for WordPress.
It simply makes perfect sense to increase productivity.
Product description generation is another skill Writesonic excels at.
You don't have to pay high prices to writers if you own an online store and occasionally need to create product descriptions.
Increase sales by using Writesonic to create descriptions for your product listings.
Writesonic Pricing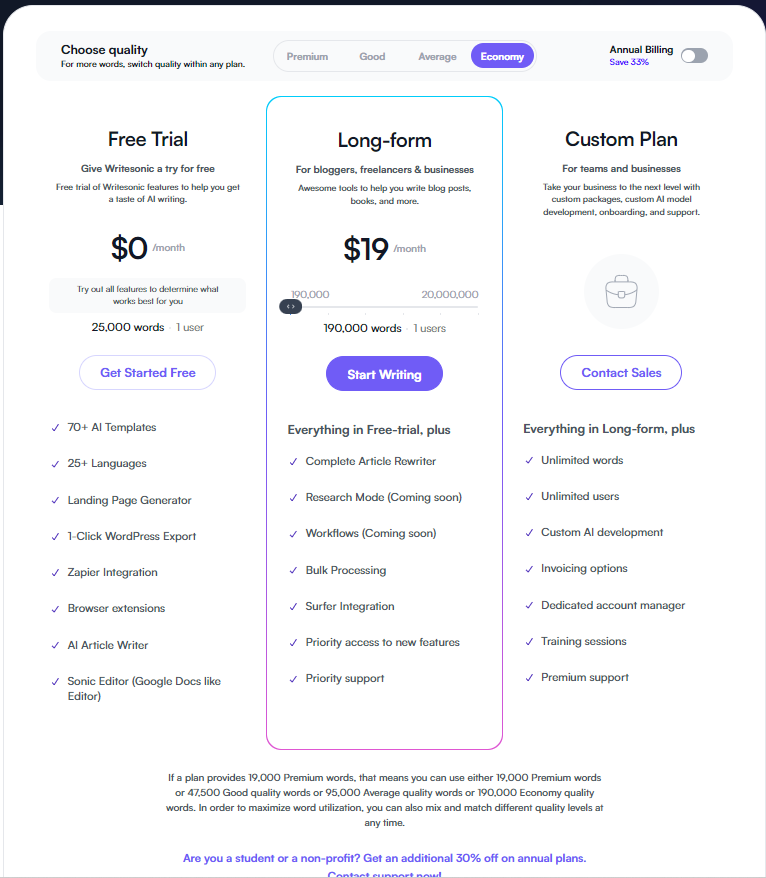 There are 3 plans, i.e. Free trial, Long-form, and Custom Plan. These 3 plans are then categorized based on content quality. They provide content quality in 4 categories that are as follows:
Premium

Good

Average

Economy
We will tell you about the Economy plan, the lowest rate plan; the Free trial of Economy quality provides 25,000 words, 70+ AI tools, 25+ languages, and many more. The long-form plan comes with $19 per month, which gives 1,90,000 words, Everything that the Free trial includes, bulk processing, and many more.
And the last one is the Custom plan, which provides everything that a long-form plan has, unlimited words, users, invoicing options, and many more.
Writesonic reviews :
Trustpilot review
Writesonic has a remarkable 4.8 with a total of 2930 reviews. 90% are 5-star, 8% are 4-star, and 1% are 3.2 and 1-star.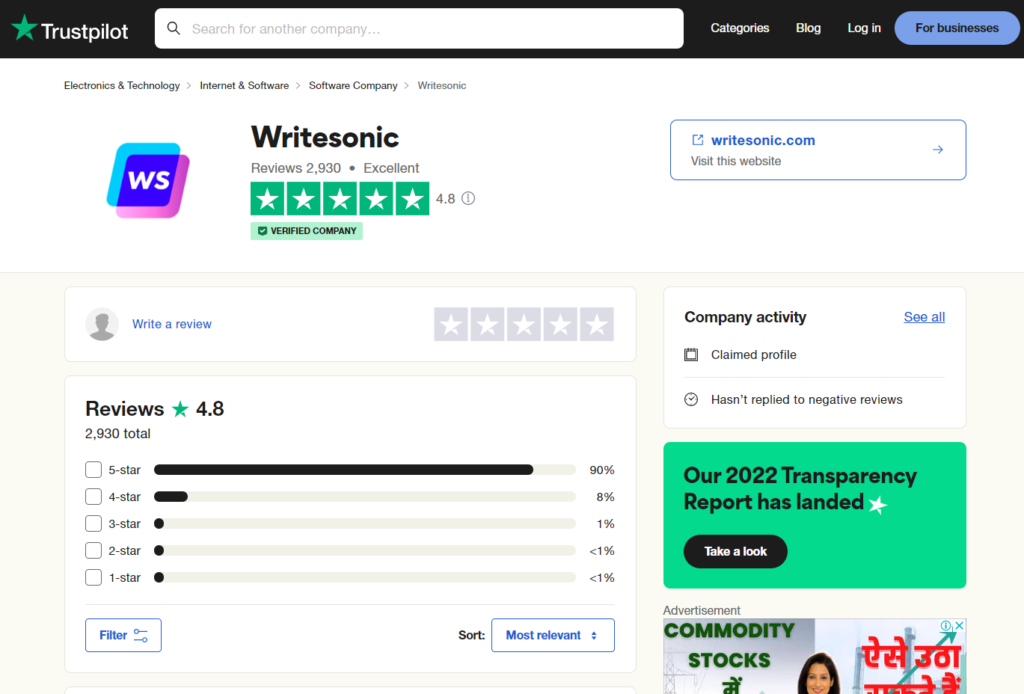 COPYSMITH
Introduction
First, it's important to emphasize that this AI writing solution could be better for creating shorter material (such as blogs, articles, eBooks, and so on). However, you may use the AI system with GPT-3 to construct a variety of adverts and other brief passages of prose.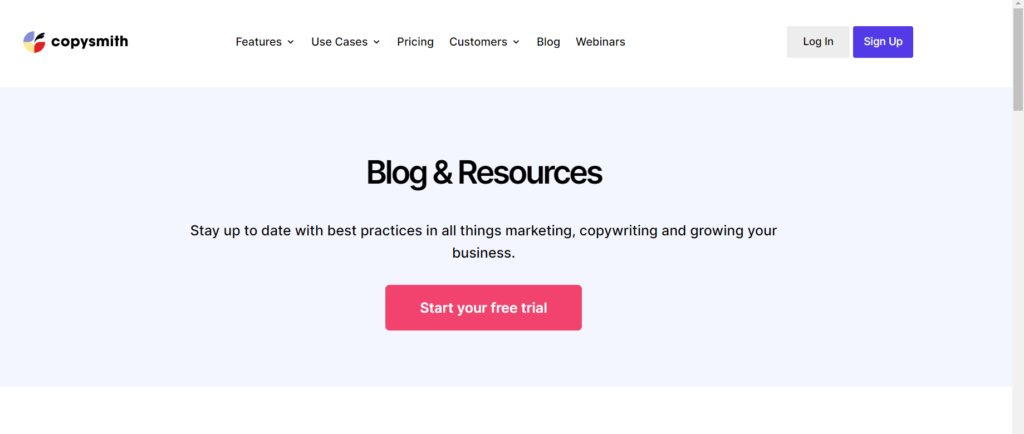 Copysmith can produce taglines, PPC advertising, product descriptions, headlines, and rewritten content for categories. There are countless opportunities. According to the website, the solution is designed to instantly produce highly effective advertising, emails, and product descriptions so you can spend less time staring at a blank screen.
With a content generator that never sleeps, Copysmith gives you almost endless scaling options for your marketing content. In the exact location, you can craft product descriptions, get assistance with brainstorming content and blog ideas, and rewrite the content you love.
In addition to assisting with content creation, Copysmith also manages your copy assets. You receive a universal platform that allows you to categorize and keep copies in various folders, improve your content, and even import or export CSVs. Additionally, cooperation and teamwork are supported.
How Does It Work?
CopySmith uses Transformer 3 Generative Pre-Trained AI technology (GPT-3).
The GPT-3 language model is simple to learn and uses its enormous data bank to analyze your behavior and desires to provide the finest possible marketing copy.
To sell a product, service, or brand, users only need to select the template that best meets their needs and insert the pertinent keywords.
Following that, CopySmith's artificial intelligence creates original copy using information about those products and other items and the preferences and behaviors of all of its past consumers.
Since more data is sent into CopySmith's AI system, it becomes smarter as more users utilize the service.
Features of Copysmith
Long-form content creation
One of the best blog post generators I've ever seen is Copysmith's. It is effective because, when you submit your idea, it will guide you step-by-step through creating a title, an outline, and an entire document in a matter of minutes.
If you polish the final product, you can finish most of your posts in under 30 minutes. If you were chasing the numbers, consider how many you could complete each day.
The advantages of Copysmith integrations are numerous, and it has the most among its rivals.
You may optimize your content for higher search ranking by integrating with Frase.
Additionally, connecting with Google Docs guarantees that it can help you write anytime. Additionally, it prevents you from needing a separate tab for it.
Thanks to its interface with Hootsuite, it will be simple to disseminate your material to your social media accounts.
This is still one of Copysmith's most beloved features. It enables bulk generation of content and CSV exportation.
Except for blog posts, it is helpful for various use cases. Copysmith will write thousands of content or marketing copy for you if you need to produce a lot at once. And it completes it in seconds rather than hours.
Copysmith is a fantastic resource for big teams as well. The only content creation tool made exclusively for huge teams is the best in this category.
You may invite your teammates in by just entering their email addresses, and you'll have countless chances to work together.
CopySmith Pricing
You can create high-quality material on Copysmith, use the plagiarism detector 20 times, and use all the integrations for just $19 per month.
You can create 260,000 words with the $59/month plan, use the plagiarism detector 100 exclusive features, including some of the ones I just highlighted, and schedule a team demo.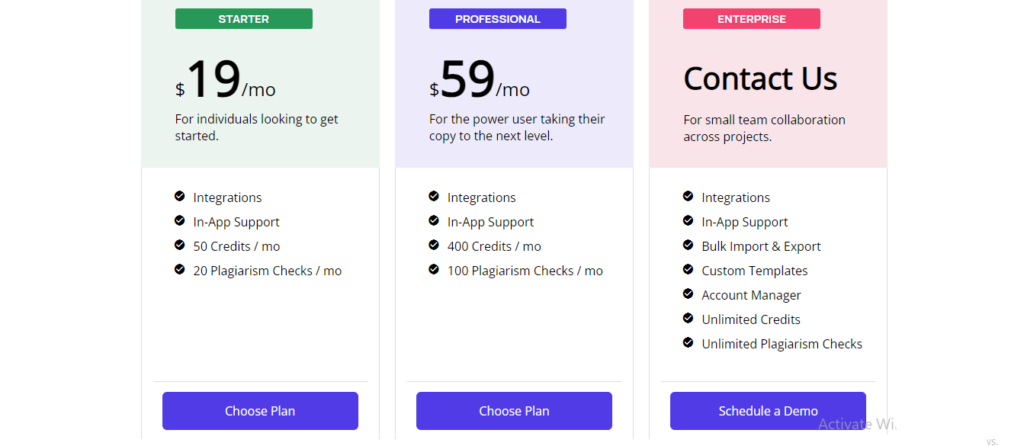 Copysmith review
Trustpilot's review
The overall Trustpilot rating for Copysmith is 2.7 stars. There are only four reviews in total, with one giving the product a 5-star rating and three giving it a 1-star rating, so there isn't much data to conclude from.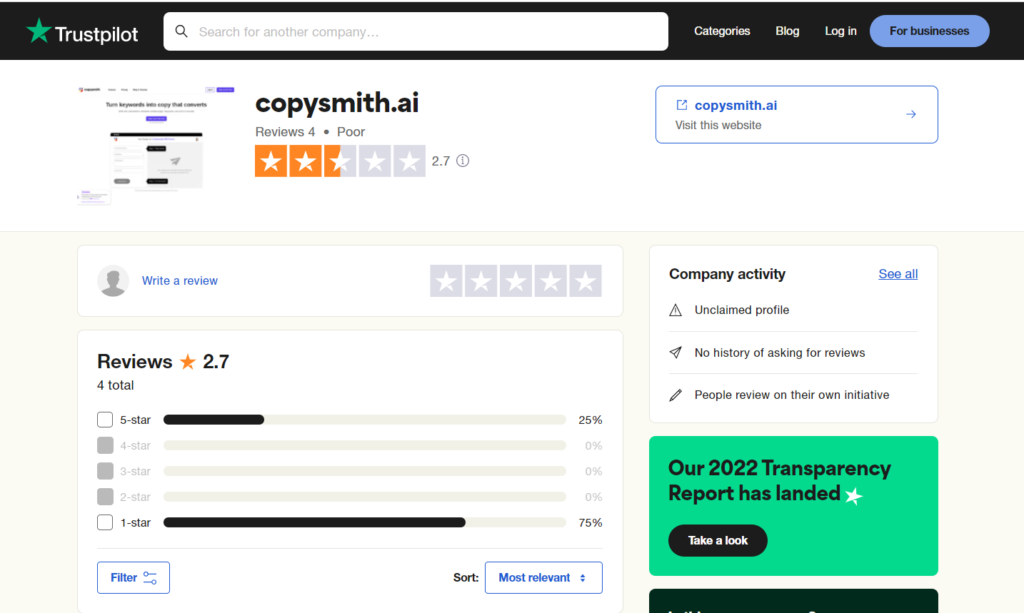 CONCLUSION
When comparing everything we've reviewed, Writesonic and Copysmith are remarkably similar, except that Writesonic concentrates on long-form material and Copysmith on product descriptions.
By all means, I advise choosing Copysmith. It includes several features and integrations that will improve your productivity in addition to producing high-quality footage.
And that concludes our comparison of Writesonic vs Copysmith.
A practical alternative for these tools is WriteCream, as both limitations have been resolved here. Writecream is a cutting-edge AI-powered marketing tool that employs powerful machine learning to generate content for you for Google advertisements, landing sites, product descriptions, blog posts, social media, and other platforms.