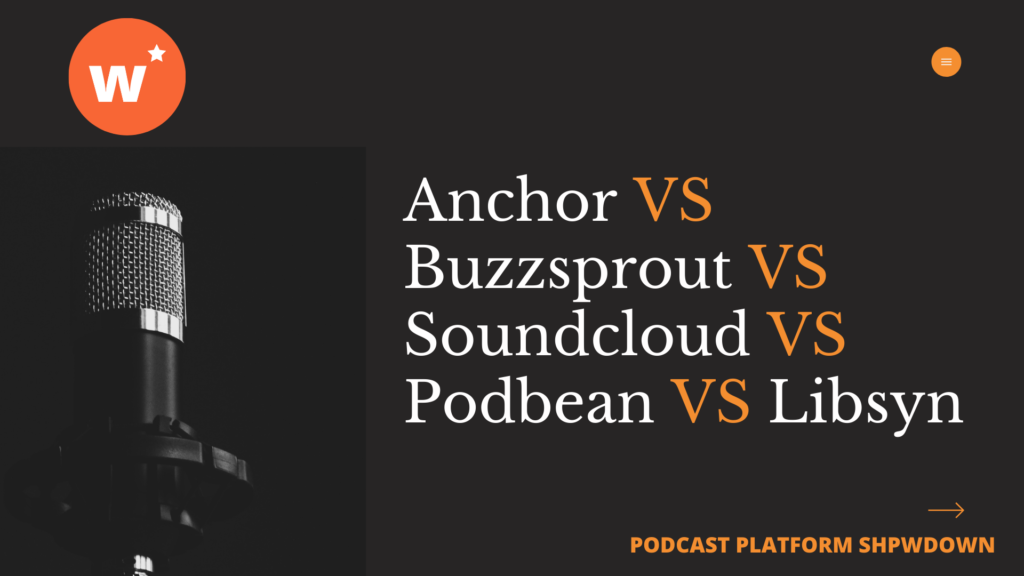 Section 1: Introduction to Podcast Hosting 

 
Podcasting is fast becoming a platform many people use to express their views. It is also quickly becoming an instrument that listeners use for their self-improvement, education, or other needs. Today big music listening platforms are also becoming podcast hubs. iTunes, Spotify, and Soundcloud, to mention a few. The podcast business is fast-moving and dynamic.  
While there are many options to explore, from starting with the platform to launching a podcast to the content responses each platform provides, this guide will cover all essentials you need to know about the same.  
Section 2: Good podcast hosting

 
Podcasting can be done using high-quality microphones or just your average iPhone or Android phone. The quality, however, is something you cannot compromise when it comes to podcasts. Here are some pointers to keep in mind to be a good podcast host and run a functional podcast.  
Host your audio file

 
Make sure it is embeddable to platforms

 
Create a link so potential listeners find it easy to access

 
Offer good bandwidth so listeners don't find it difficult to stream

 
Read the terms and conditions that come with the option

 
It is important to be aware of all the contractual fine print that comes with any business that can be monetized as it outlines the requirements and repercussions for the same. A fine understanding of copyright details, monetization plans, terms, and conditions, etc. helps be thorough with the same.  
💡 Generate personalized emails, blog articles, product descriptions, and ads in seconds using the power of A.I
Section 3: Anchor and its pros and cons

 
Anchor is an app that supports podcast recording, creation, and distribution. It is supported by Spotify and is tagged as the easiest way to make a podcast.  
Anchor's pricing is free and they don't have a model. The idea behind this is the fact that the CEO of Anchor strongly believes it takes only 10 cents for the foundational establishment of a podcast, thus any platform that monetizes podcasting to high prices could be ripping you off.  
Pros

 
Anchor is a beginner-friendly platform and it doesn't cost to establish your own podcast on the platform. 

 

One-click distribution

 

Record from the app desktop or browser

 

Monetization options are very easy

 

Stats and demographics about listeners and the podcast

 
Cons

 
No up to the mark audio editor

 

Poor customer support

 
No huge channels for marketing and distribution

 
Anchor is often called the sandbox of podcasting as people are encouraged to experiment in it. While it might not be the most professional platform with a lot of perks, it is the easiest to navigate and begin from. Its great pricing model also makes it a great choice.  
Section 4: Buzzsprout and its pros and cons

 
Buzzsprout is a user-friendly podcast platform for people who might not be great with technology. They keep updating their available tags and filters as well as other add ons on their platform making it very easy for people to use new and improved features.  
Buzzsprout as a platform has supported the establishment of 16 thousand podcasts. They have the concept of soundbite tags to avoid content from getting stolen, promotional tools, statistics packages and no credit card is required to launch oneself on the platform.  
Buzzsprout also has a visual soundbites feature that allows you to make short video trailers for podcasts and upload them. It sends updates on reaching milestones as well.  

Advanced statistics about the podcast

 
Easy guides to support import podcasts onto platforms like Spotify and iTunes

 
Simple interface that is easy to understand and navigate

 
Clear and transparent pricing inclusive of available and non-available packages

 
Useful features like transcription which is very useful for Seo blogging

 
Automatic audio optimization with a feature called Magic Mastering that can be availed on purchase of a plan

 
The free plan does not retain files for more than 90 days and automatically moves them to the trash

 
There exists a bandwidth limit of 250 GB on Buzzsprout which means the number of listeners should be restricted 

 
There also exists a download limit of 5000 downloads per month that can only increase with the Buzzsprout Pro plan.

 
Section 5: Podbean and its pros and cons

 
PodBean was a podcast platform started in 2006 that hosts over 400,000 podcasts at the moment. It is a familiar platform as it is highly compatible with Amazon's Alexa.  
PodBean's marketing, as well as automation tools, are class of the act. They have a crowdfunding option on their platform that is a unique selling point for them. It works like Patreon. They bridge the gap between podcasting being a hobby and a professional space by providing this option.  
Their customer service is great and many big companies like JPMorgan use it for their business podcasting needs. They have great teamwork and collaboration tools that can be used to brainstorm. 

Free website and easy to use

 
Affordable plans that are not very expensive

 
Monetization options and inbuilt tools are very good

 
Detailed analytics about the podcast is provided

 
User engagement metrics are also provided in plans. 

 
Basic website functions that don't provide many options

 
Premium bandwidth costs more and must be bought

 
Section 6: Soundcloud and its pros and cons

 
Soundcloud is highly recognized as a music streaming platform but also works as a podcast hosting platform. They receive website traffic in the millions. They combine media with podcasting much like Instagram. It can also be used as a social networking site.  
Their player is trusted and music is easily embeddable and shareable. They have one-click sharing options to Twitter and Instagram as well as other social media websites. The timed commenting feature allows a shared experience. Basic and Pro Unlimited plans on Soundcloud allow users to receive donations. Content can also be reposted to Spotify and Apple Music. Once royalties reach a certain level amounts can be transacted.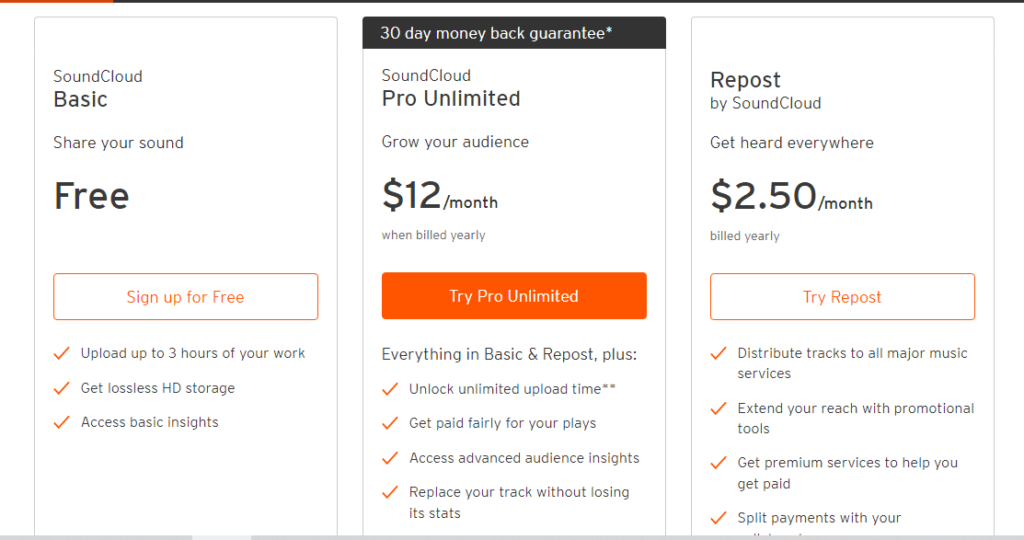 Easy embedding and seamless player

 
Large community traffic to the domain

 
Listener insights provide great feedback analytics with in-depth reporting 

 
Pricing is not extremely expensive and can be used by individuals looking at podcasting as a hobby

 
No monthly plans exist on Soundcloud, there are only yearly plans. 

 
Confusing platforms for a beginner plan may be unclear and difficult to understand

 
A three-hour limit exists on free plans not allowing artists to expand

 
Section 7: Libsyn Pros and Cons

 
If you're a regular listener of podcasts there are chances you would've come across Libsyn. It's one of the most popular podcast hosting platforms and home to many popular podcasts. Some of these include "The Joe Rogan Experience".  
Libsyn was one of the first established podcast hosting platforms and its name is an acronym that stands for liberated from syndicates meaning no exclusivity. This remains true today as Libsyn offers the most distribution opportunities amongst all other podcast platforms.  
They can be accessed on Apple, Spotify, iHeartRadio, Youtube, Audible, Amazon Music amongst many others.  
Once you register on Libsyn you get your own domain page on the platform and a plan is released along with a custom podcast app for your show that is aligned with the platform you wish to distribute to.  

Reputed: Libsyn has a great reputation as it has been in the podcast platform business for a long term, this brings customer trust.

 
Advanced features: the features and explorable add ons on Libsyn are advanced and easy to navigate making the process of podcasting seamless.

 
Unlimited audience: there is no cap to the number of listeners but the storage means unlimited people can listen to the podcasts.

 
Ease of use: Libsyn is easy to understand and navigate

 
Outdated design: the dashboard is not as creatively designed as it could be. After a while, the platform gets repetitive to use.

 
No free plan: even the basic plans on Libsyn require purchases to be made. 

 
Section 8: Conclusion

 
Podcasting is a great hobby and the platforms mentioned above help turn this easy and fun hobby into professional work. It can be extremely rewarding and is coming up today with the number of both podcast hosts and listeners going up drastically. This guide hopes to clear all doubts and inform you on the different platforms that exist to host podcasts and their pros and cons. This will help you make an informed decision on which platform will be the most rewarding for you!