What are the benefits of using an AI copywriting tool?
With copywriting in high demand, AI writing tools are gaining immense popularity. They definitely cannot replace human copywriters due to technical limitations, but they have advantages.
They increase your workflow by a significant amount by eliminating writer's block and inspiring you to write better. They are capable of giving you new ideas. They also cut down your costs. You don't need to hire a professional writer when you have these tools at hand. They can turn a non-writer into a writer. This is especially useful for start-ups and new businesses.
There are many such services on the market today. Article Forge and Jasper are two such tools that we have compared.
Article Forge
Article Forge is an artificial intelligence copywriting tool that is different from most others. It uses deep learning to generate unique human-sounding content for you. Article Forge was designed to seek out content from Google and related search engines to write the most relevant and high-quality content. The newest update writes 1,500-word long-form content in just 60 seconds. That is something even writers with the fastest speeds would find impossible.
💡 Generate personalized emails, blog articles, product descriptions, and ads in seconds using the power of A.I
Some of Article Forge's key features are:
It can write relevant titles and subtitles for your articles.

The generated contents are Search Engine Optimized. 

The tool adds relevant images, videos, and links to chosen places.

It can schedule posts and publish them on websites such as WordPress. It has an excellent API to integrate your work with other websites.

It can write articles in seven international languages.
Jasper/ Jarvis
Jasper is one of the market's most famous artificial intelligence copywriting tools. It mainly focuses on writing copy for marketing, social media, and blog posts. The website claims that your writing assistant makes it easier to create good-quality content for all your needs. 
Jasper's key features are:
It integrates SEO to generate content that ranks high in search engines.

It supports about 26 languages for all its services.

It writes content in the form of topic ideas, email descriptions, product descriptions, blogs, and other helpful copy in various formats in just a few clicks.

It has options through which you can collaborate with your team. 

It gives the user about 50+ content templates.

It comes with a built-in plagiarism checker.

Grammarly is built-in Jasper as well.

You can write commands into Jasper and for it to register them. 

You can create art for ads in minutes. 
Review Comparison
Article Forge
Niche Pursuits, a review website, claims that Article Forge is worth the buy. They say this tool comes in handy while trying to overcome writer's block. However, it would be best to spend time editing and fact-checking once the article is generated.
A review website from Illinois, Chicago, called G2, rates Article Forge with 4.1 out of 5 stars based on 40 reviews. Most reviews are positive, and the users are satisfied with the tool.
Jasper/Jarvis
G2, a Chicago-based review website, rates Jasper 4.8 out of 5 stars based on 866 reviews. Most of the reviews for this tool are affirmative, and the users are impressed by this tool.
Another review website called StartBlogging101 is impressed by Jasper owing to its various advantageous features such as ease of use, quality, templates, support, pricing, and features.
Language supported
Article Forge
Article Forge supports seven international languages applicable to all its products and services.
Languages: German, English, French, Italian, Dutch, Portuguese, Spanish 
Jasper/Jarvis
Jasper supports about 26 different languages throughout its services.
Languages: Bulgarian, Czech, Danish, German, Greek, English, Estonian, Finnish, French, Hungarian, Italian, Japanese, Latvian, Lithuanian, Dutch, Polish, Portuguese, Romanian, Russian, Slovak, Slovenian, Spanish, Swedish, Chinese.
User interface and tutorials
Article Forge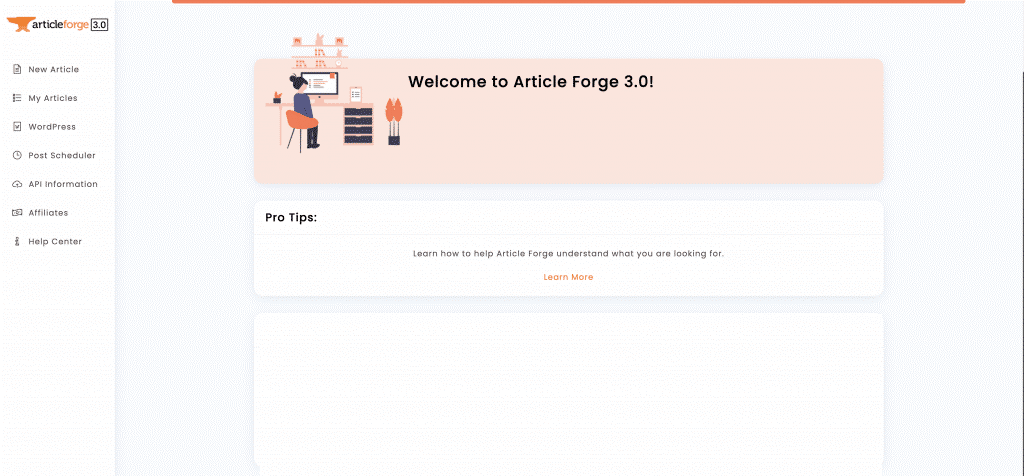 Article Forge has a very easy-to-use interface. You can easily understand it at first glance. 
Article Forge has plenty of resources on their website to help you understand and learn to use the tool. Their YouTube channel has several demo and tutorial videos as well. Apart from that, users of the device have posted tutorial videos for you to understand the tool easily.
Jasper/Jarvis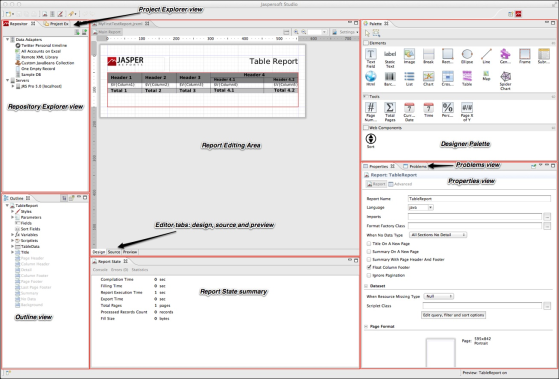 Jasper's user interface can be tricky to understand at first. There are a lot of resources to help you out with this tool. The Jasper website has a blog page with tutorials and articles on marketing, strategies, and blogging. They also provide live one-on-one training. You can contact support for any issues. The Q&A section is live at all times if you have any questions. There is also a Facebook group you can join to be part of the community. Moreover, there are numerous videos on YouTube by Jasper and other users giving tutorials and demos on how to use this tool.
Price
Article Forge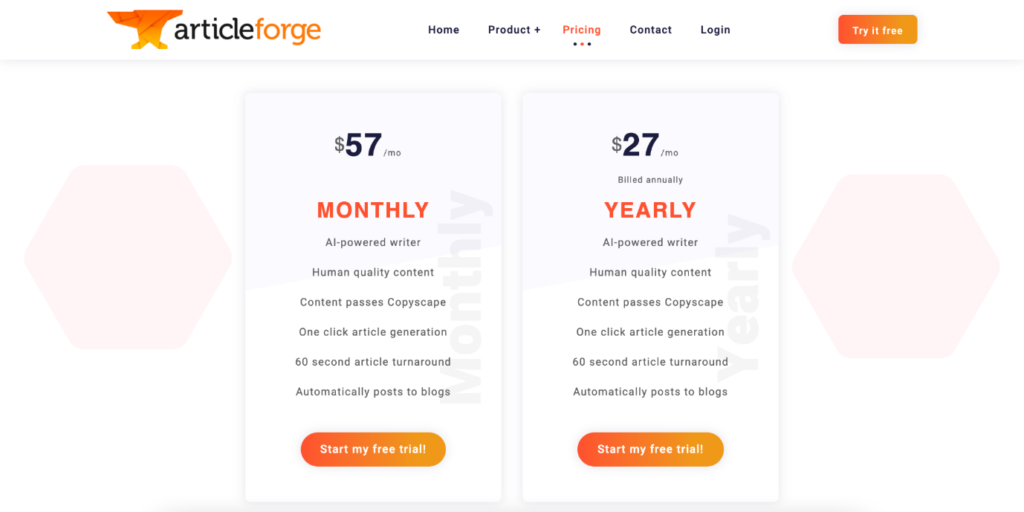 Article Forge has three pricing plans. The monthly and yearly plans have a 5-day free trial period.
Monthly: Users subscribing to this plan are billed $57 monthly. Users have access to 1,500+ word articles that pass CopyScape. You can generate bulk articles. You also have access to using the API through which you can schedule posts and automatically post them on your websites.
Yearly: Users who subscribe to this plan pay $27 a month. They get access to all the features in the monthly plan. 
Business: This plan is ideal for companies and teams. The program is billed monthly. You can get custom words and users using this plan. This plan promises all the standard features in the monthly and yearly plans. Along with those features, users also get articles with 500,000+ words and increased article throughput. Businesses can create custom user accounts and get a dedicated account manager. You can contact sales to get access to this plan.
Jasper/Jarvis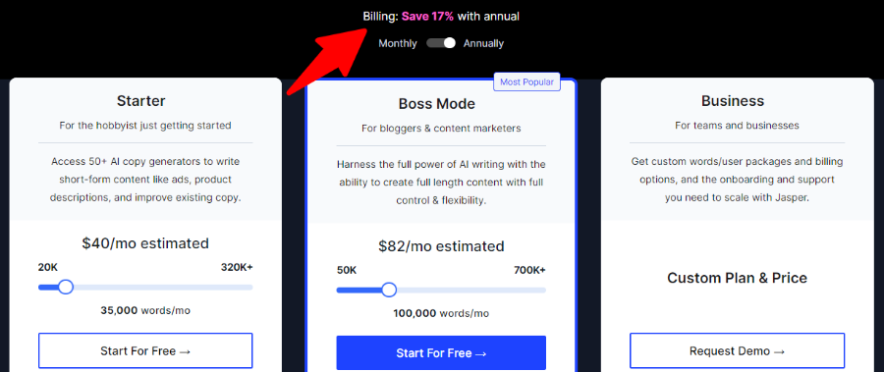 Starter: This plan is perfect for newbies. It charges users about $40 a month. With this plan, you get only short copywriting and input. You get 50+ templates and 25+ languages. This version comes as a chrome extension. You get unlimited project folders and an auto-save feature. It also gives you a history search and outputs favorites.
Boss Mode: This is the most popular plan, billed at $82 a month. This plan gives you all the features in the Starter pack plus Google Docs style editor, "command" and "compose" elements, increased content input, long-form content, and live chat support.
Business: This plan is ideal for companies. It gives you everything in the Boss Mode plus custom templates, workspace admin features, document sharing and permissions, personalized onboarding and training, and a dedicated account manager. You can also collaborate with more than 5 users.
Where Article Forge wins
Article Forge is a handy tool for writing long-form content while adding relevant subtitles and heading using AI. It is an excellent tool for beginners because of its easy-to-use interface and features. It is also priced at a more affordable rate for those just starting. Its API is another helpful feature, making scheduling and posting much more accessible.
Where Jasper/Jarvis wins
Jasper is the perfect tool for businesses. The Starter plan is ideal for those who have just gotten started. It is priced reasonably and gives you a host of features and support. It also supports many international languages. As a writing tool, it also gives you access to Jasper Art, through which you can create ads. Its built-in SEO tool and Grammarly tools are great time savers. As a browser extension, it is also very accessible and easy to use.
Which one should you go for?
Going for a tool that meets your requirements at a reasonable cost is recommended. There are tools with a host of features but take a call on whether you need those features, especially if they come at additional charges. If you are a beginner, take a free trial and decide which tool would suit you best.
Conclusion
With these AI-powered writing tools on the rise, choosing which one to go for can be challenging. Most help quell your writer's block and give you new ideas. They are perfect for increasing your workflow. They definitely can't replace experienced human copywriters but can cut costs when you are just starting and help you write better if you are not a writer.
WriteCream is one such writing tool that has all that you need and more. It offers many tools and templates in about 45+ supported languages. It works effectively for all your writing needs and delivers high-quality outputs. You can always start with a free trial and see what suits you best!