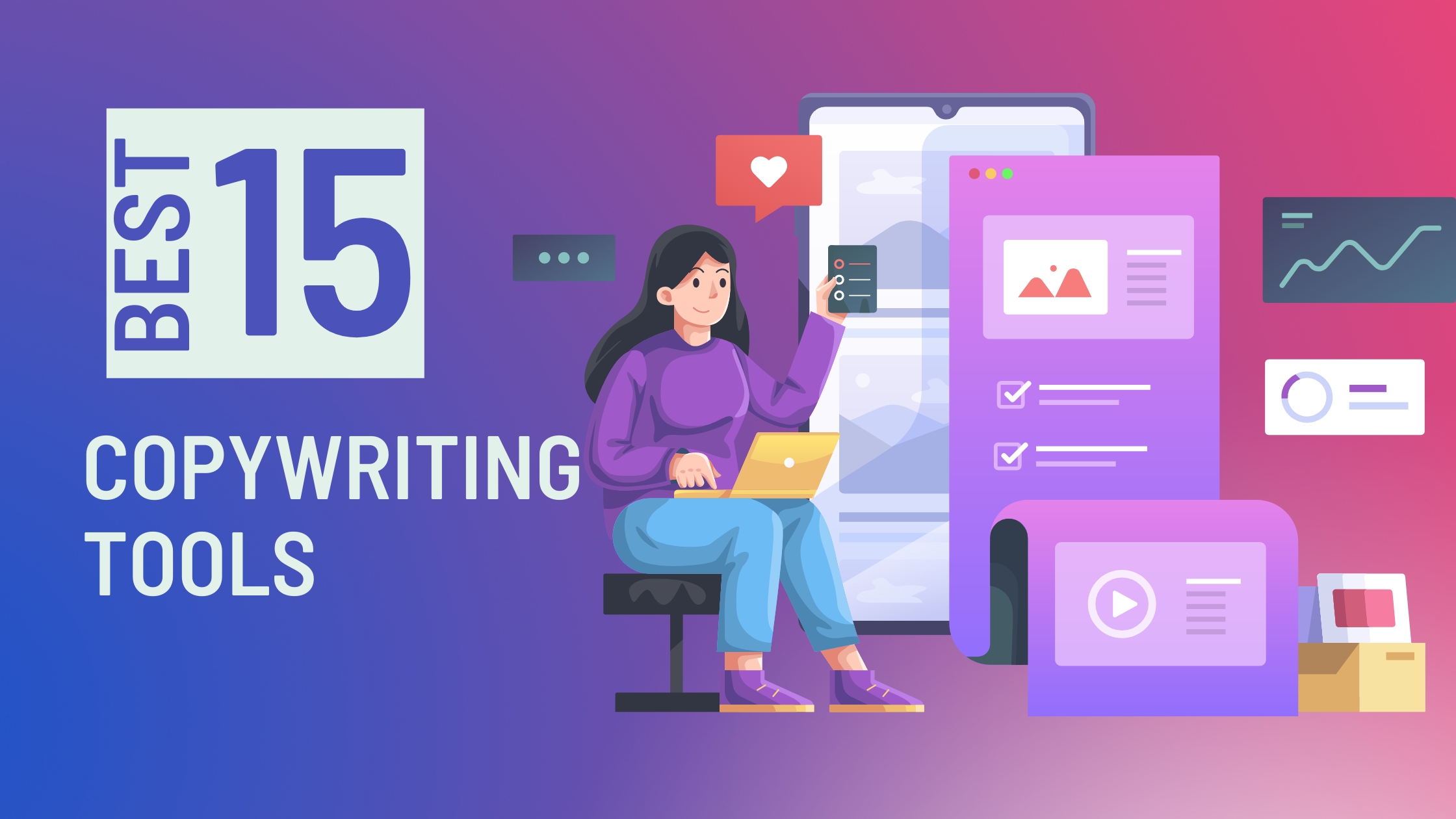 If you are a content writer or a business owner trying to create engaging content for your clients and customers with an aim to educate them as well, then I'm sure you have experienced the hurdles that come along with the process. It is not an easy task to create high-quality content that engages readers and drives sales upwards. To ease things up, many organizations nowadays are preferring to opt for AI-based copywriting tools to advertise their services via attractive ad copies. These tools not just create drafting content but also creates excellent sales copies. If you wish to learn more about how they work and the best AI-based tools that are currently available on the market, you might like to continue reading to the end of this article.


Before you form your opinion on AI-based copywriting tools, you need to take a look at what it exactly is and how it works. This will give you a clear direction for you to follow once you have made the decision to utilize it for your business or career.
AI-based copywriting tools basically generate writing based on your preferences. The AI generates content by analysing pre-existing content online and combining it into a new product. All you have to do is to choose from your preferences and parameters for the tool to follow.
A major feature of AI-powered copywriting is the fact that is saves an immense amount of time when compared to a human writer. An example of this can be observed in companies and organisations who use these tools at a large scale. For example, JP Morgan Chase did a comparison study between human copywriters and an AI copywriting tool and the findings displayed a stark difference in the amount of work that was done as well. The AI-powered tool was able to generate 47 home equity applications whereas manually the subjects were able to generate only 25. Not only this, but the company was able to generate more potential customers during this period.


If I put it in simple words, AI-based copywriting tools can be termed as a game-changer when it comes to copywriting. The challenges that copywriters and marketeers previously faced can be easily navigated with the help of these tools. Imagine creating and writing content even while you sleep, or even while you focus more on other aspects of marketing like generating leads. A tool that essentially works 24/7 means that you won't ever be stuck on the dreaded 'writer's block 'and you won't have to worry about deadlines ever again.

AI-powered tools have numerous advantages over manual writing . They can work 24/7 and generate content in a matter of seconds which is a huge difference when compared to someone writing manually. As a result of this, business owners and marketers find them to be extremely economical as they don't have to hire a writer or a team of writers for this purpose.
Another advantage of AI-powered tools is that with these tools you do not have to face the challenges that come up with organic writing. For instance, they do not face the dreaded 'writer's block' and one does not have to brainstorm for hours to come up with good content.


Like everything else in the world, copywriting tools although very beneficial it does have a few drawbacks.
I personally believe the biggest drawback of AI-based copywriting tools is the lack of originality and emotions that can only be achieved with the help of a human touch. Marketing and pitching a product requires a certain connection towards the targeted customers which is extremely difficult to replicate with AI tools. In order to bring a touch of emotion to the content, it requires proofreading and some amount of editing as well. Thus, no matter how high the quality of content created by an AI tool is, in the end, we do need to review and add our ideas as well so that it doesn't sound too awkward or robotic.

So far, we have discussed about the different aspects of AI-powered copywriting tools and I'm certain you are already considering your options now. There are few options available in the market currently and to make things a bit easier for you, we have filtered down what we consider the best 15 tools that are currently popular.


Headlime: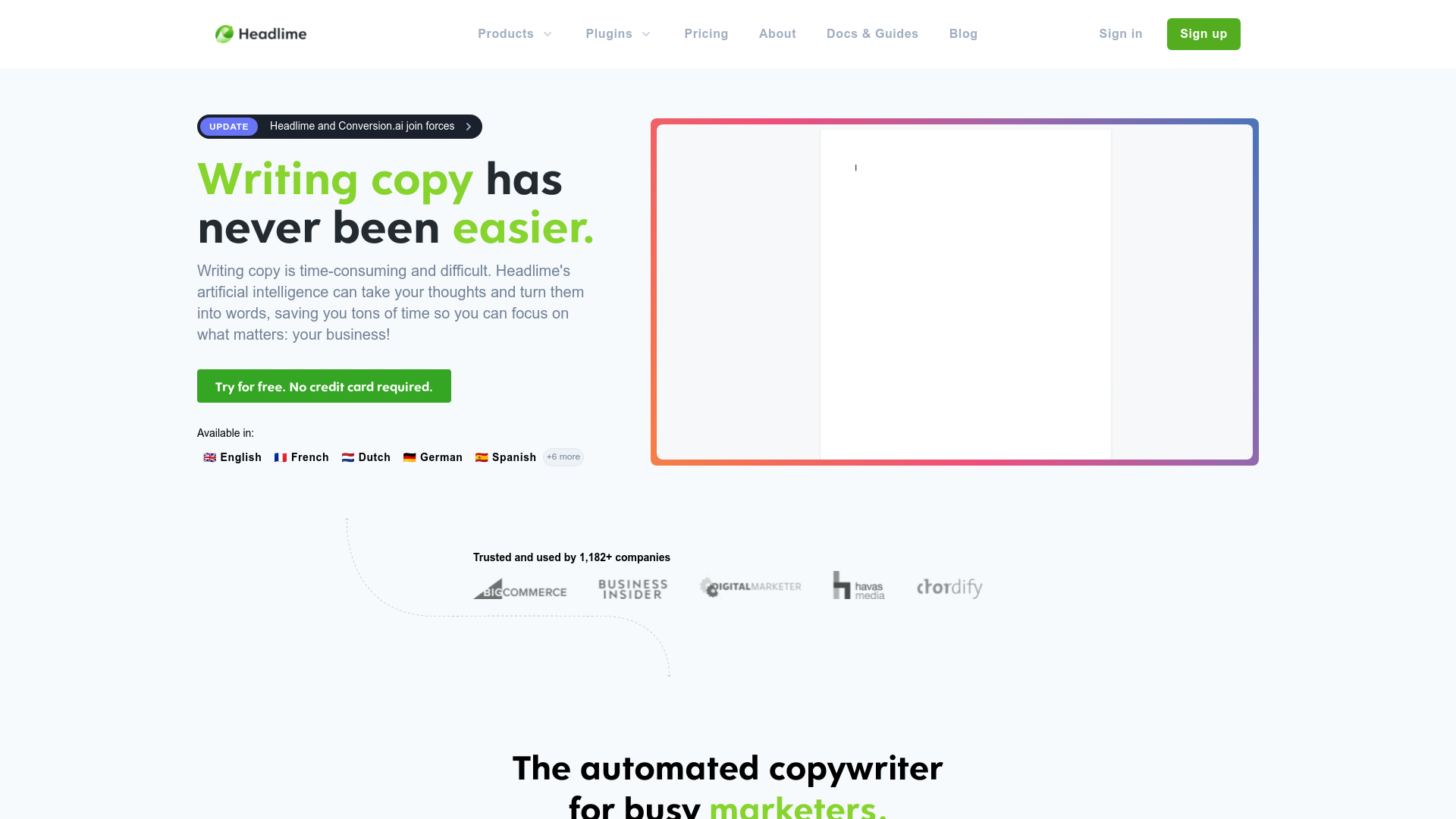 As the name suggests, Headlime is an AI-powered tool that helps you come up with interesting titles and headlines for any form of content.Danny Postma founded it in 2020 with the main purpose of increasing conversion rate and revenue.
It comes with many features with one of them being the ability to generate documents quickly. You can use it to accurate data free of errors in a short amount of time.
It also offers different functionalities and features under a single dashboard which can be accessed with just a simple click of a button.
Customer support is another aspect that is crucial when it comes down to different products and Headlime provides some high-quality support to its users. You can get in touch with the support team via a chat box or via mail at support@headlime.com.



Headlime comes in three different packages.


Pro Plan:

Cost:
$29 / month

Credits:
15000 AI credits per month
💡 Generate personalized emails, blog articles, product descriptions, and ads in seconds using the power of A.I

Business plan:

Cost:
$49 / month

Credits:
400000 AI credits per month

Agency plan:

Cost:
$89 / month

Credits:
1000000 AI credits per year


Copy.ai: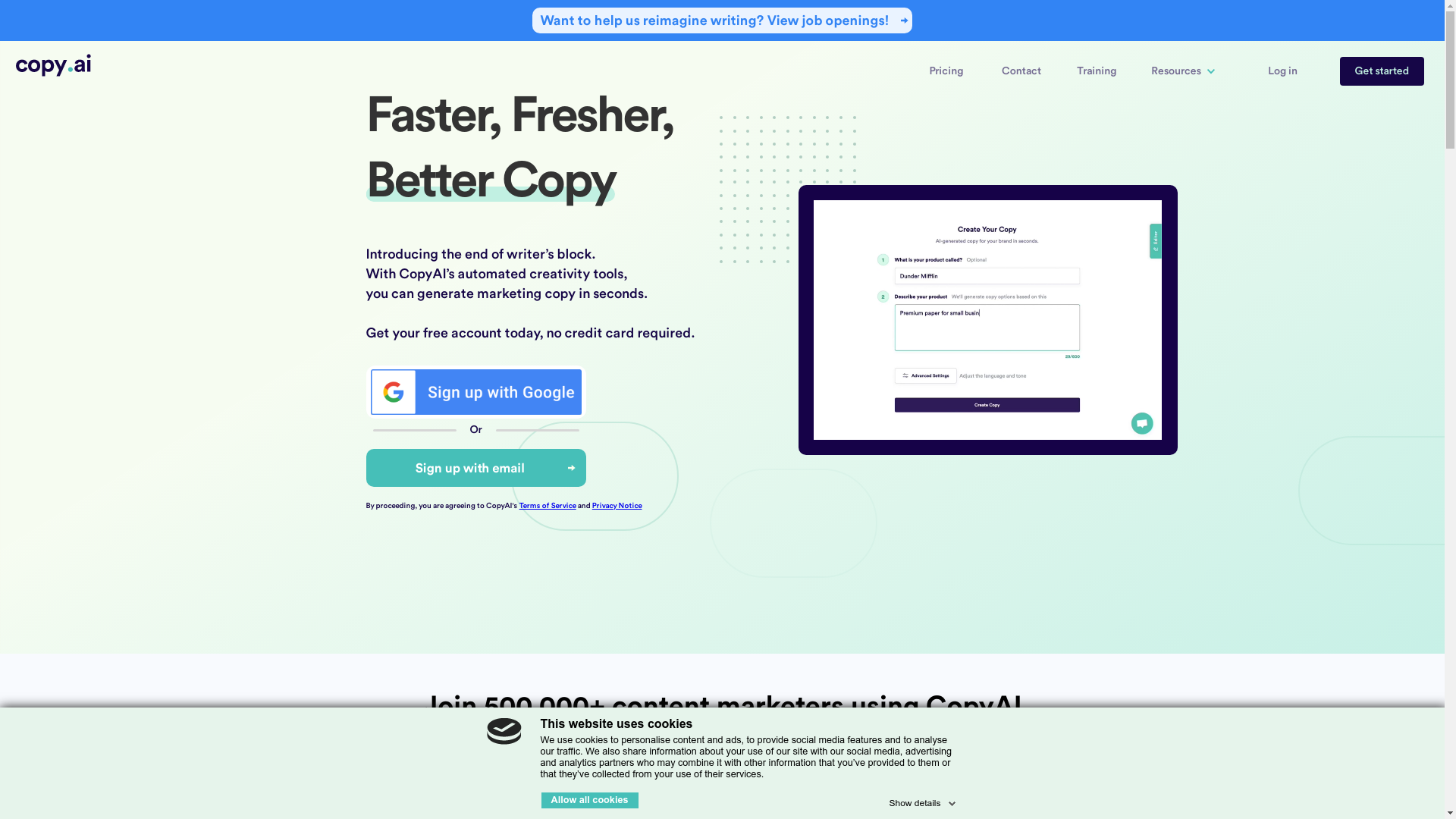 It mainly focuses on digital ad copy, sales copy, e-commerce product descriptions, social media posts, blog content, and website copies.
You can visit the site for Copy.ai and take a look at its features right on the homepage. You can learn about its features as well as check out a tutorial on how to us its services.
It has an easy-to-use interface as it supports signing in with your Google or Facebook ID.
Generating content is also quite simple as all you have to do is select the copy you want to write, describe your product, and the tool will generate a copy for you.

Pricing plans: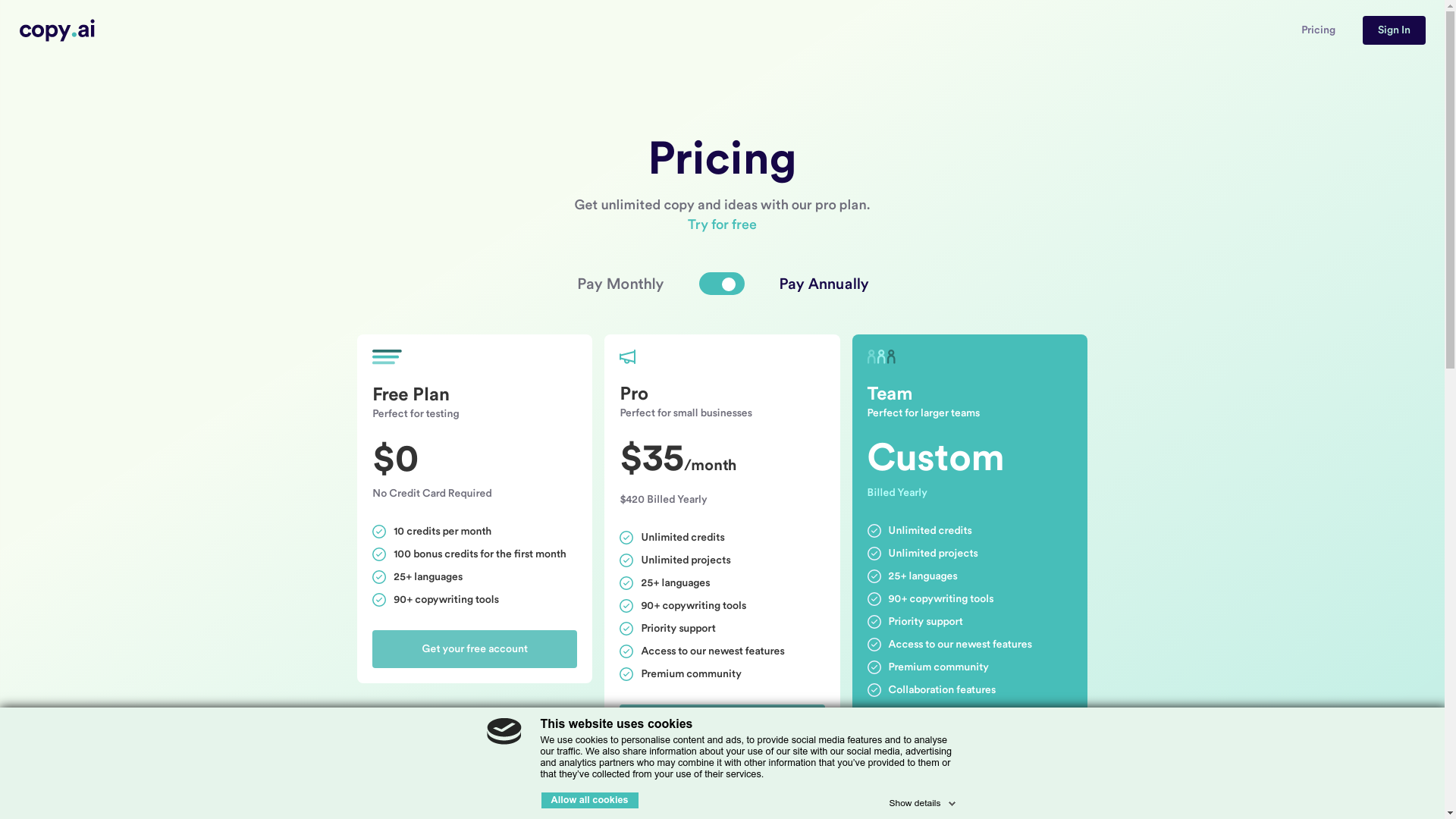 Apart from a free trial of 7 days, the solo version costs $49 per month which gives access to unlimited runs, all copy.ai's tools, and new features.
If you wish to upgrade, you can opt for the business plan or a custom plan which starts at $119.




Jasper AI: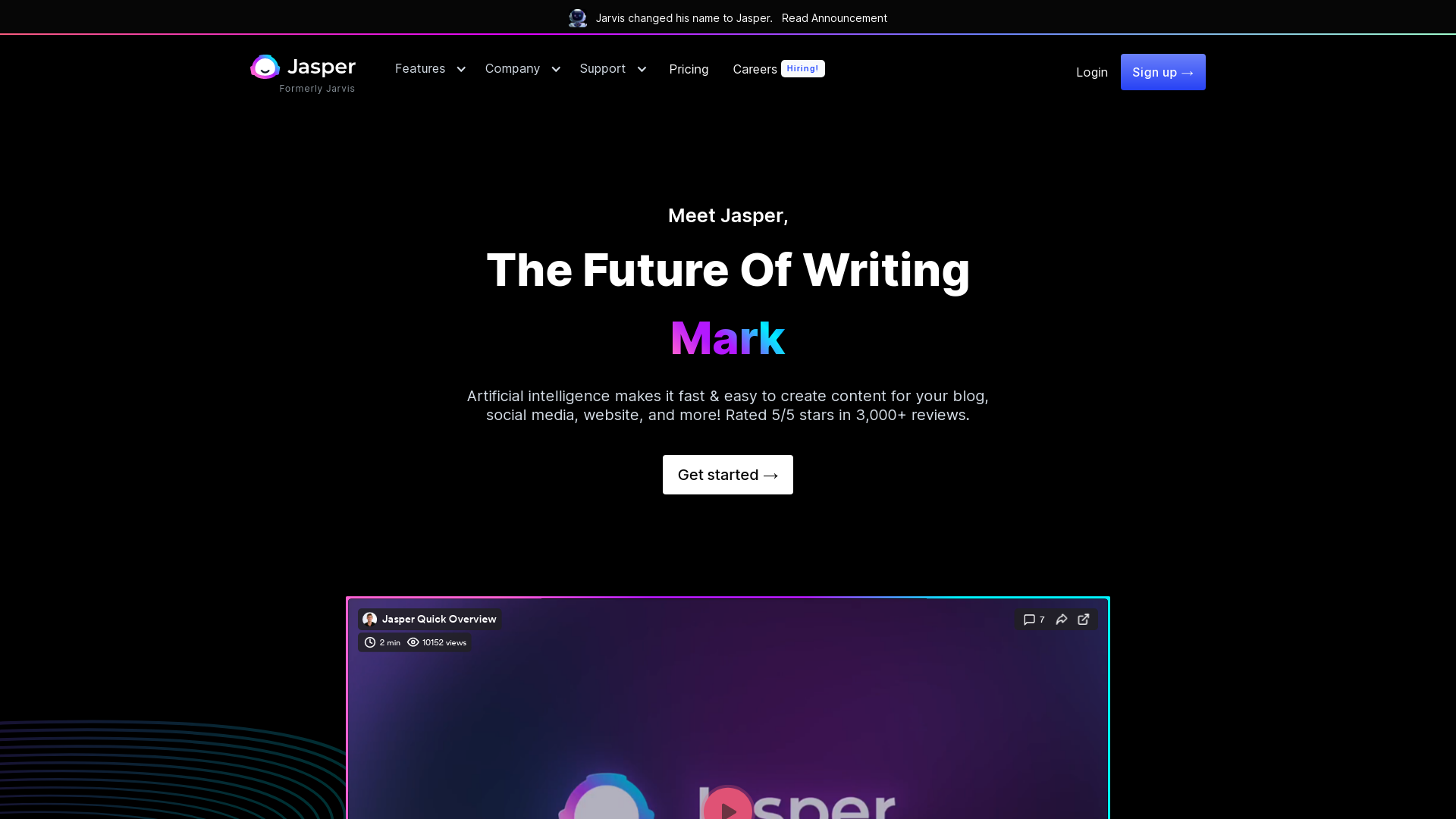 Jasper AI is a powerful copywriting tool that can be used for various purposes and functions. Whether you are a business owner or a freelance writer, you can use Jasper AI to maximize your productivity with the help of its many amazing features.
Using Jasper you can define the content depending on the personality your audience is looking for.
There are also templates available for different purposes like blog post introduction, stories, blog post outline, attention interest, desire, action (AIDA) framework, etc.
You can also browse templates designed for different categories that include Ecommerce, Blog, SEO, Ads, Website, and Email.
One of the key features of Jasper AI is its user-friendliness, as all you need to do is find the correct template as per your requirements and it will generate the perfect content for you.
Jasper AI provides the luxury of different options for your content. If you do like something, you also have the feature to add it as a favorite for later use.
It is also to sort out your generated copies and delete the ones that you do not like thanks to the content tab store all the outputs generated.


Pricing plans: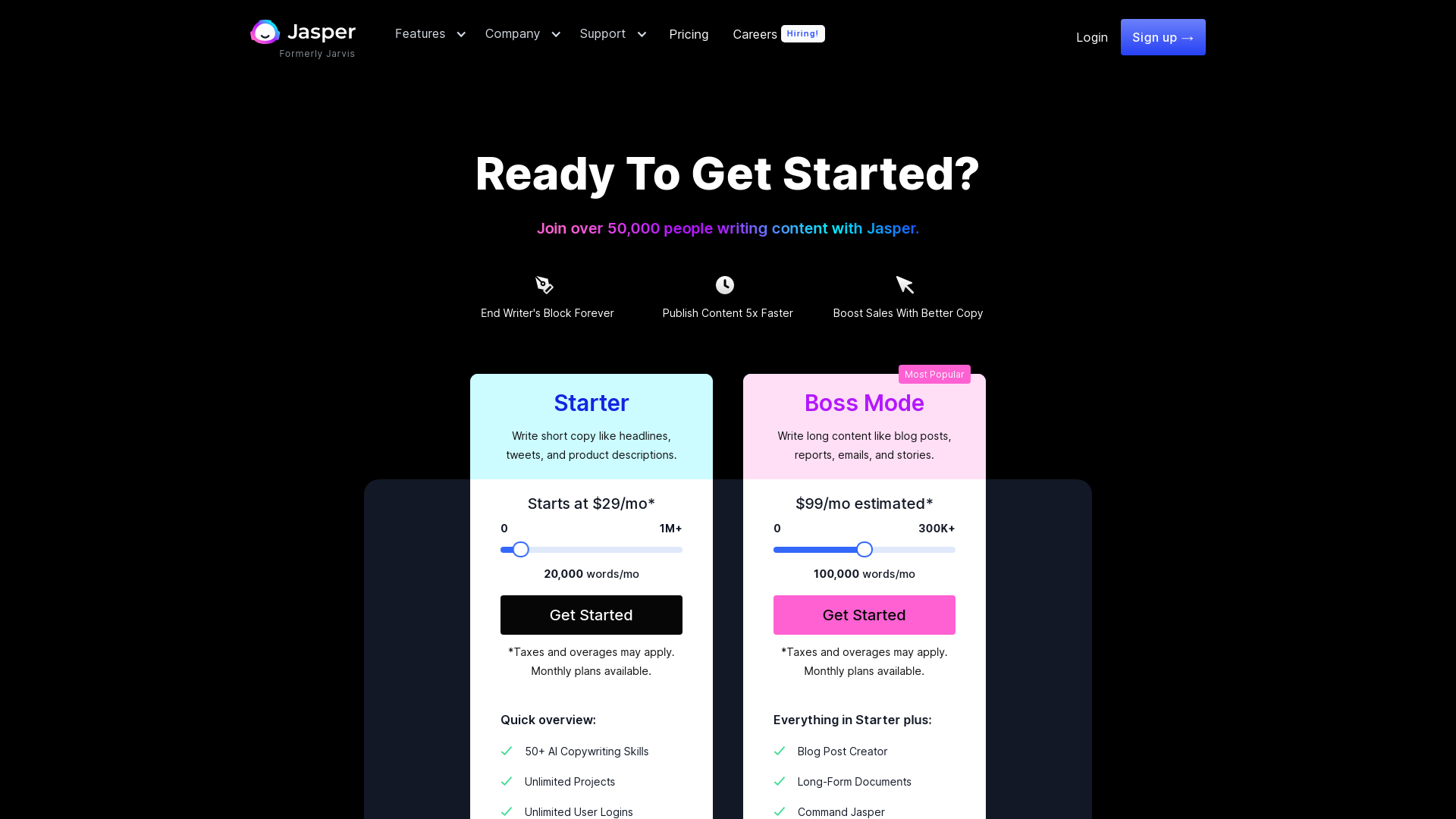 Jasper offers users a limited time pricing of 29$. It comes with a cap of 20000 words and is available only for early adopters.
However, the more words you generate, the more money you'll pay.


Writesonic AI: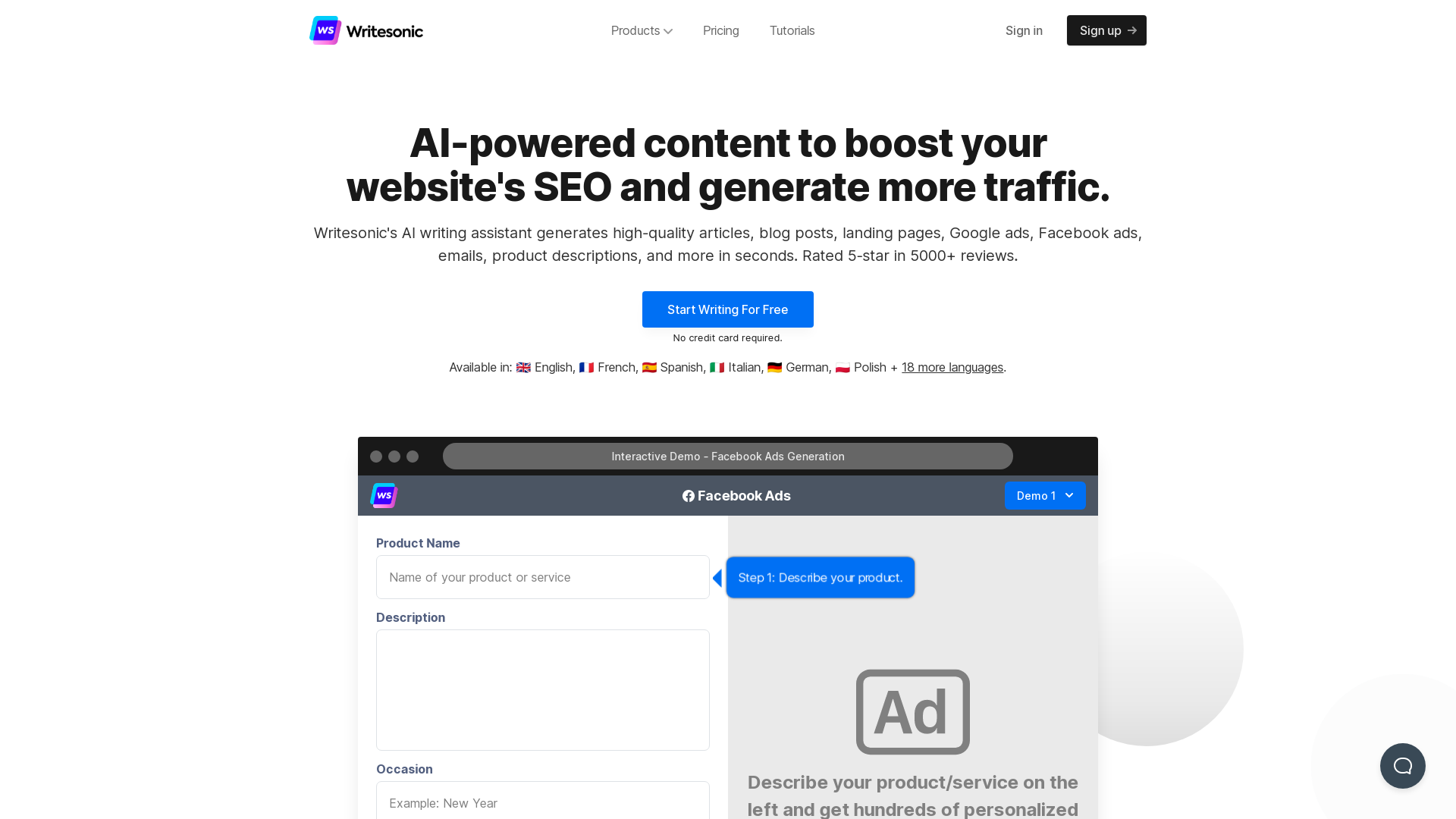 Writesonic allows you to create content with the help of a small amount of information. It generates the required content after you input your requirements into the software, saving a substantial amount of time and resources. All it requires is an intro of 100 to 150 words from your end. An important feature is Writesonic's ability to write different content for different requirements. You can generate content for blogs, digital ads, and create a copy for your website.
After setting your requirements all it takes is a few seconds for the tool to generate the content you desire.
You also have the freedom to edit the final product if you wish to.
Pricing plans: The company offers a free plan if you wish to check out the tool before investing in it. For people willing to spend there are three separate paid plans.




Starter Plan:

Cost:
$11.60 per month.

Credits:
75 credits

For advanced features, there is a slightly different plan

Cost:
$39 per month

Credits:
150 credits per month

Professional plan:

Cost:
$199.60 per month

Credits:
1200 credits per month



CopySmith AI: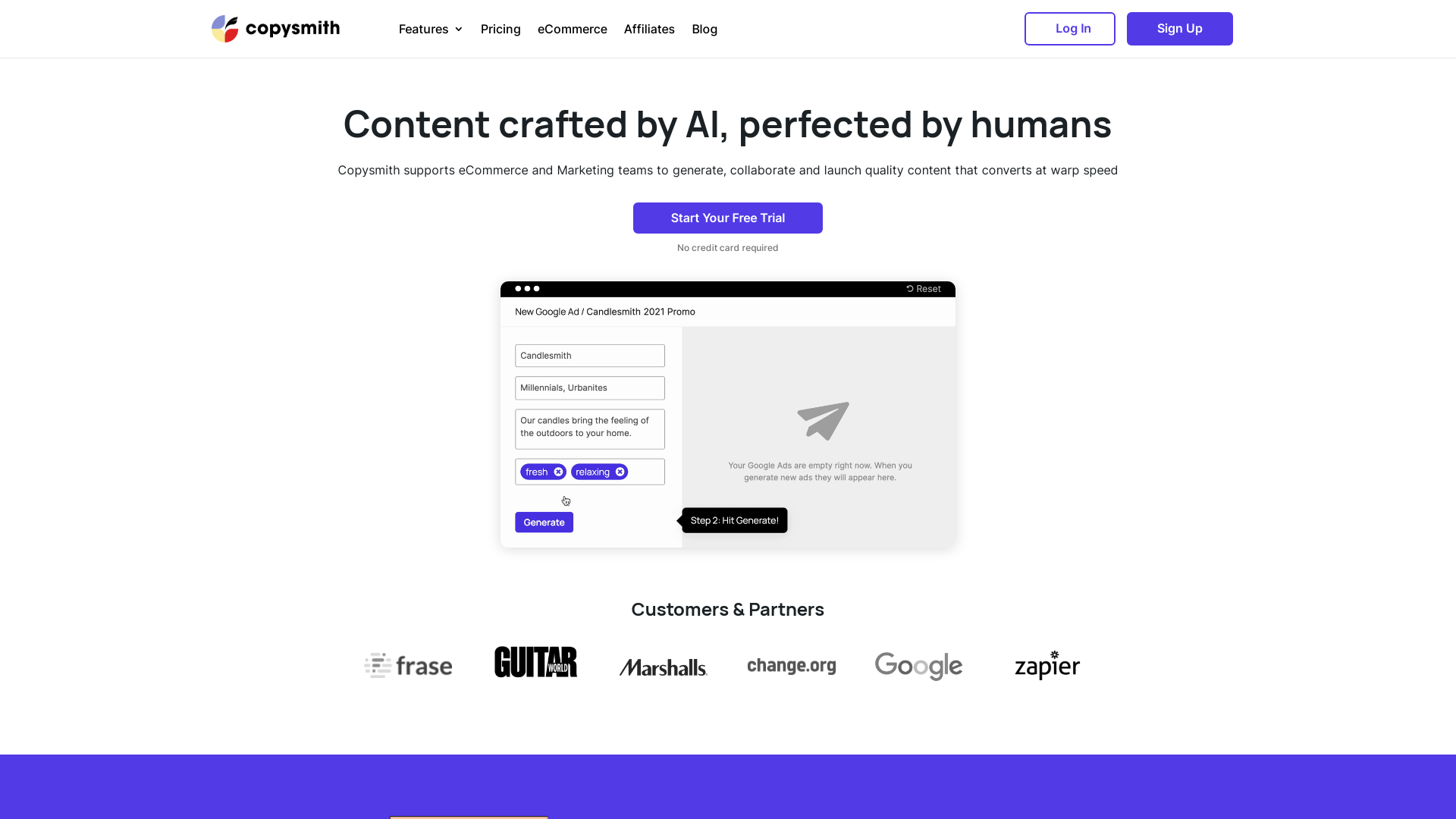 Similar to Jasper AI, CopySmith is powered by GPT-3, which is among the most powerful Artificial Intelligence models.
CopySmith provides various templates to choose from for different requirements such as creating taglines, SEO Metatag, content rewriting, creating product descriptions, blog posts, etc.
The tool is useful for writing product descriptions as well as any other marketing content, all you have to do is choose the template and this will let CopySmith know the tone and structure of the content you like.
The key feature of this tool is the availability of more than 20 templates for various platforms like LinkedIn, Instagram, and Google templates.
CopySmith can also generate interesting blog posts, with minimal input from your end.
Another good feature of CopySmith is the Chrome extension which allows you to log in to CopySmith on any webpage.


Pricing Plans:


Starter pack:

Cost:
$19 per month
50 credits

Professional plan:

Cost:
$59 per month
250 credits

Enterprise Plan:

Cost:
$499 per month
1000 credits per month


Snazzy.ai: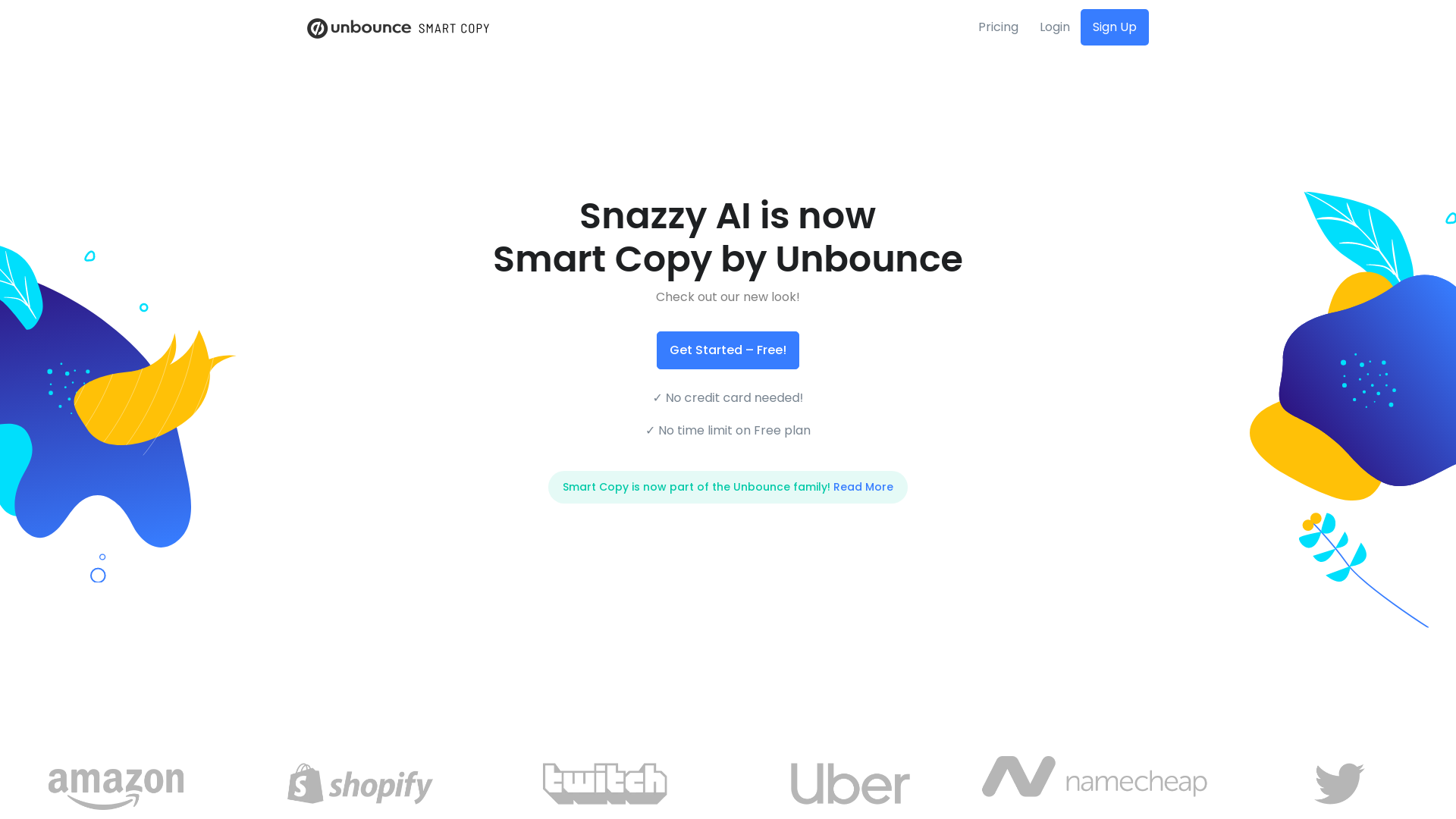 Snazzy.ai is used to create content for ads, landing pages, product descriptions, etc.
By simply providing your business name, keywords, and target audience, snazzy can create an effective copy for you.
One of the outstanding features of the tool is that like some of its competitors it is also powered by GPT-3. Due to this, it can create error-free content and human-like content.
It also has a wide range of templates for product descriptions, blog ideas, headers, selling points, ads, and taglines, among others.
Another aspect of Snazzy is its ability to turn simple sentences or bullet points into complex creative content.




Pricing Plans:


Starter Pack:

Cost:
Free
5 templates per day

Growth plan:

Cost:
$50 per month
Unlimited content generation
Access all content templates.


Kafkai: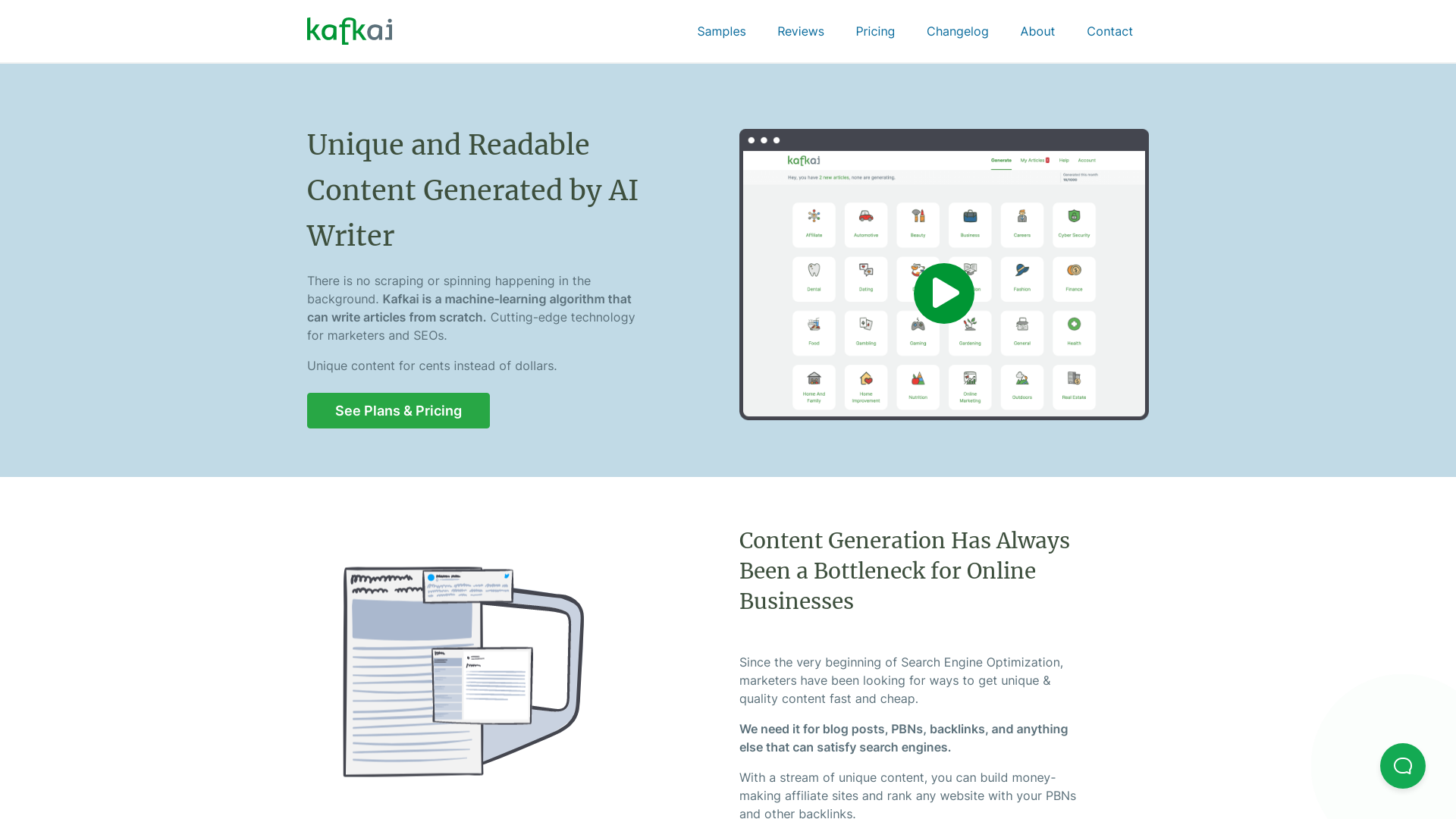 Kafkai is one of the most underrated tool in the market and only the few who understand how powerful the AI software actually use it on a daily basis to run their businesses.
An interesting fact about this tool is that it is run on the Elon Musk AI project which makes it an interesting option to opt for.
The AI software helps you create high quality content and it can also write in six different languages which makes it an attractive option all over the globe.




Pricing:


Newsroom:

Cost:
$29 per month
25 unique articles

Printing press:

Cost:
$129 per month
100 articles

Industrial printer:

Cost:
$199 per month
500 articles


Closers copy: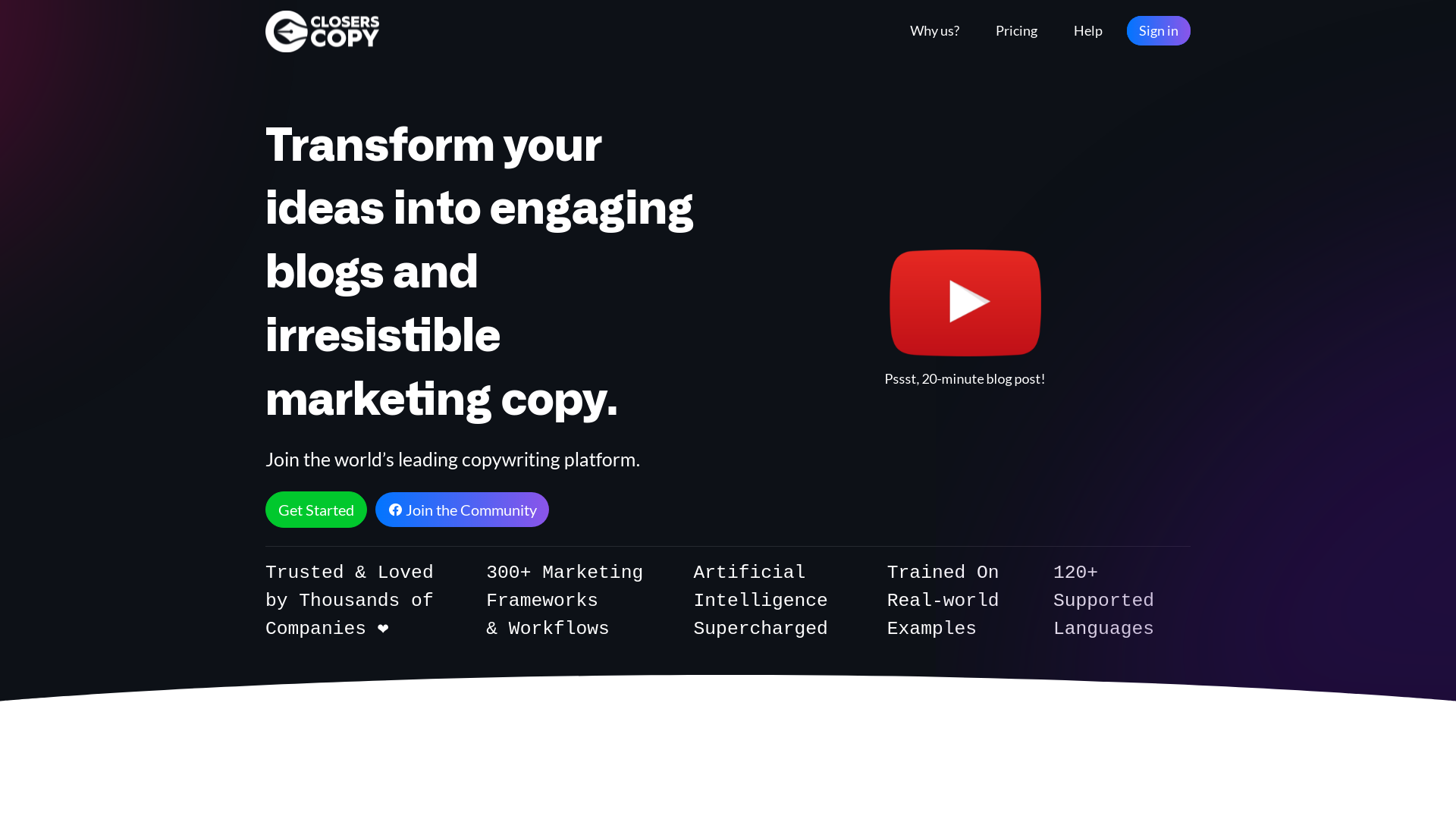 Closers copy is a unique copywriting software that features an ever-growing copy templates library, which delivers maximum performance. It is specifically meant for people in advertising, sales, or businesses.
One of the best features of this software is Megatron which is a "Compose" tool. Megatron basically lets you create content based on popular topics and news that are currently relevant. This means that you will never run out of ideas for your content as you will have a constant feed of news that can be your potential future content.
It is very effective for writing long content posts like jasper AI does.
Another key aspect of this software is that it supports 24 languages and you can compose content in any of them.
Closers copy also comes with a AI-based
spam analysis feature that reduces the chances of your mail going into spam.


Pricing:


Freelancer:

Cost:
$39.99 per month

Professional:

Cost:
$49.99 per month


Rytr AI: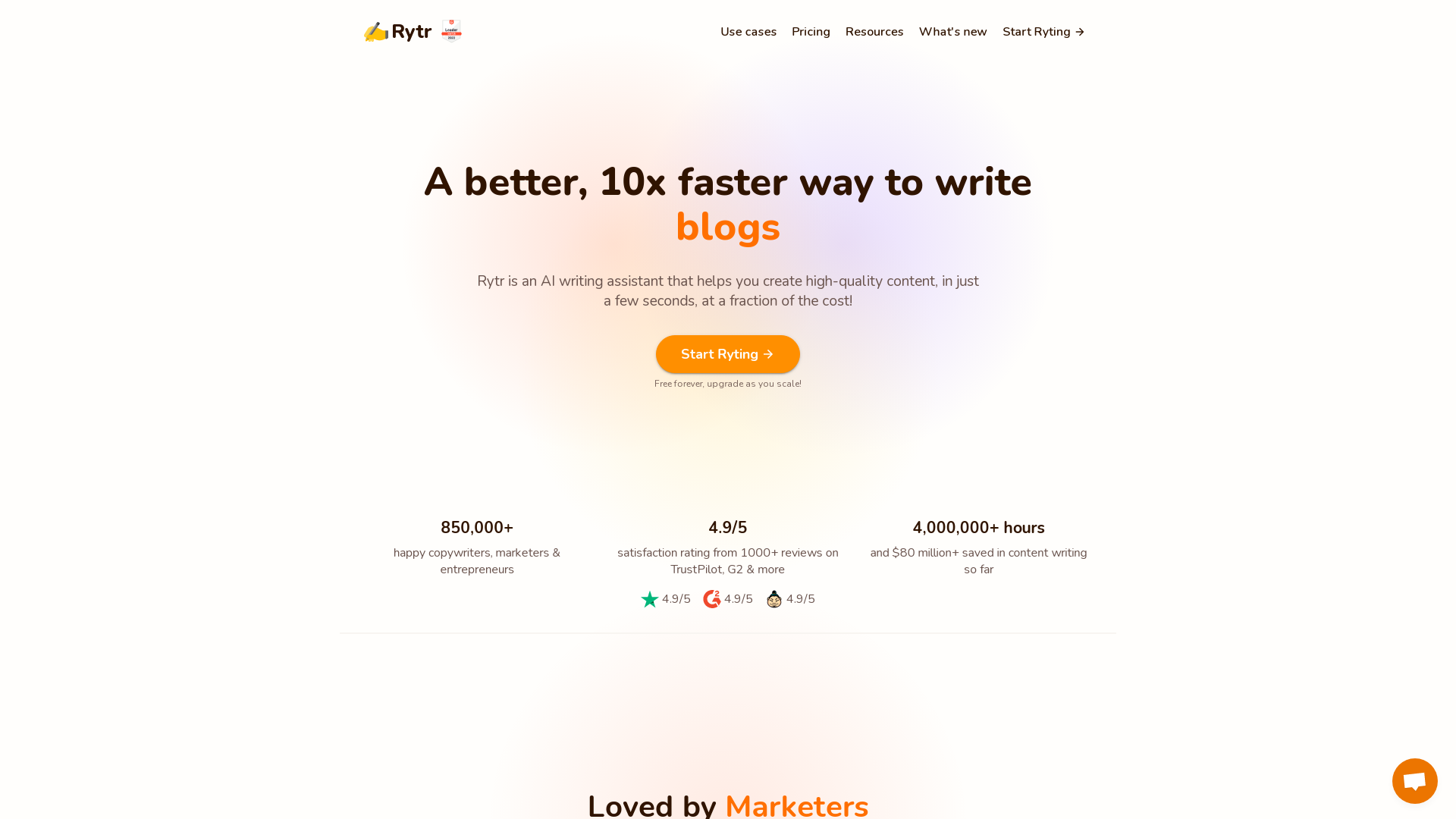 Rytr is an AI copywriting software that helps you in creating any form of marketing article.
Although it does not create unique content the article generated will be 100 % unique. It does so by leveraging the most advanced learning language model, GTP-3.
All you have to do is type in a few keywords and the AI software takes it up and generates content in a matter of minutes.
A key aspect of this tool is that it allows collaboration among team members within the same dashboard.
It also comes with a simple to use dashboard and a SEO analyzer that makes your SEO journey easy and your content really easy to rank.





Pricing:


Free plan:

Cost:
Free
5000 free unique words in a month

Pro plan:

Cost:
$29 per month


Zyro AI Content Generator: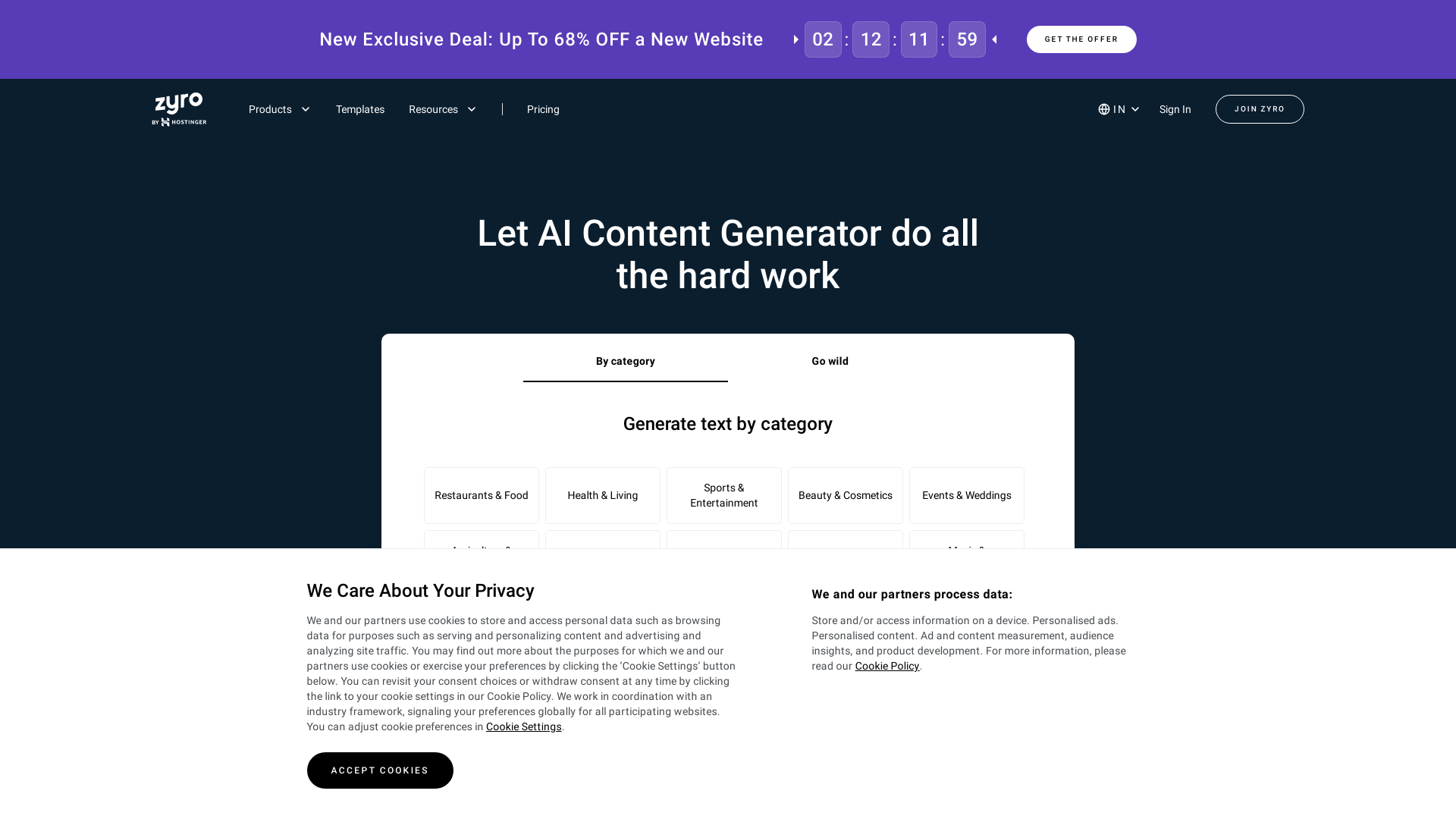 Zyro is a tool that specifically creates content for websites. Whether it's an eCommerce website, a blog, or your company webpage, this tool will enable you to generate content conveniently.
You will be given the option to select your business niche so that the tool can generate sentences that perfectly describe your brand product and services.


Automatic script: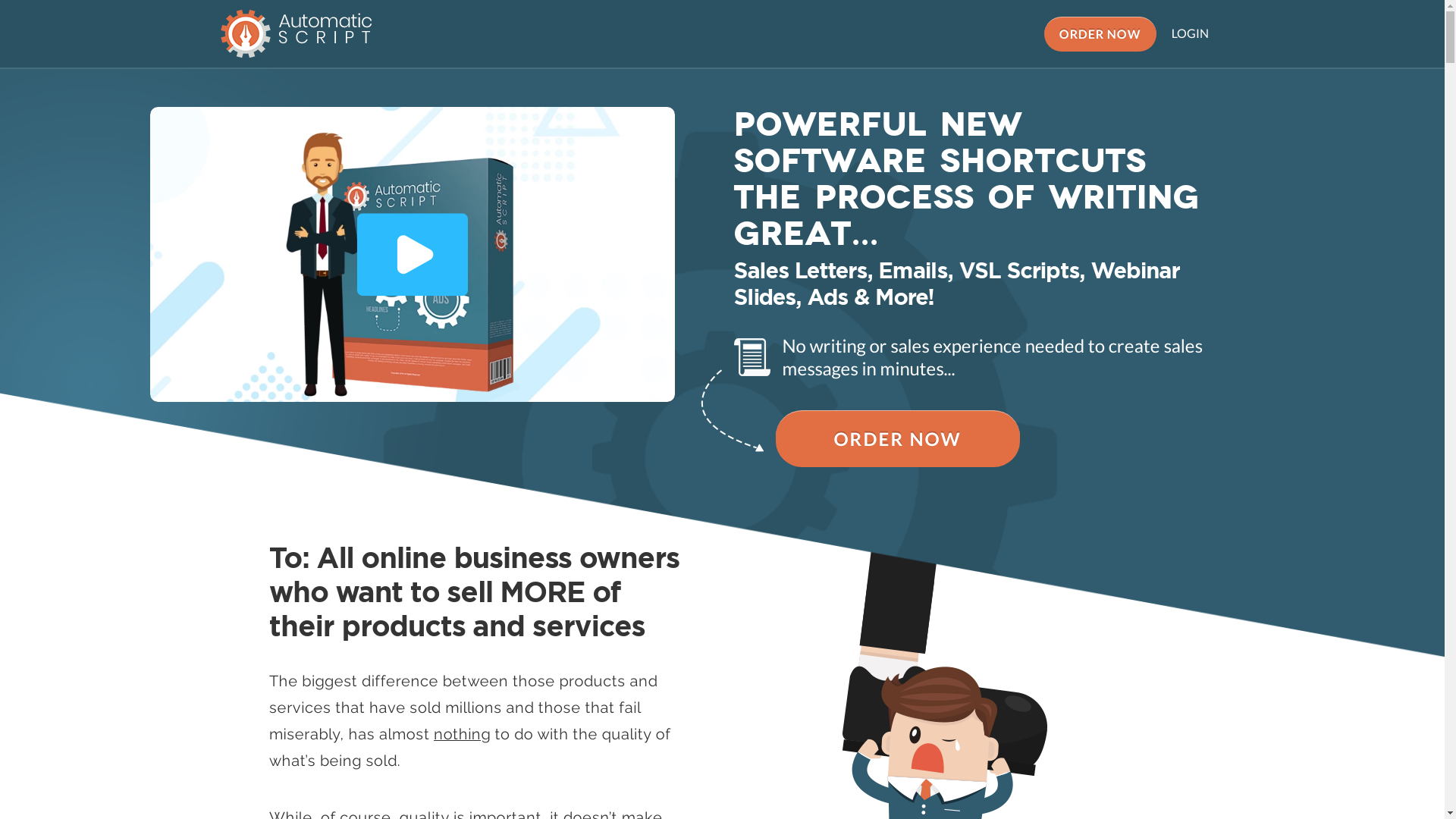 Automatic Script, like the name suggests, automates the writing process, giving you action-driving sales copy that would have otherwise been expensive as well as time-consuming. It automates the process of creating a sales letter which can be used by any type of business.
It is quite easy to use and thus even beginners or people without much tech experience can find it quite simple to navigate.


Funnel Scripts: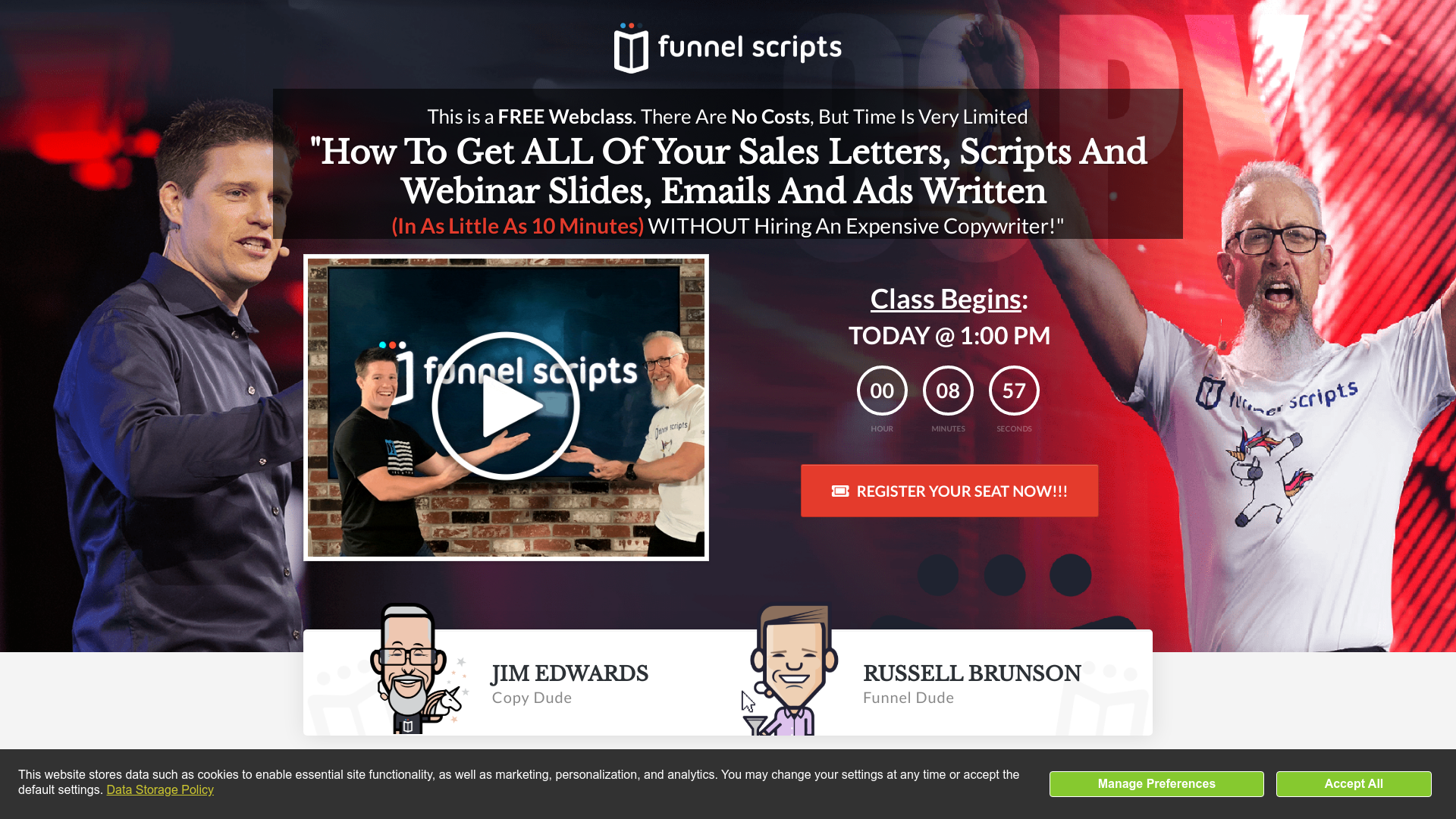 Similar to Automatic Scrips, Funnel scripts is designed for sales purposes or generating leads.
It is very effective in creating copies to target any business niche by creating content for various requirements.
Funnel Scripts can create a diverse range of content ranging from Product descriptions to Sales copies. It can also come up with blog post titles as well as copies for your Facebook Ad.


Wordsmith: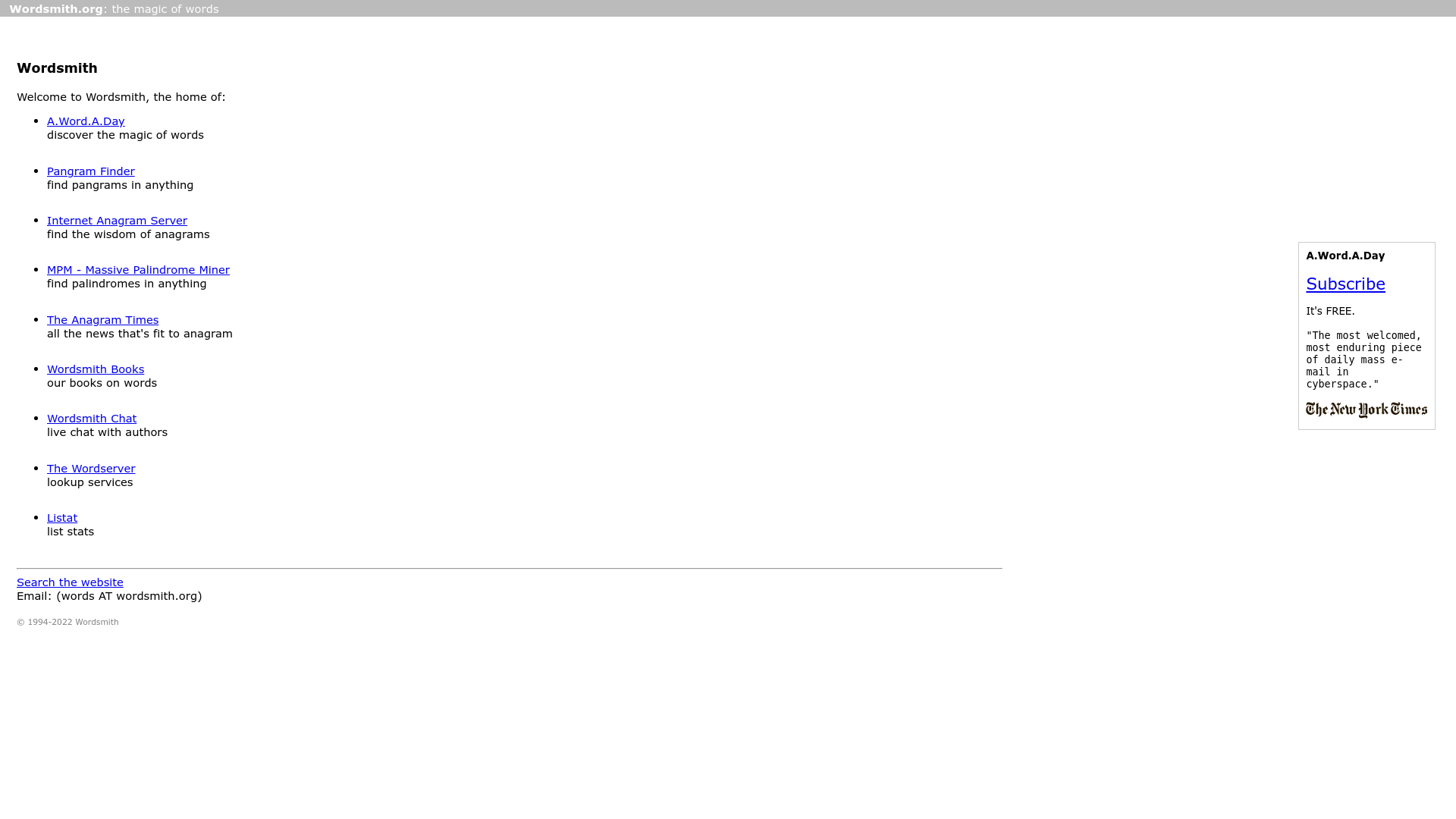 Wordsmith analyses large data sets, for different sectors, from journalism to financial reporting.
All you need to do is create one template, set up a few variables, and Wordsmith will generate multiple alternative scripts.
It is also very popular among organisations in publishing quarterly financial reports.


Wordtune: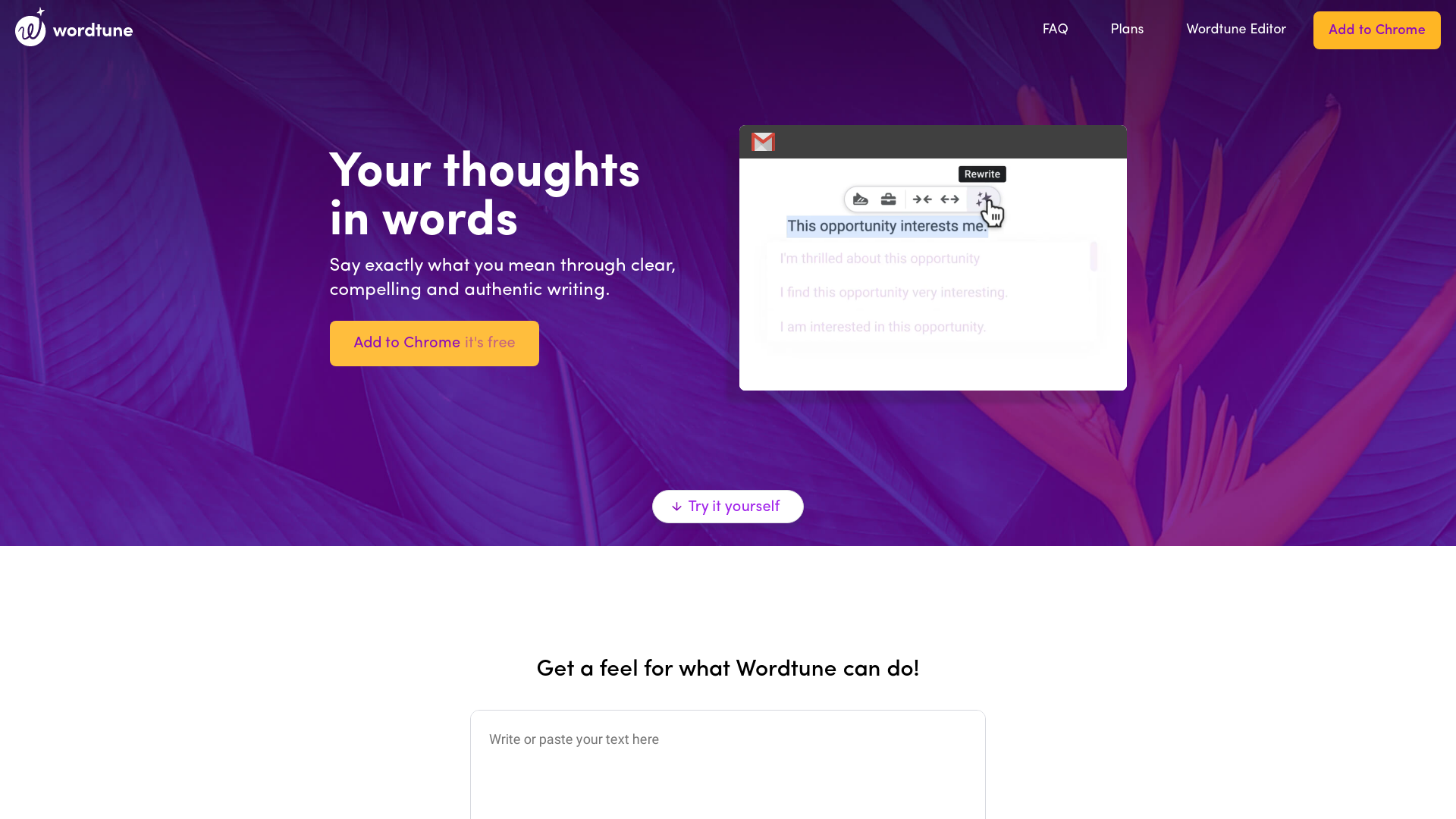 This AI copywriting tool helps you rephrase and reword your content without sacrificing flow, tone, or meaning.
It is not a fully-fledged content generator and is mainly used for reframing and sharing content.
It comes with a chrome extension and supports different websites like LinkedIn, Twitter, and Grammarly.
Wordtune comes with a free plan as well as a premium package.

Anyword: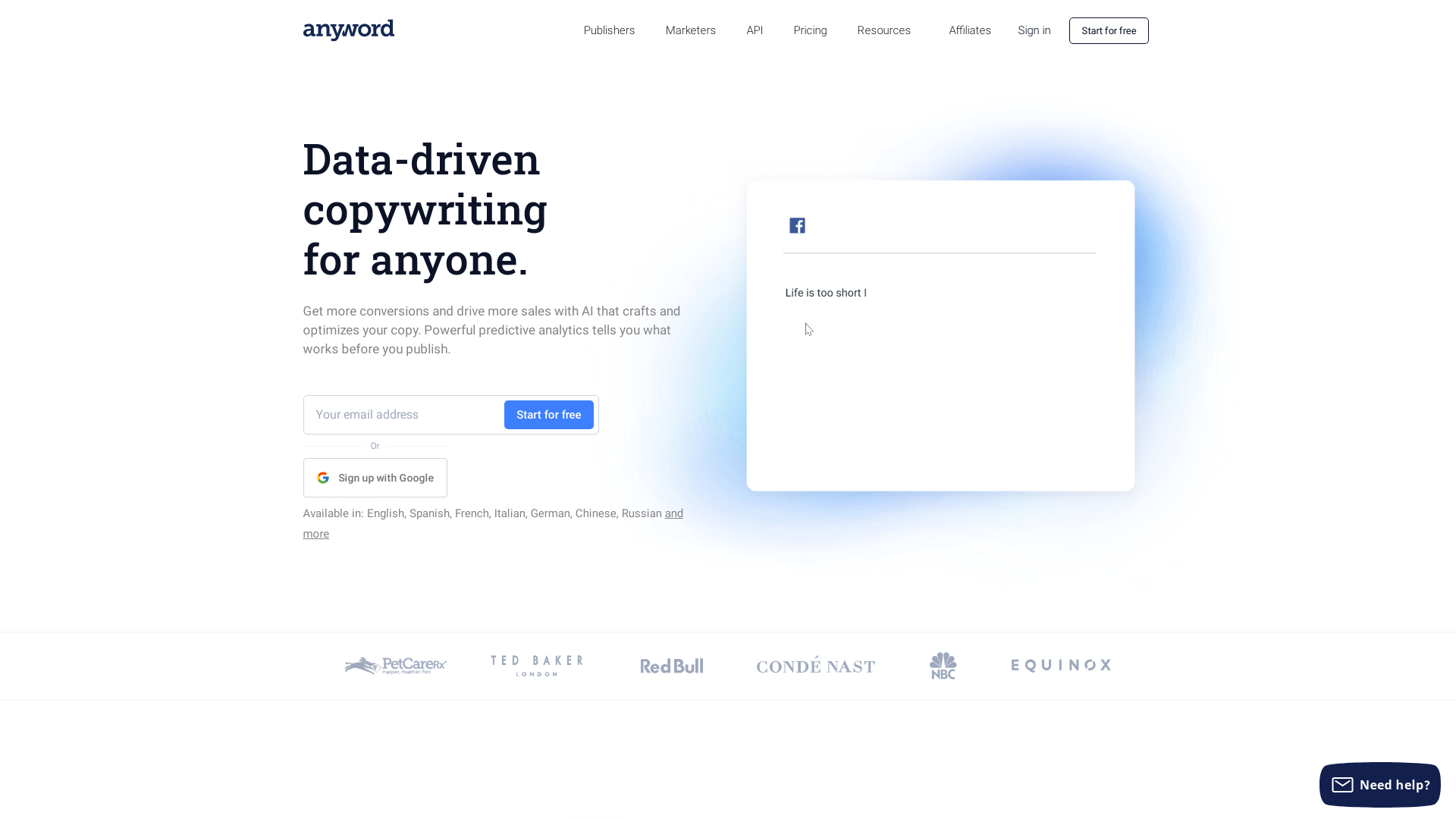 Anyword helps marketers and enterprises gain traffic and conversions by using A/B testing. It comes with features like original text suggestions to create text variations, text personalization where you're able to optimize phrases for better responses

If you do want to invest money into an AI-powered copywriting tool, you can do so by selecting one of the many tools we discussed in this article. Although it is important to remember that the content generated is not 100% accurate, and you will be required to proofread them diligently.
That's all for the best copywriting tools on the market currently and depending on your requirements I'm certain you can make the correct choice. Good Luck !