How much time does a sales representative truly spend selling?
While leading busy sales and marketing teams, I frequently ask myself this question. And the answer isn't what we'd like to hear: sales reps spend less time in the field than we'd like to believe.
In my opinion, too many sales reps have become entangled in the snowballing snare of "daily tasks" or "non-sales" activities.
According to studies, sales professionals spend only a third of their day making sales. The other two-thirds of their day is devoted to manual labor. Most of their time was spent writing emails, soliciting leads, entering data, and booking meetings.
💡 Generate personalized emails, blog articles, product descriptions, and ads in seconds using the power of A.I
Yet what's so great about all those time-consuming but necessary tasks?
In the year 2020, they were relatively simple to automate.
Sales teams may spend less time shuffling documents and more time moving leads into the pipeline with the right sales automation solutions.
What's so great about all those necessary but time-consuming jobs, though?
In the year 2020, they were quite easy to automate.
Sales teams may spend less time shuffling documents and more time funneling prospects into the pipeline with the correct sales automation solutions. Sales automation tools allow businesses to standardize and automate the whole sales process, from prospecting to closing to relationship management. From automated lead research and contact management to reporting and team analytics, certain sales automation platforms provide an end-to-end experience. Sales automation technologies that specialize in a single activity or element of the sales process, such as automated meeting scheduling, lead research, and more, are also available.
You can automate follow-ups with sales automation solutions.
Maintain a record of your sales pipeline.

You may simply train new sales team members using a repeatable and scalable strategy.

easily train new sales team members.

To avoid awkward encounters, send invoices and payment reminders to clients.

Your sales automation software becomes even more powerful when integrated with marketing automation, allowing you to get more time back while growing your business.
Sales Automation's Seven main steps.
Sales automation comes in a variety of shapes and sizes. Some sales teams employ automation systems that focus on a single aspect of the sales process, such as prospecting or cold emailing, while others use CRMs and pipeline management platforms to automate many tasks across the sales cycle.
Here are seven ways sales automation can help a sales rep's day run more smoothly and efficiently. (Not to brag, but Nutshell's sales automation-friendly CRM includes or interfaces with nearly all of these useful applications.)
Here are seven ways sales automation can help a sales rep's day run more smoothly and efficiently. (Not to brag, but Nutshell's sales automation-friendly CRM includes or interfaces with nearly all of these useful applications.)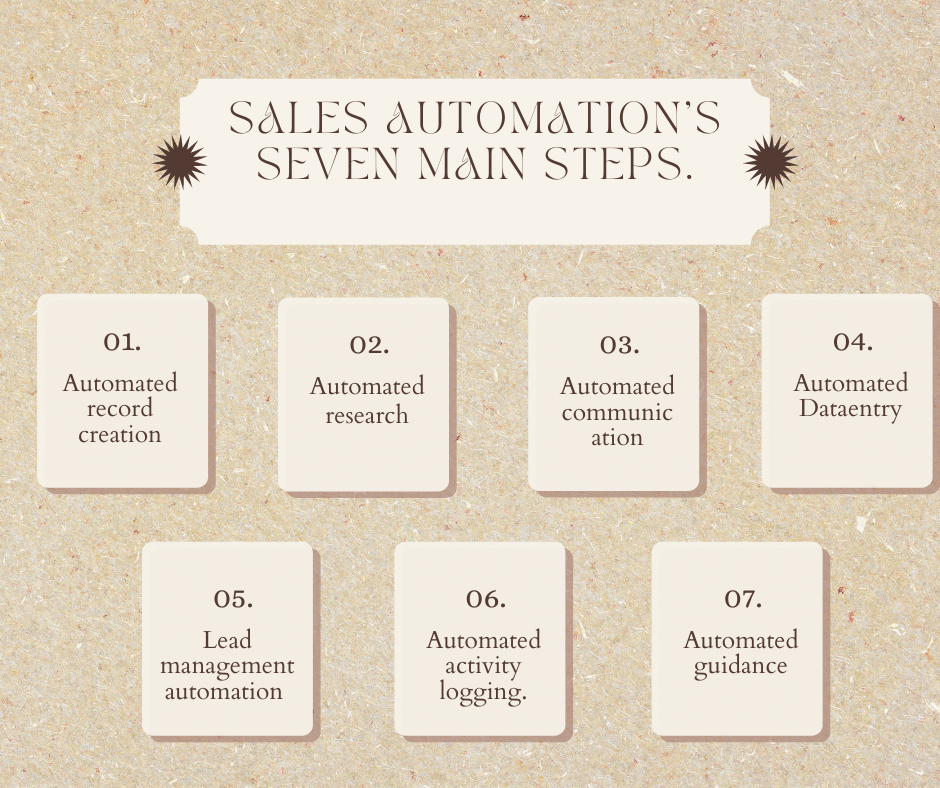 1. Automated record creation
When a website visitor fills scans a business card, sales automation software may automatically create CRM records, saving reps the time of manually building new contact and lead records.
Logging of activities is done automatically.
The requirement for sales agents to document emails, phone calls, and other client exchanges for the benefit of their supervisors is one of the most irritating "non-selling chores." Without the sales professional needing to lift a finger, sales automation software can log those activities as soon as they occur.
2. Automated research
It is a platform with the ability to scour the Internet for information. It can help sales teams in several ways, from gathering publicly available information on prospects and adding it to their lead records to searching social media platforms such as LinkedIn and Facebook to identify potential customers.
Outside sales reps who prospect from the field leave a lot to chance. Reps may work more effectively and close more sales by using a technology like Lead Machine to target the best leads inside a certain region.
Data entry that is automated
In other words, anything that requires the use of a keyboard. Sales automation software, for example, can auto-fill details like names, addresses, product details, and pricing when creating a proposal for a prospect. For outbound calls, an automatic dialer like Click-to-Call eliminates the need for sales professionals to input numbers into their phones; one click, and the phone rings.
3. Automated communication
Again, sales automation does not eliminate the necessity for salespeople to perform their duties; no software platform can automate one-on-one communication.
4. Automated Dataentry
Data input is a laborious and time-consuming task, but it is an inescapable necessity. That was before the ubiquity of sales automation software.
Sales automation software improves contact management and saves critical hours for your sales staff every day by auto-filling sales data like prices, product descriptions, and contact details for leads and customers.
However, most of the grunt work involved in communicating with prospects, delivering material, and following up with them may be automated. This is what communication automation entails.
Prospects are subscribed to targeted email campaigns via marketing email automation when they reach a given stage in the sales process, and they are unsubscribed when they move to a new step.

Sales reps can use personal email sequences to arrange and send one-on-one email drips to prospects that will automatically stop after the prospect responds.

Prospects may easily see available slots on your calendar and choose the time that works best for them using meeting scheduling software.

Automated voicemails

 allow sales reps to drop pre-recorded messages into their prospects' mailboxes when they don't answer their phone, rather than going through the same "Sorry I missed you!" script over and over again.
5. Lead management automation

Sales managers and salespeople must do a lot of administrative work to ensure that each active lead receives the proper attention at the appropriate time. When a lead comes in, one of the first things a manager does is allocate it to the person who is most likely to close it, depending on characteristics such as the prospect's geographic area or how familiar each rep is with a certain product line.
Guidance by robots
Sales staff always know what to do next to keep their deals going forward with automatic guidance and reminders in a CRM, ensuring that key activities are accomplished on time.
Nutshell's sales automation also provides stage guidance, which allows managers to provide assistance and advise at each level of the sales process.

6. Automated activity logging.

Sales emails, phone calls, and in-person visits must all be tracked in real time so that other reps are aware of how far one rep has progressed with a potential customer.
Automated activity logging takes care of everything for the agent, allowing them to spend more time on lead development and closing agreements.

7. Automated guidance

The sales teams receive reminders and messages from the sales automation software with this type of automation. This keeps the salespeople focused and protects them from missing out on significant leads who could become paying customers.
Sales Automation is very Beneficial, let's know the advantages of automation. 
According to Grandview Research, the marketing automation software sector will be worth more than $7.5 billion by 2025, and will provide marketing tools for both small and large organisations. Because of the multiple benefits sales automation technologies serve sales and marketing teams, this sector's rapid growth should come as no surprise.
Sales automation platforms and technologies automate repetitive, time-consuming tasks, allowing sales reps to focus on what they were paid to do: generate money.
Thankfully, it's not all made up by the industry. The advantages of sales automation technologies can be shown in figures. Sales automation technologies have been demonstrated to lower marketing overhead by 12.2% and enhance sales productivity by 14.5 percent right out of the gate, according to study. Furthermore, certain automation solutions boost deal closing rates by 30% while slashing sales administration time by 14%.
Computers can accomplish what they're good at with the help of automation technologies (tedious, manual tasks). At the same time, your sales representatives can focus on what they are good at — making strong personal connections and closing deals.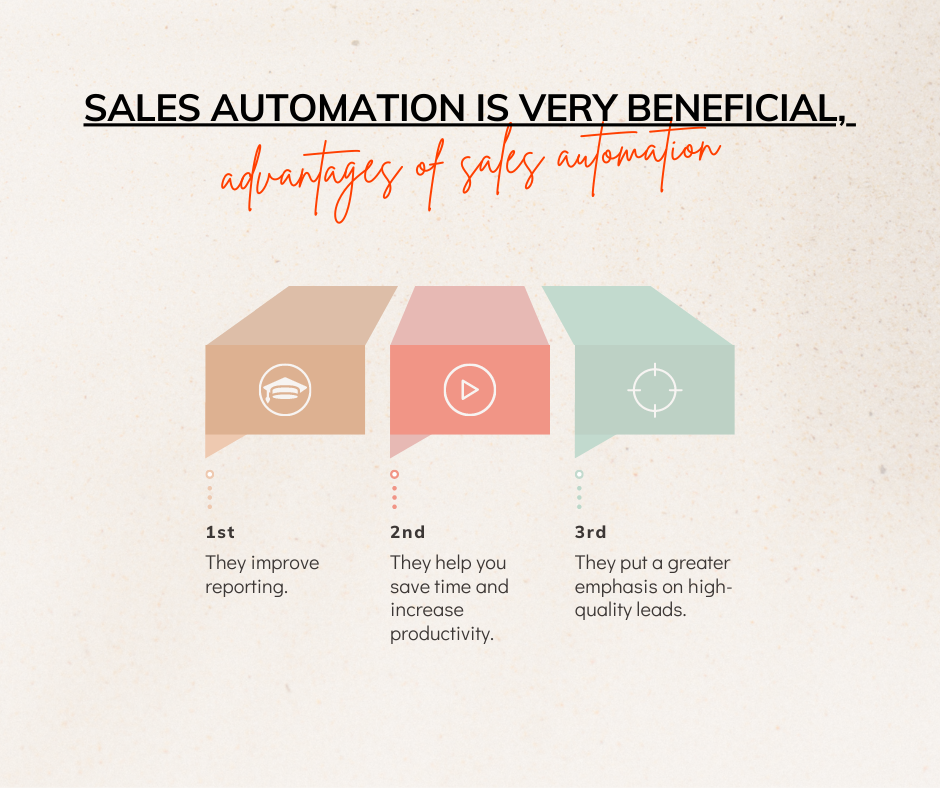 1. They improve reporting.
The sales and marketing departments must work together to keep things running smoothly. As a result, having detailed reports on every minor detail ready will help you achieve greater results. That is just like what sales automation software may assist you with. They also provide insight into the analytics.
2. They help you save time and increase productivity.
Salespeople can be freed up by automating time-consuming procedures, just like what you want as a salesperson. Furthermore, you can automate redundant operations with sales automation solutions. Additionally, saved time is used for productive sales activity.
3. They put a greater emphasis on high-quality leads.
The workload of marketing and sales teams is drastically reduced thanks to automated lead scoring. Manually sorting prospects is a time-consuming and error-prone operation. Also, various people have varied ideas about what qualifies as a qualified lead. Sales reps will pursue good leads and close transactions faster if the sales process is automated. Leads are also classified depending on their ratings, and messages can be tailored accordingly.
In what does sales automation operate?
Here are sales automation examples for how to simplify each stage of your funnel: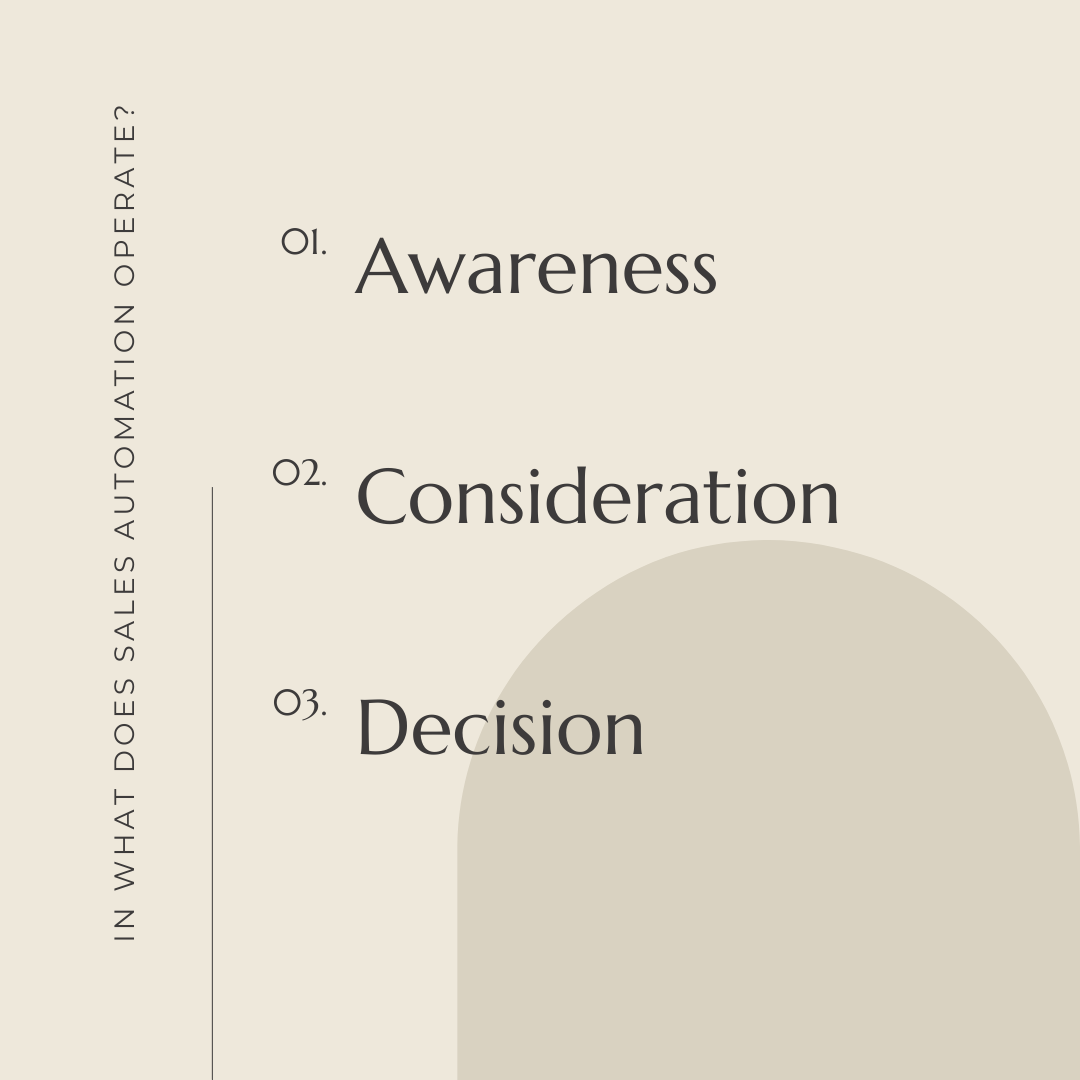 Awareness
The idea is to generate some form of asset that catches your target audience's attention. The most crucial thing is to obtain their email address. Making a lead magnet, such as an e-book or templates that people can use, is one of the greatest methods to do this. Prospects will need to input their information before being able to view the content, which will be hidden behind a form on a landing page.
Remember, your lead magnet must be relevant to your product or service. If you are an employee for a design software company, for example, your lead magnet should be related to design in order to attract the correct leads.
Consideration
You'll have leads in your funnel at this stage, as well as all of their email addresses. Set up an automatic email nurture series to send at regular intervals to stay top of mind with prospects and educate them on your service. At this point, don't be overly pushy or salesy; there will be a time for that later.
As you'll know who your leads are interested in the material, your first one or two emails could include links to blog posts on a related issue. The third and fourth emails might then begin to expose them to your product by providing a high-level summary of its advantages.
Decision
Now is the moment to complete the transaction. Your leads have expressed an interest in your content and have completed the entire nurture process. The final email in the series and it should be the hard sell, with something to seal the purchase, such as a product demo, a free consultation, or a special discount. Because this sales automation example won't work for everyone, if some leads don't convert, you may design a separate nurture sequence for them and contact them again in six months with a different offer.
Let's take a deep dive into the sales automation software options.
1.Yesware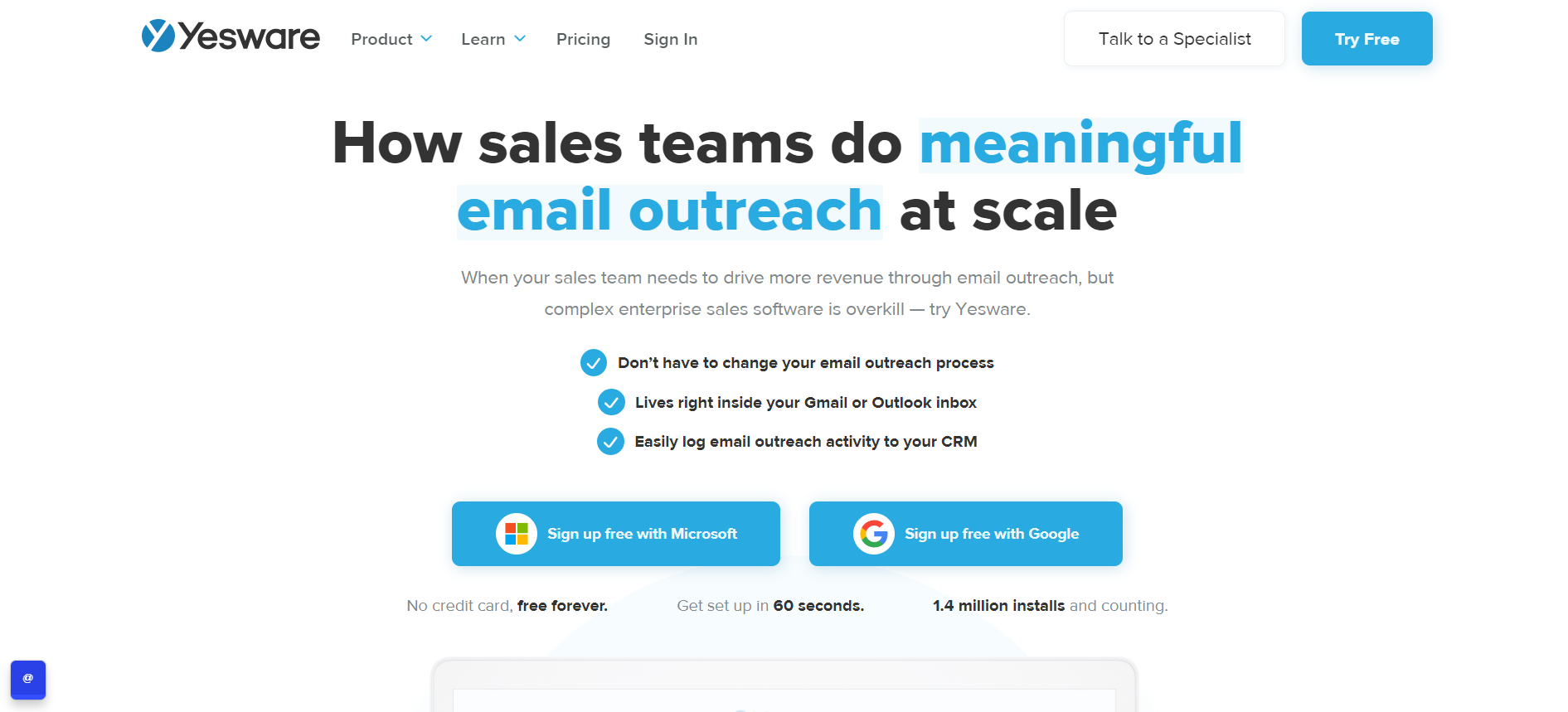 Yesware is a software solution for salespeople who spend most of their time in meetings, giving demos, on the phone, or otherwise contacting potential customers. Sales professionals can use the all-in-one sales kit to track attachments, presentations, and other automated sales tools to increase their effectiveness.
Yesware key automation features:
In a few secs, you can have your system up and running. Meetings may be scheduled quickly and efficiently. Salesforce integration is seamless. Templates for personalised messaging Dialer with a click-to-call feature that improves performance
Yesware pricing
Real-time email monitoring, personal templates, personal reports, presentation tracking, presentation analytics, and more are available in the "Pro" version ($12 per user/month).
The "Premium" version ($25 per user/month) includes team template sharing, team reporting, role-based permissions, campaigns, and centralised invoicing.
 2. Autoklose
Autoklose is an all-in-one sales platform that uses strong machine learning to create leads for B2B enterprises, track email outreach, and automate repetitive sales chores. The goal to avoid sales teams from wasting time conducting cold calls and dealing with gatekeepers drives Autoklose's mission.
Of course, Autoklose is capable of much more. Real-time reporting, email tracking and contact management, and email campaign management are all included.
Autoclose key automation features:
3rd party data supplier integrated for detecting ho
t leads Microsoft Exchange, Office 365, Novell Groupwise, and Salesforce are all seamlessly integrated. Guaranteed to shorten the sales cycle
Autoclose pricing
3rd party data supplier integrated for detecting hot leads Microsoft Exchange, Office 365, Novell Groupwise, and Salesforce are all seamlessly integrated. Guaranteed to shorten the sales cycleIt might be difficult for sales professionals to keep track of everything when lining up and closing hundreds of meetings per week. Even worse is the never-ending back-and-forth of trying to find a mutually appropriate meeting time.
3. Calendly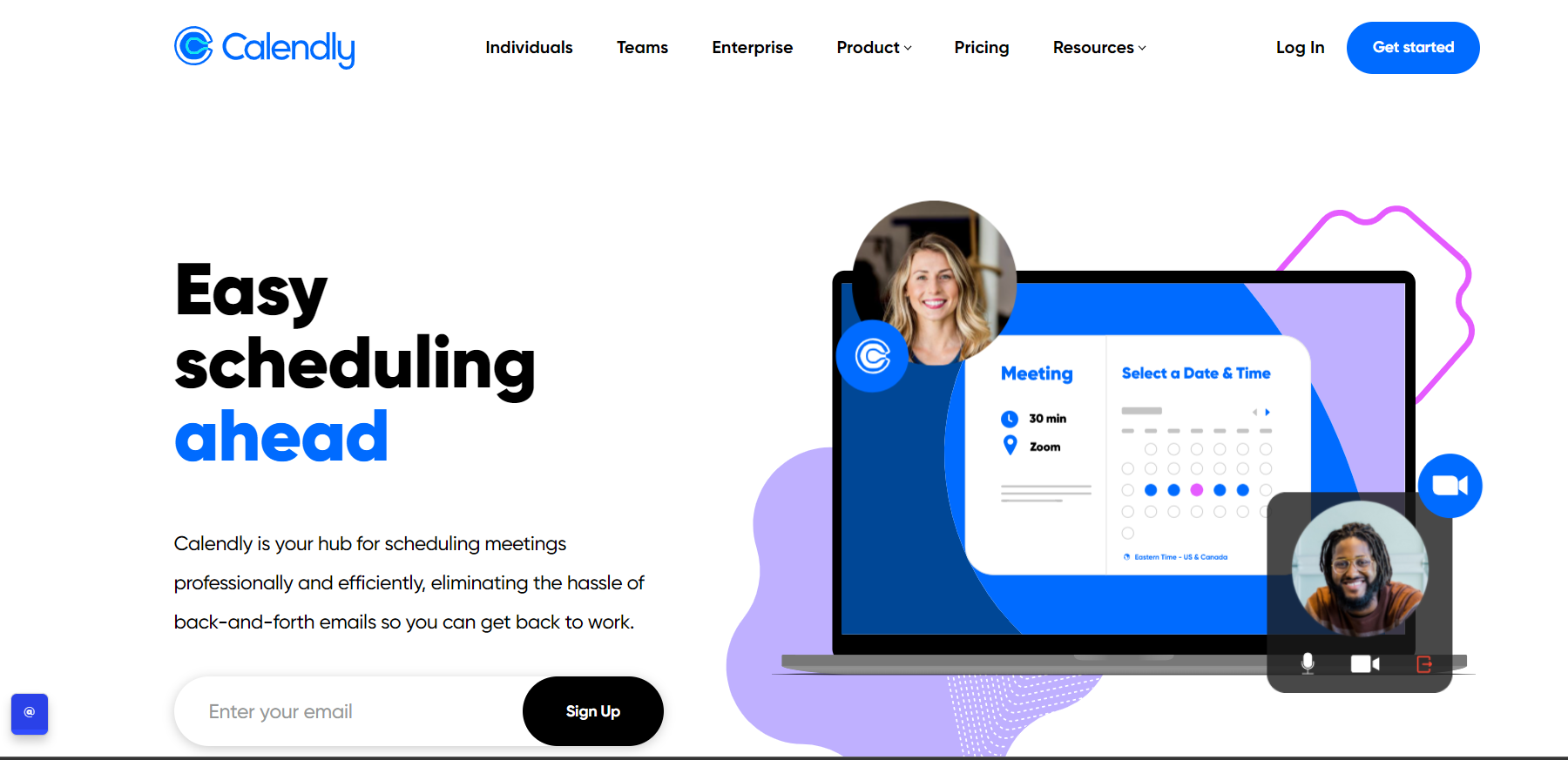 It might be difficult for sales professionals to keep track of everything when they are lining up and closing hundreds of meetings per week. Even worse is the never-ending back-and-forth of trying to find a mutually appropriate meeting time.
Calendly takes care of that issue.
Reps specify their choices and then send a link to a prospect or manager to schedule a meeting. The receiver then chooses a convenient time, which is automatically put on the sales rep's calendar. With calendly, you can even develop an online booking system.
Calendly key automation features:
Google, Office 365, and Outlook integration HubSpot, for example, integrates with CRMs. Interface that is intuitive and easy to utilise Designed to work on any device embedding a website
Calendly Pricing
The "Basic" plan is free for one calendar and one event type per user.
The "Essentials" subscription ($8 per user/month) includes two calendars and unlimited event types for each user. It comes with a lot of upgrades over the Basic subscription, including Calendly branding that may be removed, group events, configurable email notifications, reporting, and a slew of other connectors.
Calendly's "Professional" package ($12 per user/month) allows sales reps access to all of Calendly's features, including powerful integrations and the ability to receive payments via meeting scheduling links.
4. Pega Sales Automation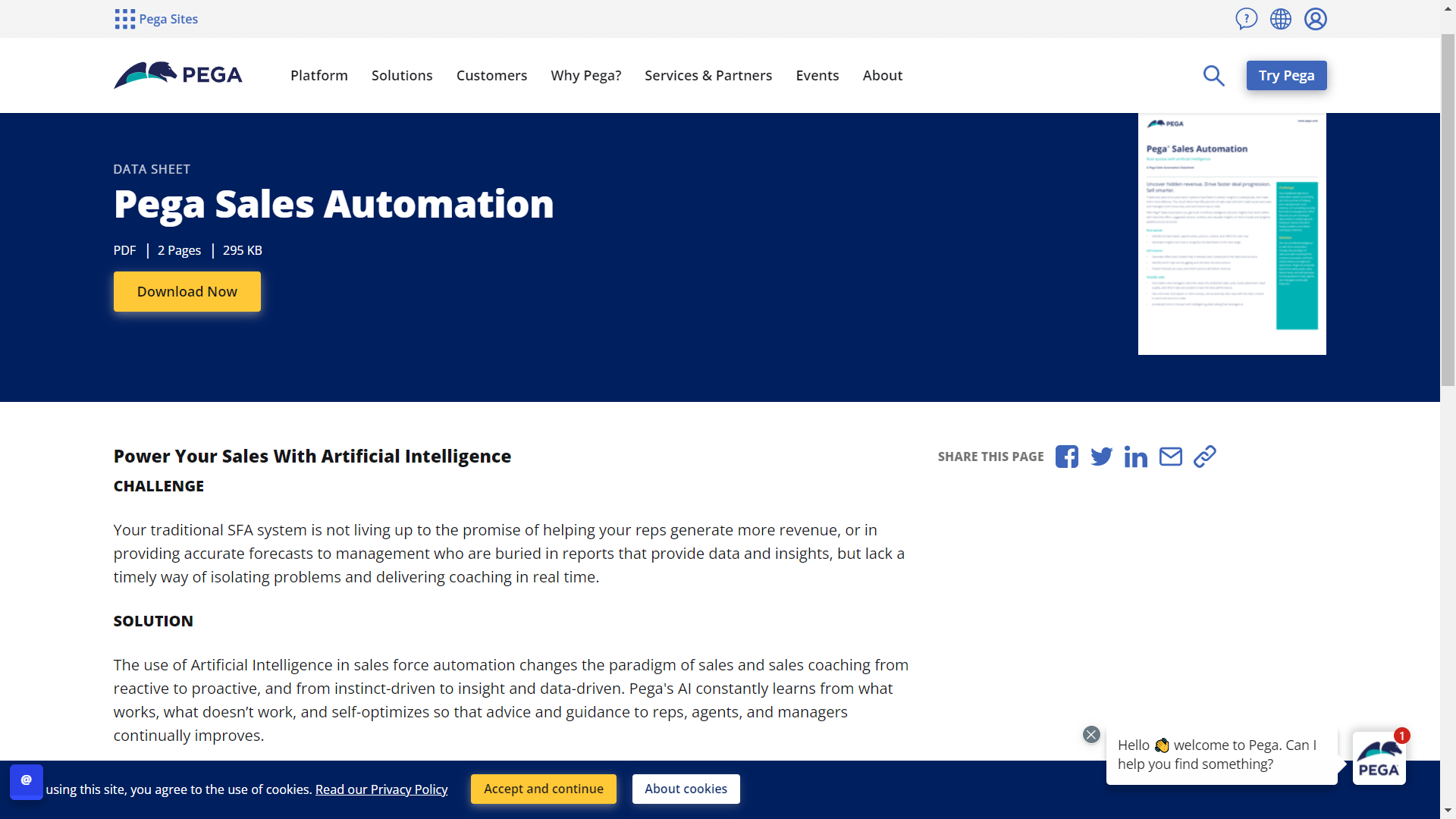 Pega Sales Automation is a robust software system that shortens the sales cycle, promotes productivity, and increases income. Through lead scoring, artificial intelligence (AI) detects hot leads and supports sales professionals in driving a prospect along the sales funnel to a speedy conversion.
Pega Sales key automation features:
Identifying important chances for cross-selling, upselling, and establishing repeat sales Deal generation for prospects on a one-to-one basis To determine how well sales reps are performing, use lead ranking scores. Integration of Outlook calendar and email Partnership with LinkedIn Sales Navigator
Pega Sales pricing
The "Standard Edition" ($140 per user/month) bundle offers you access to around half of the company's productivity tools but none of its artificial intelligence features. It does, however, contain account, contact, and lead management tools.
The "Intelligence Edition" subscription ($170 per user/month) adds Microsoft Exchange bi-directional syncing, internal content management, and email campaigns and templates to the Standard Edition package. It also grants access to a number of AI functions.
Everything in the Intelligence Edition is included in the "Engagement Edition" bundle ($240 per user/month), plus call telephony integration and internal and external content management. Additionally, it includes all of Pega's AI products.
5. HubSpot Sales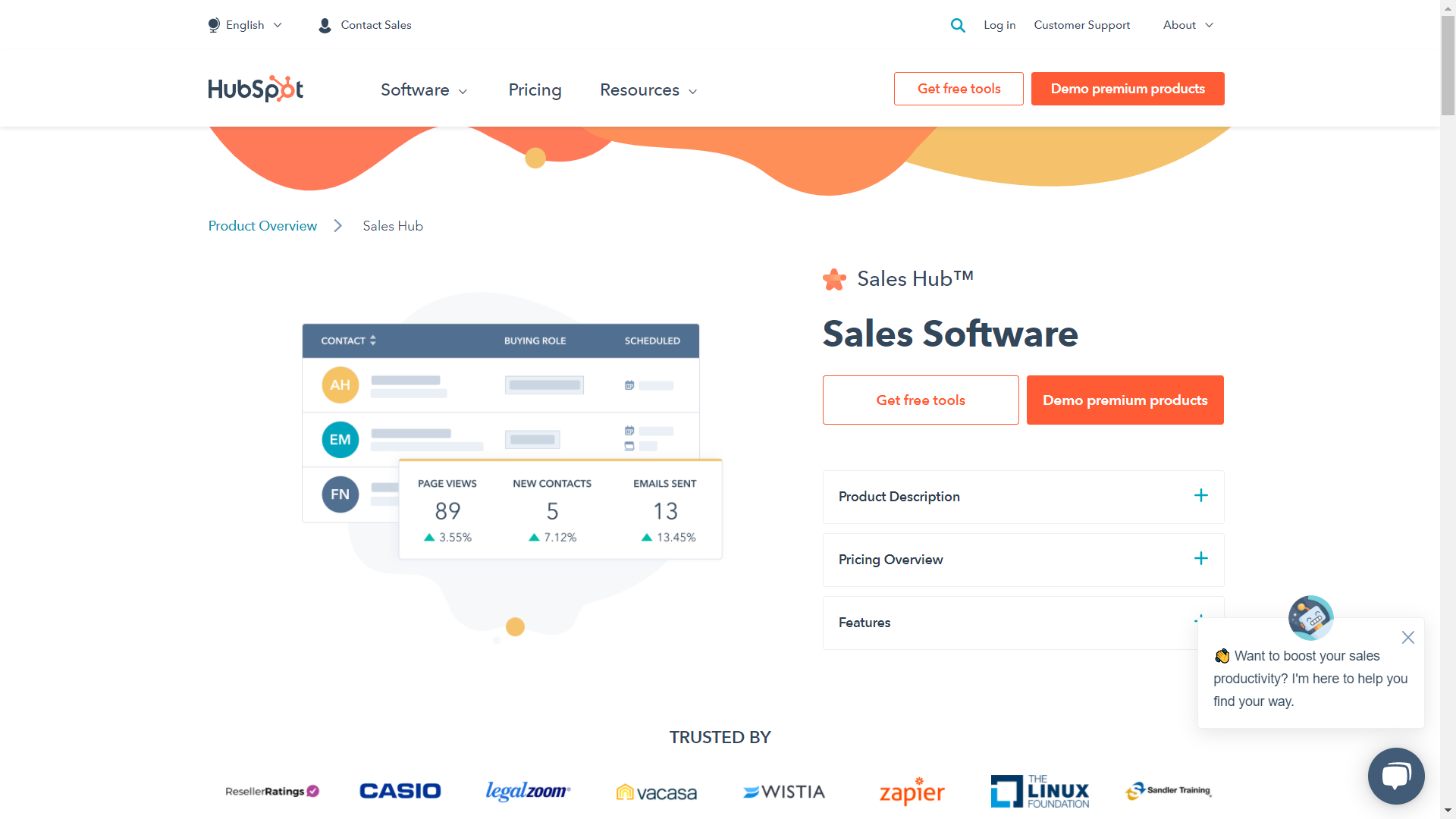 Hubspot is one of the most effective sales automation software programs available. The cloud-based solution provides real-time engagement updates and automatic business communications to assist your sales staff in connecting with hot leads and quickly converting them.
The tools assist sales teams at every level of the sales funnel, from discovering good leads to nurturing leads and completing deals. It also has CRM features for managing client information and engagement history, allowing for more precise assessments of buyers' preferences and campaign performance.
HubSpot Sales key automation features:
Follow-up emails that are personalised and timed to ensure that your sales team is communicating with leads at the proper time Notifications sent in real time when a lead clicks on a link, opens an attachment, or opens an email Contact data entry and engagement history are both automated. To keep track of the complete sales pipeline, HubSpot CRM integration is seamless. A dialer with a simple click-to-call interface.
HubSpot Sales pricing
For a single salesperson, HubSpot provides entirely free access to their basic capability.
The most basic option is the "Starter" subscription, which costs $40 per month and includes 1,000 contacts. 
Landing pages, advertisement management, live- chat, conversation bots, and forms are all tools for capturing and converting leads. It also allows you to segment your lists and understand lead website activity, as well as email marketing and ad retargeting capabilities.
A/B testing, SEO advice, blogs, campaign reporting, and website traffic analytics, as well as video hosting and management, are all available as part of the "Professional" subscription ($800/month).
Up to 10,000 contacts are allowed with the "Enterprise" subscription ($3,200/month). It's HubSpot Sales' most comprehensive bundle, including extra capabilities for managing teams and brands, as well as extending your platforms.
 6. Prospect.io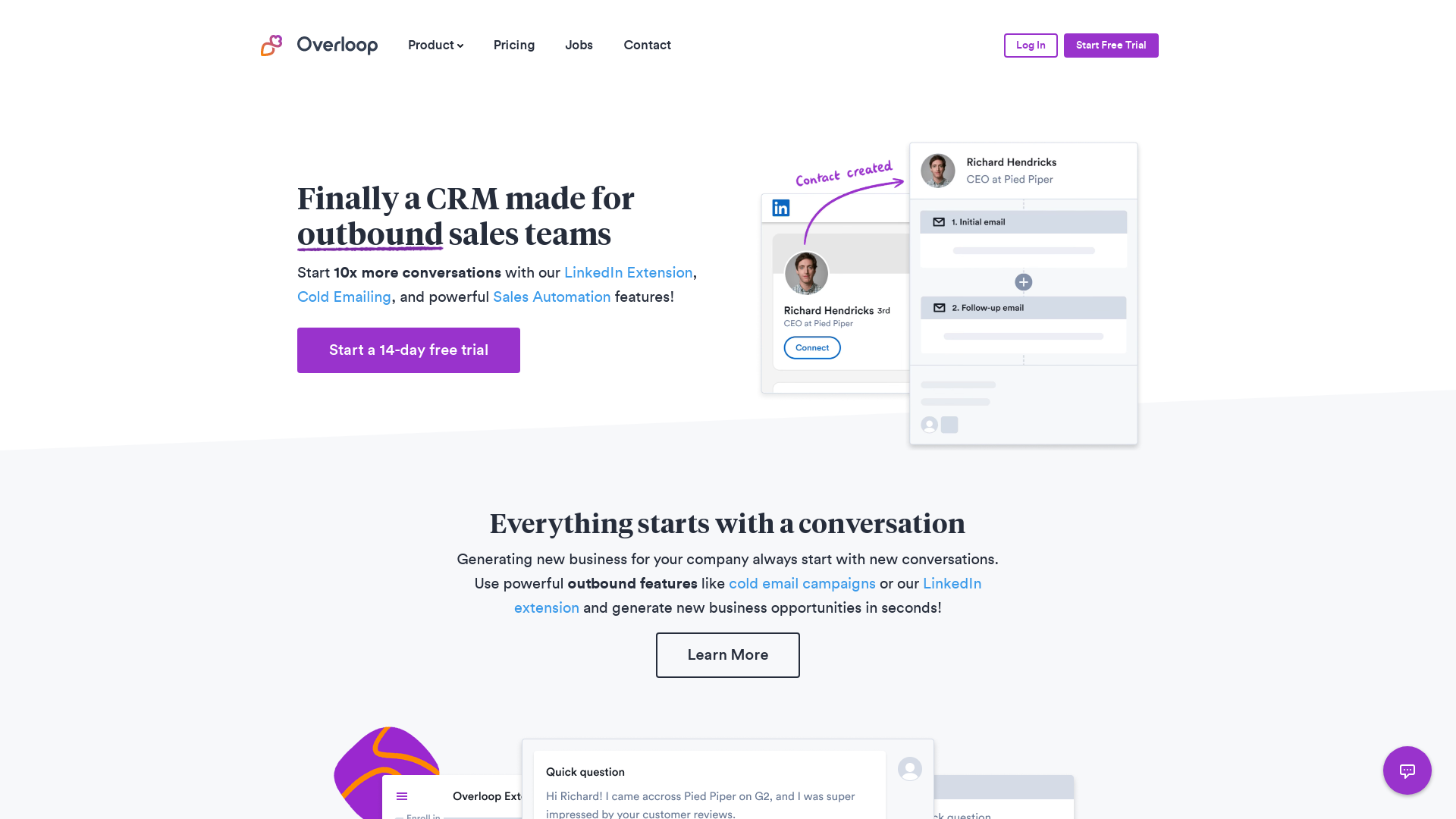 Prospect.io automates the process of producing prospect email lists by double-checking names, titles, phone numbers, and other important contact details. It also aids salespeople and managers in the development of effective outreach initiatives and measurement tools.
Key automation capabilities of Prospect.io include: 
Integration with Salesforce, Zapier, PieSync, or PipeDrive;

 effective email drip campaign design; 

bi-directional CRM sync; 

and one-click variable adjustment for tailored emails and messaging.
Prospect.io pricing
"Essential" package ($79 for the first time user per month and $29 for each subsequent user per month) includes 250 email finder credits per month and up to 400 email sends per day per address, among other features.
Everything in the Essential package is included in the "Business" subscription ($129 for the first user/month and $39 for each subsequent user/month). It includes extra features such as 1,000 monthly email finding credits and up to 1,500 email sends each day per address.
Either bundle can be upgraded to include additional email finding credits.
7. Growbots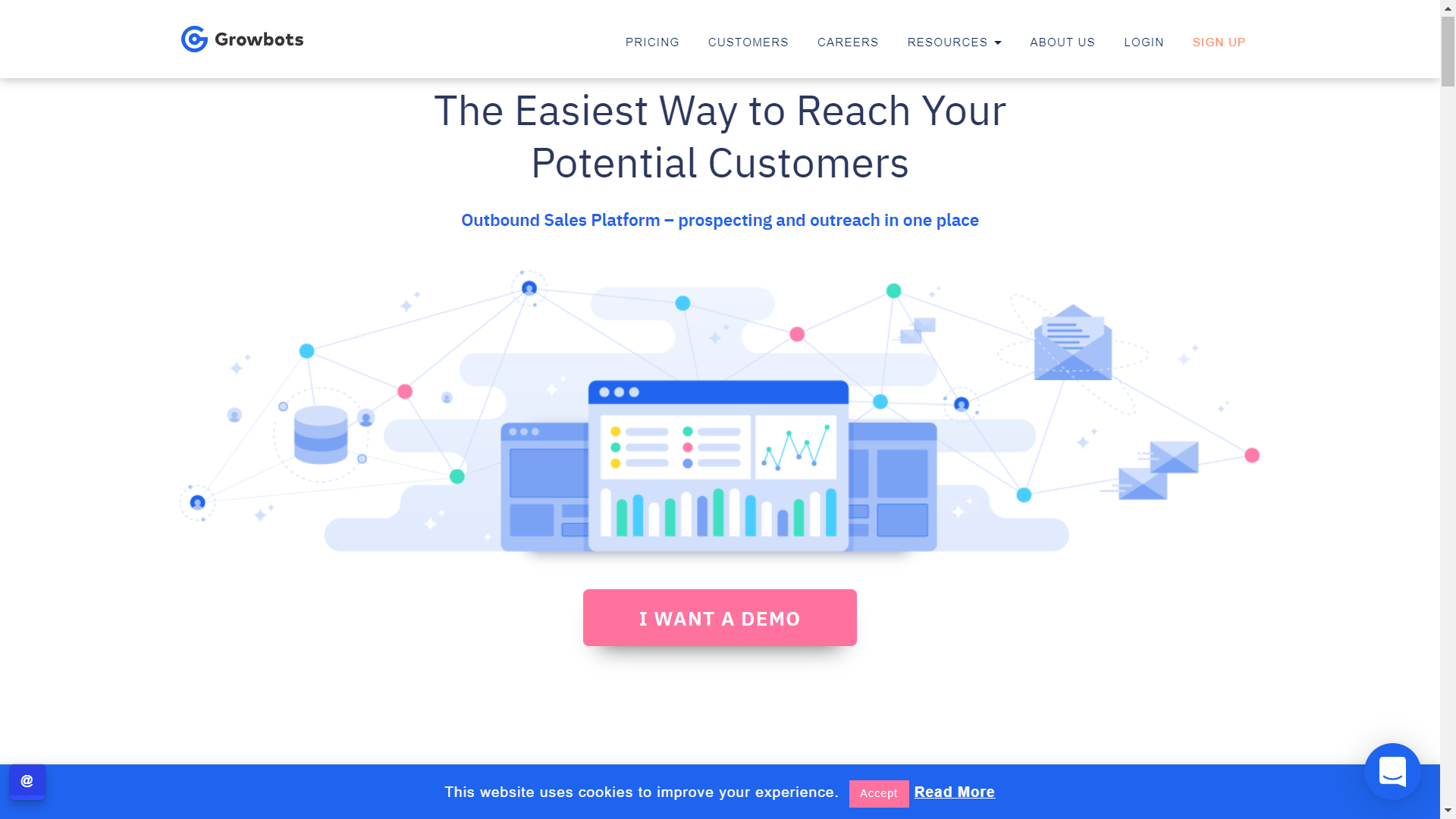 Growbots is a completely automated outbound sales platform with a database of 100 million decision-makers and influencers. The lead generation tool also connects with CRMs and allows you to handle email drip campaigns.
Growbots' goal is to simplify the sales lead workflow and make hot leads easy to convert to salespeople. Within a month, it promises to be able to boost campaign performance by up to 40%.
Growbots key automation features:
A/B testing is an Instant contact lists Unlimited access to a large database Specific company or profile targeting Self-updating database to assist you maintain a low bounce rate Insights that matter

Growbots' "All-in-One" options start at $199 per month per user.
Growbots pricing
"All-in-One" plans starts at $199 per user/month.
8. Sales Creatio (formerly bpm online sales)
Sales Creatio, formerly known as bpm online sales, is a cloud-based, full-service sales automation solution that also includes CRM software. Through numerous automated activities, the company employs its AI platform to speed up your business's operations, marketing, and sales.
Key automation elements of Sales Creatio include: 
automatically created revenue and sales reports; 

automated sales forecasting; 

automated meeting schedules;

and automated-lead management.
Sales Creatio pricing
Small and mid-sized businesses with a direct sales staff will benefit from the "Team" package ($30 per user/month).
eCommerce enterprises are best served by the "Commerce" package ($35 per user/month).
Medium and big enterprises will benefit from the "Enterprise" package ($40 per user/month).
Cirrus Insight's Attachment Tracking
Cirrus Insight is known for a comprehensive set of sales automation tools, including enterprise scheduling, sales productivity, Salesforce email integration, and email drip campaigns.
Cirrus Insight Attachment Tracking is a lead prospecting and qualification Analyzes and tracks emails and other documents. Cirrus Insight Attachment Tracking gives sales teams with greater insights into what is most effective by tracking engagement with marketing materials, presentations, and pitch decks.
Cirrus Insight Attachment Tracking key automation features:
Key automated aspects of Cirrus Insight Attachment Tracking are: Real insight into material engagement Narrow down leads to the most engaged Centralized content centre for better team alignment
Pricing for Cirrus Insight
The "Starter" subscription ($27 per user/month) contains basic sales productivity capabilities and claims to save sales professionals several hours per week.
The "Closer" package ($45 per user/month) adds more advanced attachment tracking and enterprise scheduling tools.
Users can get everything Cirrus Insight has to offer, including Flight Plans (email drip campaigns), personalised experiences, and bespoke training programmes, with the "Enterprise" plan (quotes available upon request).
9. CircleBack's ContactCloud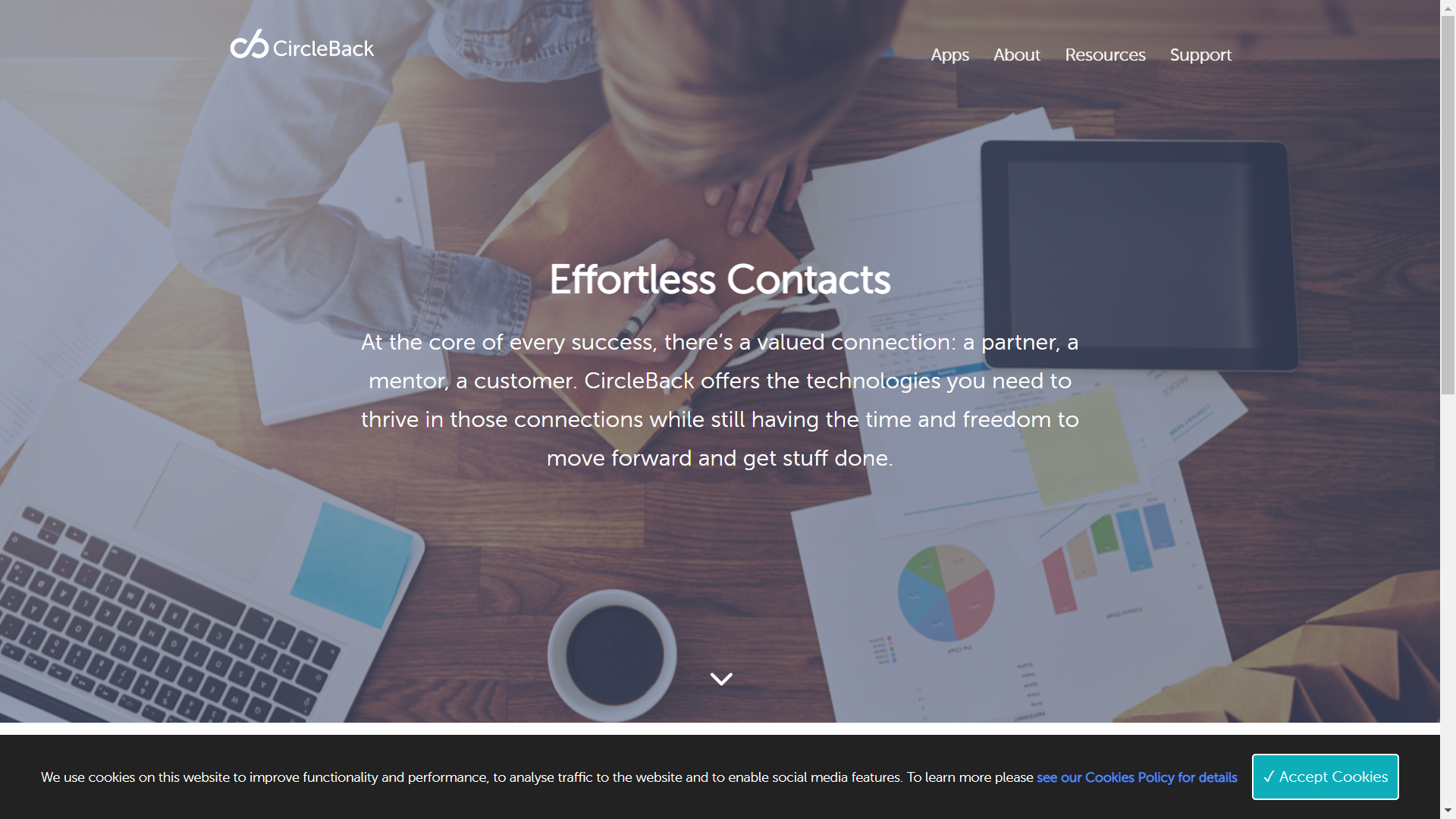 For sales teams, CircleBack ContactCloud is a robust contact management application. Its innovative crowdsourced data gathering methodology serves two purposes for sales reps: it imports contacts from multiple sources into a single location, and it tracks down contact information for specific businesses.
When a salesperson visits a company's website, they may use ContactCloud to collect names, job titles, email addresses, and other important contact information for the company's decision-makers.
The following are the primary automation features of CircleBack's ContactCloud:
Export up to 50 contacts each month using a browser extension and a cloud-hosted application. Seamless connectivity with Office 365, GoogleApps, and Exchange.
ContactCloud price from CircleBack
Companies gain free, unlimited access to the database by contributing to it.
10. LeadFuze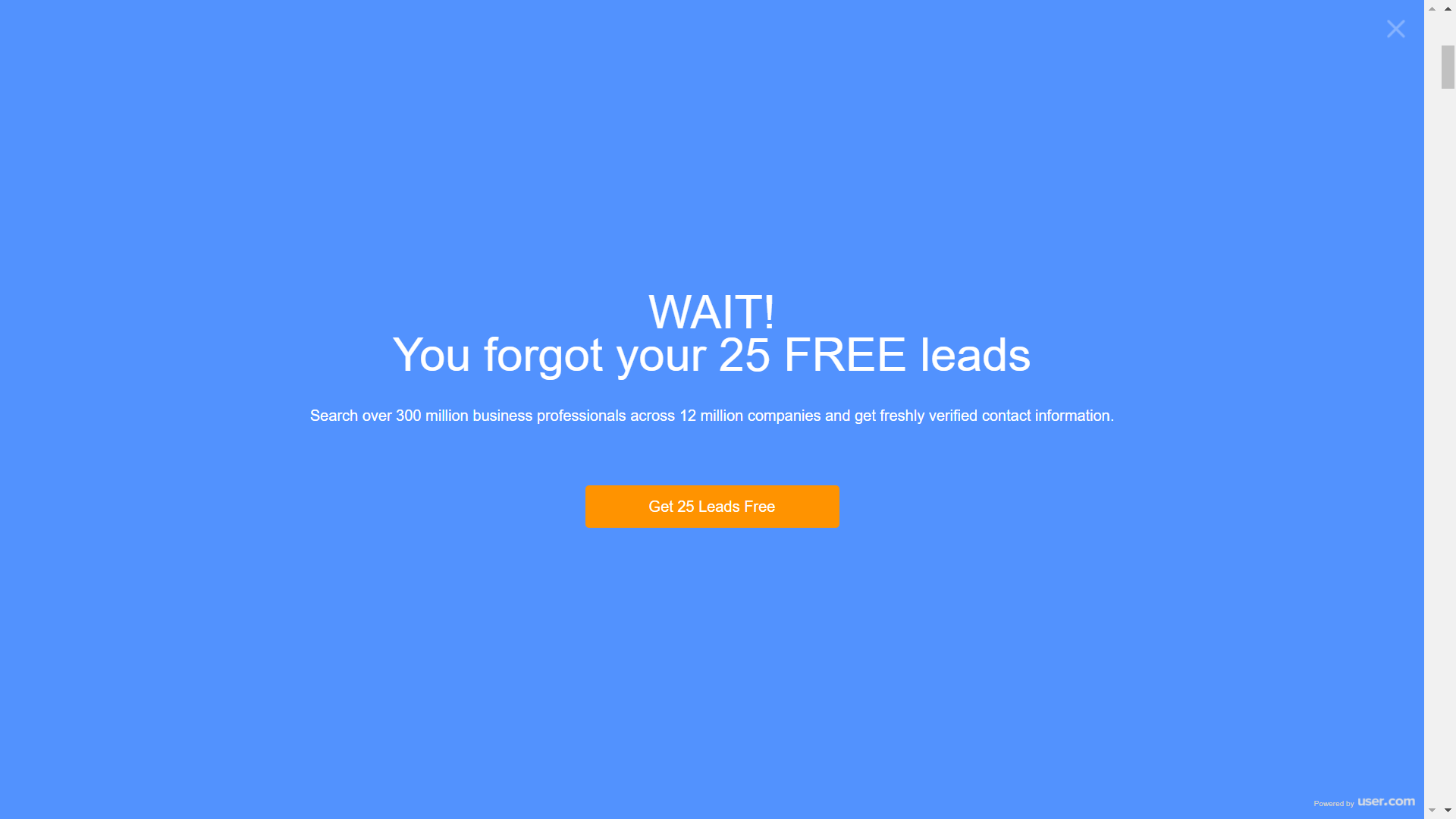 Is artificial intelligence at the heart of yet another effective lead generation tool? It gives consumers access to verified contact information for leads in specific industries and positions (including emails, phone numbers, and social media accounts).
The following are some of LeadFuze's most important automation features:
Integrated seamlessly into a variety of CRM solutions Double-verified emails Account-based and market-based lead searches
Pricing for LeadFuze
The "Starter" package includes all of LeadFuze's capabilities as well as 500 monthly lead credits.
The "Scaling" package includes the same features as the Starter, but with the addition of 2,500 lead credits per month.
Custom packages can also be created based on the needs of the firm.
 11. ZoomInfo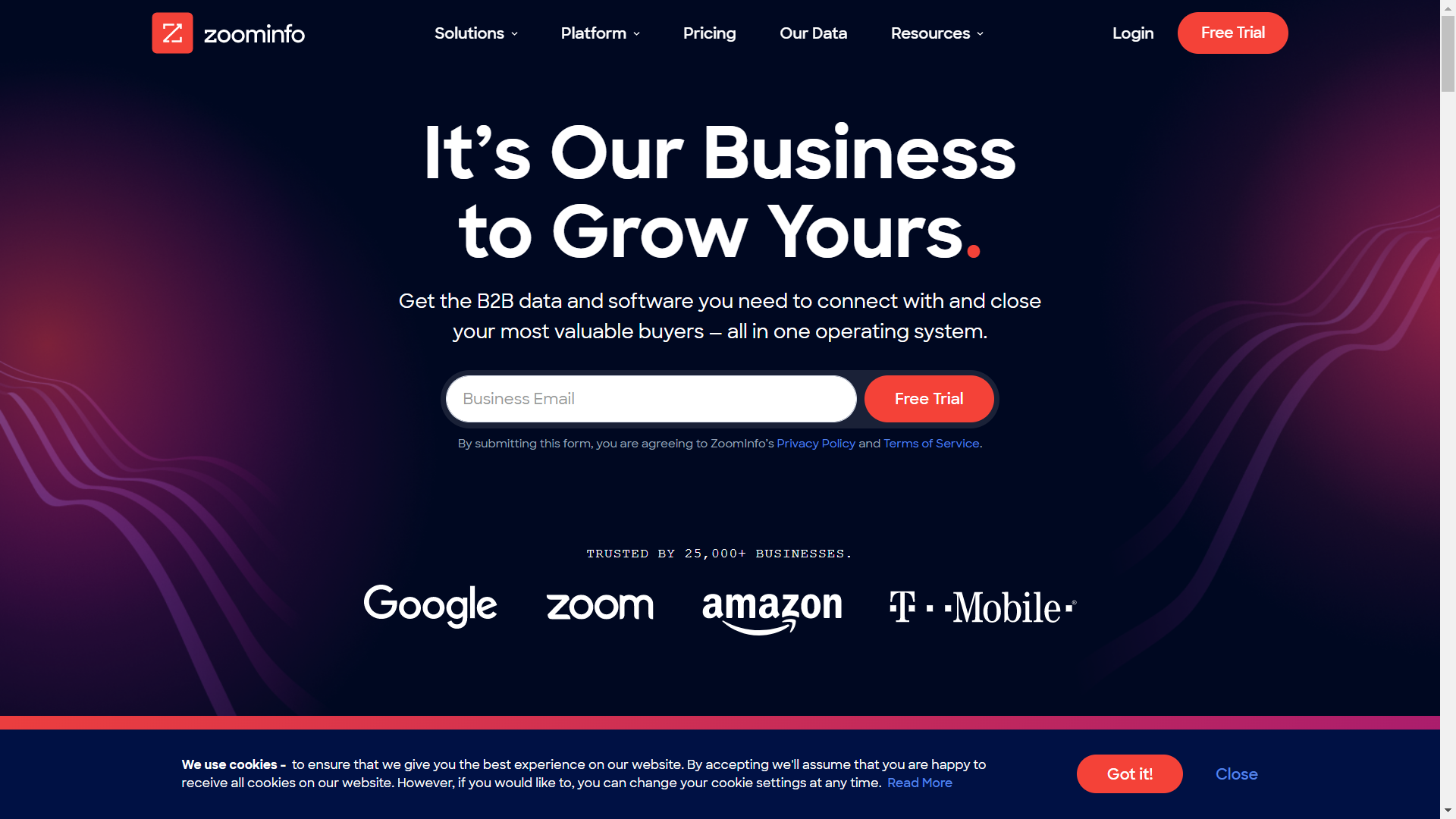 ZoomInfo is a B2B-focused cloud-based lead generation platform that gives users access to a comprehensive contact database that includes names, titles, direct-dial phone numbers, and email addresses.
The following are some of ZoomInfo's core automation features: powerful search options, in-depth insights, creation of actionable target lists, and more than 50,000 searchable data points.
12. RollWorks (previously known as Growlabs)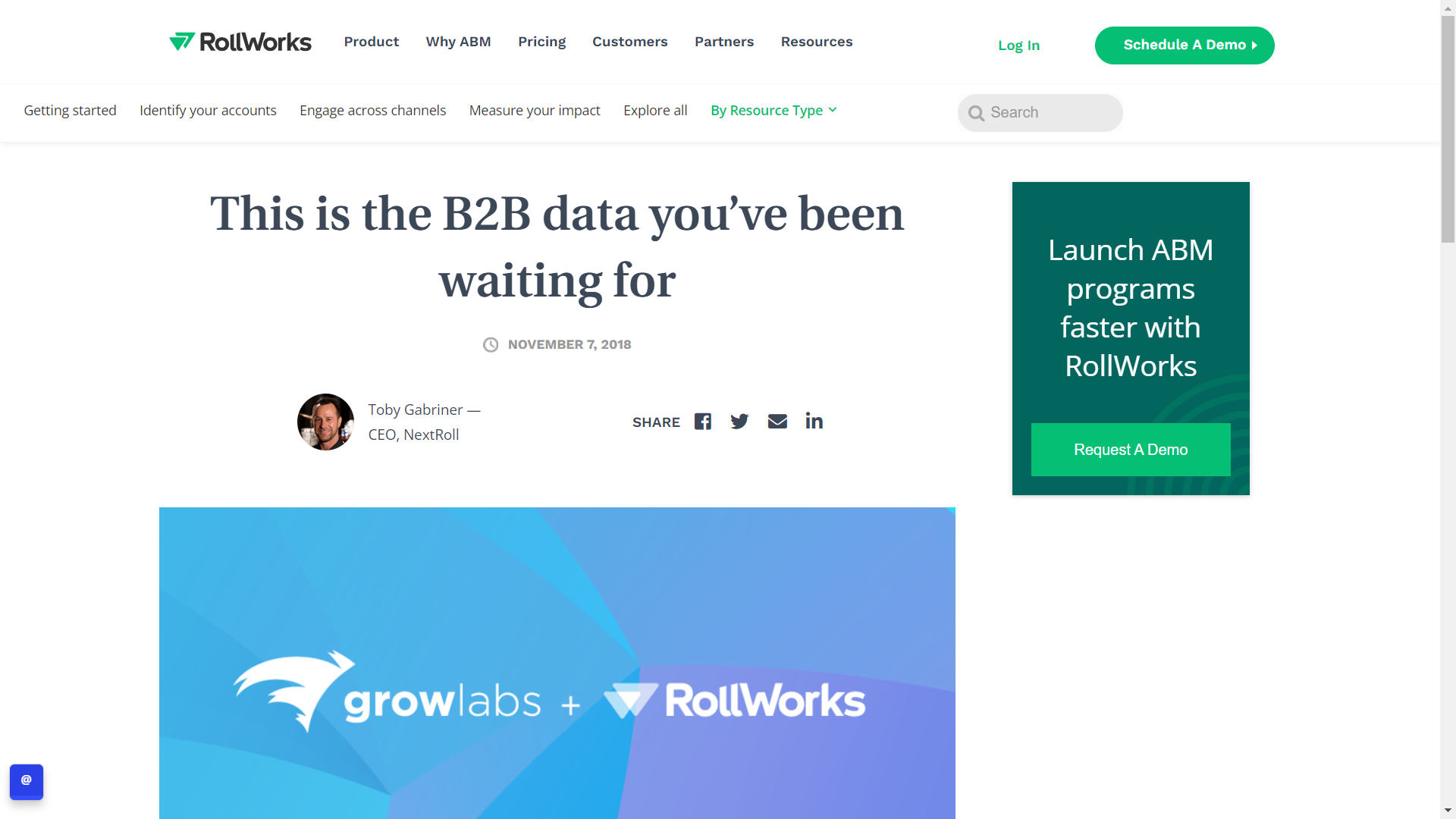 RollWorks is a full-featured B2B sales automation platform. From lead generation to engagement automation, the platform is critical. RollWorks uses correct prospect data and triggers to send follow-up emails at the appropriate time.
The following are some of RollWorks' core automation features: powerful lead nurturing capabilities, bi-directional CRM interface, A/B testing, in-depth reports, and robust lead creation tools.
RollWorks pricing
The "Starter" plan ($975 per month) includes a Targeted Account List, website visitor insights, and account-based retargeting, among other things.
All of the capabilities of the Starter package are included in the "Standard" package (quote request required), plus two Targeted Account Lists, account scoring, and account intent.
To the previous packages, the "Professional" package (quote request required) includes four Targeted Account Lists, best-fit account suggestions, and broader intent signals.
All of RollWork's capabilities, including eight targeted account lists and their best service plan, are included in the "Ultimate" package (quote request required).
13. LeadGnome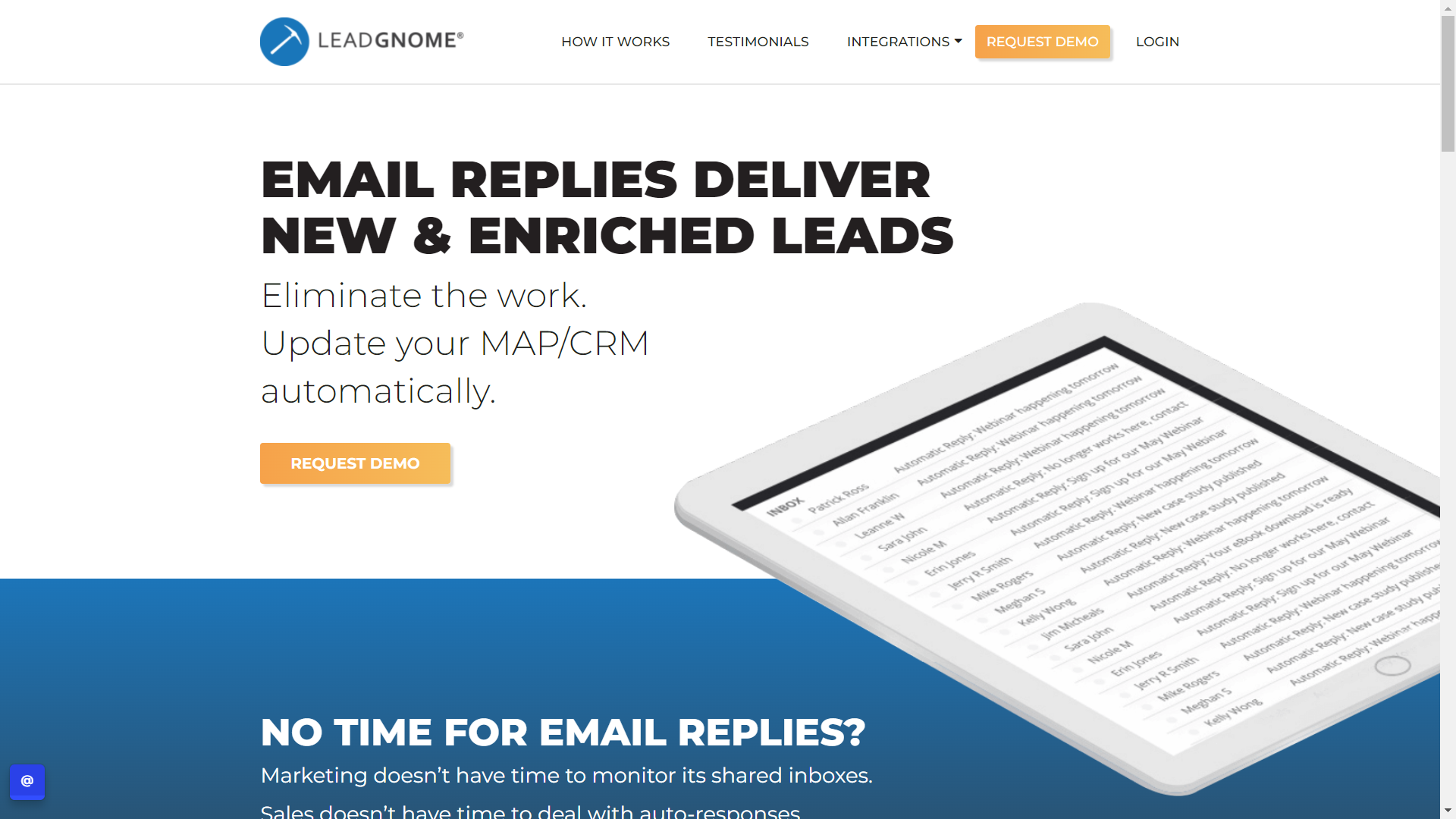 LeadGnome is a email reply mining sales tool that mines sales reps' emails for new information. After that, the information can be used to improve database health and create contact lists.
Key automation capabilities of LeadGnome include: seamless interaction with Hubspot, Salesforce, and other platforms
Cleaning and enriching the database resulting in a 20% increase in new leads
PredictLeads
PredictLeads is a robust data management application that searches for relevant contact information in news sources, blogs, websites, and career sites.
PredictLeads' large net cast provides sales teams with information about product launches, job openings, and other tangential critical factors that may affect their approach and ability to close deals.
The following are some of PredictLeads' primary automation features: follows specified organisations; identifies prospect companies using query parameters
Pricing for PredictLeads
Only the "Professional" package ($490 per month) is presently available from PredictLeads.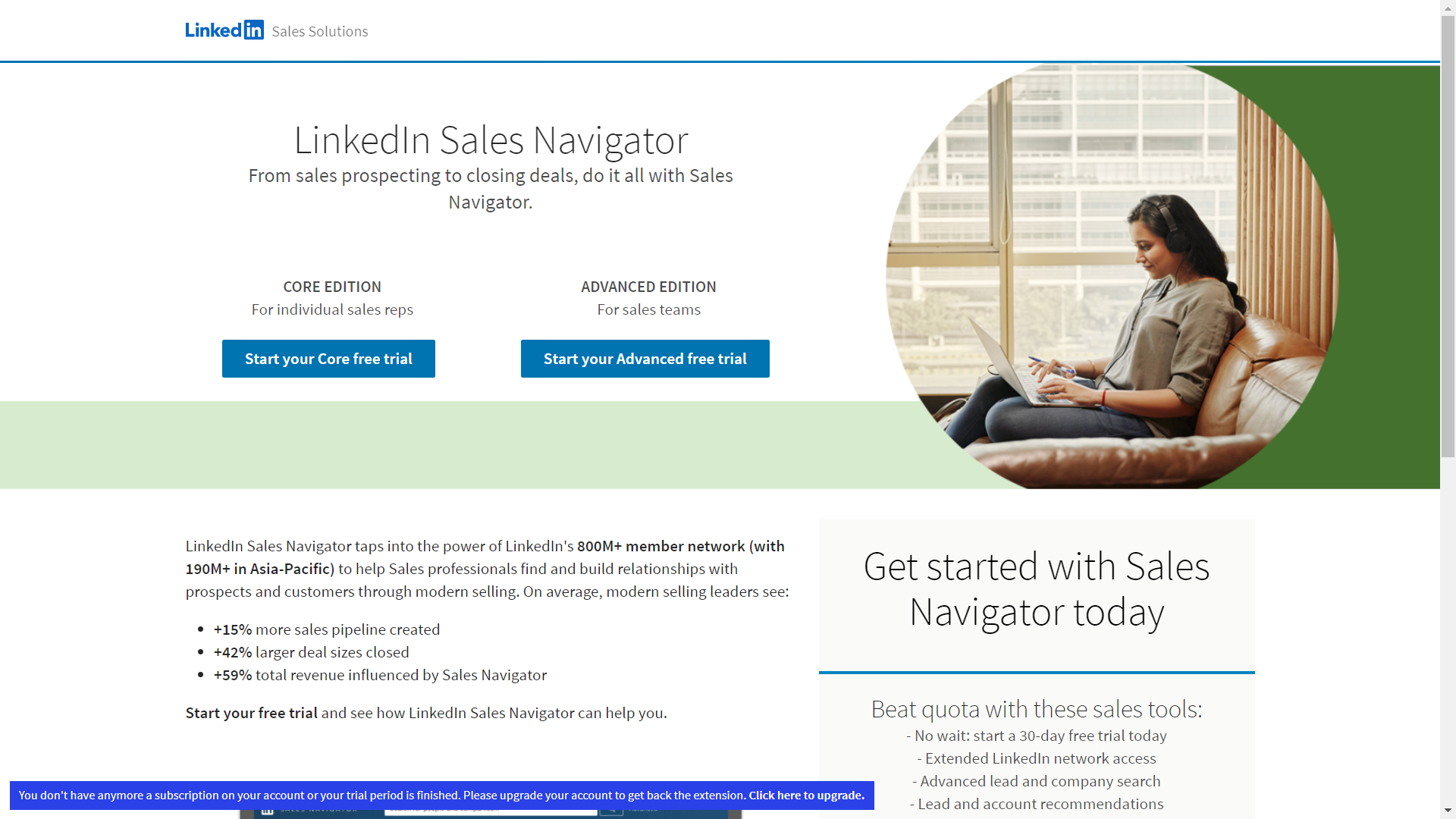 ·Prices start at $64.99 per month for basic plans. The best option for advanced prospecting

For busy salespeople, LinkedIn Sales Navigator is a popular sales automation solution. Detailed data and easy access to a large number of leads transform a general lead search into precise targeting of highly qualified prospects.

You may filter LinkedIn members by company, job title, industry, experience, education, geography, and more using Sales Navigator's advanced search box.

You can also set up notifications, when leads perform activities that you may use to start a conversation. For example, consultant Bryan McWilliams used this strategy to close a large contract without having to "chase" his lead. Bryan could schedule his tailored outreach and win the sale after being informed to a contact's shift to a new employer. Third-party sales automation is available.
15. Leadfeeder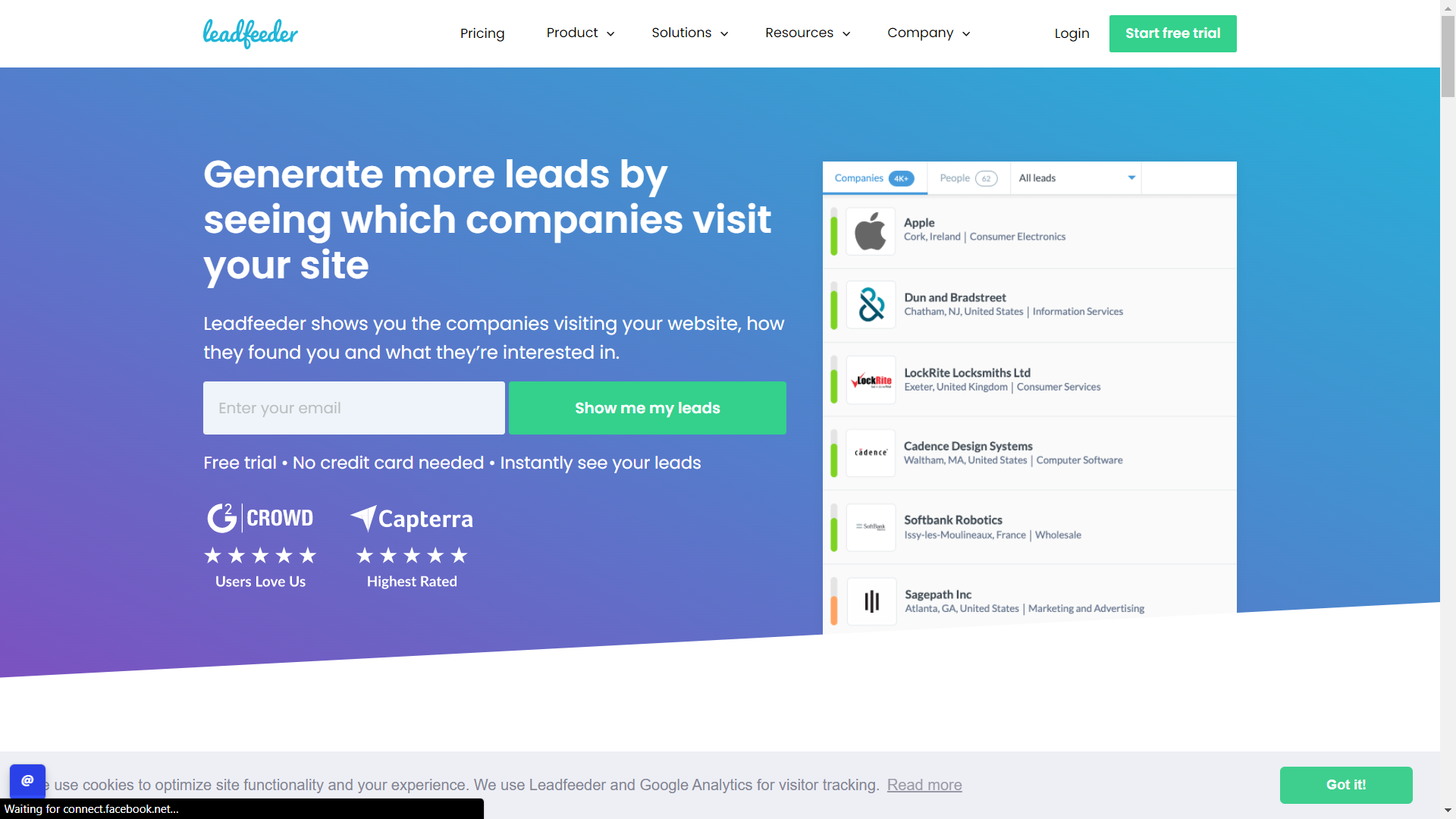 Price: Free "Lite" plan, with premium plans starting at $55 a month Best for: Converting web traffic 98 percent of website visitors leave without providing a way for you to contact them or even know who they are.
Leadfeeder is a web intelligence solution that addresses this issue by revealing which businesses are knocking on your digital door.
It aids in the automation of sales by displaying which leads are visiting, their level of involvement, as well as their company and contact information. Leads are additionally supplemented with company and contact information for faster outreach, and they interface easily with your CRM so you can share leads with your team quickly.
16. Clearbit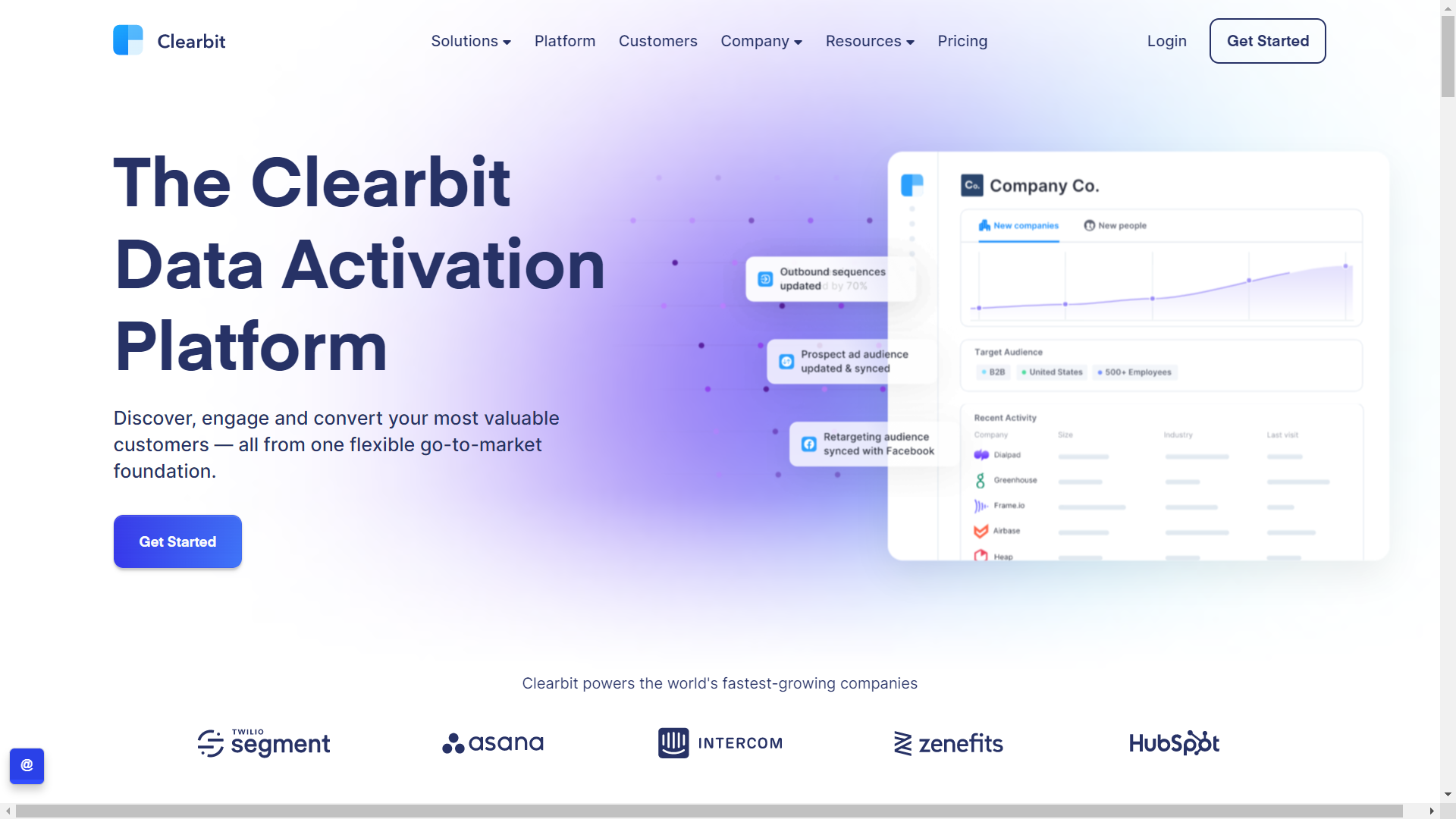 Price: Please contact Clearbit for pricing. Best for Developing customised sales messages
More information on your leads is required to successfully personalise sales communications. To help you with your outreach, Clearbit finds and summons real-time lead data.
Clearbit Enrichment fills in the blanks after finding an email address or company domain. The application helps you automate your research by instantly presenting you with essential information on prospects when you need it, based on over 85 unique attributes such as industry, employee size, job title, function, and much more.
17. Bombora


· Price: Please contact Bombora for a quote. Best for Lead Scoring
Bombora informs you which businesses are already looking for the services you offer.
It analyses information that is actively consumed by millions of firms to reveal the topics your leads are looking for, as well as their intent level and lead score, based on how much content they consume.
To discover more about pricing, create an account or book a demo with Bombora.
18. Clari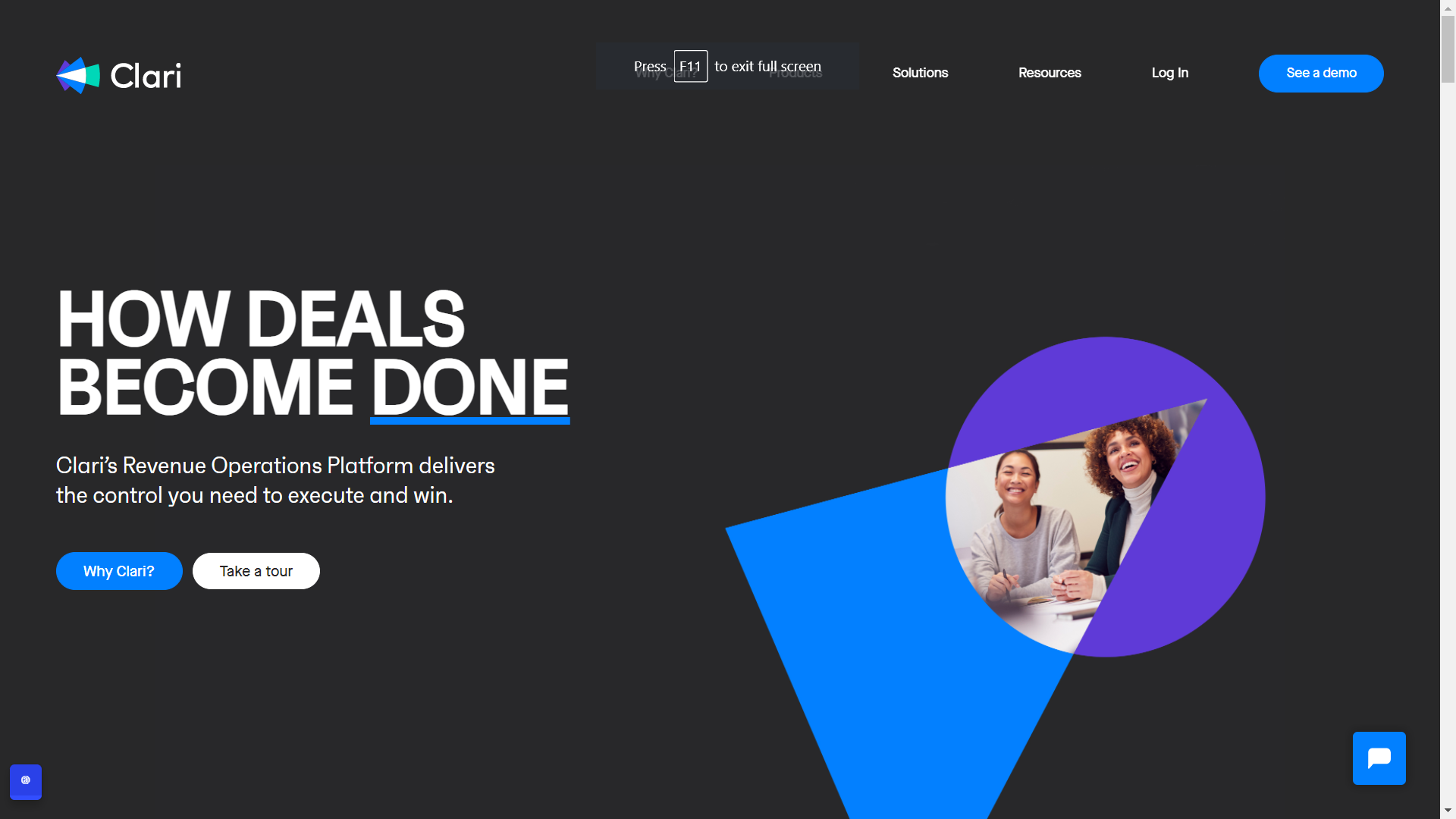 Price: Please contact Clari for a quote. Best for Sales Forecasting
Forecasting sales can be a time-consuming process. Exploring limitless spreadsheets of data is a time-consuming procedure that is frequently marred by inaccuracies.
With Clari, your team may use advanced predictive forecasting technologies to streamline the forecasting process and produce more accurate results.
19. Everesting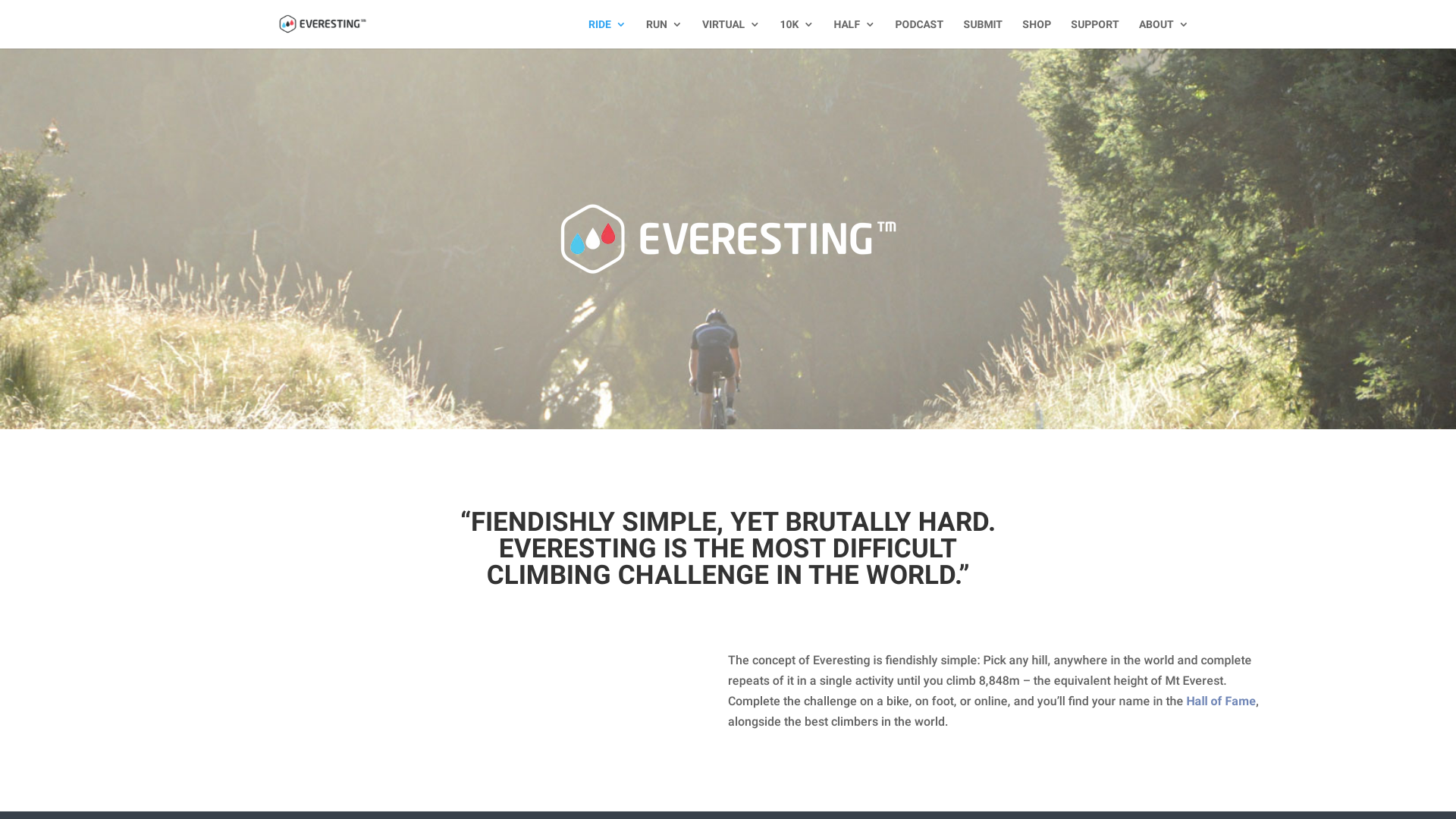 Price: Please contact Everstring for a quote.
Best for: account-based sales data management
Everstring applies artificial intelligence to B2B and account-based sales. Machine learning and natural language processing are combined with a large amount of human checked data in this product.
Everstring finds hidden corporate traits and trends by crawling the web and extracting information from funding, news, and product information, in addition to delivering the expected firmographic and technographic data.
It's an excellent tool for deeper data on the accounts and stakeholders you're targeting if you're handling high-ticket or account-based sales.
Conclusion
Sales teams don't have time to manage tiresome administrative work or hunt down questionable leads in a volatile economic environment. Giving your sales team the correct automation tools will help them work more efficiently and raise their profits.
No matter how big or small tcompany is, now is the moment to invest in the tools you'll need to find, nurture, and close prime leads.
Are you ready to begin? To make the most of your company's resources, maximize your sales reps' potential, and optimize your sales workflows, use any of these 22 sales automation solutions. You'll see an improvement in sales rep productivity, client satisfaction, and, of course, overall revenue as a result of this. Don't forget that you'll also be able to remain ahead of the competition!