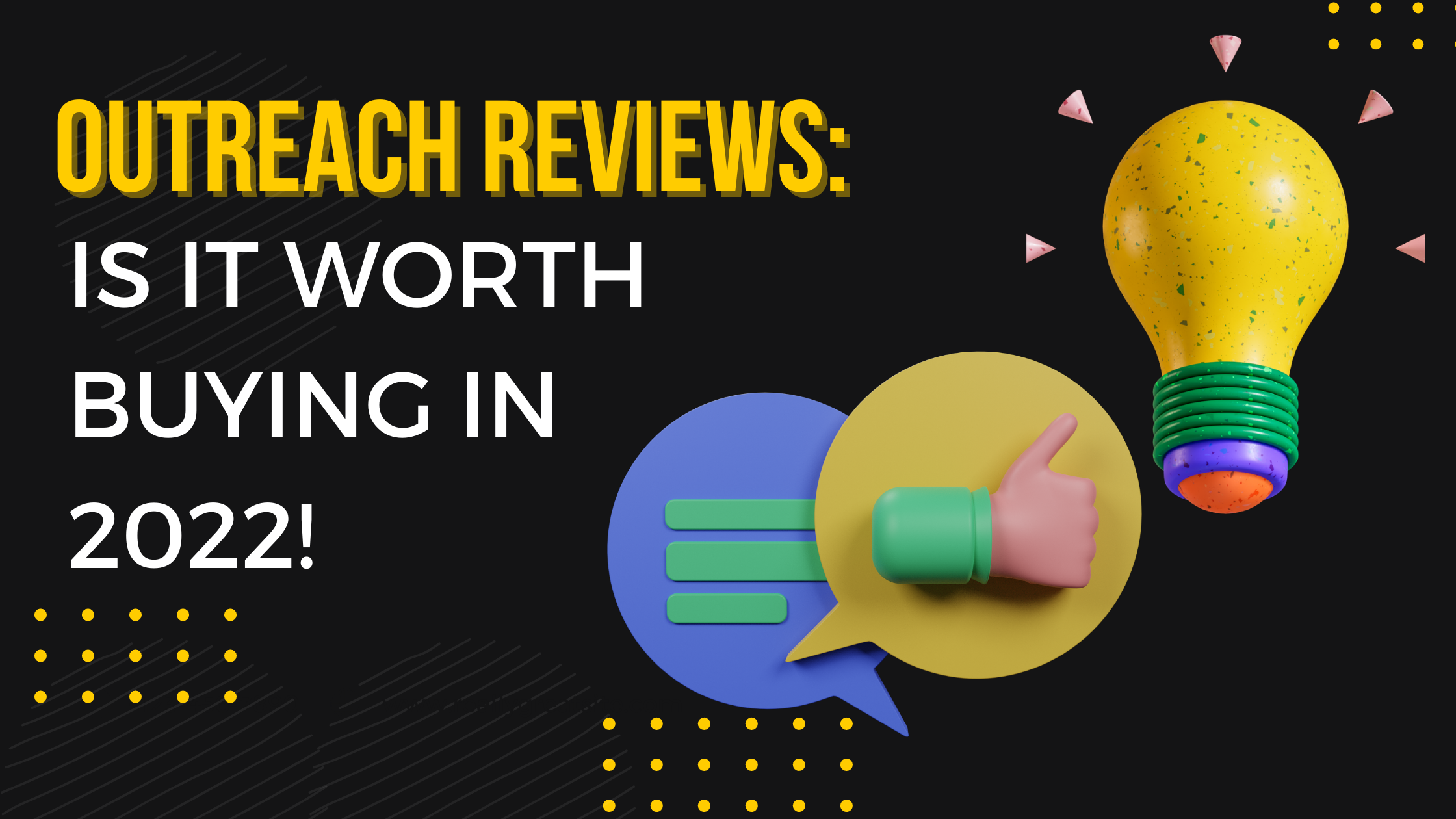 Introduction

 
In this day, with how competitive businesses are with using and leveraging SaaS platforms, it is important to stay ahead of the game. Businesses can no longer have sales reps performing on old tricks from the book like guesswork, intuition, and luck. Outreach.io is a platform that highly accelerates modern-day sales tactics for modern-day sales reps.  
Outreach.io is a platform that believes in the transparent exchange between prospects who businesses can rope in as customers and the marketers themselves. The growth of outreach.io is very commendable. It was included in Delloite's Technology 500 and has gained name and status as the fastest-growing vendor. This has to do with the kind of integration that Outreach provides.  
Outreach's key pointers to success.

 
Sales 'intelligence' platform: As the description suggests, Outreach is a sales intelligence platform, which is why multiple people opt for it. It is the only platform integrating sales engagement, customer trend, engagement, and smart revenue under a single roof.

 
Modernity: it is important to note that outreach utilizes concepts like machine learning to boost its revenue and productivity. It integrates data science into the platform to help businesses assess and capture trends. 

 
Collaboration: outreach increases the ease in workflow and collaboration by allowing team leads to track individual sales rep performances, performances of groups as a whole and assess statistics as well as leads. They can extract and use the data and insights to ensure efficacy with time-saving shortcuts and targeted strategy. 

 
These make Outreach a highly effective and increasingly popular platform amongst modern-day businesses. Using data and artificial intelligence and related instruments to extract data and then formulate a strategy to ensure the best customer integration to boost the business is highly achievable with this platform.  
Outreach has three major elements: Platform, Outreach Kaia & Outreach Commit. Let us explore all three of these to give you an encapsulated view of the platform.  
💡 Generate personalized emails, blog articles, product descriptions, and ads in seconds using the power of A.I
Outreach Platform

 
This platform is mostly concerned with removing all the clutter for the rep. The sales rep can choose to integrate the platform with their email, upon which the Platform will clear the clutter and provide a consolidated report of all that the rep needs to make and take decisions. Following are the elements involved:  
Sales Report: the platform provides a sales report detailing all healthy sales made and progress tracking. It also shows what stage certain sales prospects are on, whether the deal has reached a certain stage. 

 
Flagging: the system flags under-engaged accounts and high risk, reminding you to follow up. Sales Reps can also view the number of prospects engaged with

 
Priority systemization: The platform will prioritize your work and schedule it for sales reps who like their work organized. It automatically sorts your work, making productivity a lot easier to harness. This ensures responsibility.

 
Accountability: The platform helps with the accountability factor on a large scale. It allows for email reply automation and call-back scheduling. As mentioned previously, it also restricts the business from letting a prospect go cold. 

 
These make the platform a go-to in scheduling tasks, maintaining theming, and following up. At the end of a review every quarter, all sales reps are looking for the most efficient and effective results. Outreach's Platform makes this easier to achieve without the hassle and with the most dynamic integration for ease in work. 
Outreach Kaia
Kaia can be called Outreach's most prized asset. It is a virtual PA that aims to ease the workflow for the sales reps.  
For example, if you're on a call with a prospect and a call-back opportunity is created, Kaia will release a trigger to remind you about the call. Alternatively, if a document is to be shared by the prospect regarding the proposal, Kaia will open up a prompt with the document and a reminder for you to send and the prospect to fill.  
Essentially, Kaia allows the Sales Rep to focus on successfully onboarding the prospect as a customer instead of worrying about the non-human elements of the process. Its intuitive actions are what make it a gift.  
Other things that the virtual assistant can do apart from sending reminders and pulling up documents is  
Track key moments with live transcription, notes, and bookmarks to keep reps focused on the customer, not on taking notes

 
Prompt reps to self-correct when they may be talking more than listening with real-time talk visibility

 

Deliver on all promises made with automatically tracked action items and post-call meeting summaries for fast follow-up

 
Michael Wilde, the SENIOR ACCOUNT EXECUTIVE of HONEYCOMB, gives a testament saying.  
"I estimate we're 30% more productive (during calls) because we're able to focus on the customer during the meeting and review accurate notes after the meeting for follow-up." 
Outreach Kaia is a great productivity tool and is essentially real-time intelligence. It is a great assist tool and bridges the sales execution gap that sales reps must be facing smoothly and efficiently.  
Outreach Commit
This third dimension of Outreach is Commit. Analytics is an important part of assessing any business. It is extremely important to include in future strategy and succession. Commit is the analytics end of Outreach. Commit provides a revenue dashboard with projected revenue so Sales teams can make the best use of it. It provides data to them to see which strategy is bringing in the most prospect to customer conversion. It projects the sales rep behavior, lead engagement numbers, conversion rates and acts as a forecasting tool. It is important to have a forecasting tool for goal setting or to blueprint the future course of action. The main goal of Commit is for the sales team to use these data analytics to leverage new paradigms of strategy engagement tactics to boost individual communications to prospects and use the right tactics to succeed.  
Success plans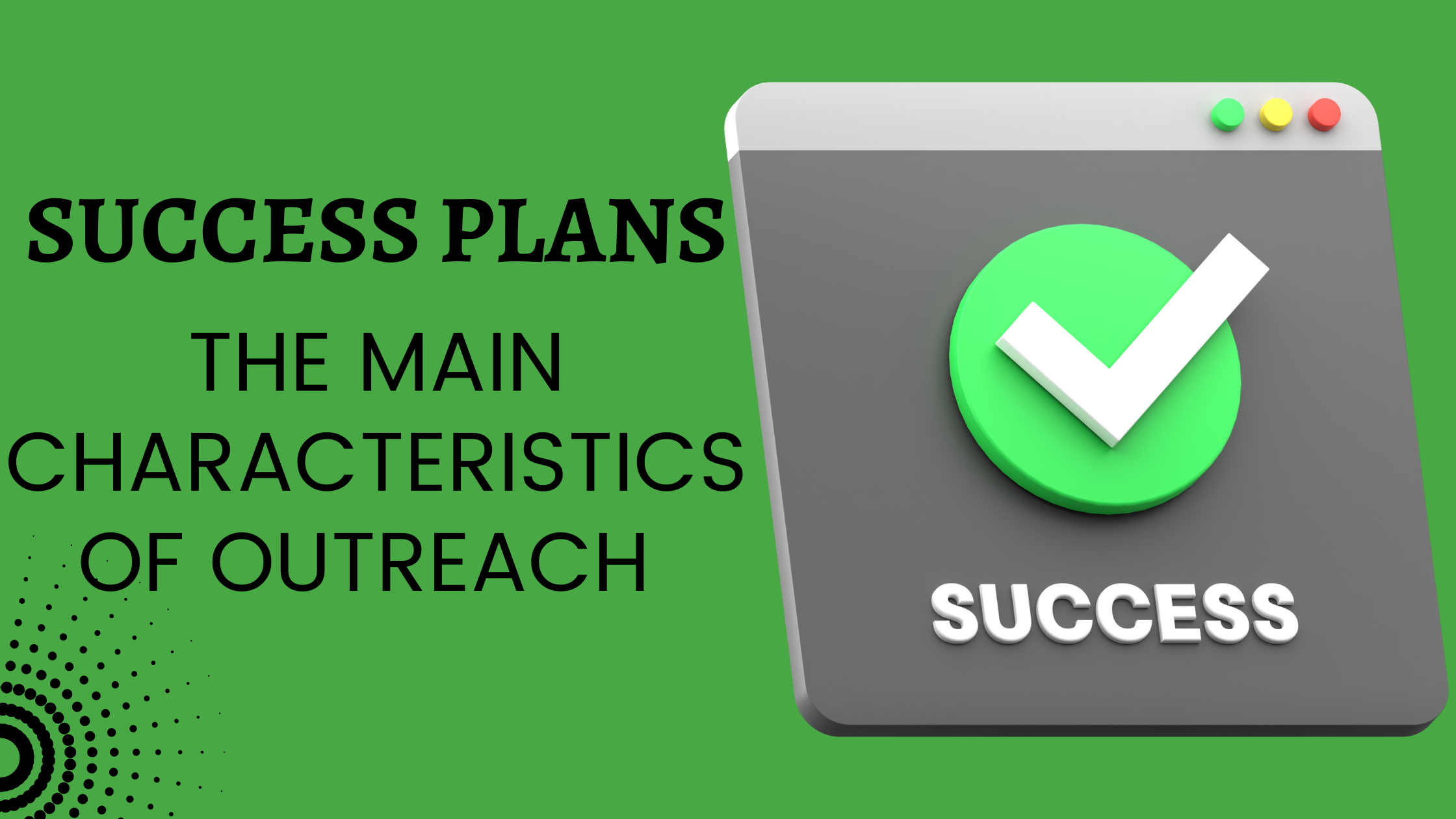 The Success Plans panel is also a part of the Outreach platform. This Success Panel allows sales team leads to track performances and then train them where required. Sometimes sales reps experience a gap in training or strategy, and this panel allows a clean analysis of all the strategies, any gaps in training, or lack in performance.  
The main characteristics of Outreach

 
Collaboration: Outreach allows for communication and collaboration. You can send emails and schedule meetings over video calls from the Outreach portal. You can also integrate your mail inbox if you wish to work there. 

 
Outreach Kaia: Outreach Kaia is the AI-driven smart assistant that prompts reminders and flagged actions for the sales reps to use during their meetings. 

 
Outreach Commit: The Outreach Commit panel provides a bird-view of all the strategies and the underperforming areas so sales teams can work on them. 

 
Success Plans: Success plans are the panel where sales leads can track individual performance and launch proper engagement. 

 
Playbooks: Playbooks is an element of Outreach that acts as an instrument to convert prospects into customers

 
Tone analysis: Tone or Sentiment Analysis is a part of Outreach where emails can be flagged based on their sentimental tones. There is an AI-driven tool to tag them as 

 
Data Acceleration: Sales Managers can add to their lists underperforming by triggering a shortcut and accelerating performance advisor.

 
Outreach's integrations

 
Outreach allows for smooth integration with many apps listed on their website. They are categorized into "Native," "Supported," or "Third Party."  
1. Native

 
Salesforce, Microsoft Dynamics 365 Sales, Gmail, Outlook, Microsoft Exchange, Google Calendar, Outlook Calendar, LinkedIn Sales Navigator, RingCentral, Dialpad, Intercom, SendGrid, Crunchbase, Okta, Onelogin, Twitter, Dark Sky, Mapbox 
2. Supported

 
Vidyard, Drift, Showpad, Qualified 
3.3rd Party

 
ZoomInfo, DiscoverOrg, Seismic, Gong.io, Bombora, Terminus, Demandbase, 6sense, G2, REGIE, Orum, LeanData, Clari, Chorus.ai, ConnectAndSell, Sendoso, Alyce, Highspot, Workato, Crystal, BombBomb, Tray.io, OneMob, Drift Video, Dooly, ExecVision, Chili Piper, DocSend, Sigstr, Opensense, Lusha, Domo, Hull, SalesInfo.io, RingLead, Aircall, SugarCRM, Postal.io, Avoma, TopOPPS, Hip lead, LiftIQ, Tribal, Hippo Video, Nudge.ai, Jiminy, BigPicture, SnapApp, Nova.ai, Datanyze, Reachdesk, B2Brain, Wiza, Wingman, OBMetrix, SalesCompete, LeadIQ, Datagrail, HubSpot, Koncert, Troops, Autobound 
Outreach also invites users to request an integration, providing a contact form for such inquiries if one is not currently available. 
Outreach's Reviews

 
Capterra: Capterra is a platform that is a platform for software peer review, Helping businesses choose better software since 1999. Outreach has a 4.5/5 rating on the website with 254 reviews. 

 
Most reviews are positive. Here are some testaments 
"I love how Outreach keeps me organized, and I can stay on top of different email sequences while analyzing different open/respond rates."

 
"Outreach is very simple to use and has everything you need and nothing more. I'm interested to see how the platform transforms into a more robust solution in the future."

 
G2: G2 is another peer-to-peer review site where the best software is rated based on user ratings and data. Outreach has a 4.5/5 rating on G2 and 2,833 reviews on the website. There are customer testaments with both positive and negative connotations. 

 
Here is a customer testament

 
What do you like best?

 
Outreach is a fantastic tool for outbound prospecting straight out of the box. It has a reasonably clean UI and is easy for sales reps to pick up and start using right away. It makes activity tracking easy. The built-in connectors to calendars, inboxes, and other systems are great. Finally, the Outreach support team is fantastic! The best SaaS customer support team I've had the pleasure of working with. Sales reps can hit the knowledge base and miss sometimes, but jump on chat, and you'll have an extremely knowledgeable support agent answer your question in minutes. 
Review collected by and hosted on G2.com. 
What do you dislike?

 
The backend functionality of Outreach leaves a lot to be desired. It is hard to customize the experience for reps, and the automation capabilities are limited. Reporting looks good at first glance; however, it is tough to drill down and analyze the data further (especially without additional tools). It's also hard to extract reports for further analysis in other systems. 
Review collected by and hosted on G2.com. 
Pricing

 
To get a pricing quote, Outreach usually asks the companies to get in touch with them through their work email, but after a little research, we find that Outreach charges a base rate of 100$ per month, which sums up to 12 thousand dollars per year with a team of 10 members. Outreach focuses on leveraging businesses to use their services for boosted productivity and revenue. Thus they target scaled businesses with these pricing plans.  
Competition

 
The top competitors for Outreach are listed below. 
Groove: Groove is said to be the #1 sales engagement platform supercharging your sales experience by inducing increased productivity by bringing in scalable, flexible, and secure platforms. They empower 70,000 salesforce users to bring quality. 

 
Klenty: Klenty is another affordable option and a competitor to Outreach for the very same reason. They price their platform at only 35$. They also optimize sales on their platform. 

 
GetAccept: GetAccept is yet another sales optimization platform whose selling point is a free platform to enhance prospecting and communication. This is their edge over other platforms as a Digital Sales Room with the best remote selling experience. 

 
Conclusion

 
To finish off, Outreach is a great platform to meet all your sales engagement needs. Not only does it enhance your productivity, but it also gives you a hand in doing so and strategizing the best ways for it to remain that way. Apart from productivity, I allow you to data track, analyze and formerly take decisions and formulate plans. Sales leads can track and organize team progress as well as individual progress. 
It is great for upscaling, collaboration, and keeping up the quality. It's easy to navigate and harness. The tools are top-notch and easily all you need for your business to sustain and sales to skyrocket.