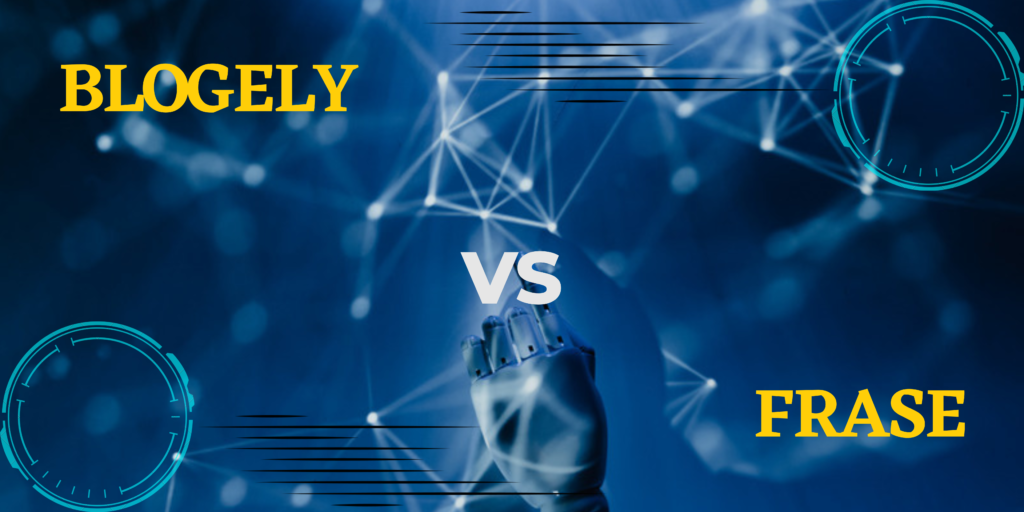 Have you ever considered how your writing style will evolve? The future has arrived. Artificial intelligence can now produce a large amount of content, and its capabilities are expanding daily.
Many people have strong feelings about AI writers, but many others need to learn more about them. This article will change that by highlighting some of the advantages of Blogely and Frase, the AI writing tools.
What is BLOGELY?
Blogely is a Content Marketing and Blog SEO management tool that helps users. Generate, arrange, plan, enhance, advertise, and sell content. Users of the software can boost the number of visitors to their websites. It enables users to produce high-quality, unique material more quickly and simply by leveraging systematized research and centrally managed content assets. With the help of its built-in AI-driven paraphrasing tool, Blogely improves users' writing and effectively handles on-page technical SEO optimization without any prior knowledge.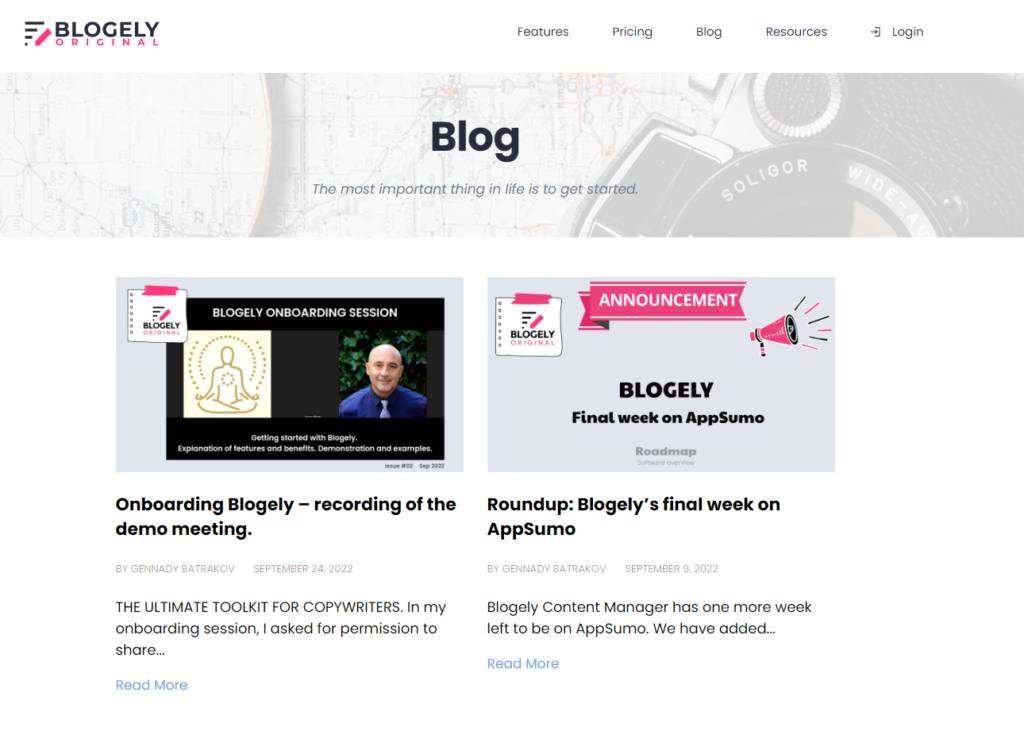 With this software, customers may streamline their content marketing process with Blogely because it enables hassle-free management from beginning to end. This aids users in increasing lead and sales generation. Users can use it to organize all of their assets, including pictures, files, notes, videos, links, and more, in one convenient place connected to the article. With a sophisticated artificial intelligence in-app integrated scanner from CopyLeaks, Blogely users can check their documents for plagiarism. They can also build a content hosting portfolio to facilitate speedier client acquisition.
💡 Generate personalized emails, blog articles, product descriptions, and ads in seconds using the power of A.I
Blogely Features
Writing Application: You may find a tool with all the tools you need to make your work more engaging on Blogely. You can use Blocks to create an outline that will keep your writing on track and focused. Drag and drop is a quick way to arrange items and complete the flow. It has a list of things that are in it as well as a filter. The entire business of Blogely enables you to work on two displays at once. This allows you to write more quickly and productively. Not to mention that it offers more than simply a rich text editor for displaying text.
Research: The Blogely research tab is a powerful and intelligent tool. Enter the topic you're working on, and Blogely will return all necessary paragraphs, articles, and snippets. They can all top-ranking SERPs and provide you with the required keywords, statistics, and quotes. The sentence snippets are found under the Research tab. The Questions tab displays the essential FAQs, whereas the Statistics tab only displays statistics. There is enough information to avoid opening a new tab to Google the subject. You can also access the Suggestions, Comments, and Summary tabs. Blogely saves all of this information for 7 days. The Research tool is handy and straightforward to use.
Organizing: A distinct approach to writing, organizing, documentation, and asset management eliminates wasted resources and time spent looking for files needed to work in different locations. No more switching between papers, notes, photographs, videos, research, and other applications to complete your tasks.
SEO optimization: Remove the uncertainty from SEO content optimization. Coding, prior experience, or technical knowledge are not required. A simple three-step process guides the entire operation. You can easily do the optimization of articles without hiring a professional. Blogely incorporates both Yoast SEO and RankMath.
Pricing
Blogely offers four pricing options: Free, Starter, Solo, and Growth.
The free Blogely plan allows you to write unlimited articles and create one content place portfolio.
The Starter plan allows you to write unlimited articles, 2 portfolios,

20 Research Docs per month,16 Published articles per month, 1 Website, 

5 Social media connections, etc.

The Solo plan allows you unlimited articles,

4 Portfolios,

80 Research Docs per month, Unlimited publishing, Blog sync, 6 Websites,

20 Social media connections, etc.

The Growth plan allows you unlimited articles,

10 Portfolios,

150 Research Docs per month, Unlimited publishing, Blog sync, 20 Websites, 3 Team seat members, etc.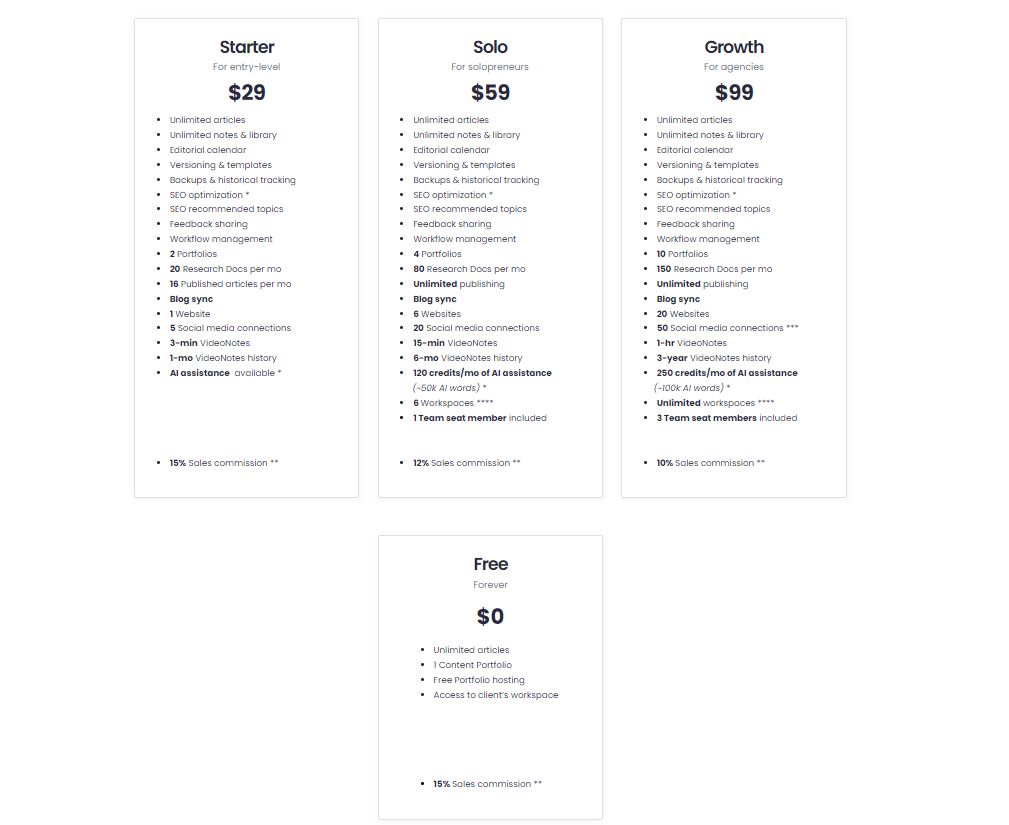 Blogely Reviews

 
G2's Review
With 13 reviews, Blogely has an excellent rating of 5 stars on this platform.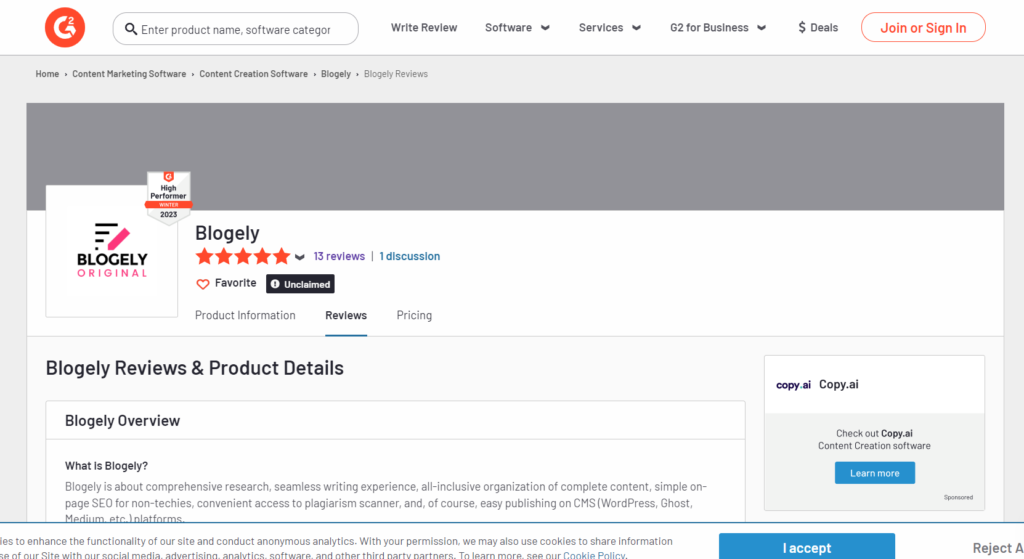 Capterra's Review
With a total of 21 reviews, Blogely has an excellent overall rating of 4.7 stars on this platform.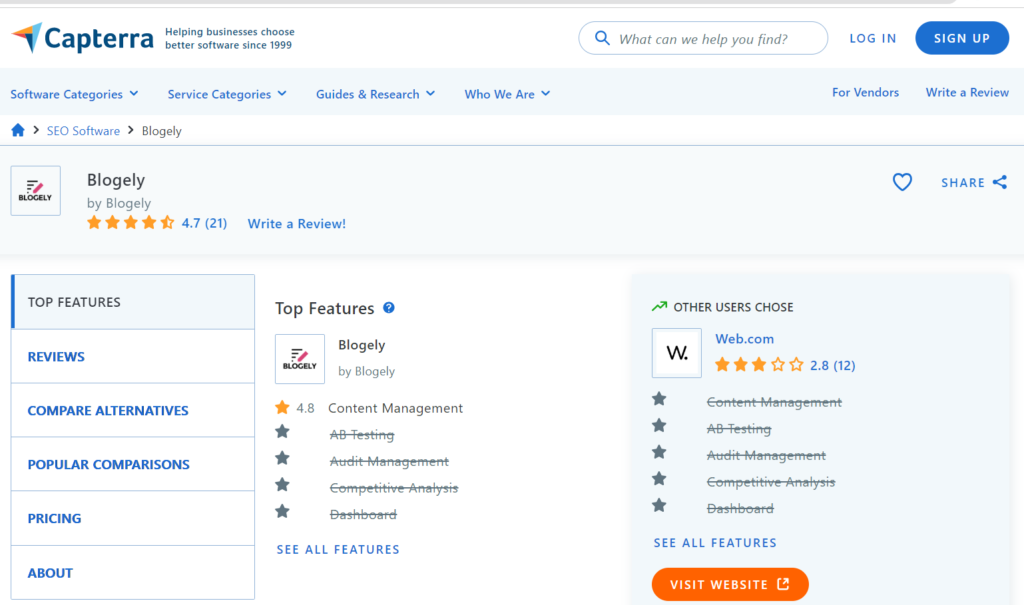 What is FRASE?
Frase is a professional writing assistant that aims to reduce your workload by providing AI-powered tools to assist you in writing and summarising content. The software includes a word processor that aims to search to increase productivity automatically. With this writing assistant, you get an intelligent research assistant who adapts to your writing style and assists you in summarising sources.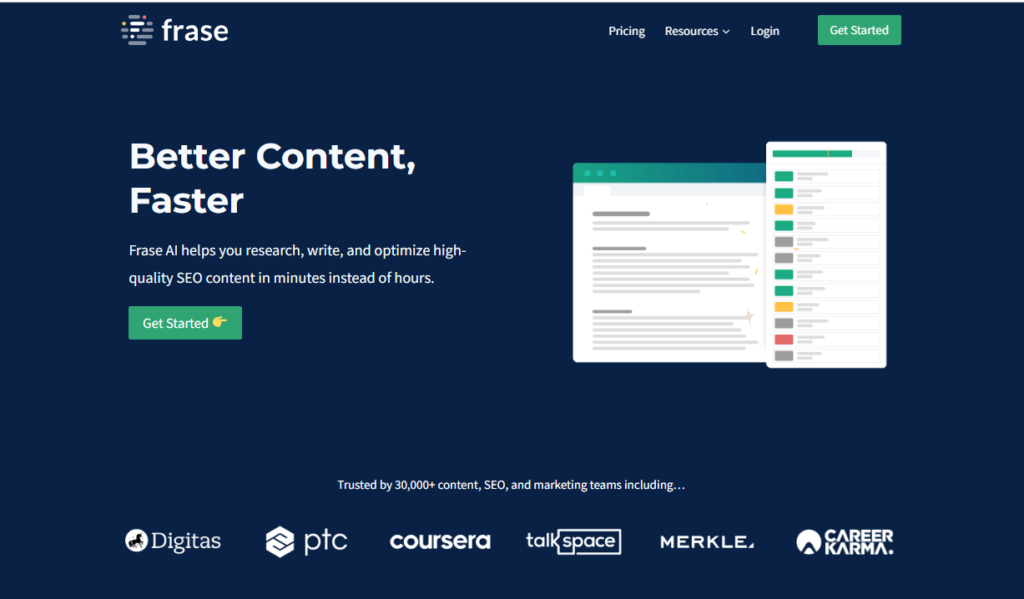 This intelligent writing assistant saves you time by eliminating the need to switch tabs between your text editor and web browser. Its intelligent auto summarization feature assists you in quickly skimming articles to determine whether they are helpful to you or not. In addition, with each summary, the software recommends specific topics that may be useful during the content creation process. Its intelligent tools and features are ideal for all sizes of businesses, from minor to medium to large.
With this intelligent assistant, users can create engaging and innovative content easily and comfortably. Individual users can sign up for a free account with one seat and a maximum of ten documents. It also offers a variety of premium plans to its users to accommodate any budget.
Frase Features 
Questions and Topics Research: If you're a content creator or a content strategist, you know how difficult it is to conduct topic research. It's an exhausting process that can take hours. In this situation, this assistant emerges as the savior. You can truly automate the research process with Frase. It assists you in understanding what questions your audience is asking to create better articles that address those questions.
This function is also helpful if you want to include a FAQ schema in your article.  As you type your keywords, Frase compiles a list of relevant questions from various sources such as the People Also Ask column, Quora, Reddit, Search Autocomplete Results, and so on. It's worth noting that, in addition to the list of questions, it also includes the sources of the questions and the monthly search volume for that keyword. It's a valuable tool for determining popular ones.
You can create a document by selecting multiple questions that are appropriate. You can also save them for later editing or begin editing by using the buttons next to the questions. The Excel button in the upper right corner downloads all the topics' data in an excel file. It was very convenient to save all of the keywords together. It's always beneficial to have export options.
AI-Generated Content Briefs: Following a brief when writing articles for a professional company is critical. Frase makes it easy to create content briefs in less than 2 minutes. The short content creation phrase. Frase allows you to create your brief by manually adding sections or by automating the content brief. This function is fantastic.
You can create an infinite number of content briefs here. Once you've filled out all the fields, click Export to send this brief to your content writers as an editable/read-only link, PDF, or plain text. It's as simple as that. The task was finished in under two minutes.
Customer service: Customer service sometimes seems like an odd old thing. On some days, it seems like nobody is concerned about you, while on other days, it seems like everyone is. Customer service excellence frequently distinguishes a business from its rivals. Thankfully, the employees at Frase are aware of that. When a customer has a problem or question, Frase's team of committed customer service specialists is always happy to help. You don't have to shift through countless options when using Frase because you can get assistance directly from their website. You can reach the help center by clicking on Contact Us in the website's footer. From there, you can find all of the ways to contact the customer support team.
Pricing
Frase offers 3 plans that are Solo, Basic, and Team.
The Solo plan offers 1 user seat and 20,000 characters per month. It is provided for $14.99 monthly. It also optimizes 4 articles per month.

The Basic plan offers 1 user seat and 20000 characters per month with 30 optimized articles per month at a price of $44.99 per month.

The Team plan offers 3 users seat and 20,000 characters per month, and unlimited optimized articles at a price of $114.99 per month.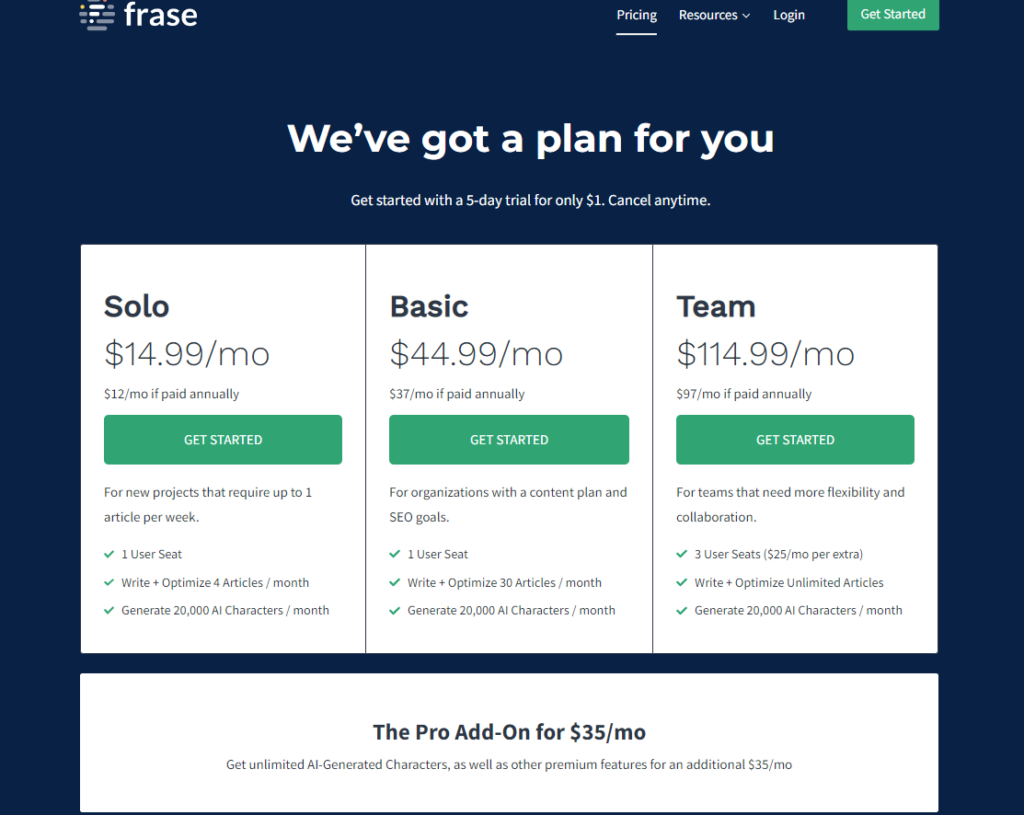 Frase reviews
 G2's review
With a total of 251 reviews, it has an overall 4.8-star rating which includes 240 five-star ratings, 8 four-star ratings, 2 two-star ratings, and 1 one-star rating.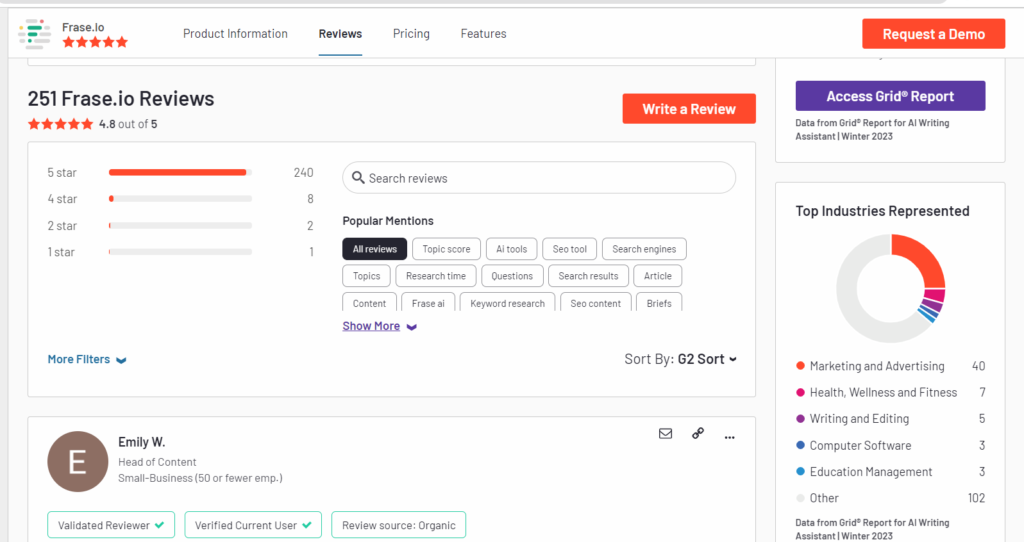 Capterra's review
It has an overall rating of 4.8 stars, including 81% 5-star ratings, 19% 4-star ratings, and 1% 3-star ratings.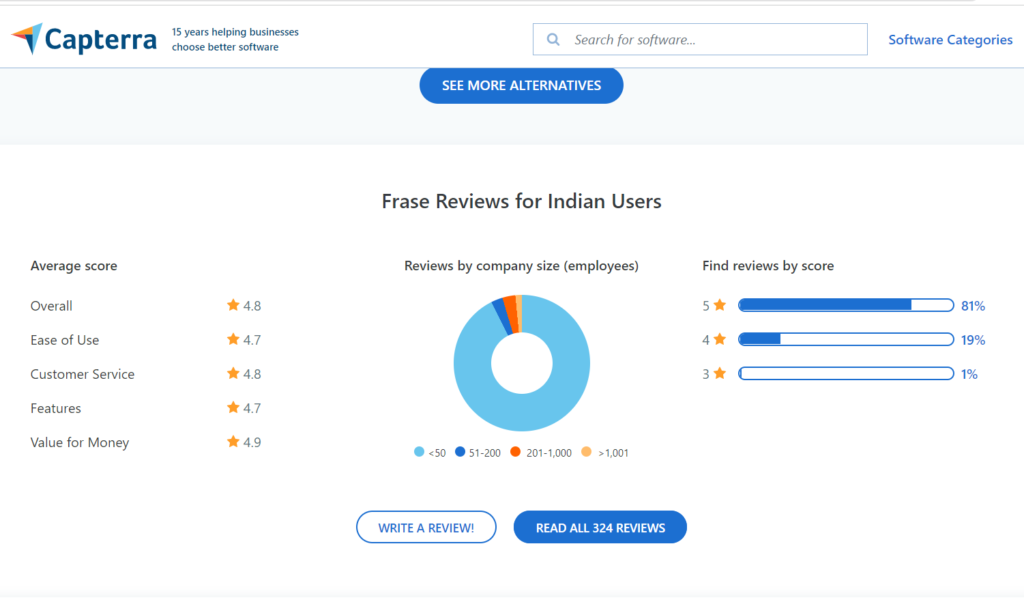 Conclusion
The number of features Blogely has crammed into one affordable piece of software is truly mind-boggling. Every single function allows you to fine-tune things to such an impressive degree. Unfortunately, I ran into a few bugs along the way. 
On the other hand, Frase helps users transform their websites and content by utilizing advanced analytics and artificial intelligence software. When you examine the payment options available, it's clear that each additional feature is worthwhile. Each payment plan includes excellent features that can benefit any digital team creating web content. Purchasing this software could be wise for SEO teams, bloggers, content marketing teams, and marketing agencies. This software provides a lot of benefits. Most importantly, it assists you in increasing conversion rates, increasing revenue, and optimizing published content. Frase is an excellent SEO tool that every content marketing team should use.
You can choose any of the tools based on your use or work. Also, there is an excellent alternative available that surpasses both of these AI Tools i.e. WriteCream.
With the help of Writecream, an online writing assistant, you can use the power of artificial intelligence to produce email campaigns, voiceovers, podcasts, icebreakers, sales pitches, and blog posts. It helps you quickly create internet content, sales emails, and marketing materials. You may design unique conversation starters with Writecream to boost sales. In addition, you may quickly produce long-form material like blog articles and video scripts.