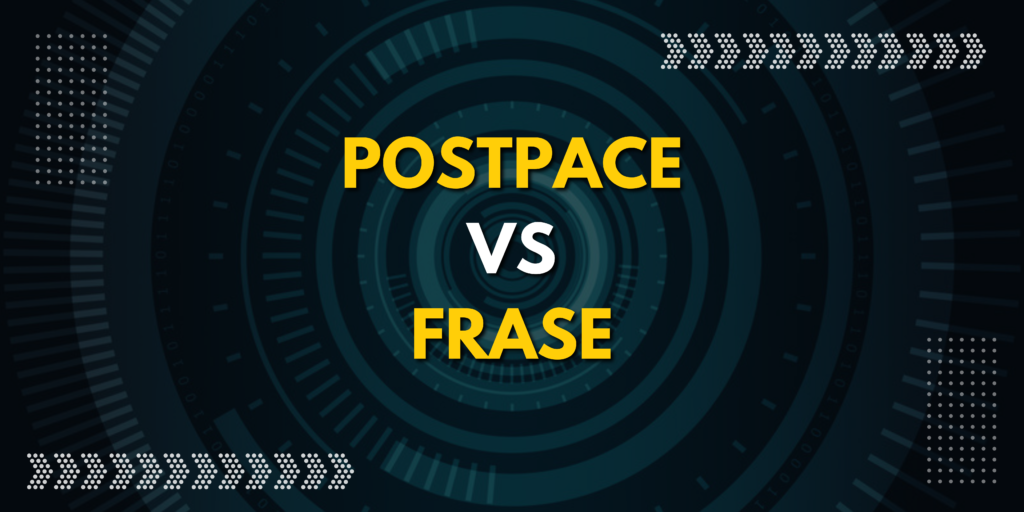 Although it may appear to be science fiction, technology has advanced to the point where it can produce high-quality content for you, regardless of the content you publish or the subjects you cover. AI writing tools are ideal for firms that engage in content marketing. AI writing software can assist you if you are continuously creating content for blog posts, website landing pages, product descriptions, adverts, social media posts, video descriptions, and/or emails. At the moment, AI writing is not a replacement for human writers. Instead, it is a productivity tool designed to help you get more done. Today we are doing a comprehensive review of Contentpase/Postpase vs Frase.
What is Postpace?
Postpace has recently changed its name to Contentpace. Postpace is a content writing research tool that allows you to select a keyword for your article. Then it will show you the results of what your top competitors have written and how their articles are structured.
You'll get a sense of what to include in your next content project, from the word count to the types of headings they're using. Postpace will tell you what you need to do to appeal to the audience searching for that specific keyword.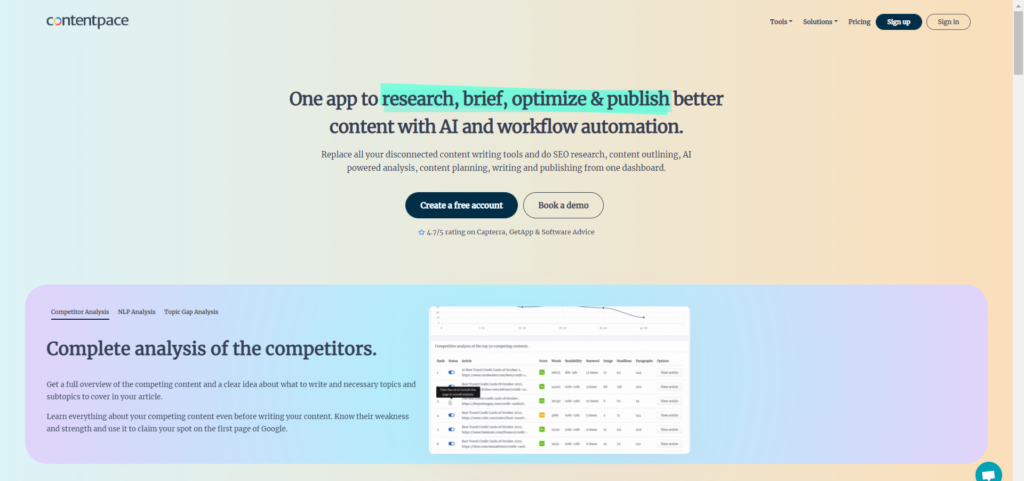 You must create a topic report that includes the keyword you want to rank for. Then, create a content brief on your content projects tab and optimize the article. Postpace can compete with Market Muse and SurferSEO.
💡 Generate personalized emails, blog articles, product descriptions, and ads in seconds using the power of A.I
Postpace features
Topic Reports
Postpace's most intriguing feature is the topic report, which analyzes the first 50 results on the Google search engine results page. You'll need to provide a keyword, and Postpace will collect data such as word count, readability, keyword frequency, images, headlines, and so on.
This feature allows you to see how your competitors wrote and structured their articles in general. Postpace breaks down what made them rank and suggests some items you'll need to write in your article.
You can also download the report or copy and paste it into a document as a reference. You can also send it to your clients as a summary of what they need to write. Overall, this feature will benefit SEO professionals and freelance writers.
Content Briefs
The keywords, headings, word counts, and other information from the topic report can be organized into a content brief. Content briefs overview the article's structure and how you'll write it. It includes the title, H1, and H2 tags, and the necessary keywords.
Beginning with a content brief is an underappreciated step in writing an article or a blog post. Content briefs will save you time and effort in considering the coherence of your blog. Furthermore, it covers all of the topics you'll need to cover.
Content Audit
After creating the brief, you're ready to write and optimize your content. You can do so by using Postpace's content audit feature. You write the content on the left while the requirements are displayed on the right.
You'll see if you're meeting the required word count, images, headings, paragraphs, and keyword frequency here. It's a checklist of everything you need to include to rank higher in Google search engine results.
Postpace pricing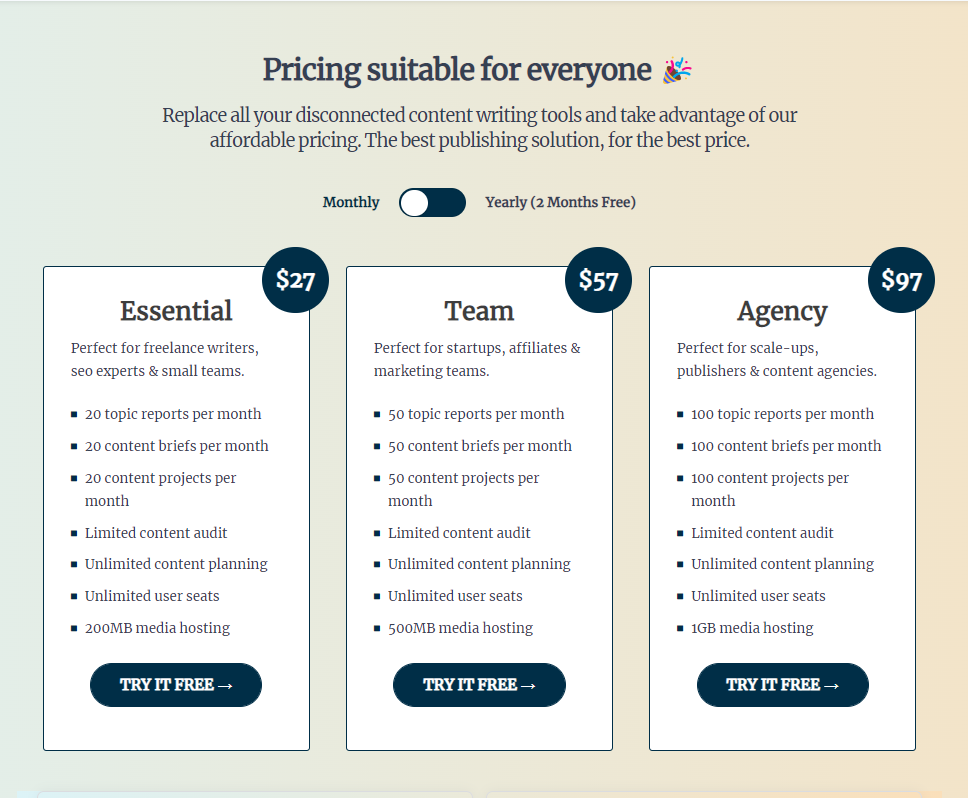 Postpace has three pricing plans:  Essential, Team, and Agency.
The Essential plan includes 20 topic reports per month, 20 content briefs per month, 20 content projects per month, Limited content audit, Unlimited content planning, Unlimited user seats, and 200MB media hosting.
The Team plan includes 50 topic reports per month, 50 content briefs per month, 50 content projects per month, Limited content audit, Unlimited content planning, Unlimited user seats, and 500MB media hosting.
The Agency plan includes 100 topic reports per month, 100 content briefs per month, 100 content projects per month, Limited content audit, Unlimited content planning, Unlimited user seats, and 1GB of media hosting.
Postpace Reviews 
Capterra reviews
With a total of 99 reviews, it has an excellent overall rating of 4.6 stars.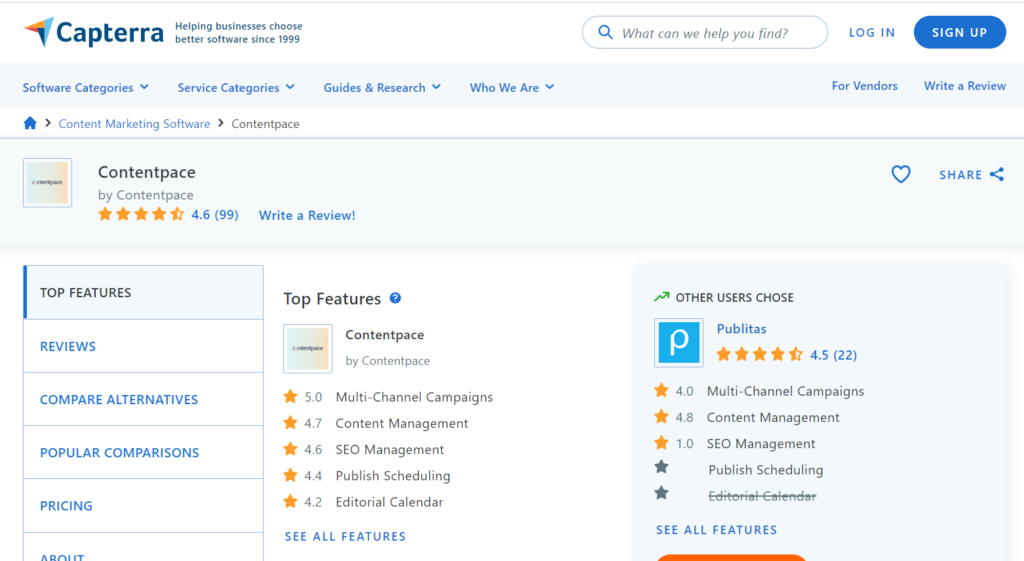 What is Frase?
Frase is a startup founded in 2016 with headquarters in Boston, Massachusetts.
It is an advanced SEO tool powered by artificial intelligence that can quickly generate SEO-focused content.
It can also generate and optimize relevant answers to questions posed by your target audience. This intelligent writing assistant saves you time by removing the need to switch tabs between your text editor and web browser. Its intelligent auto-summary function allows you to browse articles swiftly to see if they are helpful to you.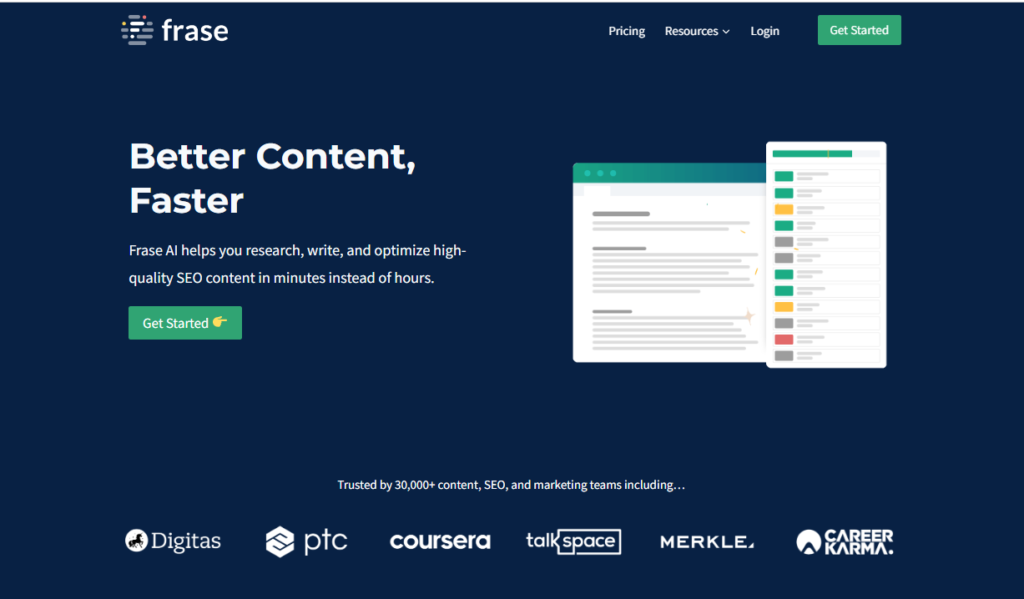 Furthermore, the program proposes relevant subjects throughout the content development process with each summary. Its clever tools and features are perfect for enterprises of all kinds, from minor to medium to big. With this intelligent assistant, users can create engaging and innovative content easily and comfortably. Individual users can sign up for a free account with one seat and a maximum of ten documents. It also offers a variety of premium plans to its users to accommodate any budget.
Frase features
Located and Responded to the Queries
Visitors always have new questions and concerns when they visit your website when you are not present. At that point, Frase will recognize the issues that viewers have raised, quickly generate, improve content capable of answering those questions and provide answers to perplexed site visitors.
Recognize Topics With Great Potential
Frase will recognize the topics that will eventually bring you potential and curious visitors and all of the questions that have arisen. When data is collected and organized based on ranking, clicks, and impressions, it becomes a more straightforward method for users to obtain reassuring solutions.
Do Research Work On your Account
Frase will research on your behalf to collect and optimize answers to your audience's searches from popular websites such as Google, Quora, Reddit, and others. This makes it easier for you to keep readers engaged on your website.
Frase pricing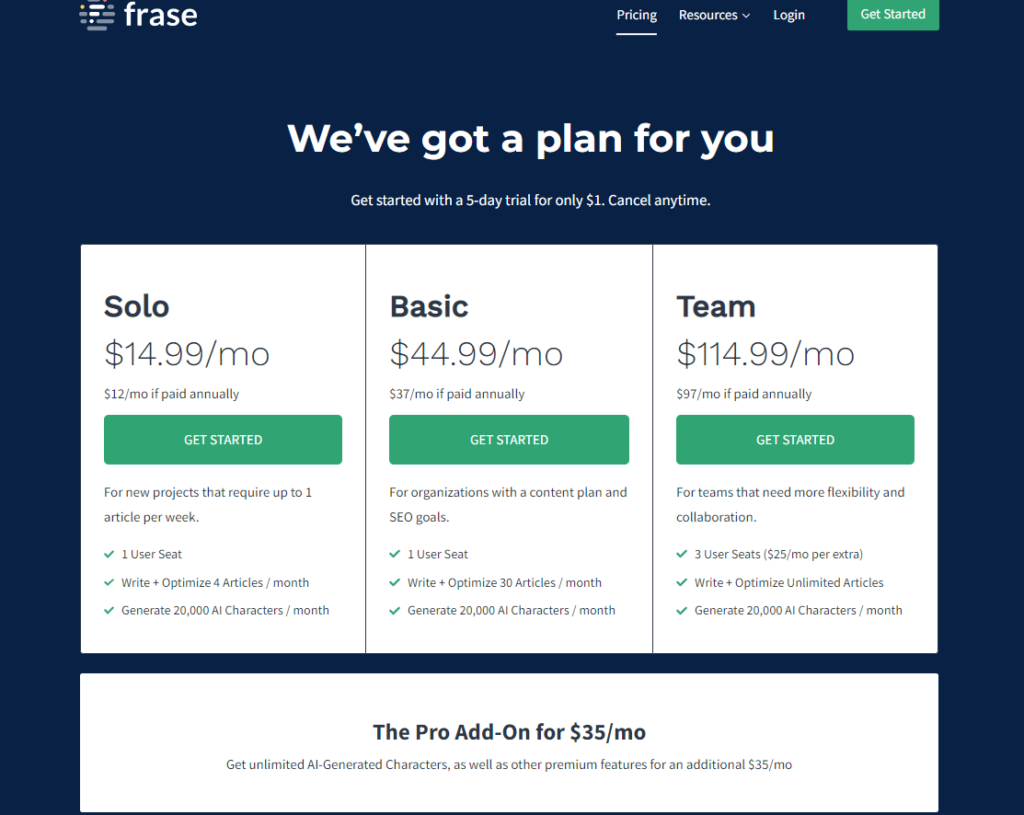 The Frase offers 3 plans that are Solo, Basic, and Team.
The Solo plan offers 1 user seat and 20,000 characters per month. It is provided for $14.99 monthly. It also optimizes 4 articles per month.
The Basic plan offers 1 user seat and 20000 characters per month with 30 optimized articles per month at a price of $44.99 per month.
The Team plan offers 3 users seat and 20,000 characters per month, and unlimited optimized articles at a price of $114.99 per month.
Frase reviews
Capterra's review
It has an overall rating of 4.8 stars, with 81% rating 5 stars, 19% rating 4 stars, and 1% rating 3 stars.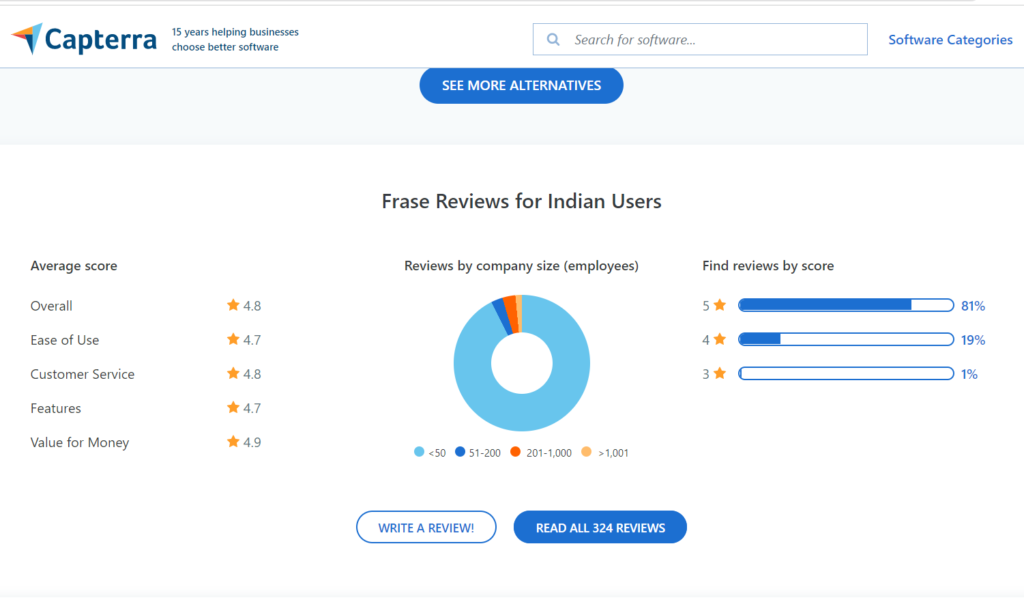 Trustpilot
Trustpilot has 2.4 ratings with 40 reviews. Out of 40 reviews, 62% give 5-star ratings, 10% give 4-star ratings, 3% give 2-star ratings, and 25% give a 1-star rating.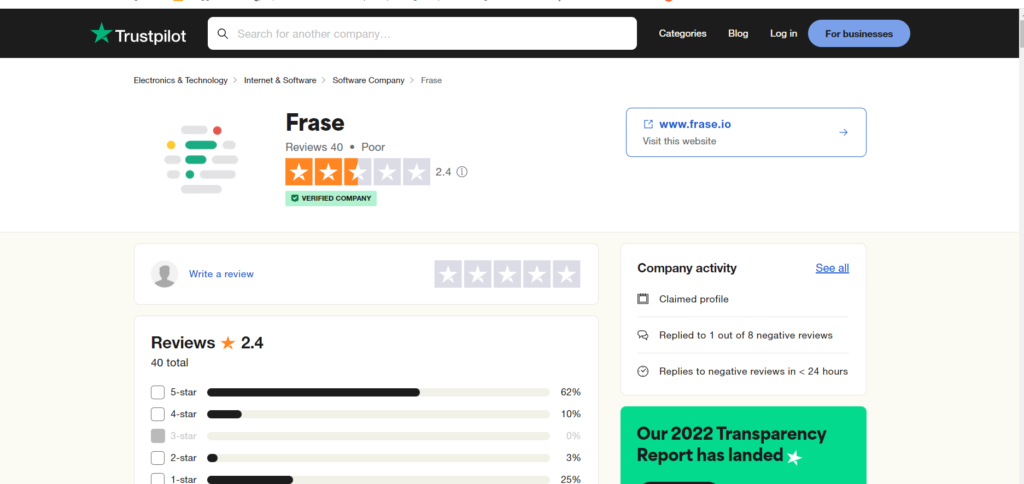 Conclusion
Researching a writing topic and competing for content is ineffective, time-consuming, and inefficient. Postpace lets you generate content quicker and better by automating hours of topic research. Postpace's data analysis and workflow automation assist writers, bloggers, presenters, marketers, and content marketing teams save hours of time.
Postpace offers a variety of pricing options with excellent features that will allow you to utilize their product efficiently. If you have any problems with the service, you can always contact their customer service, which is available around the clock. Finally, if you have difficulty adjusting to the service, Postpace offers a 60-day money-back guarantee.
It is a top-tier content optimization tool that every blogger can use.
Frase is an excellent tool for creating high-quality articles. It offers you unique and optimized content. Frase also provides insights based on your top rivals to help you beat them in search traffic.
However, Frase, like any other program, has problems and limitations. Therefore we should discuss alternatives. Knowing your alternatives is critical since you may discover that Frase just delivers part of the tools you require to manage your content business. So, the Alternative to both Contentpace and Frase is WriteCream.
Writecream lets you quickly get from a product name to a blog article, YouTube video, and podcast. You can create all three in under 30 minutes.
You can create a 1,000-word article in 30 seconds with our AI Article Writer.
If you wish to expand on the produced content, utilize our Long Form Editor, which includes cutting-edge capabilities like Summarize, Expand, Rewrite, and a plagiarism detector.