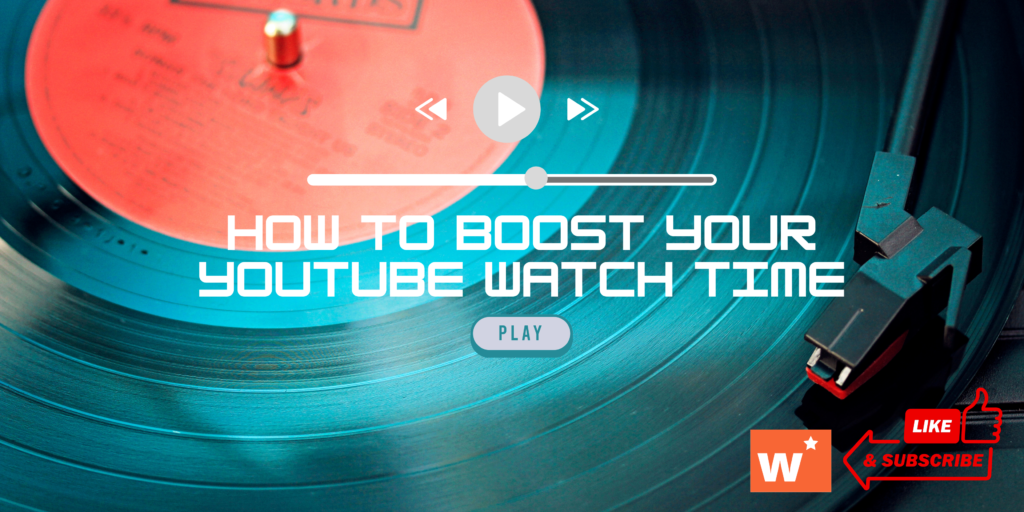 Were you aware that YouTube requires 4,000 hours of Watch Time in order to be monetized? The effort to accomplish that goal, which takes many creators a year or longer, is entirely worthwhile in the end. By achieving this objective, you'll be able to sign up for the YouTube Partner Program and eventually start making money off of commercials. And what video artist wouldn't want to profit from their work?
But first, what does Watch Time on YouTube actually mean? How does YouTube determine total Watch Time?
What is Youtube Watch Time?
The total length of time a viewer spends watching one of your YouTube videos is known as YouTube Watch Time (also known as audience retention). YouTube artists may learn a lot about what their viewers like by tracking how long they spend watching and clicking.
The YouTube algorithm will promote your channel more in the feed and suggestions section if your videos have more views. For creators, this visibility may result in revenue-generating options such as brand sponsorships and partnerships. The longer a viewer views your video, the better it is for your YouTube channel since the typical audience retention rate is between 50 and 60 percent.
💡 Generate personalized emails, blog articles, product descriptions, and ads in seconds using the power of A.I
Here are some popular methods to increase Youtube watch time:
1. Quantity over Quality
It's a numbers game to increase your YouTube watch time. If your videos earn an hour on average and you need 4,000 hours to get monetized, you would require a total of 4,000 videos.
But that's only an example. Your channel can perform better than that, and it most likely will. But the point I'm trying to make is that in order to accomplish your Watch Time targets, you need a significant video library. That means you dont have to worry about these things:
Making the ideal video
Spending an excessive amount of time editing your videos
Putting in too much time filming
To compete on YouTube, you must find a means to produce video easily without compromising quality. After that, publish your content and get to work on the upcoming video.
2. Intro Matters
If your YouTube video isn't getting the number of views it should, try adding an attention-grabbing start to your video's content. A video opening captures the attention of your viewers from the very start, exhibiting your personality and persuading them that your video has value and is worthwhile watching. Every YouTube video gains a distinctive visual identity by using a YouTube intro creator.
Have you ever created a YouTube intro before or are you looking for ideas? Head over to WriteCreams's  YouTube Video Ideas Generator and make a YouTube video in just a few clicks.
3. Create unique YouTube channel thumbnails and art
As your videos become more recognisable, branded YouTube thumbnails and channel art can assist increase subscriber retention and return user rates. To make your YouTube channel and videos stand out, preserve logos, fonts, and a distinctive colour scheme. Add logos and graphic components to thumbnails and channel art to stand out in the sea of video content.
4. YouTube Shorts to the Rescue
Your channel's total 4000-hour watch time will certainly increase if you've been posting YouTube Shorts, improving your chances of making money from them. Each time someone watches your YouTube Short, it adds to the total number of times your channel has been viewed. Now that YouTube Shorts are accessible on the desktop, their chance of seeing more views is improved.
5. Optimize video descriptions for YouTube SEO
With stronger YouTube SEO techniques, your videos can rank higher in the search engine results, resulting in more views and engagement. Simply find out the main keywords and include them in your YouTube description, tags, and title. Check out your competitors' YouTube analytics for ideas if you're having trouble coming up with YouTube SEO keywords that are relevant to your videos and genre.
6. Engage in the comment section
Often, creators are unaware of the power that the comments section can hold. Active video comments are a quick and easy approach to draw in new viewers and persuade them to subscribe. You're therefore more likely to have a successful YouTube channel if you create a loyal follower base through dialogue. By encouraging comments from viewers and answering their queries, you can build a community on YouTube. YouTube users appreciate having their comments pinned and having personalised interactions with their favourite video producers.
Although there are many stats available in the YouTube Studio, your subscribers will have some of the best growth tips. The majority of them are aware of what they want to see and will tell you exactly which videos they are. To understand what I mean, go through the comments section of your next video. Highly engaged viewers will discuss potential videos with one another and nearly ask you to film them. Try out a few of these suggestions. You will have even more Watch Time if the videos are successful.
7. Create playlists for YouTube
Adding your videos to a playlist is one of the simplest strategies to enhance your YouTube watch time. Viewers can browse all of your videos from the same genre in a single list when they visit your YouTube channel. By making videos easier to access, viewers can watch them in a flash, resulting in a free viewing time increaser tool.
Do you want more people to see your videos, even while they are muted? Use captions to make YouTube content more widely accessible. Every video on YouTube has auto-captions created using speech recognition software. The captions only need to be reviewed and edited for errors by the creators.
FAQ
Q. How to determine YouTube watch time?
A. Having trouble locating YouTube watch time statistics? Go to YouTube Studio and select the Analytics tab from the sidebar on the left. In the overview, you can see how much YouTube you've seen.
Q. Can repeat viewings of YouTube videos lengthen their duration?
A. Yes. YouTube users can revisit videos to extend their watch time, but only views lasting 30 seconds or longer are counted.
Q. How can I watch 4000 hours of YouTube content?
A. If 20,000 minutes are seen per month on YouTube, it takes YouTube creators around a year to attain 4000 hours of viewing time. You should be able to achieve 4000 hours of watch time if you generate interesting videos and adhere to all of the above advice.
Conclusion
All YouTube creators, both experienced and newcomers, may simply raise their YouTube watch time with the aid of high-quality video content, consistent uploading, captivating video intros, optimised descriptions, and recognised branding.
If you're looking for a free and fantastic tool to create great YouTube content Ideas, try WriteCream today!
Writecream provides 30+ tools for generating tons of content within seconds! Use Writecream to generate product descriptions, personalized emails, blog articles and much more and that too for free! Our free plan provides 20 credits every month which helps you generate 10,000 words per month!
Isn't it amazing?
To get started, register here for our FOREVER FREE plan NOW!