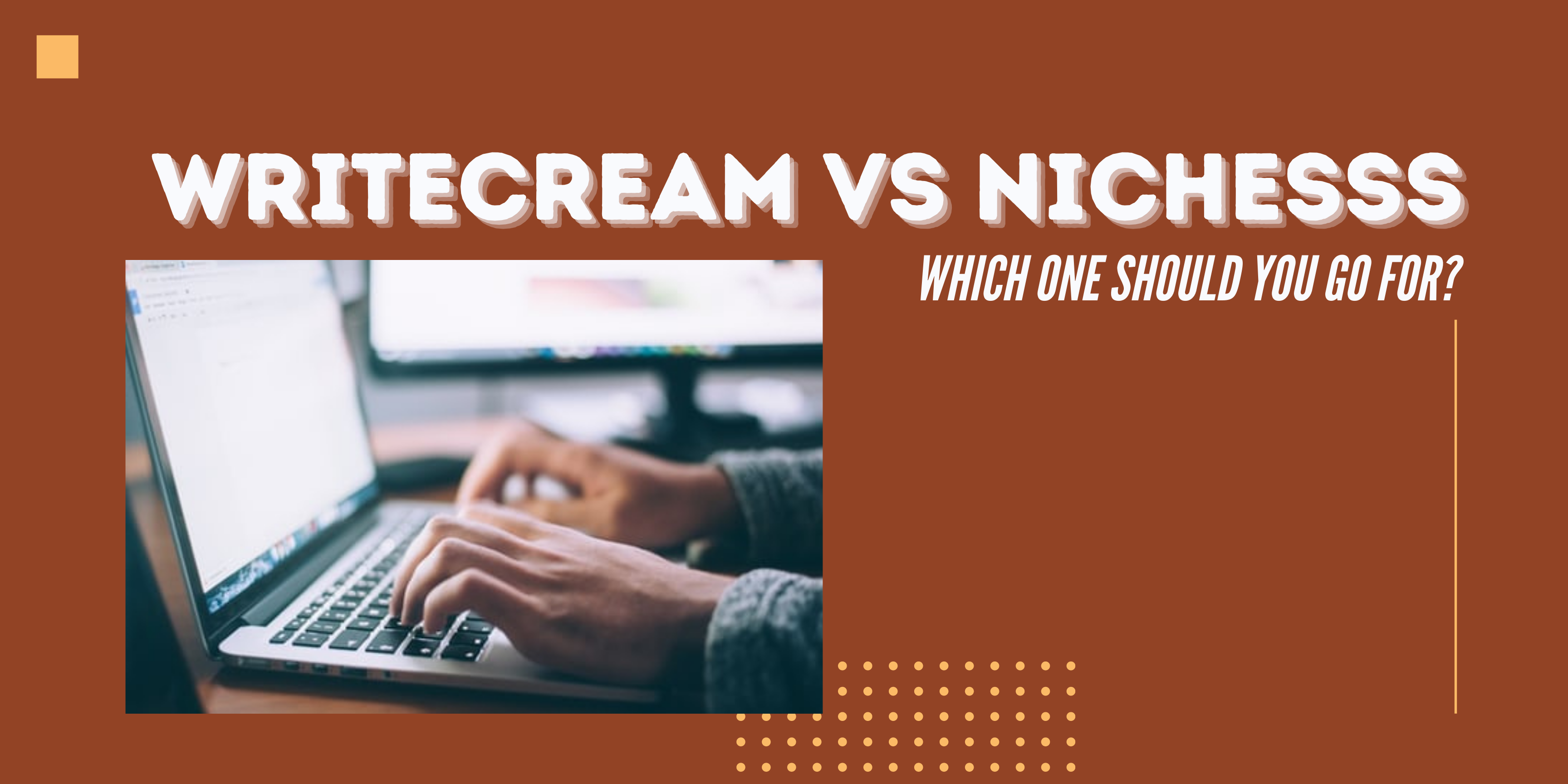 What are the possibilities that you're looking for the best artificial intelligence marketing tool? If you've found your way to this blog post, I'd guess it's fairly high.
I'm sure you'll agree that creating engaging marketing copy or content is difficult. Making it persuasive enough for your leads to take action is even more difficult. Which is why, many copywriters have considered automation at some point in their careers to save up time for other important tasks such as welcome emails and SEO meta descriptions. It is, after all, doable nowadays.
With the advancement of technology, a plethora of copywriting software have emerged. To save you time, I've compiled a brief comparison of the two top marketing AI tools, Writecream and Nichesss and I'll walk you through them.
Nichesss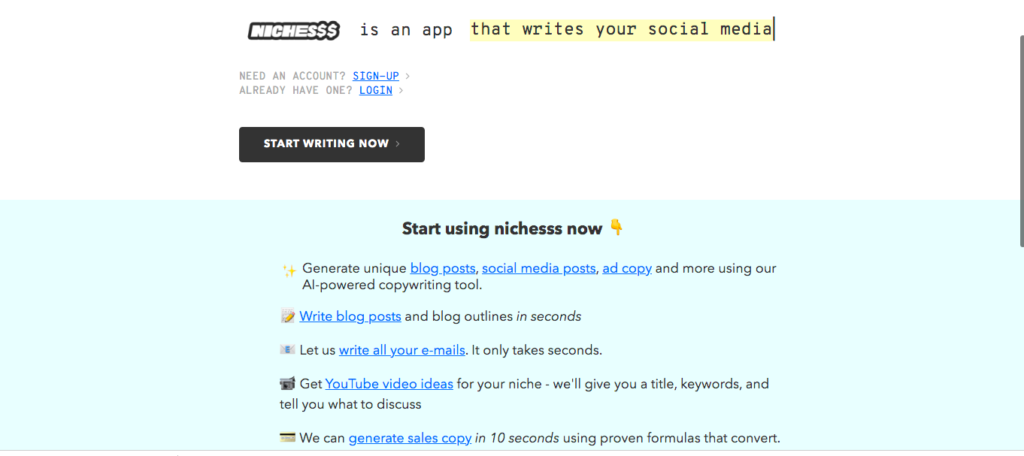 Nichesss, or Niche$$ as it's popularly called, is a web-based application that aids in the generation of various types of content. After completing a brief survey, the site employs artificial intelligence to generate content that you can subsequently alter and use. It allows you to develop Business Ideas and Custom Content at the time of writing, with each area giving a variety of content options. The UI is simple to use and available on a variety of platforms. 
💡 Generate personalized emails, blog articles, product descriptions, and ads in seconds using the power of A.I
Both Nichesss and Writecream are based on a language model called GPT-3 which is a processing model that can help you produce human-like text.
List of Features:
Ads – Create paid ads for Facebook, Google, Instagram and Twitter

Blogs – Create blog post introduction text as well as outlines, long form and short form

Feedback – Generate copy to use when asking for feedback on sites like Reddit, Product Hut, or Hackernews

Emails – Create subject lines for fun, sales or newsletter emails

Instagram Posts – Generate copy for fun posts or when re-targeting a product

Marketing Plan – Pick from up to 5 of the different tools to create a single marketing plan across a range of platforms

Products – Create product descriptions, how to use paragraphs and problem/solution paragraphs

Tweets – Generate text for Twitter ads, inspirational posts or standard twitter posts

YouTube – Generate keywords to video titles, opening lines, video ideas and video outlines
Writecream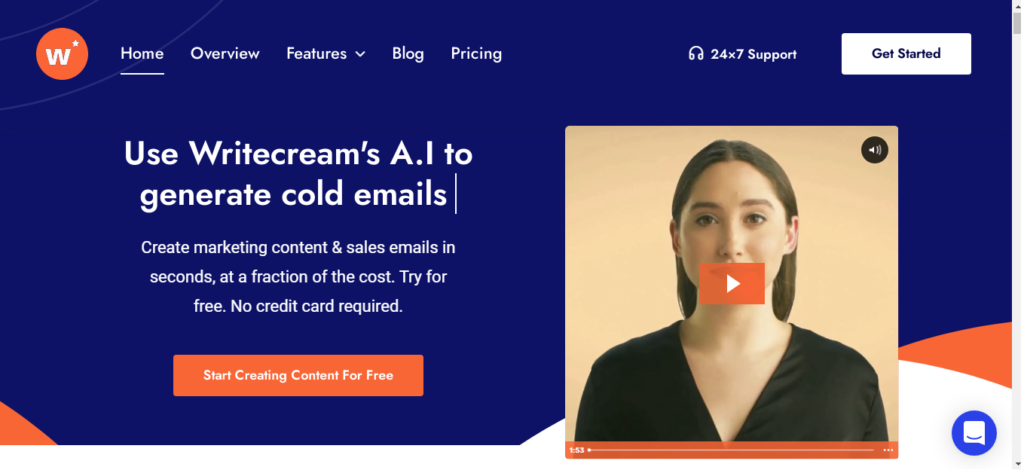 Writecream is a cutting-edge AI-powered marketing tool that  uses GPT-3  and generates plagiarism free outputs. It further automates the writing of content for Google advertising, landing sites, product descriptions, blog posts, social media, and more. Writecream may also be used to create personalised, captivating introductions for outbound marketing campaigns.
List of Features:
Ads: They also produce Facebook ads, Instagram ads, and Google Ads. By the click of a button entering the name of the company and what it does Writecream creates ads instantly.  

Articles & Blogs: Writecream can produce Long-Form Editors (A.I Article Writer), Blog Ideas, Intros & Outlines, Blog Heading Expanders, Blog Conclusions, and Compelling Bullet Points.

Reviews & Feedback: Generate reviews and feedback for Amazon products, ecommerce websites, SaaS products, Reddit and more
Instagram Posts & Social Media: Writecream can produce content for podcasts, voice notes, video scripts, social media post captions, social media product reviews, quora answer assists, etc.  
Product Descriptions: Generate descriptions for Amazon and other ecommerce products
Personalized Cold Email and LinkedIn messages: Generate personalized icebreakers for cold emails, LinkedIn connection requests, InMails, and Backlink Outreaches. On sending prospect credentials the Writecream AI scans and generates compelling content that is sure to bring in responses  
SEO & Copywriting: In this arena, Writecream can produce the following:  Feature to Benefit, Before-After-Bridge, Value Proposition, Website Title & Sub-Headline, SEO Meta Descriptions.
YouTube Videos, Voiceovers & Long Form Content: Generate long-form content like blog articles and video scripts in minutes. Writing a 1,000+ word article takes less than 30 minutes using Writecream. Convert the generated video scripts to human-sounding voiceover in seconds
Podcasts: Turn any blog article into a solo-podcast
Nichesss lacks the human sounding voice-overs feature which Writecream has. Writecream lets you generate audio icebreakers and human-like voiceovers in a couple of minutes. It also provides a feature to convert blog articles into a podcast which can be used as a voiceover for a YouTube video. This is a unique feature among its competitors. Besides, Writecream's personalization tools are useful for getting prospects to accept your connection requests on LinkedIn or when you are reaching out to them via cold emails or InMails.
Review Comparison (Average Ratings on Trustpilot, Capterra, AppSumo and G2)
Nichesss
Nichesss lacks any reviews on popular review websites like G2, Capterra & Trustpilot. 
However, ProductHunt has rated Nichesss with 4.7 stars based on 11 reviews. For Nichesss, the reviewers stated how it has efficiently aided them overcoming writer's block, boosting creativity and delivering products in lesser time. Many recommend it for freelancing & sales copies on social media. 
1. Ratings on AppSumo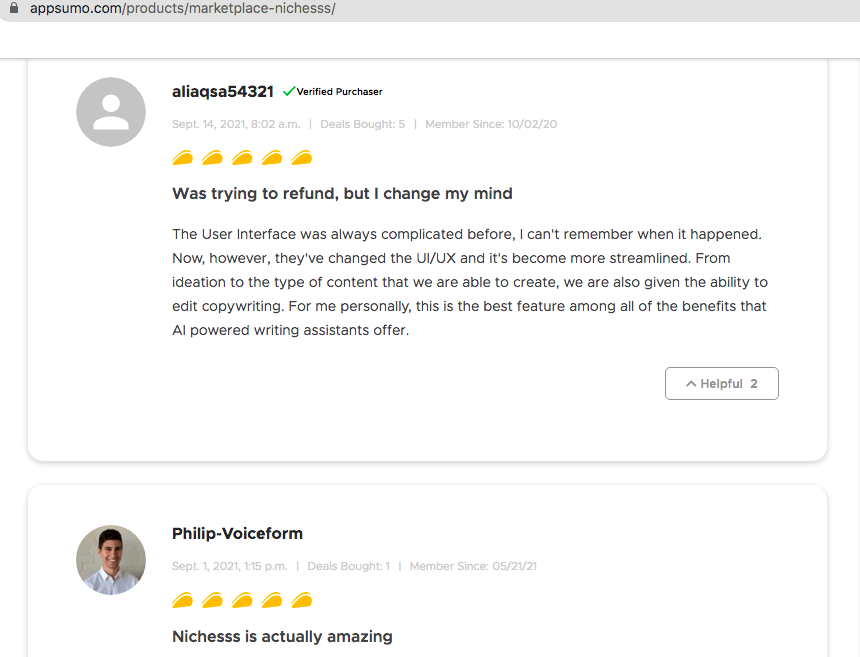 Writecream
1. Ratings on Trustpilot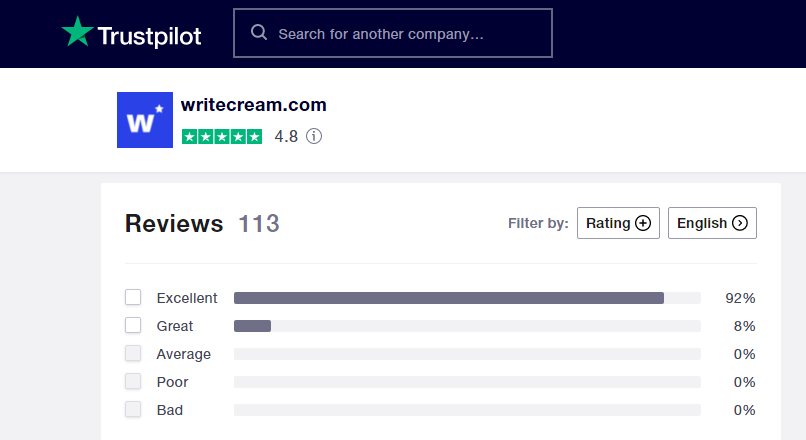 2. Ratings on AppSumo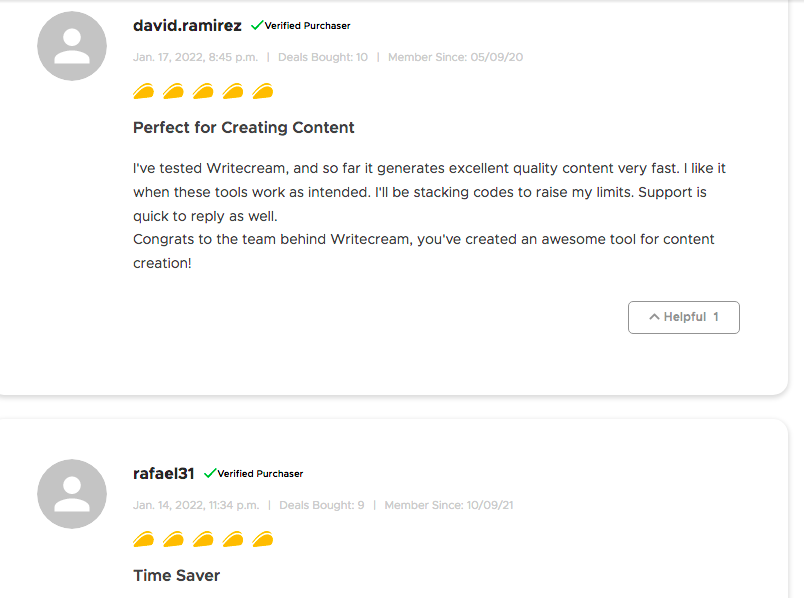 3. Ratings on Capterra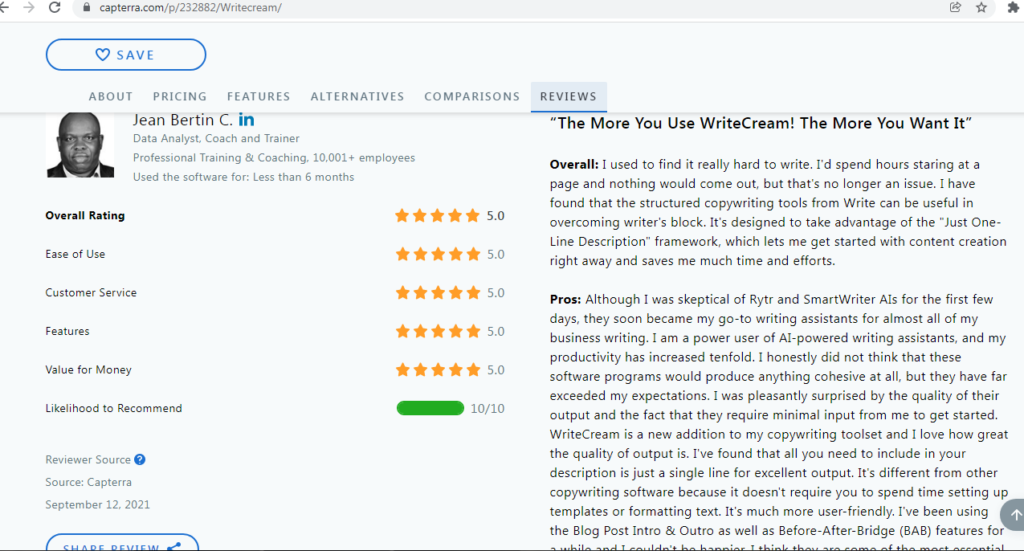 4. Ratings on G2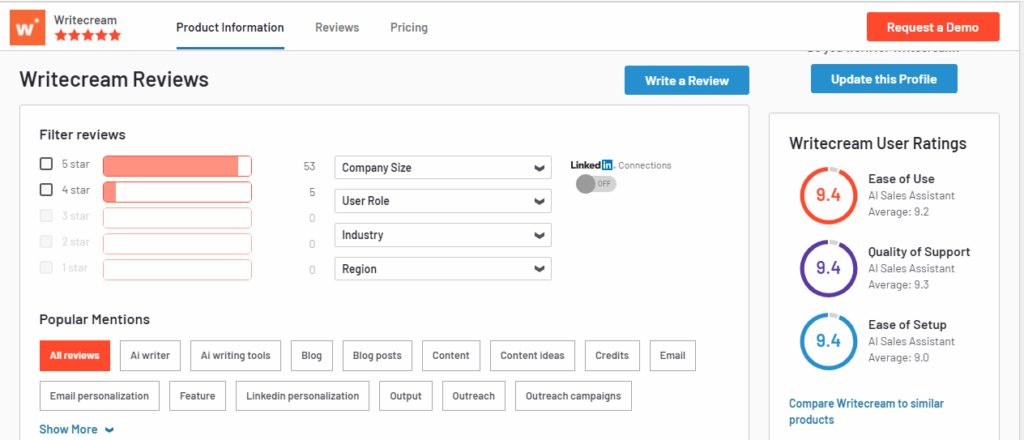 G2.com, a peer-to-peer business software review website has given Writecream a 4.8-star rating based on over 60 reviews. The majority of its evaluations are positive, describing it as a content generating powerhouse. Some reviews criticise the company's membership plans, which are based on a credit system, as well as the user interface design. Nonetheless, they are all satisfied with its core function, which is an artificial intelligence-assisted writing tool. Its excellent readability and personalized writing style with very simple input has been praised by multiple users.
On another popular review website, Trustpilot, Writecream has reached a new high of 4.8 stars, with 114+ positive reviews. According to reviews, it is a terrific purchase that is extremely helpful when producing powerful cold emails with well-written content.
On Capterra, WriteCream has 48 reviews and a whopping 4.8 rating.  AppSumo has rated WriteCream 5 stars based on 370 reviews. Quality of writing and output, as well as linguistic support, are great benefits, according to reviews. Many have sighted it as a helpful tool for small to medium enterprises and marketing.
Language Support 
Nichesss
Nichesss supports several languages from all around the world in its output and input, however in comparison to WriteCream the variety is significantly lesser. Also they haven't included a comprehensive list of languages.
Writecream
Over 75+ languages are supported by Writecream. All of their tools, including the long-form editor (A.I Article Writer), cold email icebreakers, LinkedIn icebreakers, image icebreakers, audio icebreakers, and voice-over, have multilingual support to ensure better quality.


Some other languages supported by WriteCream are: Afrikaans, Albanian, Amharic, Arabic, Armenian, Azerbaijani, Bengali, Bosnian, Bulgarian, Chinese (Simplified), Catalan, Chinese (Traditional), Croatian, Czech, Danish, Dari, Dutch, English, Estonian, Finnish, French, French Canadian, Georgian, German, Greek, Gujarati, Haitian Creole, Hausa, Hebrew, Hindi, Hungarian, Icelandic, Indonesian, Italian, Japanese, Kannada, Kazakh, Korean, Latvian, Lithuanian, Macedonian, Malay, Malayalam, Maltese, Mongolian, Norwegian, Farsi (Persian), Pashto, Polish, Portuguese, Romanian, Russian, Serbian, Sinhala, Slovak, Slovenian, Somali, Spanish, Spanish Mexican, Swahili, Swedish, Filipino Tagalog, Tamil, Telugu, Thai, Turkish, Ukrainian, Urdu, Uzbek, Vietnamese, Welsh.
User Interface 
Nichesss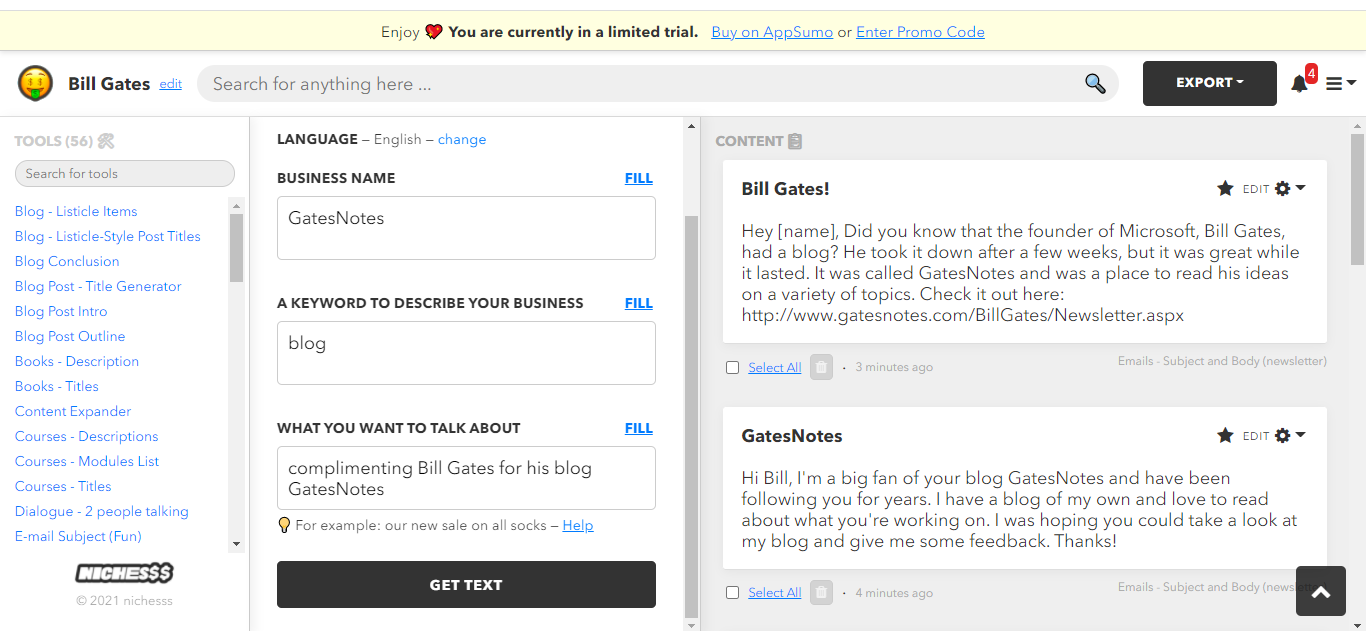 Nichesss' website scanning is a cumbersome task. The website content is not much refined and you are not able to find relevant options quickly.
Nichesss' user interface might appear overwhelming with a plethora of options squeezed together. The dashboard, on the other hand, has a minimal design but once you open a tool, like in the image above, you will find several options put together. It may take some time to review all the options, but once you spend time to understand where all the options are, it becomes easier to use Nichesss.
Writecream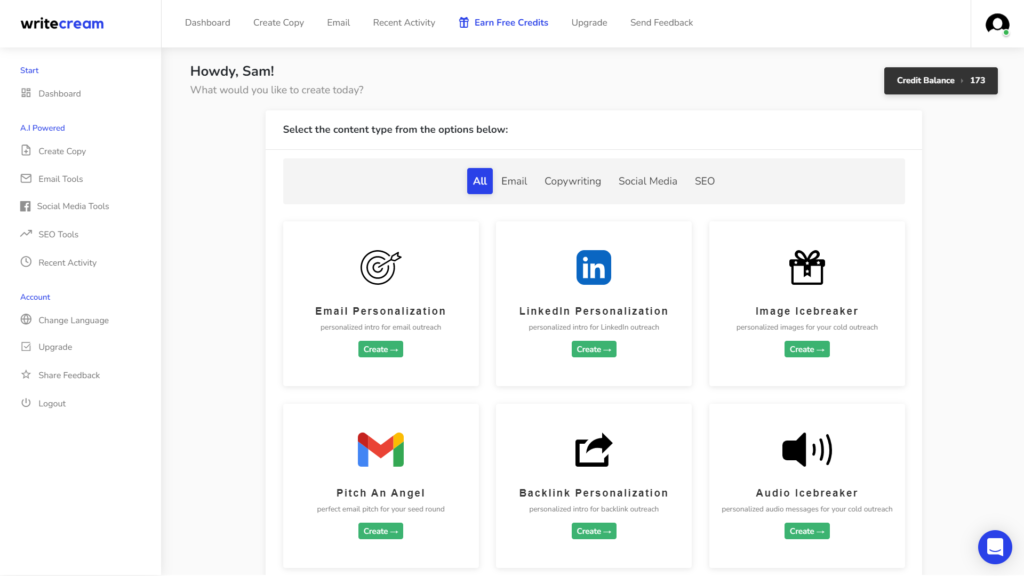 Writecream's user interface is simple and straightforward. The long-form content writer works smoothly to create and generate material. This tool is super convenient to use. Sign up for a free account at Writecream and your main dashboard appears. The dashboard displays all the use cases available and one can choose from this diverse set of options. It's easy to navigate through the screen and users enjoy a seamless experience.
Tutorials for Reference
Nichesss
When you scroll down to Nichesss' website, there appears a Help button. Click on it and you will find their guide for using different tools at Nichesss.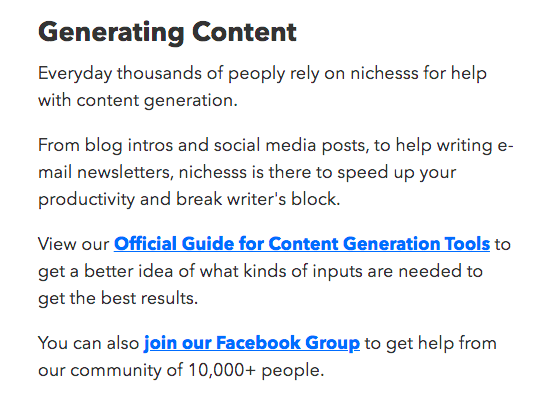 Writecream
To access the tutorials, go to the website and look for the "Tutorials" section in the upper right corner. It leads you directly to the YouTube channel where the tutorials are available. Aside from tutorials, Writecream also includes a blog section where you can find blog posts on various tools!
Some tutorials for its flagship features like Cold Emails, Backlink outreach, and LinkedIn Inmails are also present on the homepage.

Pricing
1. Nichess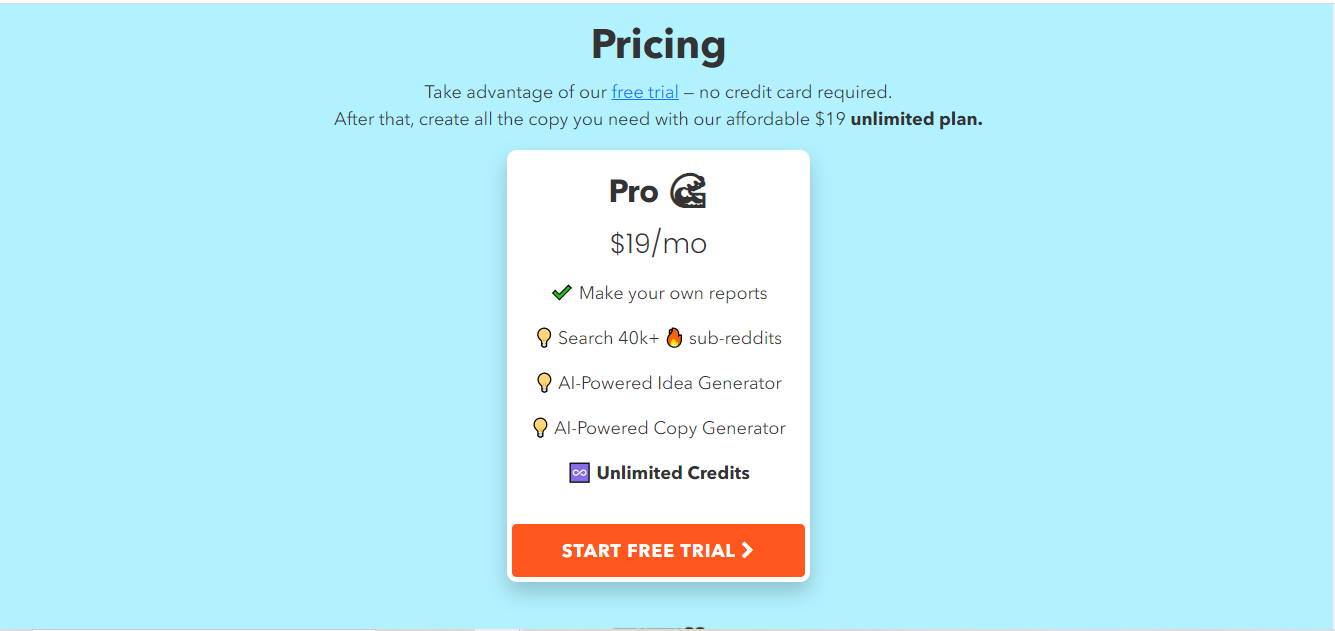 Nichess has a monthly pricing policy of $19 called "Pro" where you get unlimited credits. The other benefits are:
AI-Powered Idea Generator
AI-Powered Copy Generator
Unique marketing copy
Report making and so on
The free trial allows you all the benefits with no credit card requirement.
Writecream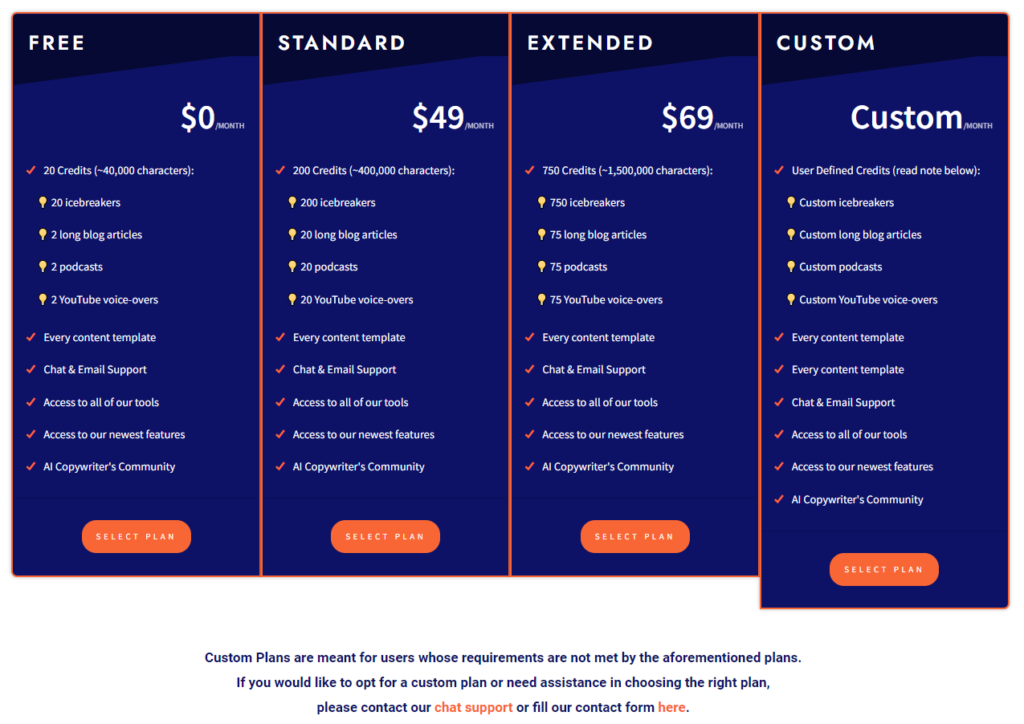 Free Plan: Writecream's free plan includes all of its features as well as 20 credits and an 40,000-character restriction. It also gives you access to the most recent features as well as live chat and email help for any questions you might have.
Standard Plan: This plan includes 200 credits and a 400,000-character limit at $49 per month. It is sufficient for 200 icebreakers, 20 blog articles, 20 podcasts, and 20 YouTube voiceovers/podcasts. All features available in Writecream are accessible under this plan. This plan is suitable for freelancers, solopreneurs, and startups.
Extended Plan: This plan includes 750 credits and a 1,600,000-character limit at $69 per month. It is sufficient for 750 icebreakers, 75 blog articles, 75 podcasts, and 75 YouTube voiceovers/podcasts. All features available in Writecream are accessible under this plan. This plan is suitable for marketing agencies, enterprises, and freelancers who manage multiple clients.
Custom Plan: If any of the aforementioned plans won't cut it for your requirements, you can contact the Writecream team for a custom plan. You can get in touch with the Writecream Team using the chat icon on the bottom right screen of their website and explain them your requirements. You will get a price quote right away!
Output Quality Comparison
Output content is much more specific in Writecream and depends on the user's needs, whereas Nichesss doesn't have a personalized content as such. We will take the example of the Blog Introduction use case.
Blog Topic: The AI Revolution
Description: AI is changing the future of content marketing.
1. Nichesss' Output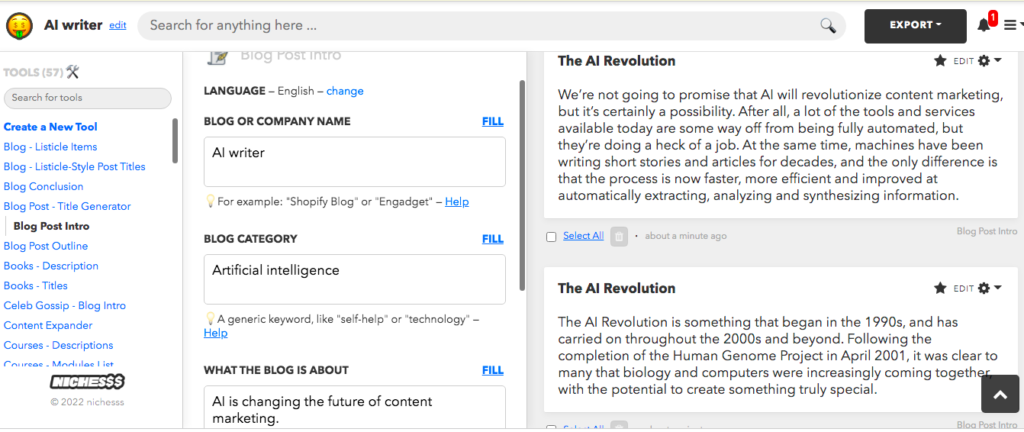 Let's now take a look at Writecream's output.
Writecream's Output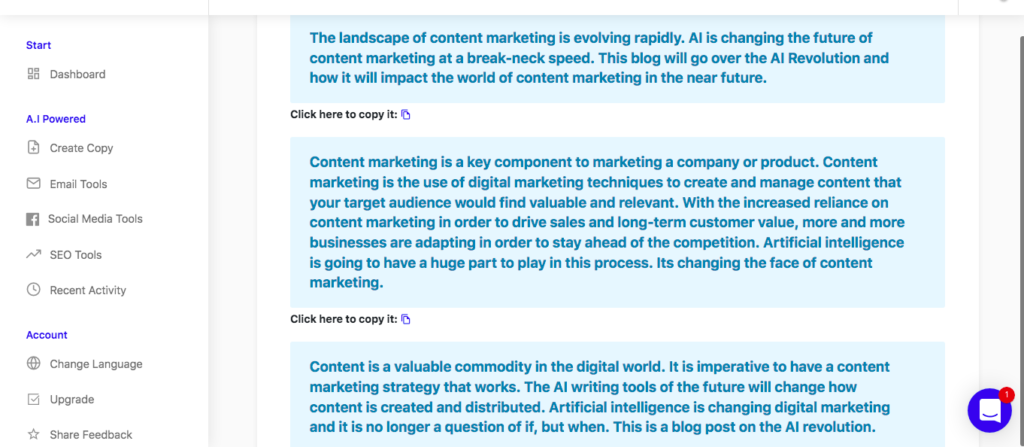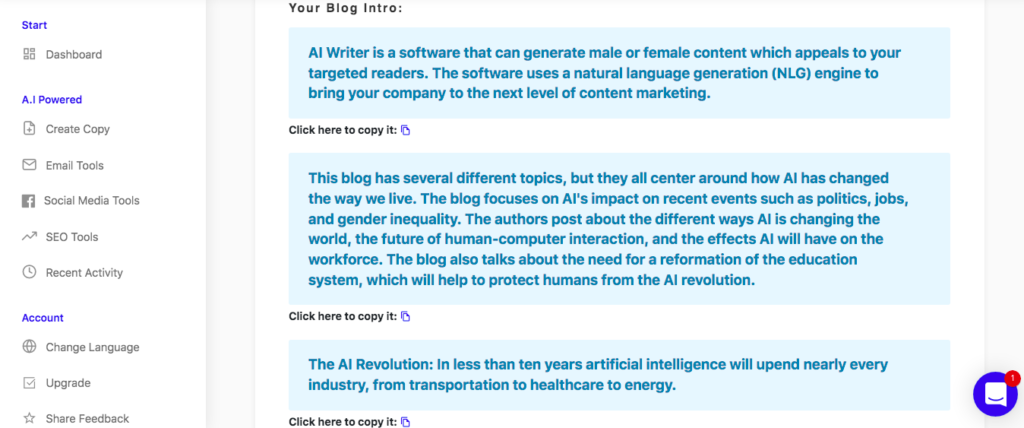 Output Verdict
The outputs generated by Nichesss are grammatically fine but not very suitable for an introduction. The blog topic is in a positive sense. This blog should be talking about how artificial intelligence is revolutionizing the workplace. But here it is starting with a negative aspect which is not a very desirable start for a blog. Also, you cannot start talking about projects in the very first line. Introduction is meant for giving an overview of the topic. But here we can see how Nichesss just straightaway jumped to some facts.
The output from WriteCream is very personalized and original. It provides a much better, professional-quality output that requires minimal to no editing. It generated more number of outputs as compared to Nichess and that too of a superior quality. I is giving a generic start to the blog which is necessary to bind the reader with the content flow!
Clearly, Writecream has an upper hand at generating quality content!
Where Nichesss wins
Although Nichesss is still in the early stages of development, it is already quite strong and valuable. It can be used to help with research and brainstorming. It's best for short copy and social media posts, but the blog and email writing. Does it perform your research and writing for you? It doesn't do everything; you'll still have to do a lot of the legwork, but it's a solid start. It puts you on the correct track.
It is more of an idea or sentence generator than a full-fledged content marketing solution. Nichesss is undoubtedly a unique tool, however it is not without flaws and restrictions. It makes use of artificial intelligence, which is still in its development.
Where Writecream wins
Writecream comes out on top in terms of specialisation. There are a variety of content development services and areas to pick from. Another advantage of Writecream is that it can create content in more than 75 languages, which is unmatched with any other AI. Additionally, WriteCream can produce podcasts and long form content which lacks in Nichesss. Here are some of the features exclusively provided by Writecream. These are not present in Nichesss.
AB Testing Methods: A major benefit of Writecream is that it uses AB testing methods to give a person a clear picture of what they want in their article or write-up. It has a very simple and organized interface to be used. It also has a conversion rate optimization tool. The personalization using this software is well managed.
Human-Voice overs: Writecream has another exclusive feature for its clients, "Voiceover Tool". It helps in converting text to speech with the help of AI. You can choose any language from the 75+ available. You can also choose a gender for voice. There's another option to choose speed and optimization for your voice-over.Here's an example (the voiceover for the video below was generated using Writecream):
Generating Content with Scientific Copywriting Formulas:

Writecream, being in its initial stages, has made tremendous progress. It has also incorporated copywriting formulas in its system. Its copywriting tools are based on scientific formulas like the Before-After-Bridge and Pain-Agitate-Solution.
Language Support: Writecream's multi-linguistic support of  75+ languages gives it an edge over Nichesss.
Image Icebreakers: Writecream has this amazing tool called image icebreakers. These are personalized images made through AI and are used for cold outreach. This tool is gaining popularity among business owners and marketers. It is widely being used by customers to generate premium images with quality content. This feature is not present in Nichesss as of now. You can generate personalized texts but not images.For using these tools, you just need to enter the website URL, for example, Amazon.in in this case. Then, click on the generate button and your results will be displayed. Here is the result:

Which one should you go for?
Both tools have advantages and disadvantages. For sales pitching and marketing uses, one should undoubtedly go for Writecream!
Writecream is a one-of-a-kind content marketing solution. It's simple to use, and the AI allows for on-demand content generation. With each piece of content it creates, the AI learns and improves, making it a valuable tool for marketers who are always seeking for new ways to better their content. There are no credit card requirements, and the pricing is suitable for all budgets. The writing is of excellent quality and devoid of plagiarism.
Nichesss has  several features that gives you assistance from writing blogs to googles headlines and even poetry! The ideas are pretty creative and unique, but not personalized. It is a good place to start, but you cannot really on  it for the final output.
Conclusion
The best pairings are those that complement each other.  They're like peanut butter and jelly, mac and cheese, or wine and cheese when it comes to pairings. Likewise, artificial intelligence and content marketing are a perfect pair. It's a match made in heaven, and you'll wonder why they didn't meet sooner. Artificial intelligence is making it easier than ever to create killer content in the world of content marketing, choose the ideal software for yourself now and get started!
Try Writecream Now and choose for yourself!
Let us know your thoughts in the comment section below!