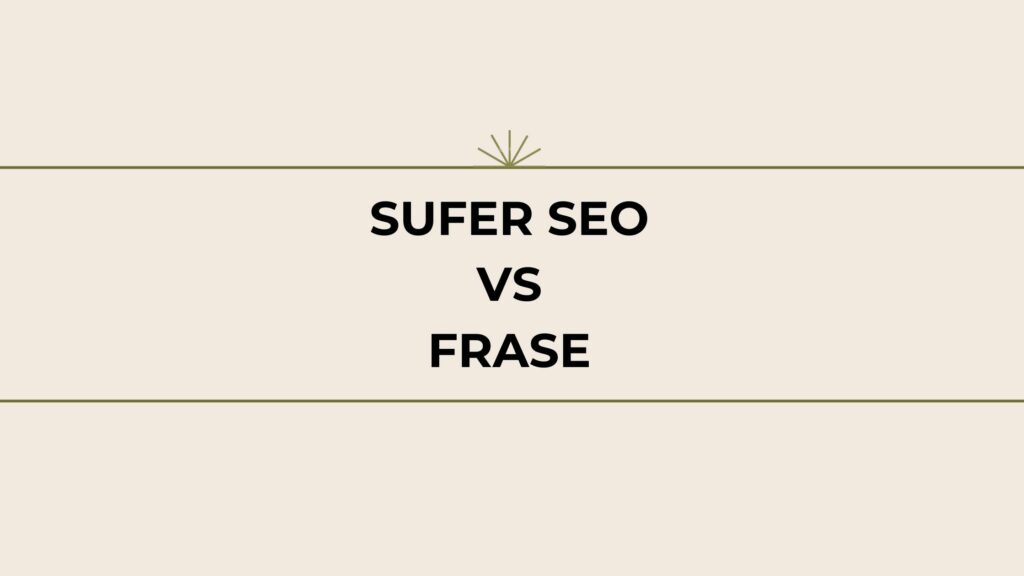 AI composing tools, commonly referred as AI content writers, are programs that employ artificial intelligence to produce text based on the user's input. With the use of AI technology, AI writers can create sapient literary material. AI writing tools are ideal for firms that engage in content marketing.
In this blog, we will do an in-depth review and comparison between two AI content writing tools: Surfer SEO and Frase AI.
Surfer SEO:
Surfer is a tool for optimizing textual material such as blogs and essays for search engines. Individuals may use it to assess their campaigns' performance in Google SERPs.
Many claims that Surfer is useful for authors and SEO strategists.
💡 Generate personalized emails, blog articles, product descriptions, and ads in seconds using the power of A.I
Some of the many features are-
It helps you get competitors' insights and gives you a competitive advantage over them as it is a SERP analyzer.

The coolest aspect of Surfer SEO is that it provides unfettered admin privileges, permitting you to provide statistics insights for your entire workforce.

Ensures the originality of your work as it claims to generate 100% plagiarism-free content.
Frase:
Frase debuted as a research tool and has now evolved into a content creation tool by continuously monitoring the trends. It excels in AI content creation and optimization.
Bloggers, content, and creative writers mostly use it as their main focus is on keyword phrases.
Some of the many features are as follows-
Fill in the loopholes: It helps you identify the loopholes and the subject gaps and fills them in so that your content is perfect.

Saves time: It saves you time since it handles the effort of researching a certain topic from various publications for you.

Unlimited documents: You may write as many documents as you like because there are no limits.
Surfer SEO:
When you utilize the tool, the UI appears like this. This is the content planner, as seen in the image above, where one may enter the target keyword and get started.
On the left are several tools, such as SERP Analyzer, keyword research, and article editor.
While it is creating original content for you, it examines over 500 on-page signals at the same time. It also includes a score reader that will tell you how good your article is.
It also provides you with a set of principles for creating clean material. These standards also specify how many photos may be used. What are the best keywords to use? and so on.
Frase:
The user interface is intuitive and easy.
This is your dashboard, designed to be simple to comprehend. As you can see in the image below, all of your papers will be arranged in a single location for simplicity of access whenever you choose.
Then, on the left, you'd have your various tools, such as templates and analytics, which would provide you with all of your content's information in the form of statistics
In the image below there is provided a flow chart of how your content is generated and what goes on behind the scenes.
Giving a brief of what your content is.
Generating high-quality content.
Optimizing your content.
Doing a thorough analysis of your content.
PRICING
Surfer SEO:
There are 3 options that one can choose from in Surfer SEO–
Basic pack: The name stands for itself; Basic does not have a lot of features and is made for beginners who have just started to work and don't have a lot of experience. It costs about $49 per month, which also is a very basic amount.

Pro pack: This is the most purchased pack out of all the 3 packs. This caters to largely medium-scale businesses. It enables you to write and optimize about 30 articles and also lets you audit 60 pages per month. The cost of this pack is $99 per month.

Business pack: It is set at $199 a month and is ideal for a large firm that wants to create and optimize 70 articles and review 140 pages monthly. This package allows you to contact up to 10 team members.
Frase:
Frase, too, has 3 plans, but they have a scheme in which if you pay the amount annually, the particular pack would cost you less.
1. Basic plan: will cost you $44.99 per month or $39.99 if bought annually. It is best suited for singles or small groups of two. This kit will essentially get you up and running with your company activities.
2. Team plan: This is suited for teams and organizations with several users who want freedom when developing SEO content strategies. The monthly cost of the team plan is $114.99.
3. Enterprise plan: This is the only plan that may be customized to your preferences. It is perfect for large teams with a high number of activities to complete on a worldwide basis. So, you may add all the necessary tools, and the pricing will be determined by what items you include.
Frase offers an SEO add-on for an extra $35/month, which includes unrestricted admission to the Frase AI writer and other premium services.
What can be understood from the above comparison is that you can purchase Frase at a lower rate only if it is paid annually. Otherwise, Surfer SEO is a bit cheaper. Both have features so you should choose which would serve your needs and is economical for you.
LANGUAGE
Surfer SEO:
The Google NLP supports 11 languages which are-
English, French, German, Italian, Japanese, Korean, Portuguese, Russian, Spanish, Simplified Chinese, and Traditional Chinese.
The Surfer NLP supports only 4 languages namely- English, Danish, Dutch, Polish.
Frase:
It can be operated in 20 languages which are English, French, Spanish, German, Danish, Dutch, Portuguese, Italian, Norwegian, Finnish, Swedish, Romanian, Polish, Russian, Hindi, Indonesian, Malay, Thai, Japanese and Korean.
Their answer assistant supports only the English language but the Enterprise users do have an option for translation service.
As you can see Frase can be operated in a lot of different languages whereas there are barely 4 languages that are available in Surfer SEO.
REVIEW COMPARISON:
Surfer SEO:
G2, a reviewing site, has given Surfer SEO a tremendous rating of 4.8. There are 394 reviews out of which 355 have given it 5 stars.
Capterra, also a reviewing site, has given surfer a whopping rating of 4.9 out of 5. There are 315 reviews and 95% of them have given it 5 stars.
Frase:
There are 252 reviews on the site G2 and 241 people have given it 5 stars.
Capterra has given it a rating of 4.8, based on 324 reviews. Most of them have also given it a 5 stars as they claim it is really good for copywriters and bloggers.
FUTURE OUTLOOK
Surfer SEO:
There are no as such promises made by them.
Frase:
They have pledged to add a slew of other languages in the near future, but have not specified when this would happen.
WHERE SURFER SEO WINS
People prefer Surfer SEO over Frase because of its extensive content optimization features. Because it examines your content using its SERP analyzer, it might give a bit more insight into how you can better develop your website based on your competitor's performance.
WHERE FRASE WINS
When paid annually, the price is reduced, and the SEO add-on is available for only $35 per month.
It also supports more languages than Surfer SEO, giving it a broader geographical reach.
VERDICT
Surfer has the benefit over Frase since it can offer more info. This may change as Frase promises to develop and flourish!
However, it is for you to make a wise decision and see which content-creating tools would best suit your work, as both have their pros and cons. You are the only one who is going to benefit from it.
AN ALTERNATIVE TO THESE TOOLS
I'd like to draw your attention to another amazing software called Writecream. Writecream is a good tool that people appreciate and has excellent reviews because of the number of templates it provides and the way it is divided to allow users to better understand the program.
It is affordable and not unreasonably expensive, so people looking to start a business may profit from the tool and its features, like the ad generator.
Consider signing up for its free trial; it is certainly worth it.