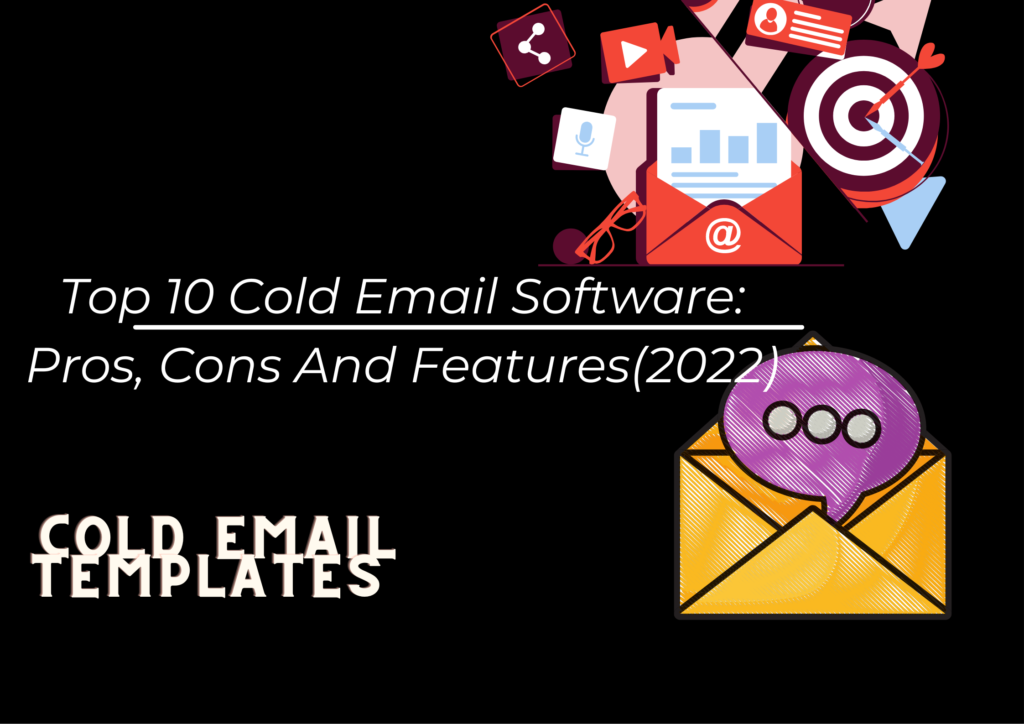 Are you wondering about getting some of the best cold email templates? While in the early day, people used to struggle much for getting a single email done in the right way. It was time-consuming, tiring, and took a lot of research work. Nowadays, these cold email templates are readily available in many email-generating tools. So you choose a device that personalizes every new thing to you, reports your work time, and also helps you get suggestions on getting different email templates. So here is the top cold email software in 2022 you must know and what kind of pros and cons and features they have.
Why Send Cold Emails?
To send an email is referred to as cold emailing. An email you send to someone you have never met before is known as a cold email. The recipient doesn't even look forward to hearing from you via email. It is comparable to cold calling but less obtrusive, and most salespeople prefer it to that method of contact.
Cold Outreach
Cold outreach is the practice of contacting or reaching out to people via email who are unrelated to your business. The purpose of the email is to inform them about your offering and introduce them to it.
You might purchase appropriate lead information from a reputable aggregator to ease your cold outreach.
You can seek out such roundup lists that are relevant to your industry and get in touch with them with a useful offer. Being included in such lists will improve traffic to your website and, ultimately, your consumer base.
The use of marketing or email automation software to employ predetermined rules to trigger emails and customize your messages based on particular actions customers take—or don't take. Email automation eliminates time-consuming tasks from your to-do list, giving you more time for important tasks like answering client inquiries.
Cold email platform
A cold email software solution has features including bulk email sending, follow-up emails, tracking email opens and clicks, and report generation. These platforms also help you by checking the sales and marketing of emails. Utilizing software tools for cold emailing might help you connect with leads more quickly and possibly boost ROI.
A list of people and their email addresses that can be utilized for email marketing is known as an email list. Lead magnets, Facebook advertisements, signup forms, and other mechanisms where consumers provide information are frequently used to build email lists.
To free up more time for vital tasks like responding to client questions, email automation removes time-consuming tasks from your to-do list. It helps in automate your cold emails.
💡 Generate personalized emails, blog articles, product descriptions, and ads in seconds using the power of A.I
What is Saleshandy?
SalesHandy is an email-tracking automation tool for salespeople, marketers, hiring managers, real estate agents, and independent contractors. Automation and tracking of email outreach are the main goals of the tool.
Email Tools
Email tool offers a great method to keep your inbox organized is using clean email. Using this productive cold email tool, you can organize your emails in several Smart Folders. These Smart Folders have sections for subscriptions, finances, and travel. You may quickly organize your email, whatever you choose, with just one click.
Clean email
Mailbird
SaneBox
The Email Finder analyses the largest database of accessible email addresses to locate the appropriate contact details. Before being returned, every email address goes through free email verification.
What does email warm-up mean?
To establish a good reputation with email providers and avoid spam filters, sending a progressively greater number of emails from a new email account is known as email warm-up.
Why is it necessary to warm up an email?
Email warm-up, instead of a conventional email campaign, is intended to increase deliverability. Low open and reply rates are still possible with even the best email marketing campaigns sent to highly engaged lists. If just a few people report your campaign as spam, you risk being blacklisted.
What is email personalization?
Based on the recipient's behavior and previous interactions, email personalization is a technique to give emails a more personalized touch. You can create emails that are personalized to a set of people by segmenting your audience based on certain characteristics.
Outreach campaign
When referring to suicide prevention programs for train trespassers, an outreach campaign is any planned effort to connect with a particular community to offer support to those who have or may experience suicidal thoughts. The aid offered through the Outreach Campaign may take various forms, including but not limited to service advertising, locating and contacting those in need, or other techniques to identify the warning signals of a person in crisis to prevent suicide.
Reaching out to potential and past customers using phone calls, emails, messages, and social media to get their cooperation and convince them to purchase is known as sales outreach. Reaching out to the appropriate businesses and individuals, at the appropriate time and with the appropriate product is the main issue of a B2B sales outreach.
Top 10 best cold email software of 2022
Here are some of the latest cold email marketing software of 2022. Find the best cold email software according to your need and convenience:
1.GMass 
It is one of the best cold email software that helps you get and automates complicated email templates.
The powerful merging ability of GMass is used by Uber, Google, Twitter, and many other popular apps on the internet.
Perform a Gmail search using the keywords present in GMass.
GMass will show you all the possible results you would be searching for.
"Tadpole" is a term you can use to email anyone contacting you recently about your product.
Personalized paragraph
Addition of images and links
detecting first names
GMass is the best tool that gives you a campaign report which helps you observe the detailed breakdown of essential email statistics.
Pros
simplified setup
user friendly
24*7 customer service
Cons
It only works with the Chrome browser.
Review and ratings
Capterra: 4.9/5 (680+ reviews)
G2: 4.8/5 (660+ reviews)
2. Woodpecker
It integrates with Gmail and outlook. The features like email tracking enable you to track and personalize their location and work.
features of woodpecker
Automate email sequences.
Cold email campaign scheduling and tracking.
Pros
Dedicated features for B2B lead generation agencies.
Has a Google Chrome extension.
Cons
No free plan is available.
I can't send email attachments.
Review and ratings
Capterra: 4.8/5 (10+ reviews)
G2: 4.4/5 (30+ reviews)
3. Lemlist
It is one of the best cold email software, which helps you to personalize the email addresses in a faster way.
Pros
It is a versatile tool that can obtain help from many other cold email templates.
Zapier can integrate with the Lemlist.
Cons
All the available plans are paid.
Drip campaigns can be challenging.
Review and ratings
Capterra: 4.6/5 (320+ reviews)
G2: 4.4/5 (70+ reviews)
4. Yesware
Yesware is a sales-generating tool used by professionals for email marketing and sales purpose.
pros
View each campaign's data on a campaign dashboard.
Yesware has a salesforce integration.
Cons
Paid plans available.
They don't have any feature which provides app provision for their android or ios.
Reviews and ratings
Capterra: 4.3/5 (160+ reviews)
G2: 4.4/5 (710+ reviews)
5. Overloop
It was previously named prospect.io, which helps companies and organizations find cold emails and their addresses within seconds.
Pros
Overloop's most crucial advantage is that it can work with Outlook and Gmail.
The chrome extension feature helps you find prospects.
Cons
Drip plans are complex.
All the available methods are paid.
Reviews and ratings
Capterra: 4.3/5 (10+ reviews)
G2: 4.3/5 (50+ reviews)
6. Gmelius
It is a cold email outreach tool that is suitable for collaboration purposes.
Pros
Get real-time desktop and mobile alerts for lead engagements.
Has a browser extension for Google Chrome.
Cons
No Zapier integration in the basic plan.
7. Streak
It is a go-to tool for all busy marketers. Streal integrates with Gmail. It helps you manage, merge and track emails.
Pros
It has many sections, and features can help you find various characteristics to keep track of your emails.
Cons
By using another CRM, you can invite many problems.
Reviews and ratings
Capterra: 4.5/5 (400+ reviews)
G2: 4.5/5 (120+ reviews)
8. SalesHandy
It is a cold email marketing tool that helps you send emails, get new prospects and engage with your leads.
Pros
Email tracking is free.
You can get to know the busiest time of your prospects so that you can send them a bulk of emails at a time.
Monitoring of emails, receiver's address, email opening, their time, and how many emails have been left unread.
Cons
Pay for your verifying of emails.
They don't have any feature which provides app provision for their android or ios.
Limitations on email merging capabilities.
Reviews and ratings
Capterra: 4.5/5 (80+ reviews)
G2: 4.4 /5 (110+ reviews)
9. Klenty
It is a sales managing tool where you can personalize your emails and also have follow-up emails.
Pros
Simple user interface.
Easily import prospects from CSV, Google Sheets, or CRM in one click.
Integrations with Zapier and Pipedrive CRM to automate your workflow.
Cons
Contact management issues — adding a contact to one list could remove them from another.
Lacks team management and collaboration features.
No free plan is available.
Customer Ratings
Capterra: 4.8/5 (30+ reviews)
G2: 4.6/5 (120+ reviews)
10. MailRush.io
It is a cold email marketing tool that helps you send emails for marketing campaigns.
Pros
Create a drip sequence for your email marketing campaigns – automate emails and follow-ups based on recipient actions.
Easy-to-use drag-and-drop email template builder.
24/7 live chat support is available.
Cons
All the available plans are paid.
Downloading large contact lists for email campaigns can be time-consuming.
You must pay extra for email warming, validation, and Linkedin prospecting.
Customer Ratings
Capterra: 4.2/5 (5+ reviews)
G2: N/A
How Does Sales engagement Work?
Sales engagement is how the sales team coordinate, inspire, and guide their sales representatives while monitoring and enhancing group performance.
A sales team performs the following activities as part of the sales engagement process:
recruits and develops elite talent
defines the sales team objectives
develops a sales management strategy to meet those objectives
implements that plan while leading and inspiring personnel
reports on and evaluates sales performance
Managers have specific sales engagement abilities, which ensure the sales engagement process is carried out correctly.
Email deliverability: What is it?
Email deliverability is the ability of an email message to reach the recipient's primary inbox. The percentage of emails that the internet service provider receives is a common metric for measuring email deliverability. Eventually, high email deliverability means a high rate of prospects' happiness.
How to choose a useful cold email software?
Personalizing features.
Tracking of emails.
Automation of campaign.
FAQs about using cold email software?
What is cold emailing?
Cold email templates are generally to the strangers about the emails we send to our prospects about leads. Good and intentional cold emails don't push you to watch or read something, but they make their content enjoyable yet effective.
What are some of the best practices for writing cold email templates?
Cold email is a way similar to cold emailing.
Have a powerful subject line for your email.
Email should cover valuable points for the recipient.
The recipient should be able to opt out if they want to.
Summing up
In this article, you learn the latest cold email templates and their features in detail. Complex email templates are generally to the strangers about the emails we send to our prospects about leads. So you choose a tool that personalizes every new thing to you, reports your work time, and helps you get suggestions on getting different email templates.  You can send personalized cold emails with the help of these templates. If you're looking for the best cold email outreach tools that can automate your emails, cold emails, and follow-ups, help you get your email campaigns done, and find a solution for your cold outreach, then you must go for it.
Choosing the right cold email template-generating tool should not be a challenging job at all. Every email-generating device has got its own uniqueness. We have tried to add every possible point you need to know about email-generating tools. Any other additional information is highly appreciated.