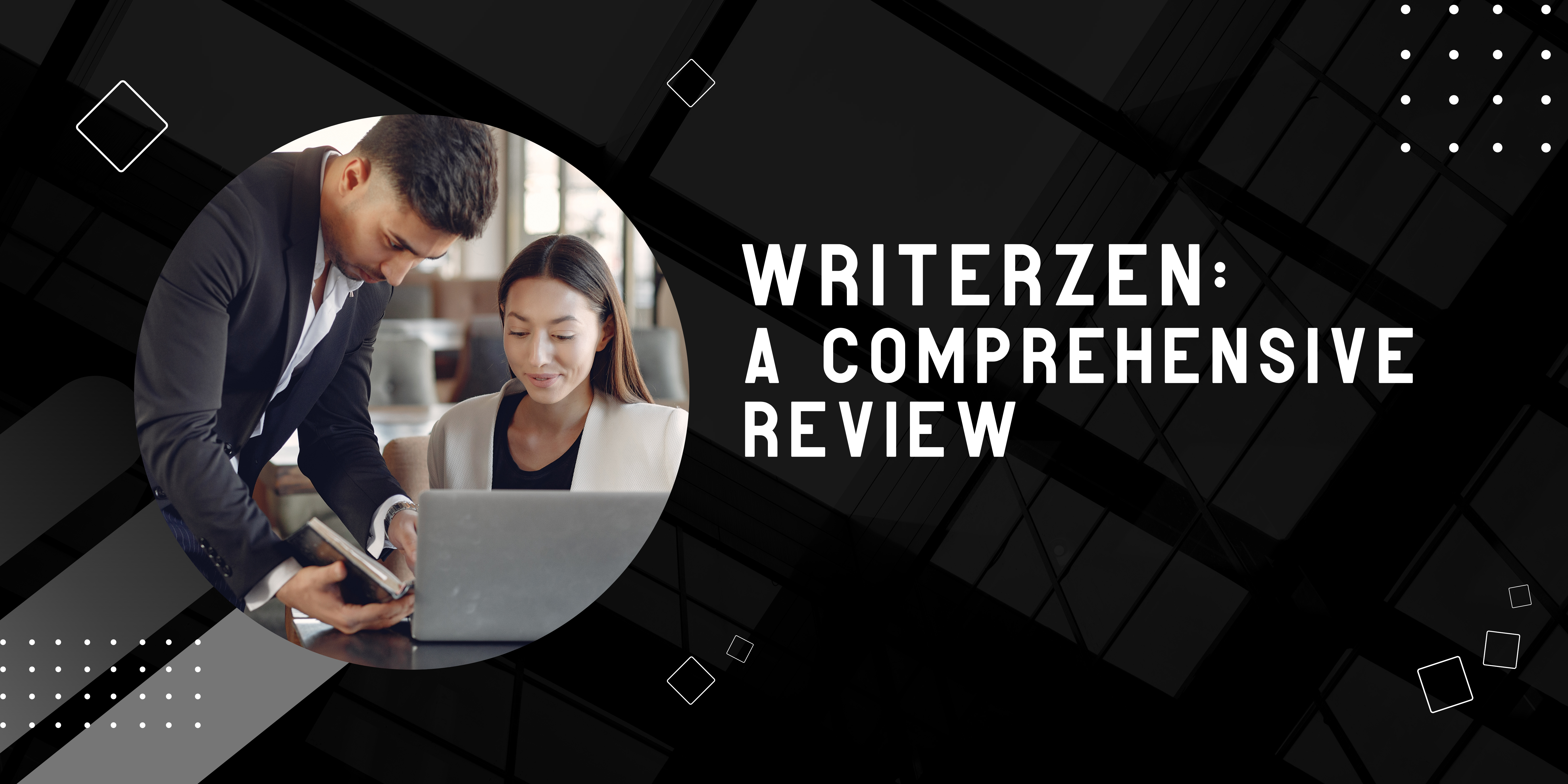 The use of SEO tools makes a writer's job easier. You may have come upon WriterZen among the many new products released every day. This new complete SEO tool, which was just released, is quickly gaining popularity due to its user-friendly interface and functions.
WriterZen is an innovative toolkit that combines all types of content research into a single platform to answer the most critical creative difficulties. It is your one-stop shop for all things content-related. It collects the best resources from all around the web and presents them to you in a single, fluid interface that only takes a few minutes to master. There are a lot of AI copywriting software options on the market, but WriterZen is one of them.
WriterZen's user interface is simple, but its true beauty comes in the way it promotes cooperation by allowing numerous individuals to work on articles at the same time. It makes it simple for anyone — marketers, designers, programmers, writers, and consultants – to collaborate and produce amazing results by sharing their resources.
What's the best part? You can use all of WriterZen's services without spending hundreds of dollars on software or employing top-tier staff with WriterZen. Spend your time developing outstanding content, which is what you do best. WiterZen feels that the term "writer" refers solely to the act of putting words on paper; successful writing also necessitates thorough investigation. WriterZen encourages you to conduct research first, then write, and makes both processes easier than ever before.
💡 Generate personalized emails, blog articles, product descriptions, and ads in seconds using the power of A.I
WriterZen Features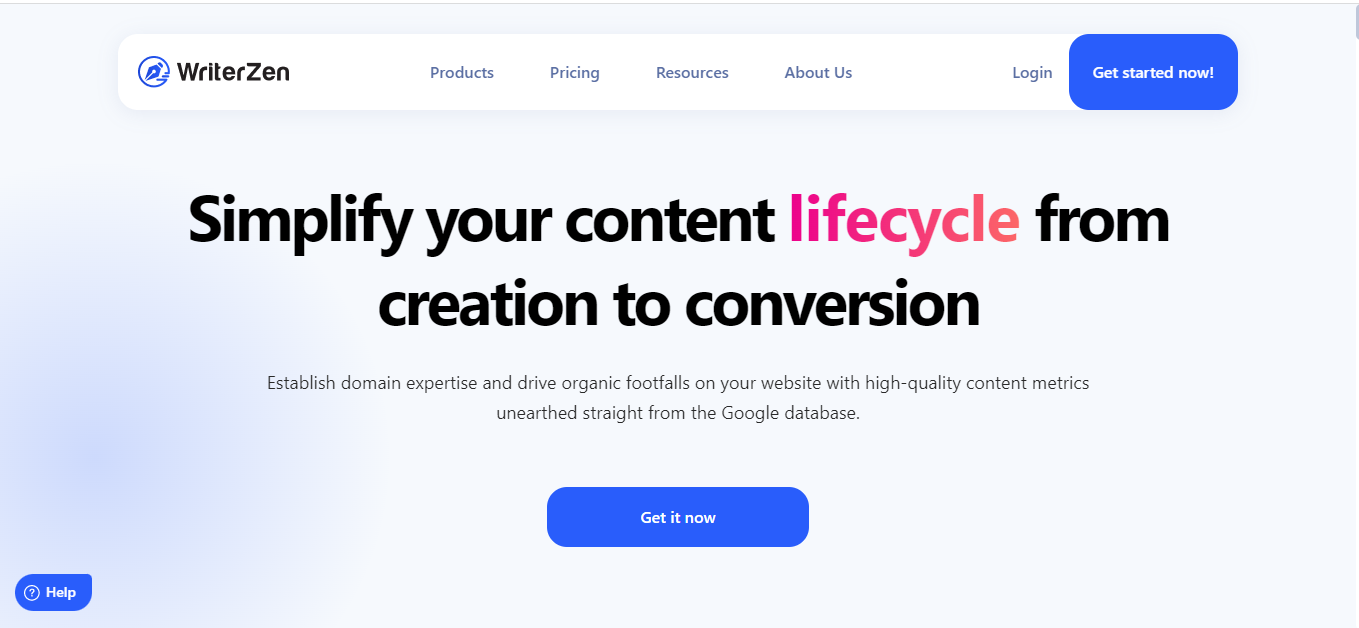 Create Masterful Content: Using exact analytics and real-time ideas from the top 20 competitor URLs, you can quickly create the perfect content from scratch. Moreover, you can compare the top 20 URLs that are relevant to your seed's outline. WriterZen lets you receive real-time recommendations for the best content arrangement, including length, paragraph count, picture association, and more.
Content Outlines: Condense your research into clear and concise content outlines using WriterZen. It allows you to add and remove headings as well as topic recommendations from your outline. You may also use targeted keywords at appropriate densities to optimize your creation, and you can access all of your data in one place, making it simple to make changes.
Text Editor: Enjoy the benefits of the editor's many capabilities, including live suggestions, content scoring, note-tracking, and more.  You'll be guided through the entire writing process by live suggestions. Content scoring and full-screen options keep everyone's attention on the project. You can also use the Export feature to save files in a variety of standard formats for easy sharing.
Keyword Explorer: Writerzen's Keyword Explorer may provide thorough information on the size of the market, the level of detailed competition for a keyword, and the user's search intent, ensuring that keyword research is on track.
Insight Generator: Use the Insight Generator to Generate Quality Ideas: This tool provides a variety of accurate and valuable data that can be studied to help you better understand how to best match keywords into your content. You may score the most popular subjects and queries based on the user's search intents and use the audience's most frequent ideas to fill gaps in your content.
Topic Search: Discover the most recent hot trends and headlines, completely comprehend client concerns and identify the optimal title using content gap analysis. Discover fresh themes and find compelling content ideas based on your audience's demands to develop winning content for your content plan.
Identify Topics:  To make things easier, sort the results by criteria like Search Volume, Headlines Relevancy, and Topic Insights. You may also look for topics that are closely linked to your search to get new ideas for your content and use the search results to generate content that will rank high for your targeted seed.
Think Like Your Audience: Find out what your audience is saying about your seed in terms of questions, assertions, comparisons, and more.  By evaluating your audience's interests through common searches, you may figure out what they want out of a given issue right now.
Look for opportunities in the Content Gap: Check which subtopics your rivals cover and which ones they don't. This way you can examine content tactics that can be implemented rapidly.
Use a mindmap to find your topics: Discover ideas in the most practical and imaginative manner possible.
Who Can Benefit from WriterZen?
WritersZen has put together a group of content-obsessed writers. The writers are skilled, knowledgeable, and well-educated in the fields in which they operate. Because there are so many other writing sites to compete with, the emphasis is on quality rather than quantity.
Marketers may employ WriterZen to create compelling content by honing their abilities and knowledge in areas such as writing, marketing, and technologies such as Grammarly.
WriterZen can help programmers improve their technical writing skills, allowing them to work as consultants and so raise their earning potential. They can also improve their customer service skills, allowing them to work with clients more effectively.
Writers can use WriterZen to improve their writing skills by taking daily courses that teach them how to be more effective, concise, and devoted writers. They can advance their professions by becoming effective copywriters, project managers, or even communication-skills consultants.
Consultants can utilize WriterZen to improve their workplace communication skills and construct a portfolio of writing examples to show potential clients to persuade them that they are the best candidate for the job.
Pros
User Interface – The interface is simple to use, with clear naming conventions for the features. Good UI design for quick access to the dashboard's functionality.
KGR and Allintitle – Allintitle and KGR assist us in improving our rankings by providing us with unique topics and ideas. We obtain accurate keywords that assist a content writer in producing original and high-quality content.
Topic Explorer – It's a fantastic tool to have, with tones of great topic ideas and suggestions. This improves your SEO ranking while also saving you time.
A money-back guarantee with all the WriterZen plans.
Flexible pricing is available for companies.
Cons
Poor Content Creator: The Content Creator can assist you with the keywords in your content, but its quality is poor.
No backlink feature: WriterZen does not allow you to incorporate backlinks. For amateurs, this may be manageable, but for experienced bloggers and content creators, it can be a huge disadvantage.
There isn't a competitor analysis: WriterZen does not give you a breakdown of how your competitors rank and what keywords they utilize. This would have been a magnificent feature if it had been incorporated.
Plagiarism Checker Is Ineffective: When compared to other plagiarism checking tools, WriterZen's Plagiarism Checker produced average results.
Pricing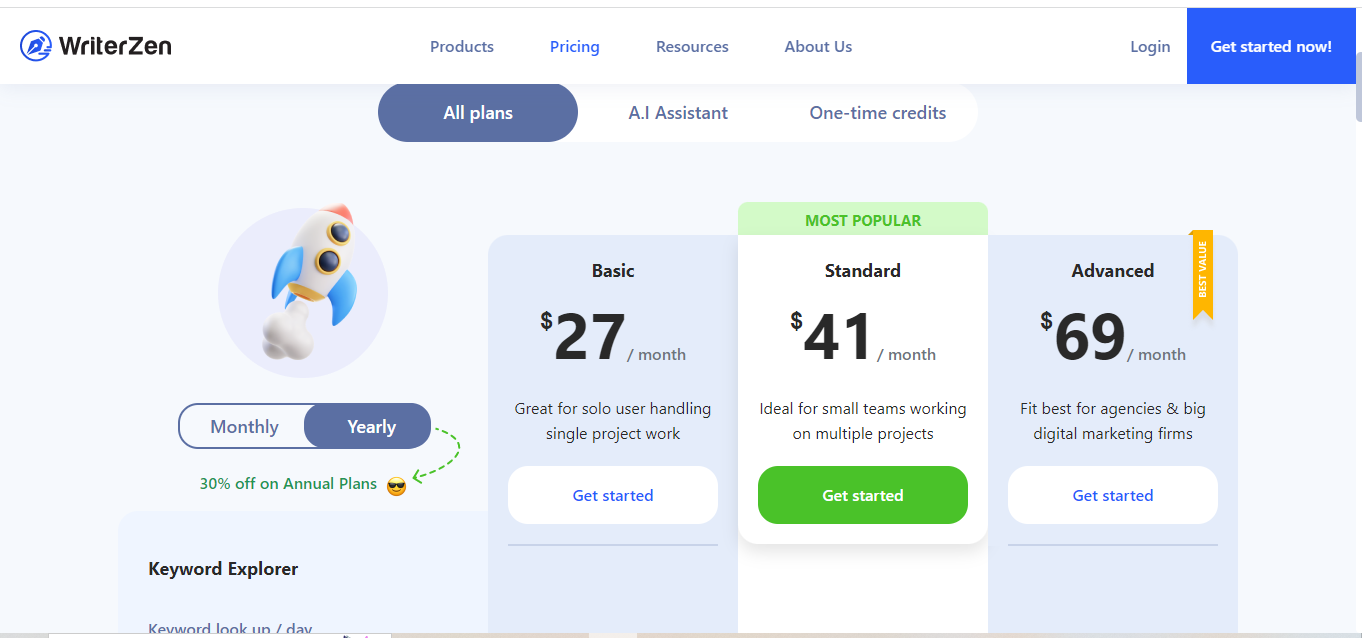 WriterZen provides Simple and transparent pricing, flexible plans, and personalization options for teams of all sizes, for every stage of your business.
Basic Plan: Great for solo users handling single project work.
Standard Plan: For small teams working on many projects, this plan is ideal.
Advanced Plan: This plan is best suited for agencies and large digital marketing organizations.
WriterZen Alternative: WriteCream
Despite all of WriteZen's great features, it does have some flaws. WriterZen can occasionally produce ambiguous or irrelevant results. Moreover, considering the poor quality of plagiarism detector tools, small business owners may find the plans unsuitable due to their exorbitant cost. Major enterprises require a backlink tool to boost visibility, which this solution does not supply.
WriteCream is the answer to all of these issues. It includes a long list of functions that can help you solve all of these problems.
What is Writecream?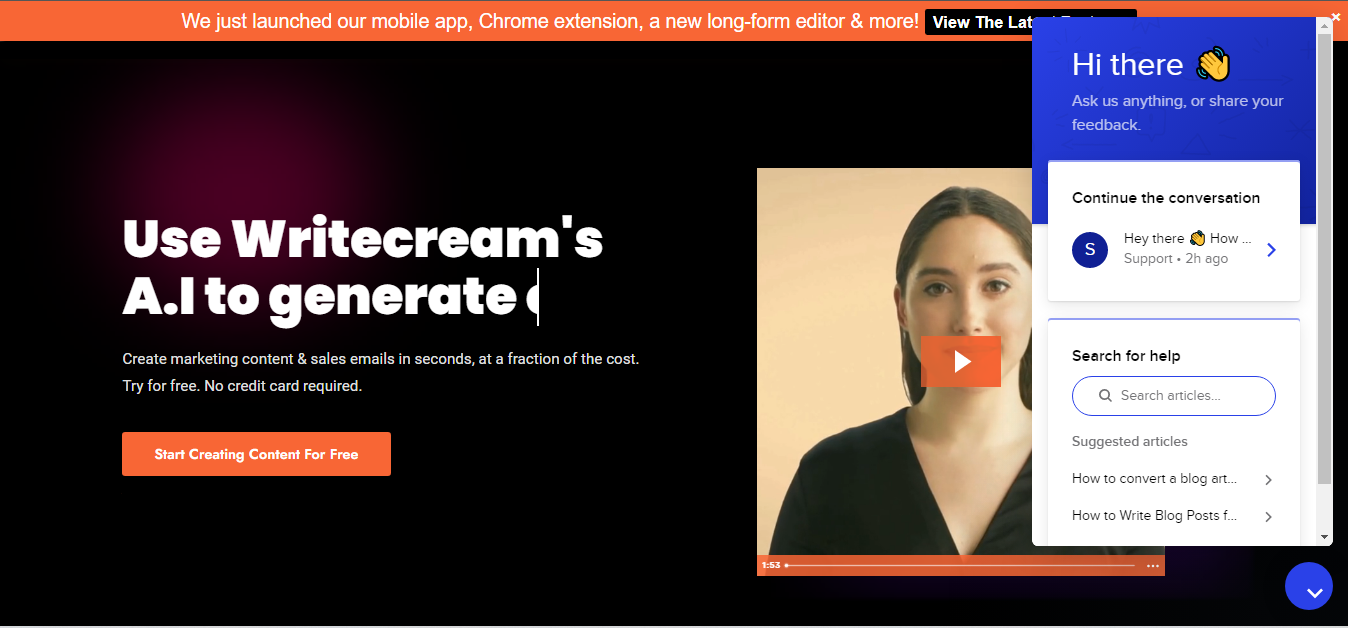 WriteCream is an AI-powered platform that assists writers and content marketers with a variety of writing challenges, including creating tailored introductions and messages for Cold Emails and LinkedIn Outreach, brainstorming blog ideas, website copy, social media content, and more. WriteCream is a content generator similar to WriterZen that assists you in writing whatever your wish. You may significantly improve your copywriting and writing skills with Writecream.
WriteCream uses strong machine learning to generate text for you. These could be for Google ads, landing pages, email campaigns, blog content, LinkedIn personalization, and other purposes. Caption generation and long-form content are only a few of its features.
Where WriteCream wins
WriteCream supports 75 languages providing flexibility
WriterZen lacks the Podcast and Voiceover tools, which allow you to add audio to your movie in a matter of seconds.
Provides 100% unique and original copy, and has a reliable plag checker, unlike WriterZen.
In terms of features, WriteCream is less expensive than WriterZen

The free plan allows you to use all features as well as receive 20 credits and 40,000 characters.
Standard Plan: $49/month for 200 credits with a 400,000-character limit.
Extended Plan: $69/month for 750 credits and a character limit of 1,500,000. There were between 200 and 750 image icebreakers, blog entries, and podcasts created. It provides you complete access to Writecream's features as well as live chat and email assistance.
Custom Plan: With this plan, consumers can define their requirements, and Writecream will design a custom price plan for them. This plan is priced according to the user's requirements.
ONLY AVAILABLE FOR A LIMITED TIME! WriteCream has launched a limited offer for $29/month that includes unlimited credits and access to all tools, with the exception of email and LinkedIn icebreakers, which are limited to 1,000 per month.
WriteCream Exclusive Features
Video Tutorials: For each of the website's functionalities, there are video tutorials available. Users will have easier access and won't have to spend as much time learning how to use the features.
Image-based icebreakers from Writecream are a one-of-a-kind tool. These are AI-generated personalized images for cold outreach. This tool allows users to make premium pictures with high-quality material.
Copywriting Formulas: WriteCream comes with built-in copywriting formulas. Two scientific concepts employed in its copywriting tools to produce the most effective output are the Before-After-Bridge and the Pain-Agitate-Solution.
Personalized features: Writecream offers emails, image icebreakers, product reviewers, and other personalized features. These features are being used by clients to greatly enhance their sales!
The Human Voice tool from Writecream can help users turn their blog posts into YouTube videos, podcasts, or voice-overs.
Unplagarised with Correct Punctuation and Spelling: Writecream creates content that is 100% unique and contains correct punctuation and spelling. The AI-powered tool creates a one-of-a-kind piece of content when you click the Create button.
AI technologies can help you come up with content ideas if you're short on ideas and don't have the time to come up with them yourself. Content is king these days, and having new, interesting, and high-converting content on all of your web pages has never been more important. WriteCream overcomes all of the flaws present in other AIs. WriteCream has become the most sought-after due to its output quality, features, and ease of access.
Give Writecream a try and let us know what you think!
Writecream provides 30+ tools for generating tons of content within seconds! Use Writecream to generate product descriptions, personalized emails, blog articles and much more and that too for free! Our free plan provides 20 credits every month which helps you generate 10,000 words per month!
Isn't it amazing?
To get started, register here for our FOREVER FREE plan NOW!