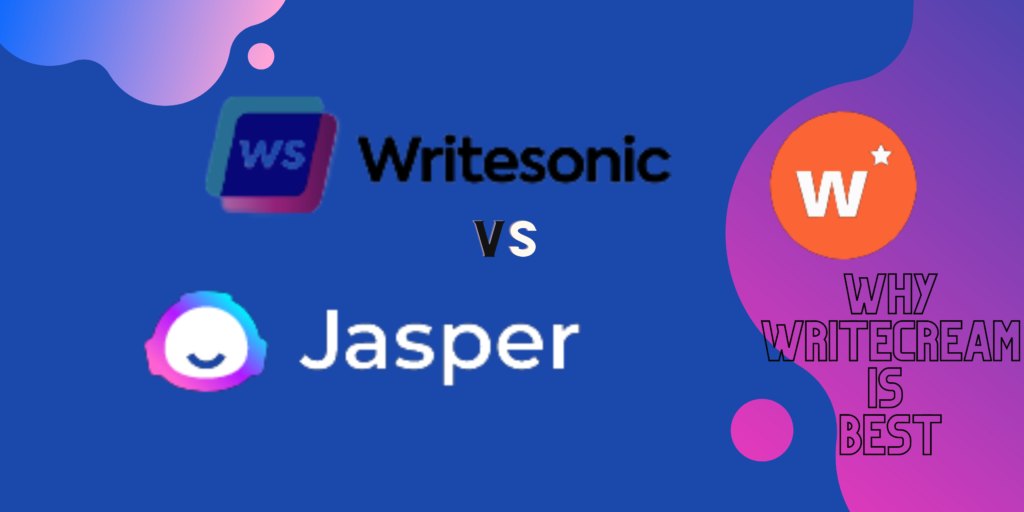 Artificial intelligence has a great impact on our everyday life. When you hear the word "AI," I am sure you would imagine robots. Do you ever get puzzled as a writer to use which AI copywriting tool? Which will give accurate and multiple options for your content? Are you looking for writesonic or Jasper (formerly known as Jarvis) and stressed because you can't decide which is best for you?
As a content writer, it is always important to choose the best writing guide for you. To stay updated with the latest methods of writing. Here in this article, we will help you have a clear vision of these amazing AI copywriting tools. We have made the article writesonic vs jasper which are some of the best ai writing software.
Writesonic vs. Jasper
A fantastic tool with a tonne of amazing capabilities is writesonic. With little effort, writesonic offers fantastic pieces in a matter of minutes. It is a straightforward AI writing tool.
Jasper is an ai article tool for copywriting that can assist you in producing high-quality content for your company. It can come up with headlines, postings on social media, articles, and more. Because of its adaptability, copywriting AI can produce material for any purpose or sector. The best part is that the text always reads well and looks great.
💡 Generate personalized emails, blog articles, product descriptions, and ads in seconds using the power of A.I
What is a product description?
A product description is a piece of writing that communicates a product's qualities and benefits. It may include basic information or intriguing narratives that will appeal to the target market.
What is an article writer?
An AI article writer is a technology that employs AI to automatically create an entire long-form piece of writing, such as an article or a blog post. A computer software called the AI article writer creates articles depending on data input.
What is a landing page?
A standalone web page made especially for a marketing or advertising effort is called a landing page. It's the page that a visitor "lands" on after clicking on an email link, an advertisement from Google, Bing, YouTube, Facebook, Instagram, Twitter, or another comparable website.
What is a gpt-3?
The AI Writing Tool, also known as GPT-3, was created by an artificial intelligence program using deep learning artificial neural networks and machine learning techniques. All you have to do is enter the keywords in the second half of your article after utilizing GPT-3 AI to complete the first section, then click "Generate Text" once more.
What is an ai writing assistant?
Almost anyone whose job requires typing on a word processor can benefit from using an AI writing assistant.
The working of Writesonic and Jasper
Both the AI tools are capable enough to provide you with standard content within a limited timeframe. Regardless of the tools, some ideas about your content are the only requirement. You can lay down a few ideas and prepare the content with Jasper and Writesonic.
Surely the form of content produced by both is different, but the content writer uses both in great numbers. Both the tools provide blogs, long-form content, social media captions, ads, and everything that involves good written content. But among the two, Jasper seems to be more advanced.
Let's compare the features
More than 40 types of copies are provided by both Writesonic and Jasper. Writesonic contains digital ads and website copy for google, LinkedIn, and Facebook. If you want to advertise your product somewhere like amazon or Flipkart, use Writesonic. It can help write the product copy, sales details, descriptions, and featured ads.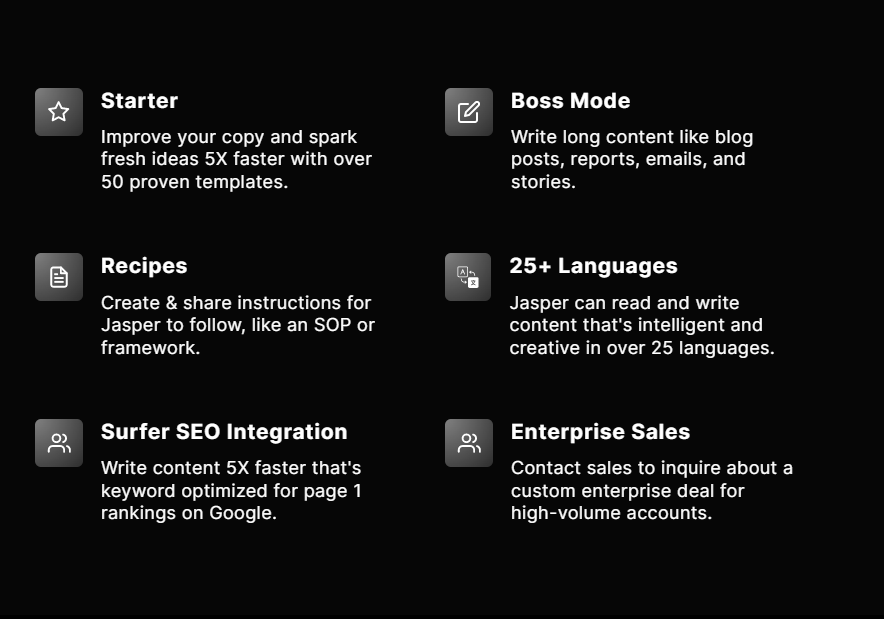 Writsonic follows the same feature of copywriting formulas that Jasper does. It has a wonderful feature that helps you generate a copy in the AIDA via the AI tool when writing. Writesonic helps you generate a 700-800 words blog only by providing the tool with a topic and an introduction. But as we know, winning over your write-up in google requires a word limit of over 1000. You can continue hitting up the regenerate option until you find the best long-form content.
While the above features sound quite interesting, Jasper sometimes beat writesonic with some points. Long-form contents aren't a cup of tea for Writesonic. If you want to write-ups beyond 700-800 words, you must switch to Jasper. It can even write a book. Yes, you read right, books!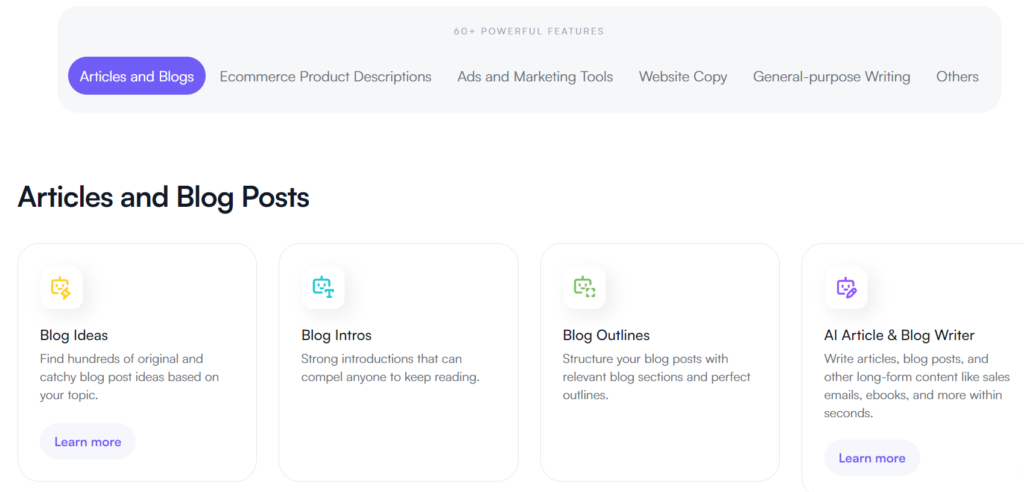 Writesonic write-ups can be rephrased till we get the required one, but not more than three types of tones and not even the article generator. But with Jasper, you can get the tones like humor, regret, iconic, and celebrity.
Creativity matters
For traditional marketing, Writesonic is the best option to go for. It creates realistic and natural content collected from various sources. Writesonic is good for short content as it helps write with relevant keywords, easy grammar, and human-like content. But if you wish to write a creative book or some long essays, then prefer JAsper.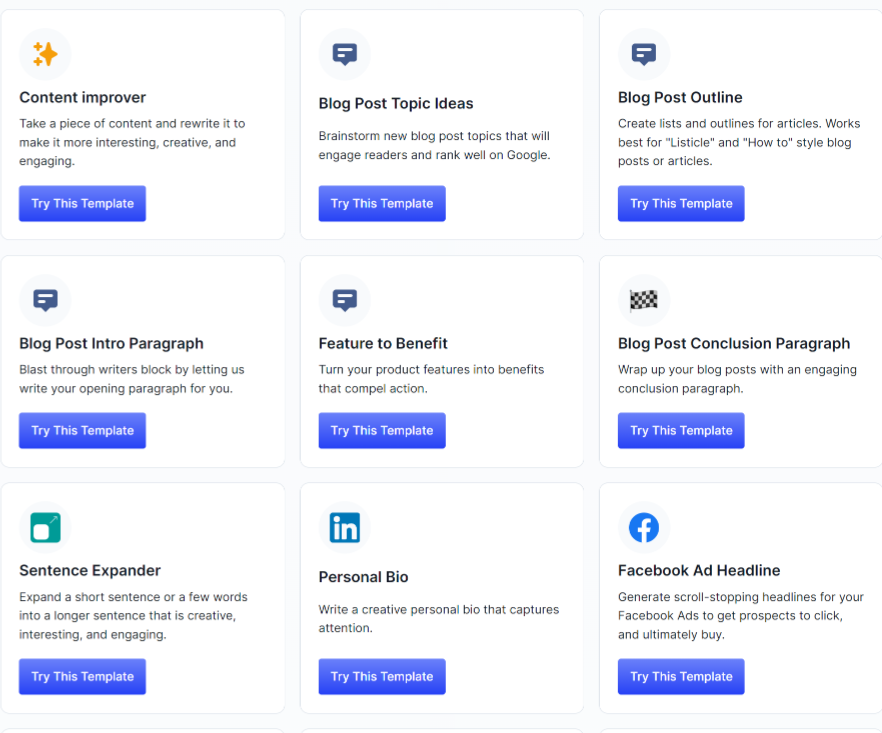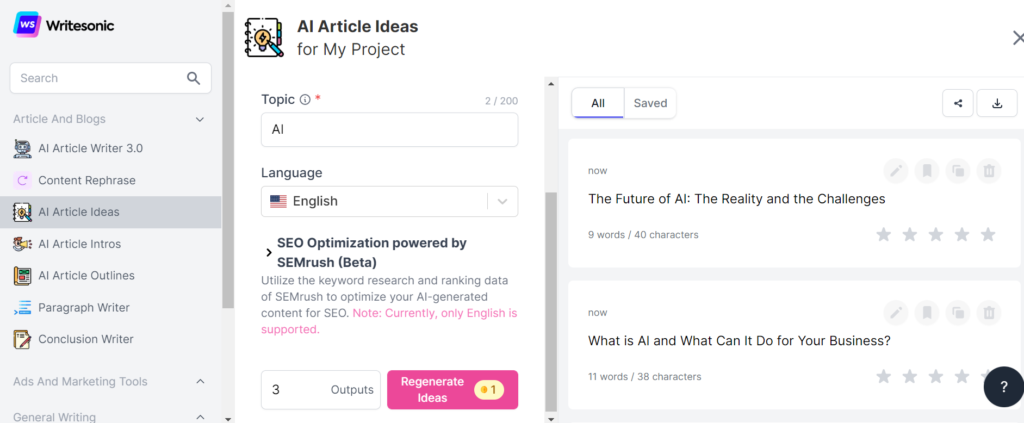 Jasper has over 2500 writing styles, with an internal database of more than one million, and th ability to collect quotes and phrases from multiple sources. With Jasper, it is quite easy to sink in.
Organizing the works within the app
Writesonic has a feature to save all the generated posts by the writer in the history itself. Jasper separates the folder for clients' projects and other projects.
Pricing plans
Writesonic and Jasper allow the users to avail the features for free. But as compared to Jasper, Writesonic wins over the price bar. In terms of affordability, Writesonic is better. It offers all the features with a single plan. After subscribing, you can avail a free trial or a monthly subscription. Else, use the paid plans for better features and accessibility. The basic plan comes at $15 per month and is ideal for bloggers, writers, and students.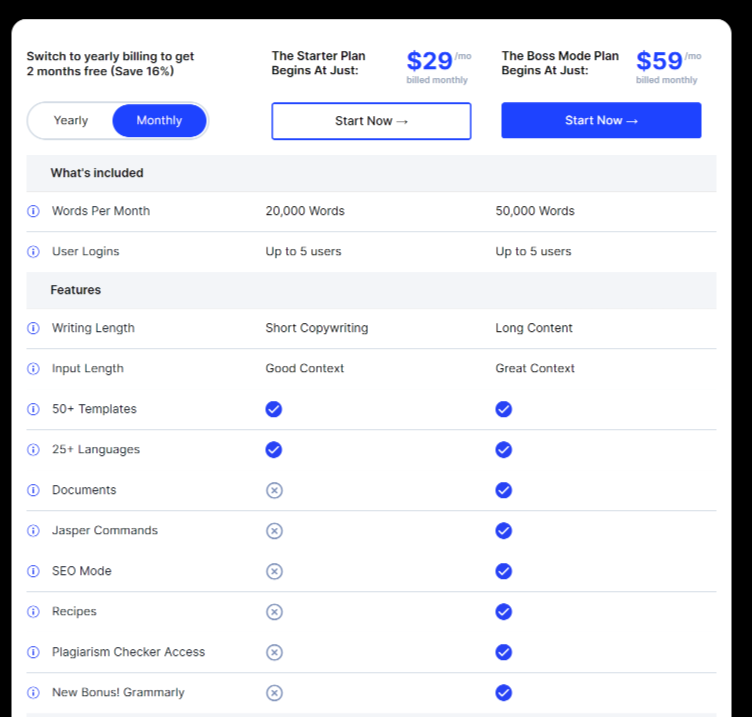 On the other side, Jasper has two plans, a starter plan of $29 per month or the boss mode plan of $119 per month per your needs. The similarity between both the copywriting tools is that more than 25 languages can be used in both. You can access over 50 copywriting templates, five project folders, infinite user log-ins, and write up to a 20,000-word limit. Jasper is the best option with a little more investment than Writesonic.
Writesonic has got two plans for business purposes. Startups and local businesses pay $95 per month for all the features of writesonic. The Agency plan of writesonic is capable of giving permits to four users. The best plan with unlimited features costs $195, which is best for businesses and agencies. On the other side, you can avail the JAsper boss mode plan for just $119, which provides unlimited in-built recipes, infinite folders, and several user log-ins.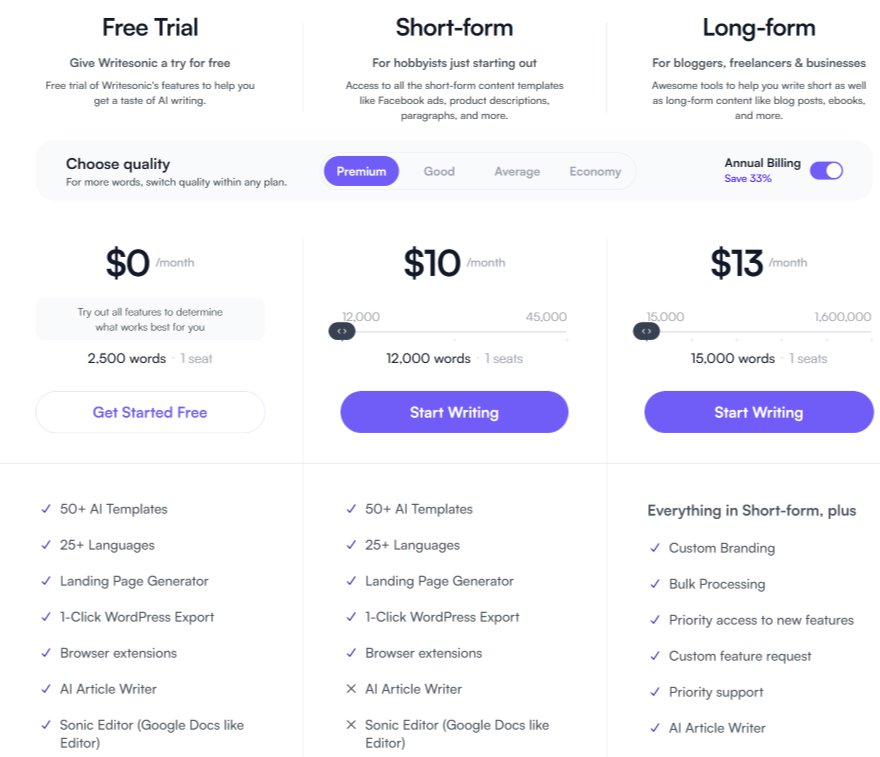 The chat support facility is present in both the plans of Jasper.
You can see a variety of features in Jasper. But the payment options are more flexible in the case of Writesonic only. If you don't want to use the feature, you can go for the pay-as-you-go option.
Pros and cons of using Writesonic and Jasper
Pros
You can use the basic features for free.
Both of them provide you with content on more than 40 content templates.
Writing social media headlines and ads are both common features of both.
Jasper wins because it provides long-form content, even books. Writesonic seems better because it has flexible payment options.
Cons
Writesonic is not as creative as Jasper.
Long-form content, essays, comprehensive articles, and books can't be prepared by writesonic.
In the case of Jasper Refund can be done if the subscription is canceled within seven days. Writesonic provides no refund, whatever may be the cancellation period.
After seeing all these features, pros, and cons, you may be confused about what to choose. As content writers, we always want something that allows us to include everything we want in our content. AI copywriting tools are time saviors and provide a better interface to prepare our write-ups.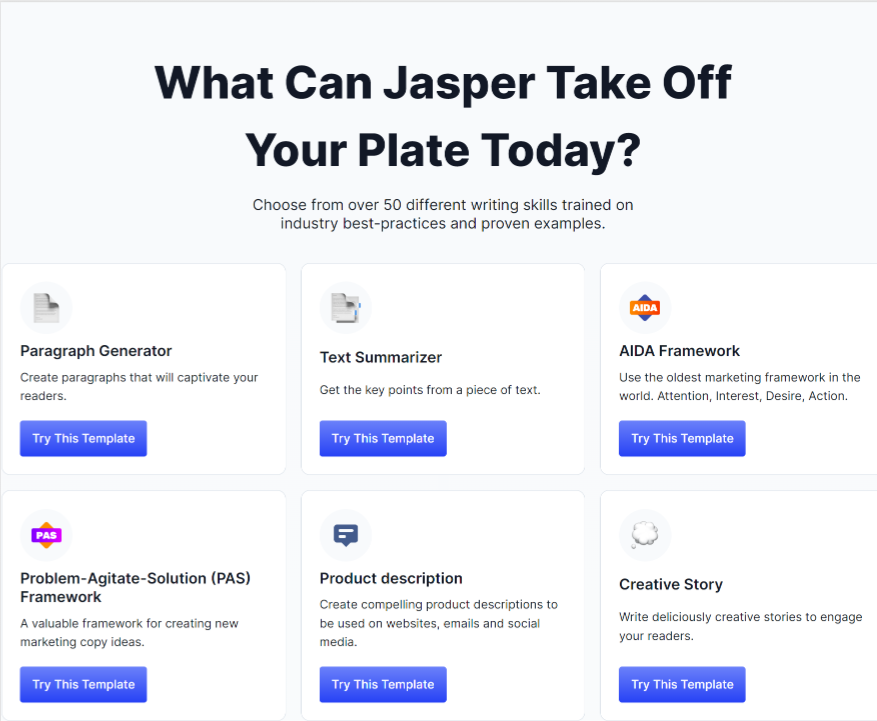 The best AI tool that is gaining attraction these days is Writecream. It is in demand because of the simple AI design that is useful for users. The writing interface helps obtain blogs, story outlines, social media captions, and ads. Copywriters, students, freelancers, and bloggers often use writecream. The three-step simple process helps get any form of content.
Reviews about Writecream
A time savior app that helps take content writing to a marketing level. If your business involves write-ups, then Writecream is the best app for you. It helps you create social media traffic and strong search engines and increase your business clients.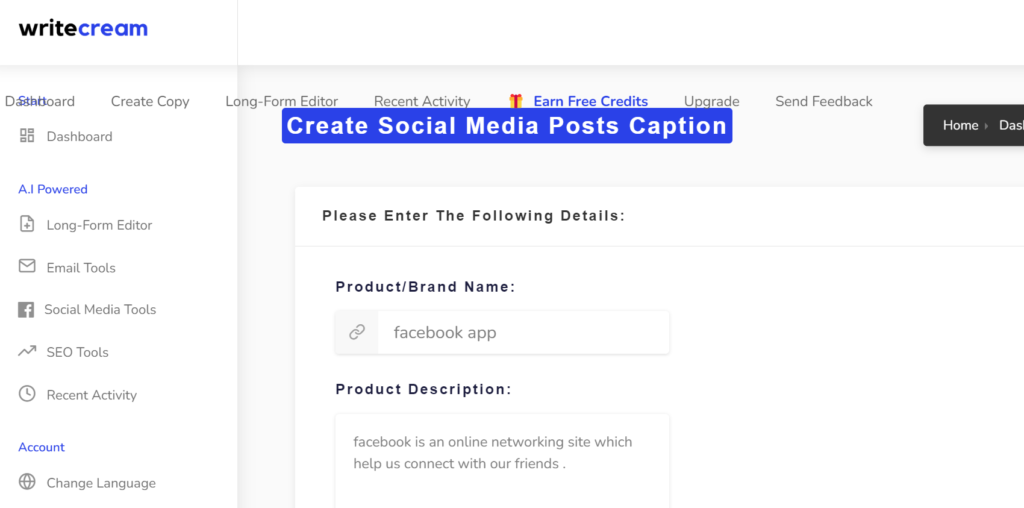 Features of Writecream
Helps to write blogs and long-form content from scratch
The inputs are very small. You only have to insert certain keywords and the genre of your write-up; writecream will generate the blog/article independently.
Youtube voice-over and podcast
Writecream helps you script for your youtube videos, blogs, and podcasts. It is a powerful AI tool that converts the content into podcast scripts.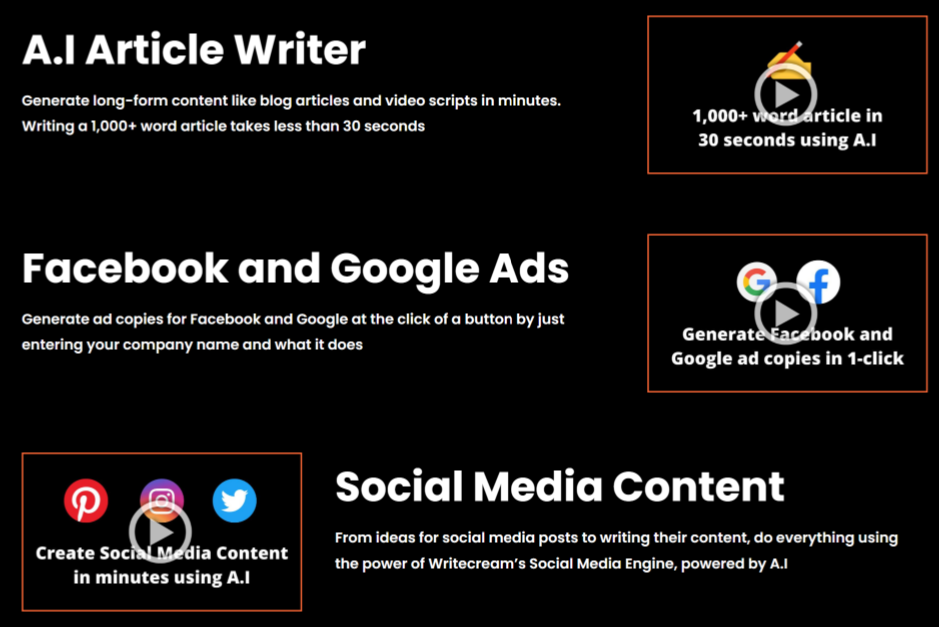 Advertisements
Ads are best when they are created with the writecream. It generates multiple options for the type of ads you want by analyzing the website contents. These ad copies are useful for the campaigns which take place in huge numbers.
SEO writing
Suppose you are searching for "Manchurian" on google, so you are likely to search for this dish because you want its ingredients, uses, or the recipe. Google will make sure to provide you with all content related to Manchurian. If you have written the recipe content, you will surely want your customers to find your content.
For anyone to find it, you have to rank your content above all websites, which is not at all an easy task. This is what SEO marketing is all about. Writecream has built-in features which help people and get more people involved in buying their products. When assessing the two solutions, reviewers found Writesonic easy to use. However, Jasper is easier to set up and administer. Reviewers also preferred doing business with Jasper overall.
Pricing
The free plan helps you write up to 40,000 characters in it. The paid plan includes a monthly package of $29.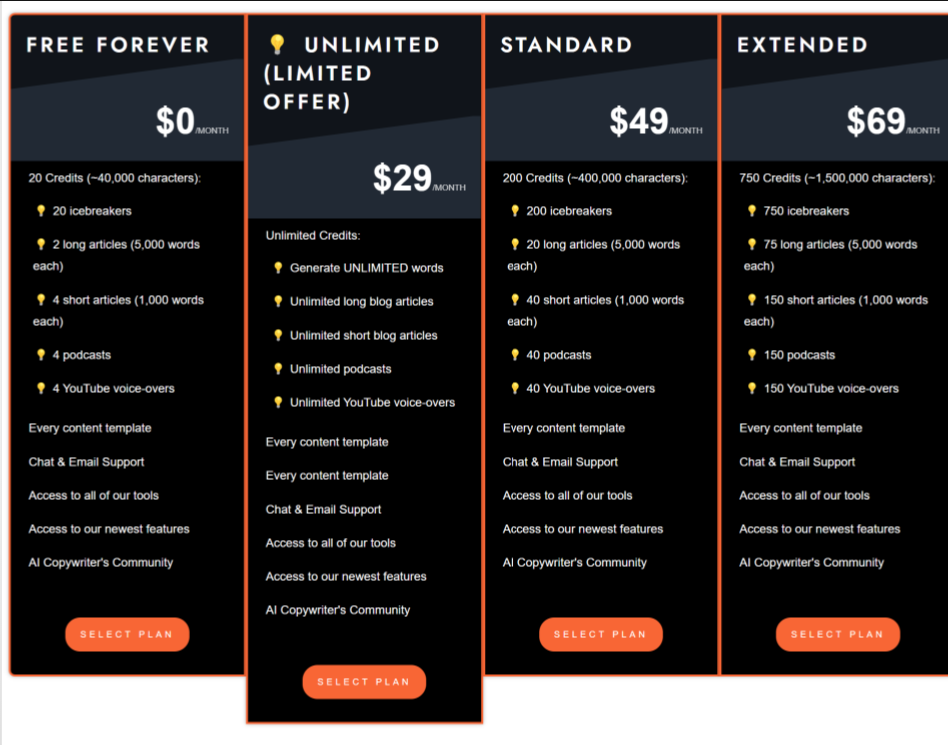 Writesonic vs. Jasper Ai – Customer Support
When it comes to customer service, Writesonic and Jasper Ai both provide excellent service. We put each software's customer care to the test and discovered that they are both helpful and responsive. Customer onboarding at Jasper Ai is marginally superior than that of Writesonic. They have an instructional YouTube channel. You may always learn more about how to utilise Jasper Ai more efficiently because it also offers an academy.
Concluding with the best
Writers today have a huge demand. But even if a full-time working staff won't be able to fulfill all the user needs. It is good if we have these powerful writing tools with us. They do our work with ease.
We have seen the above three types of AI tools, and Writecream is quite recommendable. It is affordable, capable of preparing unlimited features, great accuracy, well-maintained folders, and all forms of content.