Artificial intelligence is constantly changing how B2B businesses market their products. It is mind-boggling how efficiently AI performs tasks that normally require human intelligence. A number of tools have started ruling this space and one of them acing the cut-throat competition is Apollo.io.
Apollo.io is a sales intelligence platform that includes features to help you prospect, engage, and generate more income. It helps sellers and marketers find new consumers in the market, connect with connections, and develop a contemporary go-to-market strategy.
Apollo's B2B Database has approximately 220 million contacts and 30 million organisations, all with reliable and accurate information. Teams use Apollo's Engagement Suite to successfully expand outbound activities and sequences. Finally, Apollo's Intelligence Engine can help you close by providing suggestions and data for your complete go-to-market operations.
Apollo.io, a premier data analytics and sales interaction platform trusted by over 10,000 clients ranging from fast-growing startups to multinational companies, was founded in 2015.
💡 Generate personalized emails, blog articles, product descriptions, and ads in seconds using the power of A.I
Features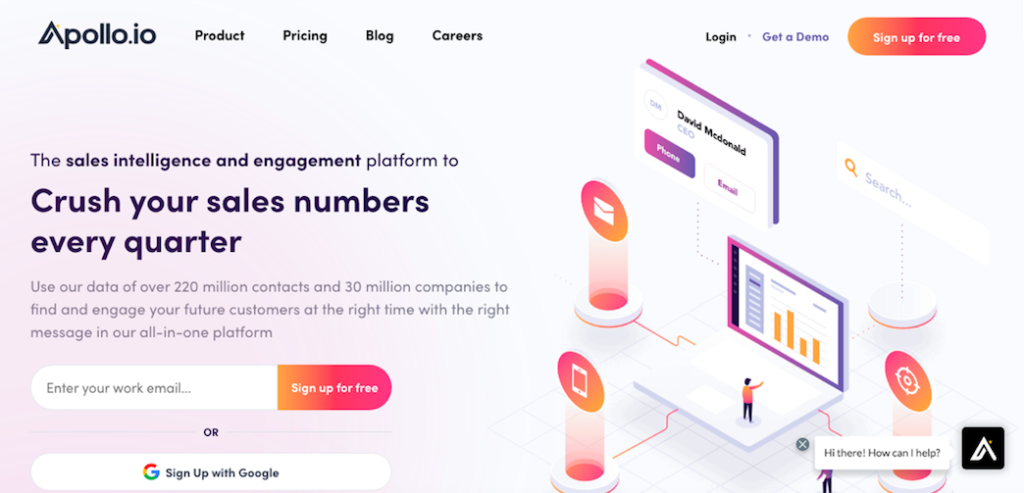 1. Data
According to the Apollo.io, salespeople must say the right things to the right people at the right time. It's doubtful that you'll succeed if you contact the incorrect individual or when the moment isn't right. The ultimate goal of Apollo's data functions is to achieve this.
This feature offers various uses:
Enables Prospect Finding: Apolllo.io helps in searching prospects with the help of its strong database and helps in identifying the best buyer fit personality.
Database: Apollo offers effective filtering system by proper categorisation of enterprises and decision-makers.
LinkedIn connections: Apollo helps in finding LinkedIn connections and keep track of staff changes.
Enrichment: Apollo helps in collecting data about leads by entering all the required information into a CRM.
2. Workflow:
There are several distinct functions under Apollo's workflows umbrella that allow sales professionals to simply create sales campaigns and follow up on leads.
Sequences: Assists users in staying organised while executing large-scale sales interactions and workflows.
Dialer: A click-to-dial tool that makes calls and updates your CRM at the same time.
Task management: Assists representatives in making the best pitch possible by providing high-quality data on each prospect or decision maker.
Rules Engine: The rules engine keeps track of certain occurrences, such as when a prospect opens an email. The engine will then notify a sales representative to make necessary modifications or take appropriate measures.
Extensions: Apollo features a slew of email, CRM, and social network connectors.
3. Intelligence
Apollo has a wide variety of intelligence capabilities. These are intended to assist salespeople in determining who to target and when for each product.
Best-practice analytics: The best-practice analytics gives information on decision-makers. Based on prior successes and failures, it also advises you what works with prospects. As a consequence, communications, targeting, and campaign execution are all improved.
Scoring Engine: Salespeople may utilise the scoring engine to decide which sales leads are the top prospects and when they should make their pitch.
Cockpit: Apollo's customised dashboard for salespeople is called the Cockpit. It shows users which prospects are the most important and how far down the sales funnel they are. Furthermore, the cockpit allows users to make calls and send emails without leaving the programme. Finally, these activities may be carried out on a large scale, and the cockpit can be customised to meet the demands of each individual.
Pricing
Let's check the pricing plans of Apollo.io. It offers various plans to its customers and one can choose any plan according to his/her requirement.
1. Monthly Plans: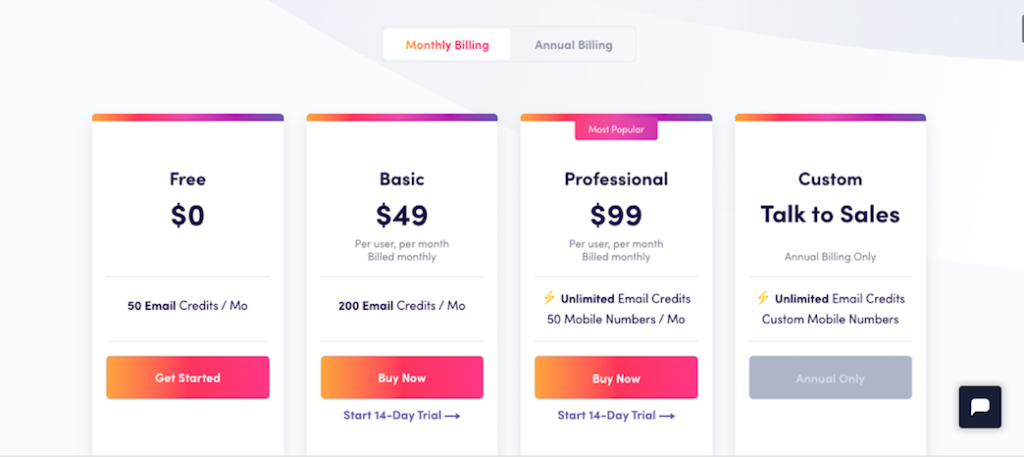 Free Plan: Apollo.io has a free plan with restricted capabilities, such as a daily email limit that must be sent through Gmail. You also receive trimmed-down versions of several important functionality.
Basic Plan: For individuals who want additional functionality, there is a $49 monthly basic plan available. You may utilise any email provider, obtain full-sized CRM connectors, and customise your experience here.
Professional Plan: The professional plan, which costs $99 a month, is for sales departments that require the most of the bells and whistles. This unlocks the phone's dialer, call recording, and other features.
Custom Plan: Finally, there's a personalised strategy. Because subscribers must pick what they require, pricing is determined by collaboration with sales. Access to the Apollo.io API and specific limitations can be negotiated through their bespoke or annual plans.
2. Annual Plans: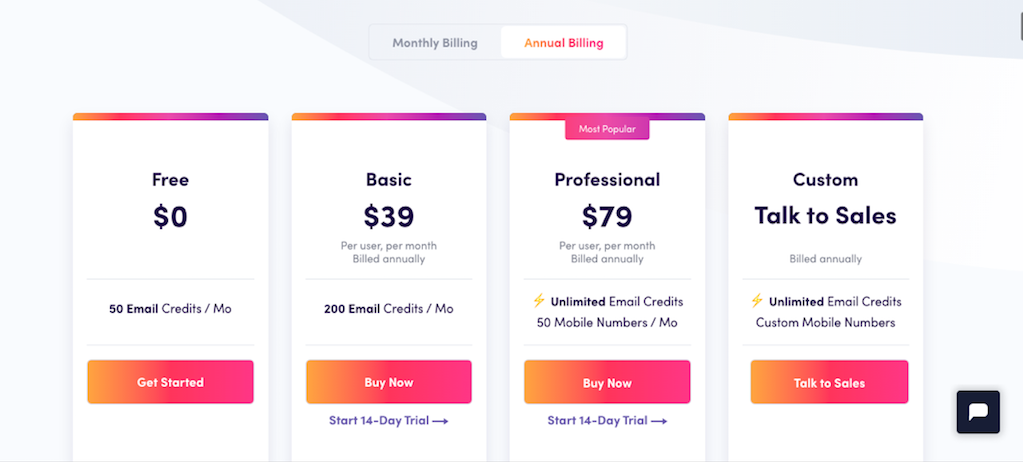 Apollo.io offers all the above plans on yearly basis also. The prices differ accordingly.
Basic Plan: $39 per month on annual basis
Professional Plan: $79 per month on annual basis
Reviews
1. Capterra:
The overall rating of Apollo.io is 4.5/5 on Capterra. The image below shows a detailed review with pros and cons of the platform!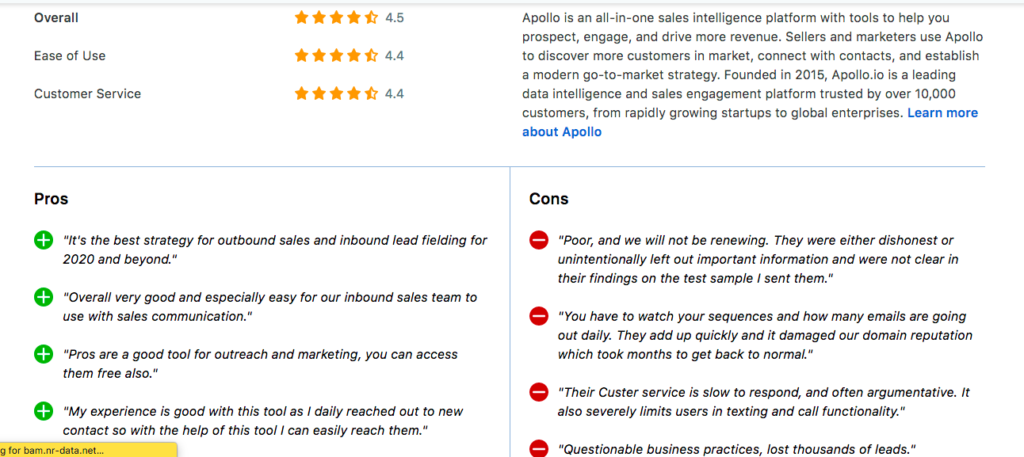 2. G2
Apollo.io has got 1523 reviews on G2. Here's a detailed review: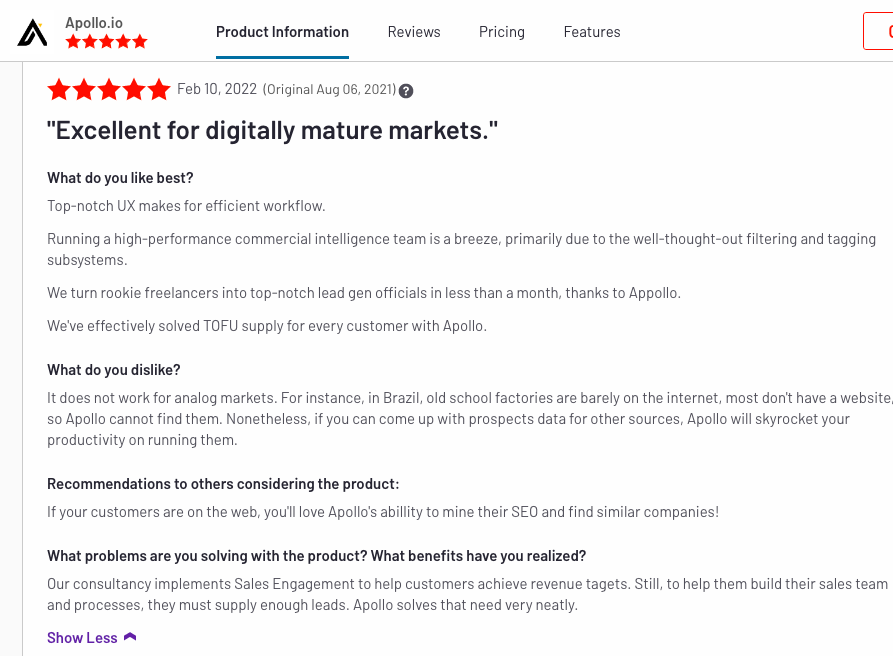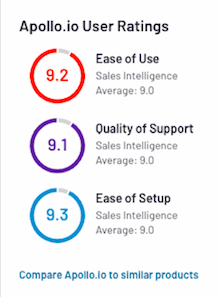 3. GetApp
Apollo.io received a rating of 4.5/5 on GetApp.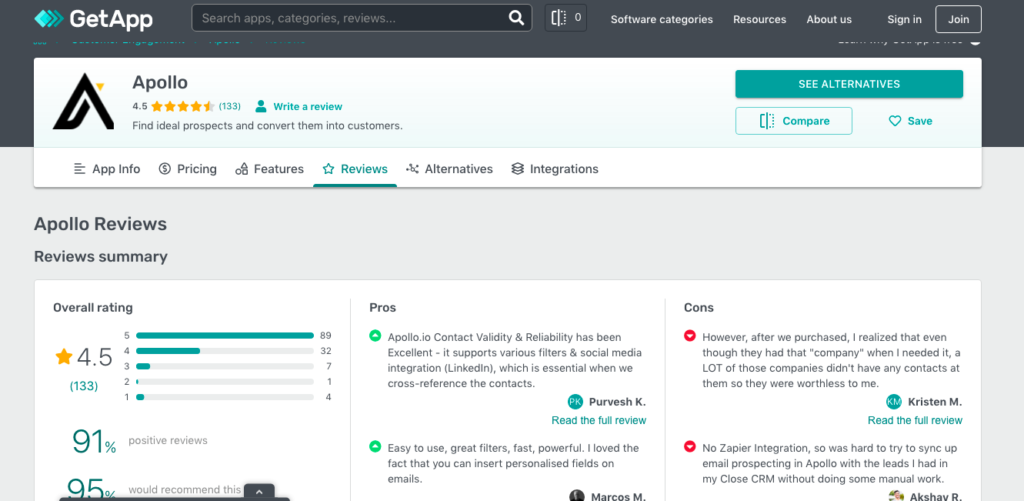 We can therefore conclude that Apollo.io is quite popular in the sales space and is producing amazing results. According to the reviews, there are both pros and cons but overall user experience is very satisfactory.
Conclusion
There's no denying that Apollo.io is brimming with features. At the same time, these capabilities are well-integrated with one another and with a large number of integrations. Customers particularly like Apollo's adaptability. A professional can utilise a feature if they require it. There's no need to slow down performance if this isn't the case.
With that stated, Apollo's capacity to track job changes and contact updates in near real time is one of its biggest assets. Apollo's engineers work hard to guarantee that when a change is noticed, experts are notified, making it easier to update CRM and other marketing tools.
Customer service is clearly Apollo's weak spot. Reviewers on both G2 and Capterra complained about a sluggish, even argumentative personnel. However, favourable evaluations make it unclear if this is a genuine flaw or if the concerns are the product of systemic issues or bad experiences.
Another flaw worth mentioning is Apollo's data quality. There are workarounds, such as using their built-in "data confidence" filter to only display contact information that Apollo believes is correct.
Overall, Apollo.io is a fantastic solution for sales automation and connections. It saves time, reduces the need for external tools, and allows salespeople to organise their dashboard.