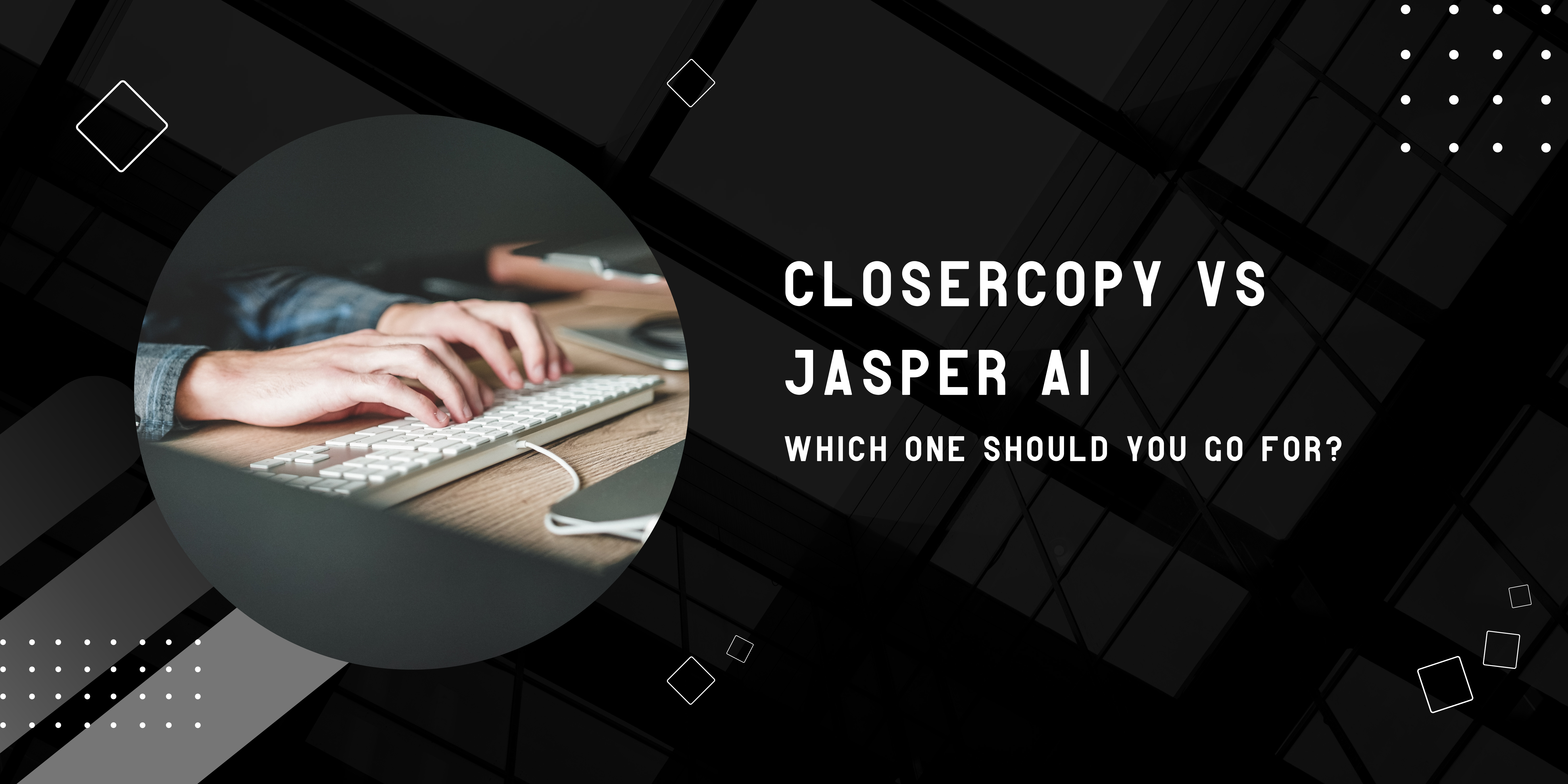 Technology has grown by leaps and bounds with changing times. Nowadays, businesses and marketing experts in particular constantly set higher standards for selling their goods and services in accordance with technological advancements. One of the most significant scientific developments in recent years is machine learning which has been found to be extremely important in marketing. The development of content using AI is a significant area of marketing to which it contributes. AI-powered technologies have greatly simplified previously hard topics, from generating articles to creating personalized emails. In this article, we will take a look into two exciting AI-powered tools in the market, Closerscopy, and JasperAI, and also make a side-by-side comparison of the two.
ClosersCopy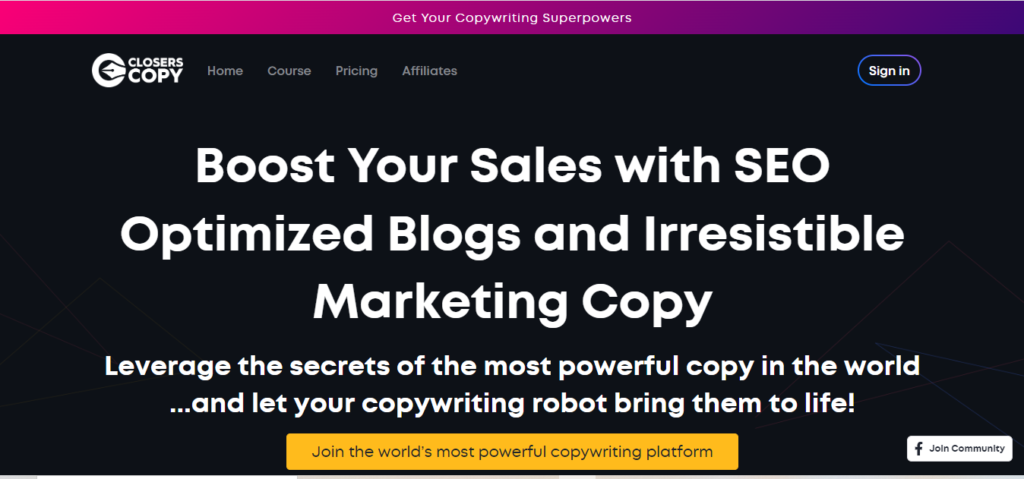 ClosersCopy is a powerful artificial intelligence tool that can be used to write compelling content. By using this program, you can get through writer's block and produce high-quality work. With this AI, you can even create long-form material using any writing structure of your choice. For authoring blog posts, email outreach and sales campaigns, sales websites, and sales campaigns, ClosersCopy leverages SalesAI. You may also use StoryAI to build gripping stories. This writing tool is quite helpful for increasing sales.
Users can alter and create material of their own choosing using this software's updated content writing and copywriting templates. This software is simple to use, and both beginners and experts can use the UI. In addition to helping you with new copywriting, ClosersCopy also offers suggestions for what to include in your content. The best users of ClosersCopy are businesspeople, entrepreneurs, and independent authors. You need to develop great content to direct more traffic to your organization, and ClosersCopy assists you in doing so.
Features
ClosersCopy hosts a wide range of features that will aid in your copywriting process. Here are the most noticeable and best features of ClosersCopy:
💡 Generate personalized emails, blog articles, product descriptions, and ads in seconds using the power of A.I
AI Editor: Closerscopy offers users an artificial intelligence-based editor that will assist you in editing the copies you produce. This function has the advantage of giving the content the appearance that it was written by a professional. The tone, grammar, and spelling of the content will all be checked by this feature. It will assist you in writing the ideal content, get rid of all extraneous words, provide you with better synonym choices, and aid in the creation of content for your page.
The Template Library – As we already noted before, this software contains a large, regularly updated library of different types of templates. You can develop unique templates using these templates for each type of content you produce. You can choose the template that will work best for you thanks to the access to a wide range of templates.
Drag and Drop Builders – The "Drag and Drop Builders" feature asks users a series of questions, and once you have finished responding, the AI will suggest keywords that are suited for the category of your content. This function will let you write copy more quickly.
Examples of Copies – If you are having trouble coming up with ideas, you can use the software's copy examples for a fast brainstorming session. You may access up to 18,000 well-written copies with ClosersCopy, and reading them will undoubtedly spark some creative thoughts.
It Analyzes Sentences – ClosersCopy's features provide you the chance to scan your copy, and they will inform and recommend adjustments that could be done. It determines whether the tone of your copy is acceptable for the written content. When specific terms and phrases are used frequently in your content, your copy may appear spammy at times. ClosersCopy can assist you in doing this by aiding you in removing all the unnecessary words. Additionally, using complicated phrases can make it challenging for readers to understand your content and may stop them in their tracks while reading. ClosersCopy helps you tone down your sentences so as to make it easy for your readers to understand the content.
Megathron – The "Megathron" is a brand-new feature of ClosersCopy that distinguishes it from all other AI content-generating technologies. Users of the Megathron function can compose lengthy content and get an outline as well! You can automatically create outlines and keywords for your copies when you activate the Megathron function in the toolbar. This tool will look for information from all the different search engines and add the appropriate pieces to your topic. This tool also allows you to create headings and subheadings. Having access to the Megathron feature in 24 different languages will enable you to produce content that is better
Limitation
This writing tool's lack of a grammar and plagiarism checker is a significant drawback. It has numerous problems that lead to inconsistent content production, according to certain users who have brought this up. They also claimed that it just had very rudimentary functioning. The ClosersCopy's user interface might benefit from various upgrades and simplifications.
Pricing
Starter Plan: This plan has a monthly cost of $29.99 and an annual cost of $251.92 if you choose the yearly plan. Users have access to all the basic copywriting features with this plan. However, you are limited to 50,000 characters every month.
Professional Plan: The monthly cost of this plan is $49.99, and the annual cost is $419.92. The character limit is the sole difference between this plan and the beginning plan, which both offer the same standard features. 400000 characters can be generated per month.
Unlimited Plan: This plan has a monthly cost of $79.99 and an annual cost of $671.92. In addition to the features included in the starter and professional plans, this feature enables teams and permits users to create an infinite number of characters each month.
Jasper AI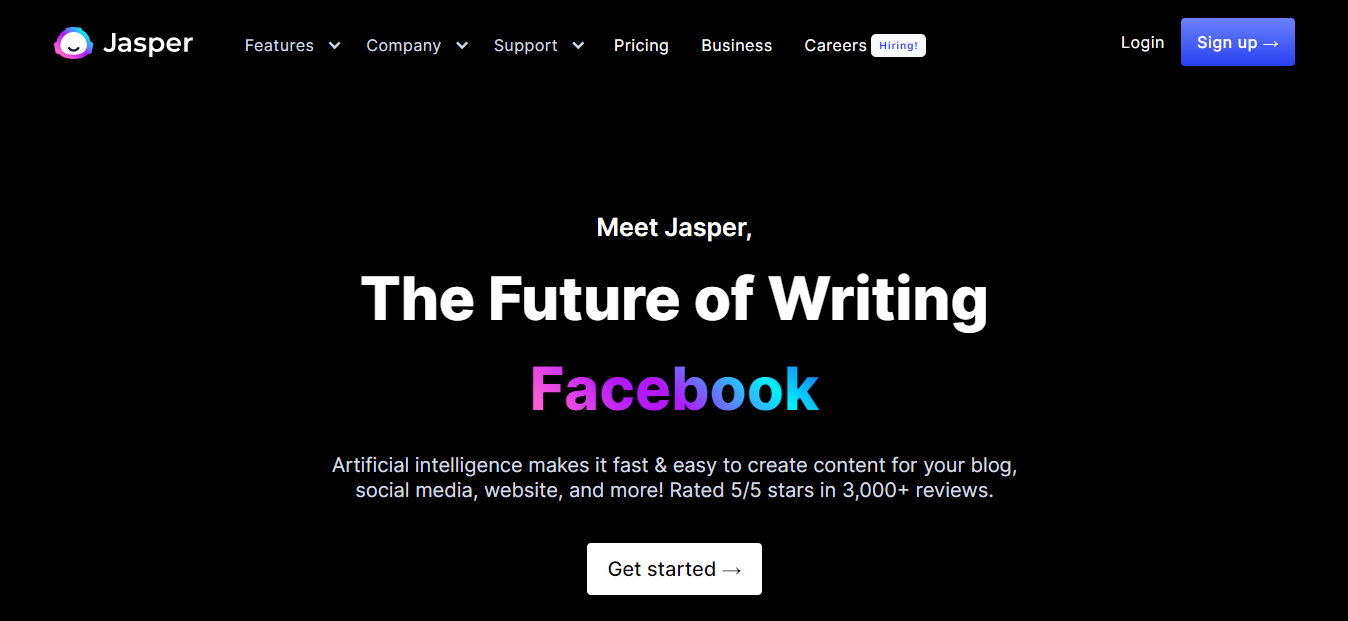 Jasper AI is a copywriting software that combines AI and ML to generate engaging, appealing text for your blogs, landing sites, social media, advertisements, marketing emails, and more, enabling you to write 5 times more content in half the time.
You can streamline the generation of wholly original and fresh content for your blog or website by using this tool. This AI content generation tool will be a deal-breaker for all businesses and marketers in 2022. Today's digital content creators, influencers, bloggers, and email marketers that want to cut costs and time are in high demand for Jasper AI content writers.
Who can use Jasper?
Bloggers – Jasper AI is the answer for you if you're a freelance blogger or a business wishing to add a weblog to your website to boost organic traffic. With Boss Mode, you can create blogs that are SEO-optimized, rank on Google, and drive thousands of extra visitors to your website each month.
Entrepreneurs – If you're a businessperson, Jasper.ai can help you expand your company with ease. With more than 50 copywriting possibilities available, you're sure to find a couple that you can use to create engaging AI copy to draw in more customers.
Marketers – Jasper offers a wide range of copywriting alternatives for producing ads, influencing your audience on social media, and creating marketing emails, which marketers will like.
Agencies – Why not use your Jasper AI tool to help you create engaging text for sales funnels, webpages, or social media posts if you own a content creation company? It's comparable to hiring a professional copywriter for a small portion of the cost.
Pricing
The starter plan and Boss mode plan are the two types of plans offered by Jasper AI. Depending on your needs and preferences, each provides a range of pricing options and features. Let's go over the starter and boss mode plans in detail, including their features and price, in case you've already made the decision to use Jasper AI to create your content.
Starter Plan: Jasper.ai's entry-level plan is just $29 per month. This method can be used to write short text for things like headlines, tweets, and product reviews. There is a 20,000-word monthly cap on this Jasper Starter Plan, but there are no login restrictions.
Cost: $29 per month (or $24 if paid annually)
Features:
Short copywriting
Good context
50+ Templates available
25+ languages
Auto-save
Boss Mode Plan: The people who will use this plan the most are marketers and content producers. For producing lengthy content like blog posts, polls, letters, and tales, the boss mode subscription is great. Jasper's boss plan has a monthly word limit of 50,000 words and allows for unlimited logins. It costs $59 a month.
Cost: $59/month ($49/month if paid annually). Let's check whether it is actually worth it or not?
Features
Writing long content
Great context
50+ templates
25+ languages
Documents
Jasper commands
SEO mode
Recipes
Plagiarism checker
Grammarly
Auto-Save
Revision history
Attention, Interest, Desire, and Action (AIDA) Framework: This oldest marketing approach and framework may be used to write content for the products of your firm so that content becomes fascinating and many audiences become involved.
E-mail subject lines: Using this tool will help you create some eye-catching lines that will encourage readers to view your content.
SEO blog post titles and meta descriptions: This particular tool proves to be the most effective when it comes to creating title tags that are SEO-optimized and meta descriptions for blog entries so that your website or blog has a high rating on Google.
Problem Agitate Solution: This framework works best for discovering or coming up with a new marketing copy strategy or idea.
Content Enhancer: You can enter your content into the content improver to increase its quality and make it more engaging in a matter of seconds.
Expander of sentences: It helps you to extend a brief paragraph in order to draw in a larger audience and enhance conversion rates.
Video Description: You may use this template to build completely unique descriptions for your YouTube videos in order to boost their search engine rankings. Additionally, it saves a ton of time, which is wonderful given that writing lengthy, optimised descriptions for Youtube takes too much time.
Video titles: To increase views, make sure your videos have catchy names that stand out.
Conclusion
Now that you are aware of all these uses for AI-powered content tools, get started right now on time and effort management for your team. Through this article, you would be able to learn about every aspect and feature of ai copywriting tools like Jasper and CopyAI. These two are very similar to our AI copywriting tool, Writecream.
Writecream is an AI copywriting tool that, in addition to the above two, aids content writers in creating exceptional long- and short-form content, ads, social media content, and more. It is simple to use, and AI enables on-demand content generation. With each piece of content it creates, the AI grows and learns, making it a valuable tool for marketers that are continuously seeking new ways to improve their content.
Writecream gives extra features that these other two programs do not, in addition to these. It aids with the scripting of your blogs, YouTube videos, and podcasts. It is a powerful piece of AI technology that converts the content into podcast scripts. For efficient cold outreach, Writecream creates high-end picture icebreakers for free. There is also a free trial package available, grab it while it lasts!
Writecream provides 30+ tools for generating tons of content within seconds! Use Writecream to generate product descriptions, personalized emails, blog articles and much more and that too for free! Our free plan provides 20 credits every month which helps you generate 10,000 words per month!
Isn't it amazing?
To get started, register here for our FOREVER FREE plan NOW!