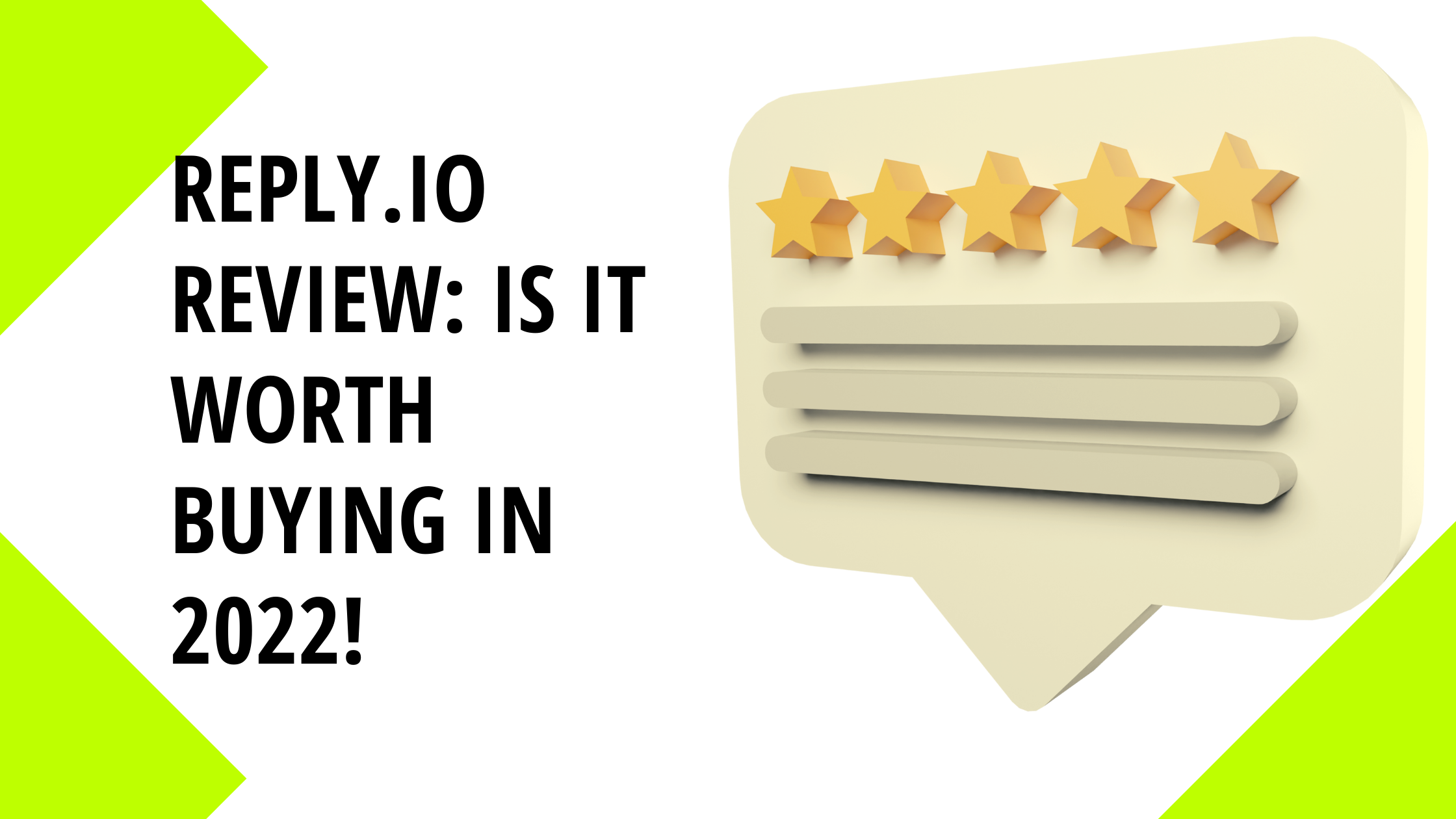 Reply.io is basically a messaging automation tool that sales and marketing professionals use to engage with their clients and customers. It has features that allow you to find prospects as well as engage with them over multiple platforms. Regardless of whether you require the services for B2B or B2C purposes, Reply has been found to be extremely useful by users globally as it tends to simplify the entire process of generating leads, engaging with clients by automating these processes. Reply.io relies on automation to handle bulk messaging, which can be quite overwhelming for sales teams as a constant flow of messages can consume quite a lot of time. Apart from automated messaging, the tool also provides other features that can help you maximise the reach and results of your sales campaign by helping you collaborate with your team members as well as analyse and understand various other aspects of your campaign.
In this article, we will examine Reply and its various features and provide you with a comprehensive review of this tool.

Chrome extensions:
With the chrome extension, Reply allows users to search for verified emails on LinkedIn through an automated process, instead of relying on manual work. This feature basically looks everywhere, verifies, and even adds the contact info to your tasks. Once it collects all the information, it automatically inspects the data to ensure that the contact details are relevant to reduce outdated or duplicate contacts. This helps in maintaining high quality in your campaigns along with reducing time consumption.

The Chrome extension is also compatible with Gmail, meaning you don't have to worry about other email providers. Reply also integrates with HubSpot, Salesforce, and Copper CRM, allowing you to source your contacts from all three of these platforms with ease. Another extremely beneficial feature of the extension is the Name2Email integration, which helps you find any business email available on the Internet. This feature undoubtedly will boost your outreach in your marketing or sales campaigns.


Engagement: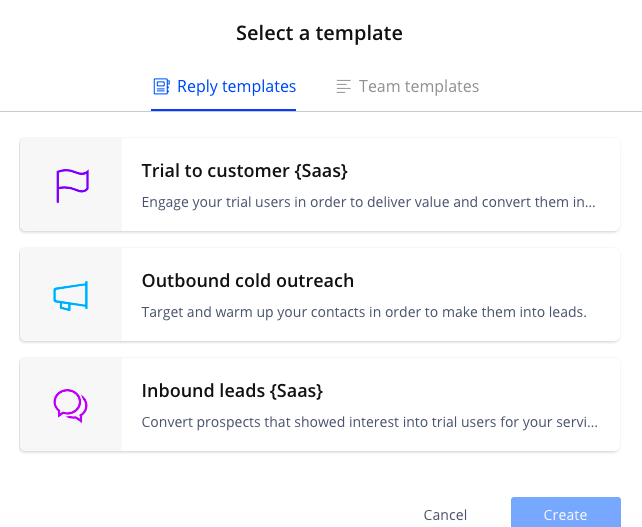 This is probably the most powerful feature of Reply and possibly the biggest reason why it is so popular among marketing professionals. Reply allows you to engage with your clients over multiple platforms and provide a wide range of options to do so. The sequence feature allows you to contact your prospects by automating messages through LinkedIn or personal emails. You can set up a pre-scheduled sequence manually or customize using one of the many templates. As per your requirements, you can select one of the templates and make the necessary changes needed for it. Few templates that are available are:
Trial for customers
Outbound cold outreach
Inbound leads
Recruitment
Educational
Along with the ability to create your template, you get the option to create a schedule for messages to be sent as well and you can customize the schedule to suit your needs.

Apart from adding sequences, Reply provides the feature of cloud calls which comes with different functionalities. There are various attributes that come with the cloud calling feature, some of them are mentioned below:
International calls
Inbound call transfer
Custom caller ID
Local presence
Call dialer
Click to call
VoIP calls through the browser
Apart from cloud calling, you can send manual emails, SMS, and WhatsApp messages to your clients.
Along with the above features, one of the best engagements features that Reply has is the ability to embed videos in your emails, which is possible because of its integration with Vidyard. This feature ensures that your mails are a notch ahead of others and boost your response rates as a result. The other options that you get with this integration are Notifications, Analytics, Meeting booking, In-video custom CTAs, and Full-screen recording.


Productivity tools: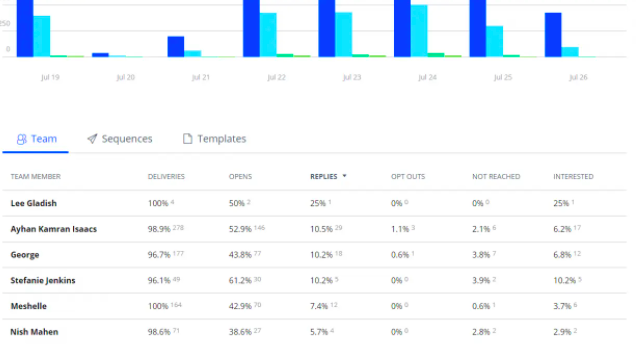 Reply comes along with a set of tools that are meant to boost productivity by encouraging collaboration among your team members. Efficient collaboration ensures that you do not spend much time on tedious tasks by helping you organize and analyse the metrics of each team member. You can review the templates and sequences that each team member has created enabling you with better resources to track their activities. Scores are also given to each team member on various aspects like Email deliveries, Email open rates, Reply rates etc.

Apart from collaboration among team members, you can also see prospects' information and recent activities which can eventually help you in designing campaigns more suitable for them.
Reply also uses artificial intelligence to provide you with suggestions with regards to relevant leads and provide email suggestions depending on the requirements.
💡 Generate personalized emails, blog articles, product descriptions, and ads in seconds using the power of A.I


Reports and Analytics:
To understand and create successful campaigns, reports and analytics are a crucial part of any business or campaign. Reply comes with a range of features that help you analyze different aspects of your campaign and develop better strategies. Features that help you do this are
Record calls
Listen to calls
Export statistics
Measure team results
Provide team and sequence analytics
These feature facilities an easier analytical approach to your campaigns, further helping you in coming up with solutions to issues that could hinder your progress.
Reply also has improvement packages that come with tools meant to help you make improvements in the long term. This tool offers the following options:
Sending schedule insight
Sequence templates
Email A/B testing
Email quality check


Pricing and payment plans:
When it comes to pricing Reply comes with different packages depending on your requirements and the size of our business. It comes in three different plans:
Individual
Business
Enterprise

Individual Pricing Plan :
Price per User

Number of Contacts per Month

$70/month charged monthly
$55/month charged annually

1,000

$90/month charged monthly
$70/month charged annually

3,000

$120/month charged monthly
$90/month charged annually

Unlimited
Business Pricing Plan
| | |
| --- | --- |
| Price per month per user | Number of users |
| $50 | Starting at ten users ($50 for an additional user) |
| $60 | Starting at five users ($60 for an additional user) |
| $70 | Starting at three users ($70 for an additional user) |

Enterprise Pricing Plan:
In order to opt for the enterprise package, you have to get in touch with Reply as there are no pre-set prices for this category.


Alternatives to Reply.io:

Although Reply is one of the most comprehensive sales engagement tools available in the market, some people might still not find it suitable for them due to a multitude of reasons. If you are one of them, do not fret, as there are multiple options for you to select your suitable tool from. Some of the more popular options are :
Gmass
Playbooks
ClearSlide
Freshsales
Groove
Outreach

Final Verdict:
Overall, although Reply can be termed as a tool that is under progress, it still remains one of the most effective sales engagement tools. It has promising features for prospecting on LinkedIn and and each of the features we talked about makes sales prospecting easier and more efficient. They have affordable payment plans and it comes with a 14-day free trial which you can use to make a verdict for yourself. Although users have reported the chrome extension to be glitchy sometimes, I think you should still go ahead and give it a try. If you want to use this tool, you can visit the site on Reply.io and sign up for their services.