LinkedIn is a platform where you find plenty of salespeople. The salespeople find their prospects through the LinkedIn app, participate in groups, and excellently curate their profiles. They also help their connections or customers by providing them with helpful content. Now, let us suppose you have a valuable article or view to share with a person on LinkedIn. And it happens to be that you only have 2nd or 3rd-degree connections, or even someone you have no connections with; how will you send them your message? First of all, what is an InMail?
In this article, we have briefed on how to message anyone on LinkedIn. You need to understand the importance of networking. Networking is something you can neglect only when you are as popular as Beyonce. But for the rest of us, who are not Queen B, working on improving your network will yield you many benefits like improved learning opportunities, a wide range of career prospects, gives you insight into the leader's perspective, and even an immediate job offer. 
Previously before the pandemic, we have had face-to-face interactions and meetings at alumni conventions, conferences, and other gatherings. But now, all these meetings are limited to online conferences and video calls. You don't have to lose your spirit because if you are good at online networking, you can still manage to secure a remote job and sometimes permanent work-from-home announcements from top companies like Facebook and Twitter. To give expanding your network a good shot, you can try LinkedIn. 
Though the platform doesn't offer a very user-friendly experience at first, it sure does keep you aware of the current trends and helps you make meaningful connections. Also, it helps you keep a detailed and carefully managed resume which will give your recruiters and possible employers easy access. The only problem with using LinkedIn is that though it offers a promising career for early professionals, only a few use it well.
💡 Generate personalized emails, blog articles, product descriptions, and ads in seconds using the power of A.I
The Degrees Of LinkedIn Connections
Since LinkedIn is a professional network, it has a rule for contacting people. The 1st degree connections are direct and simple. They are the people you already know or have got in touch with recently, or maybe you might have sent them an invite which they would have accepted. These people are your friends, partners, and colleagues.
The 2nd-degree connections are the connections you get to know because they are friends of your friends. This simply means that these connections are in your 1st level connection's network, and you probably would have seen them in the news feed of your LinkedIn. As you are acquainted with these people already, it is easy to reach out and connect with them. But you can't see their contact details or message them directly until they accept your connection request.
The 3rd-degree connections are the people you know through the friends of your friends. This probably sounds like a spider network, but LinkedIn's network is professional. Since these connections are not often in contact with each other, there are only a few chances that you will see their feed in your profile. And this is the reason you might have seen the locked message sign when you have attempted to contact them. 
To help you reach out to your 2nd and 3rd-degree connections, LinkedIn provides you the chance, albeit it comes with a price. For this, you need to upgrade your LinkedIn account to premium, reach the Sales Navigator option, or you can just run an InMail campaign. As many LinkedIn automation options are available in the platform, it is easy to extract leads from the LinkedIn Sales Navigator. Ultimately there is an option called "LinkedIn groups," which is quite popular. These LinkedIn groups are the channels in which people who have similar interests from a specific branch come together. This is an important feature for salespeople, as they can easily find their potential customer's profiles. LinkedIn gives you an option to message privately to the group members, but for this, you have to give them a request. The request is a small process to message a group member.
How to send direct messages or InMails to people on LinkedIn
1. How to send a message to your connection?
Step 1 – Go to the LinkedIn profile of your connection.
Step 2 – At the top of their profile, you will find a blue "Message" button. Click on it.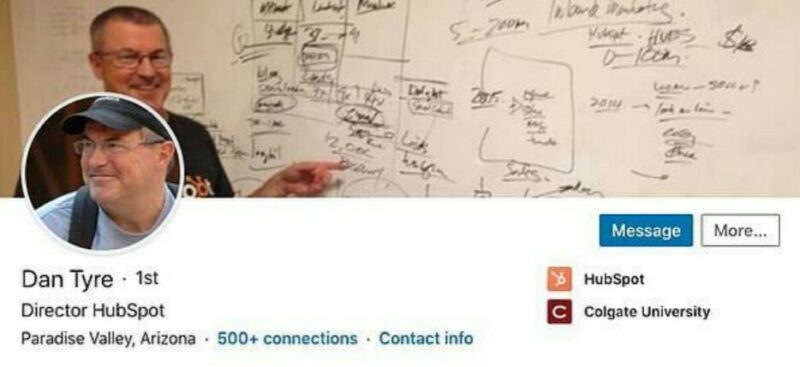 Step 3 – Compose the message you want to send and press enter to send it.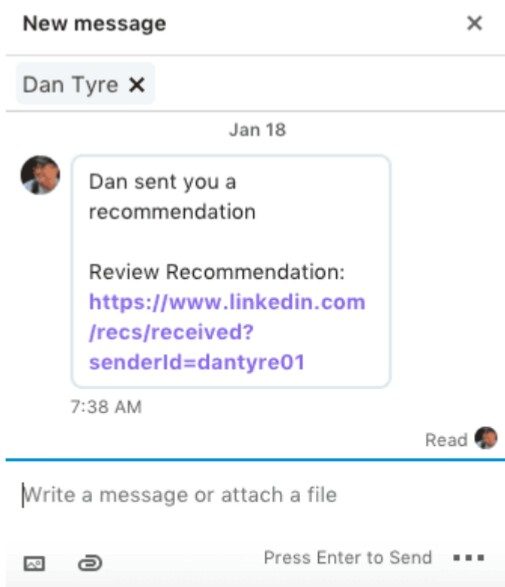 2. How to send a message to your 2nd-degree connection?
If you have the LinkedIn InMail, then you can send the message to your 2nd-degree connection even if you are not connected with them. For this, you just have to click open their profile and click the "InMail" button, then compose and hit enter to send the message.
If you do not have the InMail, follow the steps mentioned below to message your 2nd-degree connection.
Step 1 – Go to the LinkedIn profile of your connection.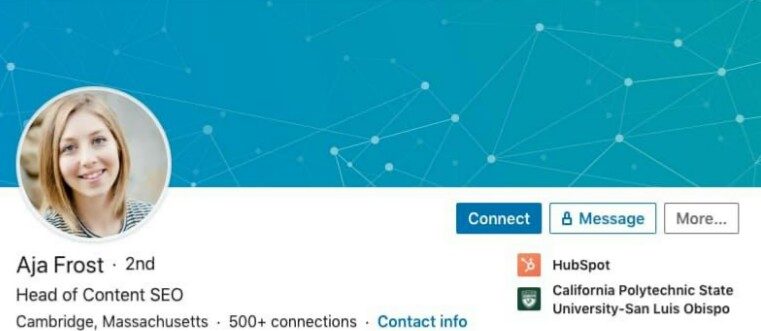 Step 2 – You will see a "Connect" button at the top of their profile. Click it.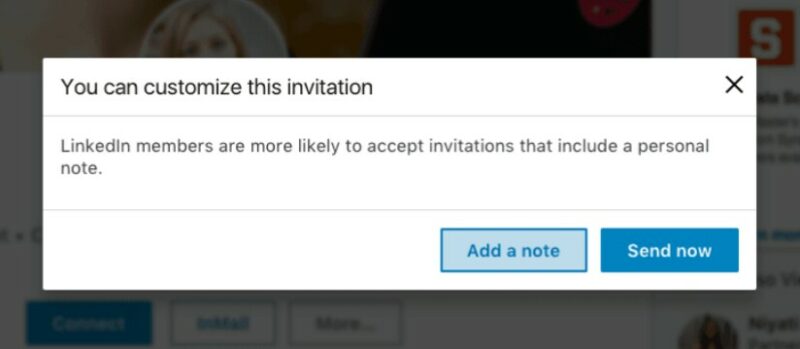 Step 3 – Begin by composing the message by explaining to them the reason why you want to connect with them. You may add your shared interests, how you are mutually connected or tell them why you admire their work. Then you can click the "Send Invitation" button and submit your request.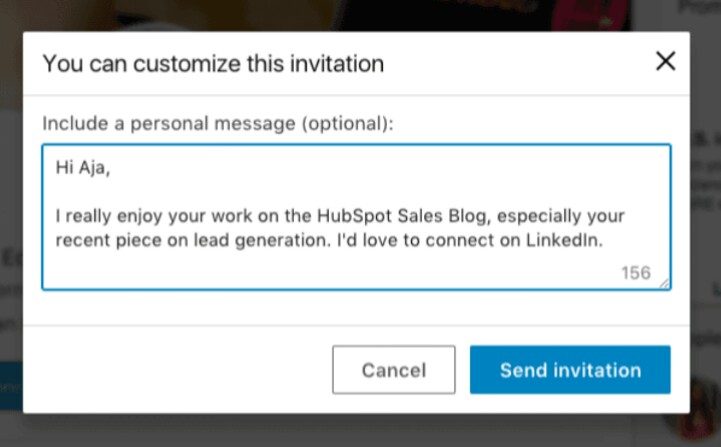 Step 4 – Once your request has been accepted, send the message by following the steps mentioned in the first section of the post.
3. How to message someone whom you are not connected with on LinkedIn?
Step 1 – Go to the LinkedIn profile of your connection.
Step 2 – Check if their first and last names are displayed.
Step 3 – If you can see both the names, you will see the blue "Connect" button, which will enable you to send an invite to them. Once you are connected, you can compose and send a message to them by following the steps listed in the first section of the post. 
If the first letter of their last name is only displayed, you might not be able to click "Connect," but at least you will be able to message them through InMail.
4. How to send a message to the LinkedIn group members?
Step 1 – Go to the group that you and your connection are members of.
Step 2 – Click the members list on the group's homepage and look for the member you desire to connect with.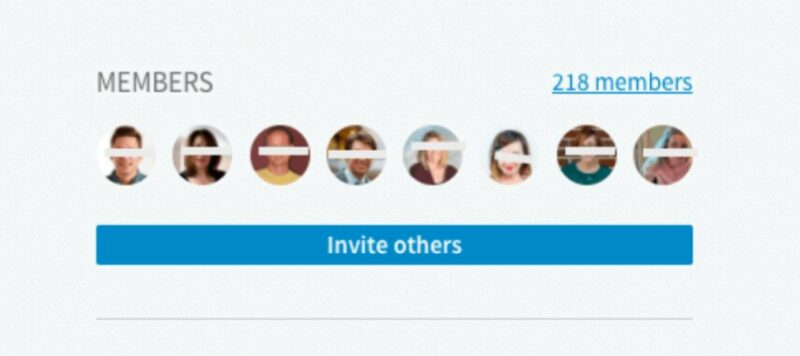 Step 3 – Next to your connection's name, you will see the "Message" button. Click on it.
Step 4 – Compose the message and send it to your connection without leaving the group. For this you won't need any InMail or invitation.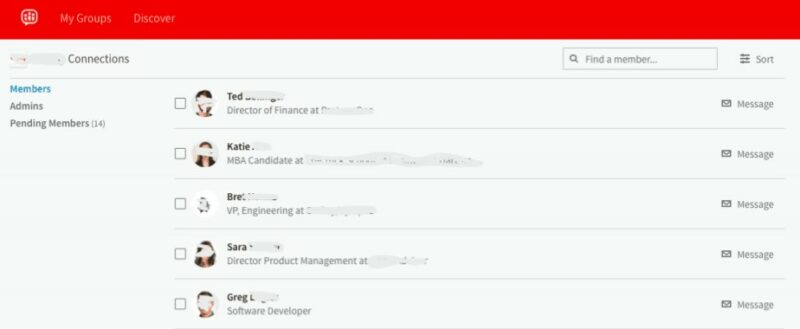 What is InMail and how to use InMail?
InMail is a feature that allows users to send direct messages to any LinkedIn profile, even if they are connected. InMail is a premium subscription service. InMail serves to be extremely useful to a salesperson as it helps them prospecting. The number of messages you send using InMail depends on the subscription type you have availed. 
However, InMail doesn't allow you to users outside your network, which means they are not a part of your 2nd or 3rd level connection. So let us discuss how we can message those people. 
How to send messages to people who are out of your network?
Step 1 – Visit the LinkedIn profile of the connection.
Step 2 – Through InMail, you will not be able to send messages to your out of network connections. So you have to click the "Connect" button.
Step 3 – Once you are connected, you can follow the steps mentioned in the first section of the post and send a message. 
LinkedIn is a great platform for salespeople as it helps them connect with their potential clients. Make sure you are using the above mentioned tips to make the best use of your account. 
Some Key Details To Remember
I reached out to experts, authors and others who are specialized in this area from within my network and also to the few people who I was not in connection with, so that I can learn about how to formulate messages which:
Is genuine to your brand.

Will reflect with the recipients from any level.
So this is what I have been told.
If you are looking for advice on a career or job change
Think about the kind of guidance you need and look for the person you identify with the most. Cynthia Johnson, the author of "Platform: The Art and Science of Personal Branding", says that clarity is the key when performing cold research. Think that the person who you are reaching out to is busy yet wants to give you the best advice. You might need to be direct and definitive about what you are asking them, and why you are asking them. By this you will have made a conducive environment for a thoughtful response. 
Sending them a vague message is not going to be helpful. Tim Herrera, the founding editor of 'Smarter Living' at "The New York Times", says that you need to keep it as transparent and straightforward as possible, to increase the chances of getting a response. Whatever you are about to ask, make sure that you are not beating around the bush. When you have taken the ambiguity, you save a lot of time and mental effort, also you are setting up an exchange which will be as productive and systematic as possible. He also adds that you should not forget to be kind.  
Here is an example, 
Erica, I find your professional journey extremely interesting and awe-evoking. I am intent in building my career as a [position]. Since you have been in that position for a long time, would you have some time to offer me a bit of advice? I would gladly appreciate a brief call at whatever time that suits you.
If you want someone to review your cover letter or resume
When you are about to ask someone this kind of request, try to put yourself in their shoes and try to answer this question – Why is this person trying to contact me? Admit that you are asking them a favour. 
Here is a considerate wat you can ask someone for a request:
Hi Karen, you have built an amazing career in thought relationship, and [your mutual contact] mentioned that you were a great resource when she revised her resume. Since I'm hoping to move from my [current position], I would like to get your brief opinion on my cover letter, if you have time in your schedule.
Receiving a carefully curated request like this is rare and it gives no room for any assumption. Sending a message like this will work out in your favour, as you are acknowledging that the other person is using their time to help you out. In many cases, people who refer to these people as job seekers are more likely to respond. Hence it is best to mention a referral if you know one.
If you want to inquire about a job posting or about a hiring process
Amber Naslund, the principal content consultant at LinkedIn mentions that we all have demanding schedules and are a little burned out. She says that open-ended messages like 'I was wondering if you had any openings..' are not useful, because all the details are already on the company's career page. 
Naslund says that it is always better to ask about the particular role and check if someone is willing to introduce you to the recruiter, or make an internal referral, or answer your questions about the role or company. She says that being mindful of people's time, expertise and relationships can go a long way when want to land on your next job. The person who you are about to reach out to can be the person who is going to be your immediate supervisor or the teammate who works closely with the role. 
You can try to message like this:
Hi Conan, I saw that you are recruiting a marketing assistant for your company. Since you work directly with this person, it would be great to hear your thoughts on the role. I hope to get some clarity about the role and responsibilities before I apply. Do you have a few minutes in your schedule to speak with me about the position in the next week or two?
If you are going to contact a potential mentor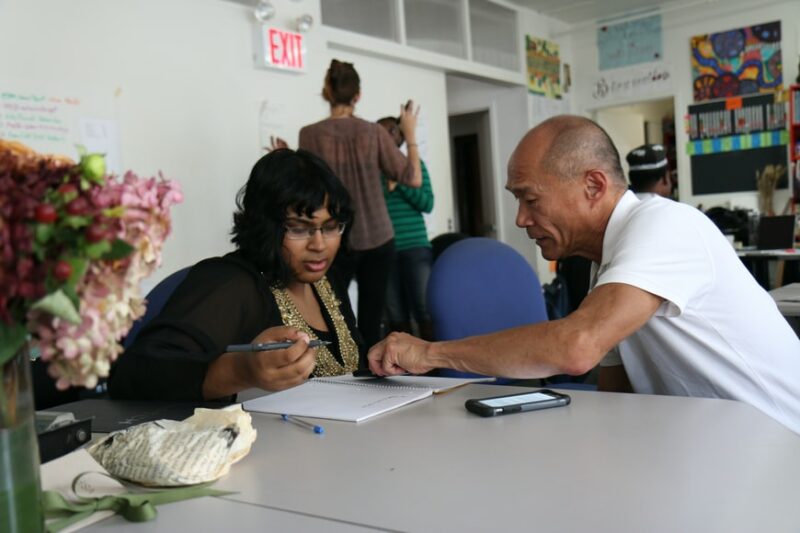 Before you send out an invite to connect with a person, investigate if they are willing to be a mentor. Johnson says that you need to look for a leader who shows that they are 1) experienced in the areas you want mentorship from and 2) shows signs that they are available to mentor you.
Johnson recalls that she found her longtime mentor on LinkedIn. She says that she accessed his expertise by diligently searching and thoroughly evaluating his communications online with others. She says that she found a few groups in which he was active, and she joined them too. Johnson says that you can do an assessment like this and find a great mentor. 
When you are about to write to your potential mentor, make sure that you have done your research. Here is an example of what you can send:
Disha, your posts on edtech in the STEM education forum have been really thought-provoking! I have interned for a few spaces, and I am excited to explore my own steps, but I definitely would like some guidance from an experienced professional like you. Would you be open for a quick chat about this?
If you are reaching out asking for help after a recent job loss
Are you looking for others' assistance? Then to make a difference, all you need to do is contextualize your messages. Those who are seeking a job should be able to have a conversation about their experience, what they are expecting and what might be helpful to them. Naslund says that it is a great way to warm up the conversation and increase the chances that a new connection would make some helpful introductions. Most of the people have worked very hard over a long period of time to gain the trust of the networks and with the people they have worked with, so it is not likely that most of them will open up to anyone and do cold introductions. 
Here is an example of what you can say to the other person and explain why you are reaching out to them:
Ethan, I am looking to join a mission-driven team similar to yours and I happened to see your colleague's post about the role of product manager.Would you be the right person for me to ask about the technical requirements? Kindly let me know if I could send an email.
There is an old Chinese proverb, which says the best time to plant a tree was 20 years ago; the second-best time is now. So if you have not started yet to cultivate your network, then it is about time you get started. But do not dive into a new relationship right away. 
Andreas Klinger, an entrepreneur and investor in remote first capital, recommends playing the long game. He says you need to plan to have a long term engagement with someone before you need anything. Or you can engage by sharing thoughtful articles on socials that you have written to admire or that will capture other's attention. It is important to note if you want to connect with Klinger, then pay attention to the platform counts; in his LinkedIn profile, he mentions that he would like people to reach out to him through Twitter. 
Tips to grow your network
Here are a few tips for contacting people on LinkedIn:
1. Join a group
If you are willing to contact someone, then look for their LinkedIn profile. Explore their profile to see if they are in any LinkedIn groups. LinkedIn groups. If they are members of any groups, you can join the group, and once you become a member, you can directly contact the person.
2. Upgrade your account
You can choose to upgrade your LinkedIn account. There are different premium prices which start from $19.95 to $99.95 per month, but each level comes with a limit that you can only contact a certain number of people through LinkedIn mail, even if you are not connected with them.
3. Get introduced 
If you are trying to contact a person, check how you are connected. When you look at someone's LinkedIn profile, it will show you if you have any mutual contact. If you are having a mutual contact, ask that person to introduce you to the person you want to connect with.
4. Email in the public profile
Did the person with you want to connect to list their email address in their public LinkedIn profile? If they did, you can send a direct email to them. That is definitely not the guaranteed way that they would respond to your message, but you at least have their email address so you can contact them.
5. Connect
The best way for you to contact someone is by connecting with them through LinkedIn. If that is not possible, use any one of the four methods mentioned above. You will have an increased chance of connecting with someone if in your "Connect" message, you can provide why you are contacting that person. You may also try to get them to know you by connecting with them on LinkedIn or by retweeting their posts on Twitter or by commenting on their blog. If they recognize your name, they will most likely connect with you on LinkedIn.
Refrain from making these mistakes
If you are hesitant to reach out to people on LinkedIn or have tried your luck in reaching out but not hearing from them, here's what you can do to increase your chances. But before that, let's take a look at the common mistakes we might be making:
You are not sure of what you might want – Have you thought about why you are contacting someone in the first place? Do you want information about the role or the company? Or are you looking for a potential future mentor or employer?
You are putting your needs first – Don't be caught up in your own world. No one will respond to "It would be good to connect with you" unless they are aware of what's in store for them.
Your messages are weak – Messages that are generic and are not personalized give you a low probability of success. According to Larry Kim, the entrepreneur, the 11 most boring words in the English language are "I would like to add you on my professional network on LinkedIn."
You are probably using an awkward tone – Sometimes, even the best messages will be met with silence. Still, many people dare to message random strangers in ways you would never dare to do in person.
You are persuasive enough – If you cannot convince the other person why you want to connect with them, there are low chances they would respond.
Now that we have discussed the mistakes you might be making, let us take a look at what we can do to overcome these mistakes and turn them into our favours. In short, there is no shortcut. But you can make it by employing some research-based approaches or borrowing practices from regular folks or leaders. 
Conclusion
You can put these into practice and let us know how it is going. It is totally understandable that reaching out to people you have never met might feel intimidating and that you feel that rejection is the only answer you will get. But have in mind that rejection is completely normal, and it also indicates that you can aim high enough to reach great success. Sometimes to grow, one might be forced to take risks. But the advantage is that you will learn new lessons and improve yourself along the way.