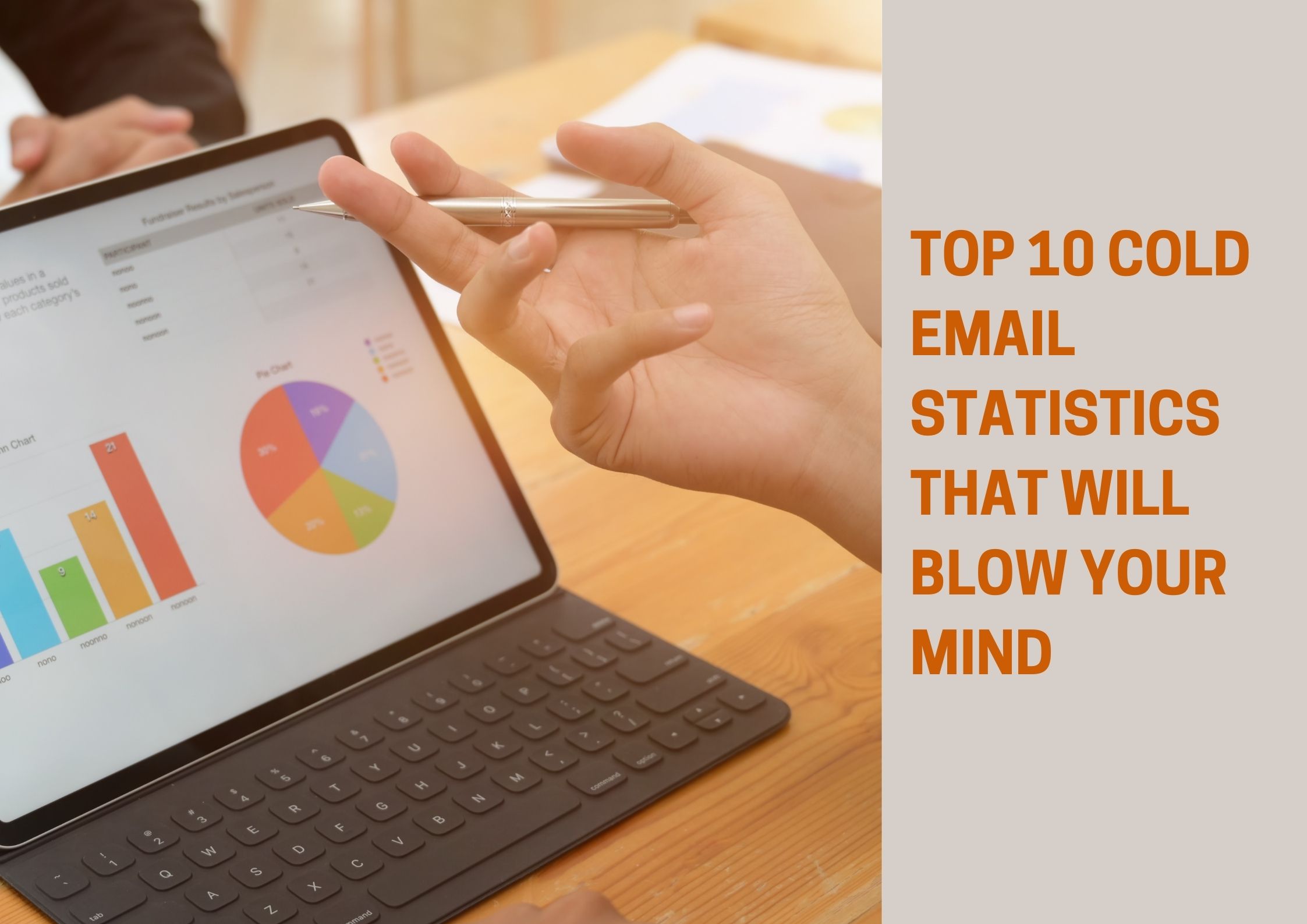 Have you ever received a cold email? If you're like us, we've all gone on a cold email hunt. Cold emails are an effective outreach strategy for getting your foot in the door. Cold emails are a great way to make a first impression and a great way to break the ice. These are a key component of any successful digital marketing campaign. If you're getting out of your comfort zone and sending cold emails, this blog post will give you an insight into the top 10 cold email statistics that will blow your mind.
This blog is a must-read for anyone looking to boost their business with cold emails, as these statistics will help you boost your chances of more success.
But before getting into the most astonishing stats, I would like to acquaint my viewers with the importance of analyzing these statistics.
Importance of Statistics:
1. Increased Open Rates
With a proper analysis of these statistics and trends, businesses can increase their open rates by around 20-22%.
💡 Generate personalized emails, blog articles, product descriptions, and ads in seconds using the power of A.I
By analyzing data, they can figure out ways like including the recipient's name in the subject line, which is a simple yet one of the most effective tips for increasing open rates.
Also, businesses should set realistic targets by using the industry average open rates. According to different studies and research, open rates range from 15.22% to 28.46%. This range varies by industry.
Cold email open rates can also be increased by including catchy subject lines. According to studies, 30% of people open the email based on its subject line. Therefore, spending time on creating a personalized subject line actually pays off. Also, a short cold email subject line is preferable as most of the recipients check emails on their phones. Sometimes long subject lines can even form a belief in your prospect's mind that the email sent is spam. So, avoid using such language in your Emails.
Apart from this, another method is Split Testing. It refers to squaring one Email off against the other to see which one gets the best results and using it as a new test to create another variation. All this information is available in the previous years' statistics.
2. Improves your Targeting
Stats also help businesses improve their targeting by making several changes in their target lists. The target lists should be concise and properly defined. Think of it as sales emails. Along with the open rate, it's important to monitor the response rates as well. If your open rate is around 80-90% and your response rate is far below 5%, it is not a good indicator. You need to revisit your subject line rather than give up on cold emailing, as it is an amazing email outreach method.
3. Controls Costs
Stats help find strategies that can be effectively implemented to ensure that when you send a cold email, it is not ignored and produce productive results. The increased open rates, thus, help in reducing costs that can incur due to unopened emails.
Also, sometimes, the emails are undelivered due to the wrong email addresses. The target list can be prepared with the help of these stats, and the addresses can be verified to ensure zero undelivered mails.
4. Improves Reply Rates
Personalized emails help in improving the reply rates of your Emails. Add Personalized bits like using the first name of the recipient or his/her company name and a proper email subject line. This gives a notion to the recipient that you have spent time on writing this Email, and you are able to directly address him/her.
Personalized Emails are a popular feature these days. The recipient feels that the sender has spent ample time writing the Email. A little bit of research on your clients can increase your response rates to a great extent. You should also know the best time to send emails to get a higher response rate. 
General cold email statistics help in combining all the necessary data that eases your work to the maximum extent. Also, follow-up is the most important thing to increase the reply rate in cold emails.
So these are some of the advantages of analyzing Cold Email Statistics.
Now let's get into the top 10 Cold Email Statistics for 2021
Here are some cold email statistics you need to know.
1. Average Cold Email Open Rates
The global average open rate during the year 2019 was around 22.1%. It was a fall of 8% compared to 2018. Between 2015 and 2018, this rate was around 24%. In 2021, the average open rate is somewhere around 18%. Also, the average cold email open rates vary by industry, and in 2019, it was around 22.15%. The open rates keep fluctuating. Generally, an average rate of 23% or above is considered good for business.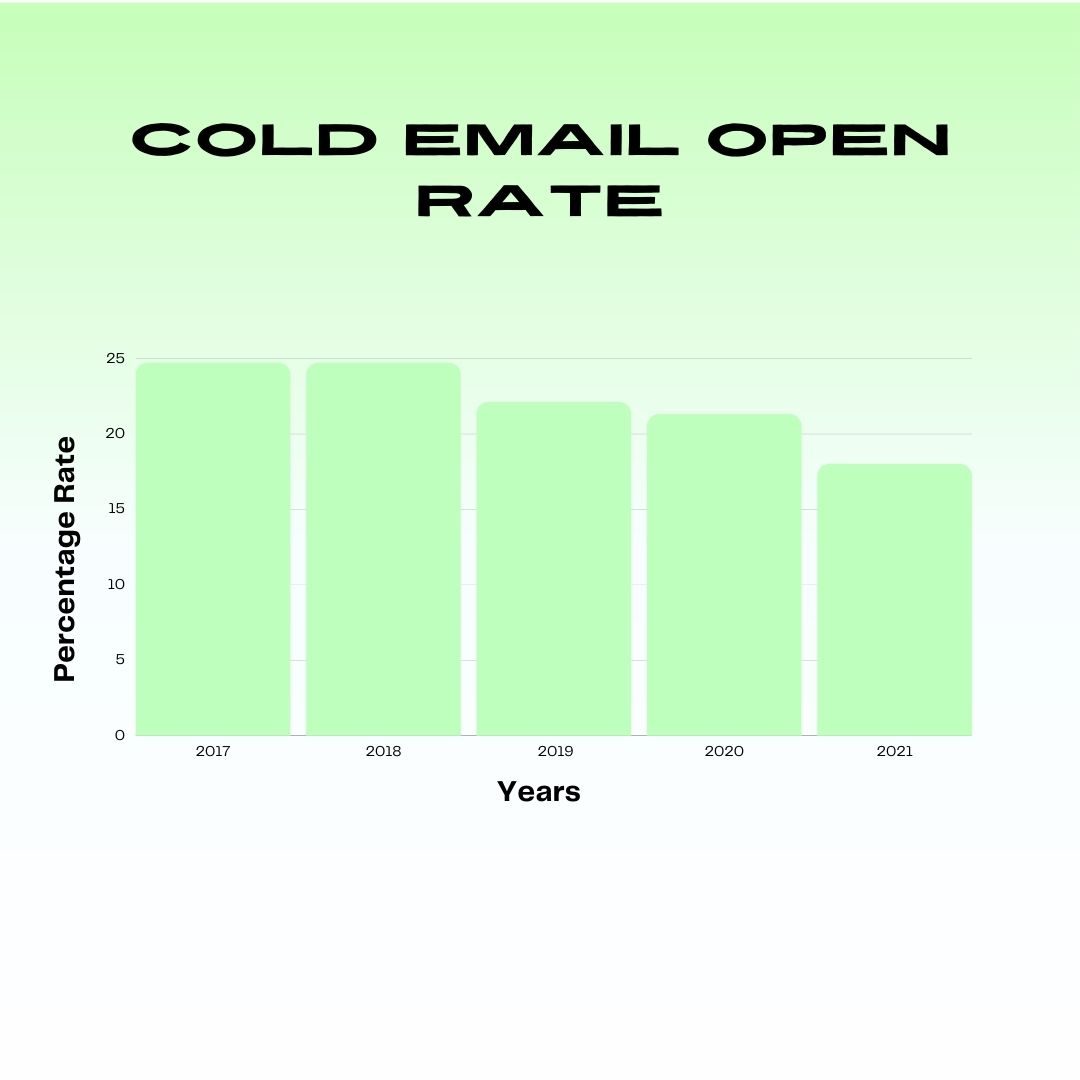 2. Click-through Rates
The average click-through rate was from 2.6% to 3.43% during the period 2019-2020.
In 2021, the overall average of all industries taken together, the click-through stands at 10.29%.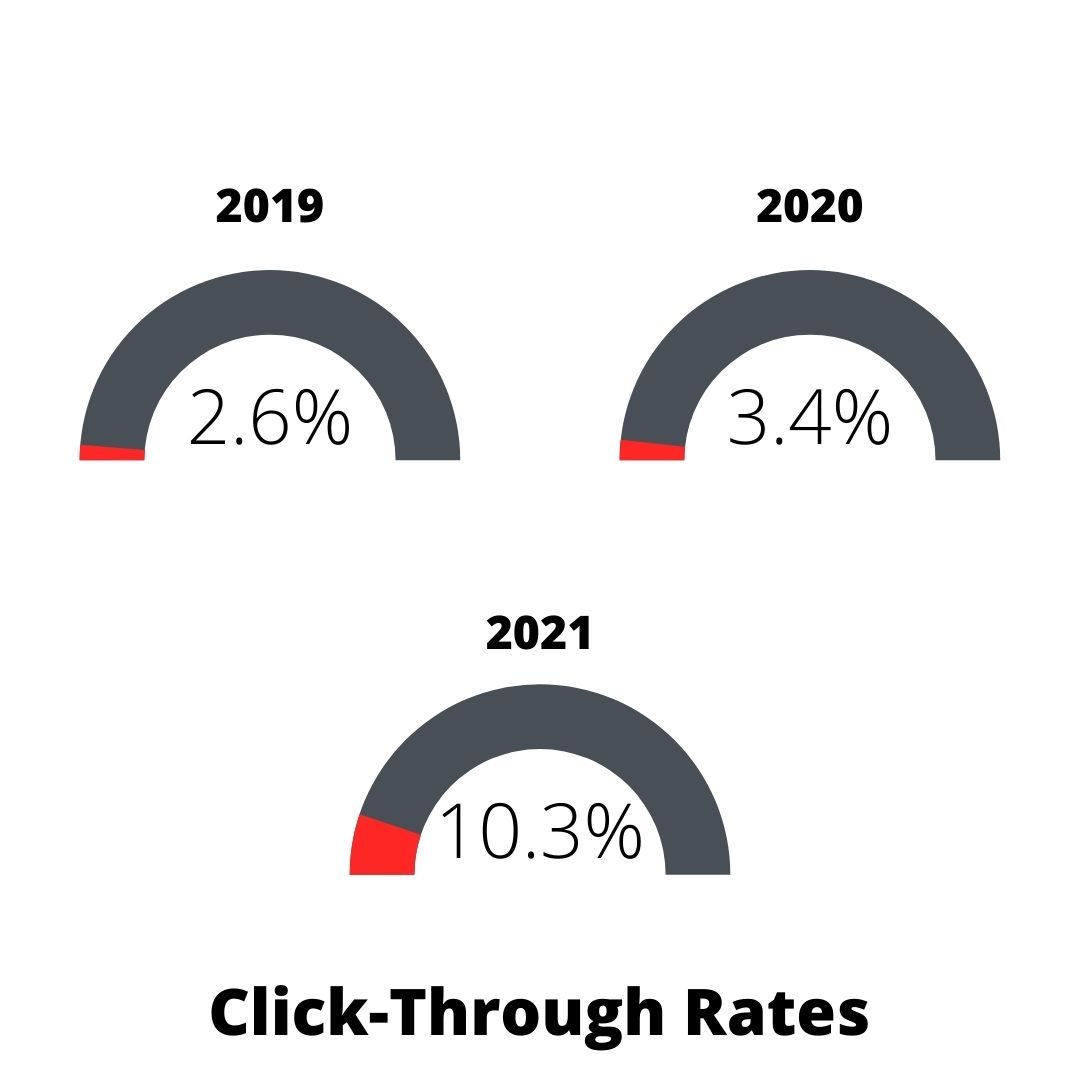 3. Response Rates
The average response rate hovers around 1-5%. This means that you are able to reach 5 out of every 100 people. A response rate of 15-20% was also recorded for marketers and salespeople who do cold Emails the right way. There's a company with an average response rate of 44% also.
Mind-Blowing, right?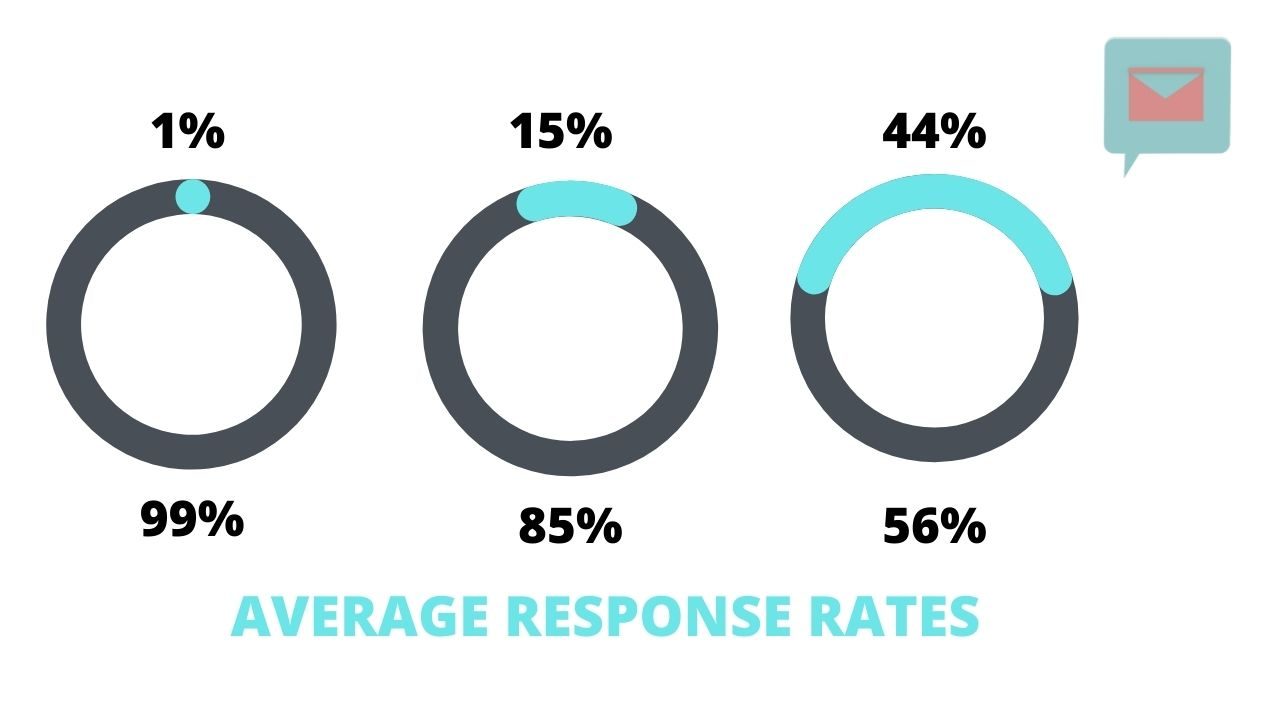 But the question is, what is the right way? What are these marketers and salespeople doing that is helping them to get more replies as compared to other salespeople?
5. Email Subject Line Statistics
The usual advice to write subject lines is to keep it short to be seen fully on a phone screen. After digging some data and crunching some numbers, some recommendations to the users show that you have to make it very short or long but specifically 45 characters to improve open and reply rates.
The open rates for different subject line word limits are:
3-12 characters : 44% open rate
81-86 characters: 43% open rate
98-111 characters: 54% open rate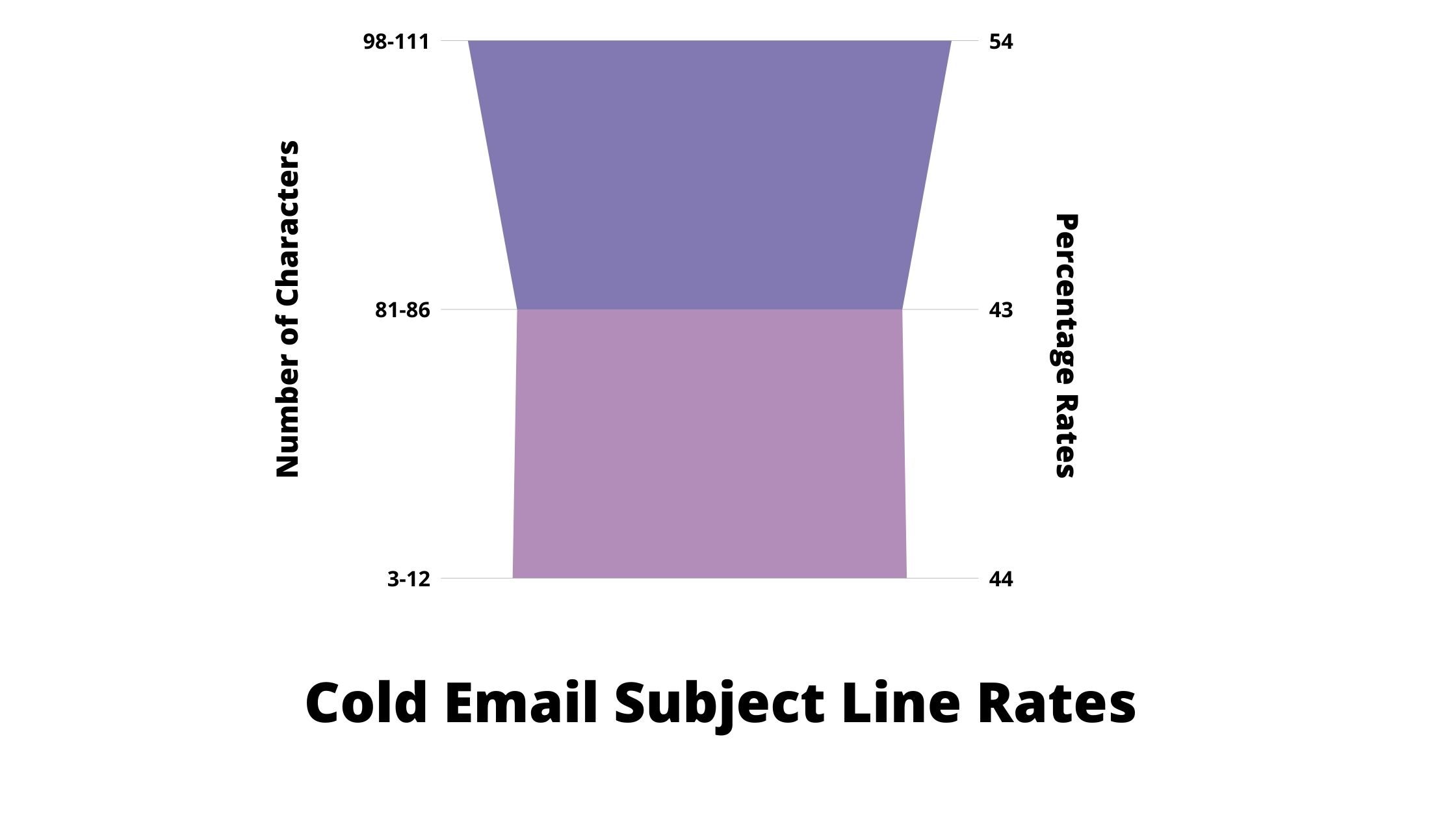 It's a 4-Rule Formula!
1. Identifying Intent:
Identifying the intent of your potential customer holds great importance. If you know that a client has visited your website and has searched for information about your product or service, then it's a sure sign that they are interested in your product.
Trying to identify their problems and giving them a sure-shot solution helps to grab the deal!
Therefore, sending cold emails to such prospects always yield results.
2. Evaluating Fit:
Not everyone who has shown some intent is satisfied with your product/service. As marketers, you must be capable of identifying your target market and building buyer personas.
3. Choosing the right channel:
It's not always necessary that Email is the right channel to contact your customer. So if a customer has reached you through your website, try engaging with them on the same platform through messaging rather than sending loads of emails in their inbox.
4. Personalization:
Personalization has become a very popular method these days to pitch your client. Sending a personalized message relevant to a person who will engage with it increases your chances of converting the deal.
And I'm sure by now you know where to get such personalized messages!
Your AI-powered tool,  Writecream!
5. Conversion Rates
In 2021, the conversion rate of a cold email will be 15.11%. The average conversion rate soared to 18.49% in the year 2018. This percentage dropped in 2019 and 2020.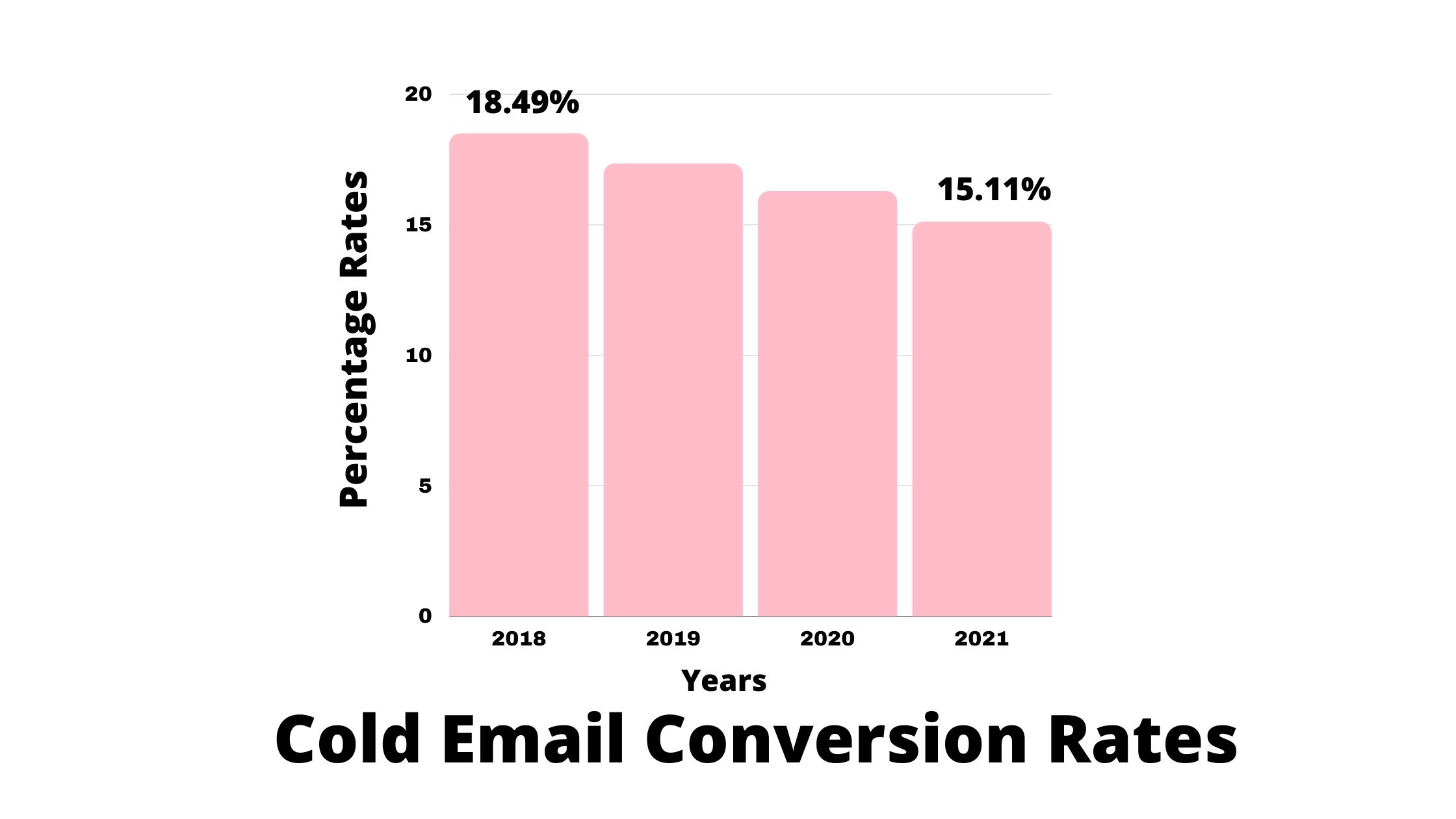 Also, most email marketing providers do not share their official data on conversion rates, and not all leads get converted via emails.
6. ROI on Cold Emailing Campaigns
The Return on Investment parameter measures how much revenue every dollar invested in a marketing campaign generates.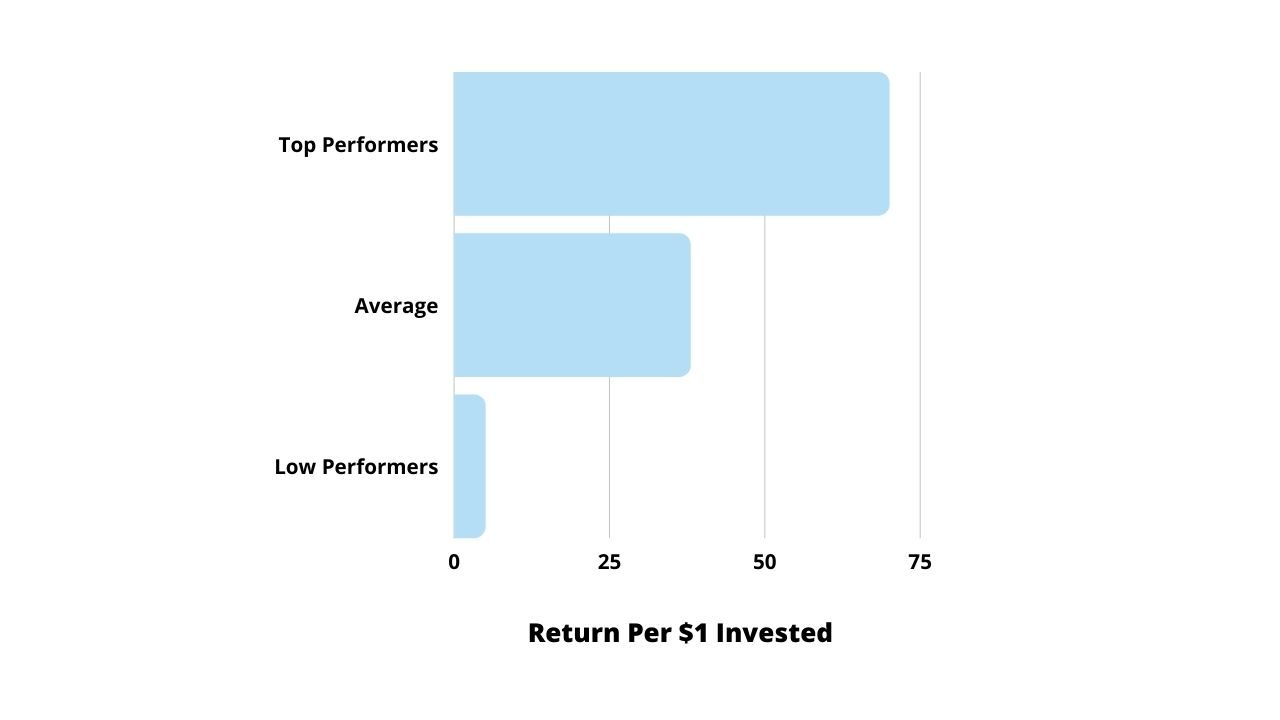 Average ROI for 2021– $38 for every $1 invested, or 3,800%.
Top performers:

 18% of businesses achieve ROI of more than $70 per $1 invested.

Low performers:

 20% of businesses achieve ROI less than $5 per $1 invested.

Segmented emails:

 Generated 36% of the total revenue of cold emailing

Triggered campaigns:

 Generated 306% more CTR per Email than non-triggered emails.
In 2019, the average ROI was $42 for every dollar spent, which fell to $38 for every dollar spent in 2021.
7. Rates depending on Content-Length
Content length also affects the statistics, specifically, the open rates. The length of the text should also be just like subject lines, making it short to the point and very specific.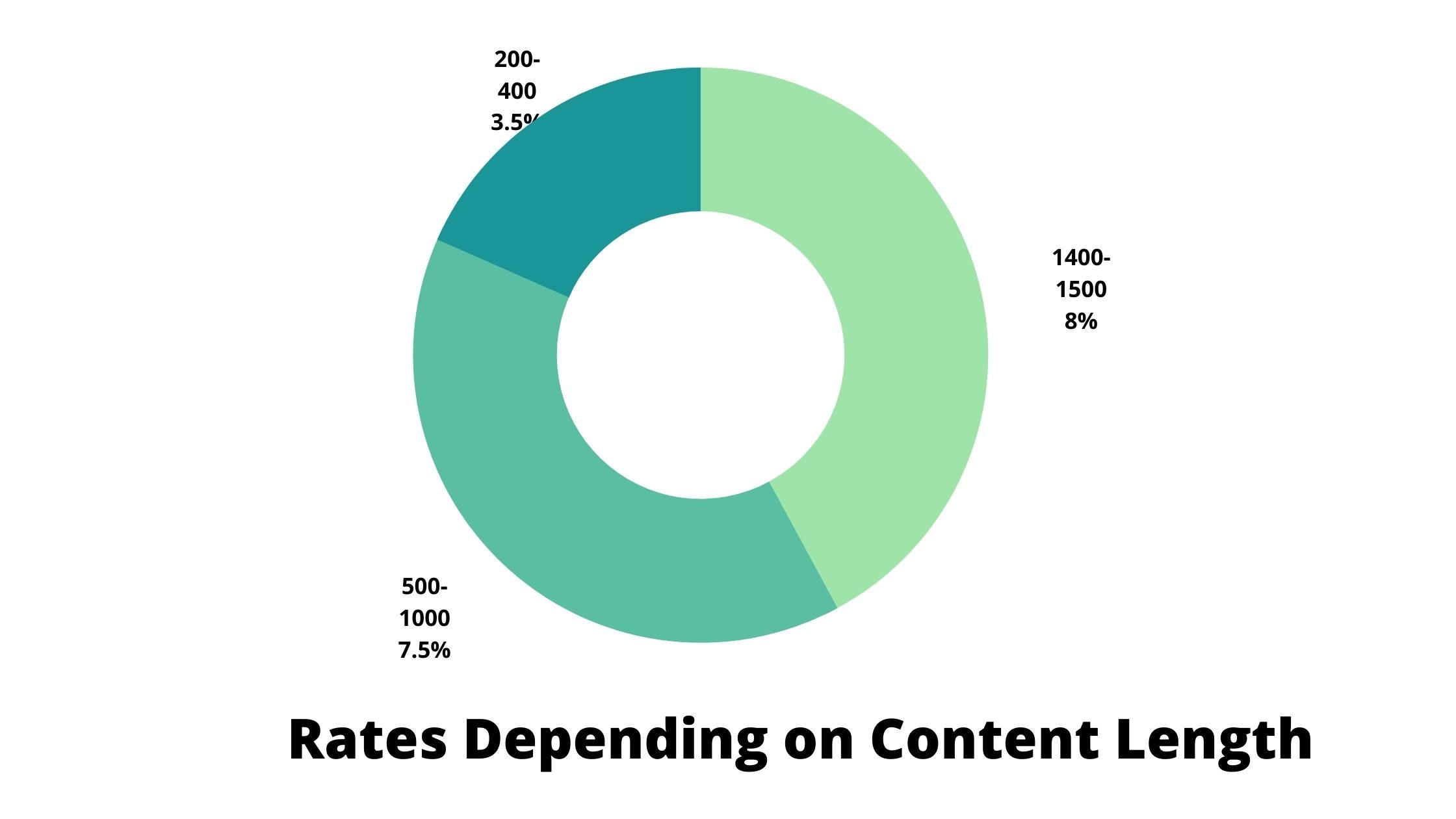 Some general statistics are:
200-400 characters: 3.5% response rate
500-1000 characters: 7.5% response rate
1400–1500 characters: 8% response rate
8. Rates depending on the Time of Sending Email
How to make sure that your emails are opened and responded to? There are some particular timings where you can grab your seat quickly.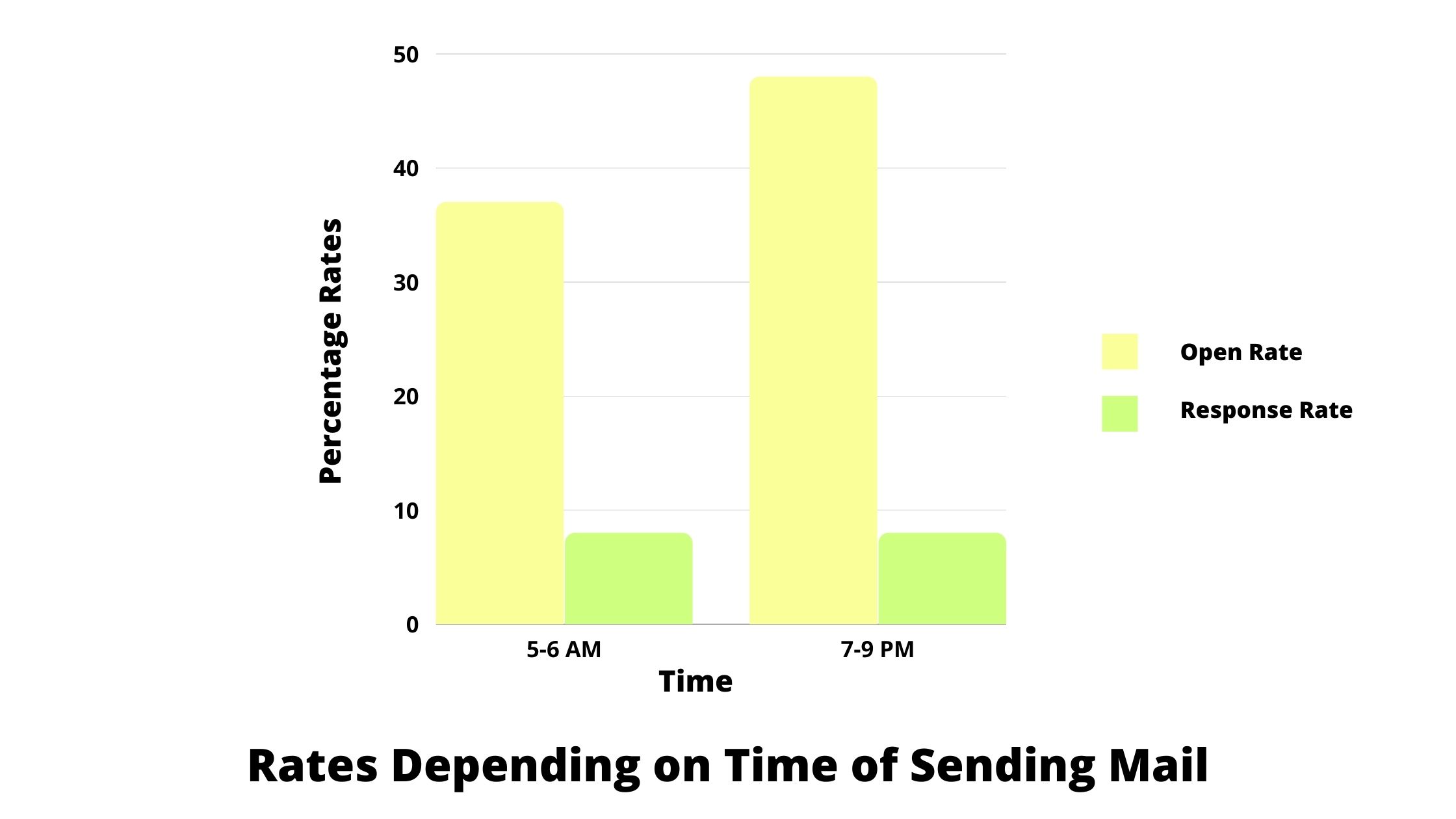 5AM-6AM: 37% open rate & 8% response rate
7PM-9PM: 48% open rate & 8% response rate
9. Rates depending on Days of the Week
Who wants to work on weekends? The worst time to send someone a work email is on weekends. Your prospect must be spending time with their families, and they are least bothered to check their mails. Your emails will slide down and thus goes unnoticed.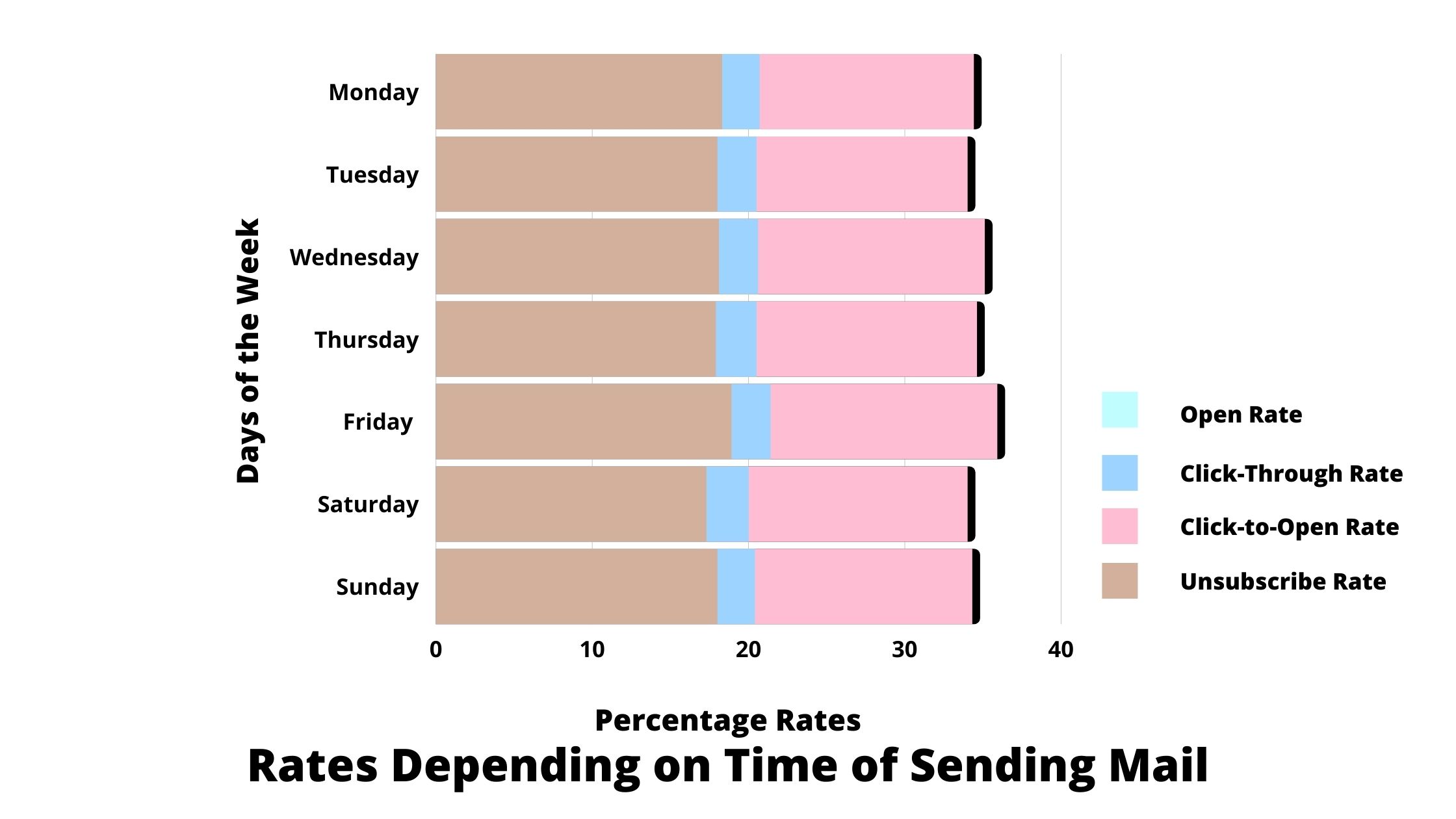 Therefore, try sending emails on working days only. Research shows that the best time to ensure high open rates is Tuesday.
10. Cold Email Bounce Rate
The cold email bounce rate indicates the percentage of emails that are not sent to the recipient. It is an extremely important metric to keep a close watch on because if it is more than 2%, your emails start getting into spam more frequently, making it even harder to reach out to the prospect.
Usually, the bounce rate is expected to be under 3%. If it exceeds, then your email campaigns are affected negatively.
Summing Up
So these were the top 10 email metrics that you need to keep in mind while sending cold emails.
I understand that cold emailing can be an intimidating process, but these statistics will make you realize that cold emailing is something you can do!
If you want more information on how to start cold emailing and try some amazing personalization tools, head to Writecream!
Thank you for reading!
Writecream provides 30+ tools for generating tons of content within seconds! Use Writecream to generate product descriptions, personalized emails, blog articles, and more! Our free plan provides 20 credits, which helps you generate 10,000 words per month!
Isn't it amazing?
To get started, register here for our FOREVER FREE plan NOW!