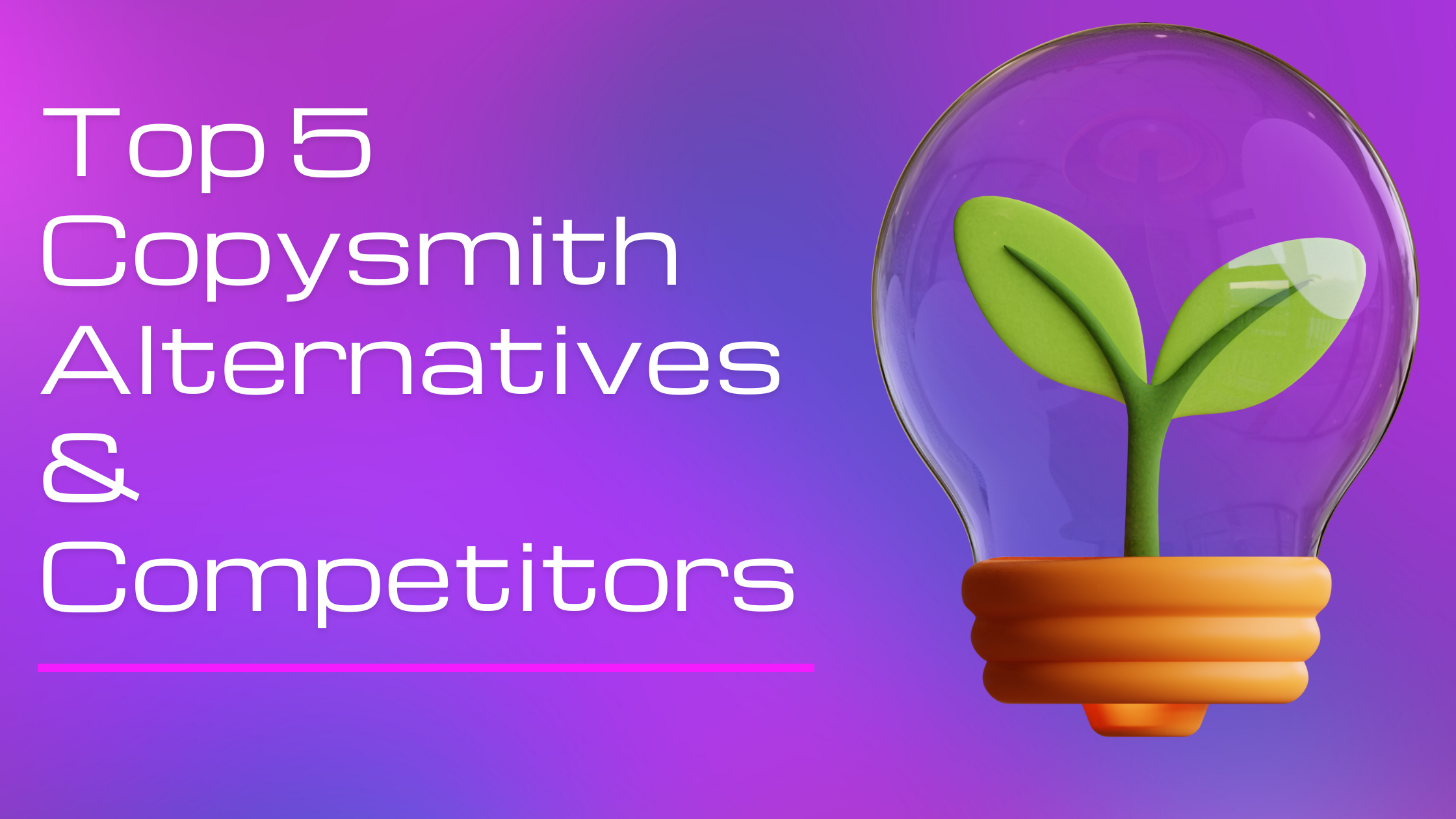 If you are searching for the finest alternatives for Copysmith to improve your content, then you are at the right place. Although Copysmith is a great AI writing tool, it has certain drawbacks like being too pricy or having fewer templates as compared to other similar tools. At times the content generated also requires manual edits and you also need to pay a larger amount to create more content.
Although Copysmith is a great tool, you might still want to take look into other viable alternatives that are available in the market. In this article, we will take a look at a few other options that you might find more suitable for your requirements.


Writecream: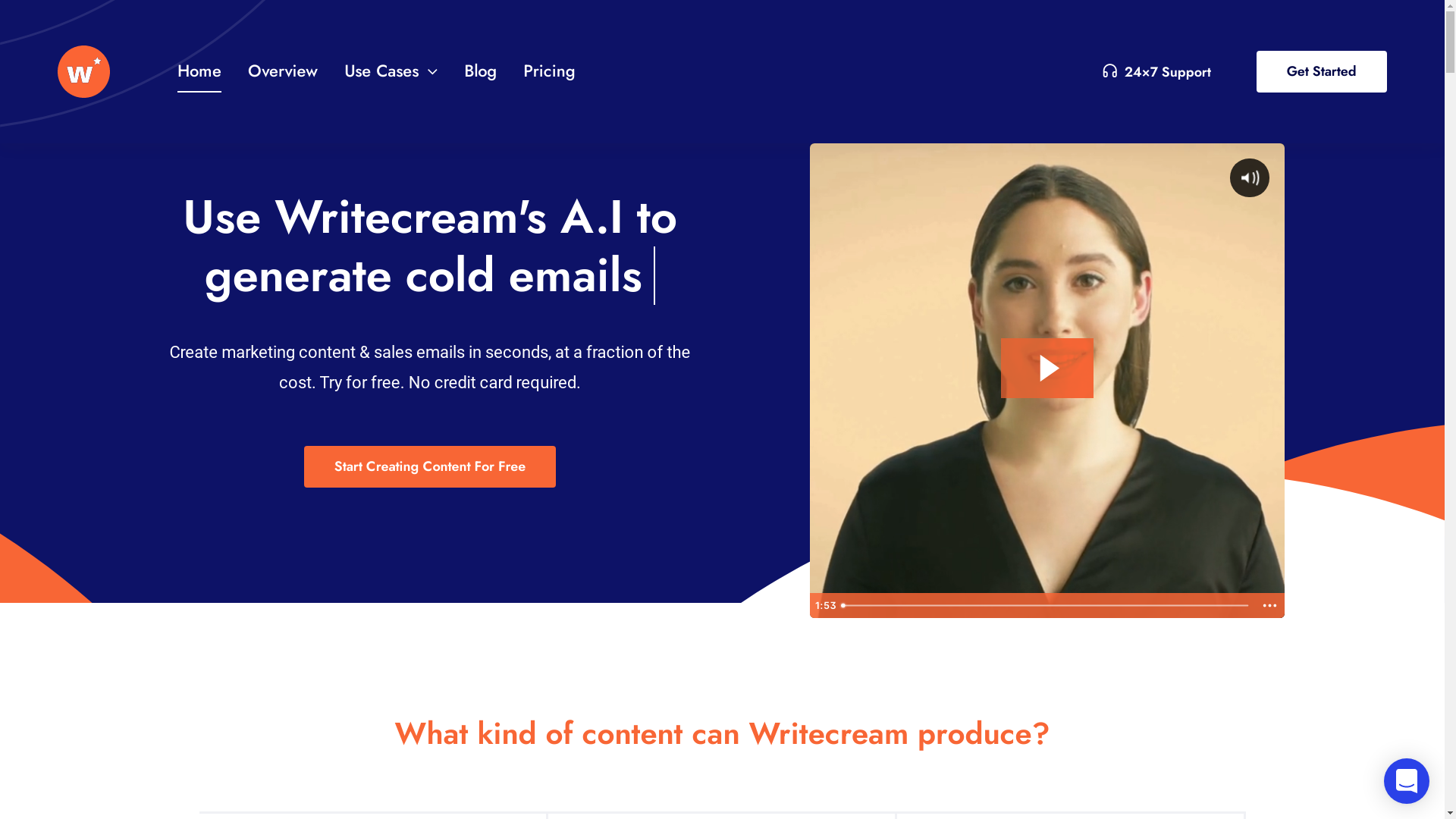 Writecream is an innovative AI-powered tool that uses advanced machine learning to create content for Google ads, blog posts, social media, and more. Its simplicity and user-friendliness help it stand out among its competitors. It provides a host of features that includes Ice Breakers, SEO and copywriting, content creation for Social Media as well as digital Ad copy among many. Write cream provides AI-powered Personalized Ice Breakers for LinkedIn that helps you create a message for your prospect. By just entering the LinkedIn profile URL, the tool will come up with a personalized message by analyzing and scanning the profile which will compel the prospect to respond. Similar Ice breakers are also available for emails and backlink outreach as well.
Stand-out features include AI-powered article writing which helps you generate long-form content in a short amount of time. As per the official website, Writecream can create a 1,000+ word article in less than 30 minutes, which is quite impressive.
Creating Ad copies could not get simpler as this is possible at the touch of a button with Writecream. Everything one needs to do is enter the name of their company and what it does and Writecream will create your ad in no time.
With the help of Writecream's Social Media Engine, you can also form ideas and content for your posts with the help of AI. You could even turn your blog posts into a podcast with the help of 40+ voices which allows you to create voiceovers for YouTube videos as well. Along with these, Writecream provides more than 75+ languages for you to select making it one of the best options in the market right now.


Writesonic: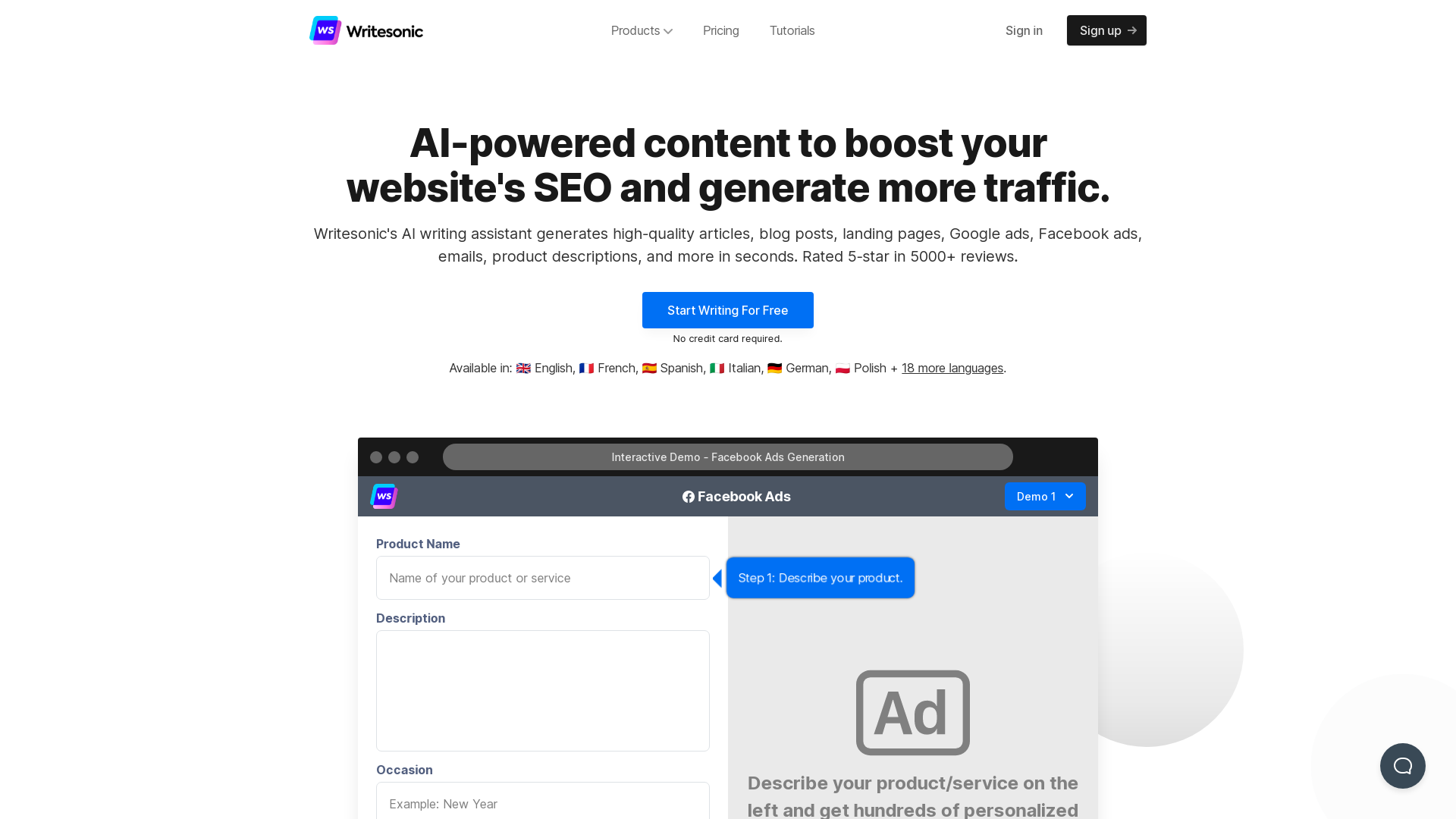 Writesonic is a paid AI-powered copywriting tool that is mainly used for writing marketing copy, articles, and product descriptions. Although you cannot create visual designs for Social media you can utilize it to generate ads, blog posts, landing pages, etc with the help of a few keywords or lines of text.
Apart from specializing in generating marketing copy, Writesonic also helps you in summarizing articles, drafting professional emails as well as checking and fixing grammatical errors.
Another fascinating feature is that Writesonic is available also as a plugin with other document creation products such as Microsoft Word, Dropbox paper, and Zoho Docs making it a very useful tool for individuals who prefer to work on these office tools.
One of the drawbacks of Writesonic is that it is not built for teams and hence collaboration among individuals is not possible. It is also optimized mainly for desktop and hence if you choose to use it on a mobile, it might not perform at its best. The tool does provide a 7 Day free trial which means you can test the features for yourself before you make a decision on whether to stick to it as your main go-to tool.


Rytr: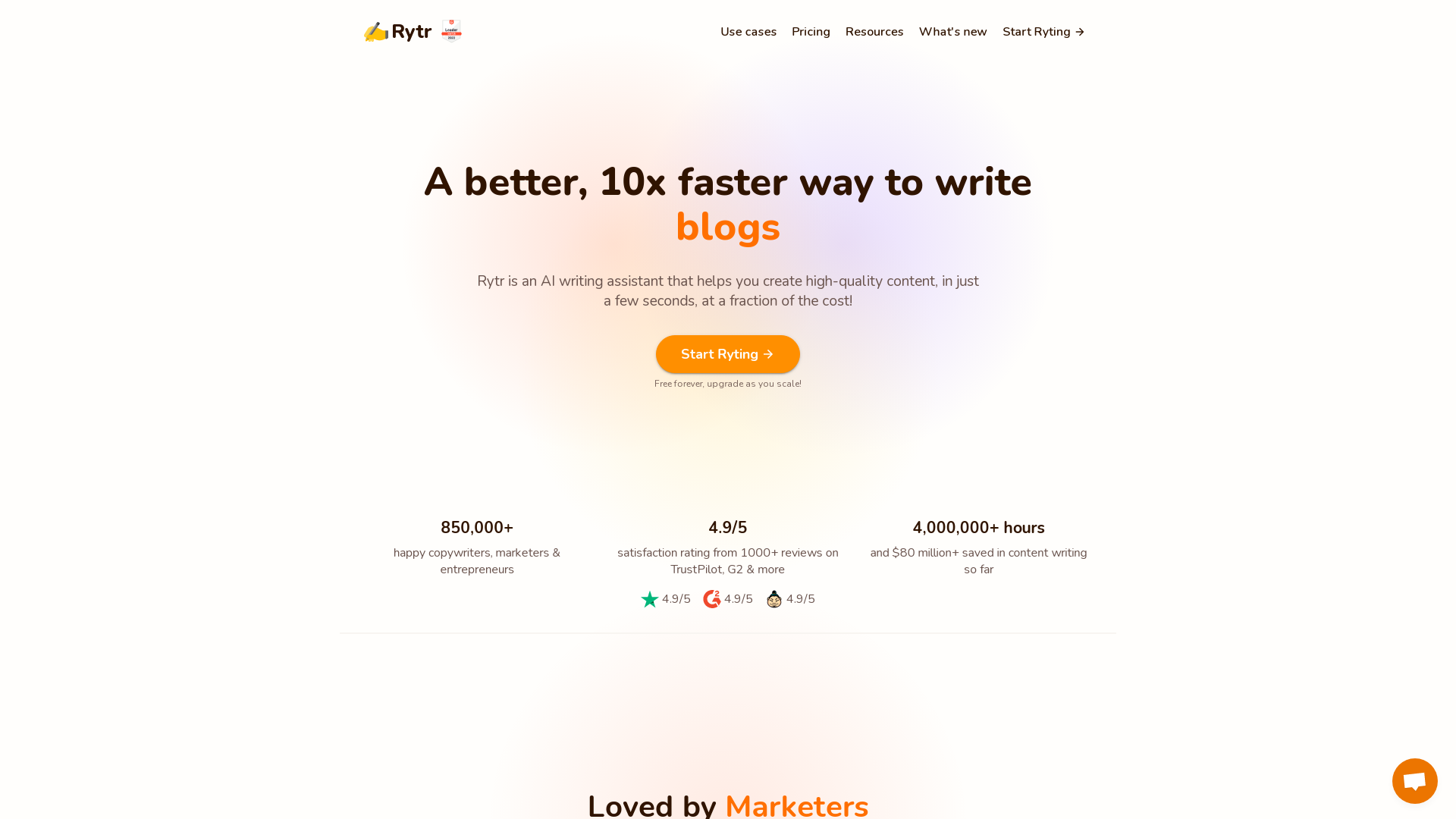 Rytr is a simple and easy to use AI-powered copywriting software that is focused on writing content for YouTube descriptions, job descriptions, and video channel descriptions among others. Although it doesn't come with many features, its simplistic design attracts many users and one doesn't have to have any prior experience in running the tool.
Rytr gives users the freedom to select from a variety of options as the AI is designed to create different versions of the same content, adding a sense of creativity to the tool as well. Since it is specifically made for marketing purposes, it uses frameworks such as AIDA and PAS to produce high-quality copywriting output.
One of the drawbacks of Rytr is the lack of third-party integration features with other marketing tools. If you are specifically looking for a tool that provides integration with other tools, you might want to avoid Rytr and check out the other options available on the market.
Coming to the pricing plans, a key feature that many users might find beneficial is the free plan that allows it customers to generate 5000 characters (between 710 and 1250 words) per month. The unlimited plan costs $29 per month and allows you to generate unlimited characters per month.
Overall, If you are looking for a simplistic tool that is known for its ease to use, Rytr can be a good option for you.
💡 Generate personalized emails, blog articles, product descriptions, and ads in seconds using the power of A.I

Anyword: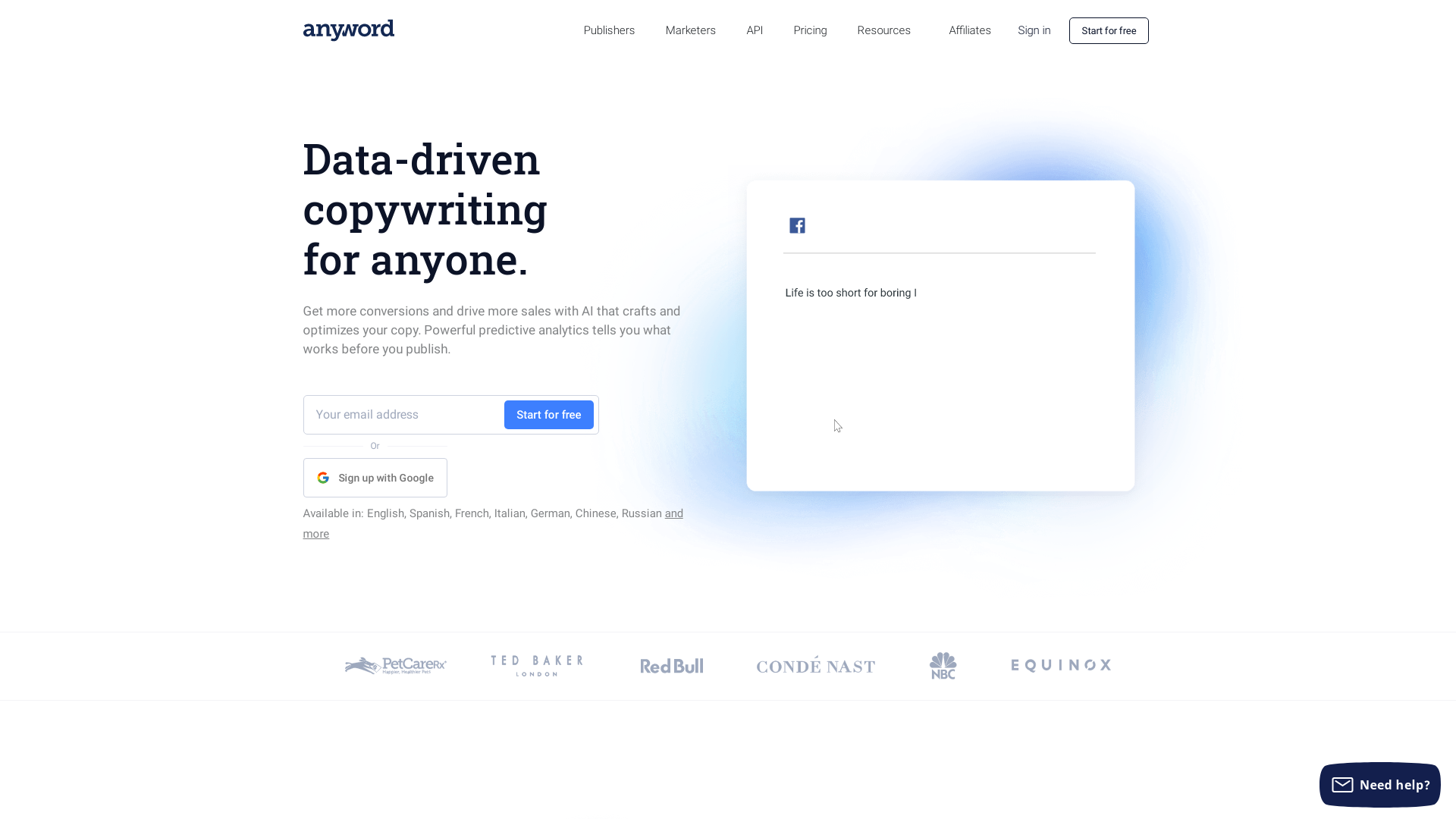 Anyword focuses mainly on ad copies as well as blog posts, landing pages, email subject lines, and more. One of the important functions of this tool is the Predictive performance score feature which has made the job of ads creators easier by allowing them to validate the potential of each copy variant before they use them.
Anyword also comes with a library of preset keywords allowing you to pre-enter some special keywords you may like to use in your copies. Selected keywords then will be used on every copy you create.
Similar to Rytr, Anyword also lacks an integration tool, and when compared to some of its competitors, this is a glaring weakness as ad creators are bound to require integration with another third party app.
Another point that you should probably think about is the pricing plan for Anyword. Although the starter pack comes at $19, the business package is quite exorbitant as it is priced at $239 for a month. This business package lets you create unlimited content, access all content forms, and predictive analytics and score. If you want more personalized content, you can opt for the Enterprise package which is essentially a custom model and in order to select this package, you have to reach out to the sales team for Anyword.

Simplified: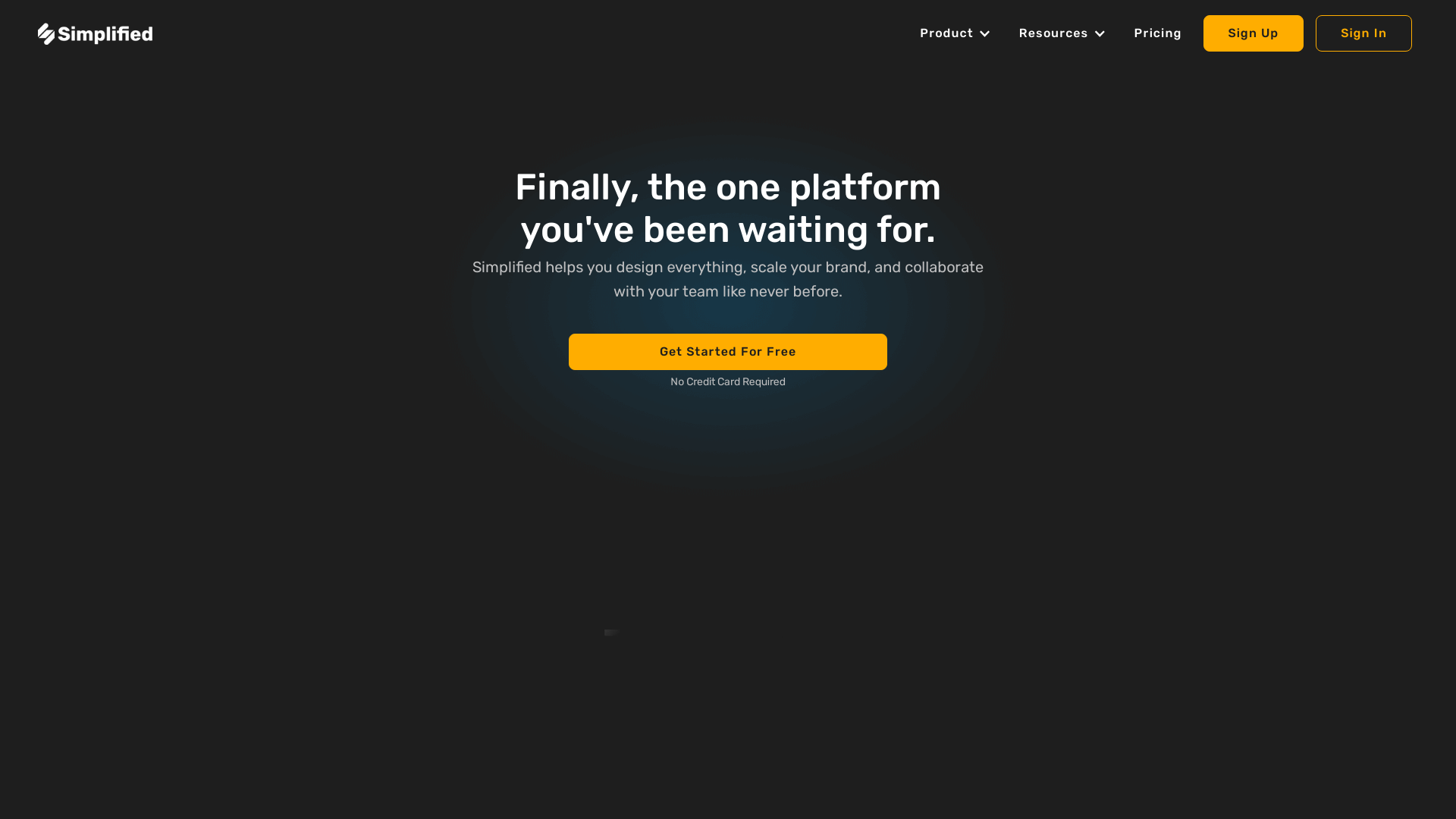 Simplified is another tool that has a free plan as well as a Small Team plan for $8 a month. The tool is designed for effective collaboration among team members as it allows you to create workspaces, comment, and share feedback in real-time. Simplified uses the latest AI technology allowing you to design, edit, and publish all in one place.
It also comes with various editing tools for your designs and is accompanied by a one-click animation tool which can be extremely handy for Social Media. The designers have also made sure that the tool is optimized for both desktops as well as mobiles which means that you can carry your work with you wherever you go.
Along with various copywriting templates to choose from, Simplified also allows integration with Google Drive and Unspash, which enables you to choose from millions of free high-resolution images to use for your content.
Just like every other tool, Simplified also has a few drawbacks. The main drawback is that for a tool that allows collaboration among team members, it does not come with a built-in presentation mode.
Overall, Simplified is a great option as it has a free for life package which anyone can use and decide on their own if the tool is worth it.